"Whoever Wins… We Lose"
Actually, we all win with Monogram's new assortment of Alien vs. Predator bag clips! While the title and tag line strongly implies that this series is based on the first 2004 AvP movie, this collection of figural bag clips also covers characters from the 2007 follow-up, Aliens vs. Predator: Requiem!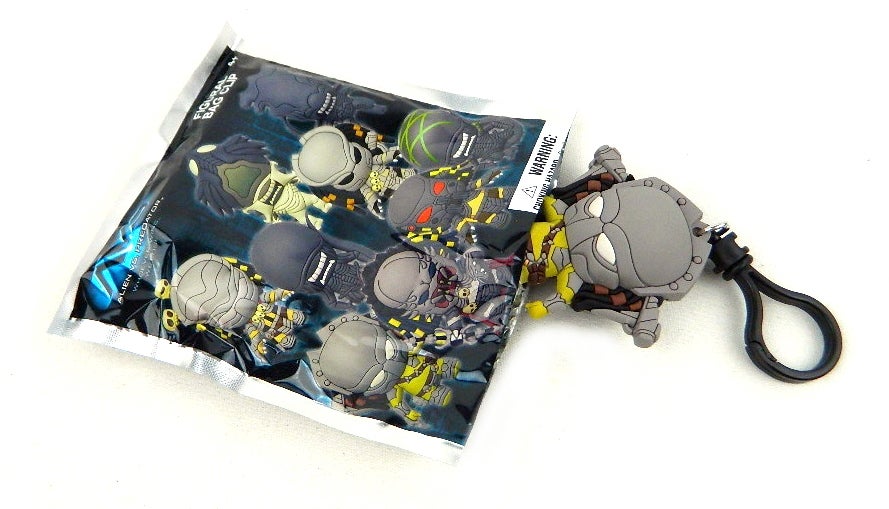 Available at retail now, this cool series stars the galaxies most feared warring factions: the clawed, tail-stabbing, acid-for-blood Xenomorphs (Aliens) against the masked and well-armed Yautja hunters (Predators). Between the two movies, this AvP assortment does an excellent job of covering all the major "characters". Best of all, there's no boring human filler – just solid Alien vs. Predator collecting fun!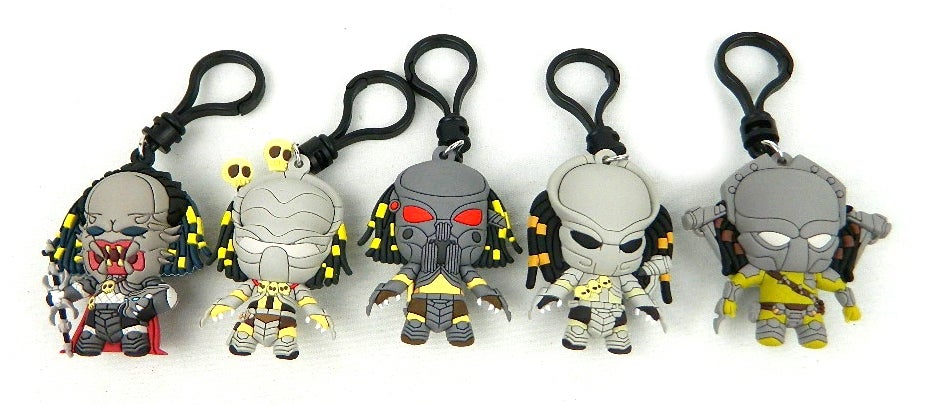 Kicking off with the Predators, there are a total of five Yautja. Four Predator designs originate from AvP, including Scar, Celtic, Chopper, and the regal Elder Predator seen at the end of the movie. From AVP:R collectors are treated to the one-man, err, Predator clean-up crew, The Wolf!
Each Predator figural bag clip packs loads of fun detail – front AND back, including their unique mask designs, plasma casters, clawed gauntlets, to even spears stashed on their backs!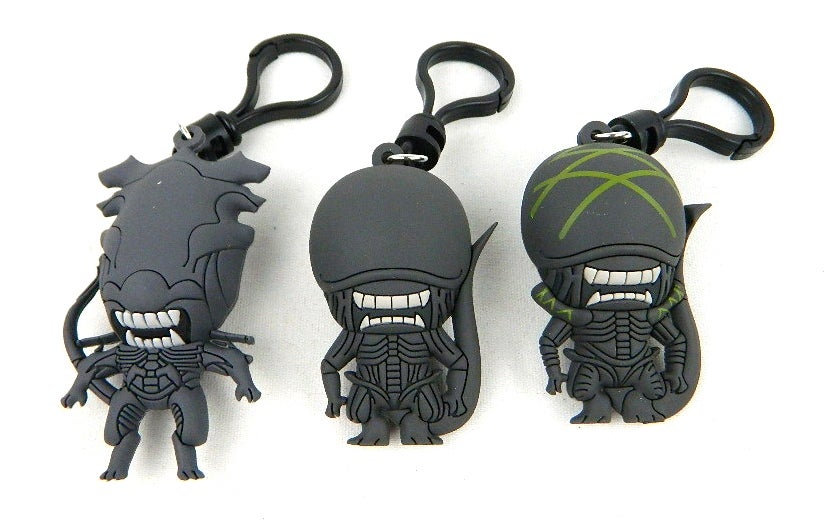 Bursting out of chests and crawling out of the darkness to take on the Predator horde are the Aliens! Leading the pack is the mighty Alien Queen, followed by her loyal Xenomorph Alien Warriors, including "Grid Alien," the battle-damaged critter that escaped from a Predator net!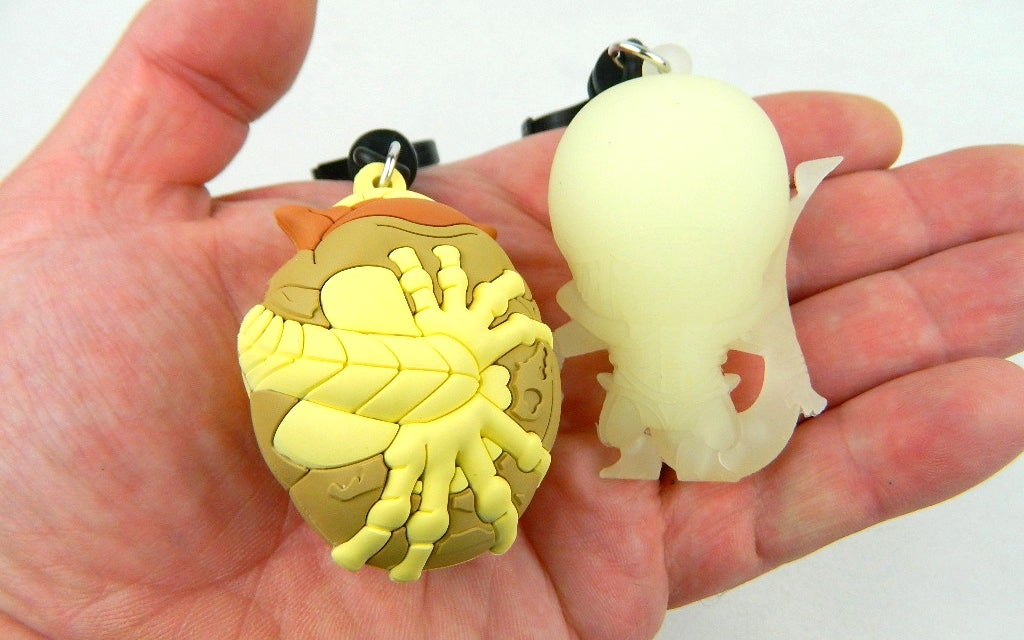 At first it appears that the Aliens are outnumbered, with only the three xenos mentioned above represented in the core assortment. However, the Aliens have hidden back-up reinforcements in the form of the two ultra-rare chase figures! If you're lucky to snag one of these beauties, they include an Alien Egg with Facehugger and a Glow-In-The-Dark Alien Xenomorph!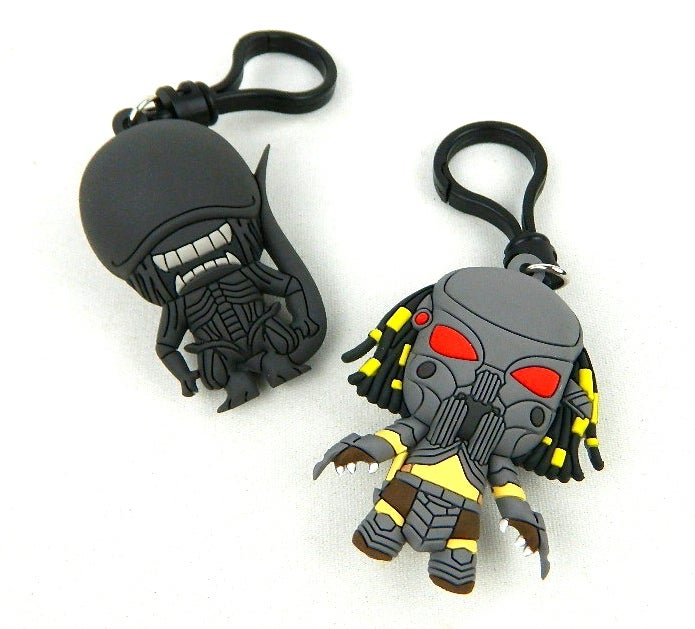 Monogram's new AvP bag clips are a really fun series, especially if you're a huge fan of Aliens and Predators like I am. There's not a bad egg in the bunch; even the rare chase figures (one being an egg!) are appropriate choices.
Alien and Predator fans can get their hands on these at many fine retailers, including Entertainment Earth where they are being offered as a Random 6-Pack ($34.99) or as an entire Display Case ($143.99). Grab the latter if you want them all, as you are guaranteed two complete sets of the nine core characters, the two chase, as well as four random figures to spare!
Scroll on for more photos!
-Review and Photos by Jeff Saylor
-Review Samples Courtesy of Monogram
We are committed to finding, researching, and recommending the best action figures and collectibles. We earn commissions from purchases you make using the retail links in our product reviews. Learn more about how this works.
---