For a great retro video game documentary, check out Netflix's recently released High Score. In "This is War" – the fourth episode of the easily-digestible 6-part docuseries – Sega is introduced as mega competition to Nintendo, a company that ruled the roost throughout the '80s after the fall of Atari. Sega's answer to Nintendo's popular plumber Mario was Sonic the Hedgehog – a prickly blue icon that represented player attitude and the need for speed.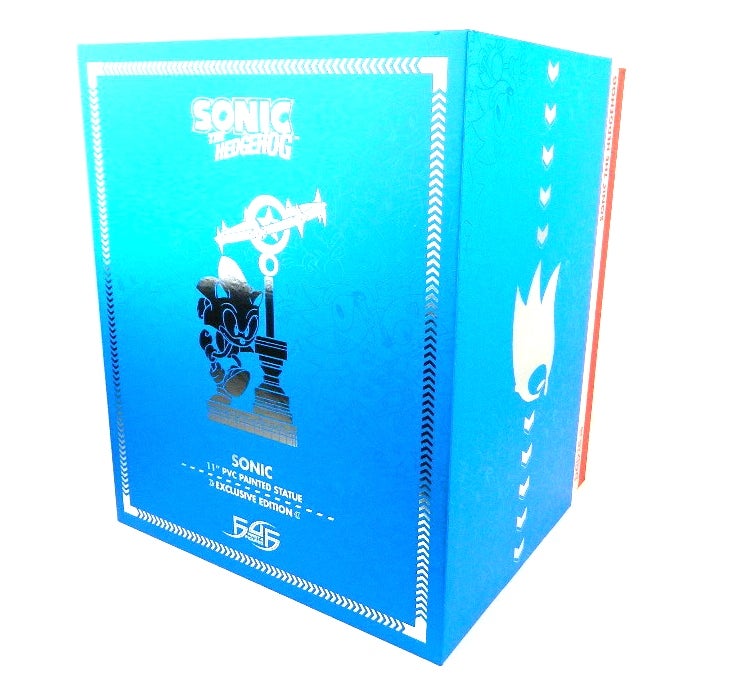 As a massive video game fan, I've owned by fair share of all the major consoles, including the Atari 2600, Nintendo NES and the Sega Genesis. Hell, I've also played almost every PlayStation and XBox console, delved deep into PC gaming, and actually own (Ms. Pac-Man!) – and have personally built – authentic arcade cabinets. So yeah, the Mario vs. Sonic scenario was NEVER a thing in my book – they were simply just two cool pixilated characters that I enjoyed playing as a kid (and adult).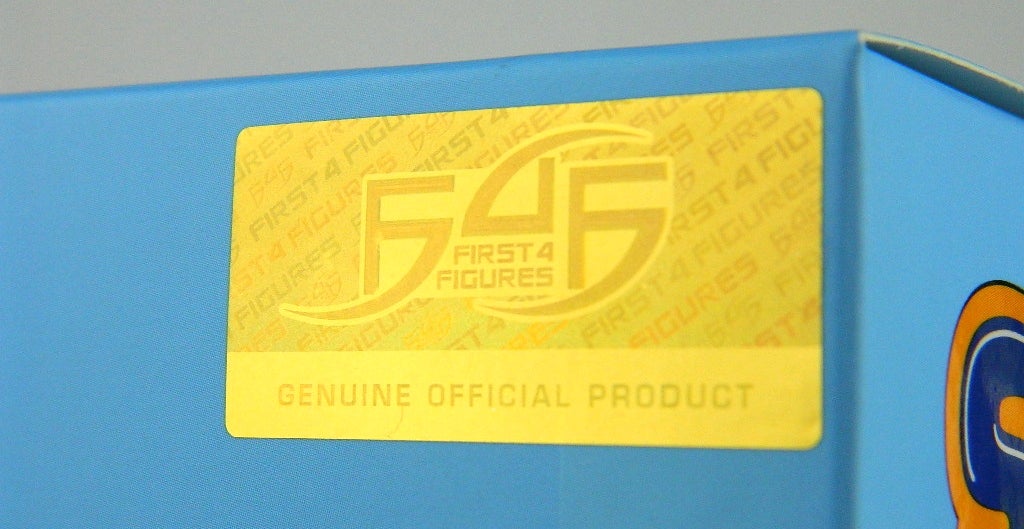 I really bring this all up to give you some background on Sonic the Hedgehog and my attitude on gaming. Collectibles company First 4 Figures, like myself, really just loves great video game properties – having produced fine statue collectibles from everything under the sun, including Mario, The Legend of Zelda, Dark Souls, and yes, even Sonic the Hedgehog. When it comes to video game love, there is no animosity.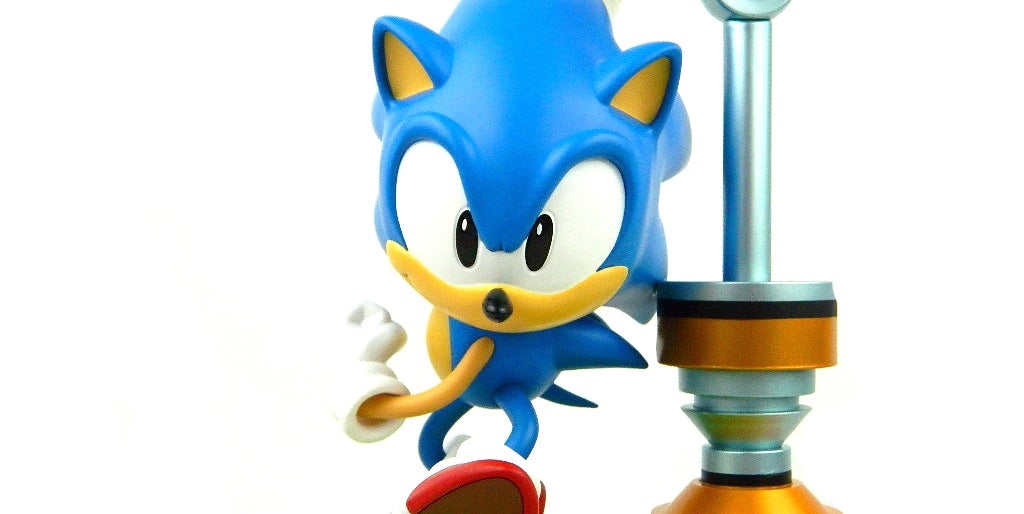 For their latest release, First 4 Figures takes on the "Blue Blur" with an 11-inch PVC statue. Best known for their impressive, but more pricey polystone pieces – all released as limited editions – First 4 Figures' dip into affordable PVC statues is a welcome sigh of relief to video game fans on a smaller budget. This exclusive piece, available for order now directly via First4Figure.com, is priced at $114.99 and is limited to only 5000 pieces.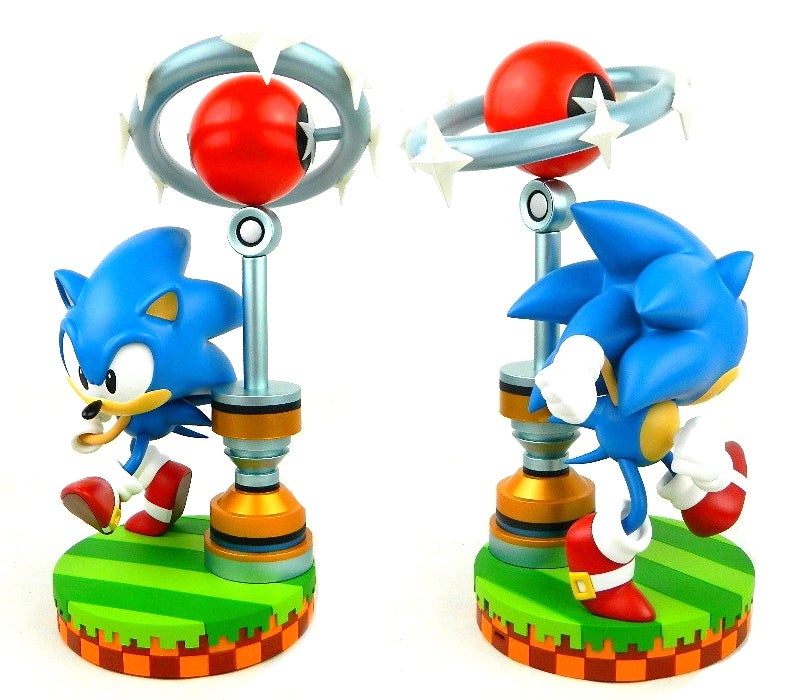 Featuring Sonic revving up to run faster than the speed of sound, this one-piece PVC plastic statue is impressive right out of the box – no assembly required! The base, with a design inspired by the Green Hill Zone, also features the Star Post checkpoint, which you can rotate up to 90 degrees, allowing for multiple viewing angles.
As an added bonus, First 4 Figures has incorporated a LED light-up feature into the piece! Powered by a rechargable li-ion battery, the statue includes a USB cable for awesome plug-in light-up display by your computer OR charge it up (with the included USB) and illuminate it elsewhere. The choice is yours!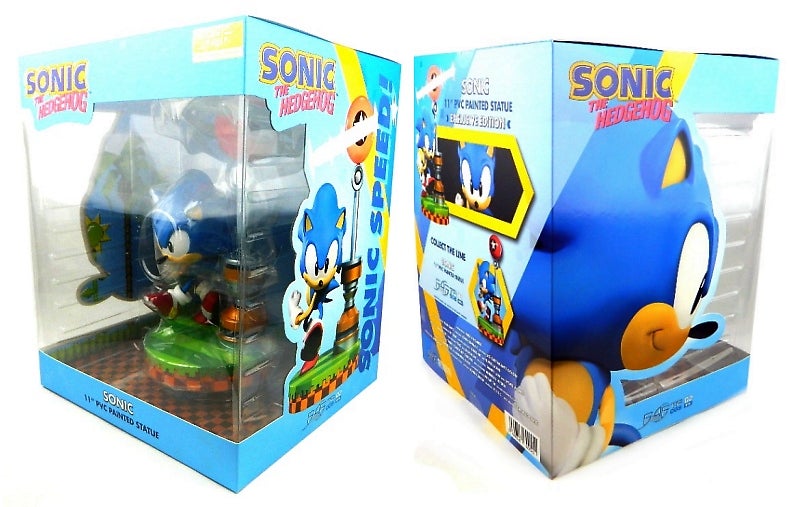 Before I conclude, I must point out the awesome shipping and packaging job First 4 Figures provides for Sonic. The amount of love and protection dedicated for this piece is absolutely INSANE- measures usually reserved for higher-priced resin statues. First, Sonic arrives in a plain cardboard shipping box. Within THAT cardboard box is ANOTHER cardboard box – each corner protected by Styrofoam bumpers. Inside THAT cardboard box is your Sonic the Hedgehog statue housed in ANOTHER quality plyboard shoe box – this time blue and red and adorned with gold foil Sonic callouts (see the photos at the beginning of this review).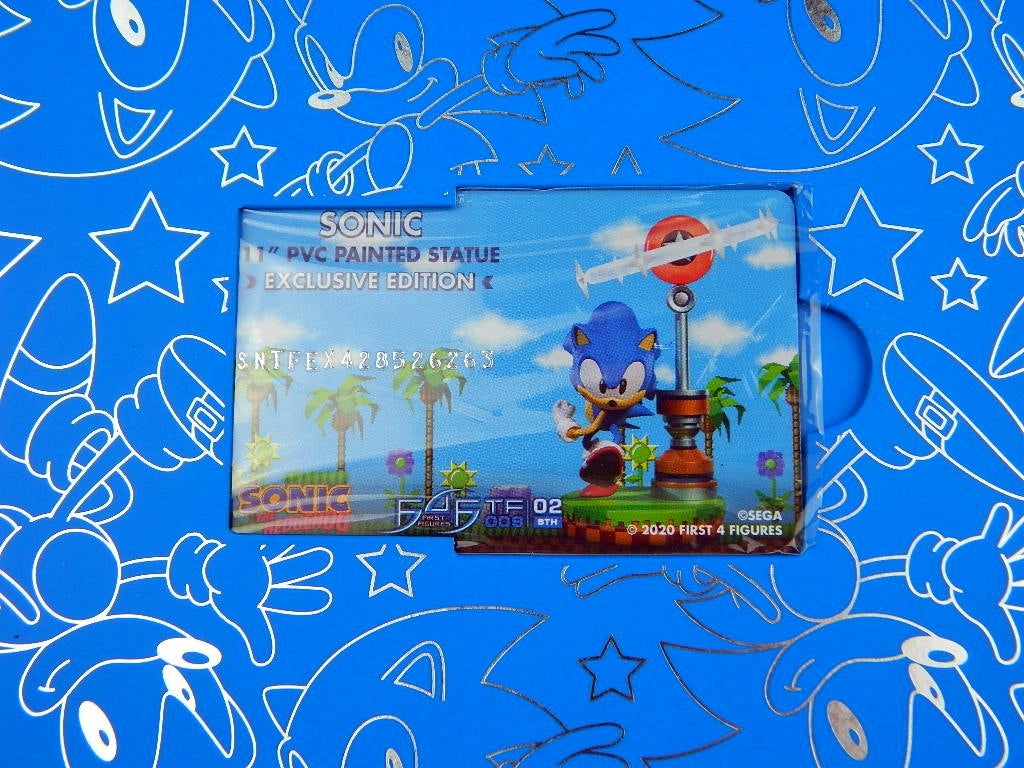 Lift the lid to expose a plyboard panel with a removable Sonic member card embedded in the middle. Are you feeling like a VIP yet? Lift THAT panel to reveal your Sonic statue stowed in a gorgeous window box.
The rest is what you would expect from a PVC statue – cut the tape strips and slide the bad boy out from his clamshell prison. But wow – this kinda of packaging is usually reserved for pricey resin – NOT a PVC plastic piece! I was utterly blown away. Is it overkill? Heck yeah! But who is complaining?!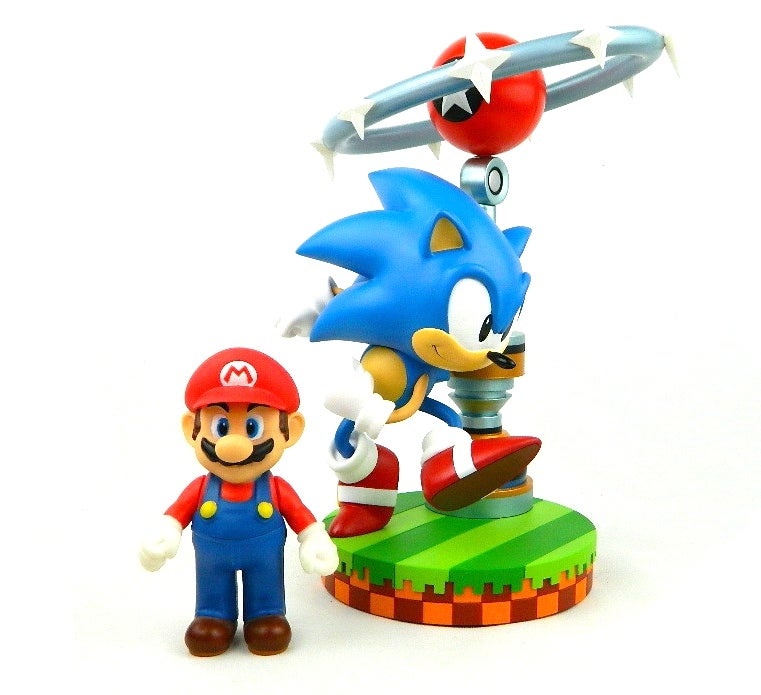 The bottom line is you more than get your money's worth in this impressive 11-inch PVC Sonic the Hedgehog piece. If I were to nitpick, which at this point I feel I have no authority to do so, it'd be to see some iconic golden rings on the base as opposed to the checkpoint. They're just more Sonic iconic. What is offered, however, is sure to please Sonic and video game fans of all ages. Grab yours at First4Figure.com before they're gone – only 5000 pieces produced! The Sonic the Hedgehog 11″ PVC Statue exclusive is priced at $114.99 and worth every cent. Nintendo vs. Sega? BAH! This is the age of video game LOVE.
Review and Photos by Jeff Saylor
Review Sample Courtesy of First 4 Figures
---