Review and photos by Scott Rubin.
HeroClix players and collectors, we're back! The latest run of Marvel expansions continues, hot on the heels of the recent Fantastic Four set, with an offering that's sure to excite fans of Peter Parker and his rogue's gallery of friends, allies, and enemies. Coming soon from WizKids Games is Marvel HeroClix Spider-Man and Venom Absolute Carnage, and it's pretty darn cool. Obviously it's got the headliners of Spider-Man, Venom, and Carnage, plus classic and more recent baddies, Spider-Verse friends, Symbiotes, and Venomized characters. And that's not all; the set even features chase figures that were created here first including historical and stylized versions of Spider-Man related characters. With 70 figures there's something for everyone. WizKids was nice enough to send along a brick of 10 boosters, so let's check 'em out.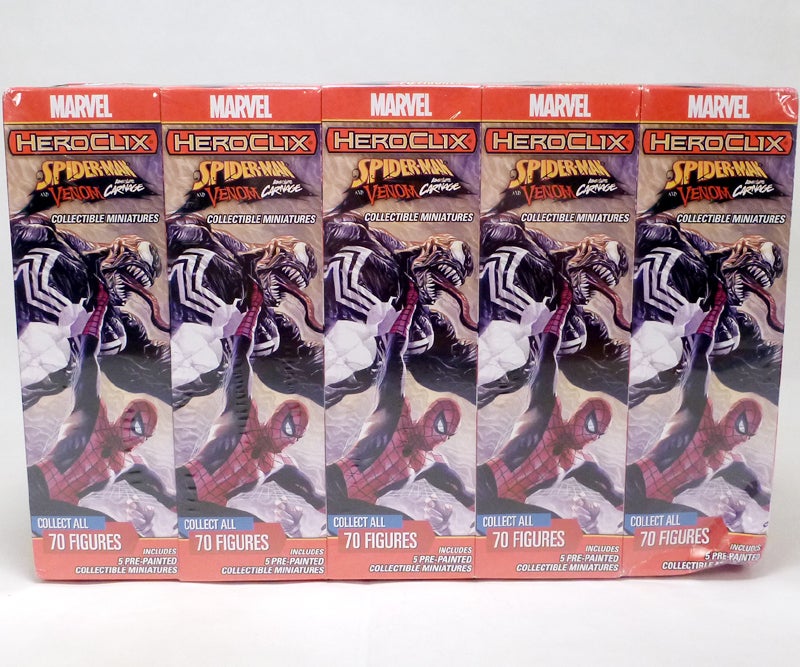 As always, boosters contain five figures of various rarities – always at least one common and at least a rare, potentially more. It's easy to spot Spider-Man and Venom Absolute Carnage boosters with the artwork of the main two titular characters on them as Venom and Spidey swing through the air. The sides of the boxes follow the previous set's example of fewer but still impactful previews with art and a 3D render, this time featuring Miles Morales Spider-Man, Carnage, Red Goblin, and Spider-Man on a trashcan. Finally, the back panel reveals some of the expansion's unique chase figures and offers information about the WizKids Info Network.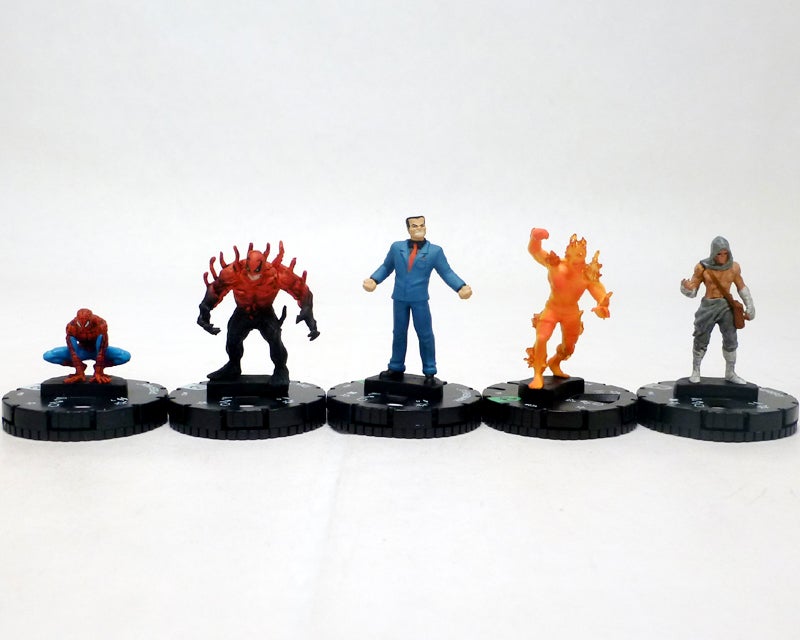 Booster 1
001 Spider-Man
012 Toxin
024 Hammerhead
034 Molten Man
045 Carrion
Alright, first booster and we've got our #1 common Spider-Man, so check that off the list! He's joined by a common Toxin symbiote with fleshy tentacles, uncommon Hammerhead (been a while since we've seen him in HeroClix) and Molten Man, and our rare is the somewhat underwhelming Carrion.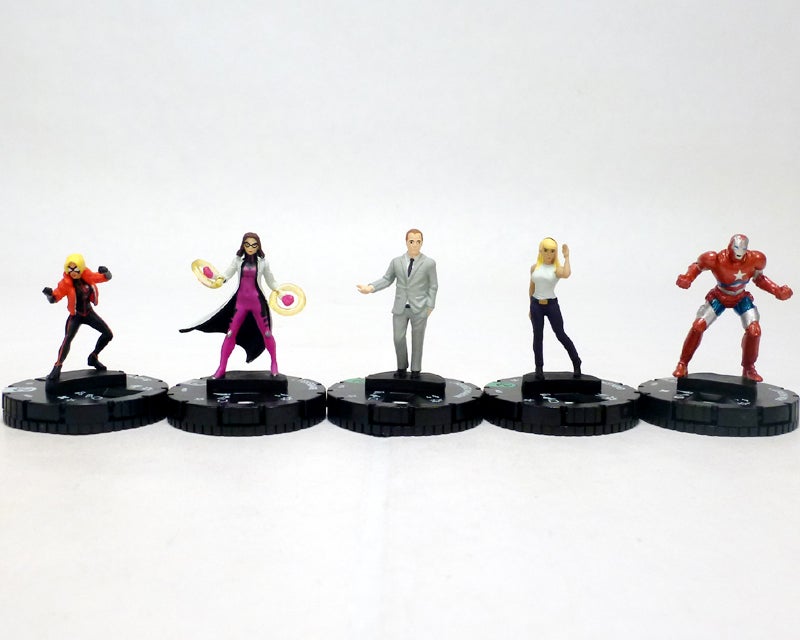 Booster 2
006 Black Widow
009 Bombshell
026 Norman Osborn
027 Gwen Stacy
039 Iron Patriot
Booster #2 brings us some girl power with commons of Jessica Drew Ultimates Black Widow and the villainous Bombshell (Lana) plus uncommon Gwen Stacy. The latter utilizes the new Secret Identity mechanic (much more on this later), and the same goes for uncommon Norman Osborn who can transform into this booster's rare: Iron Patriot!
Booster 3
001 Spider-Man
004 Prowler
016 Peter Parker
032 Agent Venom
062 Spider-Man 2099
Our first super rare!!! Okay, slow down. First off, we also have our first repeated pull with common Spider-Man, who's joined at that rarity level by one of the set's Prowlers and Peter Parker with the Secret Identity mechanic. Uncommon Agent Venom looks pretty cool, and the SR is Spider-Man 2099 blasting off to fight crime.
Booster 4
003 Iron Fist
011 Carnage Minion
027 Gwen Stacy
030 Daniel Berkhart
037 Ghost-Spider
S003 Dimensional Watch
Next up is a fun booster that provides uncommon Gwen Stacy with rare Ghost-Spider, and the first can transform into the second via the Secret Identity mechanic! That rare also comes with the Dimensional Watch, one of a few fun new objects in the set. Riding along with those are commons Iron Fist and Carnage Minion, and uncommon Daniel Berkhart (another Secret Identity recipient).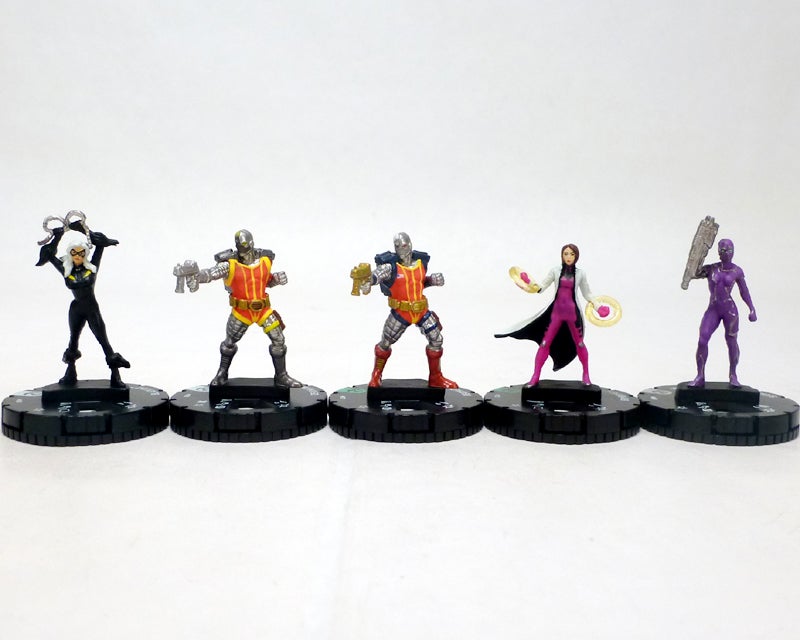 Booster 5
005 Black Cat
008 Deathlok
022 Deathlok
025 Bombshell
049 Scorn
Are we seeing double? No, but we did manage to pull both the common AND uncommon Deathlok in one booster! We've also got common Black Cat, the uncommon Bombshell (to go with the common previously pulled), and rare symbiote Scorn.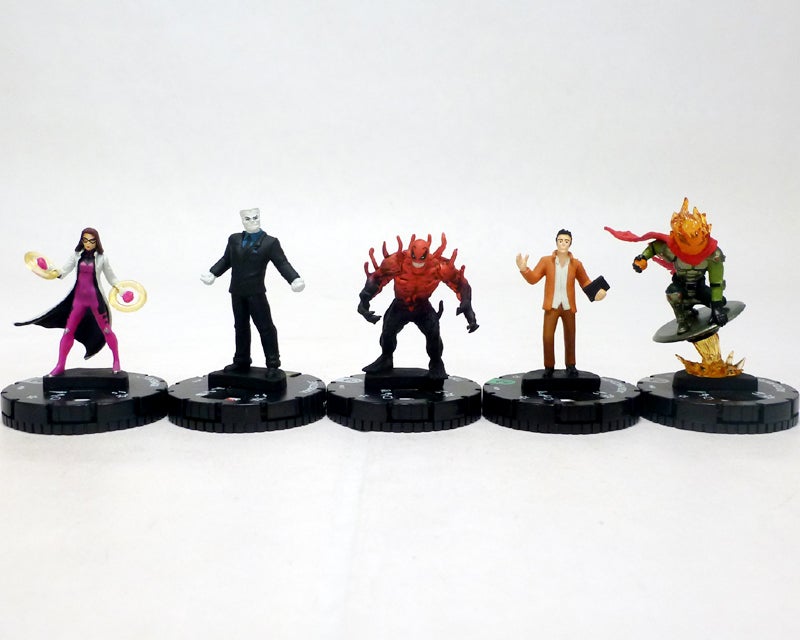 Booster 6
009 Bombshell
010 Tombstone
012 Toxin
029 Jason Macendale
041 Jack O'Lantern
Booster #6 gives us another common Bombshell and Toxin with classic villain Tombstone, while uncommon "civilian" Jason Macendale can use the Secret Identity mechanic to turn into rare Jack O'Lantern (among others)!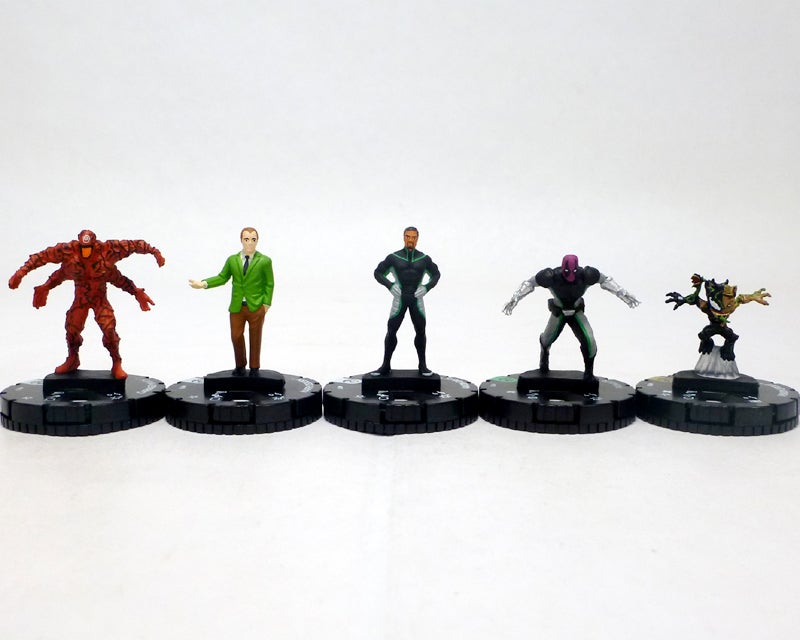 Booster 7
011 Carnage Minion
013 Harry Osborn
017 Aaron Davis
020 Prowler
058 Venom Groot
Bracketed by symbiotes are the figures of booster #7 starting with the generic Carnage Minion. Civilians Harry Osborn and Aaron Davis are the other commons, and Davis can use Secret Identity to turn into the uncommon Prowler! Finally, we've got our second super rare with the tiny, adorable, and vicious Venom Groot.
Booster 8
008 Deathlok
014 Mary Jane Watson
033 She-Venom
042 Spot
070 Steampunk Peni
Hmm, a heavier than usual booster box… what could it contain? We've seen common Deathlok before, but common Mary Jane Watson is new and a perfect combo with uncommon She-Venom. The goofy, but unique-looking Spot is a rare, and that weight turned out to be the massive chase Steampunk Peni straight out of the Spider-Verse!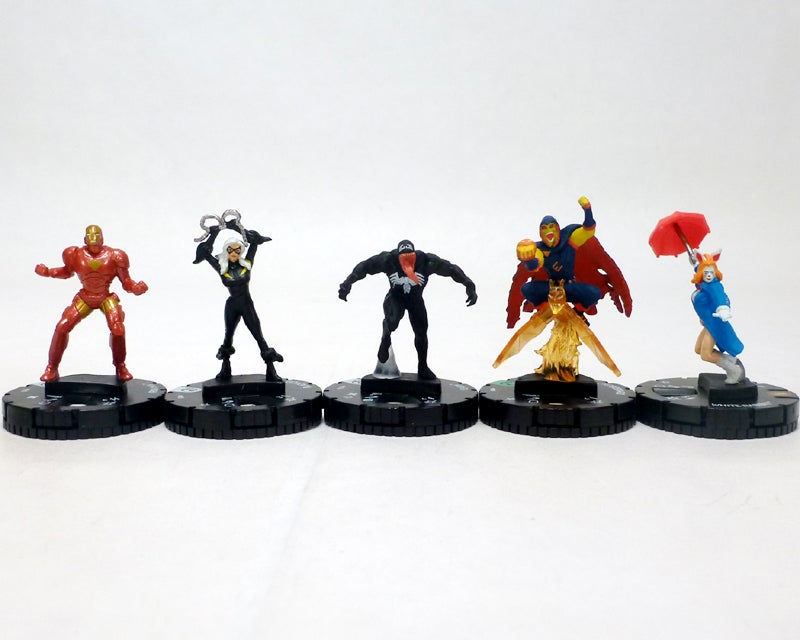 Booster 9
002 Iron Man
005 Black Cat
007a Venom
019 Demogoblin
043 White Rabbit
Iron Man is here to save the day, but this is no Tony Stark; it's Mary Jane Watson! Black Cat and Venom round out the commons, and are joined by uncommon Demogoblin and rare White Rabbit.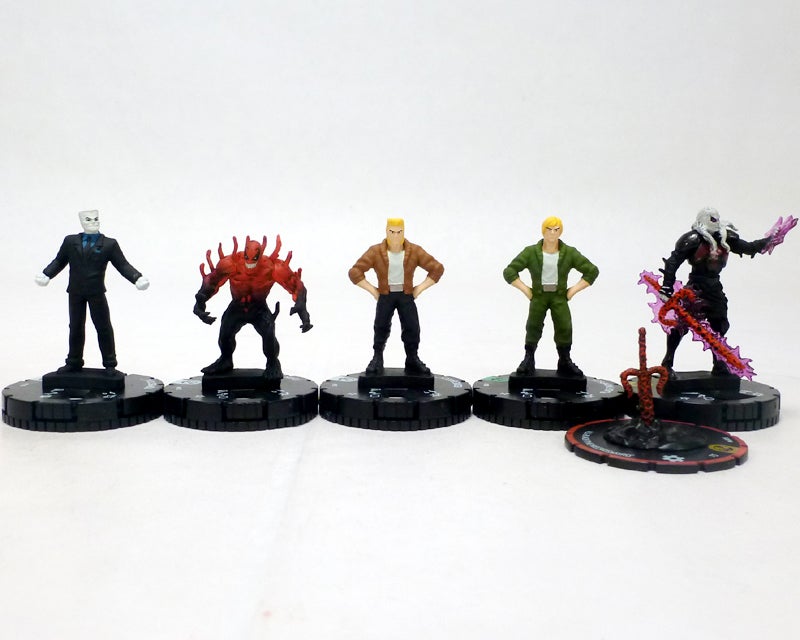 Booster 10
010 Tombstone
012 Toxin
015 Eddie Brock
028 Flash Thompson
052 Knull
S005 All-Black the Necrosword
Booster #10 doesn't disappoint. Sure, it starts with dupes of commons Tombstone and Toxin, but then we get civilian Eddie Brock (who can Secret Identity into Toxin and Venom) and uncommon Flash Thompson to go with the Agent Venom we pulled previously. Lastly, it's our last super rare in the mighty Knull who comes with All-Black the Necrosword!
Here's the full breakdown of the figures in this brick (your results will vary of course):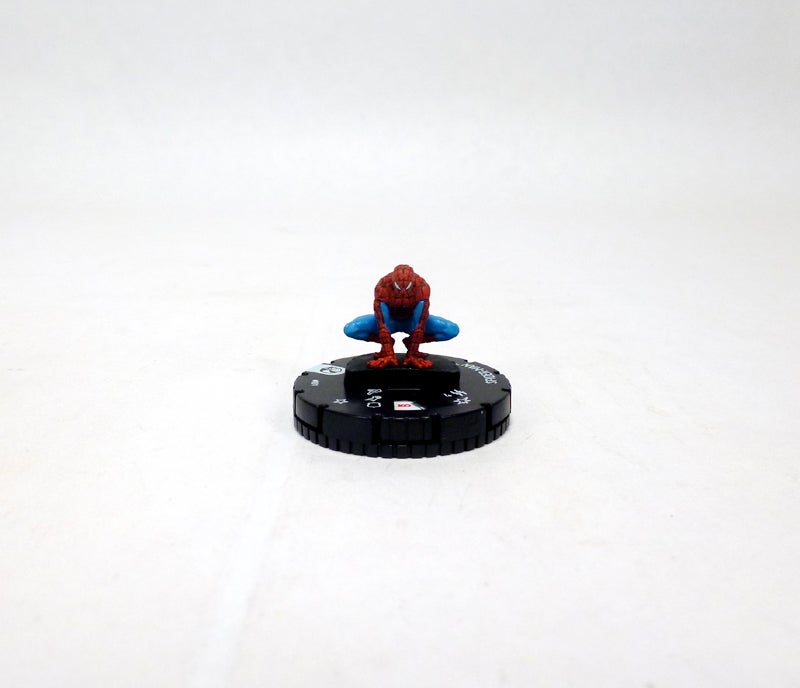 COMMONS (including duplicates)
001 Spider-Man
002 Iron Man
003 Iron Fist
004 Prowler
005 Black Cat
006 Black Widow
007a Venom
008 Deathlok
009 Bombshell
010 Tombstone
011 Carnage Minion
012 Toxin
013 Harry Osborn
014 Mary Jane Watson
015 Eddie Brock
016 Peter Parker
017 Aaron Davis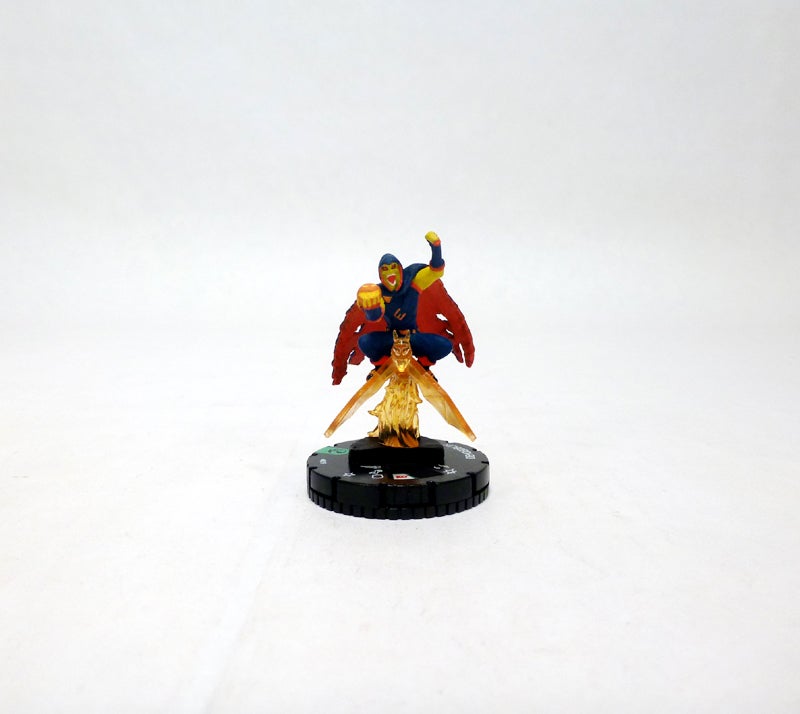 UNCOMMONS (including duplicates)
019 Demogoblin
020 Prowler
022 Deathlok
024 Hammerhead
025 Bombshell
026 Norman Osborn
027 Gwen Stacy
028 Flash Thompson
029 Jason Macendale
030 Daniel Berkhart
032 Agent Venom
033 She-Venom
034 Molten Man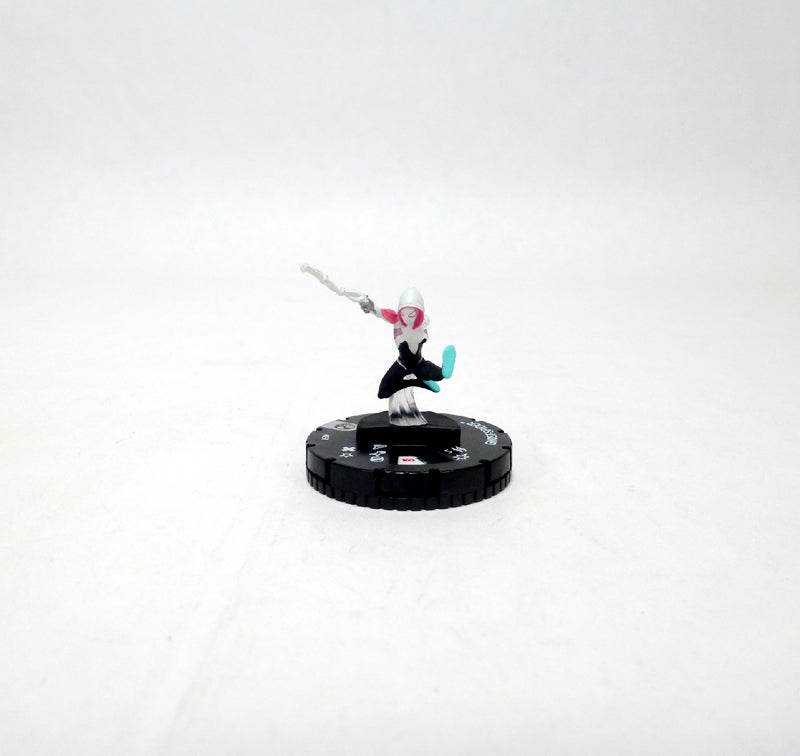 RARES
037 Ghost-Spider
039 Iron Patriot
041 Jack O'Lantern
042 Spot
043 White Rabbit
045 Carrion
049 Scorn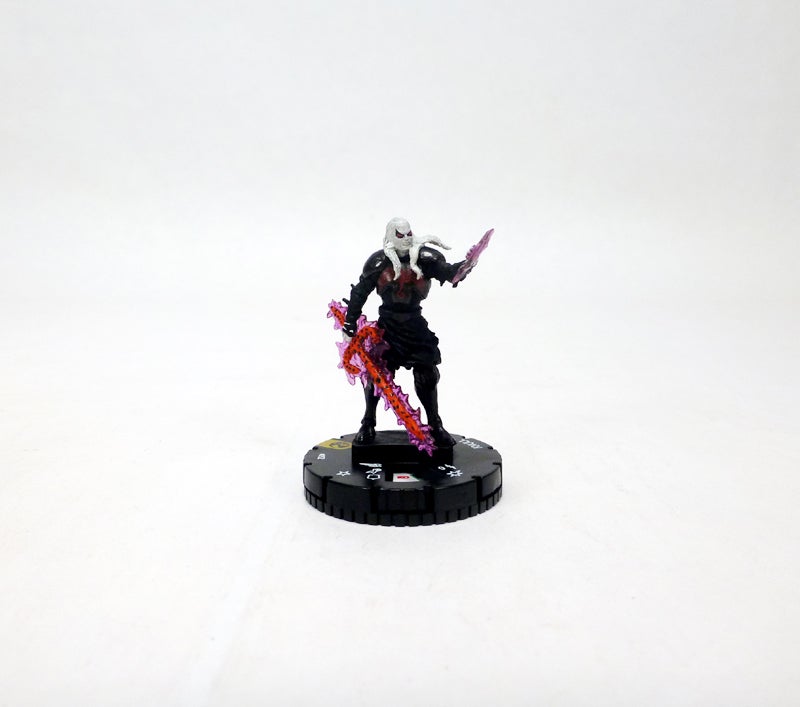 SUPER RARES
052 Knull
058 Venom Groot
062 Spider-Man 2099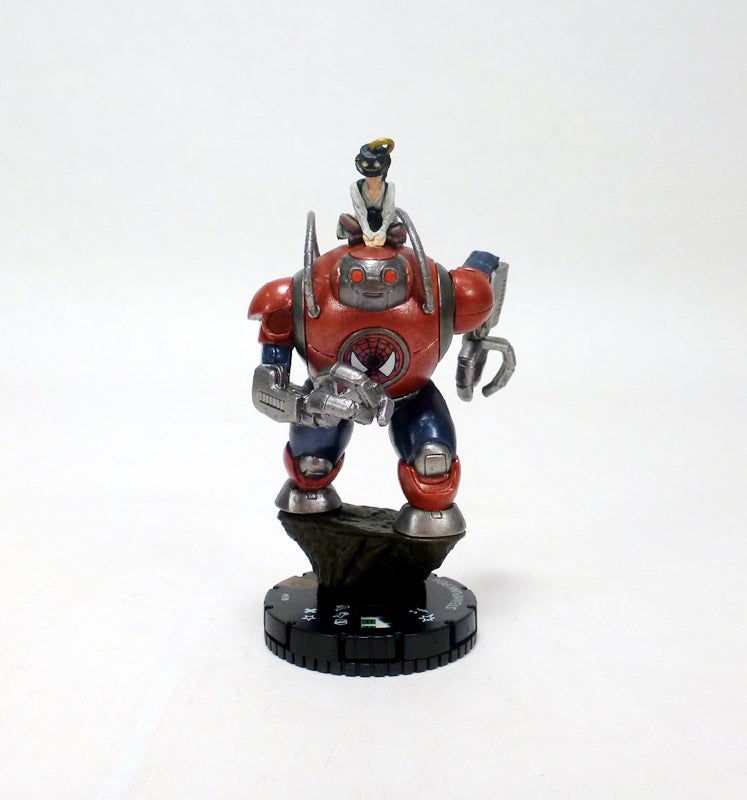 CHASE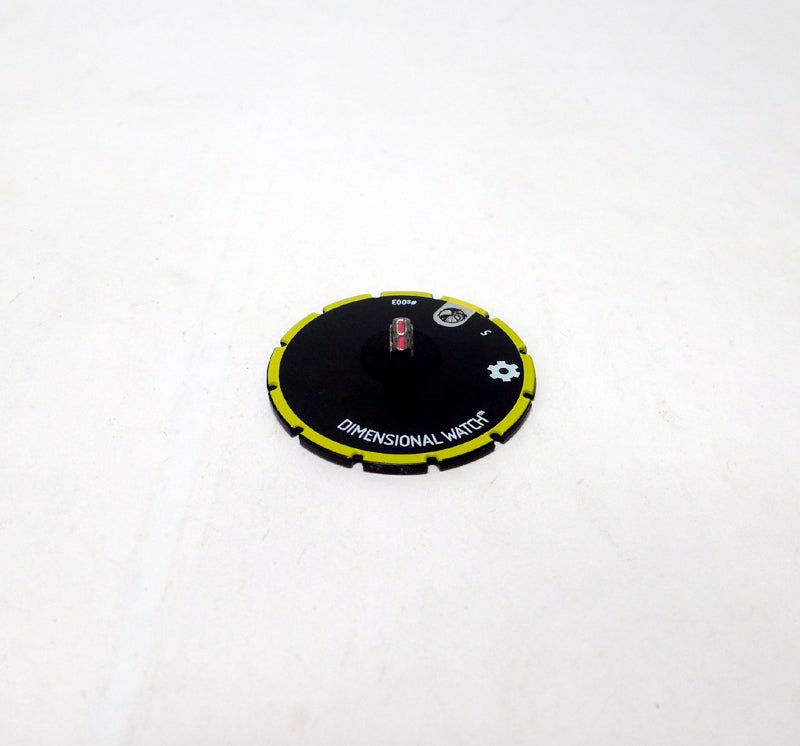 OBJECTS
S003 Dimensional Watch
S005 All-Black the Necrosword
I always start discussing the figures by looking at collation and how are pulls were overall. After all, with 70 figures in a set you can only get so much in a brick. We pulled all 17 standard commons (minus the Prime), 13 of the 18 total uncommons, 7 of the possible 17 rares, 3 of the set's 13 super rares, and one of the 8 chases! We also got two out of 7 Equipment Objects, which is fun. That collation isn't bad, though we've seen other brick unboxings with a chase and a prime, so that's possible too. As always, your results will vary.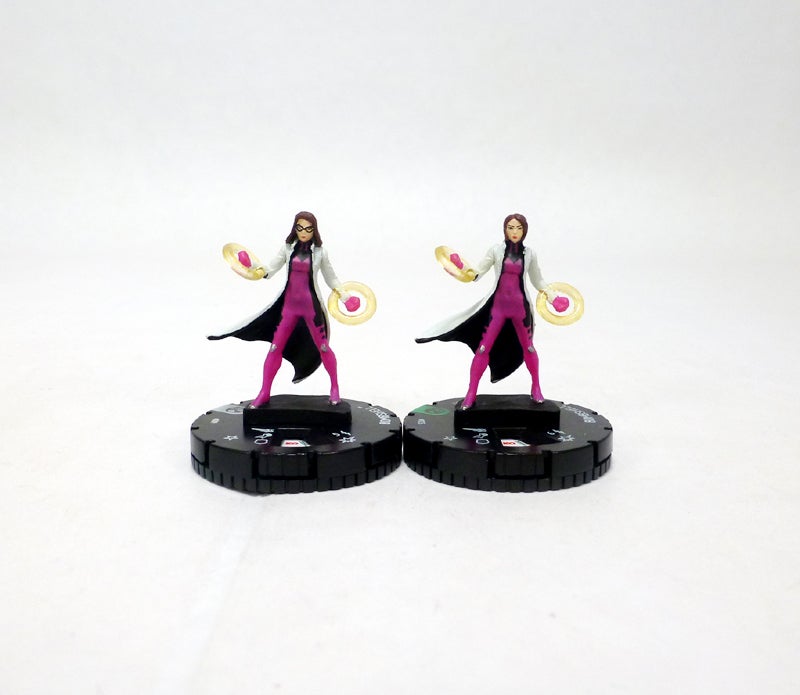 Alright, let's go through each rarity slot in detail. Of course, the commons start with Spider-Man himself in an iconic squatting pose, and here you'll also find his Secret Identity of civilian Peter Parker. Joining the web-head is a number of Spider-Man's friends and allies including Iron Man (Mary Jane), chi master Iron Fist, Hobie Prowler, Jessica Drew as Black Widow, and the one and only Mary Jane Watson. In a category I like to call "complicated" are a bunch of characters who at times have been good and at others bad (a common thing in Spider-Man's world): thief with sometime heart of gold Black Cat, lethal protector Venom, Deathlok, symbiote Toxin who's had a couple different hosts over the years, the young Harry Osborn, Eddie Brock, and Miles Morales' uncle Aaron Davis. Lastly, we need our straight-up villains, and the commons give us Lana Baumgartner Bombshell, the pale and deadly Tombstone, and the generic army builder Carnage Minion.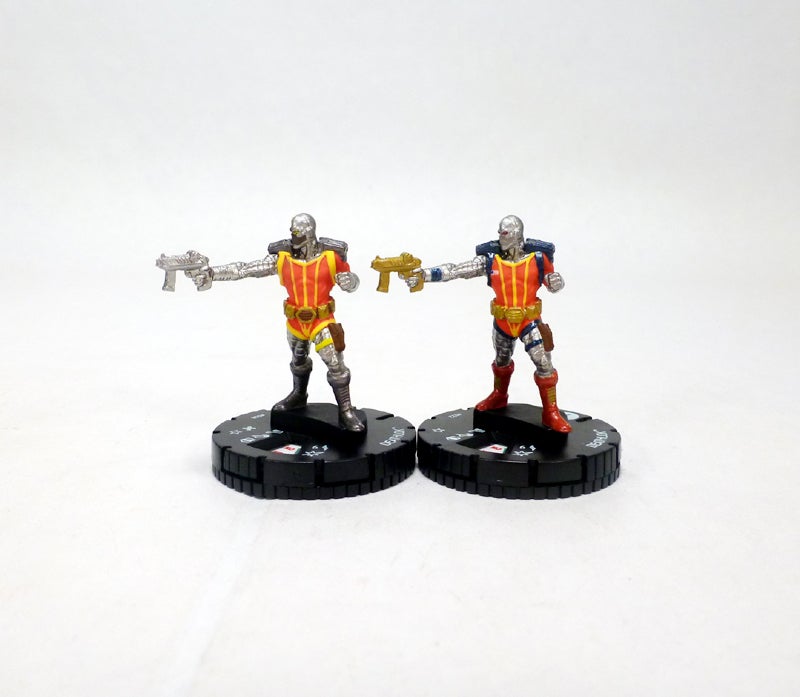 Those "complicated" characters definitely extend to the uncommons too, with original cyborg Deathlok Luther Manning, She-Venom who's sometimes murderous Anne Weying and sometimes Mary Jane, and the fiery Molten Man. True, or at least mostly, friends of Peter Parker are the heroic Gwen Stacy of a parallel world who becomes Spider-Woman/Ghost-Spider, former kid bully who made good Flash Thompson, and his symbiote-connected alter ego Agent Venom. The rest of our uncommon pulls are bad guys that are fun to play with the demonic Demogoblin, Davis Prowler, all-around creepy Hammerhead, Lori Baumgartner Bombshell, psychotic Norman Osborn, Jason Macendale, and Daniel Berkhart.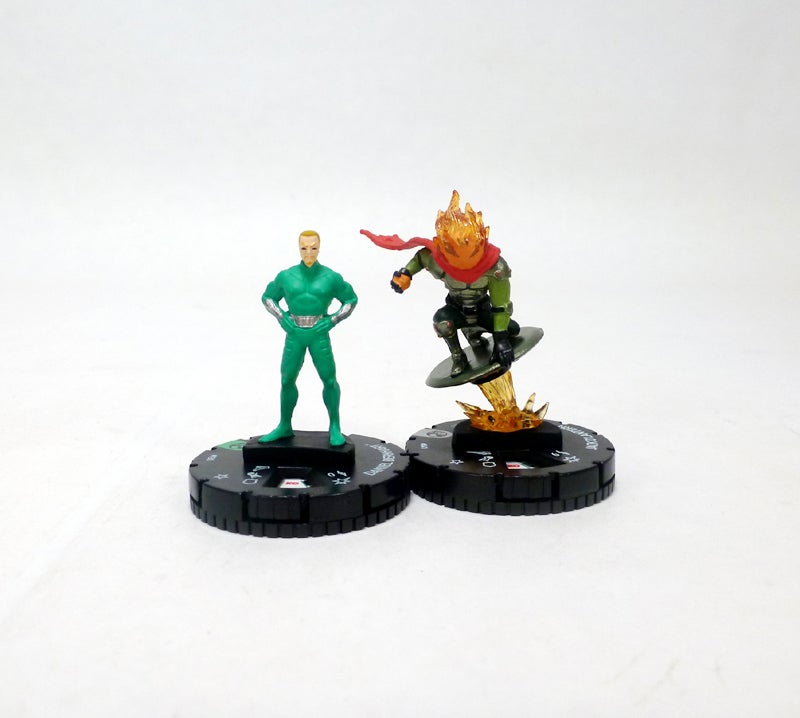 It seems like HeroClix rares usually follow a stricter pattern, and that's true at least in our pulls here. While we've got the heroic, high-flying Ghost-Spider and complicated sometimes good/sometimes bad symbiote Scorn, the rest are decidedly not heroic. The villains range from Dark Avengers Norman Osborn Iron Patriot to Jack O'Lantern, Spot, White Rabbit, and Carrion.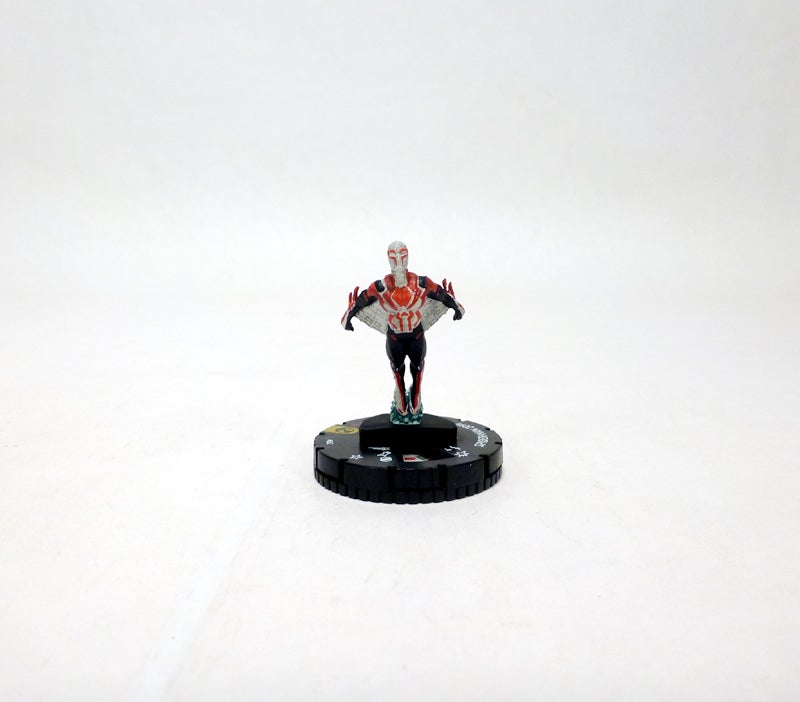 Super rares often give us unique characters that range from those with few but special appearances to noteworthy villains, and more. The three we pulled here follow on those themes with the massively powerful and fearsome "god of symbiotes" Knull, symbiote-afflicted Venom Groot, and Miguel O'Hara Spider-Man 2099 in his modern costume! As noted above, the chases in this set are unique characters created for HeroClix featuring Spider-Man-related heroes and villains as they might have appeared in different time periods around the world. Our pull is Steampunk Peni, with the young girl riding atop her gigantic steam-powered robot!
WizKids has revealed that the Spider-Man and Venom Absolute Carnage set includes seven Equipment Objects, and we pulled two of them. The Dimensional Watch object came with Ghost-Spider, although I see that several other figures can start the game with it as well including Spider-Man 2099 and Black Widow. Much more character-specific is All-Black the Necrosword, the signature weapon of Knull! Of course, other characters could potentially use these items and gain access to their special rules.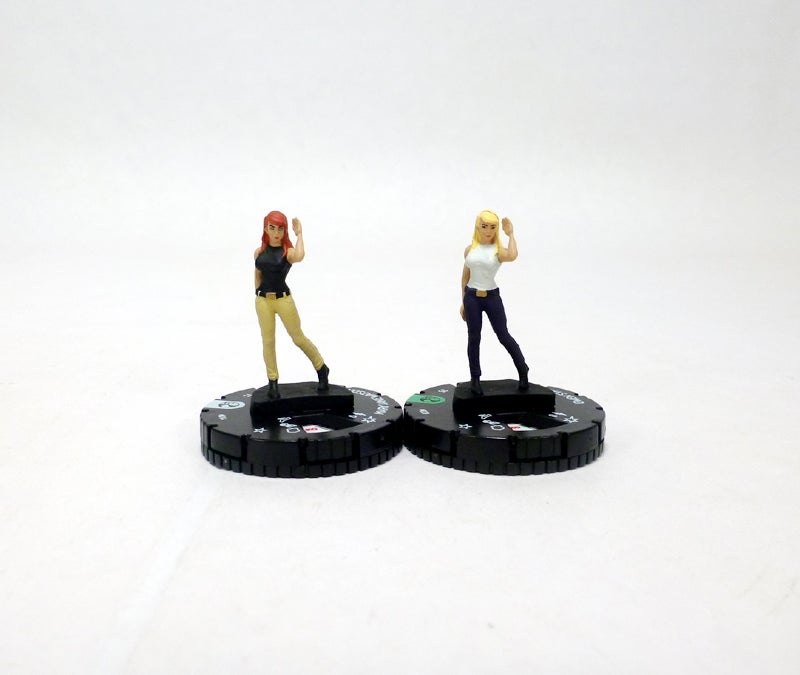 All HeroClix expansions have their own unique character, exemplified not only by the selections of heroes and villains in them but also the look of them. Spider-Man and his supporting cast of characters are pretty colorful and certainly energetic, so we'd hope to see figures representing that. The photos speak for themselves, but here are some of the noteworthy things I've found. Overall, there are a lot of neat sculpts with tons of character, and that even extends to the "civilian" halves of the Secret Identity mechanic combos (especially the dismissive pose of the Osborns and the active feel of Mary Jane Watson/Gwen Stacy). Among what I pulled the sculpts that I like most include Spider-Man right off the bat with his iconic pose and detailed webbed costume, Black Cat holding her hands up, the Deathloks with their intricate mechanical details and weaponry, the horrific multi-limbed Carnage Minion, Demogoblin with his amazing cape and hellfire glider, She-Venom whose tongue is so striking and eye-catching, the fantastic Ghost-Spider captured in a perfect mid-web swing pose, Jack O'Lantern, the thoroughly evil Knull, adorable and deadly Venom Groot, Spider-Man 2099 looking like he's about to fly right off his base, and of course the chase Steampunk Peni who just came together so well. Beyond the sculpts themselves are figures whose poses stand out as perfect for the characters, and for me these were the mystical martial artist Iron Fist, Prowler on the prowl, Toxin lurching forward as tendrils whip on his back, the very tacticool Agent Venom, Ghost-Spider as mentioned above, Spot using his crazy powers, the very Mary Poppins-like White Rabbit, and Scorn standing tough with her weapon arm at the ready. Lastly, I always look for cool sculpted textures which you can see on figures like Spider-Man and his costume pattern, Carnage Minion, Toxin, Molten Man, and Venom Groot.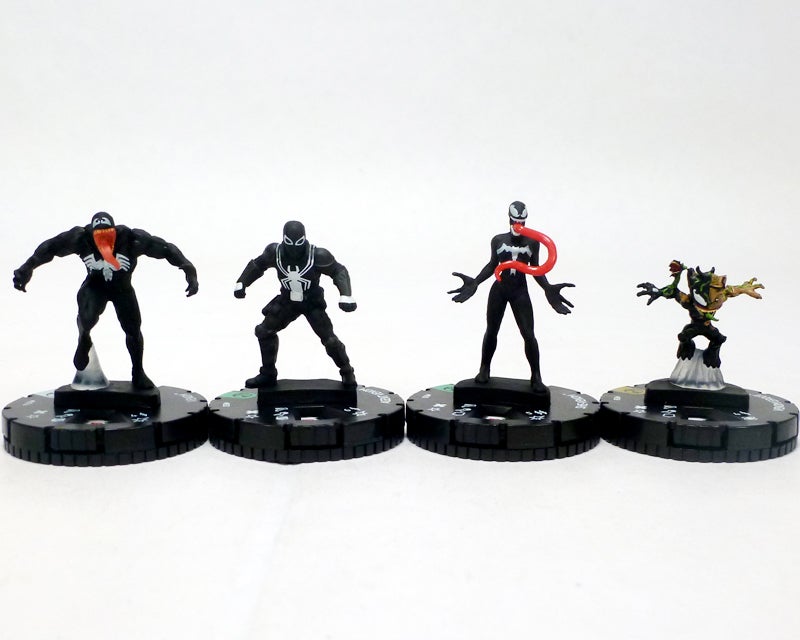 While intricate sculpts are great, they need to be matched with good paint jobs to bring out all those details make the characters shine. The Absolute Carnage expansion has a lot of color and visual energy with so much to enjoy from the commons all the way up to the chases. Here, some of my favorite paint jobs include common Spider-Man looking classic in red and blue, Iron Fist whose green, yellow, and white just work, the clean lines and big eyes of Black Widow, the Bombshells with their nicely accented mad scientist outfits, Tombstone in grayscale, all of the "civilian" characters with good clothing elements and expertly applied face details, Agent Venom as another example of clean, straight lines on symbols and big eyes, She-Venom with the red tongue that pops so well against the black and white, the absolute perfection of Ghost-Spider, Jack O'Lantern with his super complex sculpt matched by great paint work, Spot and his… spots, the cool contrast of purple bodysuit and gray/silver tech patterning on Scorn, the neat way the symbiote black and white mesh with the verdant brown and green on Venom Groot, Spider-Man 2099 with his bold and non-standard Spider-Man colors, and Steampunk Peni with great details you have to look closely (and at different angles) to appreciate. Translucent plastic is used, as usual, for flight effects as well as energy blasts and the like, with examples including Iron Fist's… fist, Venom's leap, the energy rings on the Bombshells, Demogoblin's glider and its trail, Molten Man's flame effects, Ghost-Spider's leap, Jack O'Lantern's energy blast and flaming pumpkin head, the portals on Spot, umbrakinesis energy on Knull, Venom Groot's leaping pounce, and Spider-Man 2099's flying effect. Lastly there are some cool uses of metallic paints like the Iron Man and Iron Patriot armors, the cyborg bodies and weapons of the Deathloks, uncommon Prowler's arms, Jack O'Lantern's costume and flying device, Scorn's techno-hybrid elements, and Steampunk Peni's robot.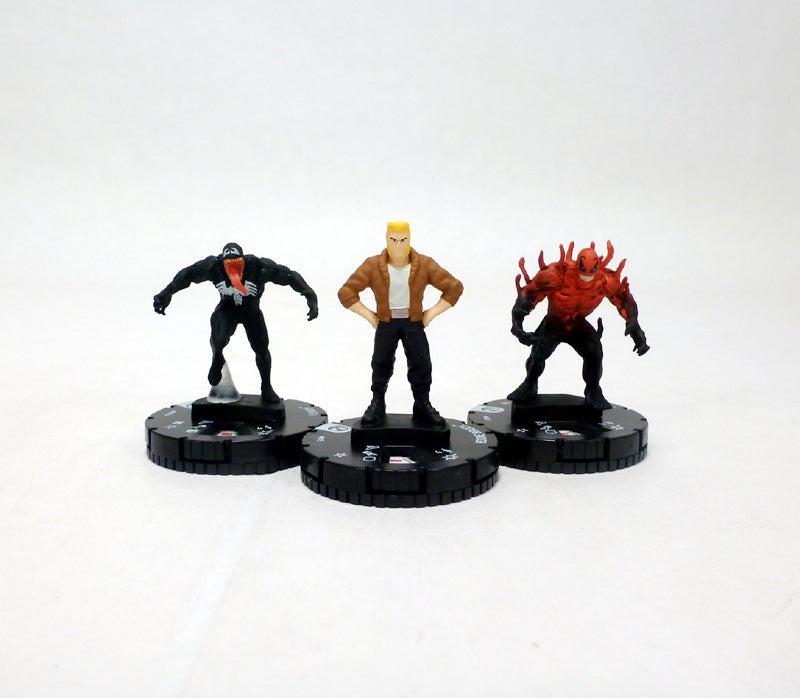 Before moving on to some dial reveals I wanted to take a minute to talk about the new Secret Identity mechanic WizKids is introducing into HeroClix here. Way back in the old days there was a similar function called Alter Ego that gave us "civilian" and "hero" figures with a way to turn the one into the other. It worked, but it wasn't without its issues and so it faded away. Secret Identity updates and evolves that mechanic into something really cool and fun, and I am a huge fan! Essentially, the civilian is a low-cost (15-40 points among what I pulled), playable piece with a taste of the powers the character could access as a costumed hero or villain. When one of those pieces is KO'd (and you have access to the appropriate figures), you can instead swap in one of its "Secret Identity" results as explained on their cards; that figure comes in on a secondary part of its dial with only a few clicks of life, and if that figure is KO'd your opponent gets an extra 25 points. This is cool for a few reasons. Number one, it gives you options.
Want to add Spider-Man to your team but you're low on points? Grab Peter Parker instead, who brings the Spider-Man Ally team ability, a little range, Leap/Climb, Incapacitate, Super Senses, Probability Control, etc. to the table for only 35 points, and upon his KO you can decide to "upgrade" to an actual Spider-Man figure for a few more clicks. Civilians are also Autonomous, meaning their costed actions don't count toward your action total! Last but not least, you'll find that some of the short dials accessed via the Secret Identity mechanic are actually fairly different than on the original starting line for them. For example, common Spider-Man as created from Peter Parker being KO'd has Defend which the regular version does not, and in the case of Agent Venom, while the standard version is a ranged attacker the Secret Identity dial accessed via Flash Thompson is a melee ball of rage with Flurry, Blades/Claws/Fangs, and Battle Fury. Pretty cool stuff!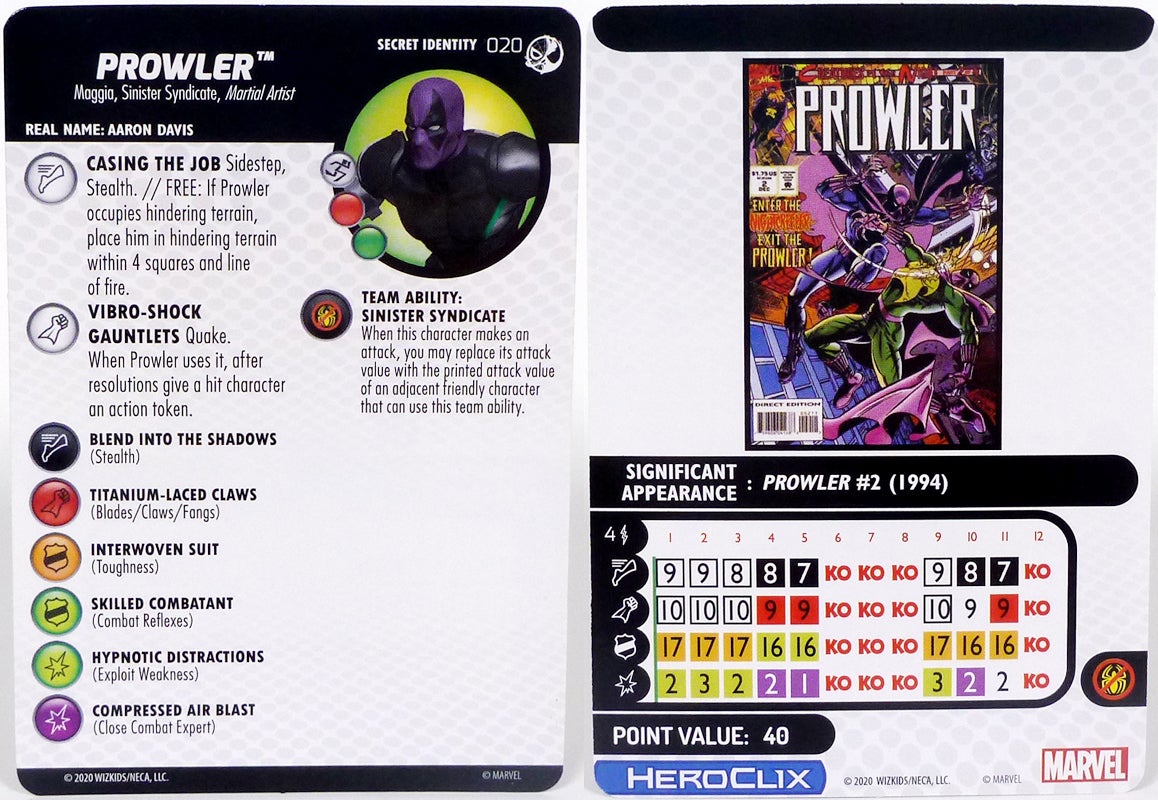 Okay, I've promised it and here we are: some dial reveals! We've seen most of them on Scott Porter's unboxing video series and other features, but at least some of these should be new to the community. Here are uncommon Prowler, Hammerhead, Gwen Stacy, Iron Patriot, Scorn, and Spider-Man 2099.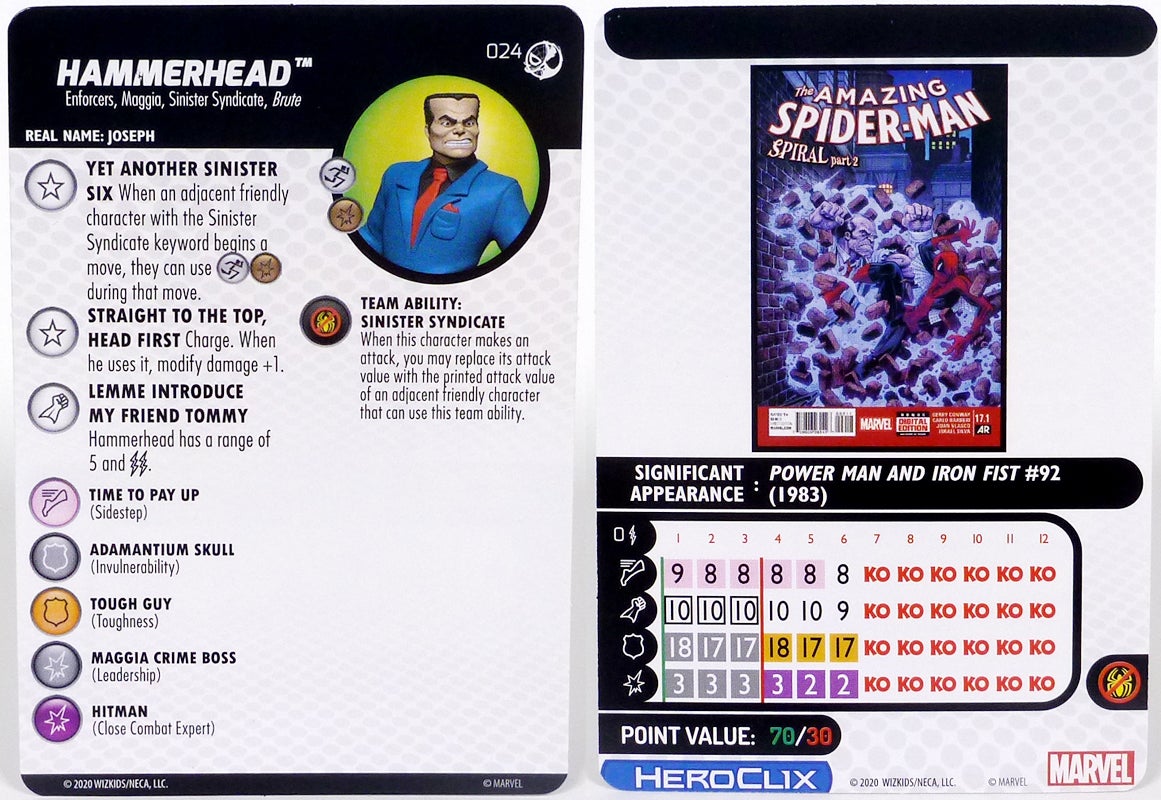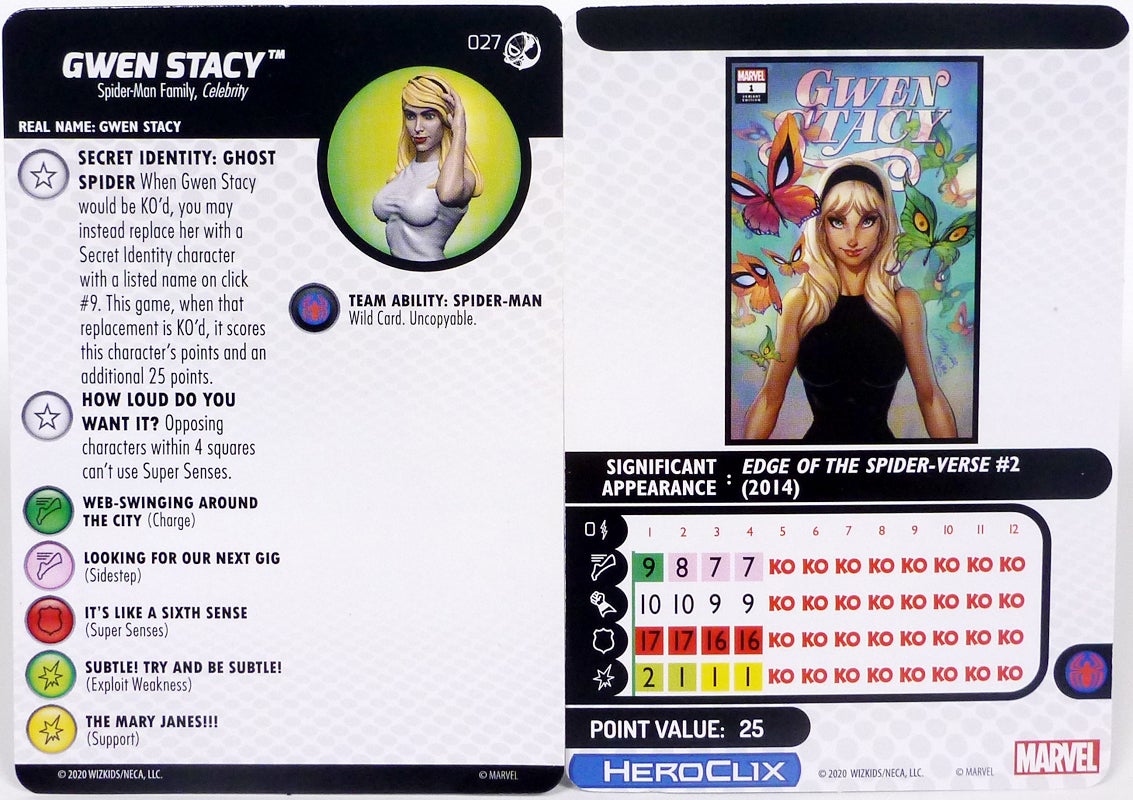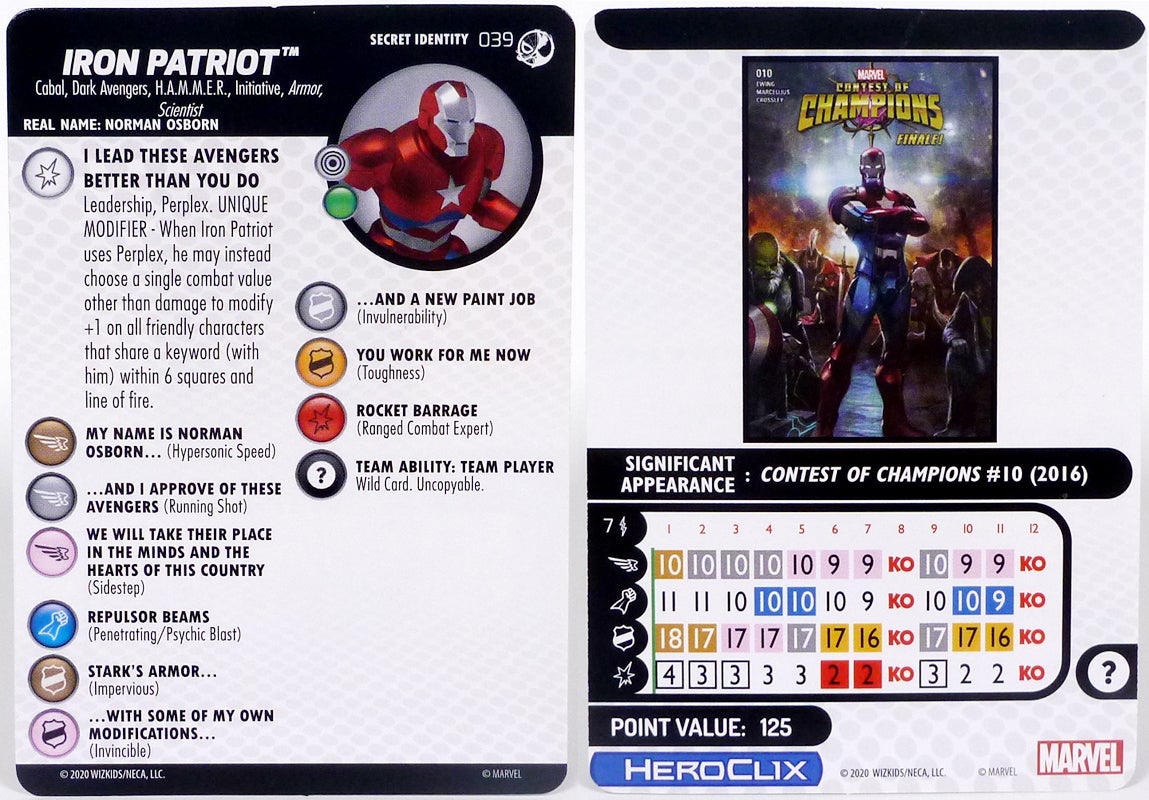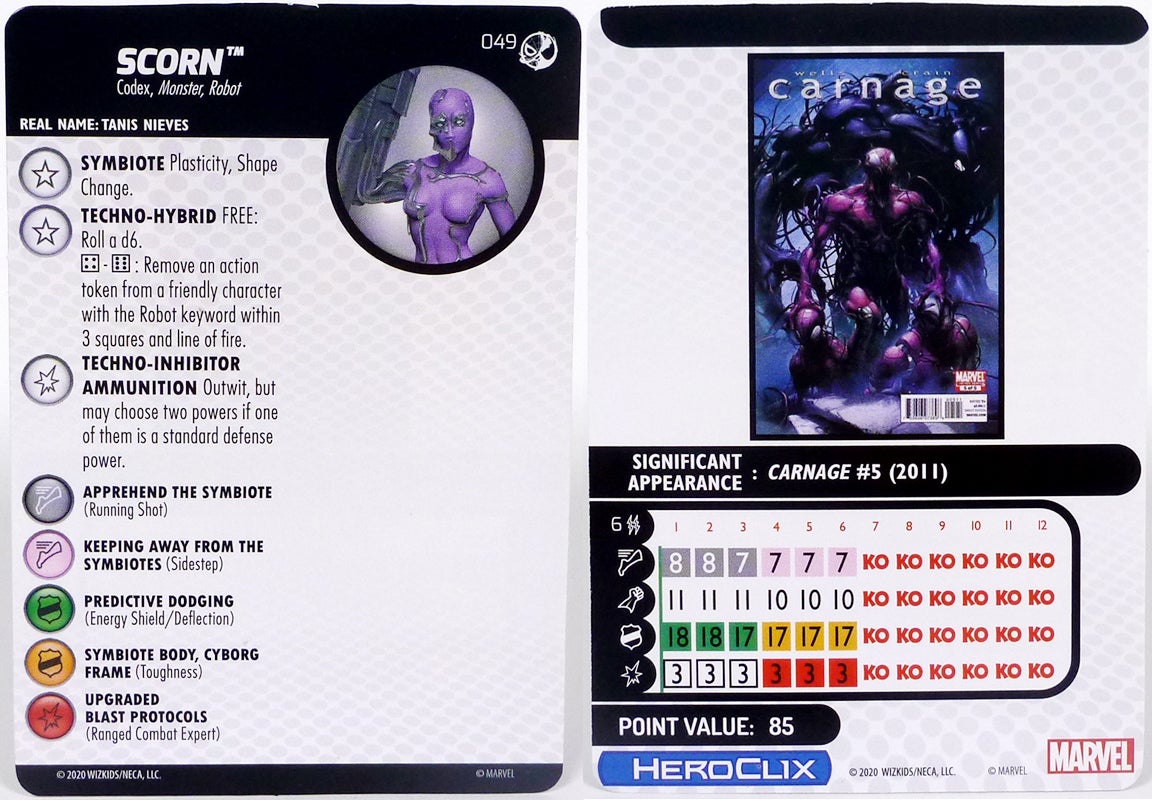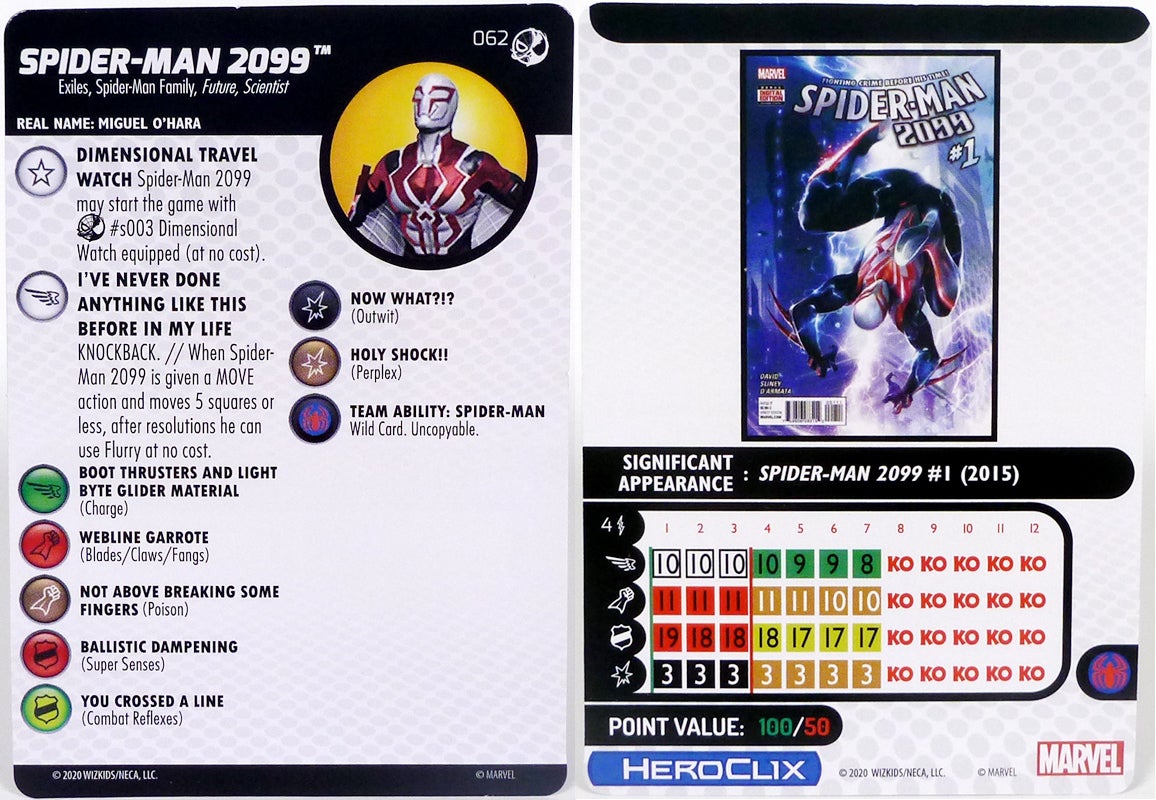 Spider-Man is pretty much a lock when it comes to the most popular comic book characters and a good anchor for a HeroClix set theme, and in my opinion Spider-Man and Venom Absolute Carnage really does deliver. There's plenty of classic and modern Spider-Man versions plus friends, allies, and enemies, not to mention a healthy serving of Venoms, the symbiotes, and their partners. As I discussed above, I think the Secret Identity mechanic is going to be popular and I really hope WizKids keeps using it. So yeah, all in all I'm going to recommend this expansion booster set highly for fans of Marvel HeroClix and anyone looking for some unique Spider-Man related collectibles, and any Marvel fans or HeroClix players in general should check it out too.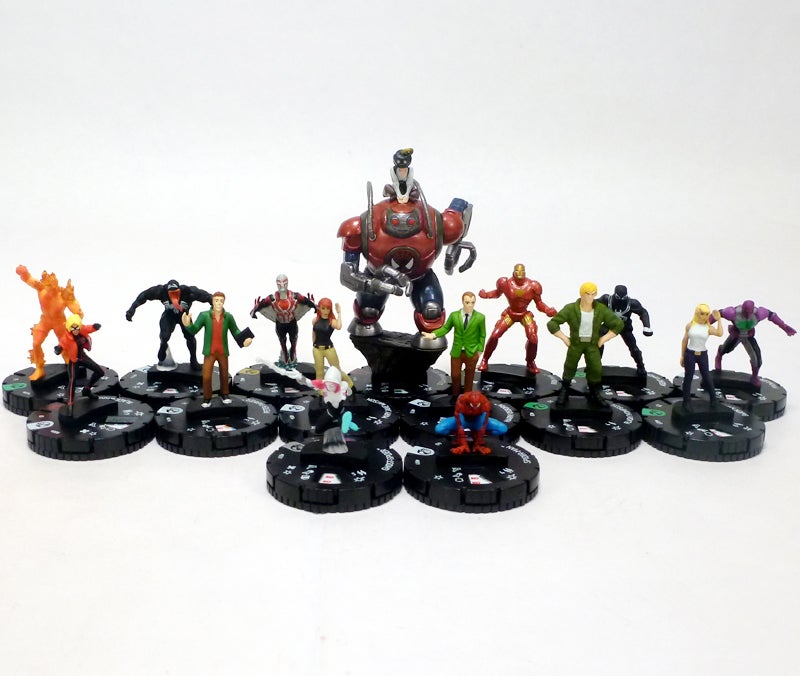 You'll be able to get your hands on this set along with its accompanying Dice & Token Pack and Fast Forces coming up next week on September 9th, and as with the last few releases WizKids will be offering Absolute Carnage on its website in case you can't get to your local comic book or game store (but try to support them first if you can). We hope you've enjoyed this look at some of the new Spider-Man and Venom Absolute Carnage HeroClix. As always, have fun and good luck with your pulls!
Visit HeroClix.com for even more info as well as downloads of rules and maps, and stay tuned to Figures.com as we continue our reviews of new HeroClix!
Review and photos by Scott Rubin.
Review samples courtesy of WizKids Games.
---