The videogame Marvel's Spider-Man provides our friendly neighborhood hero with a sizable arsenal of suits that can adapt to any situation. Following the release of their first assortment of Spider-Man Armory Miniature Collectibles (see HERE), Hot Toys is proud to unveil Series 2.
The brand new Marvel's Spider-Man Spider-Man Armory Miniature Collectible Series 2 line-up specially features Spidey suits in miniature size, including the Secret War Suit, Cyborg Spider-Man Suit, Scarlet Spider Suit, Damaged Classic Suit, Electrically Insulated Suit, and Iron Spider Armor. Collectors can display these figures heroically upright in the reimagined armory with LED light up function. Each Armory Collectible measures approximate 12cm tall, whereas each Spider-Man mini-figure measures approximately 8.5cm tall. Each are sold separately.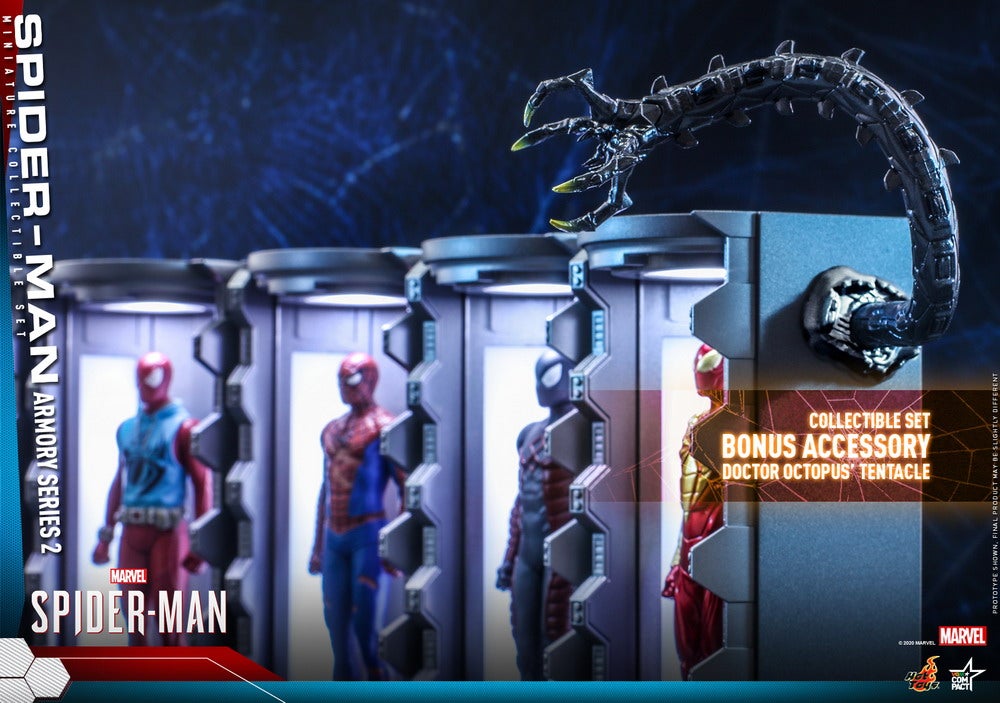 In addition, the Six-in-One Series 2 Set, available only in selected markets, exclusively includes a magnetic Doctor Octopus tentacle, making a grand upgrade to the whole display!
Release date: Approximately Q3 – Q4, 2020
**Prototype shown, final product may be slightly different
**Light up function operated using USB power
**USB connecting cable is not included for collectible, Micro USB cable is required
**Product details can subject to change without further notice
---