I had a bit of a music identity crisis growing up as a teen in the Eighties. I believe it's the same for all kids growing up, despite the times – after all, music helps define who we are – or at least what we think we are and what we should look like. I've long since realized music is all in your head, with your thoughts and actions truly identifying who you are.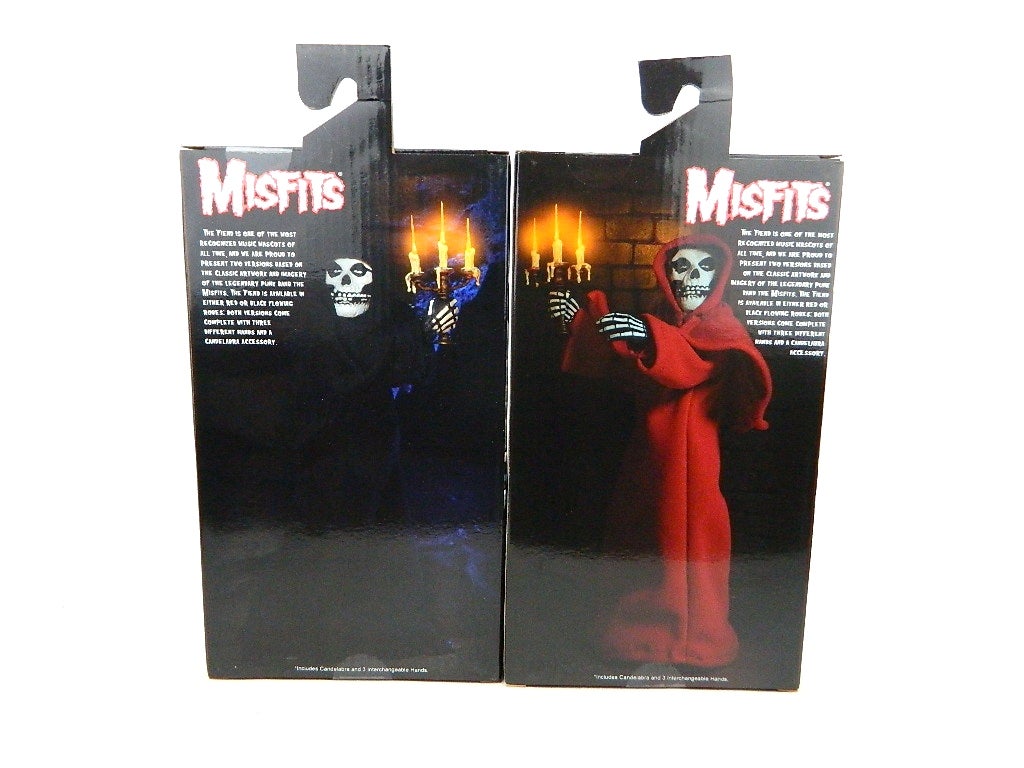 Nevertheless, I went through a rap phase wearing windbreakers and fat shoe laces; a heavy metal phase with ripped blue jeans and long hair; industrial music phase with boots and all black clothing. My punk phase fit in there as well, albeit much later in the '80s. To be honest though, most punk didn't do much for me. Without naming names, I found a lot of punk too chaotic with no real vocal or musical structure (that my ears appreciated, anyways).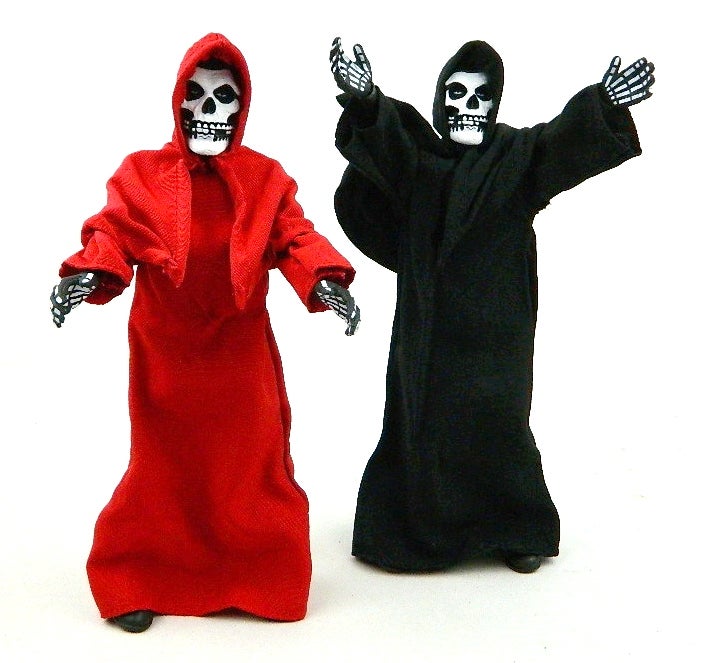 However, there were a couple punk bands that hit all the right notes for me, one of them being the Misfits . The music, while guitar heavy, had melody. And the Danzig vocals, while at times harsh, actually had harmony. Ah, but the image! The Misfits defined a sub-genre of music that I could finally relate to: horror punk.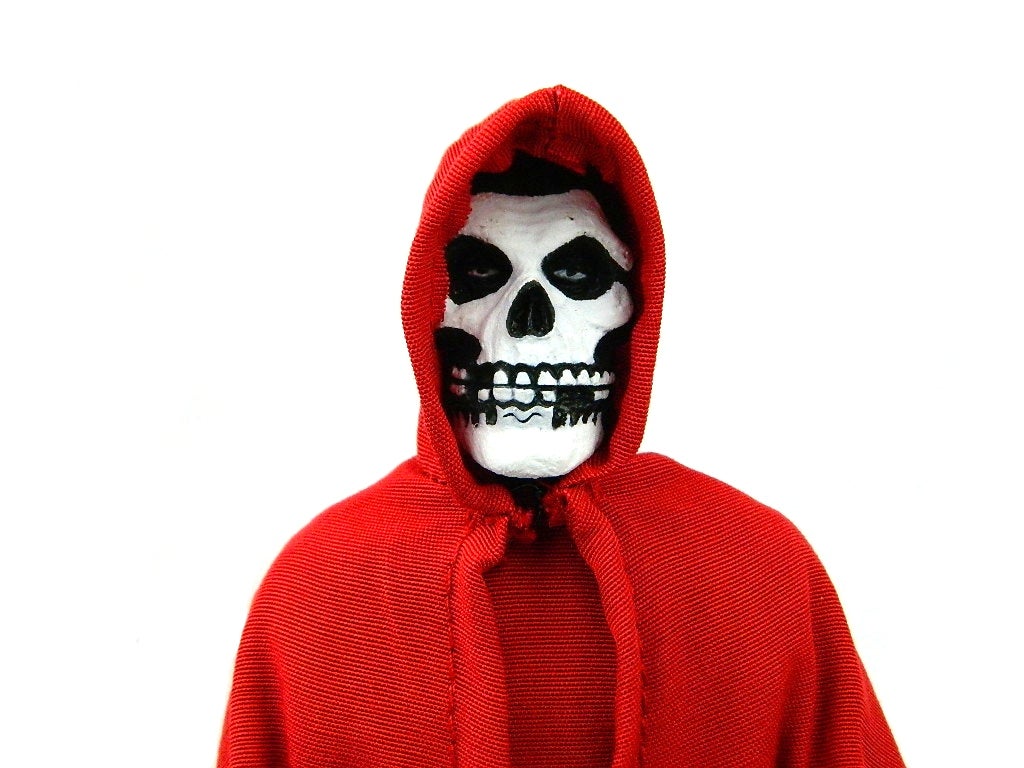 Misfits successfully blended my love of horror movies with my love of hard-rocking music. Songs like Astro Zombies; Mommy, Can I Go Out And Kill Tonight? ; Skulls; and Dig Up Her Bones are all still in heavy rotation on my much expanded musical play list today.
Tying it all together was the great imagery of the band in white skull makeup and studded black leather… all with an unforgettable hooded skeleton mascot called The Fiend promoting their albums. Introduced way back with their Horror Business single in June 1979, The Fiend was inspired by a poster for the 1946 film serial The Crimson Ghost, another nod to the band's love of cult classic horror movies.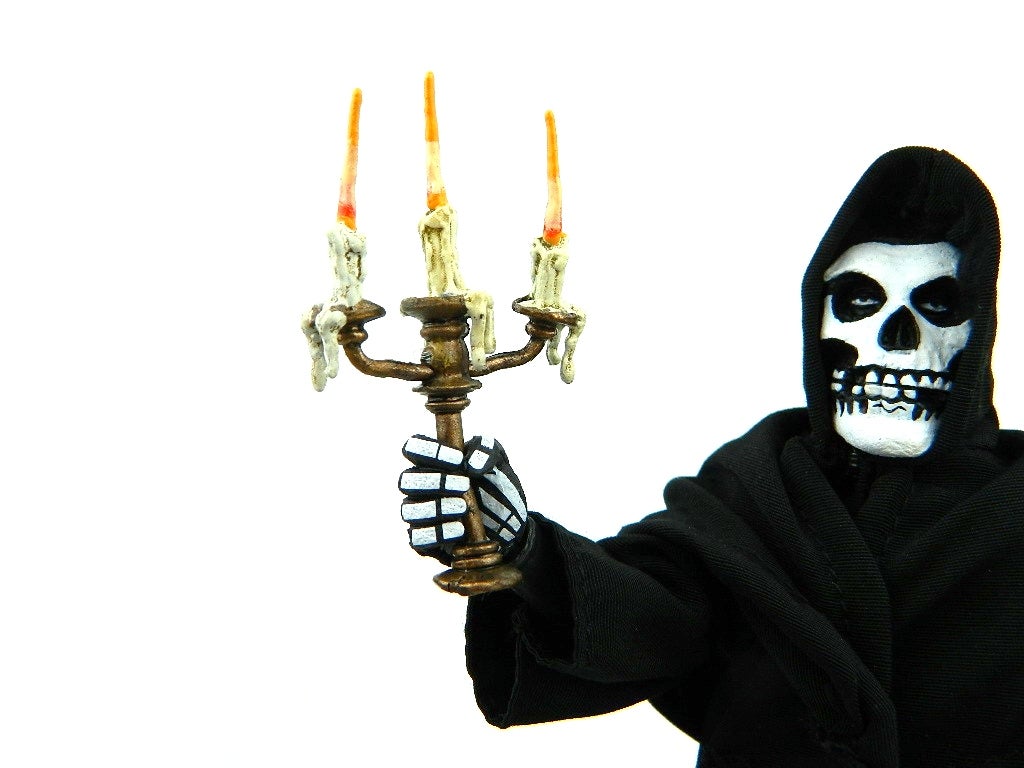 Originally released in 2014 (where do the years go?), NECA's 8-inch clothed action figures of The Fiend make a triumphant return for Misfits fans that missed them the first time. While the blister carded packaging has been swapped out for a more shelf-friendly window box, the figures are essentially the same. Choose The Fiend in either red or black flowing real cloth robes (with internal wire for posing): both versions come complete with an alternate hand holding a creepy candelabra accessory.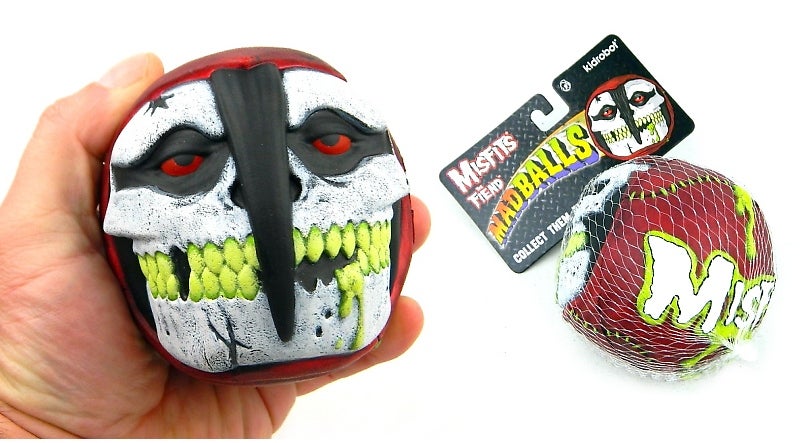 Another blast from the past comes in the form of a Misfits Fiend Madball! Produced by NECA's sister company Kidrobot, this squishy retro toy depicts The Fiend with an added "devilock," the unique hairstyle created by Misfits bassist Jerry Only.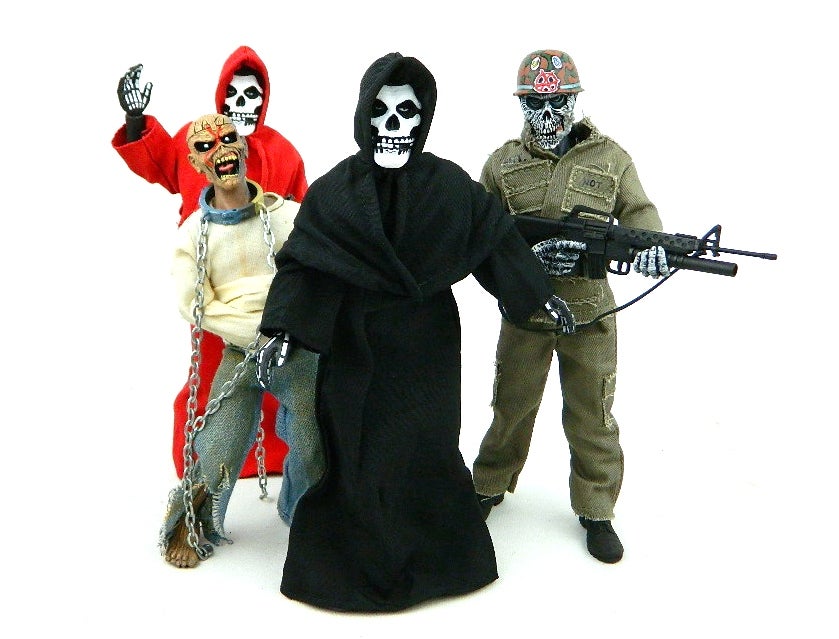 Where I was once musically lost, I am now found. As an adult I'm always seeking new tunes; my collection (all digitally accessible) spans hundreds of bands and thousands of songs from across the entire musical spectrum (but no polka for you!). Even so, there's nothing like the "classics". I've been jamming to the Misfits writing this entire review… as should you. NECA's Misfits Fiend action figures take my love of the band one step further: from cool rockin' music to cool rockin' collectibles.
Misfits fans can order both figures HERE and the Misfits Madball HERE.
Review and Photos by Jeff Saylor
Review Samples Courtesy of NECA
We are committed to finding, researching, and recommending the best action figures and collectibles. We earn commissions from purchases you make using the retail links in our product reviews. Learn more about how this works.
---