"No one who dies here ever really dies." – Pennywise, IT: Chapter 2
While I'll always hold a soft spot for Tim Curry's portrayal as Pennywise in 1990's IT television miniseries, I feel Bill Skarsgård made a much creepier demonic clown in the recent two-part movie series. Of course Pennywise's all-new clown design and makeup certainly helped Skarsgård's unforgettable performance. The clown's unsettling wandering eyes, eerie high-pitched voice and erratic mannerisms all masterfully alluded to something far more sinister and alien.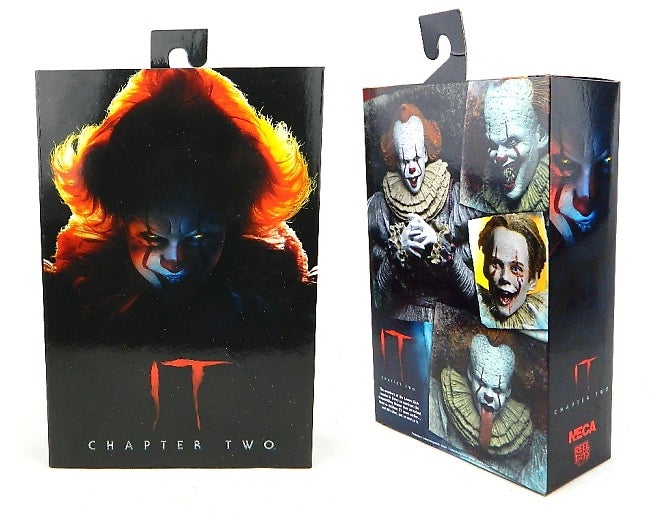 Since 2017's IT: Chapter 1, NECA has been showering Stephen King fans with deluxe "Ultimate" Pennywise action figures. These included a debut figure of Pennywise, "Dancing Clown" and "Wellhouse"variants (it's all about those uber creepy head sculpts!), and even a bloody GameStop exclusive, complete with little Georgie's severed arm! Now collectors can add a new Ultimate Pennywise to their collections – NECA's very first Pennywise action figure from 2019's IT: Chapter 2!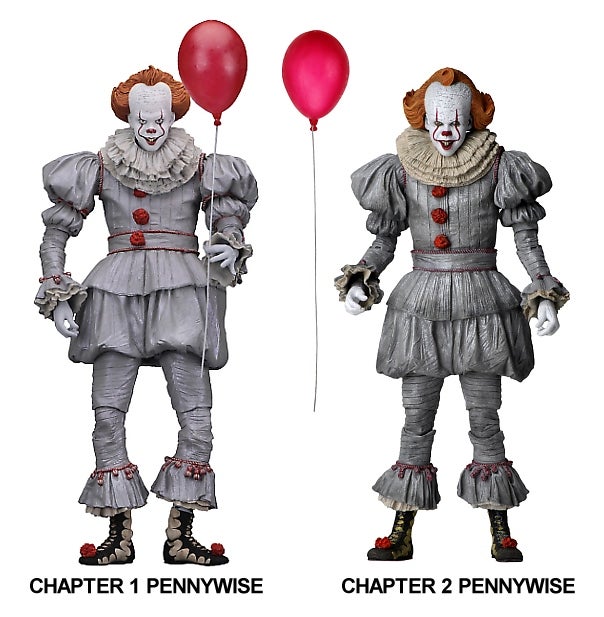 As the comparison image above shows, whether or not you want another modern Pennywise figure in your collection really depends on how you feel about IT's look in the new movie. It really boils down to a more filthy outfit (which NECA's sculptors appear to have improved with added texture details), as well as a tweaked head sculpt(s). I missed out on the original Pennywise, but if the comparison prototype photo above is any indication, I'm not sorry I did. NECA's new IT: Chapter 2 Pennywise action figure is a phenomenal improvement!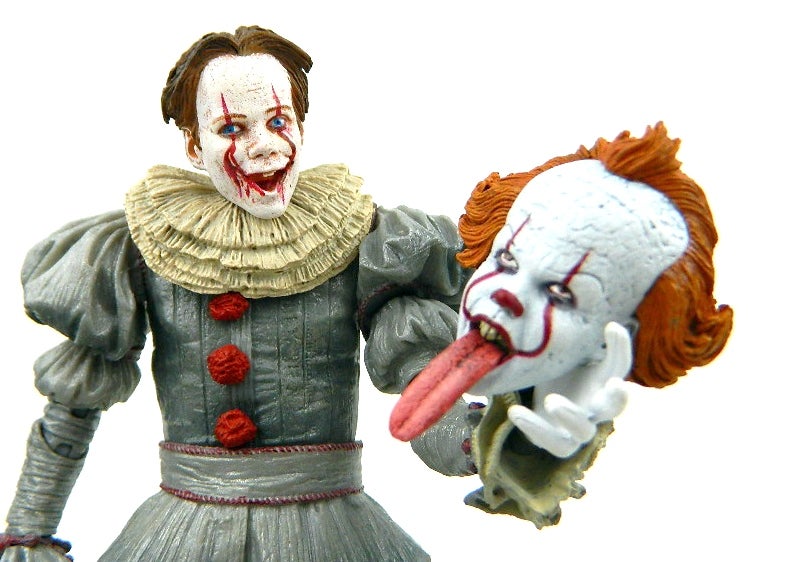 In addition to a "normal" Pennywise head sculpt (read: neutral expression), fans also receive the Dancing Clown with his tongue lolling out, a twisted "Georgie" head (both pictured above), and my absolute favorite, Pennywise with a wide grin revealing his wicked fanged teeth (below). All the head sculpts are killer looking, with the Georgie head being the stuff of nightmares. Thanks to the long neck post, swapping out Pennywise's heads is super easy and a blast to play around with.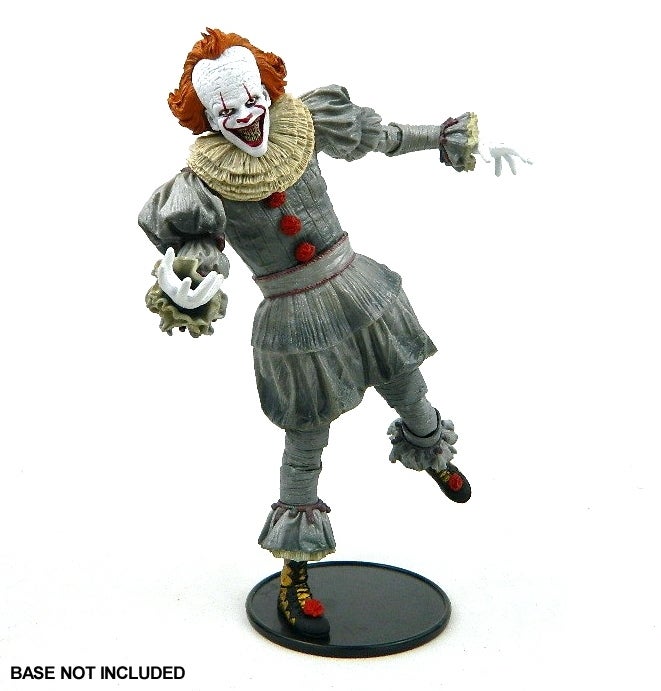 I had less fun playing around with Pennywise's extra hands and balloon accessory. Included are several sets, such as a pair of flat "jazz" hands, slightly cupped, one with the fingers pinched together specifically for holding the balloon, and what I feel to be the most expressive, a pair open and grasping hands. Popping Pennywise's hands on and off is sort of tricky – the connection being very tight. The small wrist posts had me worried, as you really have to push any new hands on hard for a firm, solid fit. Alas, nothing snapped with me swapping all the hand sets out, but it's still something I wouldn't want to mess around with too much. Call me paranoid. I have my Pennywise on display with open right hand and his left holding the iconic red balloon.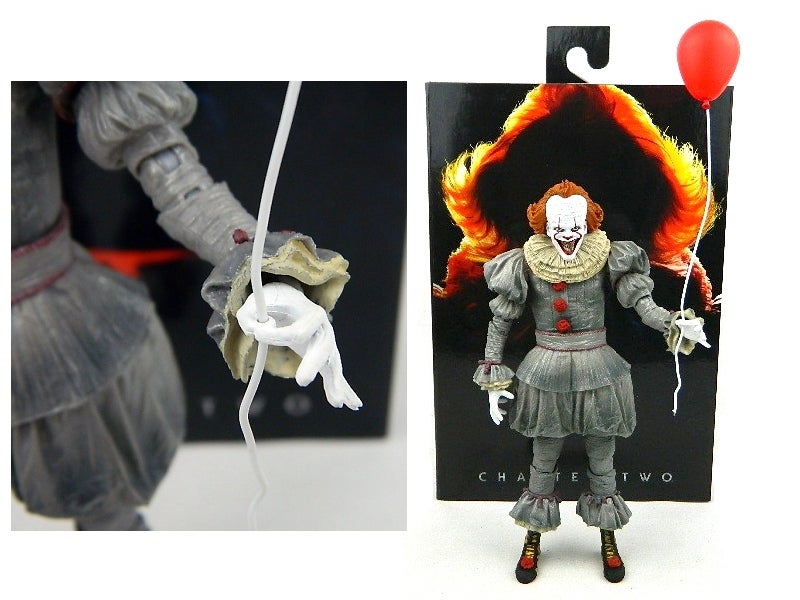 Speaking of balloons, this much appreciated accessory adds a very delicate-looking touch to the figure on display. It's all about the bendy wire "string" that allows you to display the balloon as if floating in the air between two clenched fingers. You'll want to widen the hole ever-so-slightly on the balloon-holding hand by pushing a straight pin through it (the perfect diameter, anything more and it'd be too much), but with that small factory issue aside, Pennywise holding his balloon looks absolutely awesome.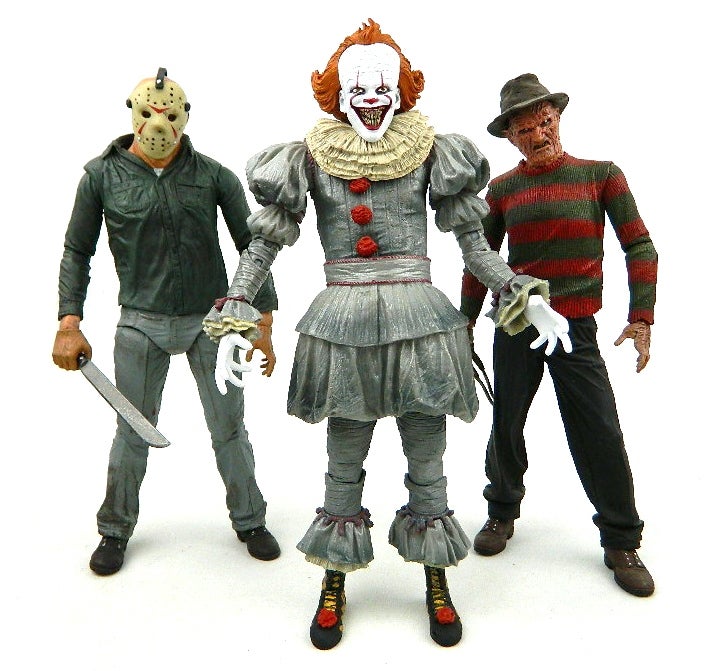 Available for purchase now through NECA's Amazon store, IT: Chapter 2 Ultimate Pennywise delivers another classic movie monster to collectors. If you missed out on NECA's IT: Chapter 1 versions or are simply seeking to complete your Pennywise "Hall of Fame" collection, this is an action figure no true horror fan should be without. Scroll on for more photos!
Review and Photos by Jeff Saylor
review Sample Courtesy of NECA
We are committed to finding, researching, and recommending the best action figures and collectibles. We earn commissions from purchases you make using the retail links in our product reviews. Learn more about how this works.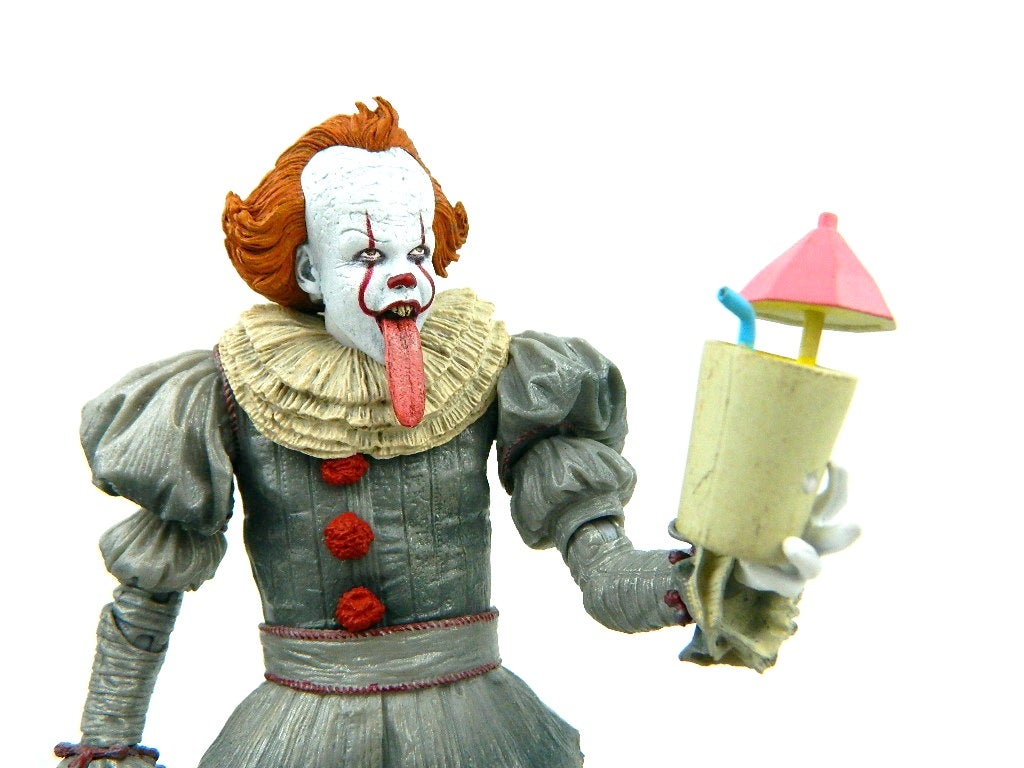 ---