-Review and Photos By Scott Rubin
The first family of Marvel Comics is back in HeroClix! That's right folks, after the cool Cosmic Clash Starter Set that debuted recently WizKids has brought the beloved foursome (as well as their friends and foes) to the tabletop once more with a full HeroClix expansion, and we'll be checking it out today. Releasing in just a couple weeks is the Marvel HeroClix Fantastic Four set, complete with boosters and attendant Fast Forces and Dice & Token Pack. As we noted when looking at Cosmic Clash, the Fantastic Four hadn't been seen in HeroClix for a number of years… in fact the most recent Johnny Storm figure came out in 2011. So yeah, they were overdue for a return. And return they have in style with a full expansion (70 figures!) busting at the seams with multiple versions of the core Fantastic Four, many of their alternate members from over the years, other allies, villains they've faced including Dr. Doom, Skrulls, the Frightful Four, and lots more. Today we're going to unbox a booster brick and check out the accompanying Fantastic Four Dice & Token Pack and Fast Forces.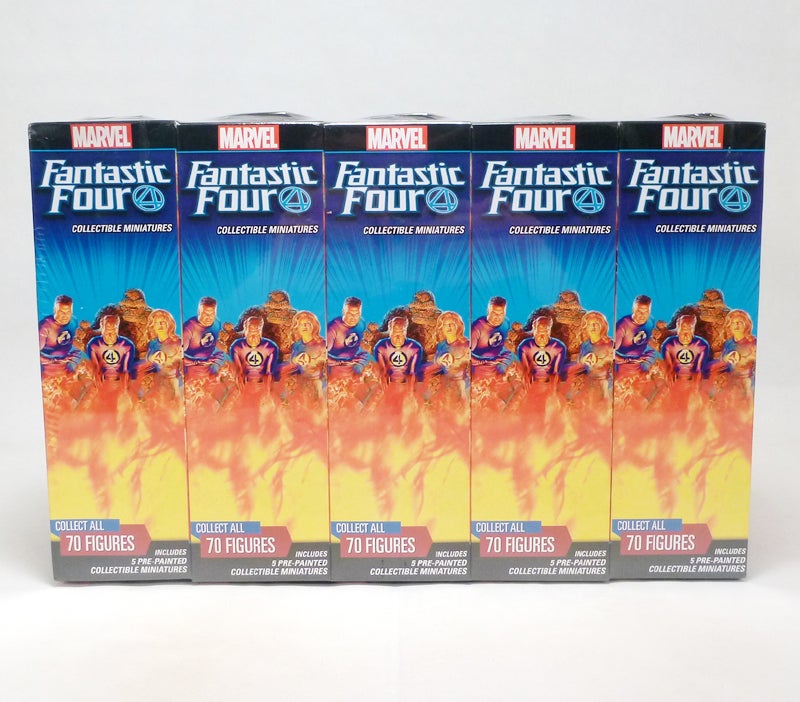 As always, boosters contain five figures of various rarities – always at least one common and at least a rare, potentially more. This set's boxes are adorned with almost nothing but the Fantastic Four, featuring brightly colored artwork of the group on the front panel and individual callouts to the characters along with 3D renders of their figures on the sides. The back panel offers a tantalizing peek at one of the expansion's most anticipated villains: God Emperor Doom! There's also information about the WizKids Info Network.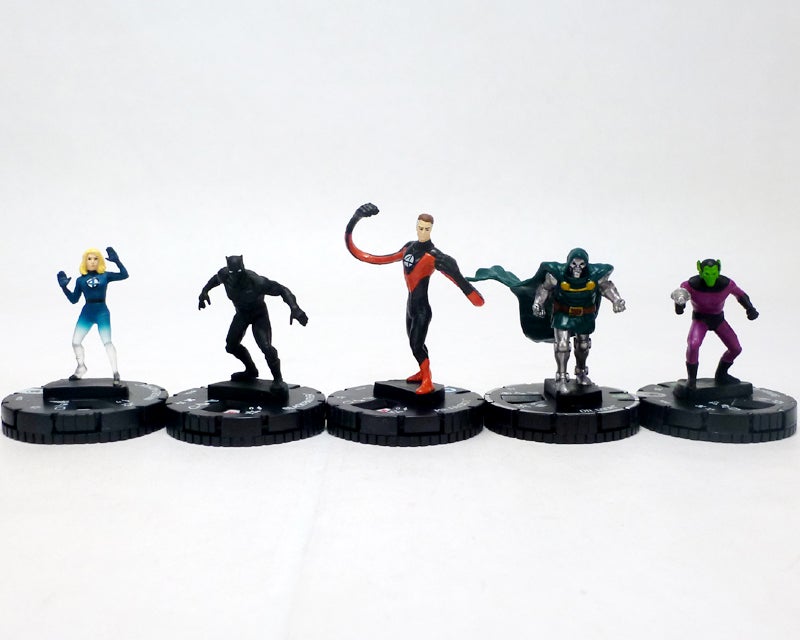 Booster 1
• 002 Invisible Woman
• 013a Black Panther
• 017 Mr. Fantastic
• 021 Dr. Doom
• 040 Skrull General
Alright, booster #1! Right off the bat we've got a member of the Fantastic Four with common Invisible Woman in a classic blue costume, and she's joined by an uncommon Mr. Fantastic in red. They have an ally in Black Panther ("a" version so there's a Prime of this) and then some enemies with uncommon Dr. Doom, sharing a sculpt with the Doombots, and the rare Skrull General. Not the most exciting rare (unless you're a big Skrull fan!), but it's cool to see these villains back in HeroClix and I'm sure we're going to see some interesting versions.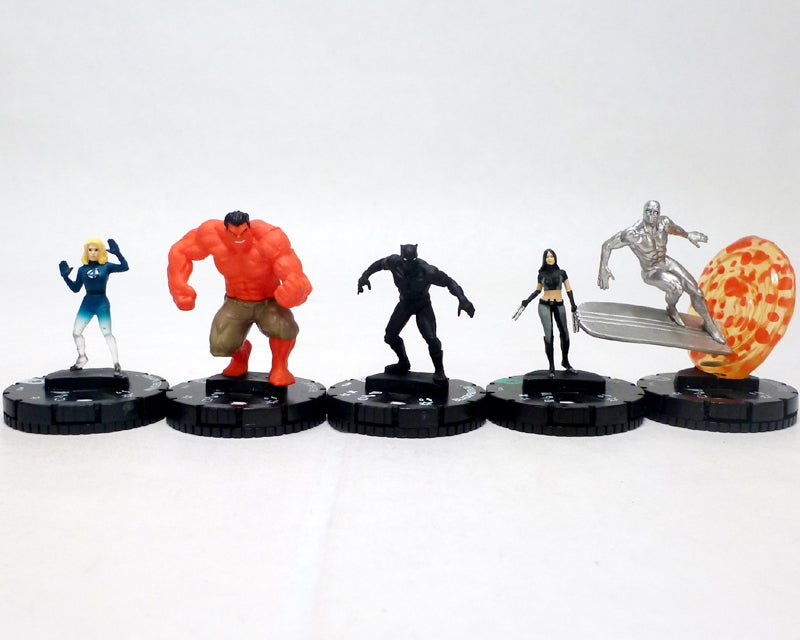 Booster 2
• 002 Invisible Woman
• 010 Red Hulk
• 013a Black Panther
• 025 X-23
• 047a Silver Surfer
Ooh, a hero pack! Booster #2 has our first duplicates with classic Invisible Woman and another Black Panther. The other common here is Red Hulk with a big, fun sculpt shared with a couple other versions, while the uncommon is a regular X-Force version X-23. The rare in this pack is a new Silver Surfer and it looks awesome! Just check out that Kirby Krackle.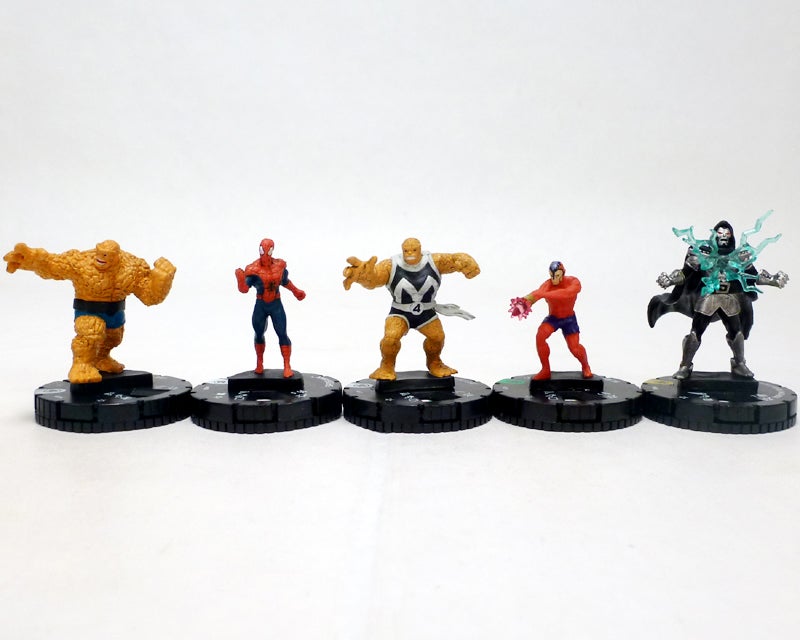 Booster 3
• 004 The Thing
• 009 Spider-Man
• 012 She-Thing
• 029 Klaw
• 060 Doom 2099, Revolutionary
Still building our classic Fantastic Four team with common The Thing here, and he's joined by allies Spider-Man and She-Thing. Uncommon Klaw will ruin anyone's day, and we've got our first super rare with Doom 2099, Revolutionary! This was a cool surprise, and the figure looks fantastic. And yes, that specific "title" to the figure's name means it's a Title Character.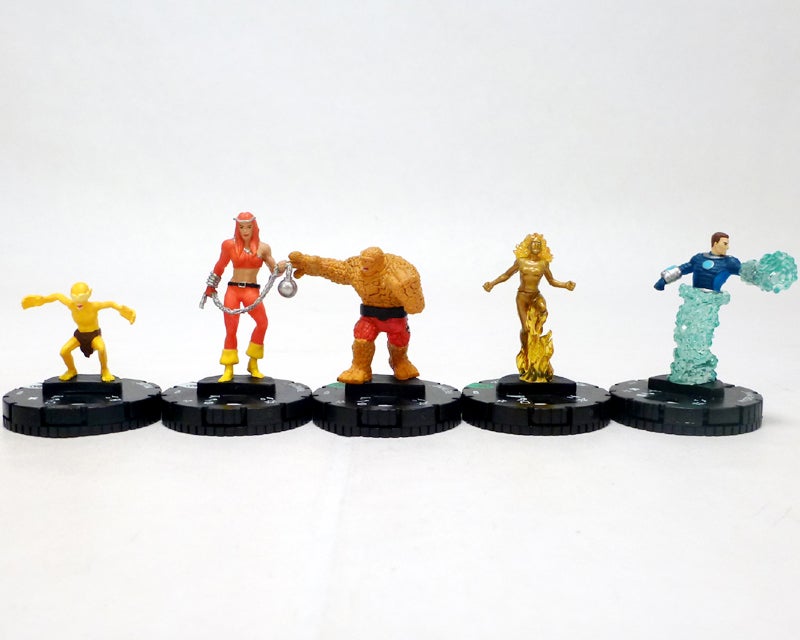 Booster 4
• 008 Moloid
• 014 Thundra
• 020 The Thing
• 022 Nova
• 043 Hydro-Man
It's big and little in booster #4's commons with a teeny tiny Moloid next to the hulking Thundra, and the uncommons bring us a red shorts The Thing and full Galactus herald Nova (stay tuned). Hydro-Man is the rare here, a new version of a character we've seen only a couple times before in HeroClix.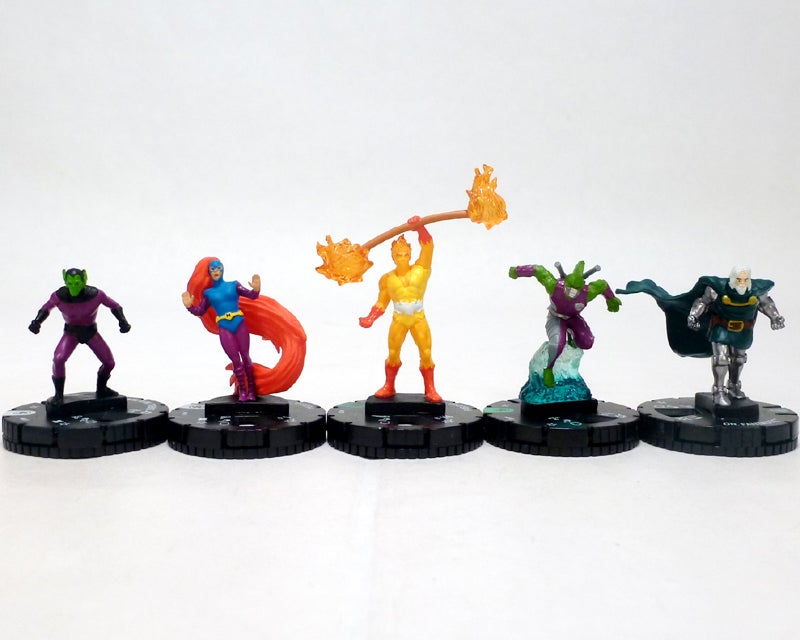 Booster 5
• 007 Skrull Infiltrator
• 016 Medusa
• 030 Firelord
• 032 Triton
• 037 Dr. Fantastic
Alright, more interesting stuff going on here starting with a generic Skrull Infiltrator among the commons and a super retro Frightful Four era Medusa. After Nova in the previous pack it was cool to see Firelord here, an icon among HeroClix players for the original figure years and years ago. Medusa's fellow Inhuman Triton is the other uncommon, and then "that" Dr. Fantastic is the rare… you know, the one who can generate the Franklin Galactus pog.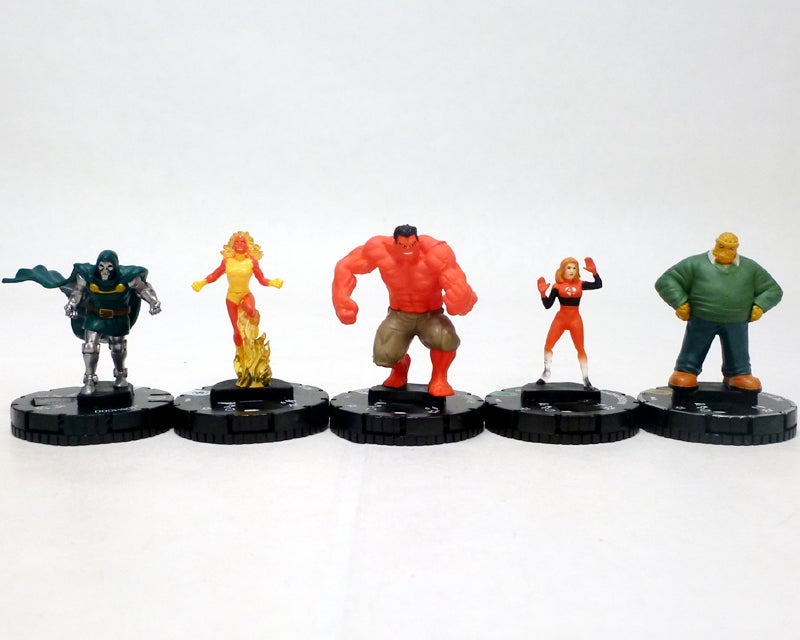 Booster 6
• 005 Doombot
• 006 Nova
• 010 Red Hulk
• 018 Invisible Woman
• 049 The Thing
We pulled another super rare! But before we get to that, there's the common Doombot to go with his uncommon leader, along with a common, pre-Galactus Nova (and another Red Hulk). The uncommon is a red-costumed Invisible Woman, so we've almost gathered that entire team too. And the super rare? It's Earth X version The Thing complete with slacks and sweater!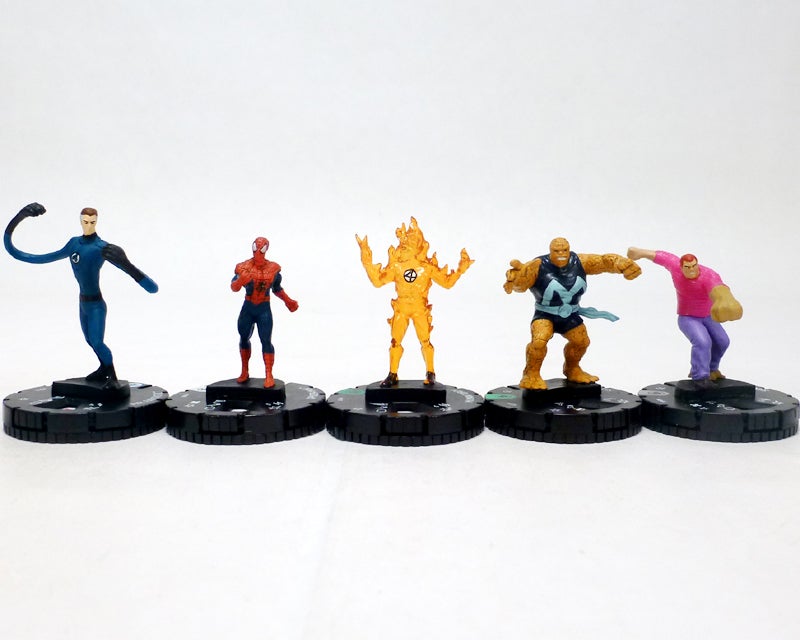 Booster 7
• 001 Mr. Fantastic
• 009 Spider-Man
• 019 Human Torch
• 028 She-Thing
• 044 Sandman
Mr. Fantastic takes us to three of the classic common Fantastic Four members, while a translucent Human Torch completes our uncommon red set! The other common is an FF-ally Spider-Man, and the uncommon is the Frightful Four She-Thing. That team also gets an ally with the rare Sandman.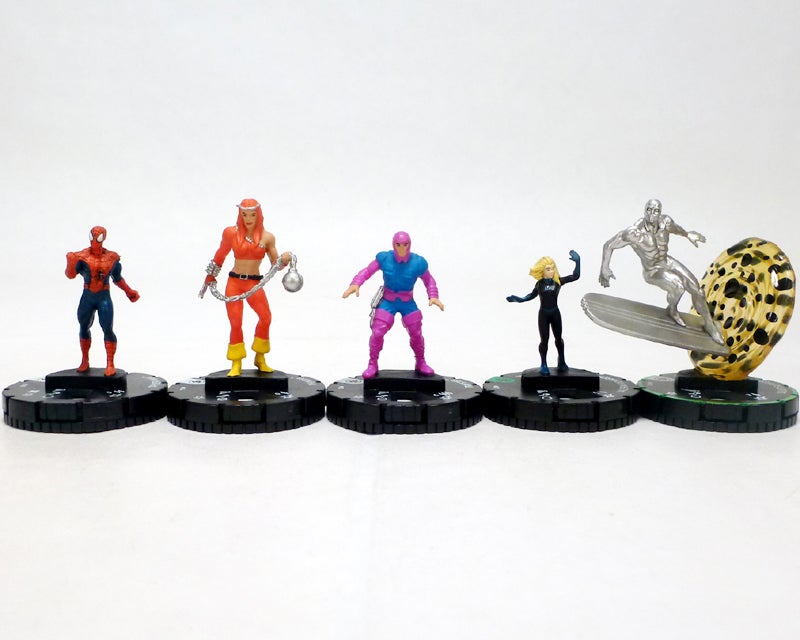 Booster 8
• 009 Spider-Man
• 014 Thundra
• 015 Trapster
• 027 Valeria Richards
• 047b Silver Surfer
Booster #8 has a couple dupes with Spider-Man and Thundra before moving on to new uncommons in the villainous Trapster and young Valeria Richards making her HeroClix debut. And what is this, another Silver Surfer? It's the rare Prime, and it's a Skrull!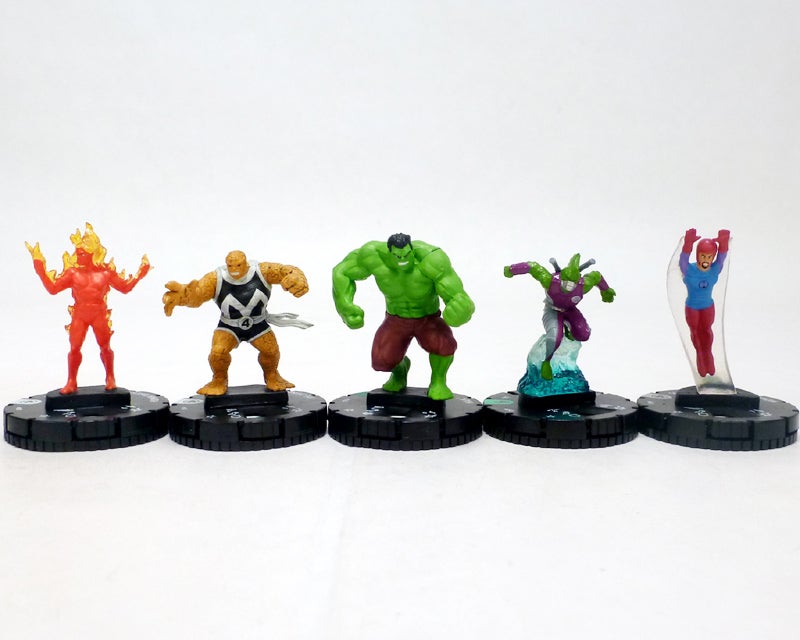 Booster 9
• 003 Human Torch
• 012 She-Thing
• 024 Hulk
• 032 Triton
• 045 Wizard
Whew, it took us all the way to booster #9 but we completed our classic Fantastic Four with retro Human Torch. He's joined by common She-Thing and uncommon Hulk in green (same sculpt as Red Hulk), while Triton is a dupe. And the high-flying classic villain Wizard is the rare.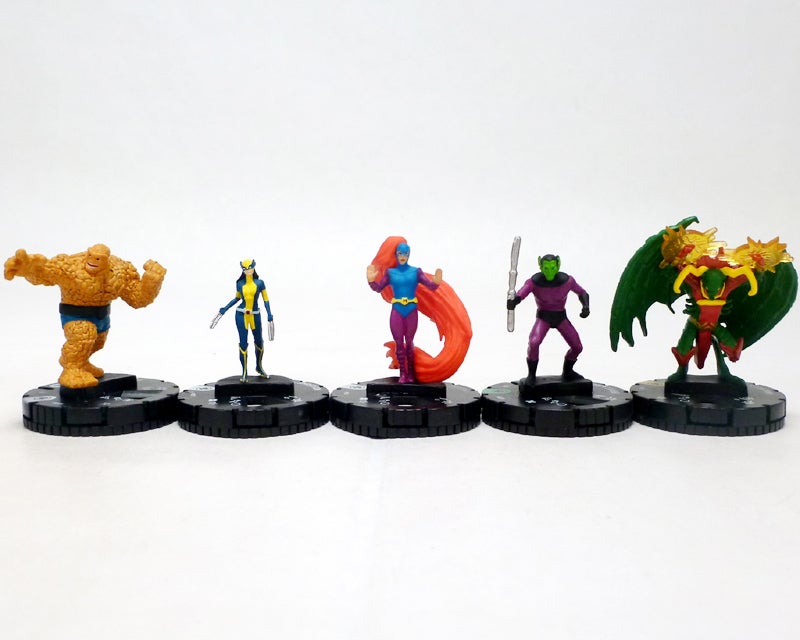 Booster 10
• 004 The Thing
• 011 Wolverine
• 016 Medusa
• 023 Skrull Warrior
• 057 Annihilus
By the time we get to the last booster we usually see several duplicates, and there are a couple here with commons The Thing and Medusa. New for us are common Wolverine (blue and yellow, masked version of the X-23 sculpt), uncommon generic Skrull Warrior, and a fearsome super rare Annihilus!
Here's the full breakdown of the figures in this brick (your results will vary of course):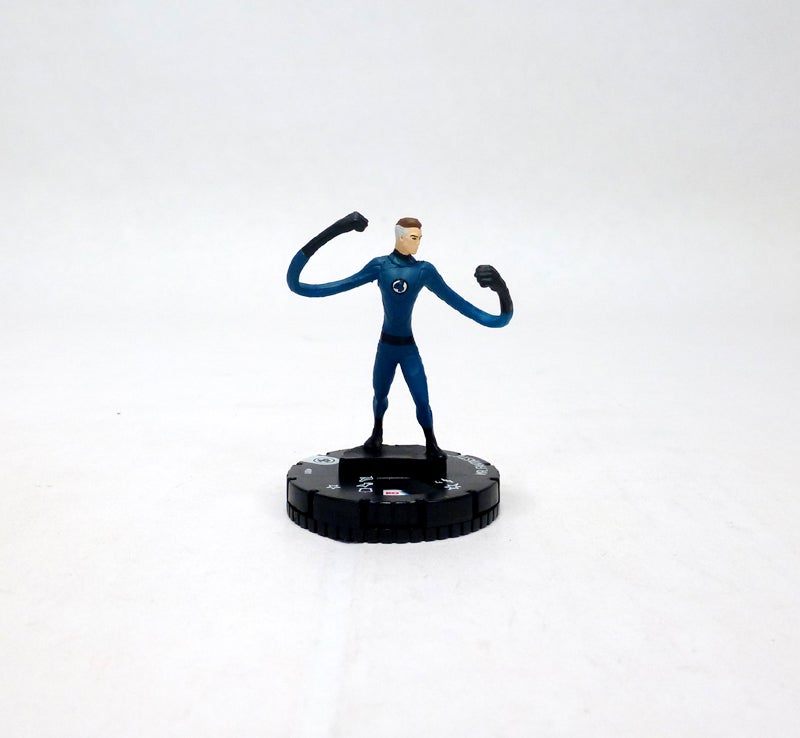 COMMONS (including duplicates)
001 Mr. Fantastic
002 Invisible Woman
003 Human Torch
004 The Thing
005 Doombot
006 Nova
007 Skrull Infiltrator
008 Moloid
009 Spider-Man
010 Red Hulk
011 Wolverine
012 She-Thing
013a Black Panther
014 Thundra
015 Trapster
016 Medusa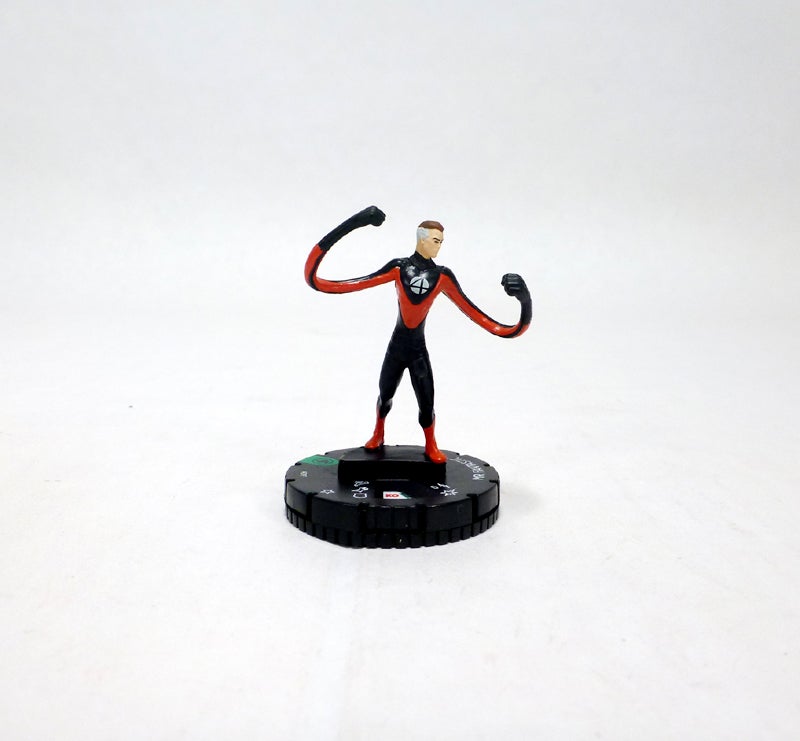 UNCOMMONS (including duplicates)
017 Mr. Fantastic
018 Invisible Woman
019 Human Torch
020 The Thing
021 Dr. Doom
022 Nova
023 Skrull Warrior
024 Hulk
025 X-23
027 Valeria Richards
028 She-Thing
029 Klaw
030 Firelord
032 Triton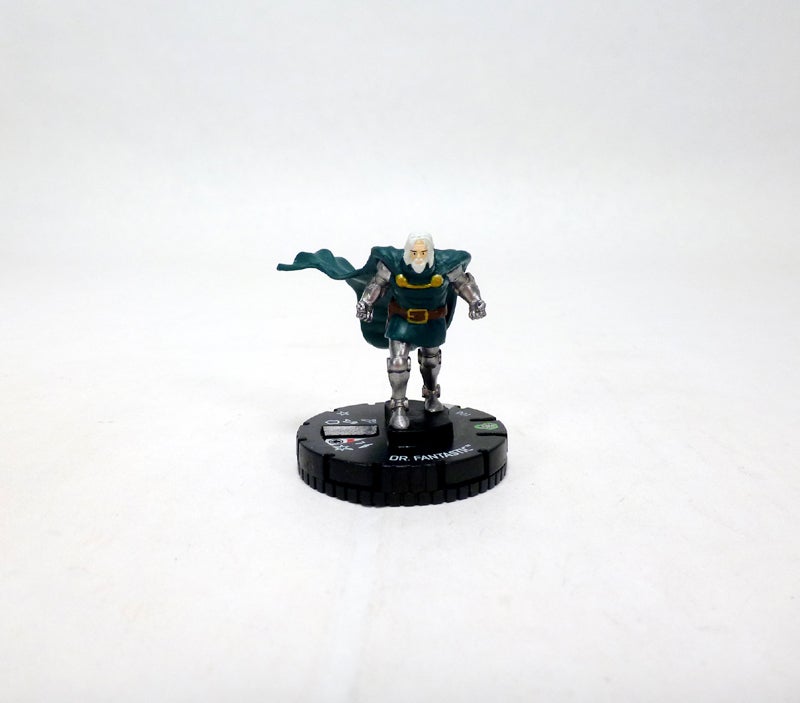 RARES
037 Dr. Fantastic
040 Skrull General
043 Hydro-Man
044 Sandman
045 Wizard
047a Silver Surfer
047b Silver Surfer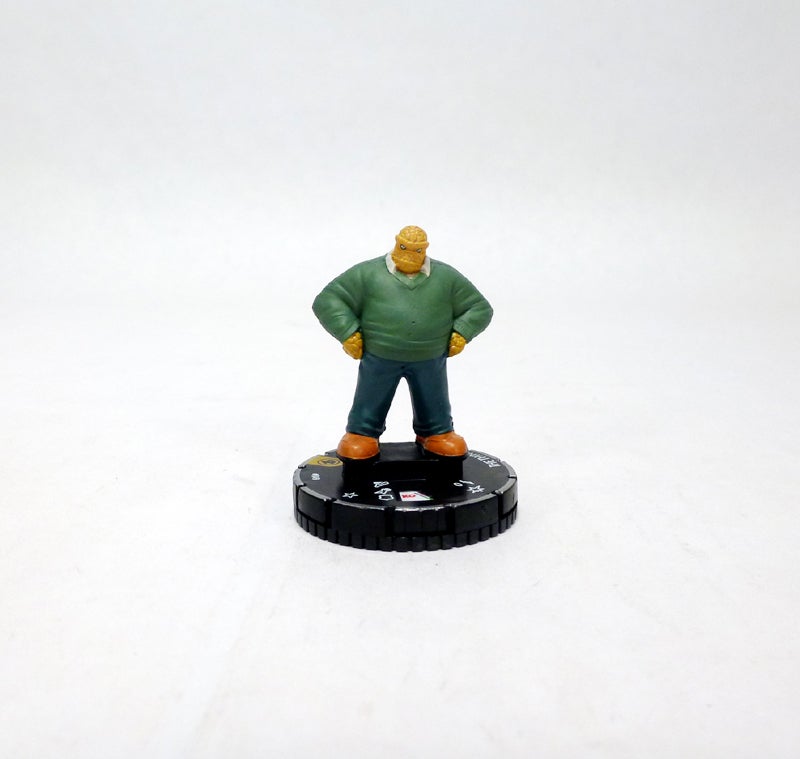 SUPER RARES
049 The Thing
057 Annihilus
060 Doom 2099, Revolutionary
Let's talk collation, is it good? Well, with 70 figures in the set we know we're not going to get nearly everything in a brick. What we did get was all 16 standard commons (didn't pull the Prime that makes 17), 14 of the 17 total uncommons, 7 of the possible 17 rares including the Prime, and 3 of the set's 13 super rares. And, sadly, no chase in this brick. Is it the best collation we've seen? No, but it's certainly not terrible. You generally look for a complete common set and we got it, most of the uncommons, and around four of the rarest figures; we got three super rares and the rare Prime. As always, your results WILL vary.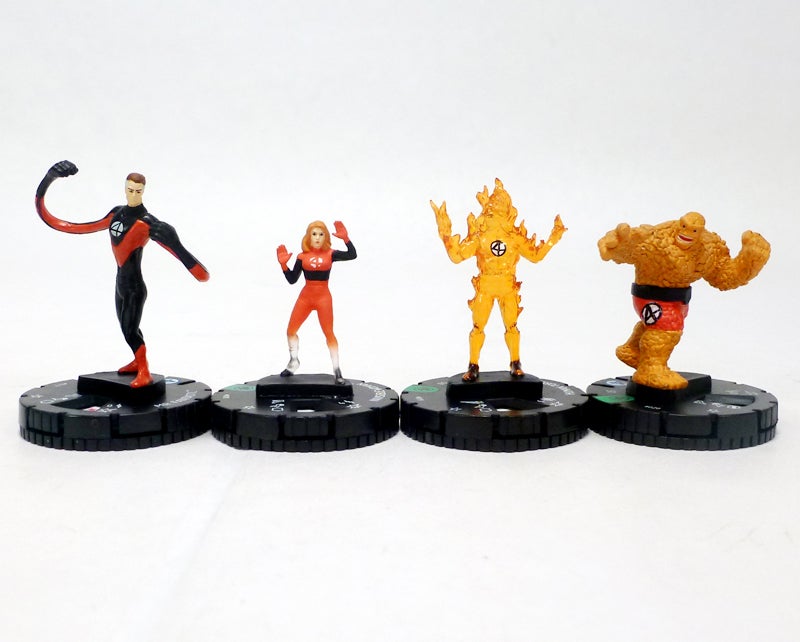 Alright, let's look at each rarity slot in a bit more detail starting with the commons. Here is where you always find figures representing the main themes of the set, and usually a generic or two. Fantastic Four? Check, with classic blue and black costumed versions of Mr. Fantastic, Invisible Woman, Human Torch, and The Thing. The team's allies (and sometimes replacement members) are also here in force with Nova, Spider-Man, Red Hulk, Wolverine, She-Thing, and Black Panther. But it's not all sunshine and roses, as classic FF enemies start recruiting generics in the form of Doombot, Skrull Infiltrator, and Moloid, while Thundra, Trapster, and Medusa kick off this expansion's Frightful Four sub-theme!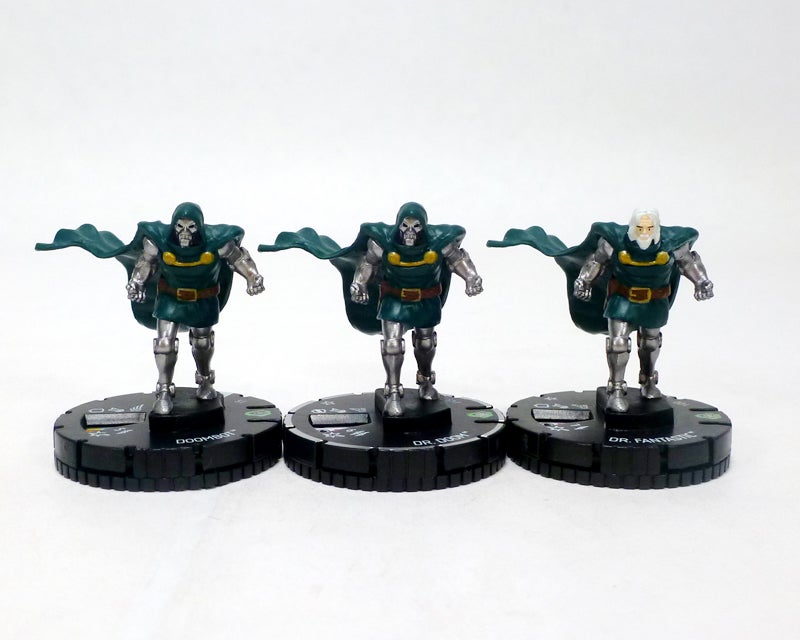 Uncommons begin in exactly the same way as the commons with a set of Fantastic Four members, though this time around Mr. Fantastic, Invisible Woman, Human Torch, and The Thing wear their short-lived red costumes! Allies at this rarity level include Hulk, X-23, Valeria Richards, and She-Thing, who shares the Frightful Four keyword with the villainous Klaw. Other baddies here are Dr. Doom and a generic Skrull Warrior. We've got a couple of Galactus' heralds with Nova and Firelord (making his triumphant and long-awaited return to HeroClix), while Triton continues another sub-theme of classic Inhumans.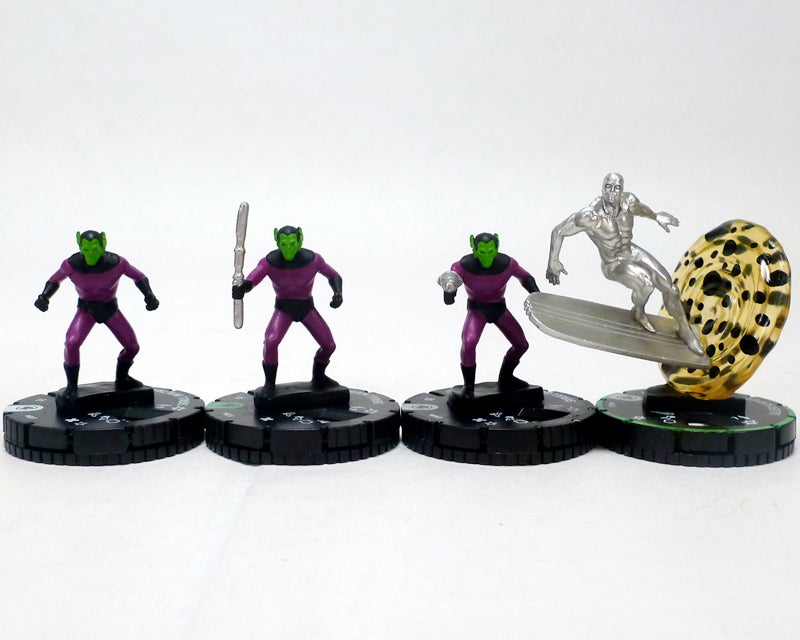 Now, we have it on good authority from other unboxings that there's yet another set of Fantastic Four members (black costumes) kicking off the rares, though we didn't pull a single one of them. What we got instead are figures that don't fit into boxes quite so easily. The only core FF member here is Reed, but it's the crazy Earth X Dr. Fantastic version that can summon his even crazier son/Galactus. The Frightful Four has the biggest footprint among our pulls here with Hydro-Man, Sandman, and Wizard, the first two of which are also happy to join Sinister Syndicate teams against Spider-Man. How about Skrulls? Well, we've got a generic Skrull General, and along with a super cool looking Fantastic Four-ally Silver Surfer we pulled the rare Prime, a Skrull Silver Surfer!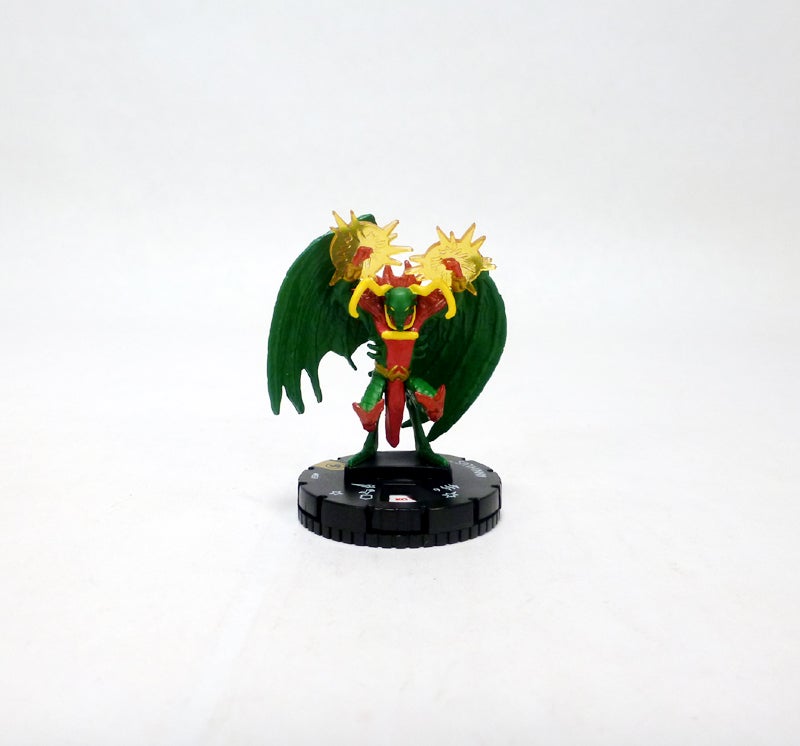 Super rares for this set have all sorts of unique characters and versions of them, and our three pulls are pretty good examples of that. They start off with our third version of the Thing, this time as a doting dad from Earth X (don't ask how that works). Next up is classic cosmic Marvel villain powerhouse Annihilus, and finally Doom 2099, Revolutionary, a Title Character version of the villain flung into the future.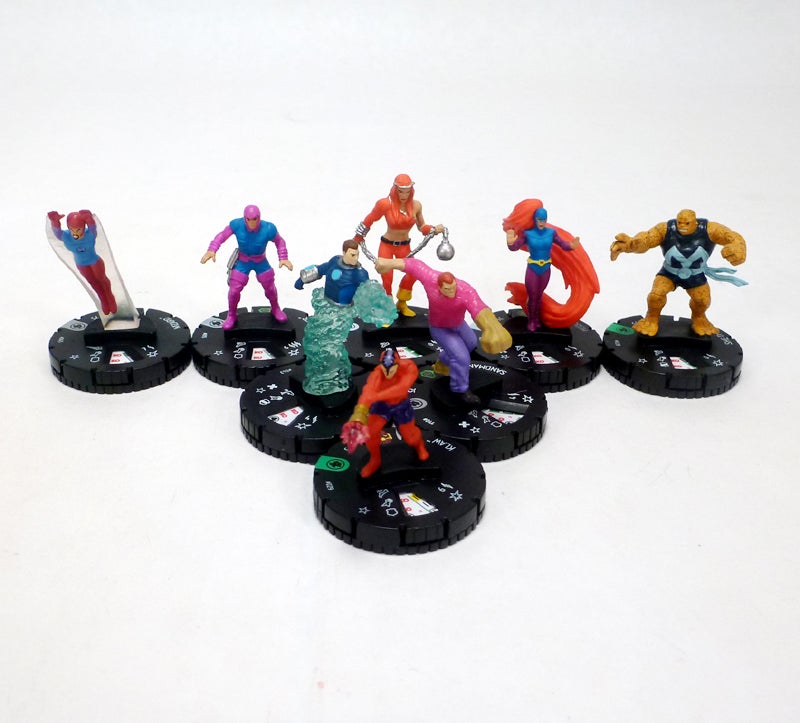 Frightful Four
So how do all of these figures look? Well, overall, pretty darn good. With the Fantastic Four theme we've got characters from all over the map, and a decent amount from old comics eras when heroes and allies were pretty flamboyant. Zooming in on the sculpts in this expansion, let's take a look at some of my favorites (just mine, pick your faves yourself). They include common/uncommon Mr. Fantastic combining a good stretch with a noble superhero bearing, the complex armor and flowing cape of the Doombot/Dr. Doom/Dr. Fantastic, Moloid who's just adorable, the intricate detailing of the web pattern on Spider-Man's costume, Wolverine/X-23 whose based on a specific comic image and looks like she walked right off the page, Black Panther's physique and pose, the intricate lines on Trapster (though they're not really helped out by the paint job), realistic youth Valeria Richards with great hair especially, the fantastically fierce Firelord, Triton with a complex leaping pose, Hydro-Man and Sandman with opposing textures, Silver Surfer blasting his way out of a space portal, super rare "dad" Thing, the insectile and alien Annihilus, and of course Doom 2099 with his detailed armor and wild energy eruption.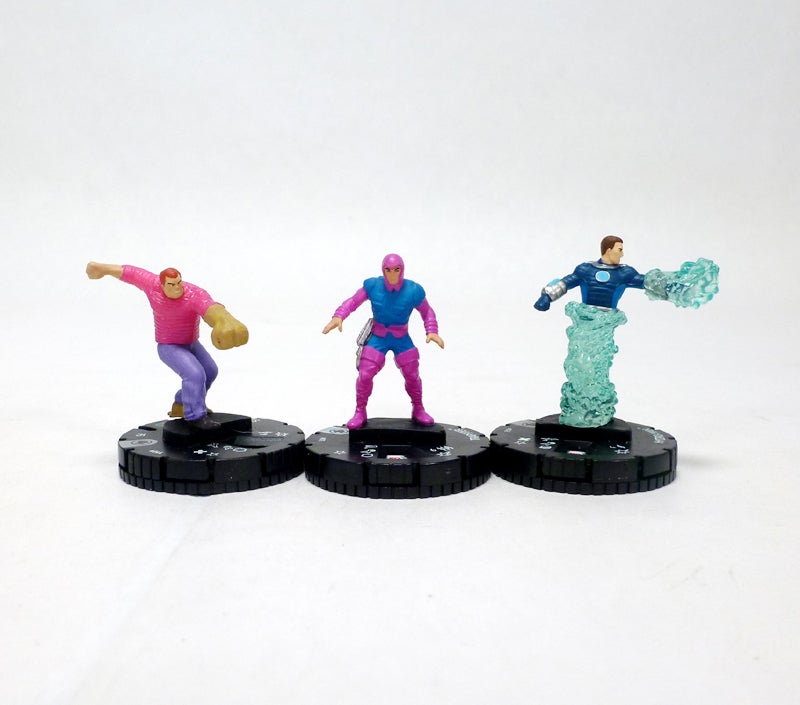 Just looking at posing and stances, especially those that come right out of comics, some of the standouts include the Invisible Woman figures raising her hands in the classic power use pose, the skulking Skrulls, Red Hulk/Hulk in a half crouch with their massive muscles, Thundra about to smash with her combat chain, and Klaw firing his sound converter. Lastly, it's always fun to see the interesting and detailed textures on figures, here on all the versions of the rocky Thing and She-Thing, the fire of Nova and Firelord, Medusa's hair, Triton and Hydro-Man's water effects, and Annihilus' insect exoskeleton.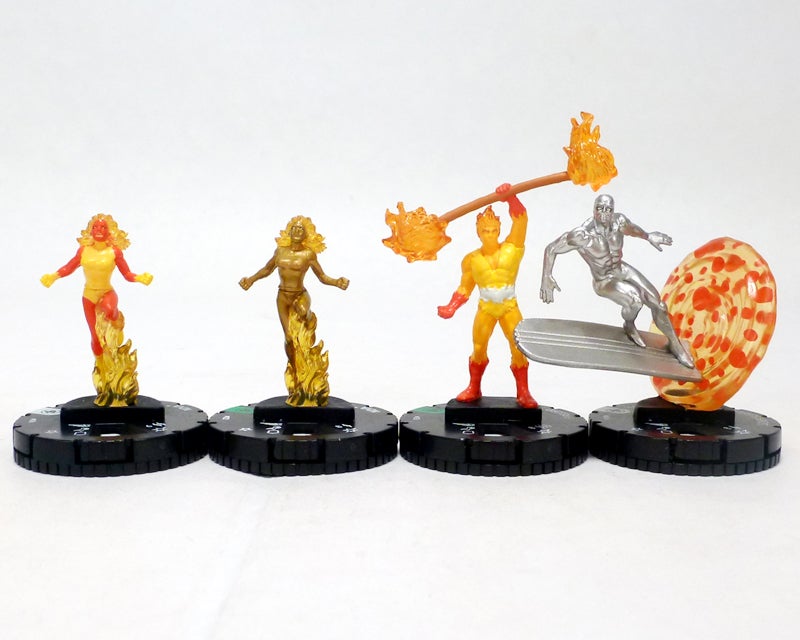 The overall Fantastic Four expansion at a glance is quite colorful, and we get the neat effect of the multiple sets of FF teams in different costumes. Some paint jobs that particularly impressed me were the Invisible Woman figures with detailed costume logos and face details, the vivid colors of Spider-Man's costume, the clean lines on Wolverine and the awesome way X's costume takes Logan's classic version and updates it and X-23's dark X-Force version, another detailed human-looking figure in Valeria Richards, Klaw, Triton, Hydro-Man looking swanky with nicely contrasting colors, super rare Thing whose paint applications just reinforce that dad look, and as always the incredible Doom 2099. Translucent plastic is used familiarly on things like energy and flight effects, but that's not all. We see it on the lower body of Invisible Woman, flames on Human Torch, Nova, and Firelord, water on Triton and Hydro-Man, the space rift from which Silver Surfers fly, and energy blasts from Klaw, Annihilus, and Doom 2099. Lastly, metallic paint is used all over the place for weapons, amor, and other cool stuff on Doombot/Dr. Doom/Dr. Fantastic, Wolverine, Thundra, Trapster, uncommon Nova, uncommon and rare Skrulls, X-23, Klaw, Triton, Hydro-Man, Silver Surfers, Annihilus, and Doom 2099.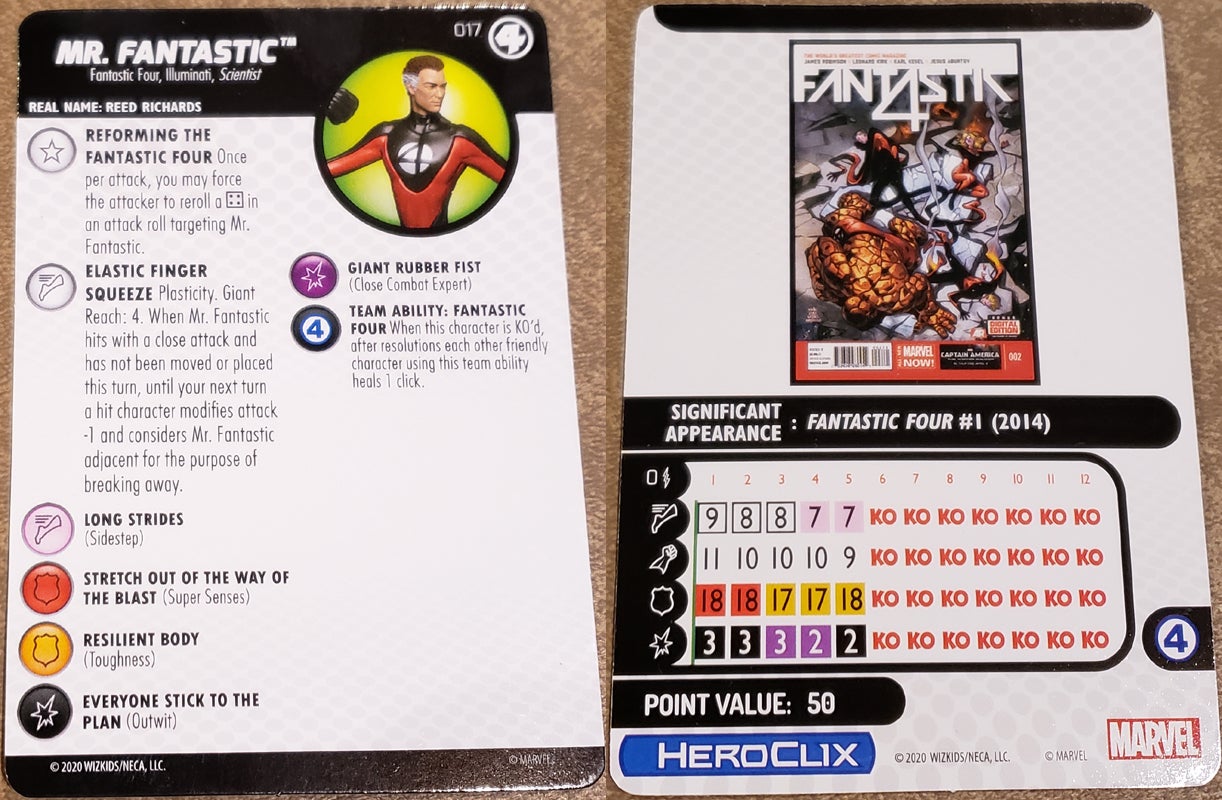 We couldn't do an unboxing without revealing some dials, and I think we pulled some figures that haven't been seen yet in previews or Scott Porter's video series. Without further ado, here's uncommon Mr. Fantastic, rare Prime Skrull Silver Surfer, and super rares The Thing, Annihilus, and Doom 2099, Revolutionary!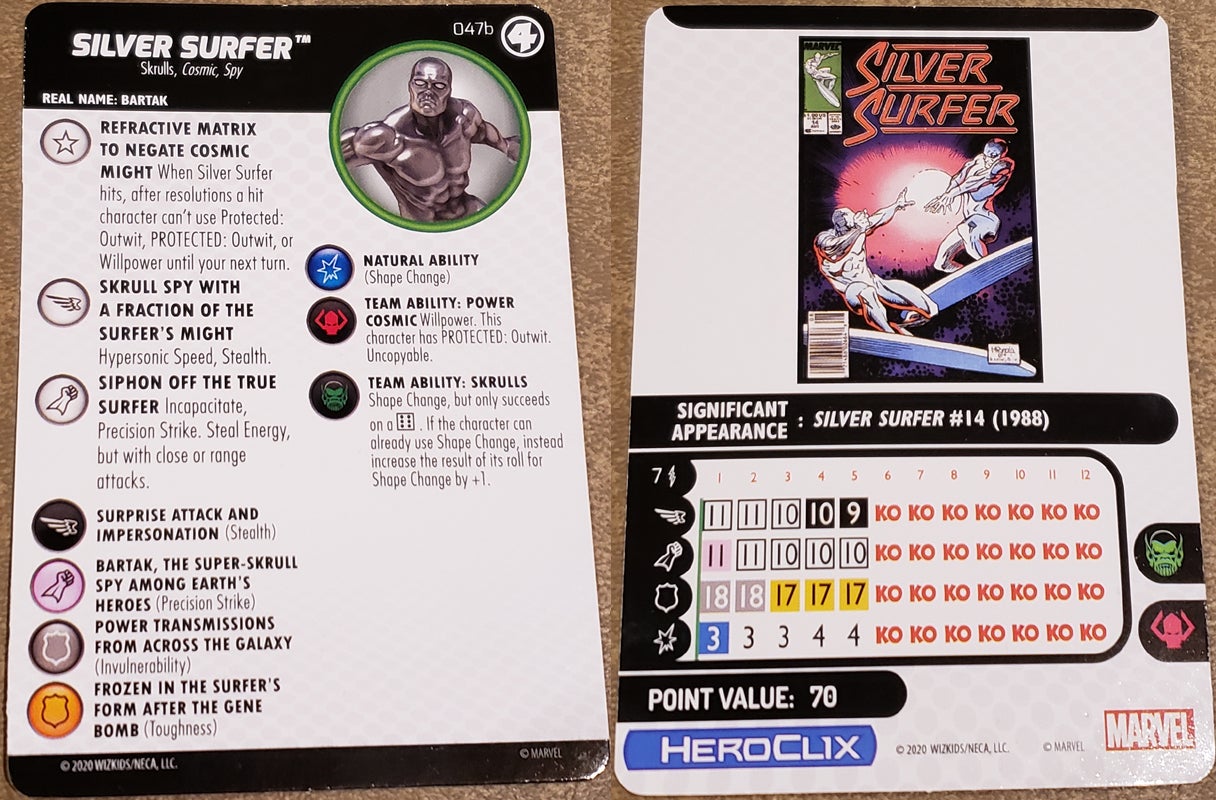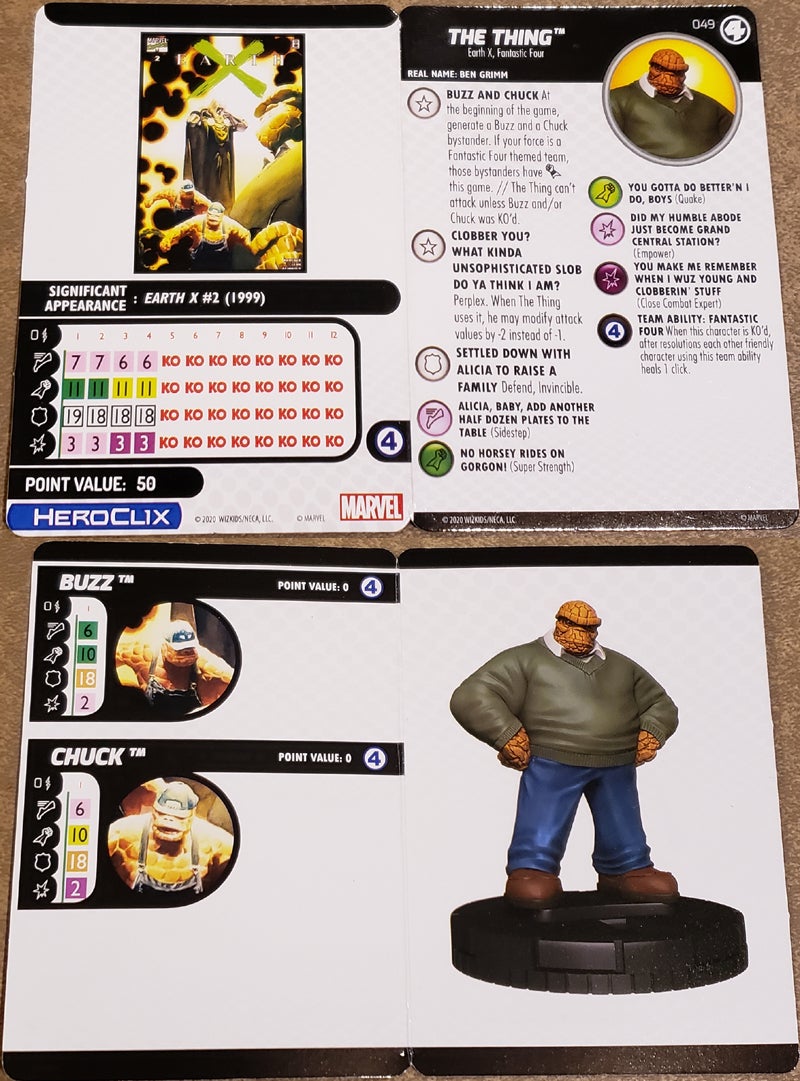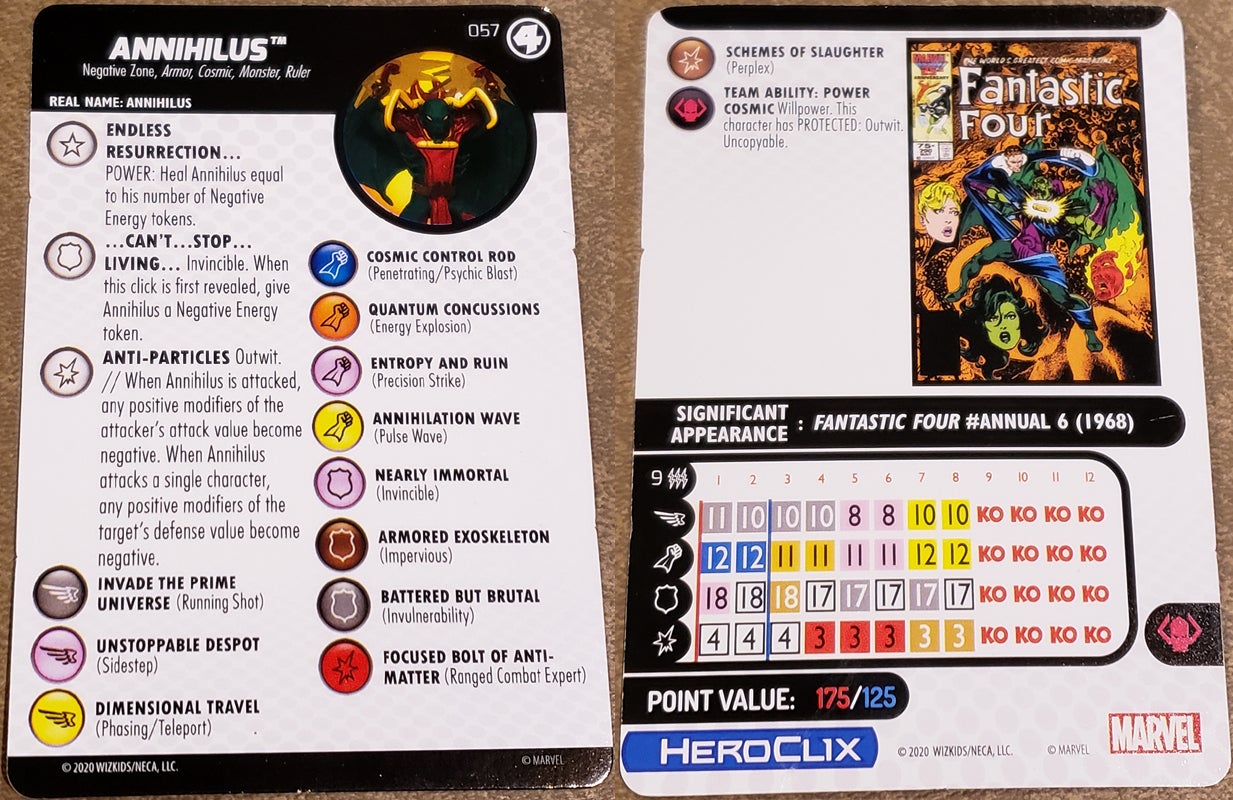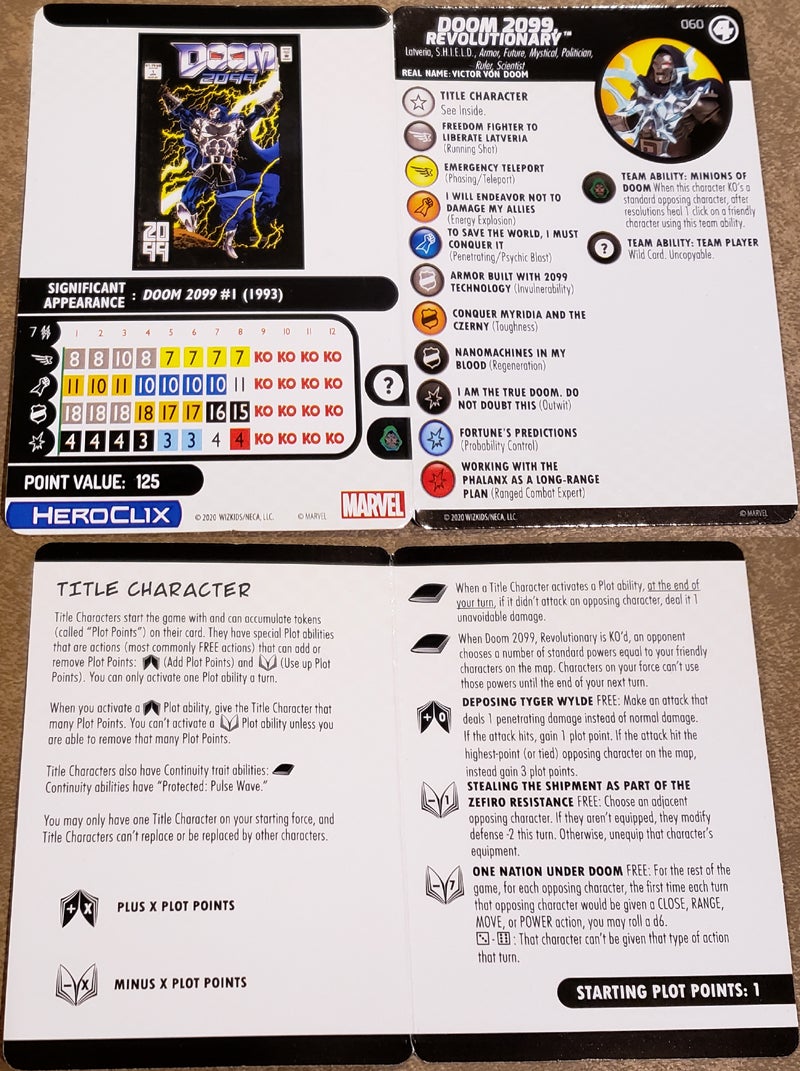 We love checking out the secondary products WizKids releases alongside new booster sets, and coming along with Fantastic Four are a couple of them. First off is the traditional Dice & Token Pack, with six red and yellow poker chip-style tokens featuring lenticular artwork of Mr. Fantastic, Invisible Woman, Human Torch, The Thing, Dr. Doom, and Silver Surfer.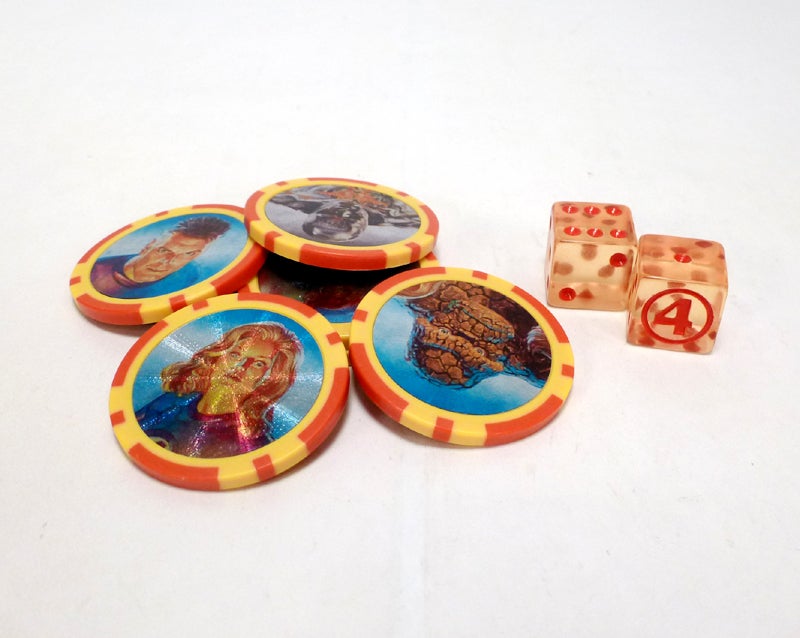 The reverse sides give you bystander tokens that figures in the booster set generate: Chuck, Buzz, Maker Two, Dawn Greenwood, Alicia Grimm, and Franklin Galactus. These are going to come in handy as we pulled several of the figures that go with these! The dice are translucent yellow with red ink, and like in the Cosmic Clash starter the Fantastic Four symbol is on the "4" side.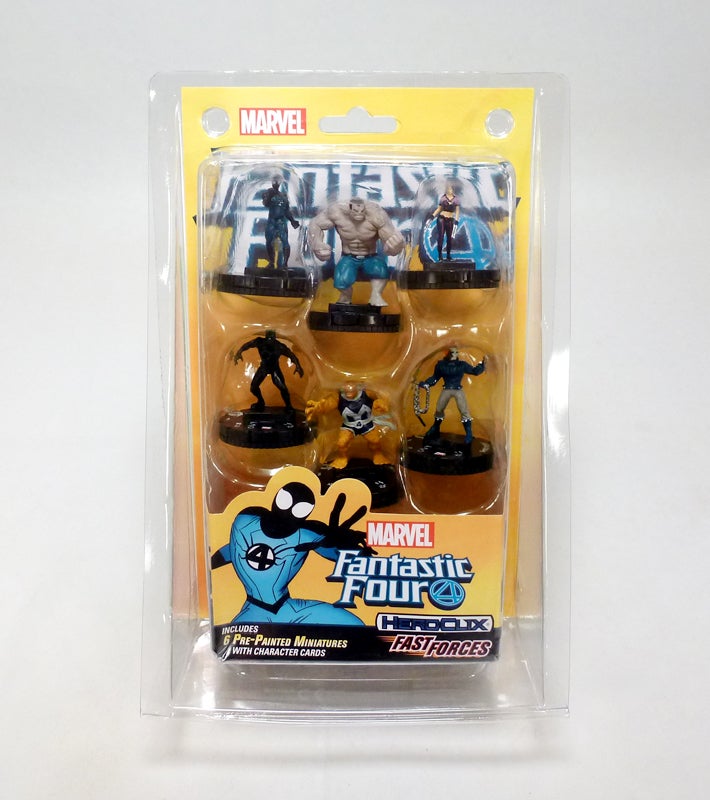 Next up is the Fantastic Four Fast Forces! As noted just above WizKids gave us an entire original FF Starter pack just recently with the Cosmic Clash set, so for this item we've got other, later members of the team. So, who's on this motley crew? Danny Ketch Ghost Rider, Sharon Ventura She-Thing, Peter Parker Spider-Man, Laura Kinney Wolverine, T'Challa Black Panther, and Bruce Banner Hulk!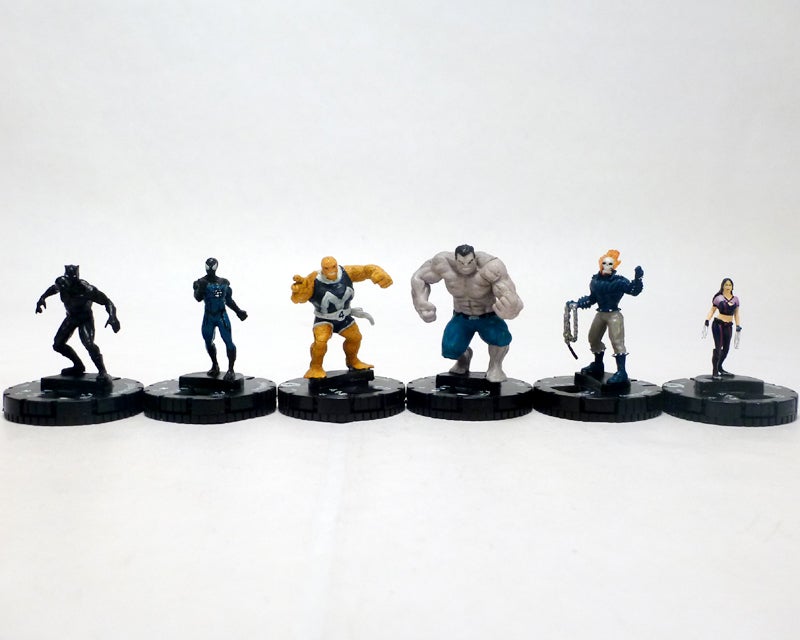 All of these figures are based on sculpts in the booster set, though there are some really interesting differences here: Spider-Man (same sculpt) is decked out in black and dark blue, Hulk (same sculpt) is gray, Wolverine (shares sculpt with X-23) with a very different costume, Ghost Rider with a blue and black color scheme and classic skull head, and She-Thing (same sculpt) with blue on her costume where the common main set figure has black. You may remember some of these What If? Newer Fantastic Four characters as prizes in the 2012 Galactic Guardians expansion. As is typical for Fast Forces, these figures have team-friendly point costs, and indeed all of them can be played at 75 or 50 points to make four or six-person teams. They also each have two Traits and/or Special Powers except for Ghost Rider who has three. They're all pretty focused on what they do best, with only a couple different trends of powers on their dials. Notably, each one has the Fantastic Four team ability, and a different second team ability!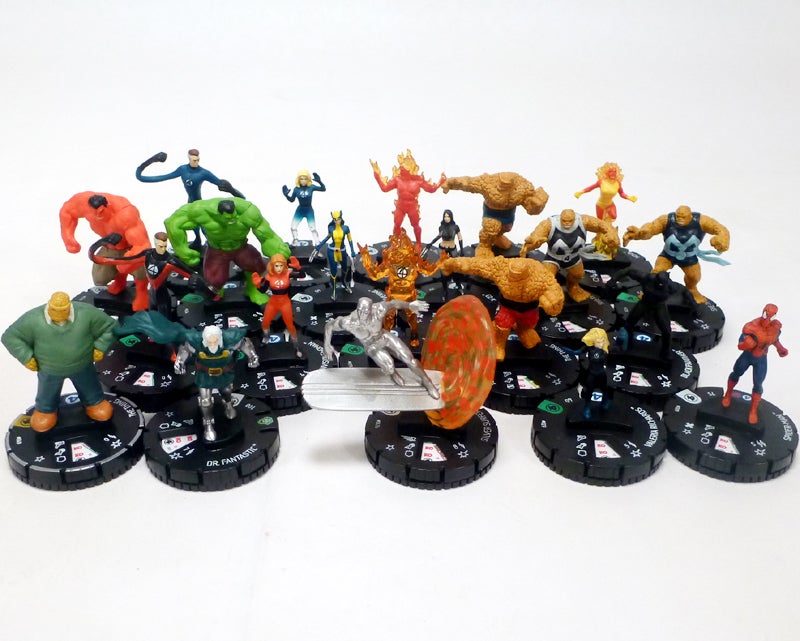 I think that, both for the decade of their absence from the game and the perennial popularity of these characters, this Fantastic Four expansion is going to be quite popular among the Marvel Comics HeroClix players and collectors. And with multiple FF members at every rarity level you're highly likely to pull at least some of them when purchasing packs, especially entire bricks or cases. And while we didn't pull any of the chases in this brick, we've seen from the previews and unboxings that they're pretty rad too. Now, unfortunately due to the pandemic there won't be a pre-release event for Fantastic Four, just a standard release coming on July 22nd (you'll be able to pick up the Dice & Token Pack and Fast Forces then too). Interestingly, WizKids has opened their own e-commerce store to help players and fans get access to new releases when it might not be possible to get to your local retailers, though they still urge you to shop there when you can. We hope you've enjoyed this look at some of the new Fantastic Four HeroClix. As always, have fun and good luck with your pulls!
Visit HeroClix.com for even more info as well as downloads of rules and maps, and stay tuned to Figures.com as we continue our reviews of new HeroClix!
Review and photos by Scott Rubin
Review samples courtesy of WizKids Games
Fantastic Four Expansion BRICK
Fantastic Four Expansion DICE/ TOKEN
Fantastic Four Expansion FAST FORCES
---