Following 8-inch mascot action figures for such heavy metal acts as Iron Maiden (Eddie) and Megadeth (Vic Rattlesnake), NECA shakes things up with a band I never saw coming: the undead soldier Sgt. D from Stormtroopers of Death (S.O.D.). Hitting the scene in 1985 with a unique fusion of hardcore punk and thrash metal, S.O.D. reunited Anthrax members Scott Ian (guitars) and Charlie Benante (drums) with their former bassist Dan Lilker, along with Billy Milano (M.O.D.) on lead vocals.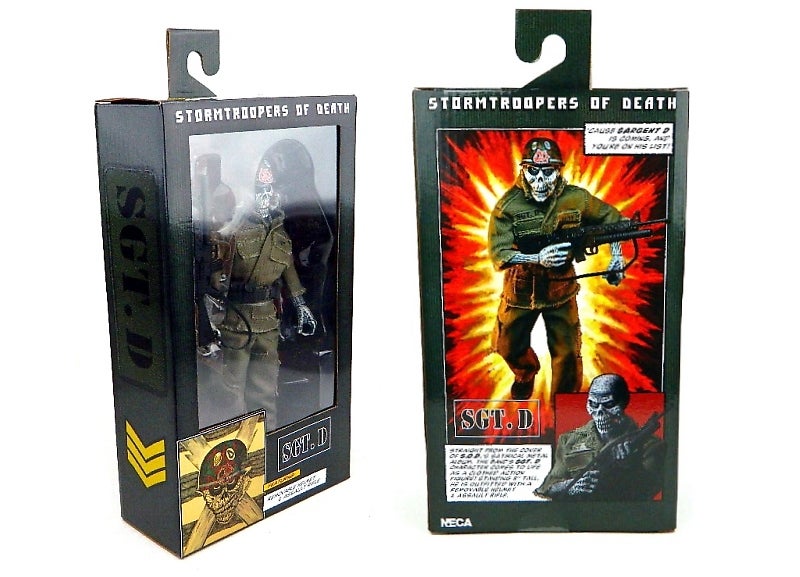 Dig the GI Joe-influenced back panel card art.
I've listened to my fair share of Anthrax over the years, but I'll admit S.O.D. slipped me by. The thing is though, you've probably heard at least one of their songs if you watched MTV's Headbanger's Ball: S.O.D.'s instrumental song "March of the SOD" was used as the show's anthem. That said, the character of Sgt. D does strike me as familiar.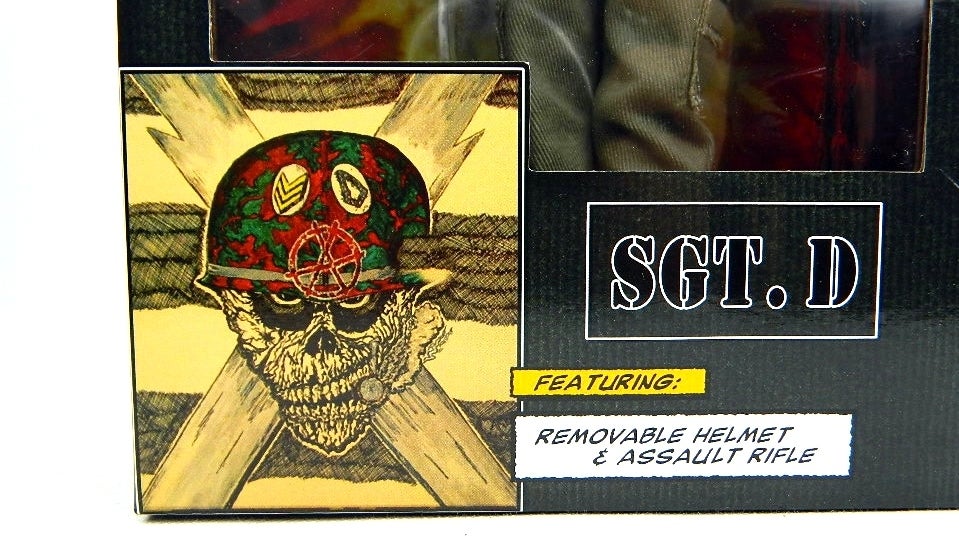 Based off the art for S.O.D.'s satirical debut album Speak English or Die (pictured above), Sgt. D is the brainchild of Scott Ian and the inspiration behind many of the band's songs. Sgt. D is basically an A-hole. The album's lyrics, at times offensive, were meant to be tongue-in-cheek; the album designed to "piss people off". You know, the whole punk rock mentality. Whatever you think of S.O.D., Sgt. D is a part of rock n' roll history. Plus, he just happens to make a pretty cool-looking action figure.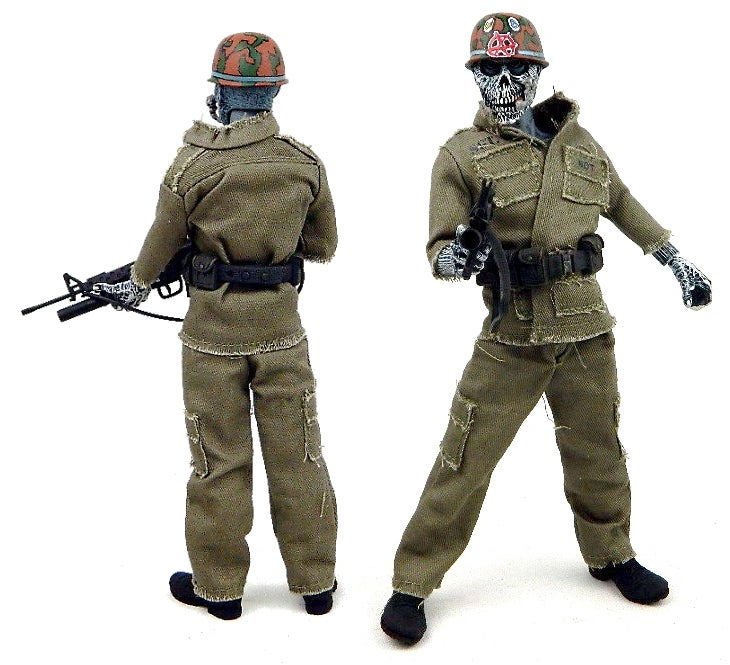 Standing 8-inches tall in NECA's clothed figure format, Sgt. D looks like he just stepped off the battlefield. The figure comes garbed in an olive green military uniform that's been realistically worn and frayed. A nice touch here are the words "Sgt. D" and "NOT" stenciled on the shirt. It's not a complex outfit, but it's tailored well to fit the figure. Sculpted combat boots and a plastic web belt with ammo pouches pull Sgt. D's uniform all together.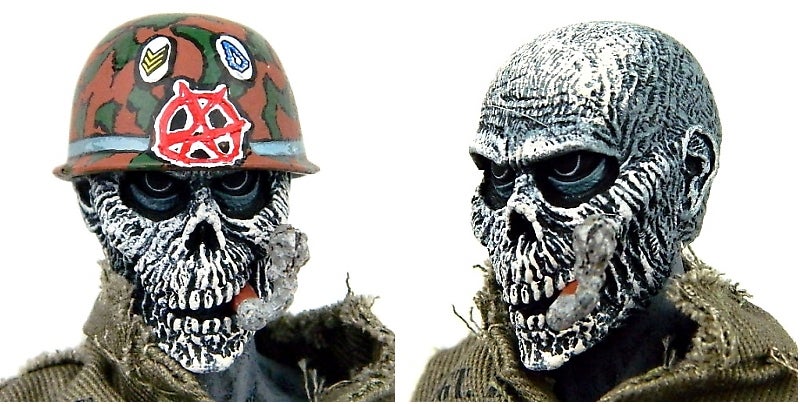 Aside from the use of real cloth outfits, the starring attraction of NECA's 8″ retro figure series has always been the phenomenal head sculpts. The zombie, skull-like visage of Sgt. D is no exception, the head sculpt looking like S.O.D.'s hand sketched album art. The ink lines are all there in Sgt. D's craggy face and great care was taken in replicating the stogie clenched between his teeth, complete with sculpted cigar smoke.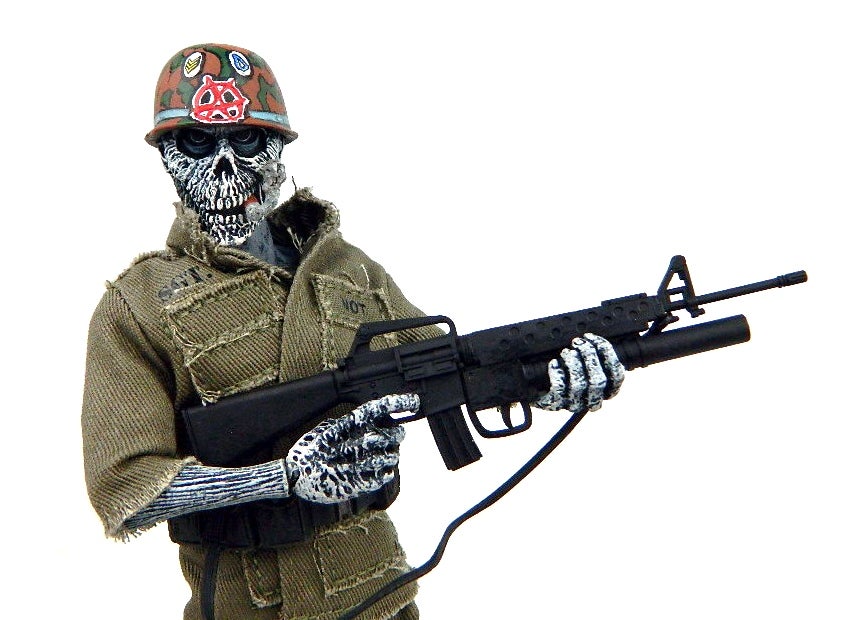 Accessories for Sgt. D include a removable combat helmet and an assault rifle. The former features a uniquely colored camouflage pattern and anarchy symbol, all "crudely" painted on to mimic the album art. While the helmet comes off, I think most collectors will opt for Sgt. D wearing it. Sgt. D's weapon is an AR-15/SP1 with underslung M203 Grenade Launcher, the same rifle combo popularized by Arnold Schwarzenegger in the movie Predator. Its sculpted to perfection here and fits snug in Sgt. D's hand(s).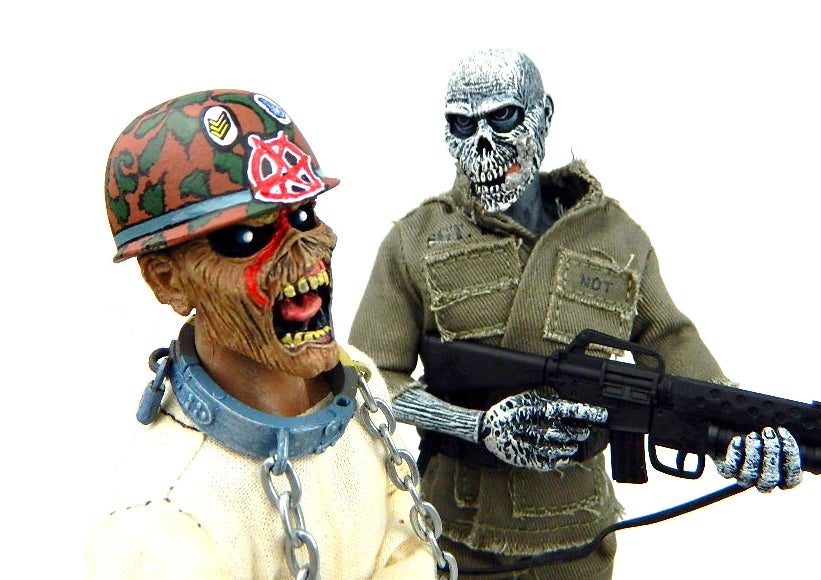 The mixed-media approach to NECA's 8-inch clothed figure series really appeals to me. It's all about the great head sculpts, well-fitted cloth outfits (that don't look doll-like), realistic accessories, and lately, the unusual character choices. I'm not sure how much in demand something like S.O.D.'s Sgt. D is with music listeners or collectors (they only had three albums), but I love when NECA takes a chance by releasing something bold and unexpected.
I'm not a huge S.O.D. fan (I've since listened to them), but I did grow up on comics like DC's Weird War Tales and countless horror movies, such as House (Big Ben!). For me Sgt. D is simply a killer-looking zombie soldier action figure with a tons of punk-rock attitude.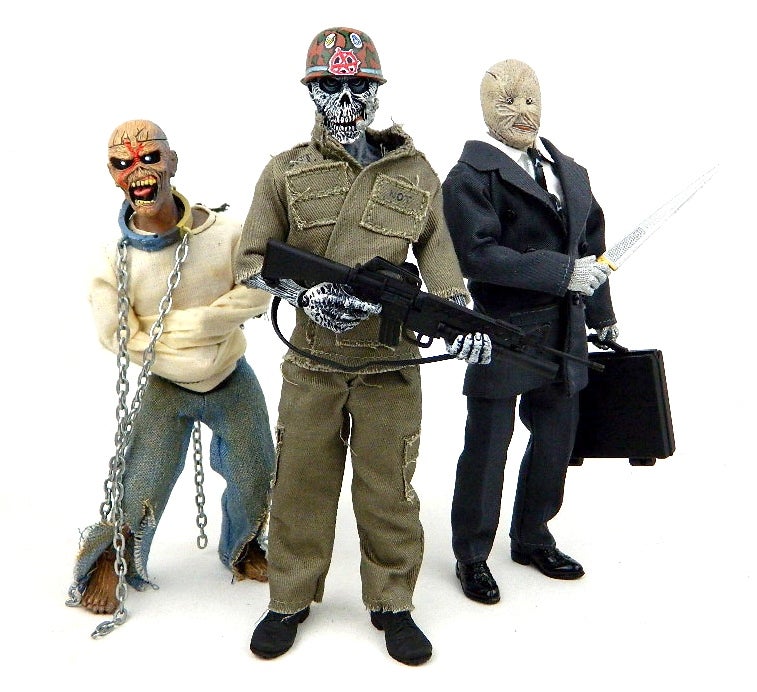 NECA's S.O.D. 8-inch Sgt. D action is available to order now from many fine retailers, including BigBadToyStore.com and EntertainmentEarth.com where it is priced at $32.99. Scroll on for more photos!
Review and Photos by Jeff Saylor
Review Sample Courtesy of NECA
We are committed to finding, researching, and recommending the best action figures and collectibles. We earn commissions from purchases you make using the retail links in our product reviews. Learn more about how this works.
---