Review Sample Courtesy of Hasbro
While the COVID-19 virus may have postponed the 2020 Summer Olympics, there's no stopping Hasbro's energetic little 'bots with 'tude (especially ones that can transform into a roll of TP!) The adorable BotBots are back, and this time they are going for the GOLD! Presenting the Transformers BotBots Goldrush Games, Hasbro's newest assortment of mini transforming collectible mini figures!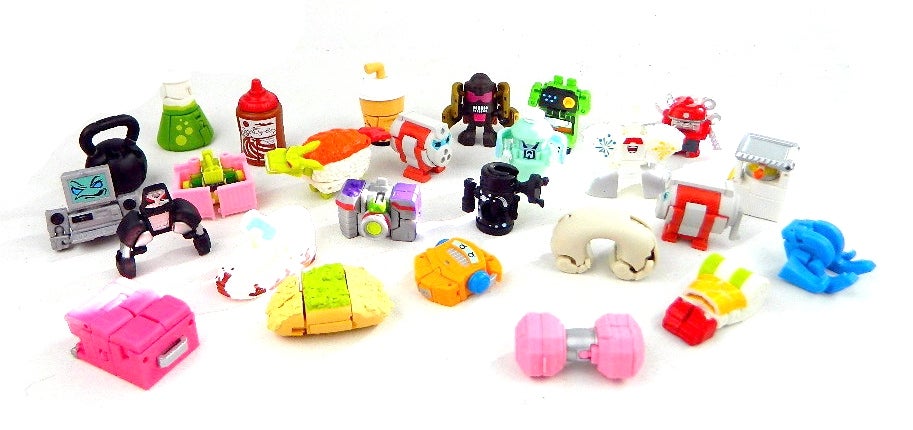 While new "Tribes" continue to be introduced (new items for the BotBots to turn into, for those not following), the overarching theme this time around is health and fitness, you know, for getting ready to compete in the Goldrush Games! Here, I'll let Hasbro explain:
BotBots are competing to see which tribe is the most mischievous! Winners are awarded one of the shiny gold trophy bots from the WINNER'S CIRCLE tribe! But before they can compete, they have a lot of training to do to get ready for the events to come!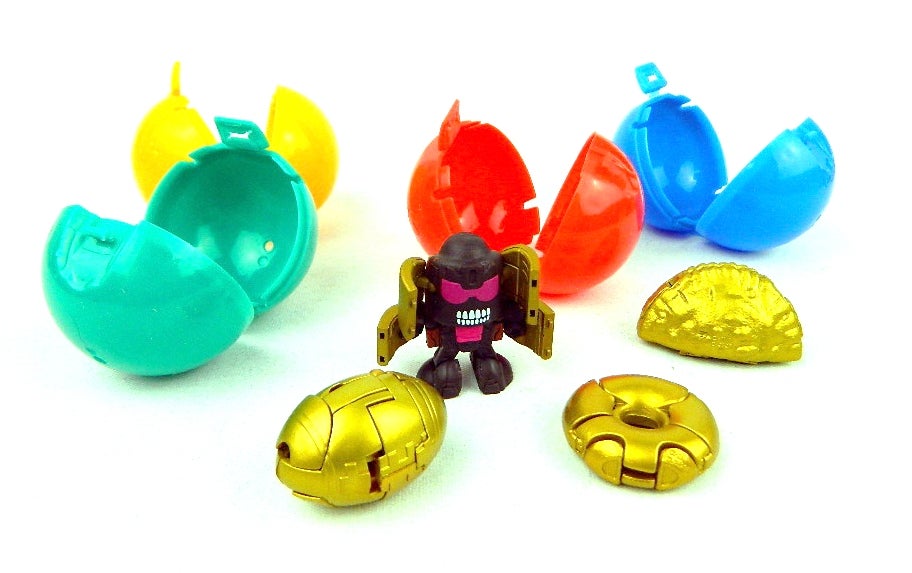 Rare chase BotBots have always been the craze behind this collectible mini figure line. It is, after all, what makes these type of collectibles so popular with kids and collectors. Oh, you got a duplicate of Perfumigator? Trade it with a friend for that BotBot you're missing. With the Goldrush Games, Hasbro introduces ultra-rare "Gold" BotBots to collect. It takes the trading mentality to a whole new level. Now we're talking bragging rights!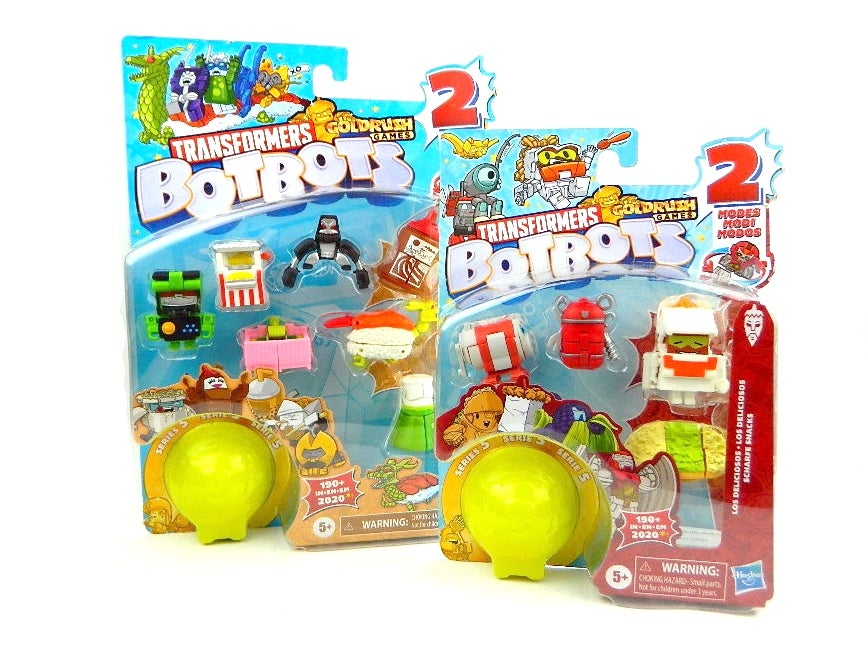 The introduction of solid gold-colored BotBots takes the series to Comic Con exclusive levels, where you instantly know you have something special without having to research whether your bot is a chase. I'm honestly shocked it took Hasbro so long to introduce this collecting sensibility to the line. Heck, if you're going for the whole BotBots Olympics theme, may as well throw in some "Silver" and "Bronze" BotBots while you're at it :).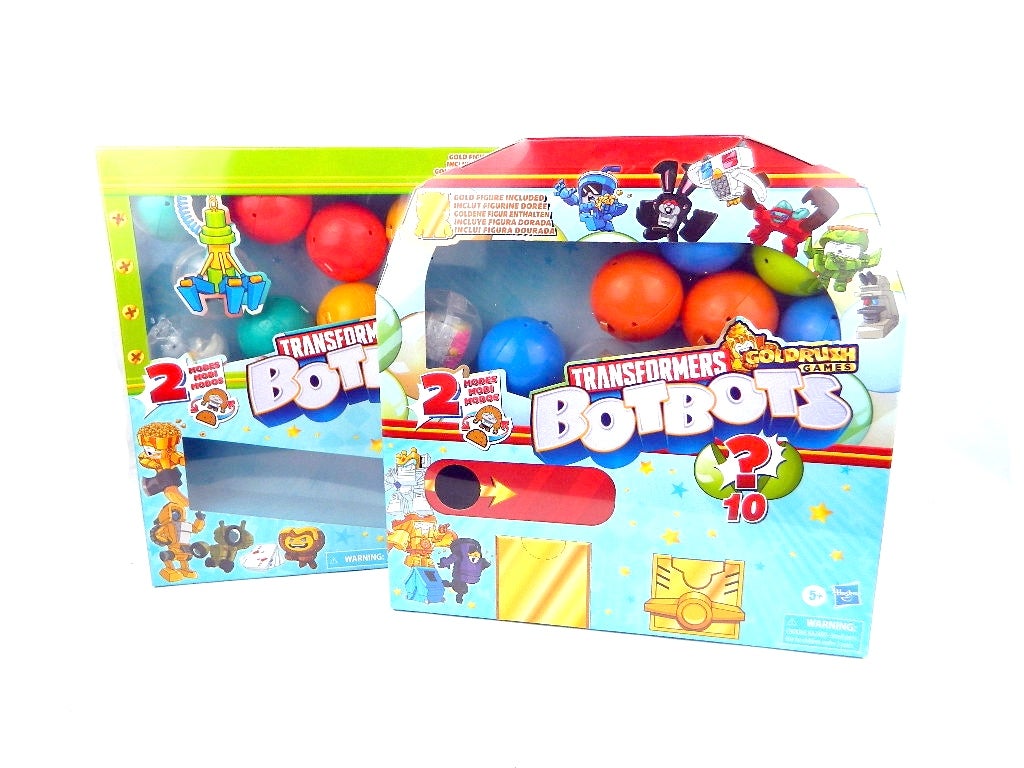 Anywho, to hammer home this super-duper "Gold" reward theme, Hasbro is debuting new deluxe BotBots packs to their assortment of 5-Packs and 8-Packs. Where the latter lets you see all the characters you are getting but the one mystery bot, the new GUMBALL and CLAW MACHINE packs play the collecting game completely blind. These are like Japanese gashapon toys, better known as capsule toys, which basically started the whole mystery toy phenomenom in the U.S.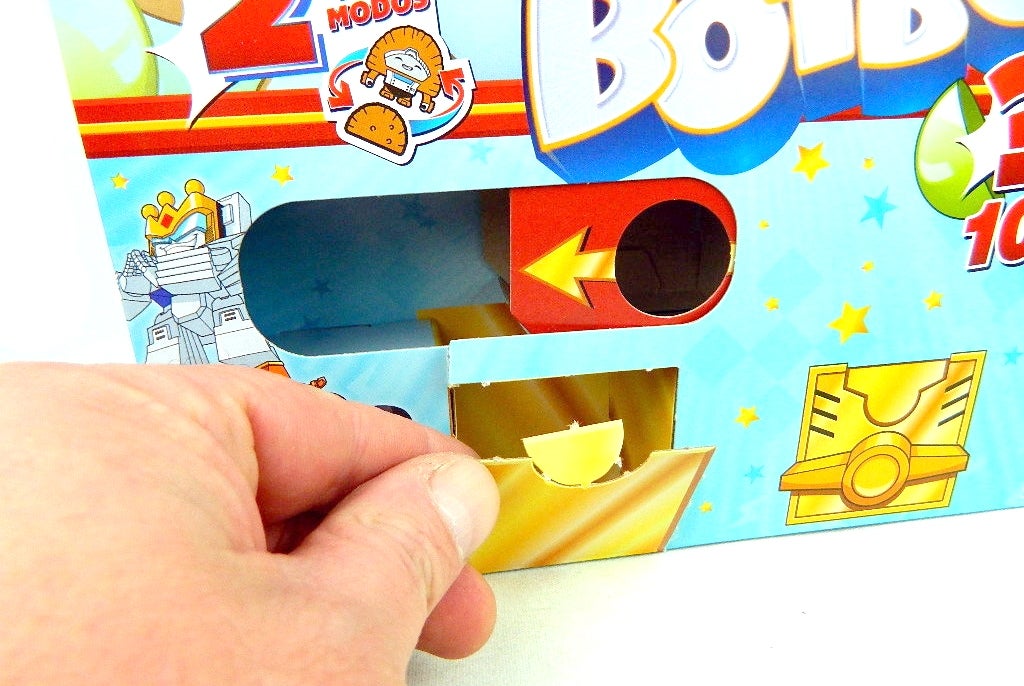 Packed in a plastic ball, almost every BotBot you get is a mystery (a few come in clear balls that you CAN see to intice your purchase). But how you get them out of the package is where most of the fun comes from.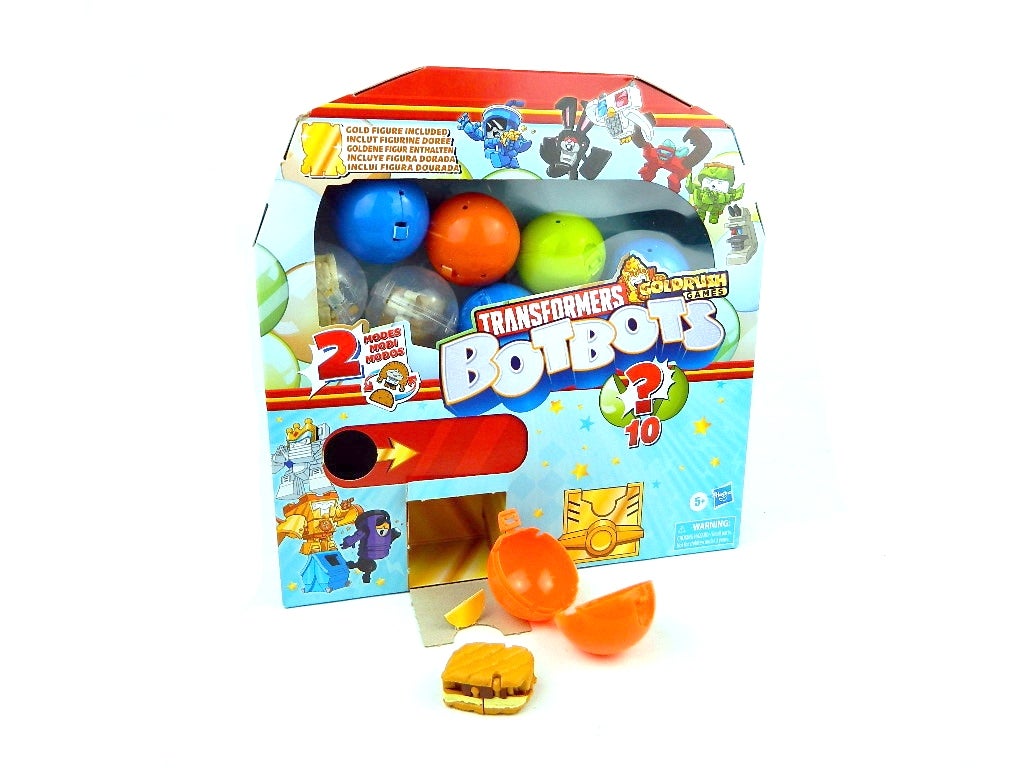 The Gumball Packs feature a pull down tab which reveals your first BotBot ball at the bottom… except my first BotBot ball contained… a sticker! Not expected! With the dispenser hole now revealed (that tab you pulled), sliding the "gumball machine" lever pulls in a new BotBot ball. Pretty cool. What's next? Cool! A rare "Gold" BotBot figure! It basically continues like this until all 10 BotBot balls have been dispensed. My total was 4 BotBots stickers and 6 BotBots figures, including one of the rare chase figs.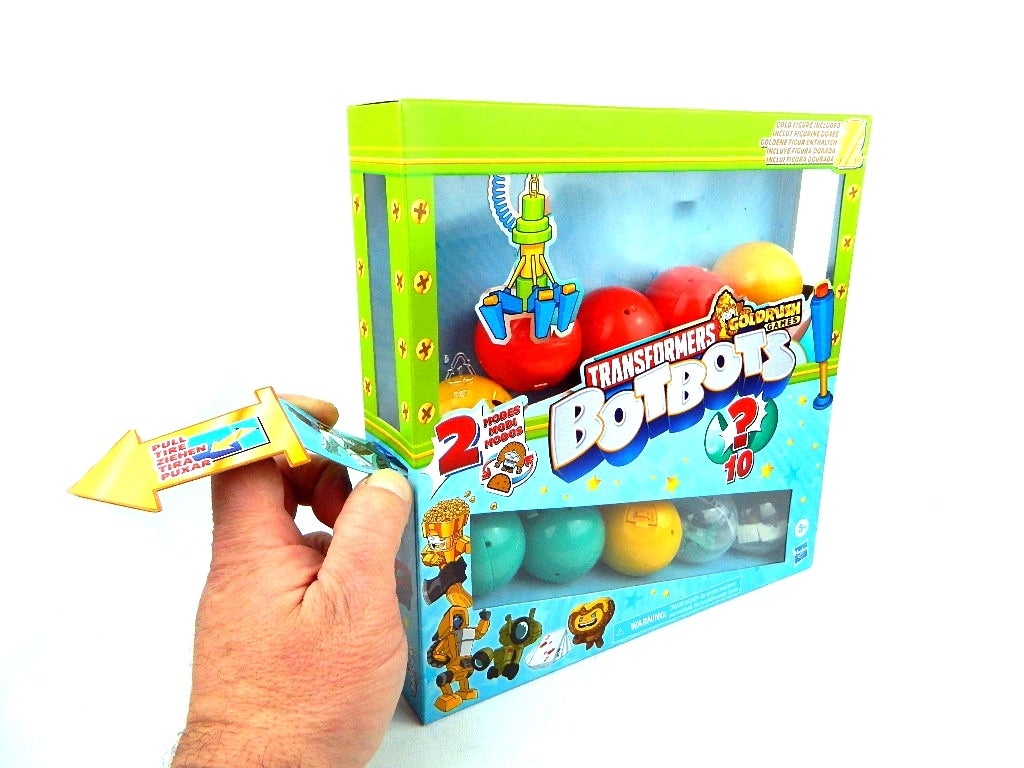 The Claw Machine pack was a little less exciting. While the "Claw Machine" name implies selecting a BotBot with precision skills, getting your prize isn't too hard. Simply remove the long tab on the side of the box and all the BotBot balls roll out from the other side (another tab that you must remove).

No claw action at all, although I still commend Hasbro for the smart packaging design. Like the Gumball Pack, I received 4 BotBots stickers and 6 BotBots figures, including one gold.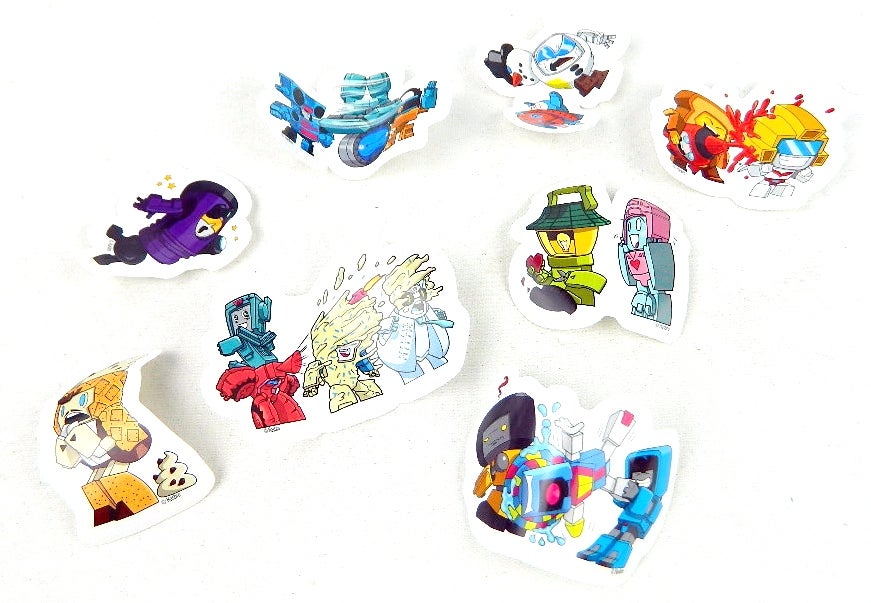 The stickers in these deluxe packs don't do anything for me, but I can see kids diggin' them. But really, it's all about the super fun packaging and scoring the gold.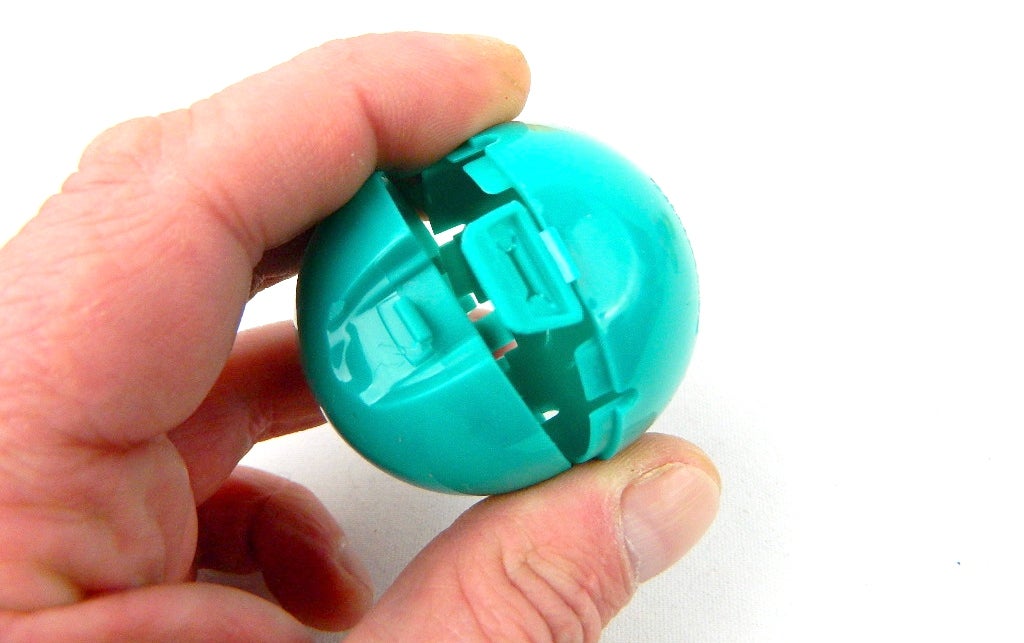 The only downside I can see is the plastic balls themselves; they are kind of a tough nut to crack. You have to forcefully pry up a plastic tab, which my fingers weren't easily able to do. A knife does the trick nicely, but that's gonna require some adult supervision with the kiddos. Just a heads up.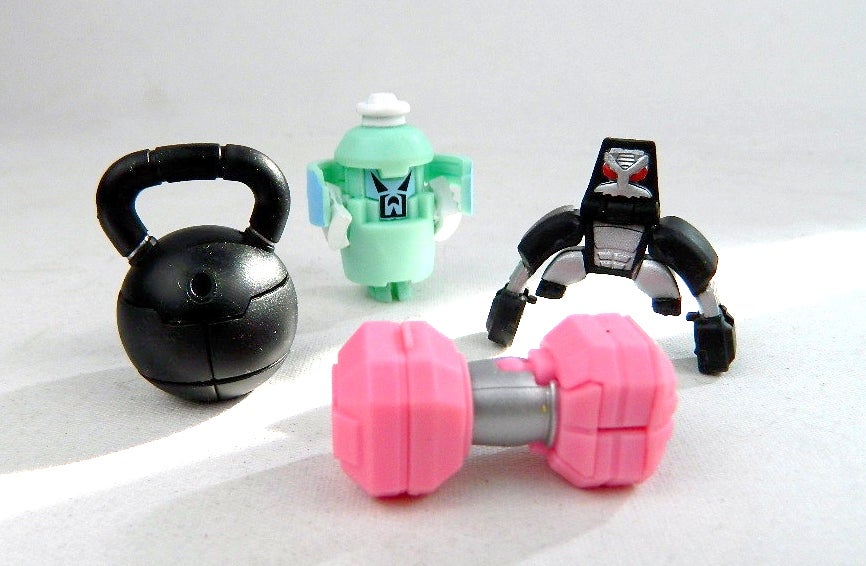 All said, Hasbro's Transformers BotBots Series 4 keeps the mini figure collecting craze alive thanks to ingenius new packaging and the addition of instantly recognizable "gold" chase figures. There are also new tribes to collect, highlights including Cardio ( Mix of old and new. Lightweight and Bot-T-Builder stand out as the newest of the designs, despite their awkward bot conversions), Hibotchi Heats and Los Delicious (More food = good!), Frequent Flyers ( Luggage, cameras, a barf bag? This is a really WEIRD new Tribe.), and Movie Moguls (popcorn bag and hotdog I get, Sweet Fang, not so much).
I dunno, aside from a couple new BotBot conversion designs introduced (and mostly awkward), the real incentive in collecting the new wave 4 BotBots is with the glorious new deluxe packaging designs (so fun to open!) and the rare gold bots to hunt down. I will say after opening all my samples, I only got FOUR of the Winner's Circle trophy gold bots, so they are indeed VERY rare. Happy hunting and stay safe!
Review and Photos by Jeff Saylor
Review Sample Courtesy of Hasbro
We are committed to finding, researching, and recommending the best action figures and collectibles. We earn commissions from purchases you make using the retail links in our product reviews. Learn more about how this works.
---