Hey, HeroClix fans, hope you're all doing okay and staying safe. I gotta say, the world was a bit different when I received this review item and set out to work on it a couple weeks ago. Today we're going to check out an unboxing of a countertop display of the WizKids Games Marvel HeroClix Black Widow Movie set, along with the Black Widow with Motorcycle figure! Now, this expansion was supposed to launch a few weeks before the film it's based on hit theaters, but of course that's no longer happening. When (and where) will Black Widow debut? Who knows! But while that's up in the air at least we've got some cool new HeroClix figures to play with and collect. So, let's dig in.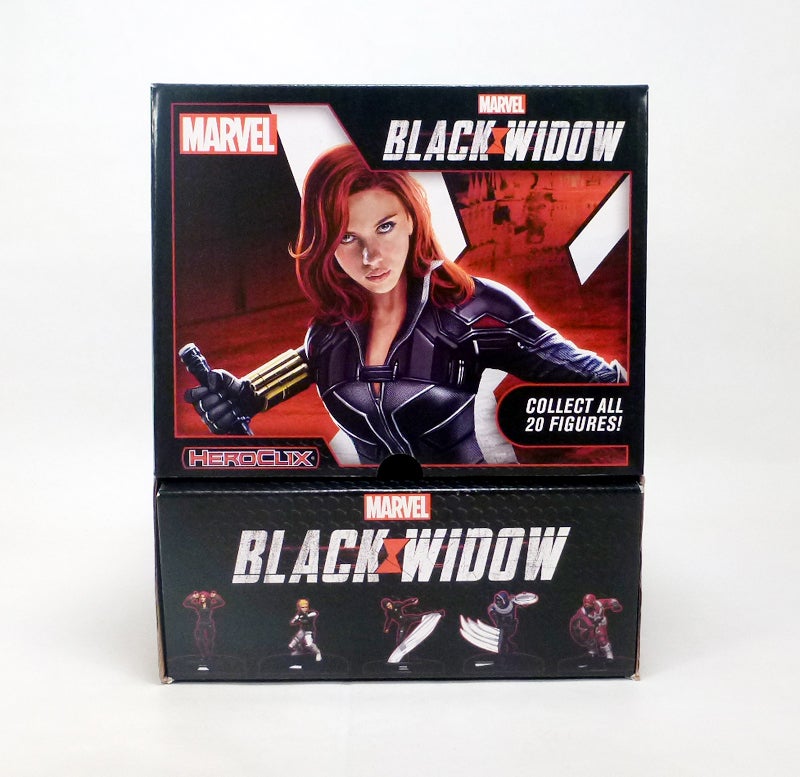 If you've been playing HeroClix, you're sure to be familiar with the countertop gravity display. It's a big box stuffed with 24 single-figure boosters, and in this case emblazoned with cool promotional artwork for the film. You'll find a couple different versions of the Widow herself, played by Scarlett Johansson, the movie's title logo, and more. At the bottom of the front panel are some renders of figures, while the back panel has thumbnail renders of all 18 figures in the set.
We should probably note here that there may be mild spoilers for the Black Widow film below.
Here's the full breakdown of the figures we pulled in this display (your results will vary of course):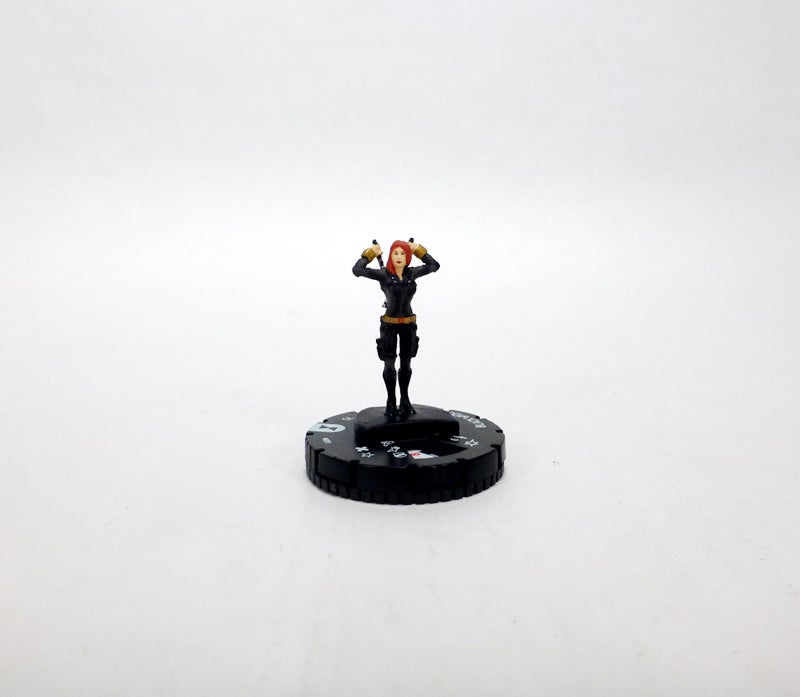 Commons (including duplicates)
001 Black Widow (x2)
002 Yelena Belova
003 Widows Initiate (x2)
004 Task Force Henchman
005 Black Widow (x2)
006 Widows Recruit (x2)
007 Taskmaster (x2)
008 Red Guardian (x2)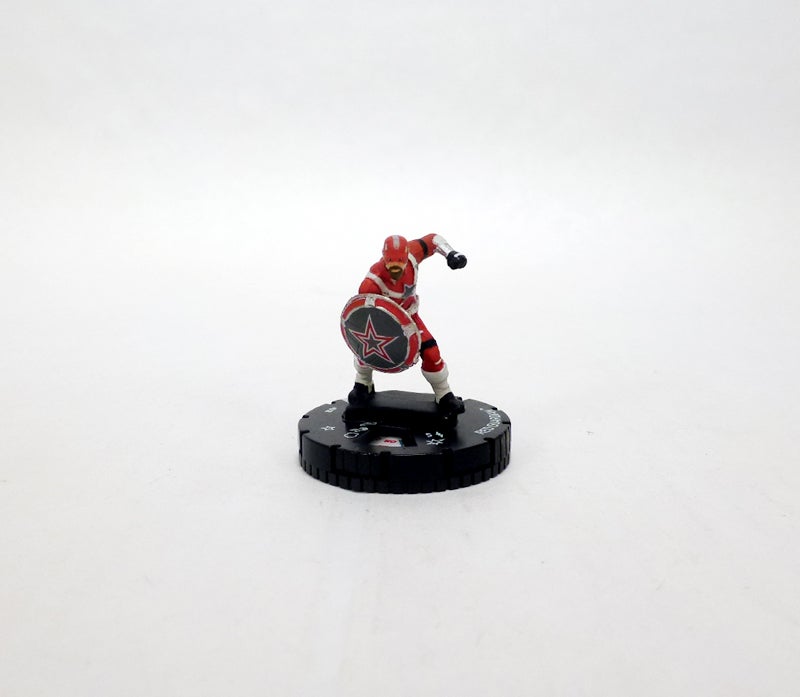 Rares (including one duplicate)
009 Black Widow
010 Yelena Belova
011 Widows Spy
012 Task Force Mercenary
013 Black Widow
014 Widows Assassin
015 Taskmaster
016 Red Guardian (x2)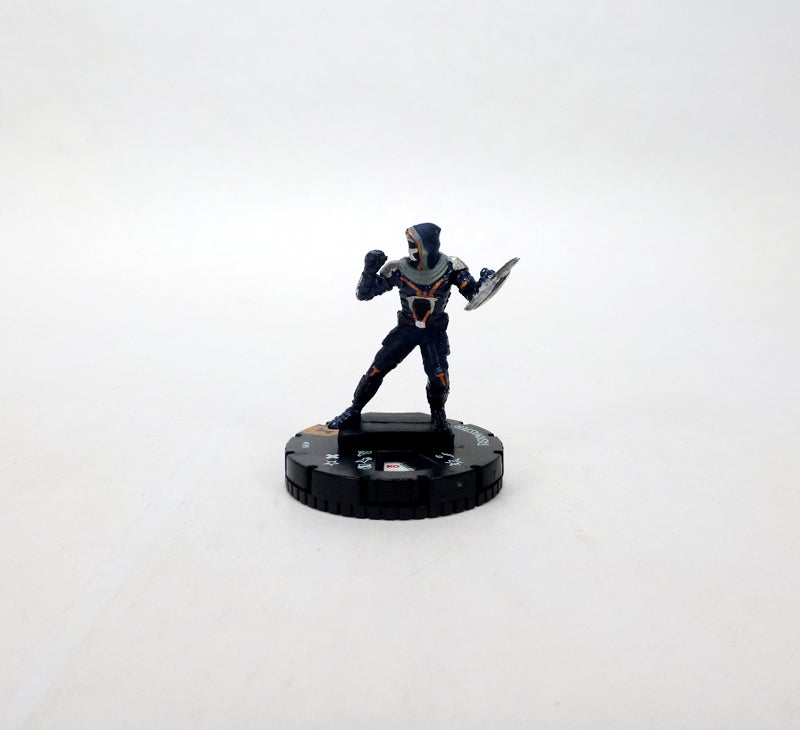 Chase
Collation here is pretty great, and about the ideal of what you could expect from a countertop display. We pulled at least one each of the eight commons, at least one each of the eight rares, and one of the two chases!
Obviously we're not privy to any secrets from the movie, so we can only talk about these characters based on what we know from previous Marvel Cinematic Universe films, comics, and trailers. Taking a look at the commons, we've got two different Black Widow figures, a Yelena Belova (apparently Natasha's sister), Taskmaster (Black Widow's big bad… maybe), and Red Guardian (Natasha's dad?) for specific characters. Beyond those are a number of generics belonging to the Widows or the Task Force: Widows Initiate and Widows Recruit for the former and Task Force Henchman for the latter. The set's rares follow the same lineup very closely, as in almost exactly. There are two more versions of Black Widow, a Yelena Belova, a Red Guardian, and Taskmaster along with Widows Spy, Widows Assassin, and Task Force Mercenary. Then there's the chase! Based on the previous list of characters, could you guess who might appear here? Thanks to another unboxing we know the first chase figure is fifth Black Widow, and here we pulled a Taskmaster!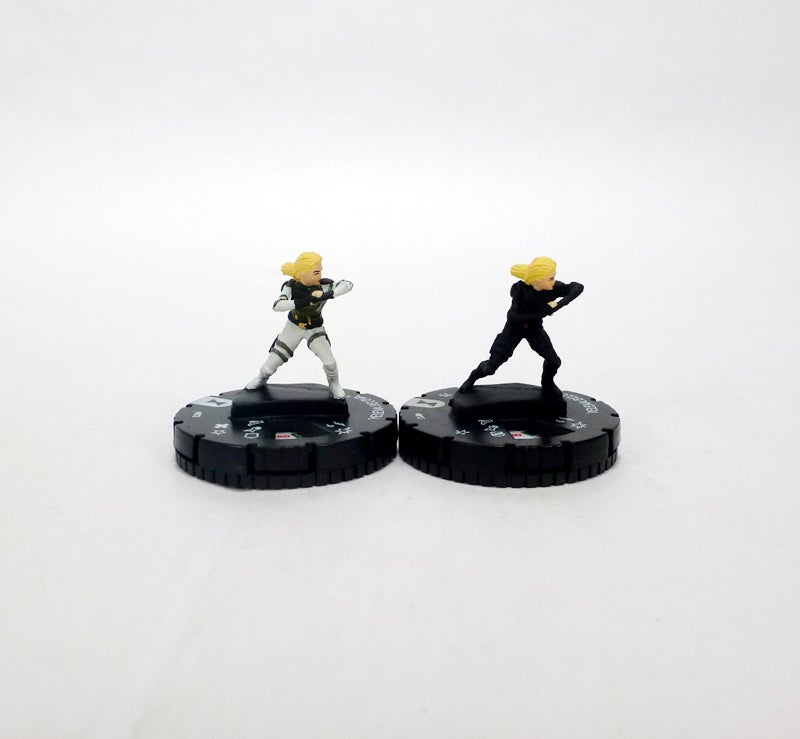 It's not uncommon to get multiple versions of main characters in a set like this, and lo and behold we've got exactly that with Taskmaster, Yelena, Red Guardian, and Widow (we pulled four out of the five total!). It's always a nice way to get multiple costumes onto the game table, as well as different point values and play styles to fit your preferences. Black Widow takes it a step further, with all four of these figures sharing a Shifting Focus trait that lets you switch between them during a game, really letting you pick the perfect hero for the situation. Now, it's natural to have sculpt re-use as well, and we see it here in abundance with almost all of the figures. Thankfully WizKids added little notes of differentiation whether it's differently colored costumes or hair, the addition of a weapon in a hand, etc.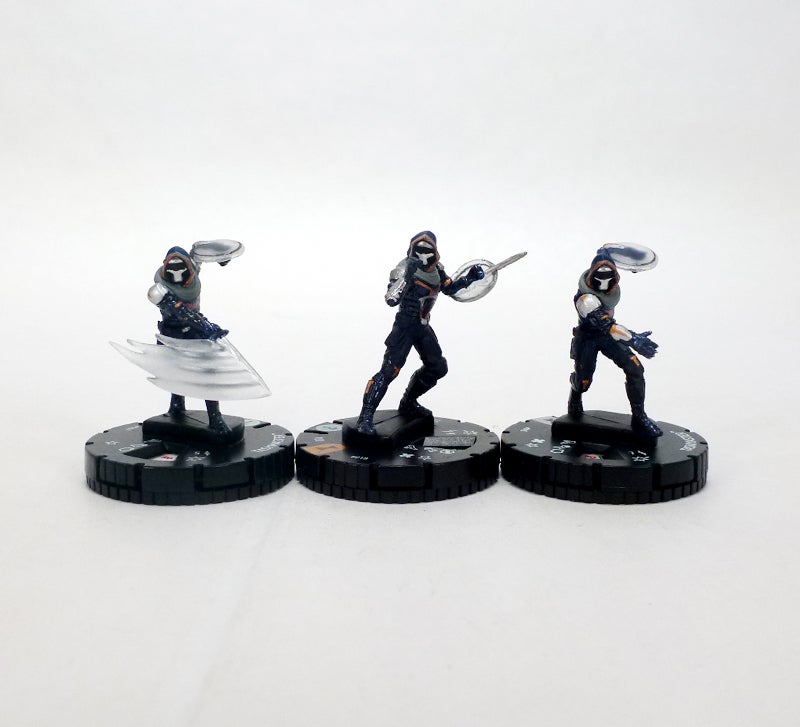 Based on a movie about spies and black ops operatives, the Black Widow HeroClix set is unsurprisingly full of men and women in sleek outfits captured in martial arts poses. The Black Widows come in two varieties, either in street clothes and ready to fight or wearing a super suit and drawing her batons from her back (from the iconic shot we've seen in the trailers). Her sister, meanwhile, is posed in a deep side lunge, jamming her elbow into an enemy. The Widows come in two varieties, either reaching back to bash someone with a baton or unleashing a mighty roundhouse kick. Red Guardian, totally not a Russian knockoff of Captain America, wears a detailed superhero suit and charges forward behind his trusty shield. The Task Force Henchman and Merc look tough in their armor and helmets, while Taskmaster is captured in his… unique film costume complete with armored jumpsuit, visored mask, and hoodie. The common and rare share sculpts with a clear shield on the upraised left arm, while the former slashes down with a sword and the latter throws a punch. The chase is our only totally unique figure, and this Taskmaster has the same basic equipment but leans back in a defensive pose with knife and shield on one arm.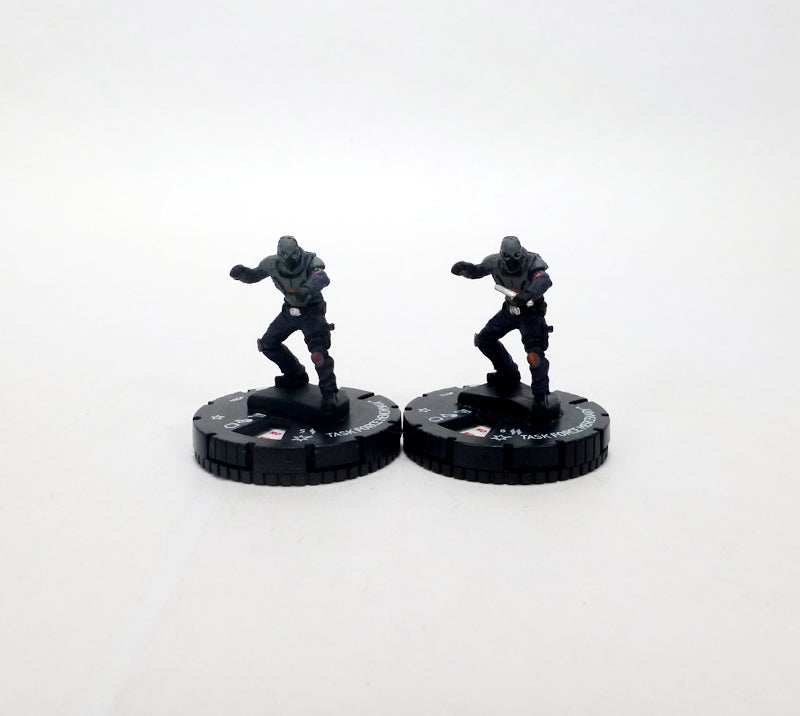 As always, the paint jobs take these solid sculpts to another level, and that's pretty apparent here in this set. Look specifically at figures that share sculpts where one has a dark, solid-colored outfit like Black Widow and Yelena; the other version usually has a lot of painted details. All of the Widows wear mostly black but feature different hair colors, while they all have sweet black widow hourglass symbol belt buckles. Black Widow and Yelena's white costumes are probably the most striking, stark and bright with great accents in other colors. Taskmasters have plenty of colors on their costumes, while Red Guardian looks awesome with his red, white, black, and silver super suit; there's even a color different between the two versions with the rare being a brighter red!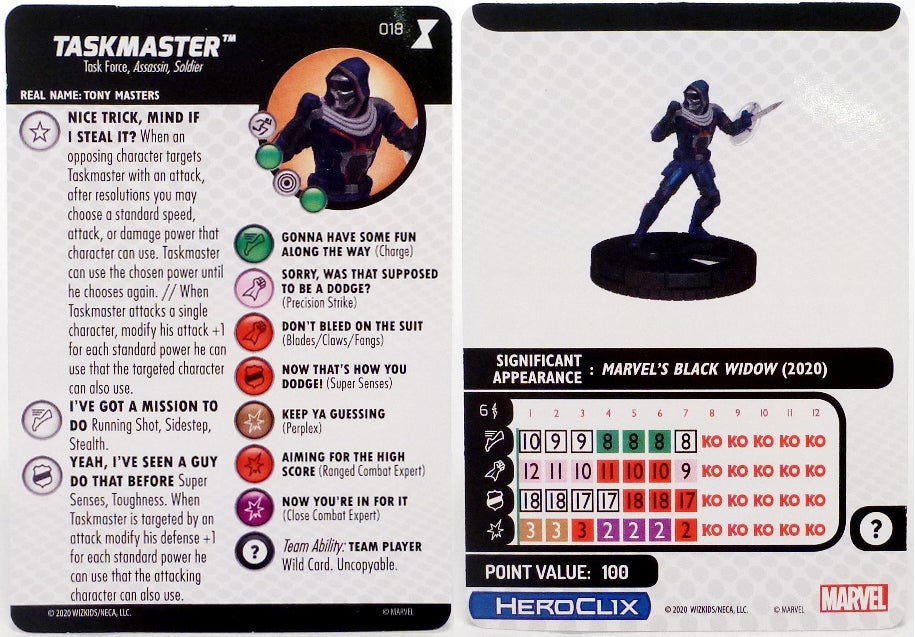 On the table, the figures in this set have a lot of the powers you'd expect like Stealth, Blades/Claws/Fangs, Combat Reflexes, Super Senses, Shape Change, Outwit, etc. It's not all melee, though, with some (short) range focus too. Best of all, there are some truly fun traits linking the different teams (Widows, Task Force, etc.) giving figures all sorts of fun abilities and bonuses when they're played together or on theme teams. Nearly all of this set's dials have been revealed thus far but I thought you'd like a sneak peek at the chase Taskmaster! Here he is in all his power-stealing glory: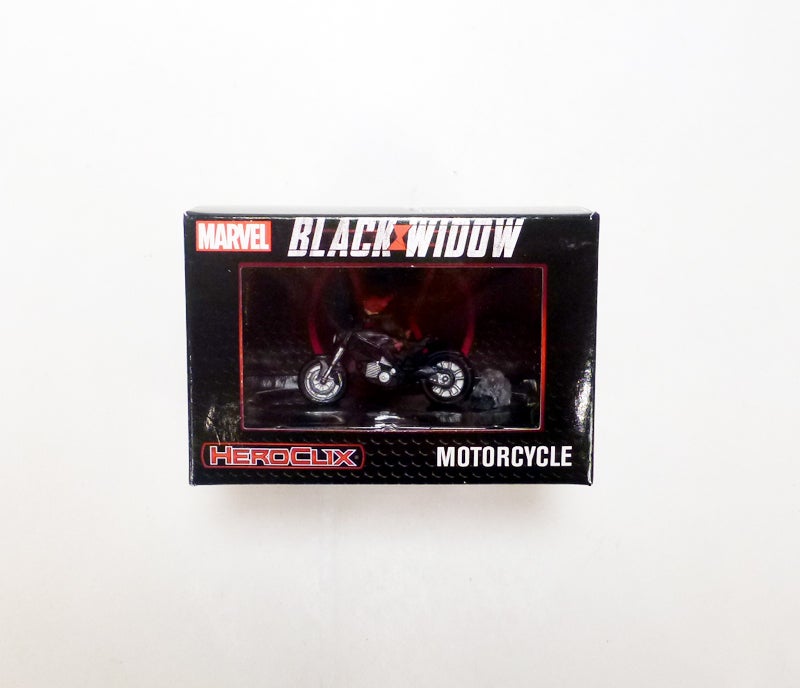 Now, if you're in the market for something specific rather than going for the blind booster thing, or if you're a fan and want even more, WizKids has you covered with the Black Widow on Motorcycle figure! This spy is sold by herself and in a cool little window box with a nice use of the Black Widow hourglass symbol on an insert behind the figure.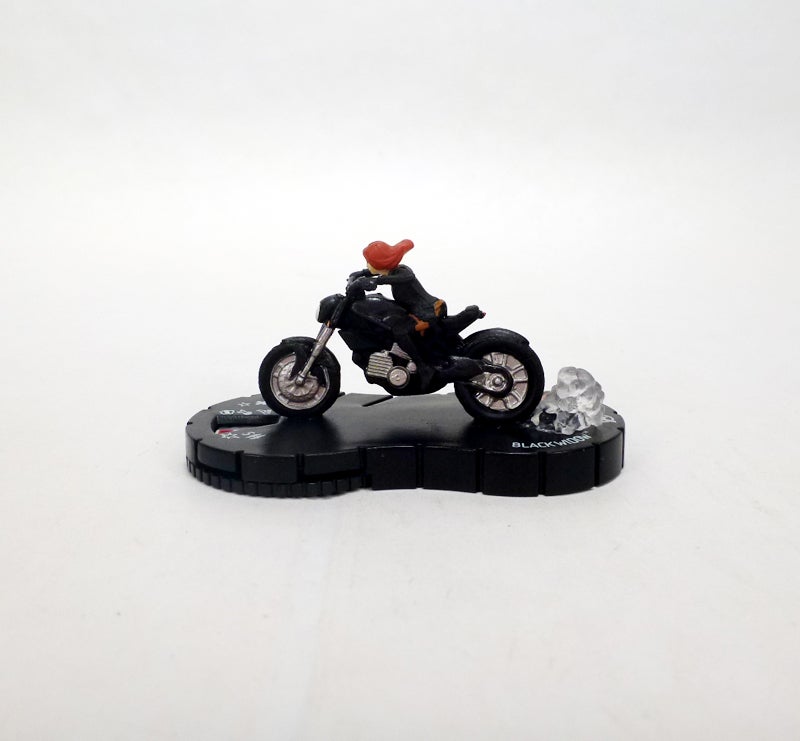 Speaking of, this Black Widow harkens back to some of the cool motorcycle figures we've seen in HeroClix before (like Ghost Rider, Vigilante, and even Doop). This Natasha too wears street clothes and rides low on her bike, and I must say I really like her sculpt, the paint job on her face, and the subtle clear plastic burning rubber effect. She doesn't just look good; this Black Widow is also a terror on the battlefield with high speed and some great abilities including the option to bring in another Widow figure when this one is KO'd (via the appropriately named "Time to Get off the Bike" trait)!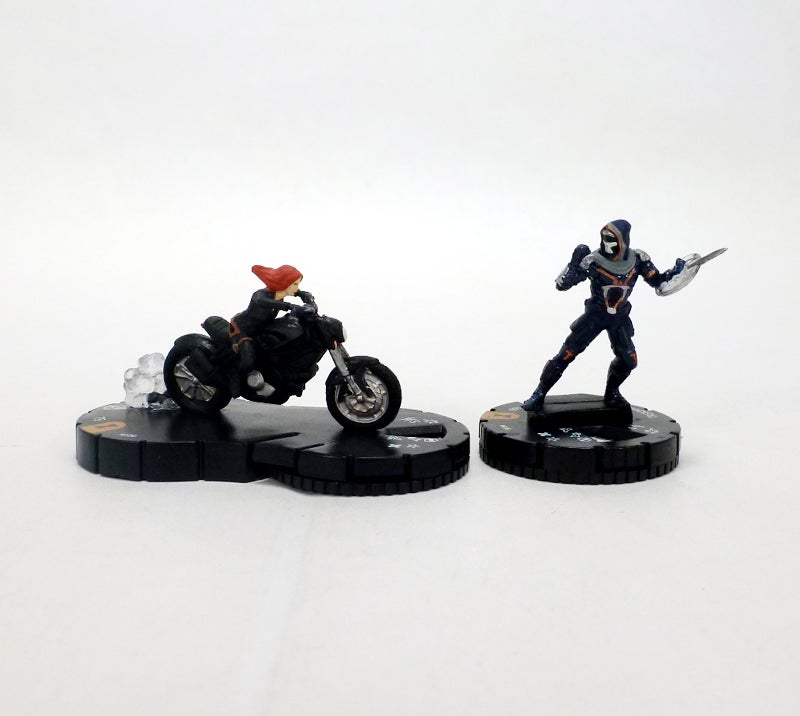 I'm sure Disney will find some way to release the Black Widow film at some point, but until that uncertain day we've got this set to tide us over and provide us with some great-looking figures that are fun to collect and play. The Black Widow Movie HeroClix set and Black Widow on Motorcycle figure are scheduled to be released this week, but I'd highly recommend you check with your local comic book/game store to see if they have it and how they're currently selling items. I know my FLGS offers online orders and curbside pickup of items, and hopefully yours does too. Get your HeroClix, play at home with your loved ones, and stay safe. Head over to the WizKids Info Network to find a participating venue near you. Good luck with your pulls!
Scroll down to check out a photo gallery of all the figures from this brick.
Visit HeroClix.com for even more info as well as downloads of rules and maps, and stay tuned to Figures.com as we continue our reviews of new HeroClix!
Review and photos by Scott Rubin.
Review samples courtesy of WizKids Games.
---