Did you miss out on Diamond Select's Walgreen exclusive wave of TRON action figures last Fall? I did, but that's only because I was holding out for the deluxe TRON Select assortment. That wave, which hit stores last month, originally had a sweet incentive to buy them all: a bonus build-a-figure in the form of a classic Recognizer vehicle. Alas, the build-a-Recognizer was abruptly canceled in late January (see our story HERE).

Hey, hey, hey, it's the big Master Control Program everybody's been talking about.
So where does that leave us? The good news is that collectors have a new opportunity to purchase all three classic TRON figures: the film's heroic security program Tron, a digitized Jeff Bridges as Flynn (now featuring a red "Infiltrator" color scheme), and the big bad of the movie, Sark. Even better news is that each Select figure saw a price drop from $29.99 to $19.99, a little more than the Walgreens assortment (which were $16.99 each). And while these new TRON Select figures lack the Recognizer parts, they do pack extra interchangeable hands and disc effects, which is great at the price point, but are a bit of a let down in execution. I'll explain later.
To give me an idea of how the new TRON Select figures came out, DST sent me samples of Tron and Infiltrator Flynn (not sure what happened to Sark in the shippment, but I went ahead and ordered him for delivery next week).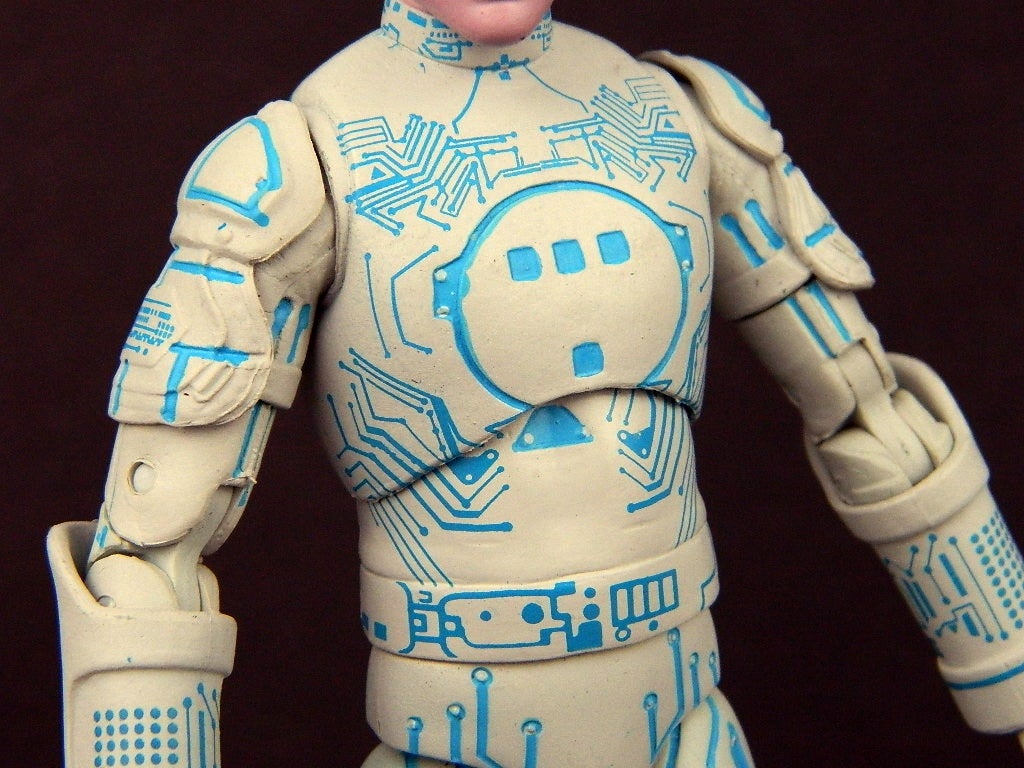 Positive and negative, huh? You're a Bit, aren't you?
First the pros: These are some amazing looking TRON action figures, each character looking like they just stepped out of the groundbreaking 1982 Disney movie. Back in the day, the vintage Tomy TRON figures were cool in their simple translucent plastic design, but come on, we all wanted realistic TRON action figures. For me it was all about the small details in the costumes, like the Moebius-designed over-sized wrist gauntlets; a detail those basic Tomy figs never had. And yes, DST has dabbled with TRON action figures before with their Disney-centric Kingdom Hearts series, but even those don't hold a candle to the screen-accurate sculpts on display with these Select figures. All the intricate costume circuitry is represented, some even being sculpted into the figure.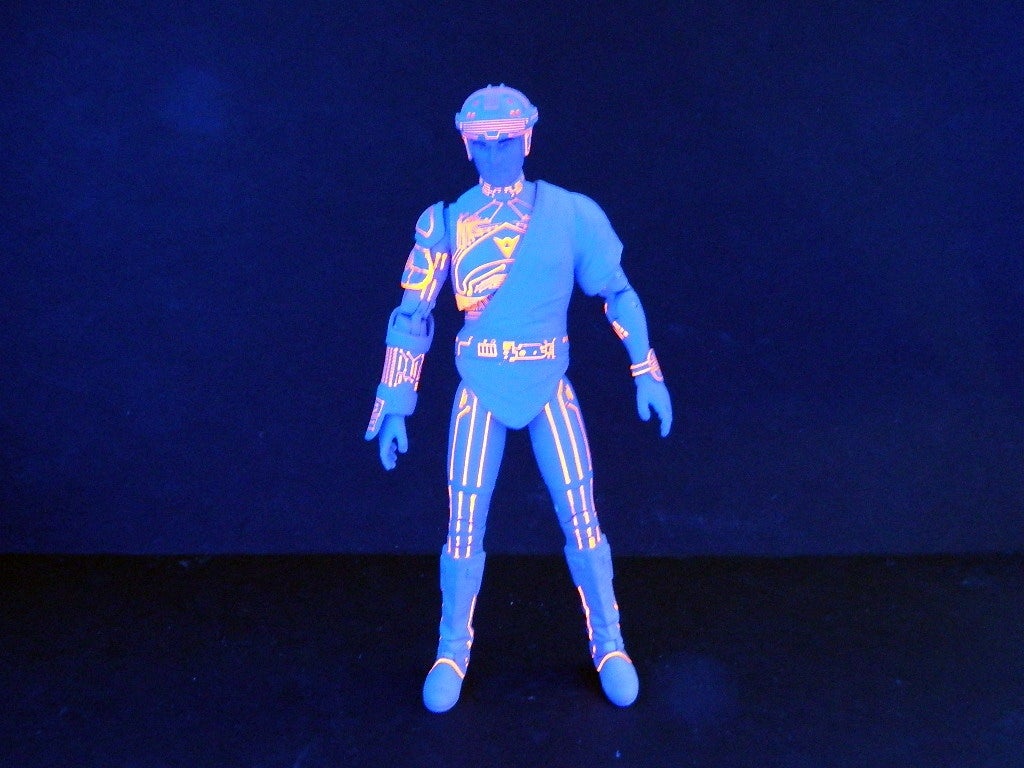 What's particularily impressive is DST's paint work on these figures. The bold neon-like blue and reds used on the off-white base plastic looks remarkable. Now before you ask, no, these are not traditional glow-in-the-dark figures (how cool would that have been?). However, I did do a test with Infiltrator Flynn by placing him under a black light and wouldn't you know it, he actually does glow! Sadly, Tron's blue color scheme didn't have the same effect under black light.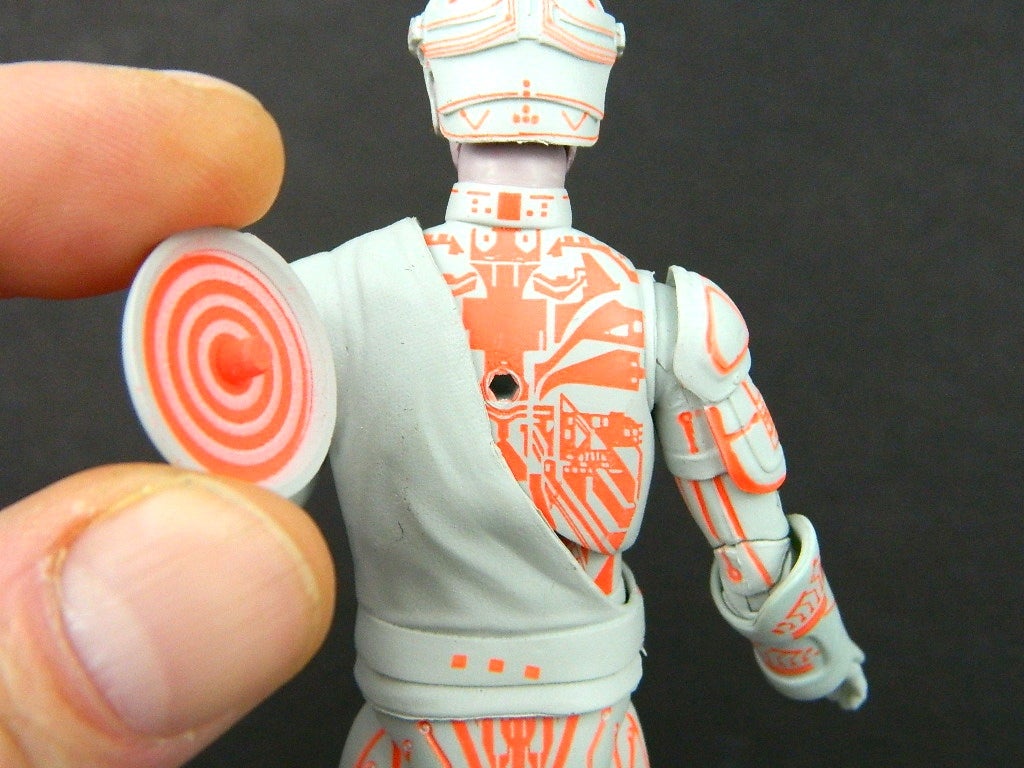 You will each receive an identity disc. Everything you do or learn will be imprinted on this disc. If you lose your disc or fail to follow commands, you will be subject to immediate de-resolution.
Like the Walgreens exclusive wave, each TRON Select figure packs an Identity Disc accessory that plugs into the back. This is cool. What isn't cool is that I couldn't get any of my figures, no matter what pair of hands I used, to hold their disc properily. This included using the included bonus discs with attached effects. And while the various hand gestures do add some variety to display (and are easy to swap), I simply do not know what to do with these extra accessories that can not be held. It's a shame, because the articulation on these figures is incredible – incredible enough for some dynamic disc-throwing poses.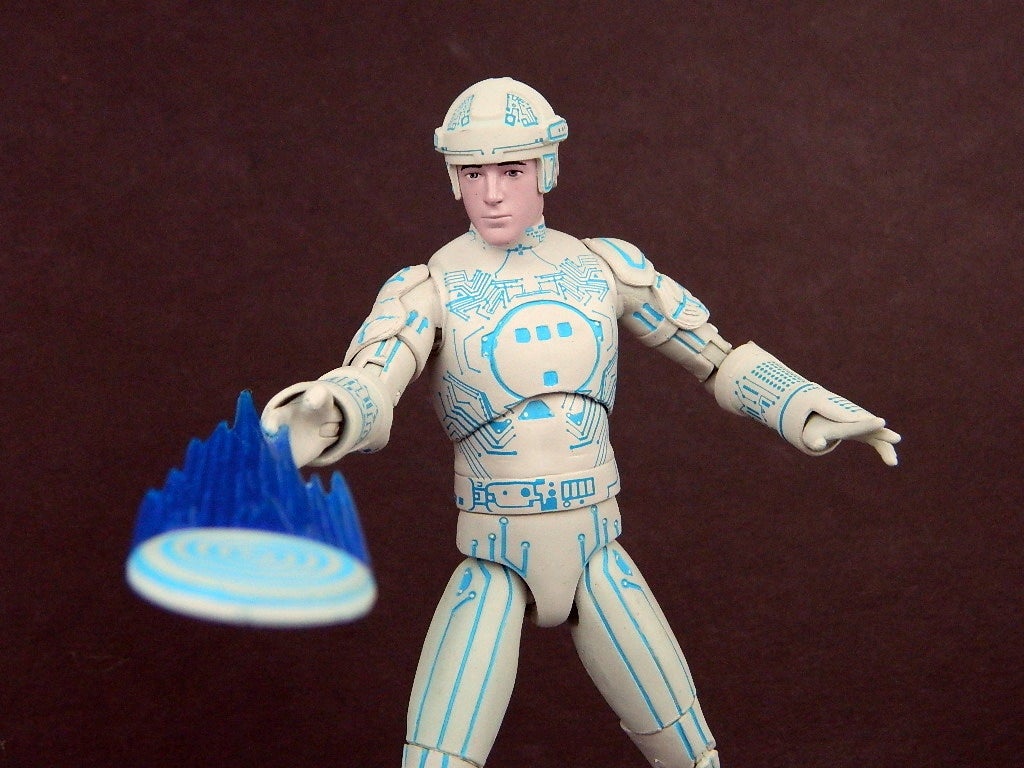 I'm warning you. You're entering a big error, Flynn. I'm going to have to put you on the Game Grid.
With some careful posing, I did manage to get one of the discs (pictured above) precariously positioned as if thrown. It's far from ideal and far from a solid grip, but it's there. The bottom line is that something went very wrong in communicating with the overseas factory on how these effects were to be made, whether that involved a simple peg and hole system or separate display stands in order to use them.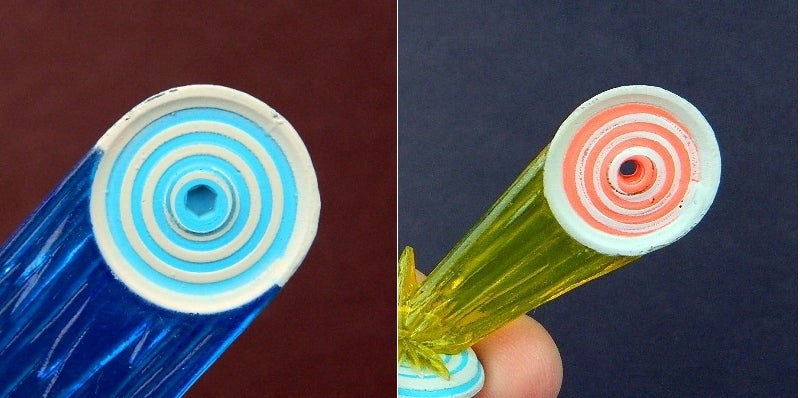 I'm further convinced of this by the fact that some of the disc effects feature holes that otherwise serve no purpose. It is as if they were suppose to plug into something (an alternate hand with a peg, perhaps?) so that the figure could use them. Eitherway, it's a pretty big oversight and rather disappointing.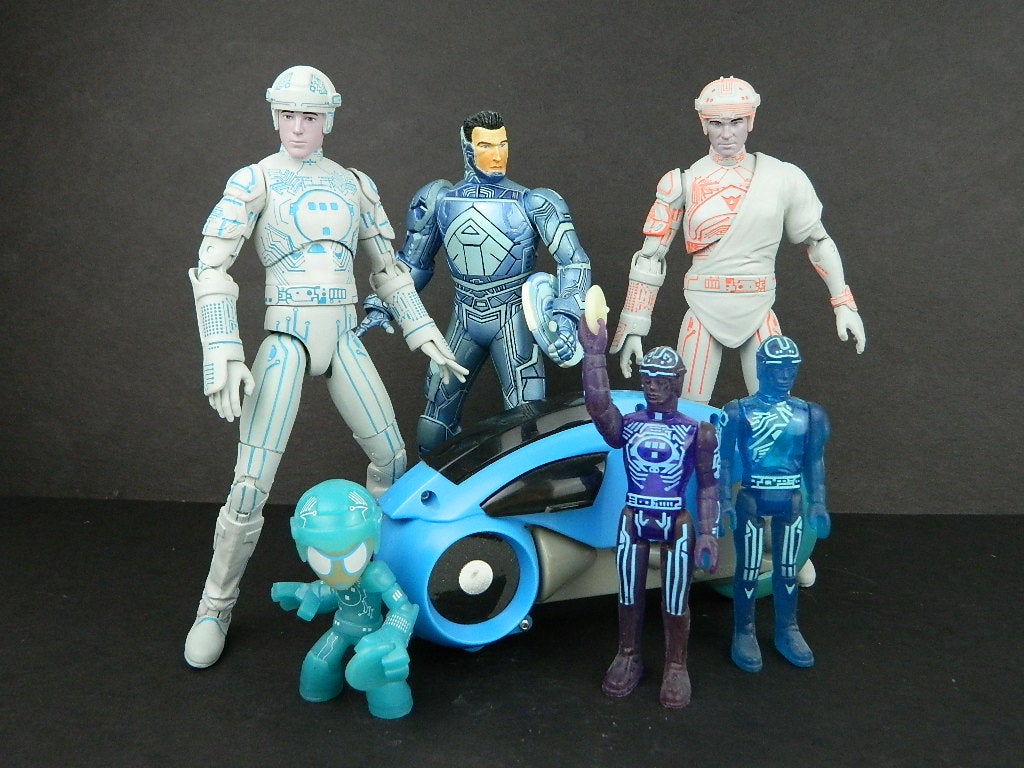 End of line.
Ah, but don't let my critique of the unusable bonus accessories deter you from purchasing these figures. DST's TRON Select action figures still stand strong with their amazing sculpts, paint and articulation. While I don't own the Walgreens' wave, I have seen comparison reviews online that show the TRON Select figures at being superior in sculpt and paint, including better facial detailing and brighter colors. And at $19.99 each, collectors really can't complain; each figure is well worth that price tag, extra accessories or not. As a long time TRON fan, I'm extemely pleased to finally have movie-accurate figures join my collection. Now I eagerily await for DST to bring out a second series! One of Sark's guards is a MUST… and I still want that classic Recognizer.
TRON Select Series 1 action figures are available to order directly through Diamond Select, as well as through many fine retailers, including Entertainment Earth.
Scroll on for more photos!
Review and Photos by Jeff Saylor
Review Samples Courtesy of Diamond Select
We are committed to finding, researching, and recommending the best action figures and collectibles. We earn commissions from purchases you make using the retail links in our product reviews. Learn more about how this works.
---