Hey folks, we're back with another advance look at an upcoming HeroClix set. This time WizKids is returning to the world of DC comics with another animated-inspired expansion: DC HeroClix Justice League Unlimited! WizKids hit upon a really fun trend starting with the first Teenage Mutant Ninja Turtles set in 2016, bringing our favorite cartoons to the tabletop, and continuing with Batman and X-Men's animated series. Now as a follow up to Batman: The Animated Series comes the Justice League Unlimited animation, which aired on TV from 2004-2006. The HeroClix set brings that series' heroes and villains, as well as more characters spinning out of previous cartoons (like Batman Beyond) and even Super Friends! There's also a brand-new mechanic for HeroClix debuting here with really fun Team Up cards (more on that later). Today we're going to unbox a booster brick and check out the accompanying Justice League Unlimited Dice & Token Pack and Starter Set.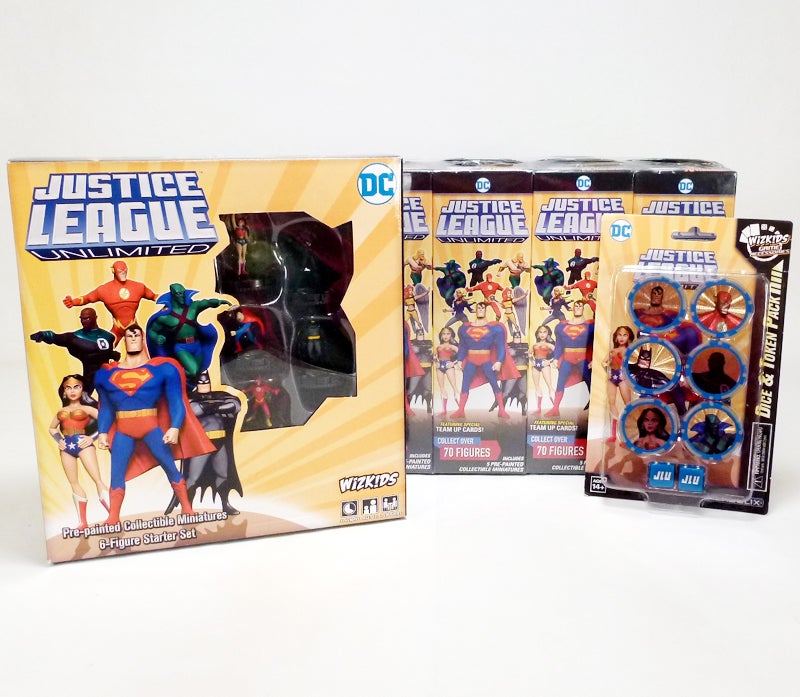 As usual, boosters contain five figures of various rarities – always at least one common and at least a rare, potentially more. The booster boxes themselves are bright and colorful, featuring the Justice League Unlimited logo and character art in front of a yellow background. Various themes in the set are represented on the side panels: Justice Lords (Superman, Batman, Wonder Woman), Seven Soldiers of Victory (Stargirl, Speedy, Green Arrow), Justice League (Shazam, Supergirl, Red Tornado), and Injustice League (Cheetah, Joker, Lex Luthor). Lastly, the back panel shows off some of the set's chases featuring Super Friends and Legion of Doom, along with a discussion of the WizKids Info Network.
Booster 1
001 Superman
007 S.T.A.R. Labs Scientist
014 Shazam!
021 Red Tornado
054 S.T.R.I.P.E.
And we're off with a great start! Seeing Superman in the commons is expected, though Shazam at that rarity was a surprise since the character is usually found at the rare level or beyond. S.T.A.R. Labs and Cadmus are big presences in JLU so it's nice to see scientists appear as generics. Then Red Tornado is a fun uncommon, and a welcome new S.T.R.I.P.E. with a great sculpt is our first super rare! Interestingly, this pack is all good guys, so that's fun.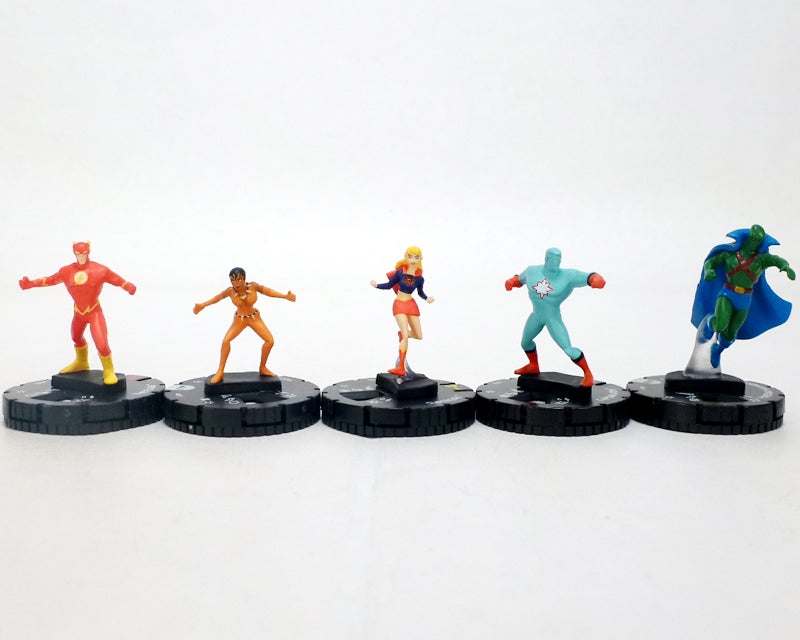 Booster 2
003 The Flash
015 Vixen
028 Supergirl
032 Captain Atom
046 Martian Manhunter
At first glance it seems like Booster #2 also consists of only heroes, but looks can be deceiving… Flash stands among the commons, but the first thing you may see is his Injustice League team ability; check his card to confirm that this is actually Lex Luthor inhabiting Wally West's body in the classic "The Great Brain Robbery" episode! Joining him are common Vixen, uncommons Supergirl (blue top) and Captain Atom, and rare Martian Manhunter.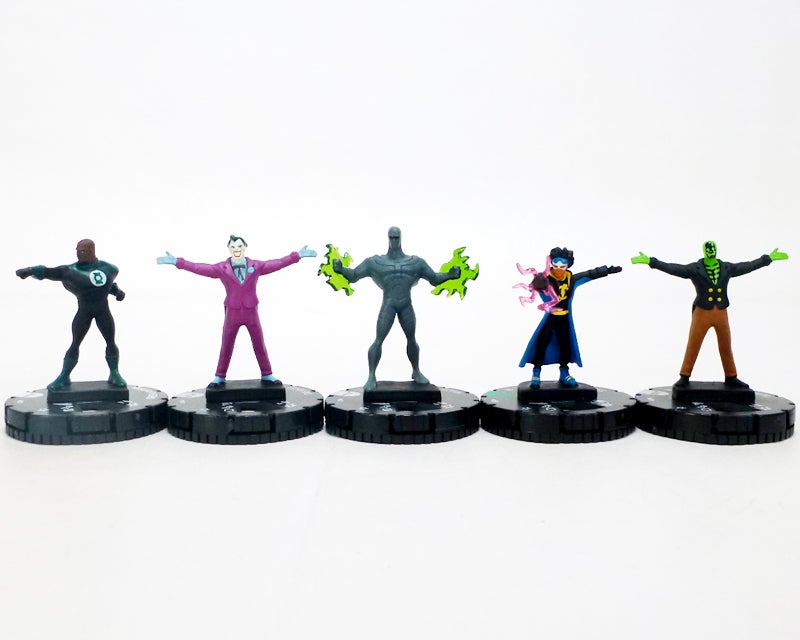 Booster 3
002 Green Lantern
010 The Joker
012 Amazo
027 Static
039 Blight
Justice League Unlimited headliner Green Lantern (John Stewart) stands tall as the first common in this booster, alongside the Joker (from the pre-Unlimited Justice League cartoon), and gray Amazo, with Static making his triumphant HeroClix return in the uncommon slot, and finally the rare Blight sharing most of a sculpt with the Clown Prince of Crime.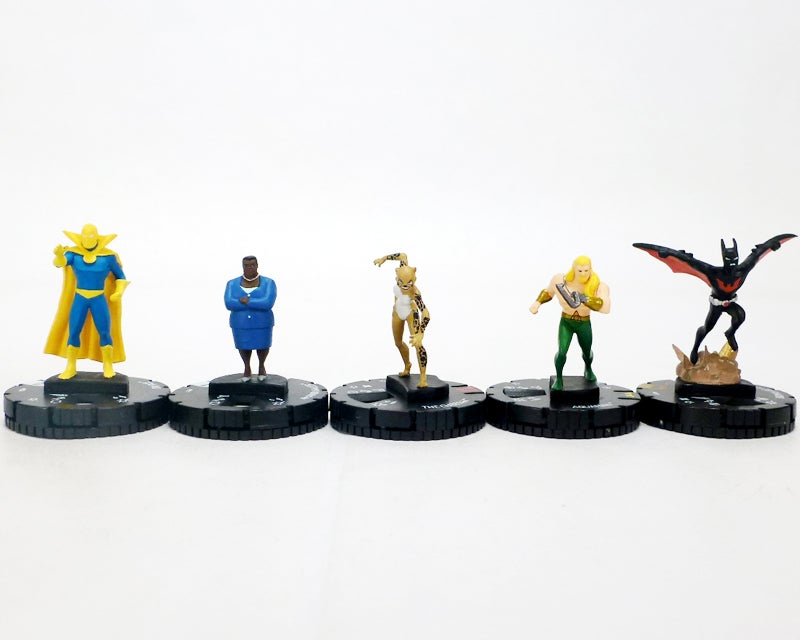 Booster 4
004 Dr. Fate
011 Amanda Waller
016 The Cheetah
029 Aquaman
051 Batman Beyond
The Justice League roster gets deeper and deeper with every booster, with #4 offering Dr. Fate as a common alongside Task Force X director Amanda Waller and villain the Cheetah. Aquaman, of the very specific harpoon-hand era, is the uncommon, and we've got our second super rare of the brick with fan favorite Batman Beyond!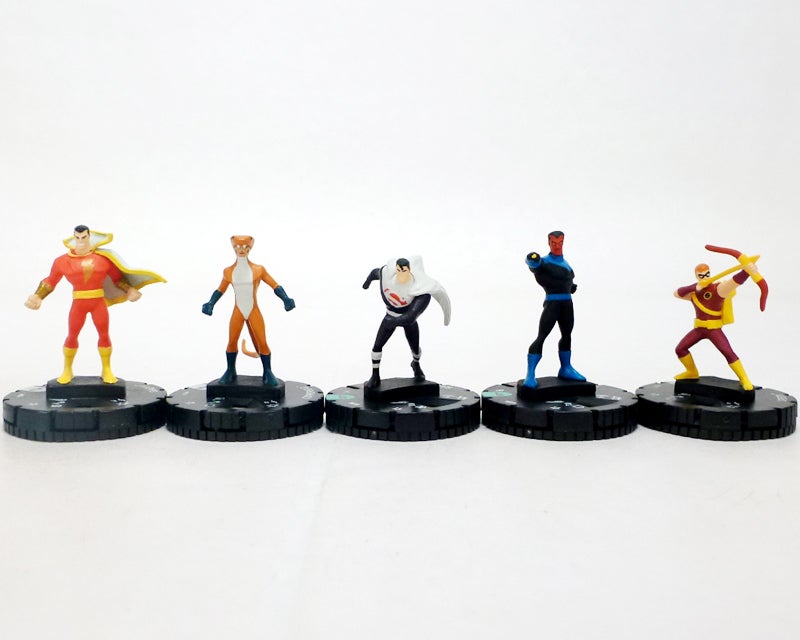 Booster 5
014 Shazam!
017 Copperhead
018 Superman
019 Sinestro
047 Speedy
Booster #5 opens with our first duplicate in Shazam, who's joined in the commons by the Injustice League's Copperhead. In the uncommons we've got our first Justice Lord in Superman and ringslinger Sinestro of the Injustice League. Our rare here is Green Arrow's sidekick Speedy!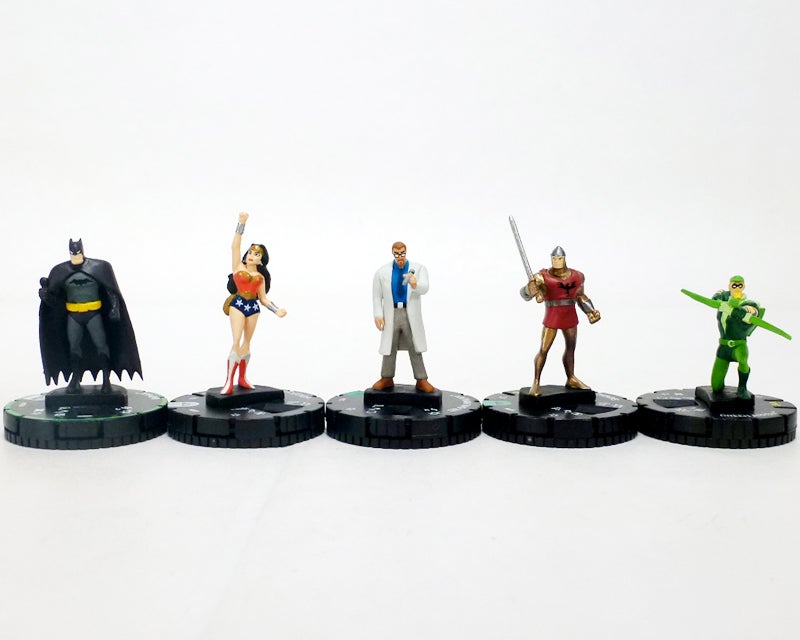 Booster 6
005b Batman
009 Wonder Woman
023 Dr. Emil Hamilton
034 Shining Knight
042 Green Arrow
Another "good guy" pack! This common Batman may look familiar, but it's actually the Prime; look closely to see that he's holding a microphone instead of the standard batarang. That's right, this is singing Batman from "This Little Piggy," performing in exchange for Circe giving up her scheme! Also in the commons is a Justice League Wonder Woman while Dr. Emil Hamilton of Project Cadmus and Shining Knight are uncommons, and Green Arrow is the rare.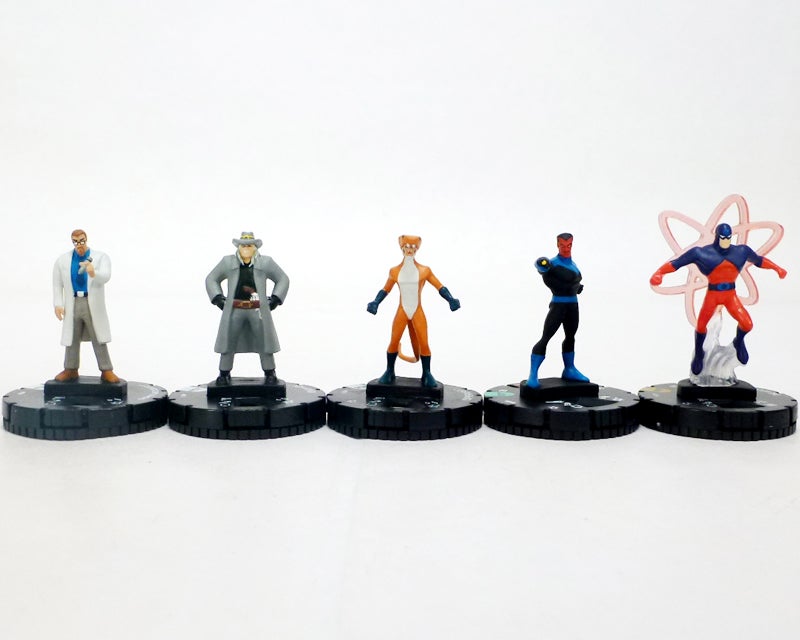 Booster 7
006 Cadmus Labs Scientist
013 Jonah Hex
017 Copperhead
019 Sinestro
059a The Atom
On the one hand we've got a couple duplicates (Copperhead and Sinestro), but on the other hand there's another super rare here! Backing up, the other commons are a generic Cadmus Labs Scientist (same sculpt as Dr. Hamilton) and Jonah Hex, while the diminutive hero The Atom is our star player.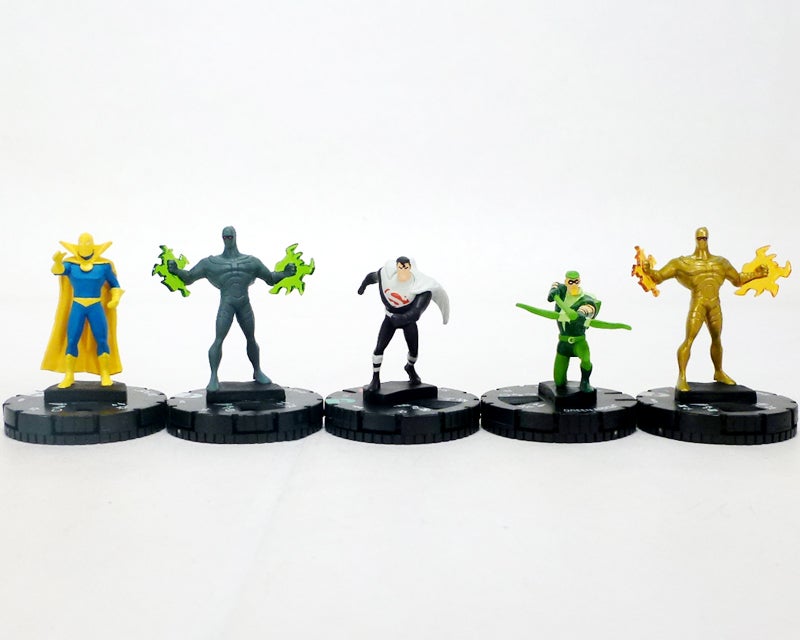 Booster 8
004 Dr. Fate
012 Amazo
018 Superman
026 Green Arrow
041a Amazo
Lots of duplicates here for this brick: Dr. Fate, common Amazo, and Justice Lords Superman. New, though, is an uncommon Green Arrow (same sculpt as the rare we pulled previously), and the matching rare (gold) Amazo!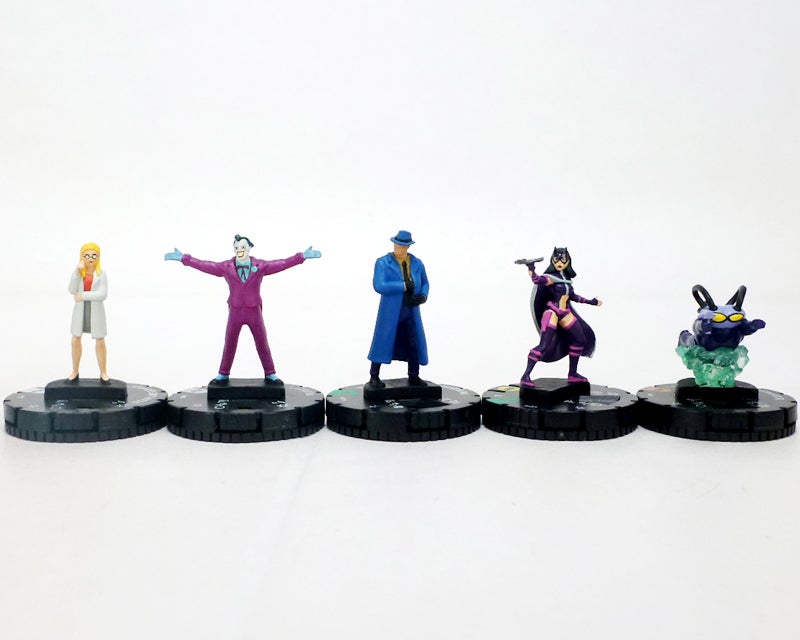 Booster 9
007 S.T.A.R. Labs Scientist
010 The Joker
031a The Question
033 Huntress
068 Black Manta
Booster #9 was our big ticket, as it contains a chase! The commons are both dupes, but we've got a fun pair of new figures in the uncommon slots: The Question and Huntress! Those two are great characters on their own, and on the Justice League cartoons shared an unconventional romance. Finally, the last slot here is the chase, Legion of Doom Black Manta from Challenge of the Superfriends episode "Swamp of the Living Dead!"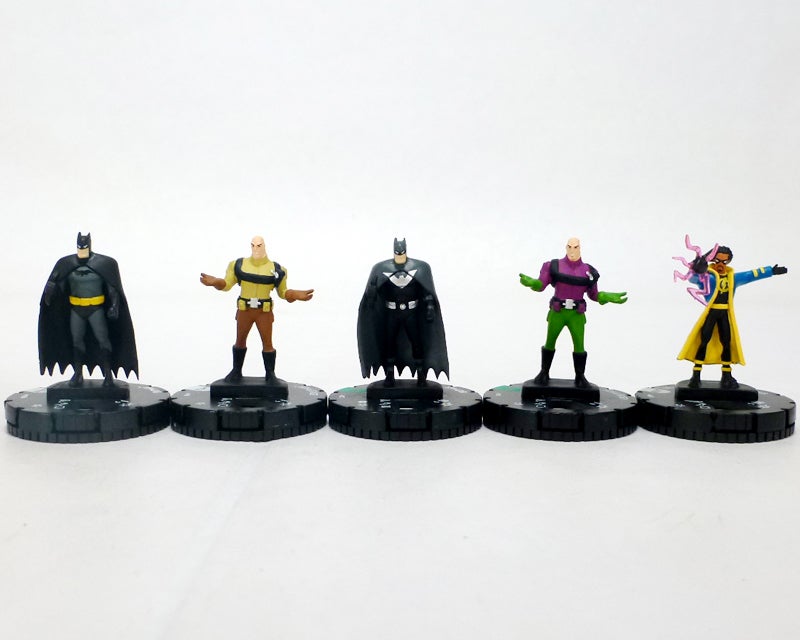 Booster 10
005a Batman
008 Lex Luthor
022 Batman
025 Lex Luthor
043 Static
I have to say, I got a big kick out of this last booster. I love seeing "themes" in these packs, intentional or not, whether it's all good/bad guys or something else. As you can see here, we've got a booster with two pairs of duplicate sculpts used for different figures: common Batman and uncommon Justice Lords Batman and common "Great Brain Robbery" Lex Luthor and uncommon Injustice League Lex Luthor! I don't mind sculpt reuse as it helps keep costs down and gives us more versions of favorite characters, and especially in cases like this when the figures have at least different colors. Lastly, this booster is rounded out by a rare, older Static from "The Once and Future Thing." He too is a sculpt re-use, based on the uncommon figure but with different colors and a new head.
Here's the full breakdown of the figures in this brick (your results will vary of course):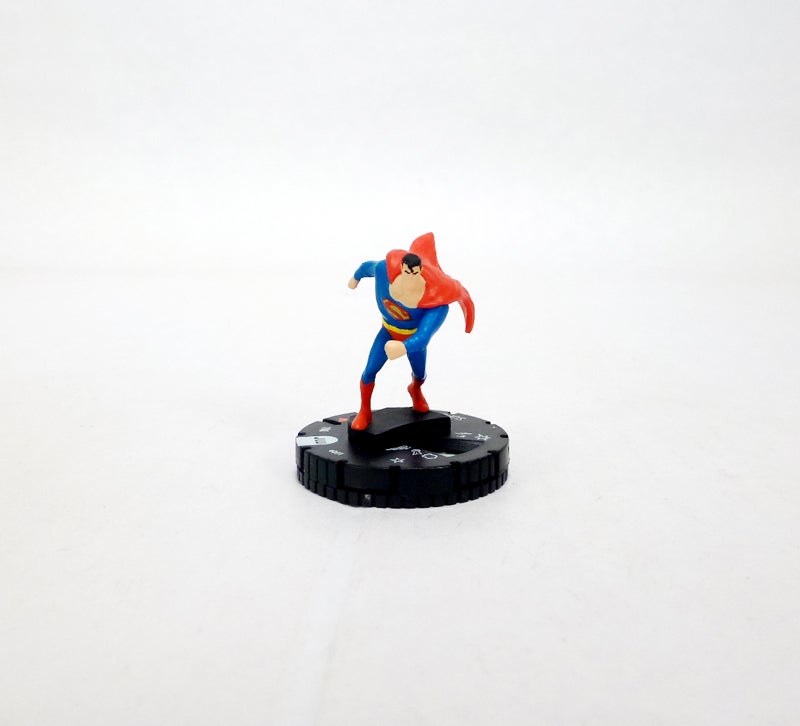 COMMONS (including duplicates)
001 Superman
002 Green Lantern (plus 002.02 Team Up with Batman)
003 The Flash
004 Dr. Fate
005a Batman
005b Batman
006 Cadmus Labs Scientist
007 S.T.A.R. Labs Scientist
008 Lex Luthor
009 Wonder Woman
010 The Joker
011 Amanda Waller
012 Amazo
013 Jonah Hex
014 Shazam!
015 Vixen
016 The Cheetah
017 Copperhead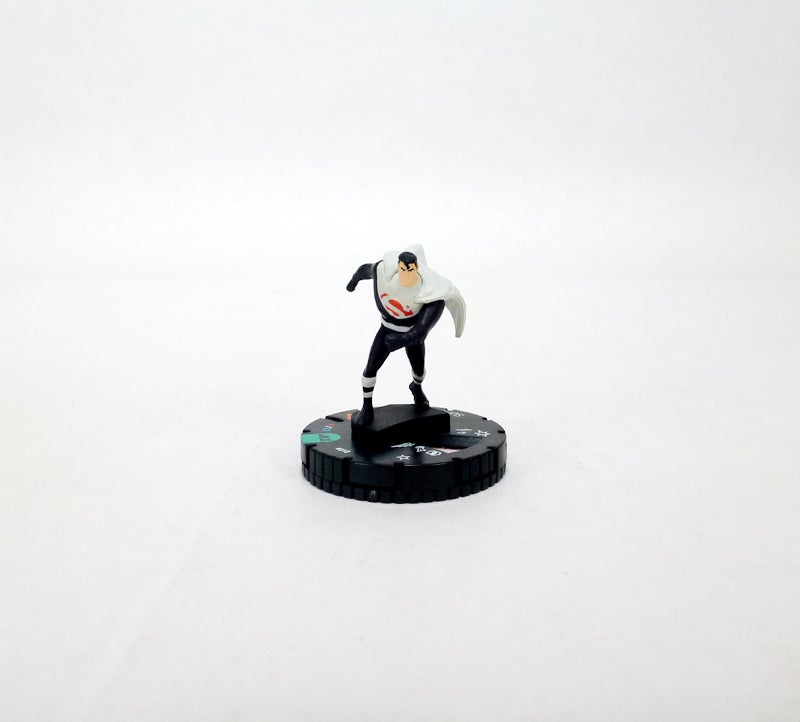 UNCOMMONS (including duplicates)
018 Superman
019 Sinestro
021 Red Tornado
022 Batman
023 Dr. Emil Hamilton
025 Lex Luthor (plus 025.03 Team Up with Shade)
026 Green Arrow (plus 026.04 Team Up with Wonder Woman)
027 Static
028 Supergirl
029 Aquaman
031a The Question
032 Captain Atom
033 Huntress
034 Shining Knight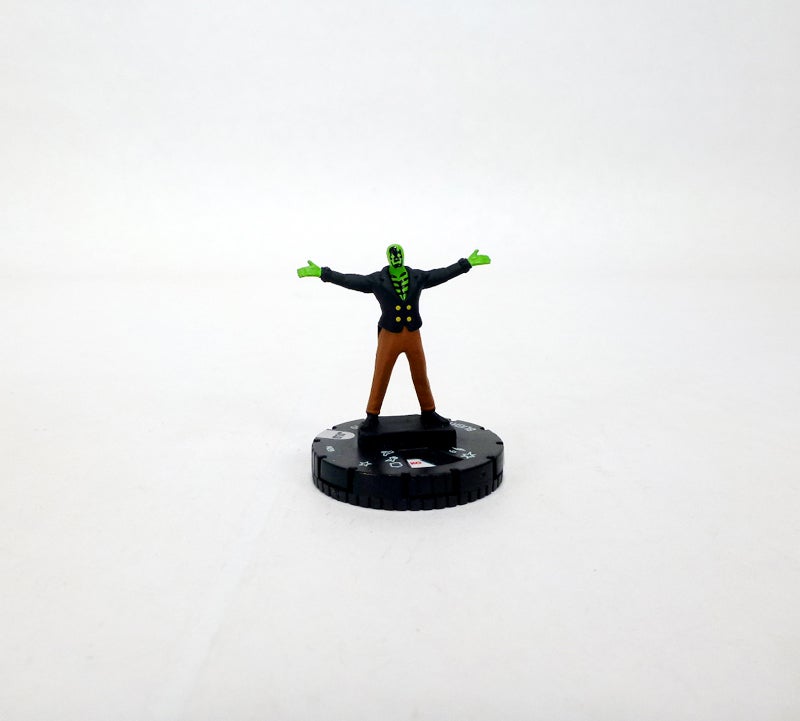 RARES
039 Blight
041a Amazo
042 Green Arrow
043 Static
046 Martian Manhunter (plus 046.10 Episode Team Up with Flash, Hawkgirl, & GL)
047 Speedy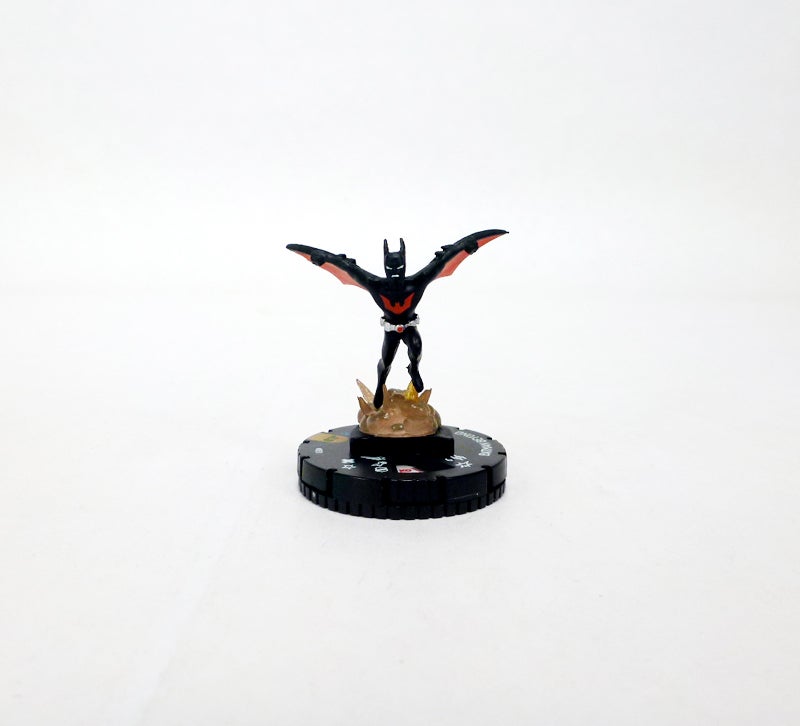 SUPER RARES
051 Batman Beyond
054 S.T.R.I.P.E.
059a The Atom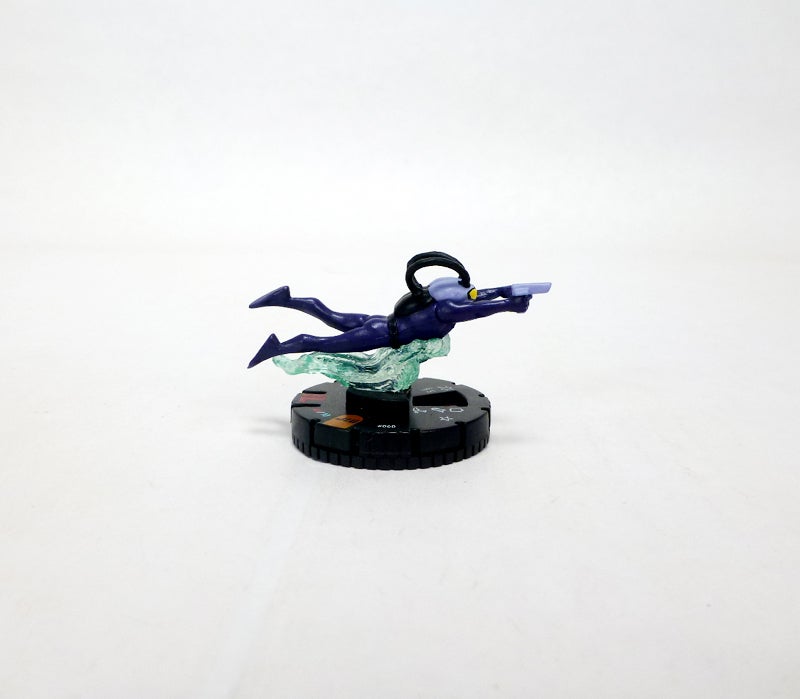 CHASE
As always, we continue the breakdown with a brief discussion about collation. Every set is a bit different when it comes to how many figures there are in what proportions. And, what I see here in this brick is not going to be the same as what you pull, etc. Here we found at least one each of all 18 commons including the Prime, so that's off to a great start. Among the uncommons there were 14 out of a potential 18 (including the Prime), so not bad there either. We pulled 6 rares of the set's 17, three super rares (potential 16), and one of the 8 chases. All in all, this seems like a good brick with the three super rares, one Prime, and one chase.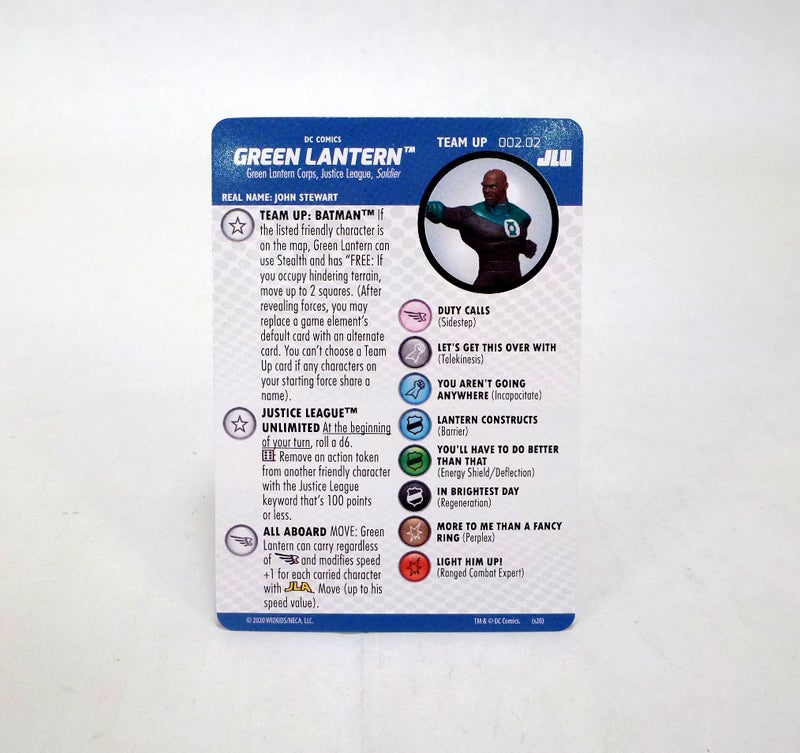 When it comes to HeroClix, WizKids hasn't claimed the top-selling collectible miniatures game spot for so long by just keeping the game the same. Instead, every couple of expansions introduces some new mechanic or feature, and Justice League Unlimited is one of those! New for this set (and potentially going forward for more) are Team Up cards. These are additional cards inserted randomly in packs that offer options for your figures when played in specific combinations. For example, my common Green Lantern came with a second character card, a Team Up card that can be used when he's on a team with Batman. Everything is exactly the same except that in that case, he gets access to a new trait (here getting Stealth and a free move when occupying hindering terrain). A couple things to note: these cards come in a couple different versions including regular Team Up, Themed Team Up, and Episode versions, some linking two specific characters and others providing bonuses when they're played in a group. Also, WizKids is not (yet) revealing how many of these Team Up cards are out there, but early evidence suggests there are lots, and that means a lot of different ways to play these figures and build teams. I think it's great!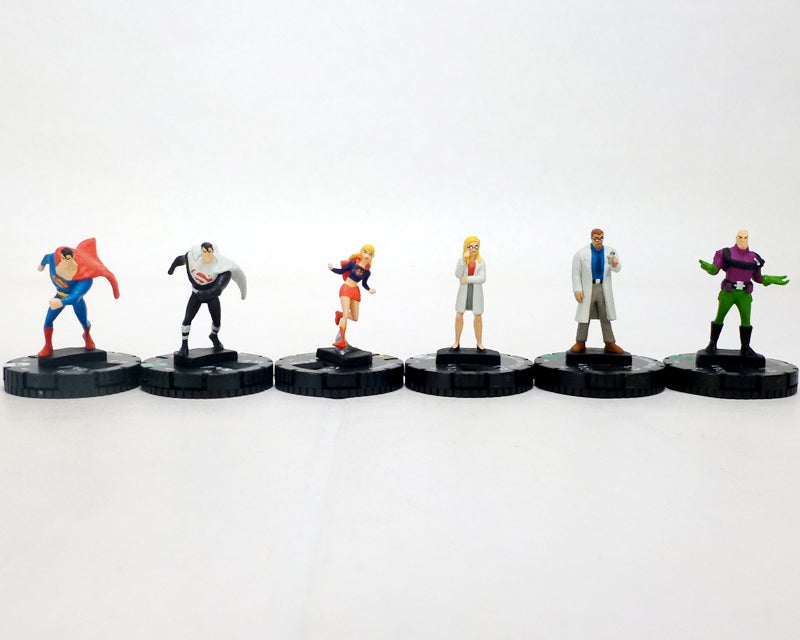 Metropolis
Going through the pulls in a bit more detail, the commons jump right off the bat with Justice League members with Superman, Green Lantern, Dr. Fate, Batman (in two versions with the singing Prime), Wonder Woman, Jonah Hex, Shazam!, and Vixen. Most of these have the shared Justice League Unlimited trait, possibly removing an action token from one of their number each turn. It can't all be good, and we've got various villains in the form of the Flash (Lex in Wally's body), Lex Luthor, the Joker, Amazo, the Cheetah, and Copperhead. Several of those too share the Injustice League trait that's the opposite of the heroic version; this one can apply an action token to an enemy. Nearly every set includes generic characters, and here we get really nerdy with both Cadmus Labs Scientist and S.T.A.R. Labs Scientist. Lastly in the commons appears Amanda Waller, a character always hard to pin down as good or bad.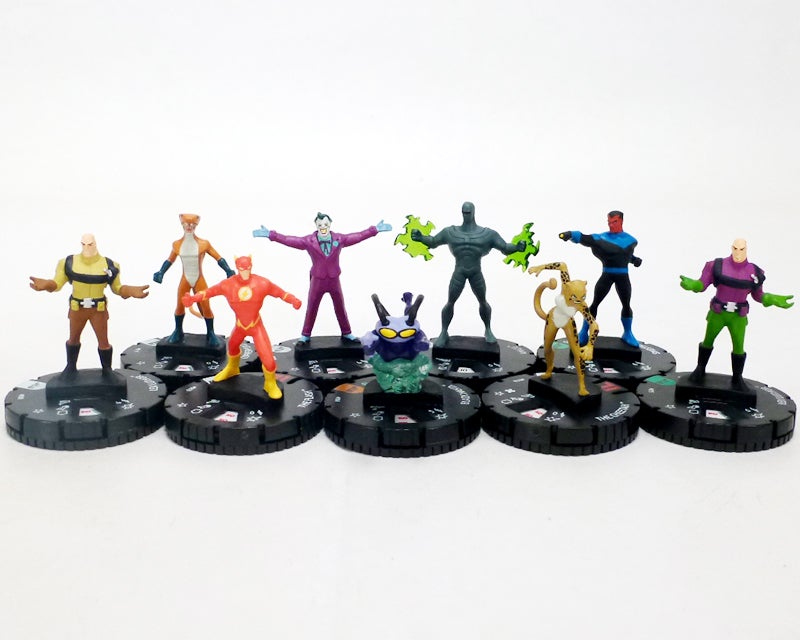 Injustice League
The uncommons continue the same trends and themes but add even more. The Justice League is of course well represented, this time by Red Tornado, Green Arrow, Static, Supergirl, Aquaman, The Question, Captain Atom, Huntress, and Shining Knight! The Injustice League offered only a villainous duo here with Sinestro and Lex Luthor, similarly the evil Justice League from another Earth known as the Justice Lords with Superman and Batman. The Cadmus Labs Scientist sculpt returns here as Cadmus' Dr. Emil Hamilton.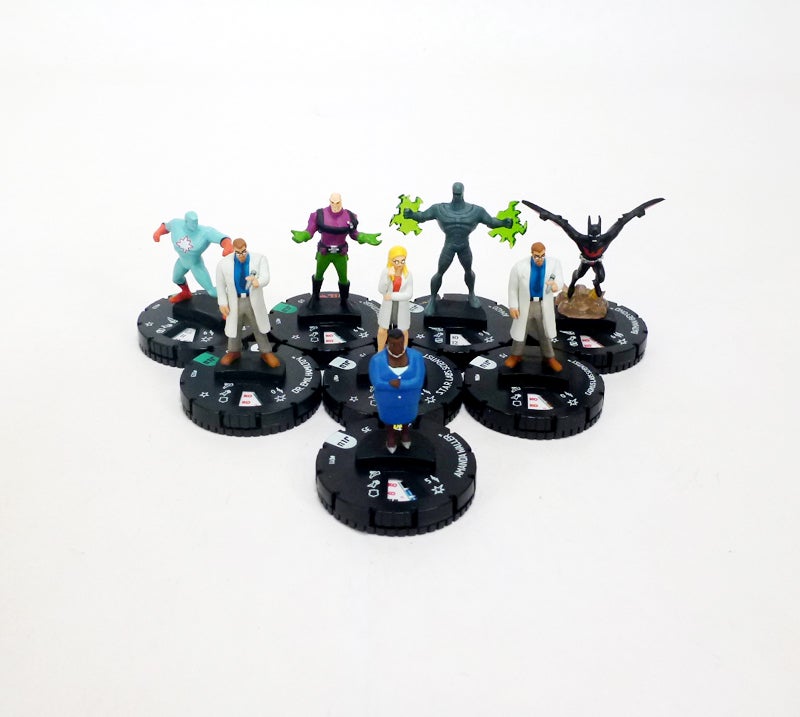 Project Cadmus
Our rares (and there are plenty more in the set we didn't pull) were almost entirely Justice League members with another Green Arrow, an elder Static, Martian Manhunter, and Green Arrow sidekick Speedy. Blight is our sole villain, a monster from Gotham City, while the gold Amazo falls somewhere outside of the standard good/bad dichotomy.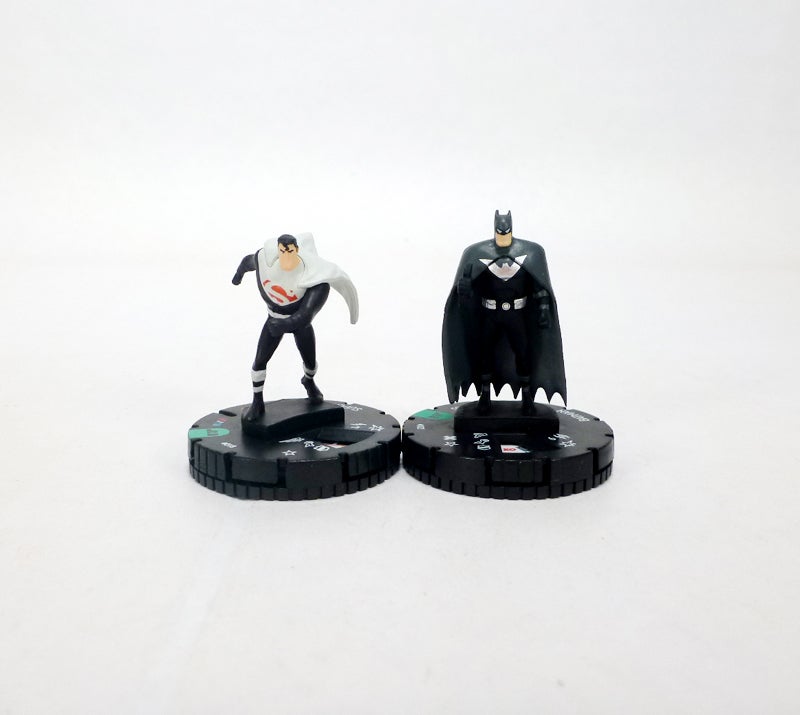 Justice Lords
Our super rares follow the trend of our rares, stocked with a trio of mighty heroes. The futuristic Batman Beyond is going to be a super popular figure, and he's joined here by the power armored S.T.R.I.P.E. and shrinking Leaguer the Atom. On the other hand, our chase figure is the wickedness under the waves, Black Manta from Challenge of the Superfriends!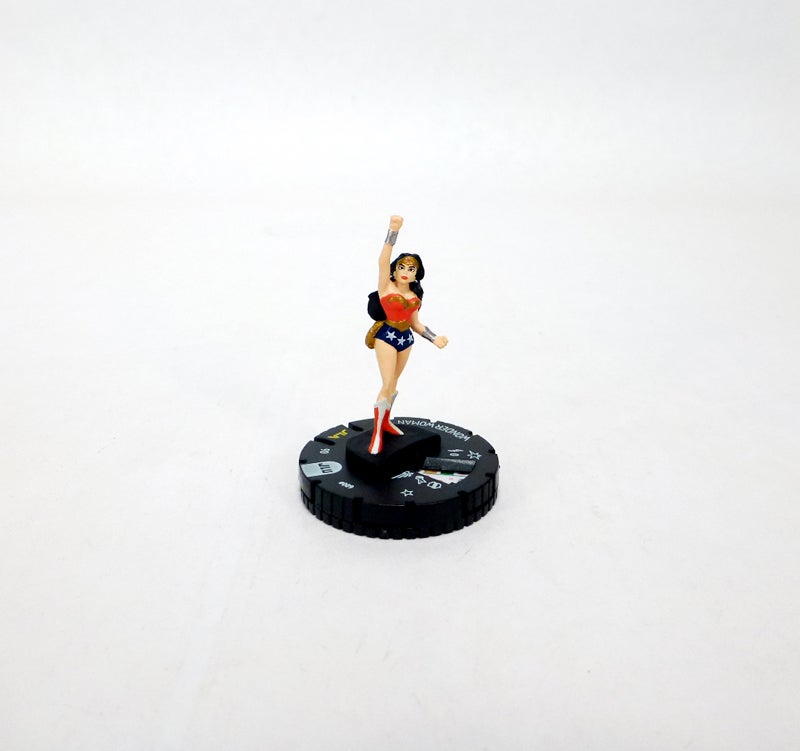 I'm going to say something controversial here: I was never a huge fan of the character design body shape for Justice League Unlimited and its sister cartoons. I mean, it's fine on the shows, but it's awful for toys; action figures always have a hard time standing up and they don't pose well. But, in HeroClix form they're way better! Yes, they keep the overall look with massively wide shoulders and spindly legs, but combined with dynamic poses and fun paint jobs it's not nearly as annoying as it can be in action figures. I like the range of action and characterful poses, not to mention sculpts in this set, with some of the ones that really caught my including Dr. Fate with his groovy collared costume, Wonder Woman showing off (the female body designs were always so much better than the males), the Joker spreading his arms and just having the best time, the absolutely spot on depiction of the Big Red Cheese Shazam!, Copperhead somehow making that goofy costume work, Static with a sweet costume and electricity effect, Aquaman in his iconic harpoon hand look, and Batman Beyond blasting into battle.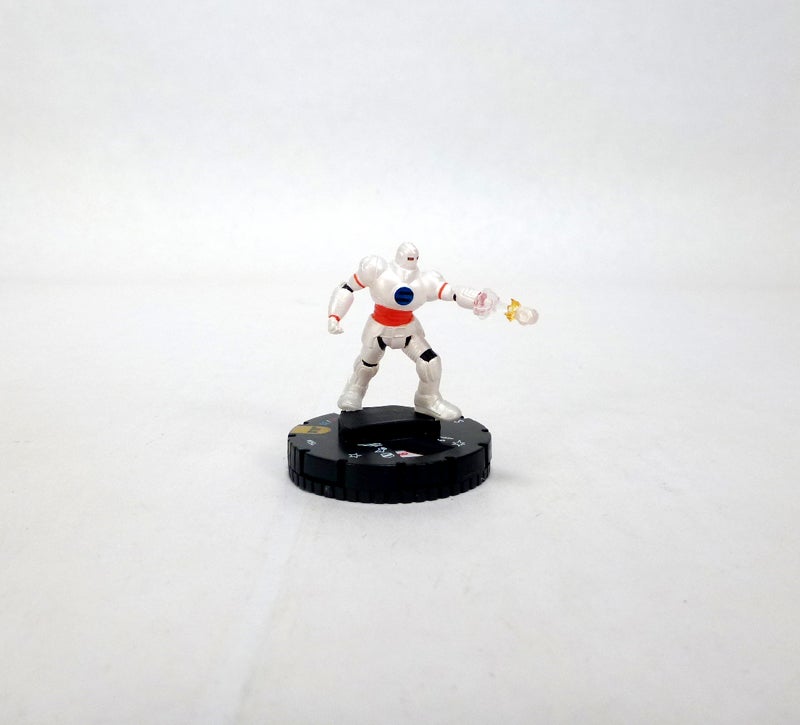 I think my two favorites are probably Huntress with her fantastically detailed costume and the mighty robot suit of S.T.R.I.P.E. complete with launching fist action! Meanwhile, some of the most rad poses here are Superman charging ahead, the Flash just perfectly captured in his enthusiasm, the "Wall" Amanda Waller, Cheetah stalking, Green Arrow and Speedy shooting arrows, the Question reaching into his coat ominously, the Atom sizing up, and of course Black Manta swimming evilly (that's a thing).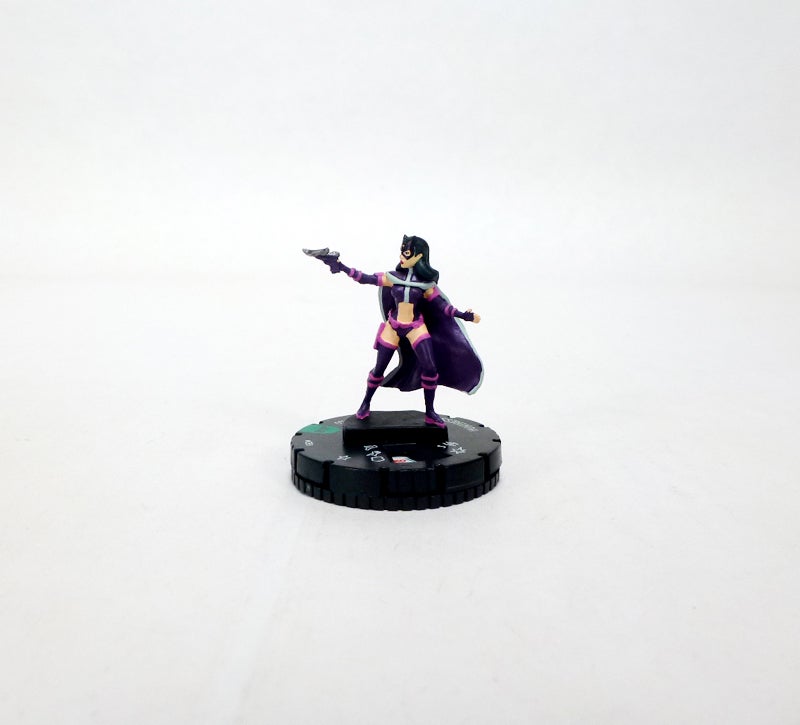 Just as on the show itself, the figures for Justice League Unlimited are quite bright and colorful with all sorts of costumes and unique looks. Overall they're very well done including some quite impressive faces, eyes, logos, and the like. Some paint jobs that impressed me the most here are Green Lantern with his crisp lines and great eyes, Wonder Woman's intricate costume, Vixen whose paint job really elevates and celebrates her sculpt, Justice Lord Superman who shows how different a paint job can make a sculpt reuse, Red Tornado's neat lines (and another good example of a different paint job on a reused sculpt), the glory of Blight's neon green, and more. Metallic paints are in full effect on armor, weapons, and the like including Wonder Woman's bracelets, gold Amazo's body, and most of Shining Knight, while translucent plastics are used on flight effects as well as energy effects on figures like Amazo, Batman Beyond, Supergirl, S.T.R.I.P.E., the Atom, and Black Manta!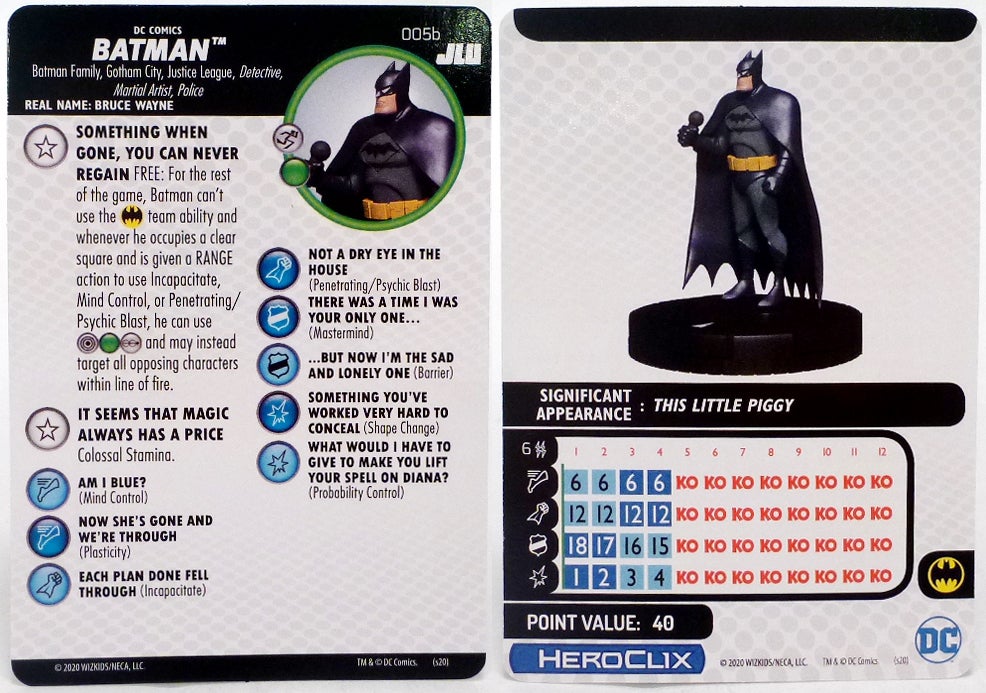 Let's check out some dials, shall we? Here are some of the coolest of the cool, and maybe some that will be new to HeroClix players seeking to know everything about the set before it comes out.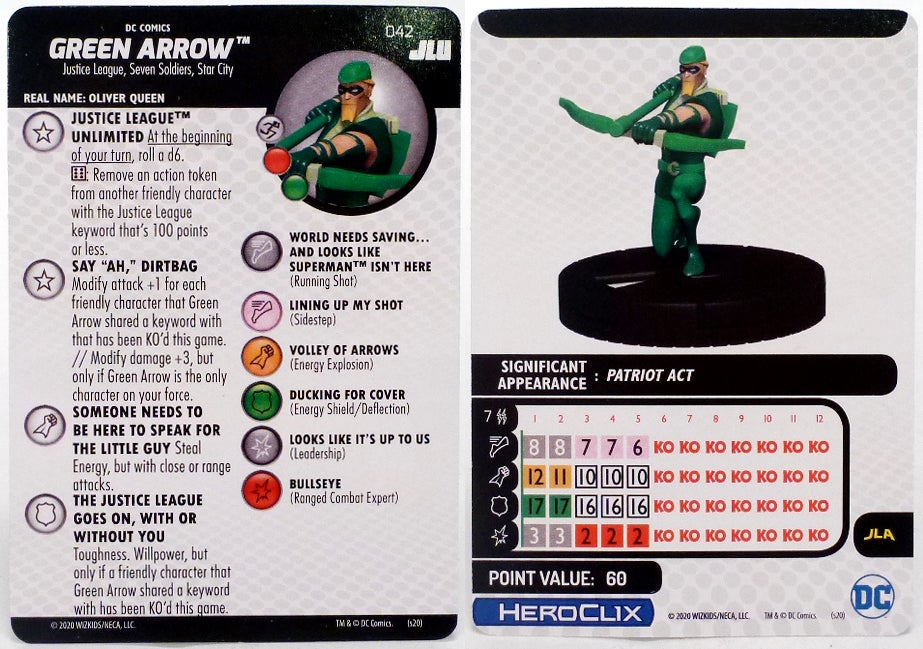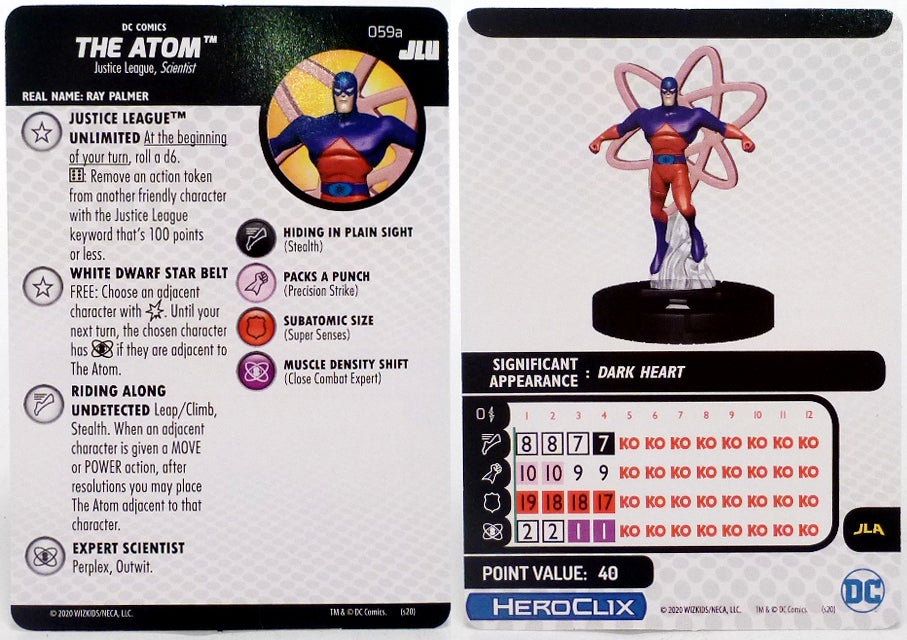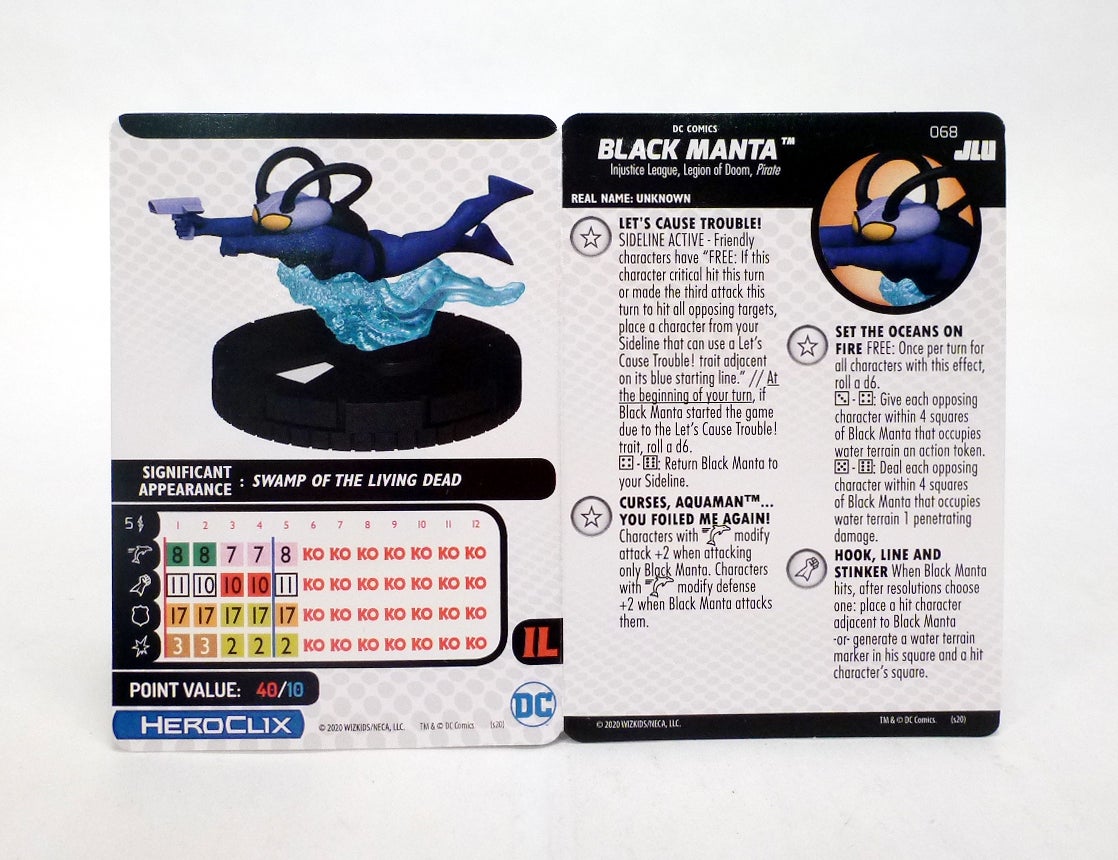 As always, WizKids has some secondary products to go along with the booster set, perfect for new players or current ones who really love the property. Here we've got the Justice League Unlimited Dice & Token Pack, a product type we've all come to know and love. This set's version includes six gray and blue poker chip-style tokens featuring lenticular animation-inspired images of Superman, Batman, Wonder Woman, Green Lantern, the Flash, and Martian Manhunter. No bystander tokens on the reverse sides, but from what we've seen so far that mechanic isn't heavily used in this expansion. And then there are the dice! This time around they're matching blue and off-white with the "JLU" logo on the six sides.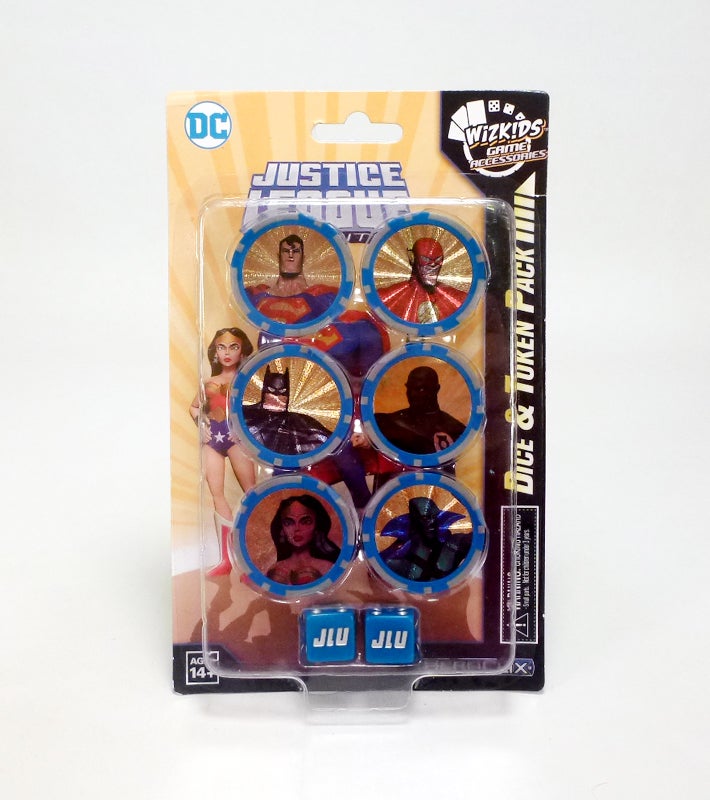 When most HeroClix expansions come out there's an accompanying Fast Forces pack, and occasionally a Starter. With Justice League Unlimited, however, WizKids has taken the opportunity to revamp its entry product with an all new Starter Set format! The first big change you'll notice is that the old clamshell packaging is gone; instead, the starter comes in a substantial box, of course emblazoned with the same background, images, and logos seen on the expansion's booster packs. You can read all about the contents inside, including six figures, two double-sided maps, rules, Powers and Abilities Card, all of the tokens and objects you need to play, and even JLU-themed dice (same as in the Dice & Token Pack)!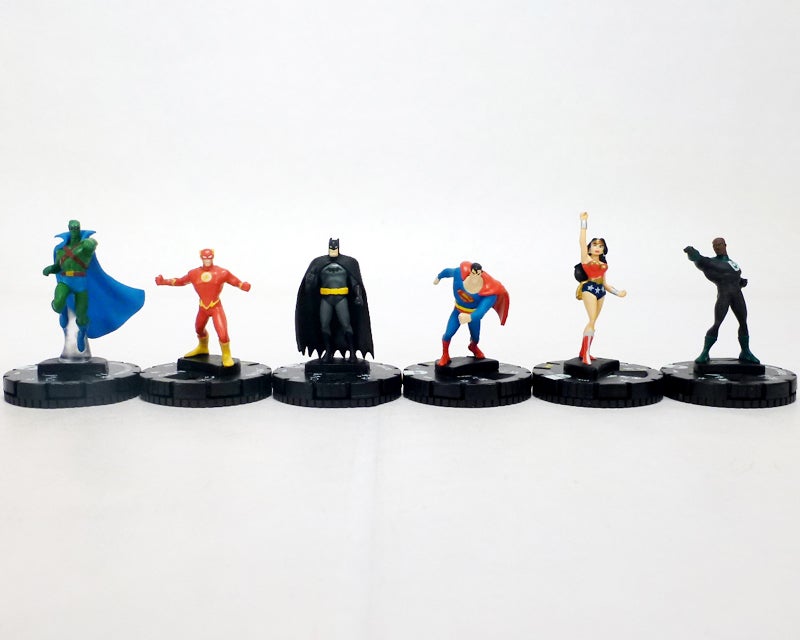 The six figures in the Starter are the core Justice League Unlimited members and the same characters on the Dice & Token action tokens: Superman, Batman, Wonder Woman, Green Lantern, the Flash, and Martian Manhunter. As always, these have the same sculpts as their booster set counterparts but new dials, and they're super team building-friendly. They all share a fun "Founding Members" trait giving them buffs for playing on large Justice League teams, and most of them have one additional trait or special power (GL has none while Superman has two). Wonder Woman, Batman, Green Lantern, and the Flash can all be played at 100 points apiece, or 60 each for Flash and Batman and 40 each for Wonder Woman and GL. Meanwhile, Superman and Martian Manhunter fit together on a larger team with full dials costing 125 and 75 points respectively, or cheaper versions at 60 and 40. You can easily build 100, 200, 300, 400, 500, and 600 point teams with this lineup, or mix and match the figures with their Justice League (or other) allies from the booster set or your existing HeroClix collection!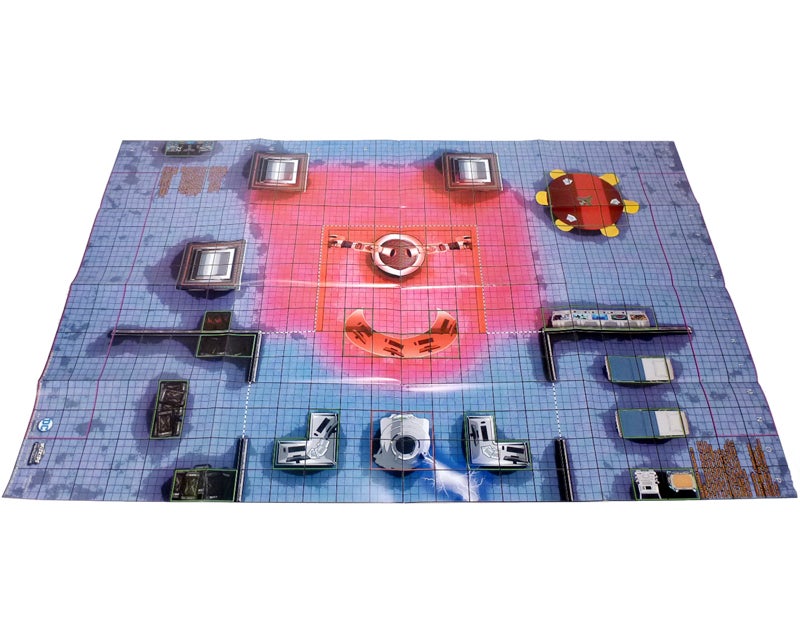 In addition to this Starter being special for including the themed dice, it's also noteworthy for the two double-sided maps. Here you'll find:
Cadmus Labs (indoor) with partially walled off rooms, furniture and computers for hindering terrain, columns of blocking terrain, windows, and doors. Map Bonus: buff for your Cadmus Labs or Scientist character/theme team.
Daily Planet (outdoor) elevation break running diagonally across the map, rubble and buildings for hindering and blocking terrain. Map Bonus: pick a character to generate objects from knocking back opponents, with a huge bonus if it's Superman or Darkseid!
Injustice Gang Hideout (indoor) featuring lots of cool little details like a poker game, blocking terrain columns, walled off rooms, and much more, with a central lower elevation section. Numbered squares are used for the Skirmish format. Map Bonus: prevent an enemy figure 100 points or less from removing tokens except by normal means (counters JLU trait), Injustice League theme team does it vs. every enemy 100 points or less!
Justice League Watchtower (indoor) has big open spaces, different elevation rooms, a blocking terrain central edifice, some hindering terrain including Justice League table, and artwork of trophies! Numbered squares are for the Skirmish format. Map Bonus: a character 100 points or less can't be given action tokens by opposing effects (shuts off Injustice League trait), and on a Justice League theme team it activates for all figures 100 points or less.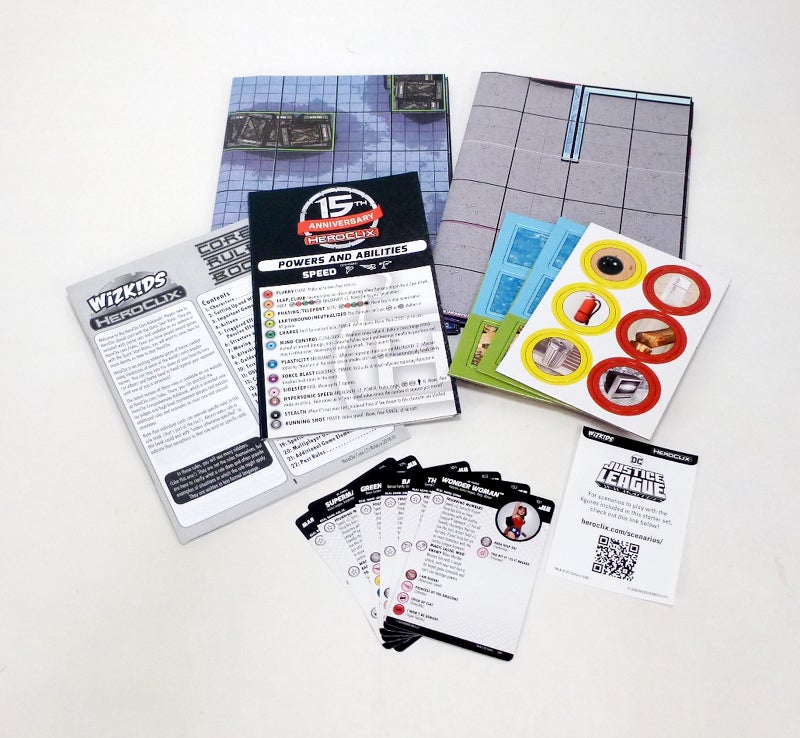 The Starter also comes with a card pointing you to some additional online resources including rules for the new Skirmish format and fun Justice League Unlimited Scenarios!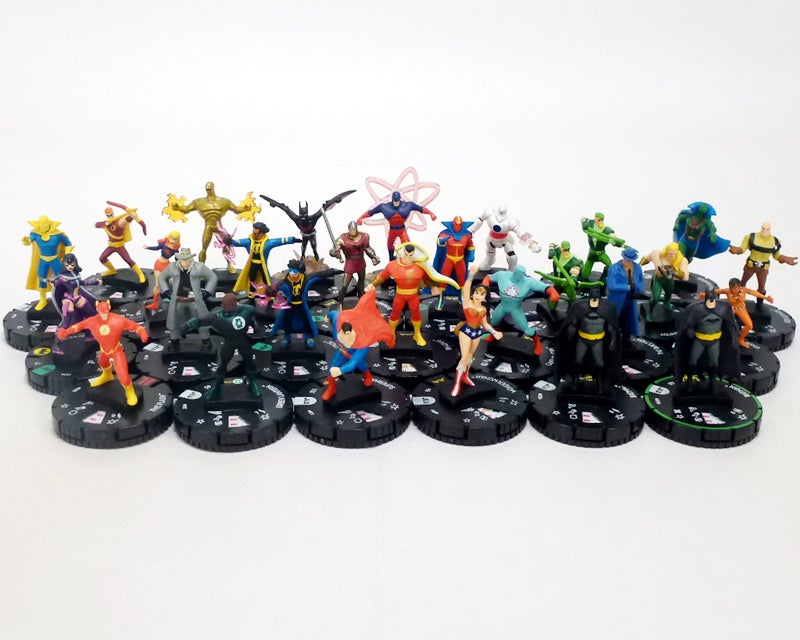 I think WizKids has done it again, taking a classic and beloved animation property and translating into cool looking figures that are going to be a blast to play on the tabletop. The Justice League Unlimited set is going to be very popular with DC fans and collectors, especially those looking to score their favorite characters from the show and players eager to add more TroubAlert and new Let's Cause Trouble figures to their teams. The JLU set was supposed to have a pre-release event window starting on March 25th, but it's likely most stores will be cancelling those events. The full expansion, as well as the Dice & Token Pack and Starter, are scheduled for wide release on April 8th, so make sure you have your boosters and more pre-ordered at your local game/comic store or wherever you get your HeroClix. As always, have fun and good luck with your pulls!
Visit HeroClix.com for even more info as well as downloads of rules and maps, and stay tuned to Figures.com as we continue our reviews of new HeroClix!
Review and photos by Scott Rubin
Review samples courtesy of WizKids Games
---
BOOSTER
---
DICE-TOKEN
---
STARTER
---