-Review Sample Courtesy of House of Gog
My deep love for science fiction can all be traced back to my growing up in the Seventies. George Lucas' epic 1977 space adventure firmly planted that seed with Star Wars, while my intergalactic obsession continued at home with episodes of Battlestar Galactica. My imagination was further fueled by toys, where Stormtrooper and Cylon action figures mingled with Micronauts and Shogun Warriors.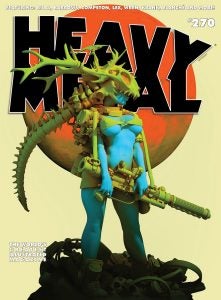 However, I never fully grasped what science fiction could be until my introduction to Heavy Metal magazine. A world beyond PG-rated lightsabers and blasters, Heavy Metal's bizarre, cutting edge art and stories transported me to a new plateau of mature sci-fi awareness. Masters like Serpieri, Simon Bisley, and Moebius were beyond inspirational to this budding artist and I soon began to view Heavy Metal not just as a source of inspiration, but as the pinnacle of science fiction achievement. If you made the cover of Heavy Metal, you had reached the equivalent of winning an Oscar in the sci-fi art world. It is a goal I still aspire to.
I bring this all up not as some self-indulgent prelude, but to explain why science fiction means so much to me. When I first saw Pascal Blanche's digital artwork, I was blown away, and rightfully so. The dude's resume reads off my bucket list of "dreams I hope to accomplish in my lifetime". He's been featured on the cover of Heavy Metal magazine. He's done video game art. Pascal Blanche has found worldwide recognition as a sci-fi world builder. (Check out his Derelict Planet Facebook page).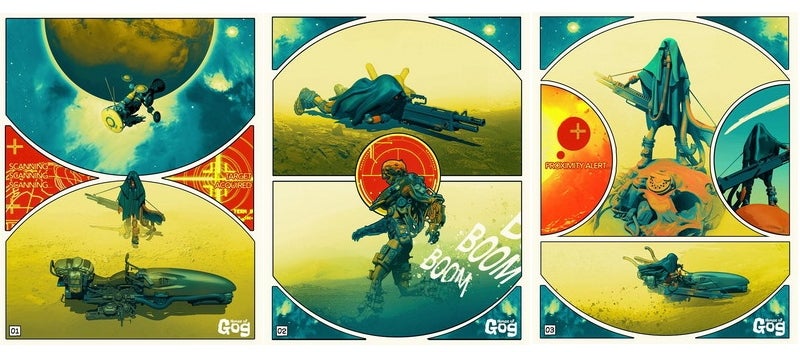 Vibrant, unexpected colors are a hallmark of his work: lime greens, rusty reds, stark oranges, and lemon yellows. Exotic alien landscapes and militant cyberpunk character design is Pascal Blanche and damn if it isn't cool-looking.
Enter House of Gog. Like Heavy Metal magazine, the Canadian company has entered the collectible's market with a singular vision: radical sci-fi art. You either get it, or you don't. This review isn't to convince you that their newest Pascal Blanche resin statue is the greatest thing ever made. It is to enlighten people, like myself many years ago, that great sci-fi art exists.
As the tech-Giants lay waste, a cloaked figure appeared and a sense of dread overwhelmed them, for they felt fear. Explore the strange lands of Derelict Planet through the adventures of its second hero.
When my Jaak Giant Hunter statue arrived, the first thing that blew me away was the sheer size of the packaging. I had to look twice at the shipping label to make sure this was indeed Jaak and not a small piece of furniture that was delivered to my house by mistake. The shipping box is that big.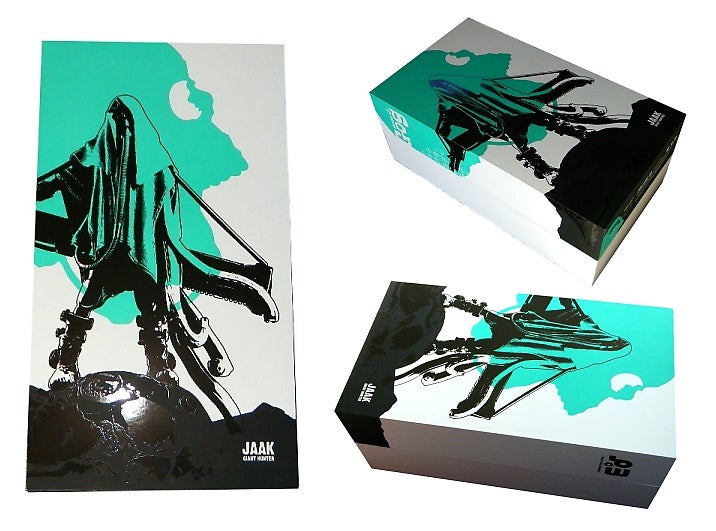 House of Gog went above and beyond the call of duty to insure that these statues ship safe and sound. Inside the large cardboard shipping box, Jaak collectors will find another cardboard box surrounded by packing foam. Once you're inside that box, you finally come to Jaak's official art-adorned packaging, the entire 24-inch long, 16-inch wide, 12-inch deep affair wrapped in plastic and each corner cushioned by a plastic bumper. It's packing overkill, but you'll be thankful for this triple layer of protection when it comes to displaying your Jaak statue fully intact. I'm certainly not complaining, I'm just expressing my amazement (did I tell you the box is BIG?).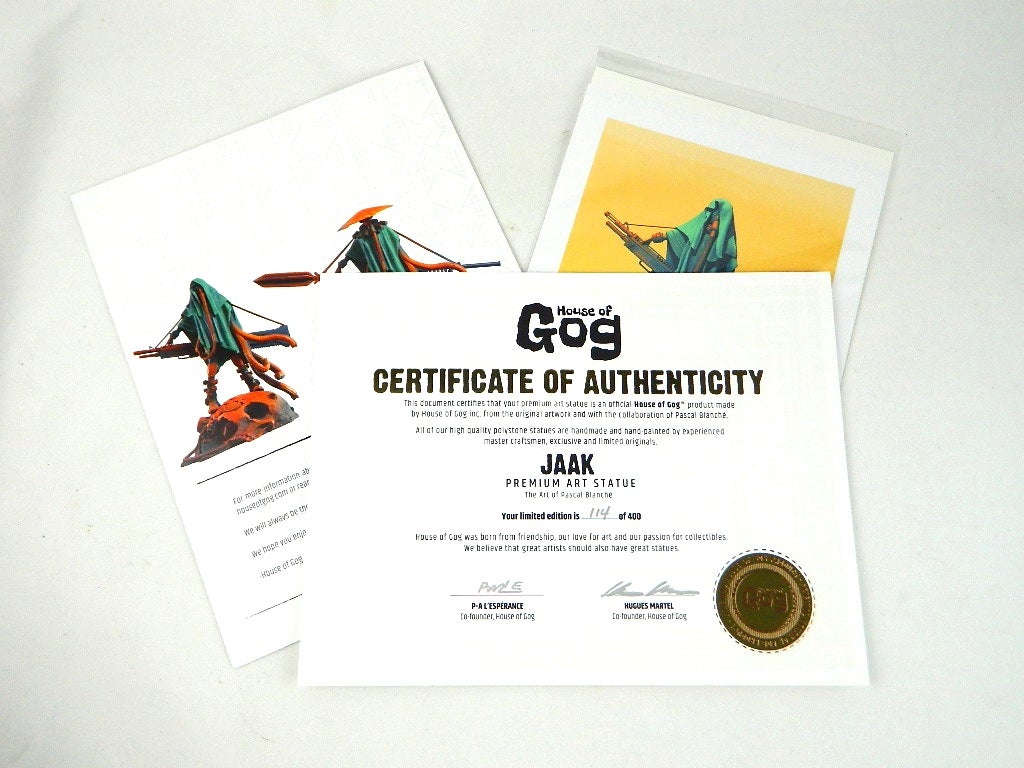 Featuring thick, "soft touch" cardboard construction in a shoe box design (granted, a shoe made for a giant), Jaak's package pleases with a striking graphic of the mysterious space bandit. Gloss embossing is used on portions of the image to give it a sophisticated refelective sheen. Inside you'll find Jaak's poly-resin pieces carefully stowed inside two ginormous Styrofoam clamshell trays, along with a House of Gog sticker-sealed folder. The folder contains assembly instructions, a classy Certificate of Authenticity signed by Pascal Blanche and the House of Gog founders, as well as a high quality 9.5 x 7 inch art print (itself protected in a plastic slip sleeve). Already I am extremely impressed… and I haven't even gotten to the statue.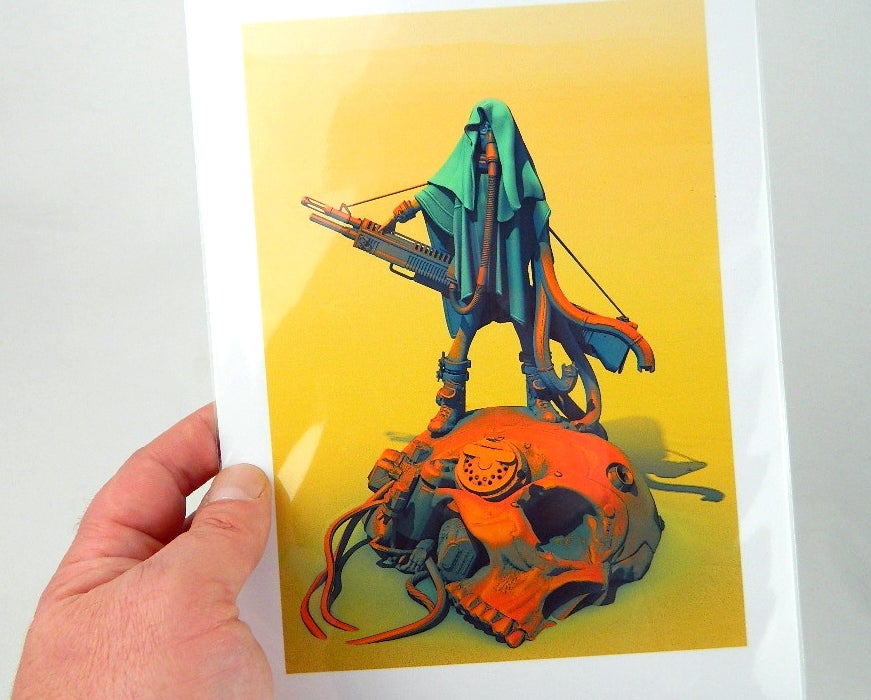 Cast in polystone resin, the statue's pieces, like Pascal Blanche's 2D art, dazzle with his trademark use of bright, bold colors – in this case a strong use of aqua blue and rust orange. However, it's the unique cell-shading technique used to paint the statue that truly makes Jaak pop. It's like a comic panel come to life.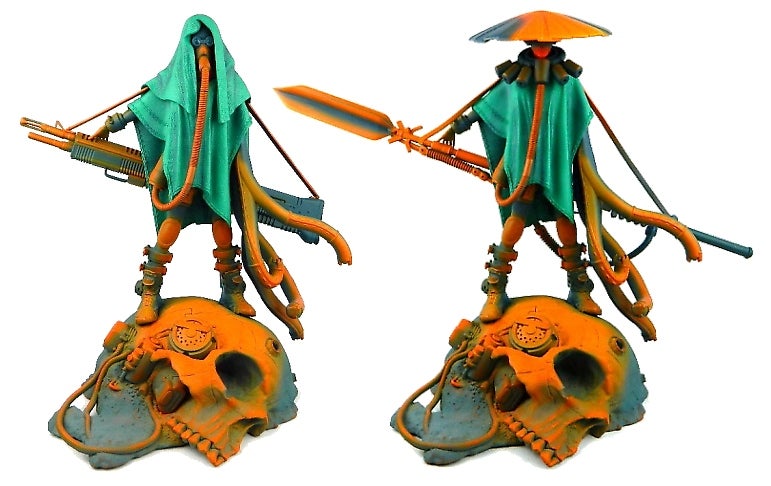 Killer sci-fi design aside, what I really like about House of Gog's Jaak statue is the high level of display customization given to you. Most statues arrive as static pieces, but as companies like Sideshow Collectibles have shown, fragile resin pieces can be manipulated, much like an action figure. We're not talking ball-joints and swivel articulation, but the fact that you can drastically alter the appearance of your sculpture with swap-out magentic parts. With House of Gog's Jaak Giant Hunter, it's almost like getting two statues in one.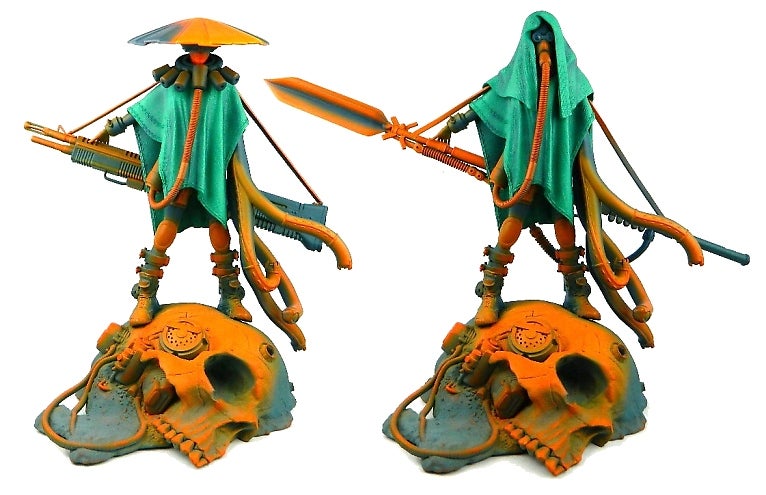 First, collectors have the option of two head sculpts – mysteriously cloaked and gas-masked or more exposed with a Japanese-influenced kasa hat.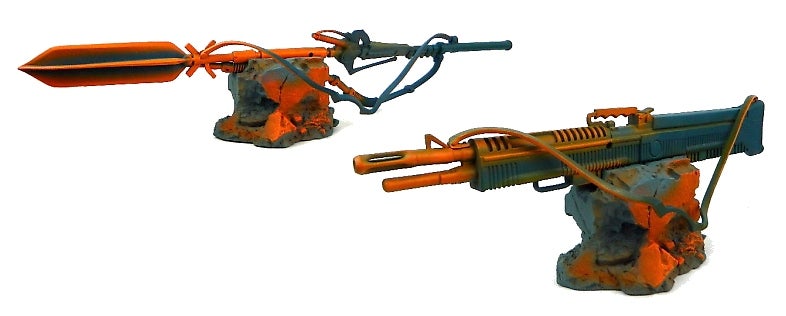 What is amazing is that the customizing options don't end there. While I'm loving the locked and loaded look of the retro-future M-60-inspired "Hunter" gun, close-combat fans have the option of equipping Jakk with the wild-looking "Blademaster" spear. Before I received this statue, I debated hard on which look to go with it. I thought the hood and rifle was going to be it. However, seeing the staggering 23-inch long spear in person convinced me otherwise. The bladed weapon strikes me as more visually dynamic; filling out the piece with a new layer of horizontal composition. As for the head, I stuck with the hooded look, making my statue a wild combination of both Jaak styles (Hunter Blademaster!).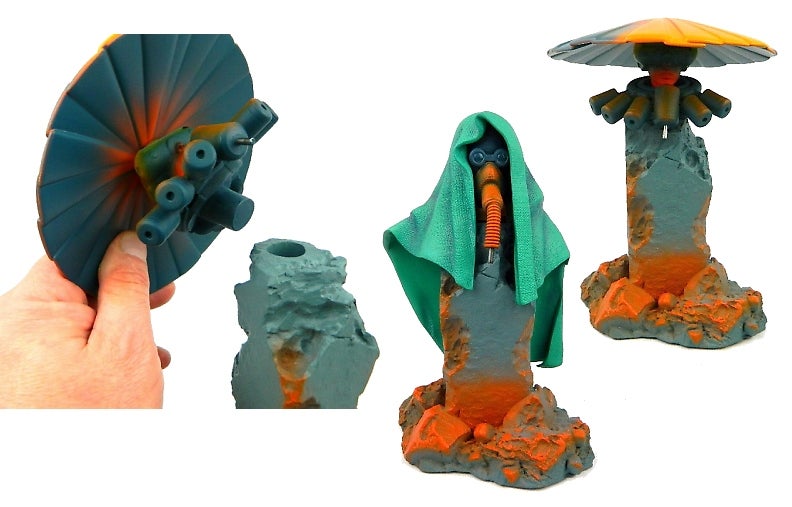 Here's where the statue customization gets even cooler. Can't decide on a look? House of Gog provides two polystone bases to show off the spare parts! That, my friend, is amazing fan service. I can't tell you how sick I am to have all these customizing options – on an action figure or statue – only to be forced to bag and pack away half the accessories provided, sight unseen. The inclusion of these bases is like getting two bonus mini statues with your full scale Jaak Giant Hunter. I've got all three grouped together on display and it looks fantastic.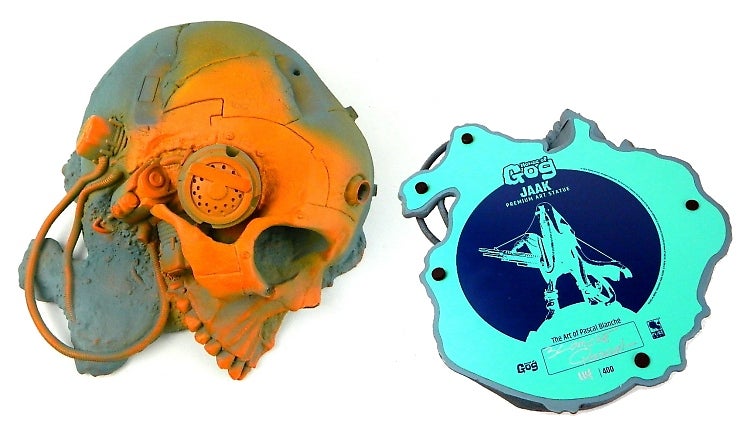 Once assembled, the Jaak Giant Hunter stands 16 inches tall atop one of the largest – and coolest-looking – statue bases I've seen. Depicting a slain tech-Giant's skull-like head, the massive 10-inch wide base provides plenty of solid support, all while adding an exciting new element to Jaak's sci-fi statue story. House of Gog could have easily released Jaak on her own attached to a simple display base. With her swap-out parts, the statue would have still been amazing. However, the addition of the large tech-Giant skull takes this piece to a whole new level of awesome.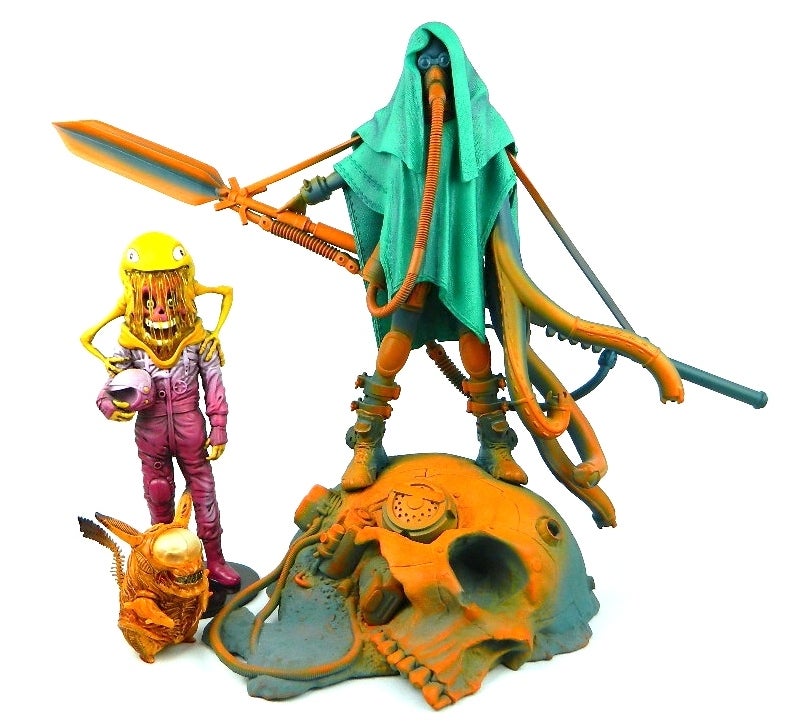 Star Wars: A New Hope might be a distant memory and Star Wars: The Rise of Skywalker an unsatisfying end. However, my sci-fi passion rages on thanks to collectibles companies pushing the envelope like House of Gog. Like a breathe of fresh air, House of Gog is producing product that isn't all about the current trend, but what they love. This reminds me of the early 2000's when toy companies like McFarlane Toys (Spawn, Tortured Souls) and Moore Action Collectibles (F.A.K.K. 2 – hey, another Heavy Metal property!) were extremely experimental in their licenses. Either way this is the most refreshing collectible's review I have done in years.
Like what you see? Pascal Blanche's Jaak Giant Hunter is now shipping and ready to order directly through House of Gog's website, HouseofGog.com. Limited to only 400 pieces produced, the premium Jaak Giant Hunter statue is priced at $780. For those on a budget, an easier-to-swallow payment plan is available ($100 down + four $170 monthly payments).
Scroll on for more photos!
-Photos and Review by Jeff Saylor
-Review Sample Courtesy of House of Gog
---