-Review and photos by Scott Rubin
-Review samples courtesy of WizKids Games
2020 is starting off with a bang, especially if you're a HeroClix player. Running hot off of last year's incredible lineup including Star Trek: The Next Generation, WWE, X-Man Animated, and so much more, WizKids is back with a new Marvel set of our favorite miniatures game. Currently in prerelease at this moment (with standard release for everyone February 5th) is Marvel HeroClix Captain America and the Avengers! In several ways a throwback to 2015's Nick Fury, Agent of S.H.I.E.L.D. set, this expansion has a highly functional lineup of characters from multiple Captain America's to his many enemies, lots of S.H.I.E.L.D. agents, Avengers heroes, generic bad guys, and more with sub-themes featuring the Thunderbolts, Stark Industries, and Masters of Evil. Cap also brings back the ClixFX base mechanic, as you'll see below, and of course introduces plenty of characters new to the tabletop. Today we're going to unbox a booster brick and check out the accompanying Captain America and the Avengers Dice & Token Pack and Fast Forces.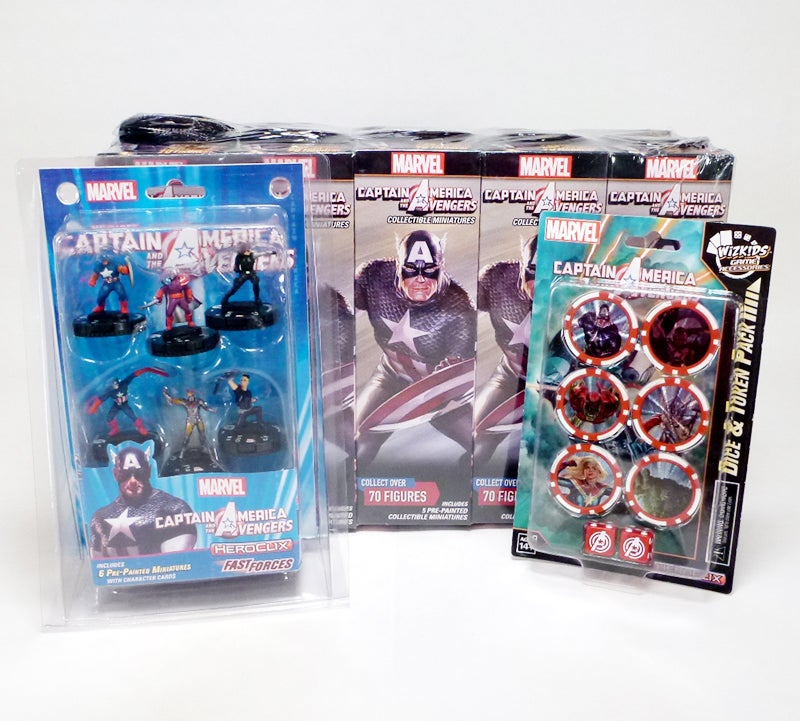 Lined up with other currently available HeroClix are Captain America boosters, which will catch your eye with their striking Alex Ross art of Steve Rogers. Rather than doing the usual sub-theme rundown side panels, the boxes for this new Cap set feature a quartet of the notable characters contained within: the Immortal Hulk, Captain America (Sam Wilson), Black Panther, and Captain Marvel. Lastly, the back of each booster points you to the HeroClix community and the WizKids Info Network.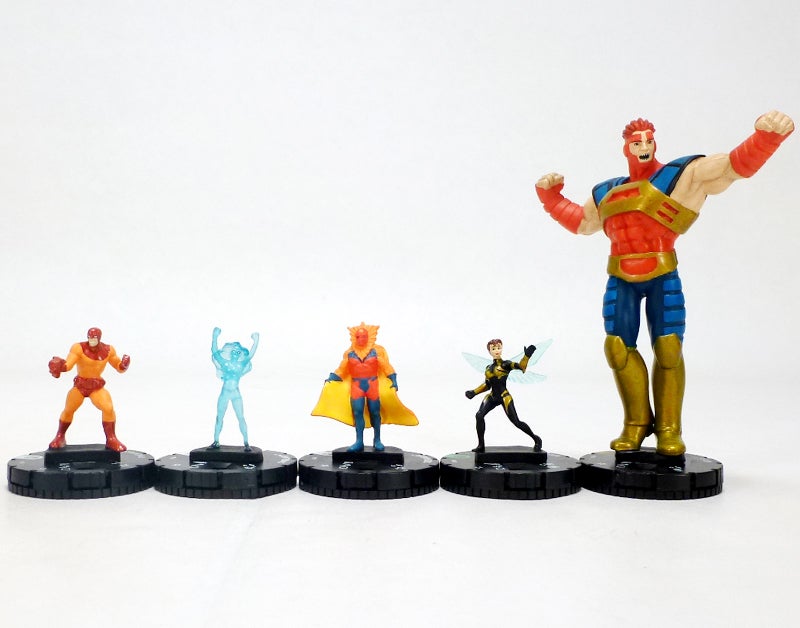 Booster 1
014 Power Man
016 Singularity
017 Sidewinder
030 Wasp
063 Atlas
Every HeroClix player knows to grab the heavy booster, and that's just what I did when starting this unboxing. I was not disappointed, as it held the MASSIVE super rare Atlas! He started off our Thunderbolts (and Masters of Evil) collection, with uncommon Wasp and common Singularity of the Avengers, evil lineup mainstay common Power Man, and common Sidewinder who fills out the ever-growing Serpent Society roster.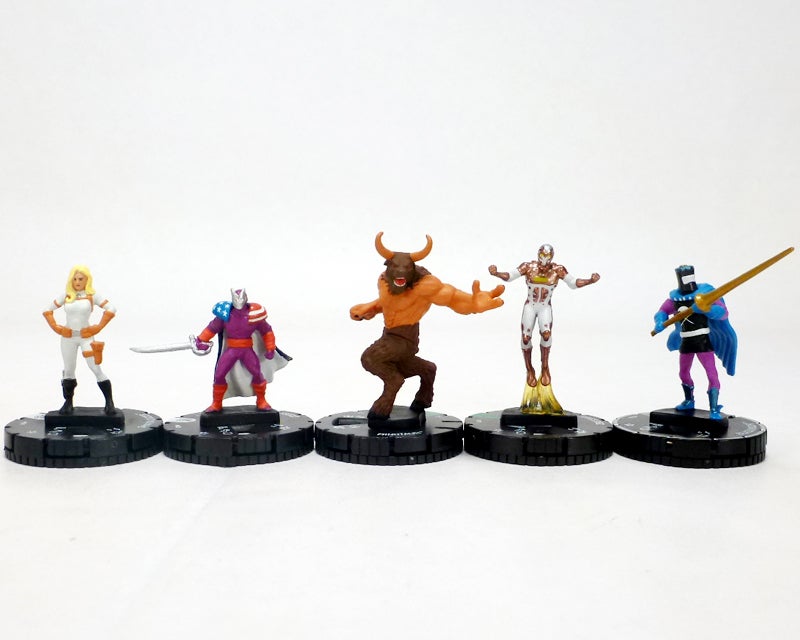 Booster 2
006 Sharon Carter
003 Citizen V
027 Minotaur
029 Zeke Stane
046 Black Knight
Two heroes stand up to lots of big bads in this booster, starting with the fan-favorite S.H.I.E.L.D. agent common Sharon Carter and the latter-day good guy common Citizen V John Watkins III, descended from the first person with that costumed identity. The evil begins in the uncommons with the hulking Minotaur, alter ego of businessman Dario Agger, and Obadiah's son Zeke Stane. The rare slot is taken up by the Masters of evil Black Knight, Nathan Garrett introduced in the 60s.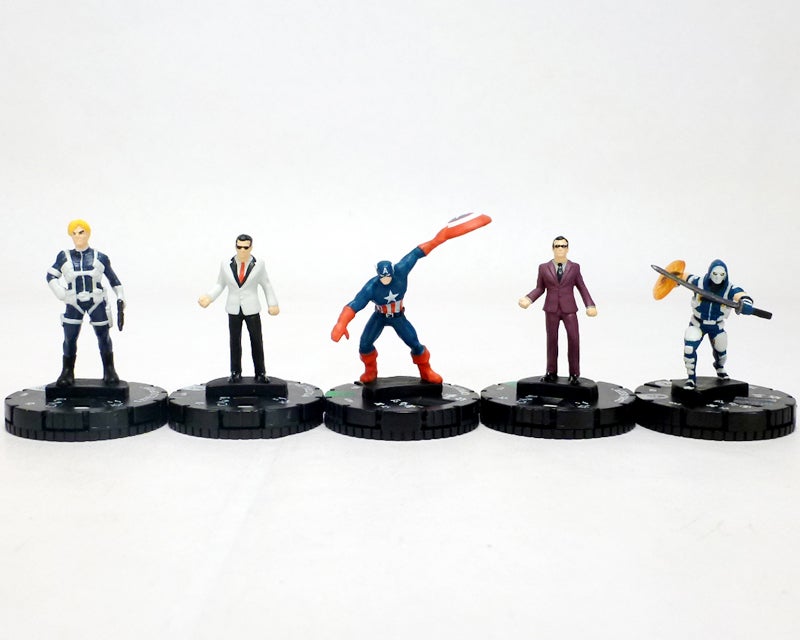 Booster 3
005 S.H.I.E.L.D. Officer
011 Industrial Spy
018a Captain America
022 Dario Agger
049 Taskmaster
Whenever there's a character headlining a set, I always worry that I'm not actually going to pull him or her, but thankfully I didn't have to get too far into this brick before seeing good old Cap. But first, the commons in Booster 3 were the generics S.H.I.E.L.D. Officer and Industrial Spy in his spiffy suit. Then we've got uncommon Captain America hurling his shield! Good thing he's here because next up is uncommon Dario Agger (a repaint of the Industrial Spy who works with the Minotaur figure seen above), and the rare Taskmaster, a character everyone loves to hate.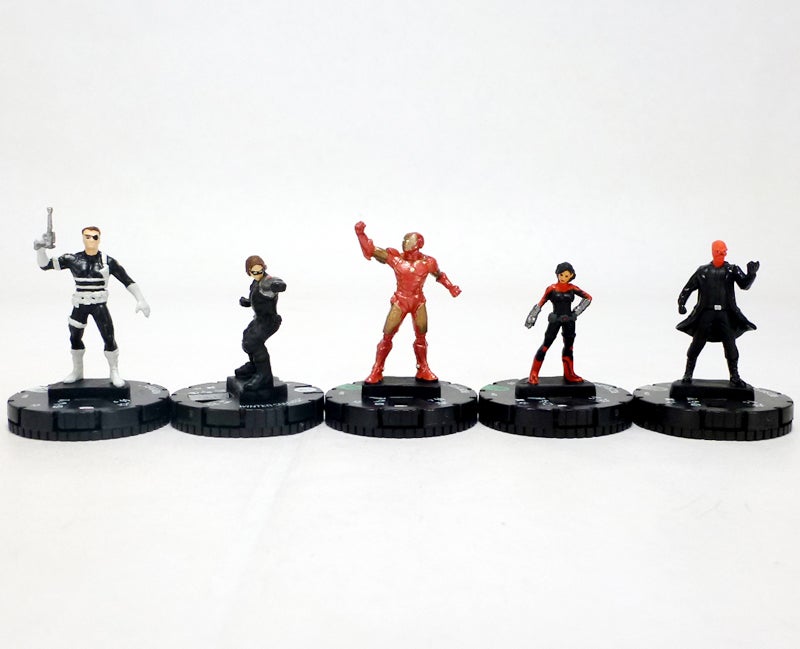 Booster 4
007 Nick Fury
015 Winter Soldier
019 Iron Man
021 Roz Solomon
041 Red Skull
You can't have a sub-theme of S.H.I.E.L.D. without the man, the myth, the legend, and this booster starts with common Nick Fury to lead all of your spy teams. He's joined by a recently famous S.H.I.E.L.D. agent with ties to Thor in the uncommon Roz Solomon, while uncommon Iron Man (with Shifting Focus) reps the Avengers. Then there are two more iconic Captain America characters: best friend Bucky as common Winter Soldier and rare Red Skull!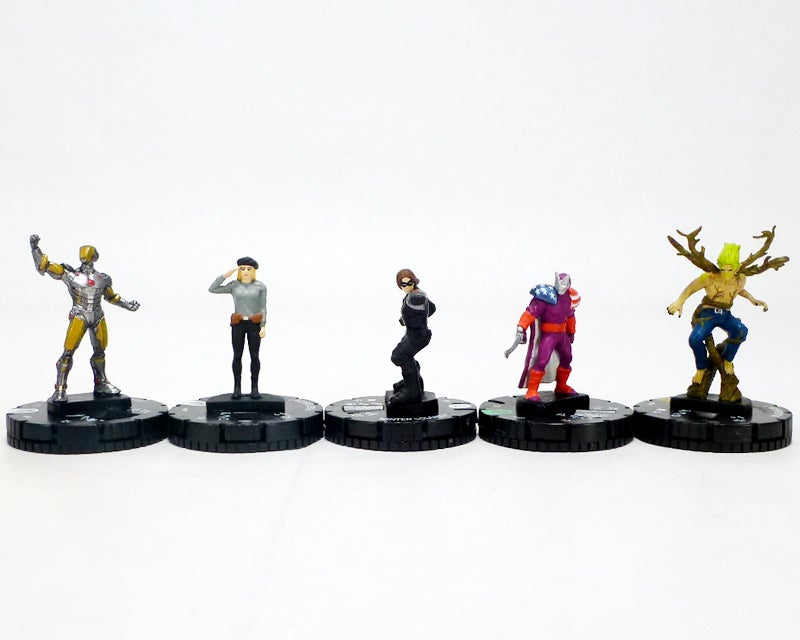 Booster 5
002 Iron Man
009 Peggy Carter
015 Winter Soldier
020 Citizen V
066 Blackheath
Working with the last booster's Iron Man is this one, the common Iron Man you can swap out via Shifting Focus. Peggy Carter, connected to both Cap and the world of S.H.I.E.L.D., shows up in the next common slot, joined by another Winter Soldier. In the uncommons is a Citizen V… but this time it's Helmut Zero of the Thunderbolts in disguise! Our second super rare is here, the incredibly sculpted Blackheath, a floral villain who's worked with Masters of Evil, Thunderbolts, and more.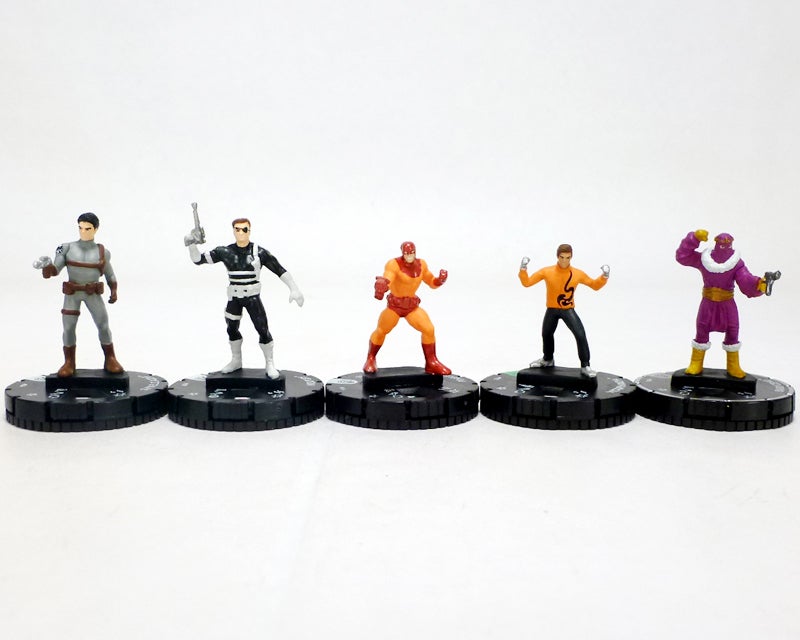 Booster 6
004 S.H.I.E.L.D. Agent
007 Nick Fury
014 Power Man
033 Victor Mancha
045 Baron Zemo
We've seen S.H.I.E.L.D. Officers before, but Booster 6 begins with a rank and file common S.H.I.E.L.D. Agent for all of your basic spy needs, and he's backed up by another Nick Fury. Power Man shows up again to plague the heroes, while this booster's uncommon is the robot Victor Mancha of the teen team Runaways! The rare here is iconic villain Baron Zemo (Heinrich) in his trademark purple duds.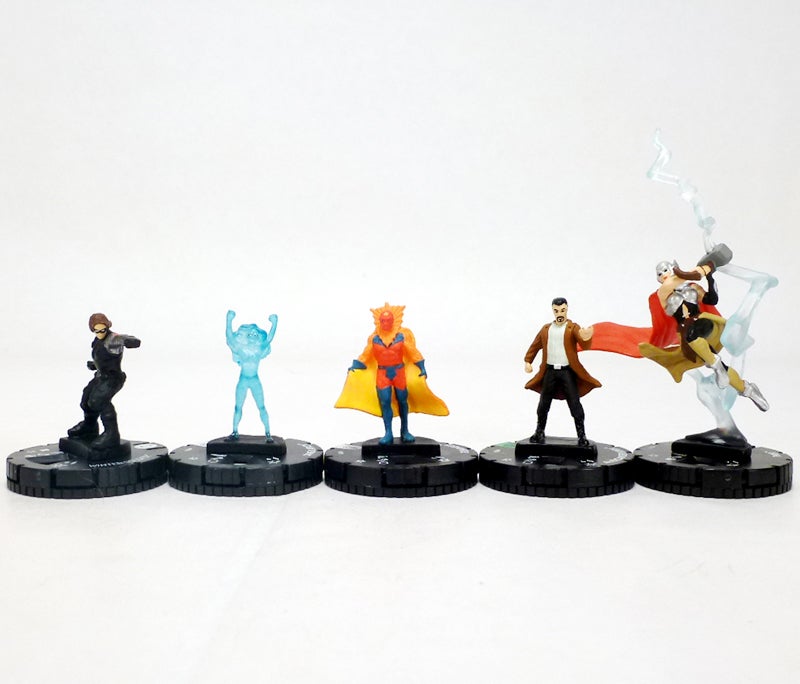 Booster 7
015 Winter Soldier
016 Singularity
017 Sidewinder
026 Aleksander Lukin
040 Thor
At this point in the brick we're starting to see several duplicates in the lower rarities, and so it is here with copies of Winter Soldier, Singularity, and Sidewinder. New figures are uncommon Aleksander Lukin, Russian supervillain with ties to Red Skull, and the rare, a new version of Jane Foster Thor!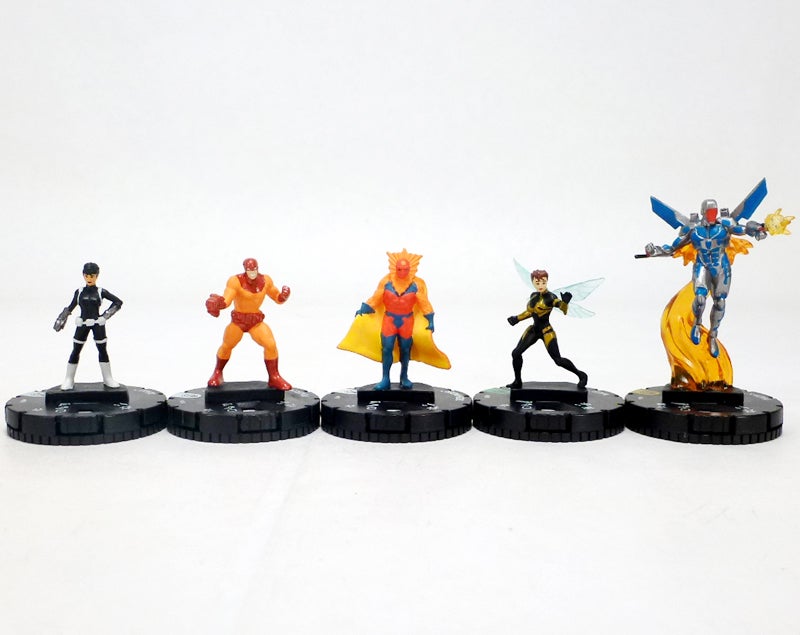 Booster 8
010 Quake
014 Power Man
017 Sidewinder
030 Wasp
064 Mach-X
If you're a fan of the Secret Warriors you're going to happy to see the first figure in this booster, S.H.I.E.L.D.'s Quake who's easy to find as a common. She's joined by dupes (for us) of Power Man, Sidewinder, and Wasp, but thankfully we pulled a new super rare here: Mach-X! Operating originally as the criminal Beetle, Abner Jenkins cycled through various "Mach" armors in his stints in different rosters of Thunderbolts.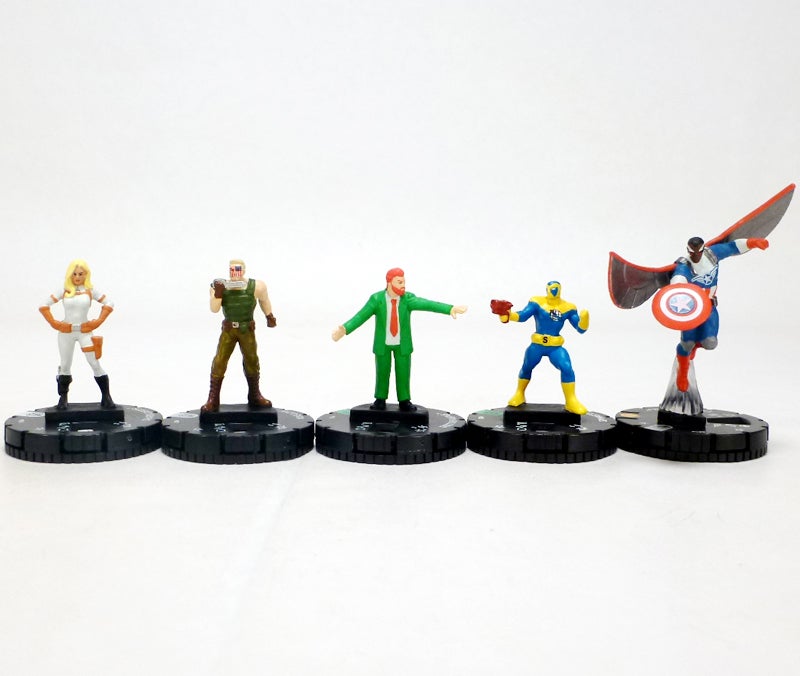 Booster 9
006 Sharon Carter
012 Nuke Clone
024 Doctor Faustus
025 Spymaster
039 Captain America
Common Sharon Carter appears again, alongside the patriotic, though threatening, common Nuke Clone (better played in swarms but unfortunately the only one we pulled). The uncommons here are Captain America villain Doctor Faustus and Iron Man villain Spymaster. Thankfully justice is here with rare Captain America, the high-flying Sam Wilson!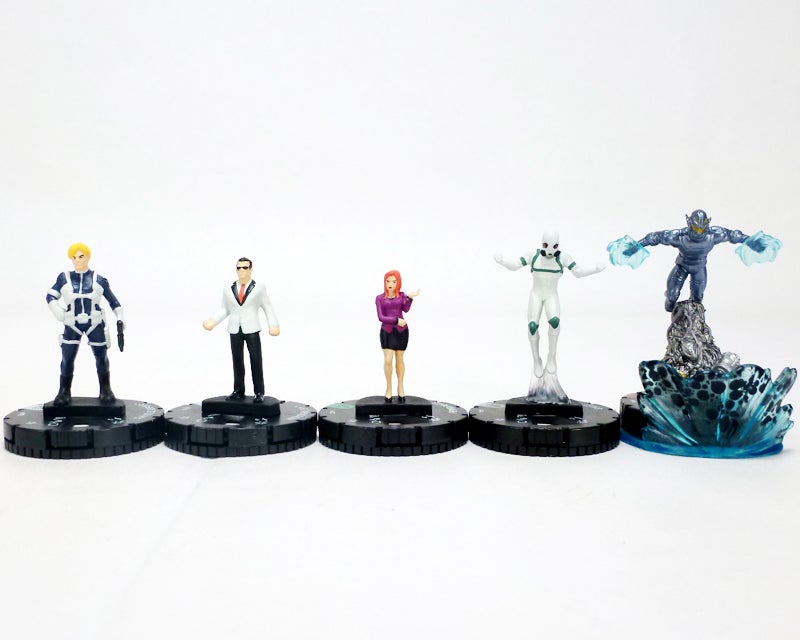 Booster 10
005 S.H.I.E.L.D. Officer
011 Industrial Spy
032 Pepper Potts
044 Ghost
074 Ultron
We're usually lucky to pull something cool in our last booster, and this brick didn't disappoint. While we've got dupes of the common S.H.I.E.L.D. Officer and Industrial Spy, they're joined by some new thing. First is an uncommon Pepper Potts that synergizes really well with Iron Man, followed by the rare Ghost of the Thunderbolts. The rarest slot is occupied by our chase, Ultron! The imposing robot villain comes with a ClixFX Base, this one representing his Encephalo-Ray power.
Here's the full breakdown of the figures in this brick (your results will vary of course):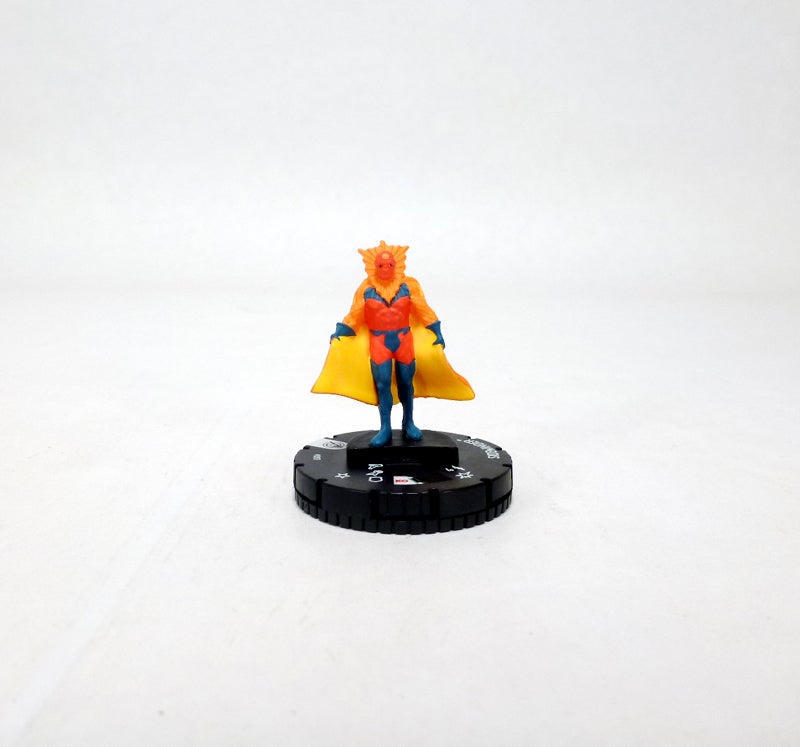 COMMONS (including duplicates)
002 Iron Man
003 Citizen V
004 S.H.I.E.L.D. Agent
005 S.H.I.E.L.D. Officer
006 Sharon Carter
007 Nick Fury
009 Peggy Carter
010 Quake
011 Industrial Spy
012 Nuke Clone
014 Power Man
015 Winter Soldier
016 Singularity
017 Sidewinder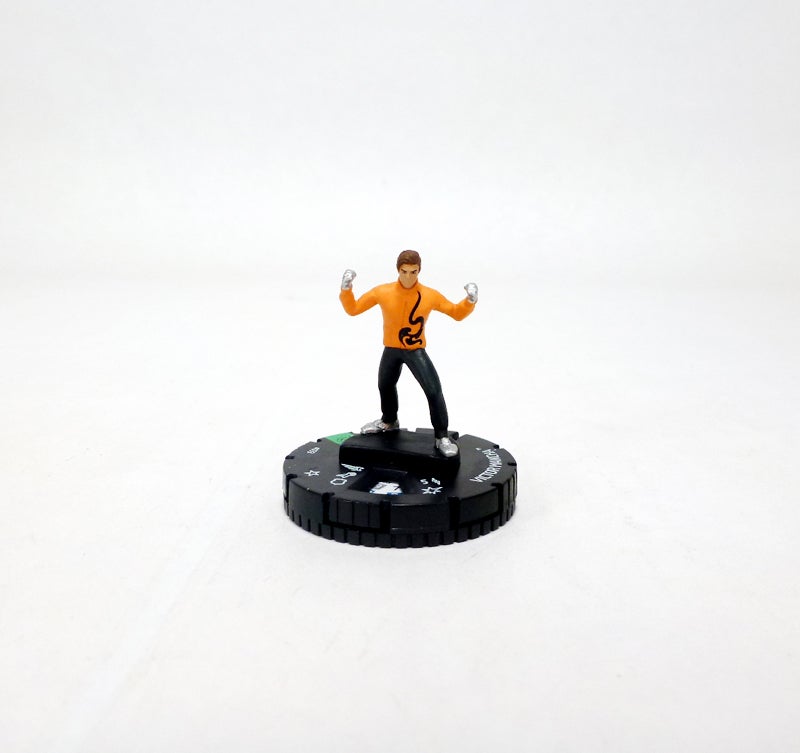 UNCOMMONS (including duplicates)
018a Captain America
019 Iron Man
020 Citizen V
021 Roz Solomon
022 Dario Agger
024 Doctor Faustus
025 Spymaster
026 Aleksander Lukin
027 Minotaur
029 Zeke Stane
030 Wasp
032 Pepper Potts
033 Victor Mancha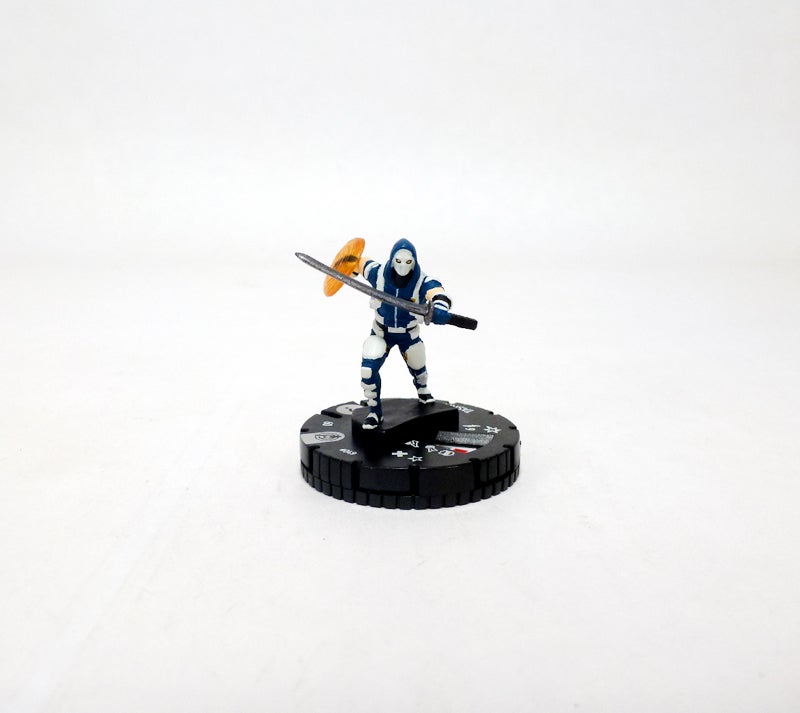 RARES
039 Captain America
040 Thor
041 Red Skull
044 Ghost
045 Baron Zemo
046 Black Knight
049 Taskmaster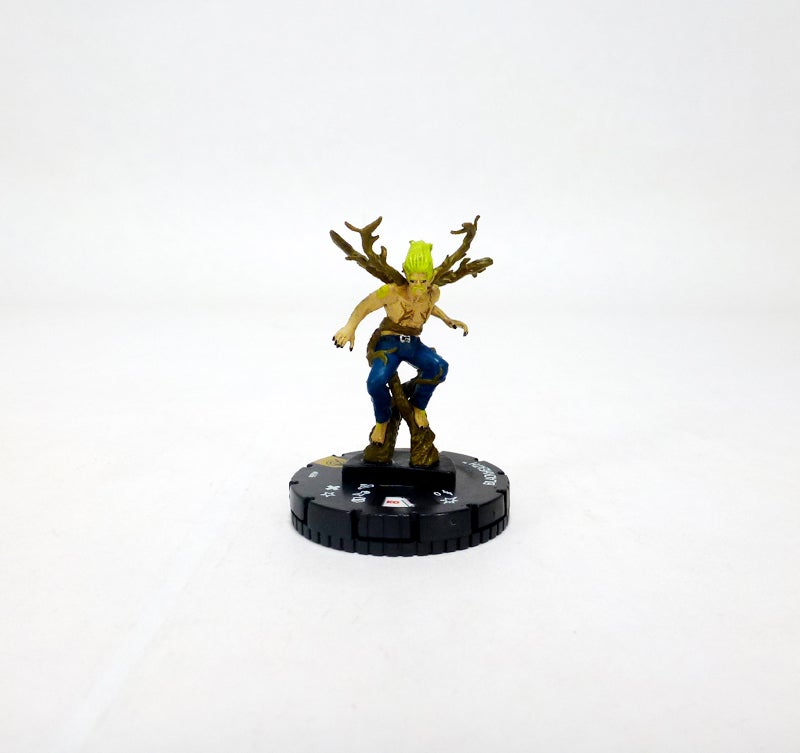 SUPER RARES
063 Atlas
064 Mach-X
066 Blackheath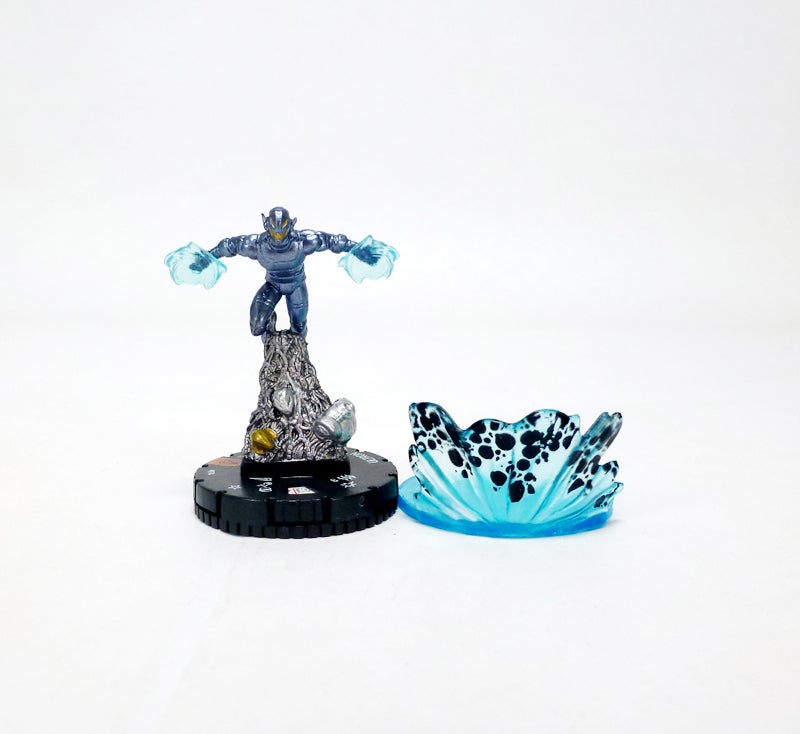 CHASE
Collation in this brick of Captain America and the Avengers was… interesting. We pulled three super rares and a chase so I certainly can't complain, but we didn't even complete a set of commons, let alone uncommons. We pulled three copies of several figures, though unfortunately none of them were generics. We got 14 out of 18 commons (including a Prime), 13 out of 18 uncommons (including a Prime), 7 rares out of 18 (including a Prime), 3 super rares out of 18 (including a Prime), and one chase out of the possible 6. This set also includes an Ultra Chase, which we did not pull, the Peggy Carter version of Captain America!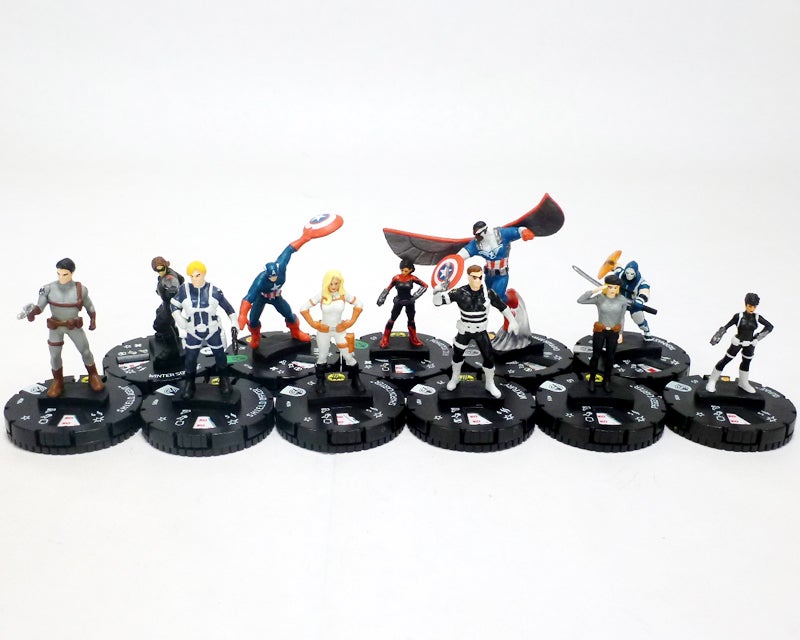 S.H.I.E.L.D.
Let's run through our pulls, shall we? Up first are the commons, and while there aren't any Captain Americas here, we do find a fellow "Living Legend" (a trait shared by Cap figures and more) in the heroic Citizen V. Avengers, though, are represented with a silver melee-focused Iron Man and translucent blue Singularity. If you can't have the big guns you can at least have the hidden ones, and the clandestine organization S.H.I.E.L.D. comes hard with generics S.H.I.E.L.D. Agent and S.H.I.E.L.D. Officer along with Sharon Carter, Nick Fury, Peggy Carter, and Quake. Power Man starts off the Masters of Evil while Winter Soldier, with a plethora of keywords, kicks off the Thunderbolts team. Then there's the usual assortment of bad guys with generic Industrial Spy and Nuke Clone with Serpent Society's Sidewinder.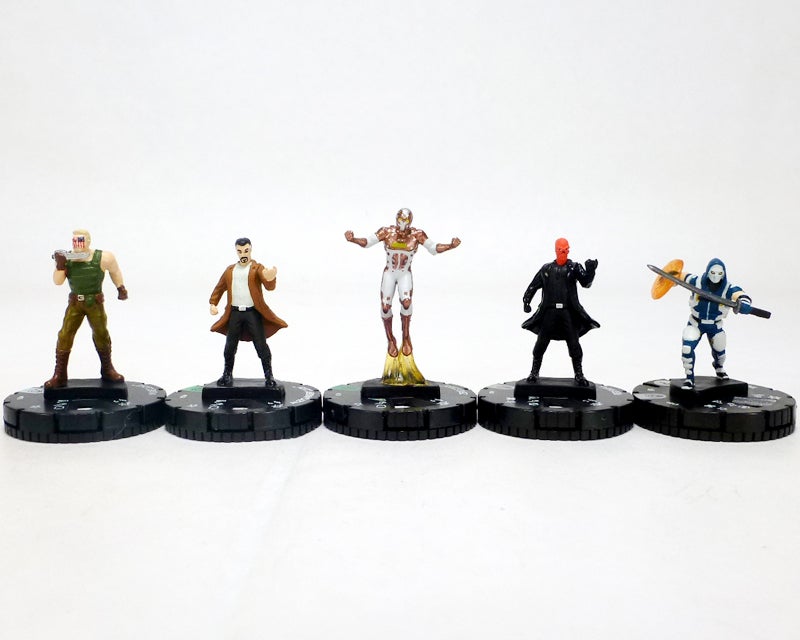 Power Elite
The uncommons continue the same trends and themes, though this time we start with a Living Legend in Steve Rogers Captain America! Backing him up are longtime Avengers Iron Man (a ranged-focused red and gold armor with Shifting Focus) and Wasp along with newer members businesswoman Pepper Potts and Runaways robot Victor Mancha, while S.H.I.E.L.D. gets Asgardian ally Roz Solomon. Helmut Zero is under the uncommon Citizen V mask, and he's the sole Thunderbolts member we found here… but not the only villain. Iron Man foes Spymaster and Zeke Stane join Cap villains Doctor Faustus and Aleksander Lukin, while Dario Agger and his alter ego Minotaur have plagued Thor in the comics.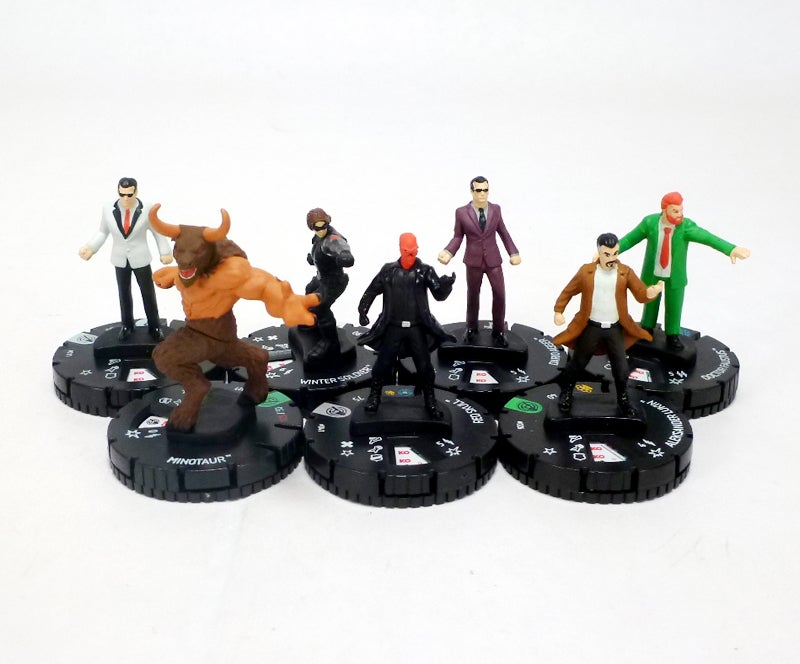 Hydra
Sam Wilson is another Living Legend Captain America, this time kicking off the rares where you'll also find an Avenger in Jane Foster Thor. The rest of this rarity level is bad, bad, bad, starting off with iconic Captain America archenemy Red Skull. There's a huge Masters of Evil/Thunderbolts recruitment drive happening with the intangible Ghost, Baron Zemo (Heinrich), Black Knight, and the highly versatile and deadly Taskmaster.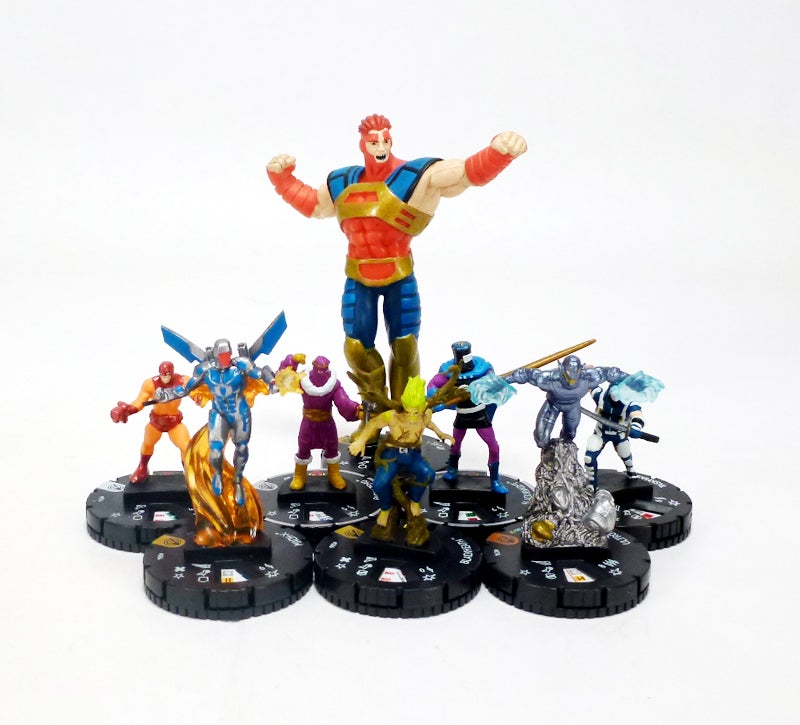 Masters of Evil
Jumping right off of the previous are the rarest figures in this brick, and they're all bad… by which of course we mean evil because they're awesome. Masters of Evil all, they include super rares Atlas, Mach-X, and Blackheath, while the chase is Ultron!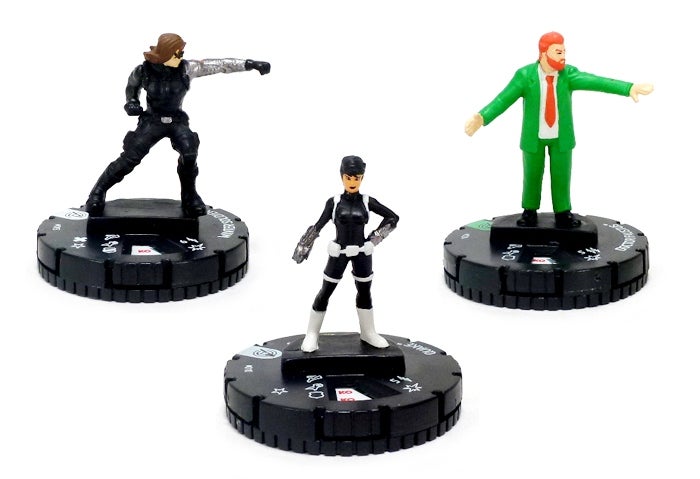 With a new set we always like to check out the sculpts, see how WizKids has captured these interesting heroes and villains into small-scale plastic form. There's a huge variety of characters in Captain America and the Avengers, from street-level business thugs to secret agents, colorful superheroes, criminal masterminds, and more. I'll point out some of my favorites, which include the techy Iron Man armor (both common and uncommon), small but highly detailed Quake/Roz Solomon, Industrial Spy with his suave vintage suit, all of the tactical gear and metal arm on Winter Soldier, Doctor Faustus' great face sculpt with eyepatch, the fantastic Minotaur, quite simply everything about rare Captain America and Thor, Black Knight looking like a medieval badass, the massive and massively muscled Atlas, Mach-X's incredible armor, all of the creeping vines and tendrils of Blackheath, and of course the chase Ultron.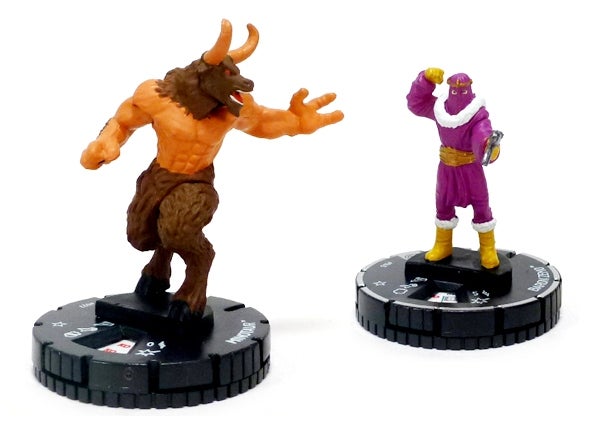 Some figures have poses that really show off what the characters are all about, like the brave Citizen V, defiant Sharon Carter with her hands on her hips, Captain America (Steve Rogers) swinging his shield back before a mighty throw, Victor Mancha with fists held up, and Taskmaster stalking his prey. Lastly there are some nicely detailed textures on Sidewinder's scales, the fur on Minotaur, Baron Zemo's extravagant outfit, and the vegetation wreathing Blackheath.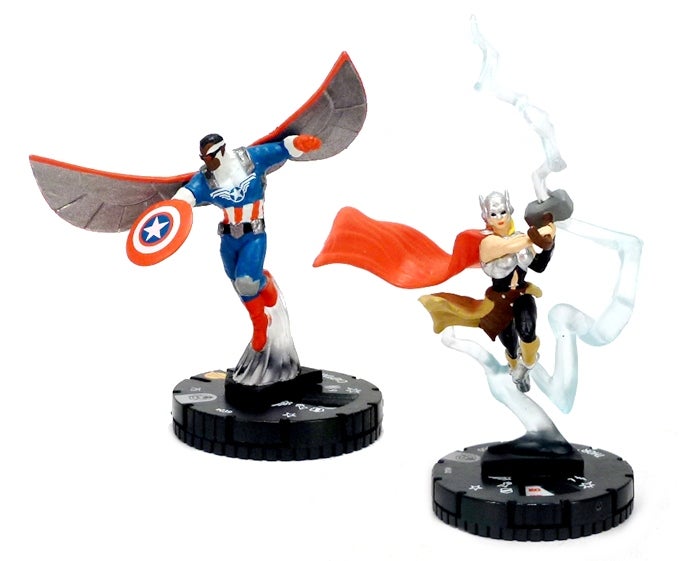 We should also point out that this set does include some sculpts we've seen before, notably from 2015's Nick Fury, Agent of S.H.I.E.L.D. set. This is not a very common occurrence, and different people will have different reactions to it. While there are some duplicates of S.H.I.E.L.D. personnel and the like, but we're also getting new versions of really great sculpts that people may have missed the first time like Sam Wilson Captain America and Jane Foster Thor!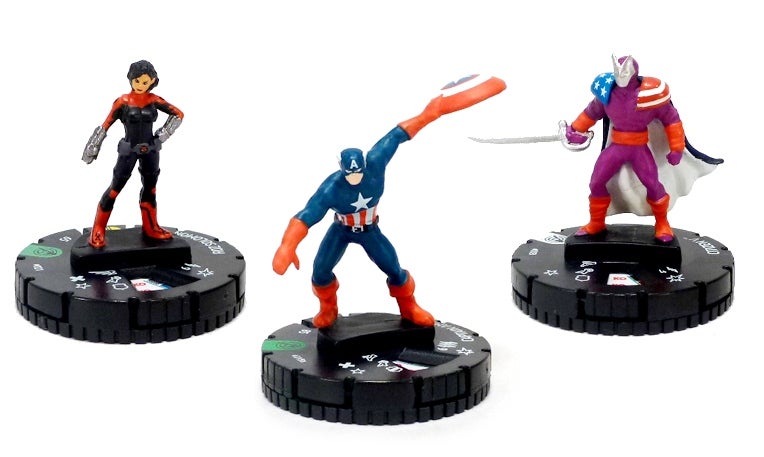 While lots of the sculpts are great, it's up to the paint job to bring out all the detail and really make the characters come to life as even a great amount of detail can be lost to the eye with flat colors and no highlights. The paint work in this set is good overall, with some nice-looking figures especially at the higher rarities (commons sometimes get skipped over in terms of added paint apps). Some of the figures whose paint jobs I particularly enjoyed include all of the S.H.I.E.L.D. people for their very well done logos and patches, Citizen V with his stars and stripes, the smooth colors of Industrial Spy's suit, Roz Solomon who has nice costume accents and an impeccable face, Dario Agger for his swagger, all of the clean lines and bright colors on Sam Wilson Captain America, Black Knight whose garish color scheme shouldn't work but it just does, the nicely done panels on Taskmaster, and the verdant greens of Blackheath.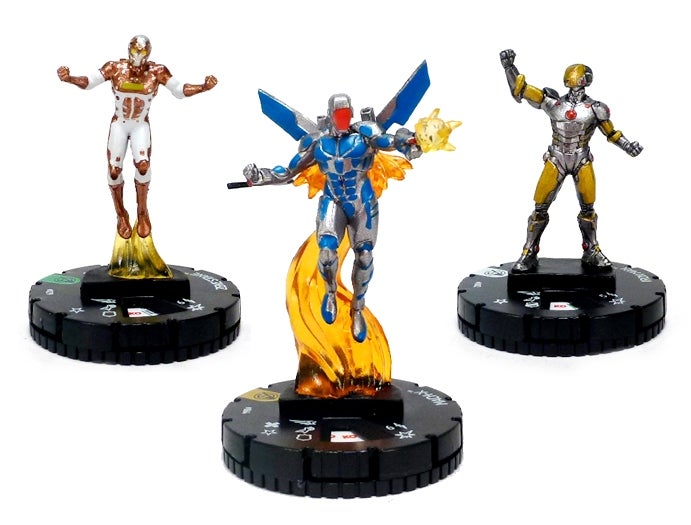 As always metallic paint is used for weapons, armor, and the like which we see on the suits of Iron Man, Zeke Stane, and Mach-X, the swords of Citizen Vs, S.H.I.E.L.D. guns, Winter Soldier's arm, Victor Mancha's fists of fury, Black Knight's lance, Taskmaster's blade, and all of the mighty Ultron. Lastly translucent plastic doesn't show up an awful lot in this set (not a ton of flyers), though it used for the occasional swoosh effect (Zeke Stane, Captain America, Ghost), the energy body of Singularity, Wasp's wings, Thor's lightning, Taskmaster's shield, and energy blasts on Mach-X and Ultron.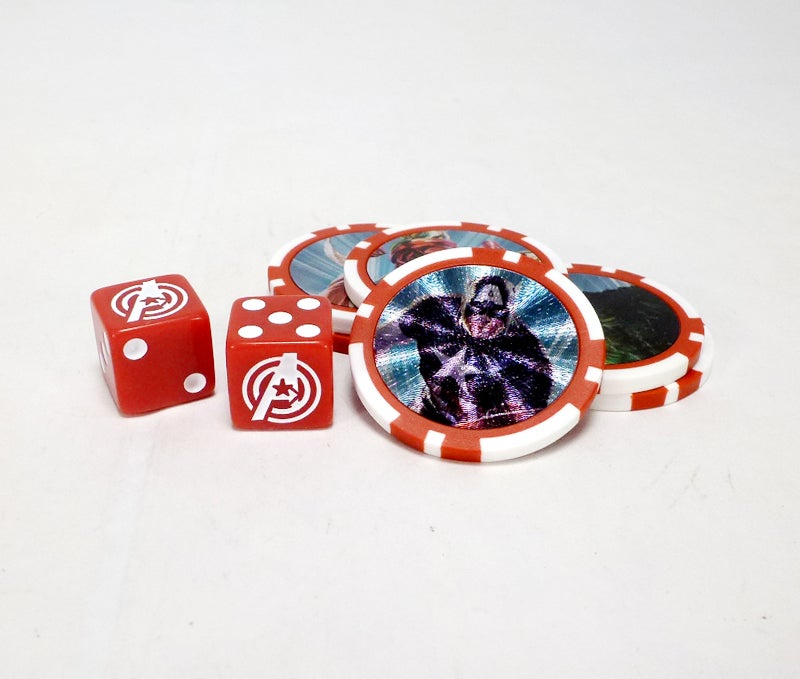 Alongside the Captain America and the Avengers booster set are some additional products, ways you can add to and customize your HeroClix experience. The flashiest is with the neat Dice & Token Pack, giving your rolls and action tokens some panache. This set's version includes six white and red poker chip-style tokens featuring ultra-shiny artwork of Steve Rogers Captain America, Sam Wilson Captain America, Iron Man, Jane Foster Thor, Captain Marvel, and the Immortal Hulk. There's even more fun, as the reverse sides of those tokens have the bystanders spawned by figures in the booster set like Carol's "cat" Chewie and Blackheath's Simuloids. The dice in this pack are matching red and white with the Avengers "A" over Captain America's shield logo on the six sides.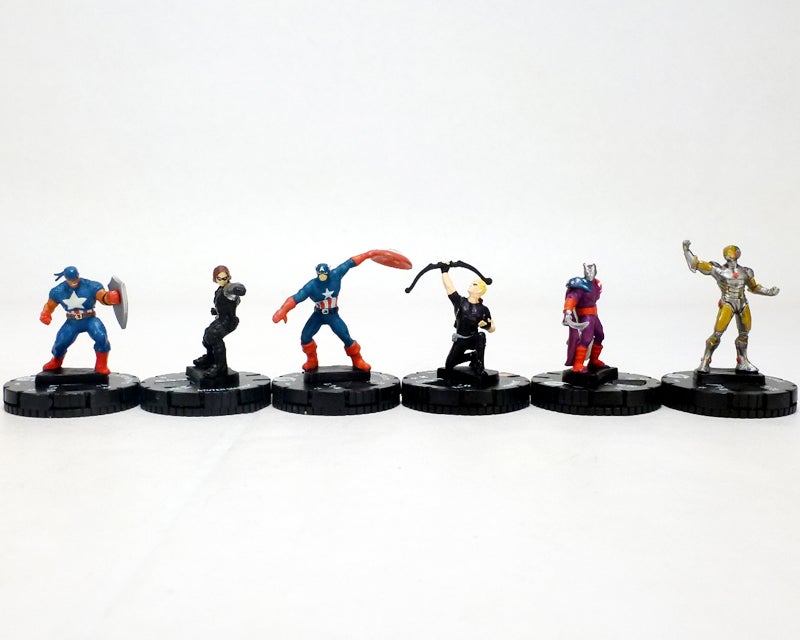 Lastly, if you're a big fan of Cap you're definitely going to need the Captain America and the Avengers Fast Forces Pack. Packaged in the usual plastic clamshell, this set brings you six figures for easy team building and more options for your characters. Included here are Isaiah Bradley, Citizen V, Winter Soldier, Captain America, Iron Man, and Hawkeye. Both Cap and Citizen V are 75 points with Bradley at 25. The other four are all playable at either 75 OR 50 points, giving you a nice array of options to make 300 or 400 point teams. The three patriotic heroes have the shared Living Legend trait, extending their life beyond their standard clicks, while the other trio have the shared Assembled Avengers trait to manage tokens on a lucky roll. Besides those, most figures in this pack have one special power or trait; Winter Soldier and Iron Man have one of each. Play teams right out of this Fast Forces, or mix and match with booster set figures (and your full collection) for endless options!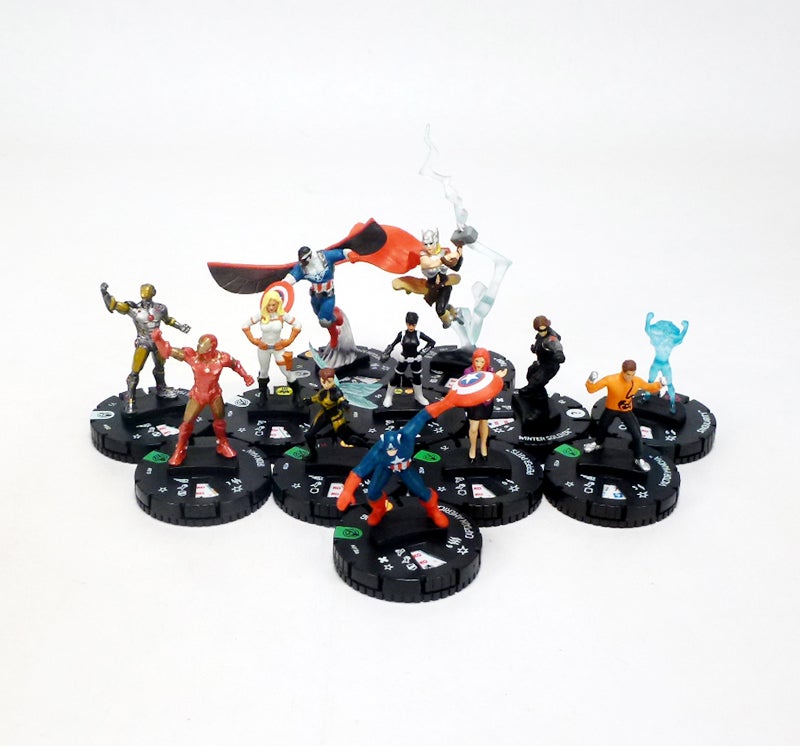 The Avengers
Hopefully you've enjoyed this look at an unboxing of Marvel HeroClix Captain America and the Avengers, with a look at the Dice & Token Pack and Fast Forces. As you can see this set has tons of great figures, both heroes and villains, and everything in between. Fans of Cap in every generation will absolutely love this expansion, and with Avengers there's always something for everyone. Solid sculpts and paint jobs come alongside fun and interesting dials with new shared traits, Shifting Focus Iron Man figures, bystander generators, and more. An exclusive pre-release event for the set is happening RIGHT NOW, so if you haven't yet then check in with your local venue to see when they're running the event. Then the wide release is on February 5th when Cap will hit stores everywhere. As always, have fun and good luck with your pulls!
Visit HeroClix.com for even more info as well as downloads of rules and maps, and stay tuned to Figures.com as we continue our reviews of new HeroClix!
Review and photos by Scott Rubin
Review samples courtesy of WizKids Games
HeroClix Captain America and the Avengers Booster Set
HeroClix Captain America and the Avengers Dice Token Pack
HeroClix Captain America and the Avengers Fast Forces
---
Keep up with all the latest toy news by following Figures.com on Facebook and Twitter!
To buy action figures, take a look at Hobby Link Japan, BigBadToyStore.com, TheToySource.com, Toynk.com, and BriansToys.com.