-Review sample courtesy of online retailer Toynk.com
Long-time collectors will remember Master Replicas for their high-end Star Wars lightsaber replicas. While the company no longer has the Star Wars license (that's primarily Hasbro now), Master Replicas does still produce high-end replicas. Case in point, their authentic dinosaur fossil replica license with the Smithsonian in Washington, D.C.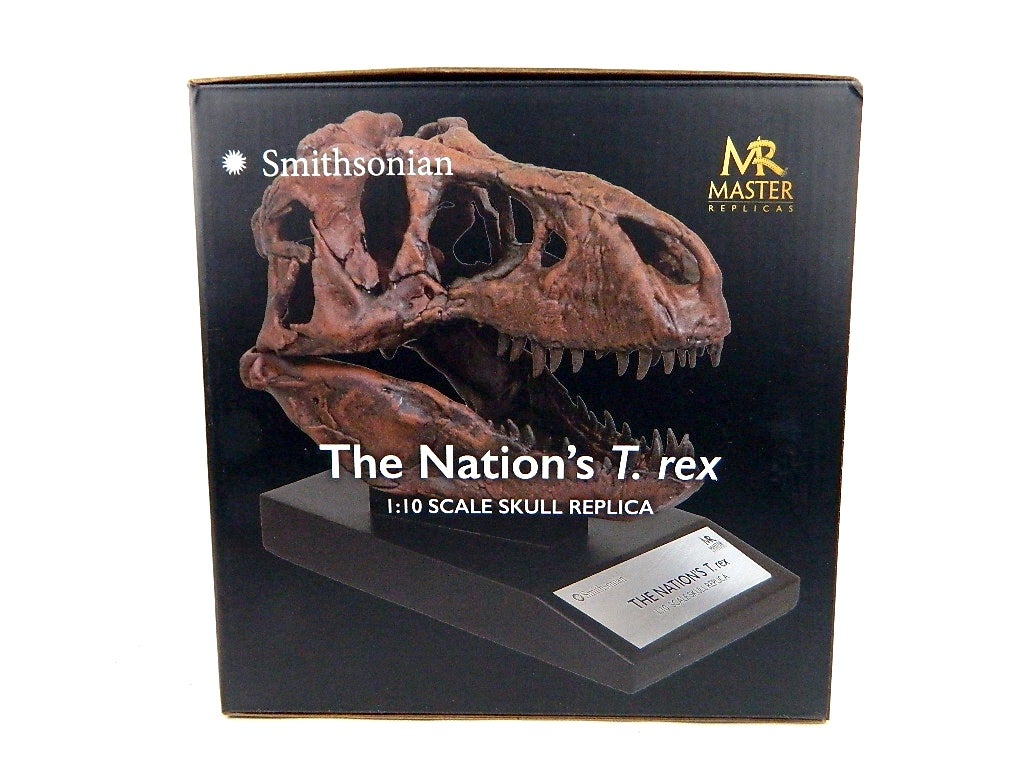 From lethal raptor claws to primative trilobites, Master Replicas has taken on the prehistoric era head on. Aside from the wide diversity of dinosaur items being offered, what's really cool about Master Replicas' Smithsonian product line is the broad spectrum of flexible pricing. Master Replicas is keenly aware that not everyone has $10k for a life-size T. rex skull (yes, they are offering one!), so they have smartly offered different scales at different price points.
In addition to a full-size Tyrannosaurus rex skull replica (60-inches long, $10,967.99), dino-lovers can purchase the T. rex skull at 1/2th-scale (28-inches long, $4,517.99), 1/4th-scale (15-inches long, $987.99), and the subject of today's review, 1/10th-scale. This gorgeous piece is in-stock now at Toynk.com priced at $66.99 with FREE domestic shipping included!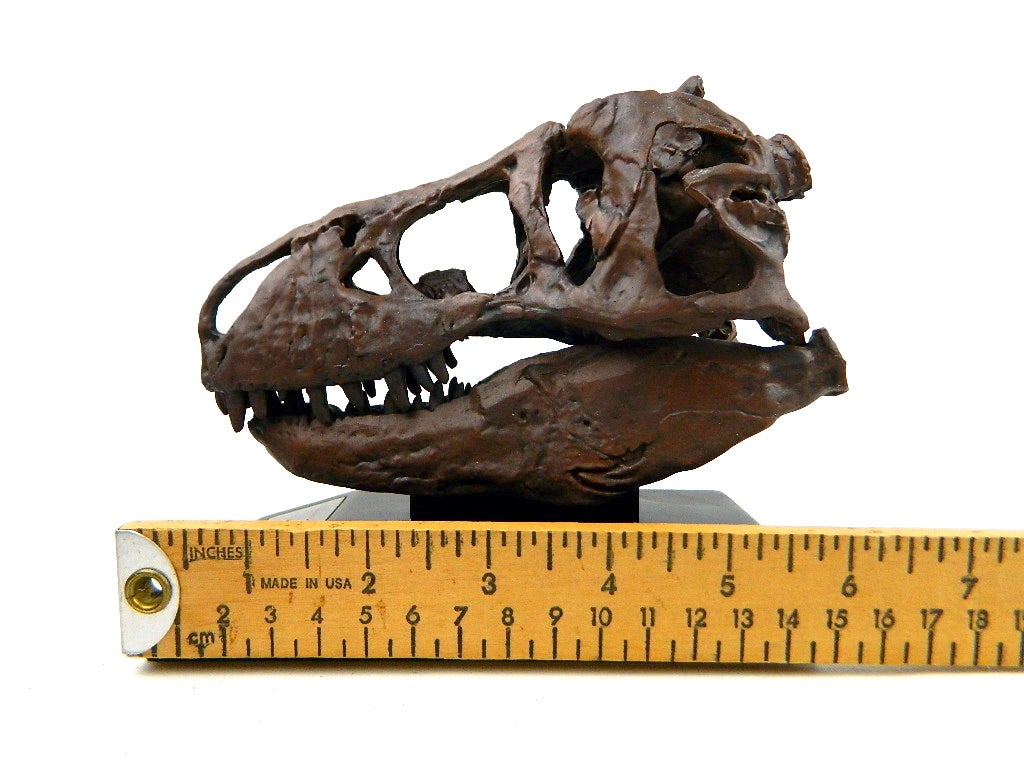 While the smallest of the bunch at 6-inches long, the 1/10th-scale T. rex skull features the same jaw-dropping detail and authenticity as the other three skull replicas. These were all modeled on the world-recognized Nation's T. rex (USNM 555000) on display at the National Museum of Natural History (I've actually had the pleasure of seeing this in person – simply amazing).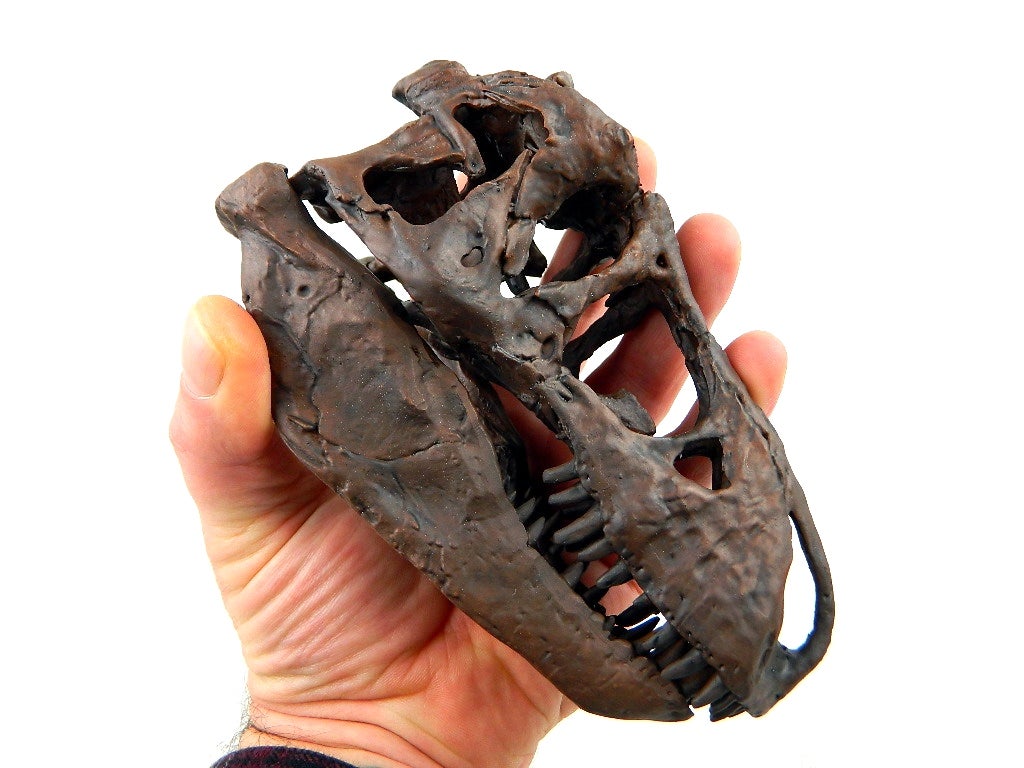 These T. rex skull replicas are not hand-sculpted pieces, but are rapid prototyped and molded based on 3-D scans of the actual Nation's T. rex skull. These are truly the definition of an authentic replica; each T. rex skull being as true as you can get to owning the real deal.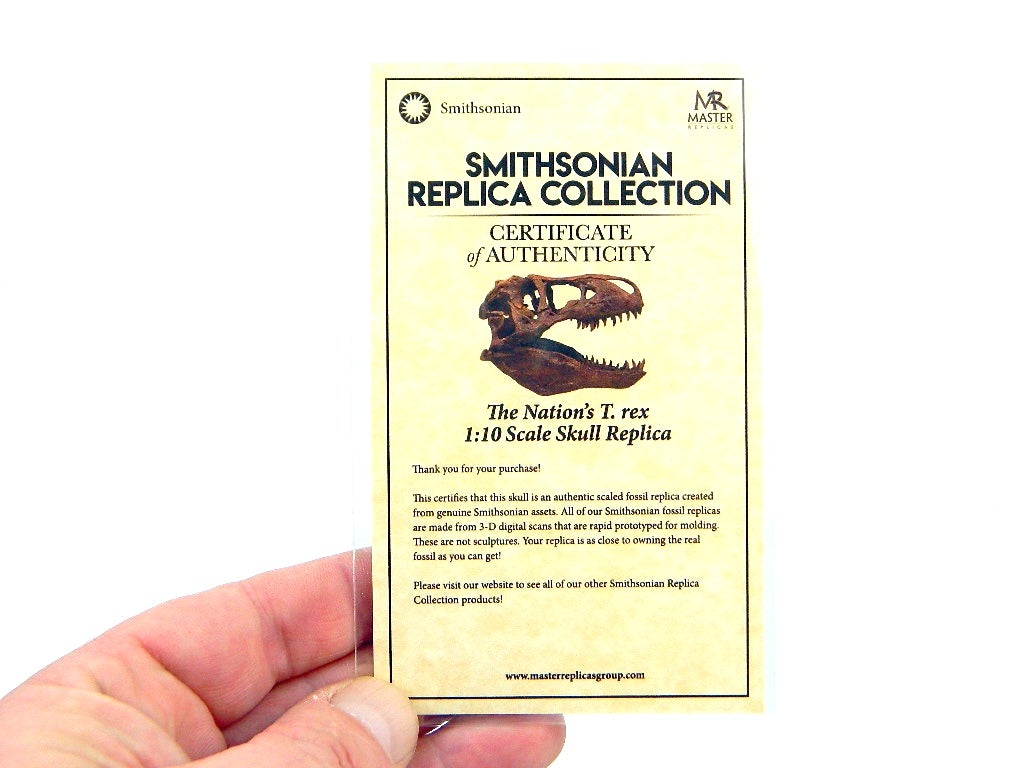 The tenth-scale T. rex skull arrives in three pieces, each part packed extremely well in a hard Styrofoam clamshell tray. The sophisticated outer box is black with numerous images of the skull replica adorning all sides. You also get a nice history lesson on the Nation's T. rex, along details on the skull replica inside. There are no instructions (assembly is pretty straight forward), however, you do receive a Ceritifcate of Authenticity. From what I can tell, this is not a limited edition piece.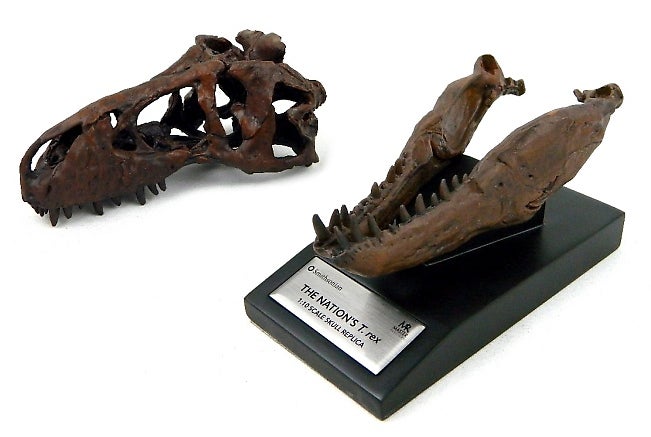 Once you have unwrapped your dino pieces, you'll immediately be impressed with their quality resin construction. I wouldn't recommend dropping this (or any statue for that matter), however this isn't bone brittle fragile resin. Assembly is as simple as lining up the grooved slots beneath the lower jaw on the weighted base. The skull just rests on it, but it's a well-balanced fit. As mentioned, the base features some nice, sturdy heft and I particularily like the attached metal name place. While I'm usually not too fond of nameplates on my action figure or statue collectibles, the addition of one here lends the T. rex skull replica an authentic museum-like feel. It's classy and very welcome.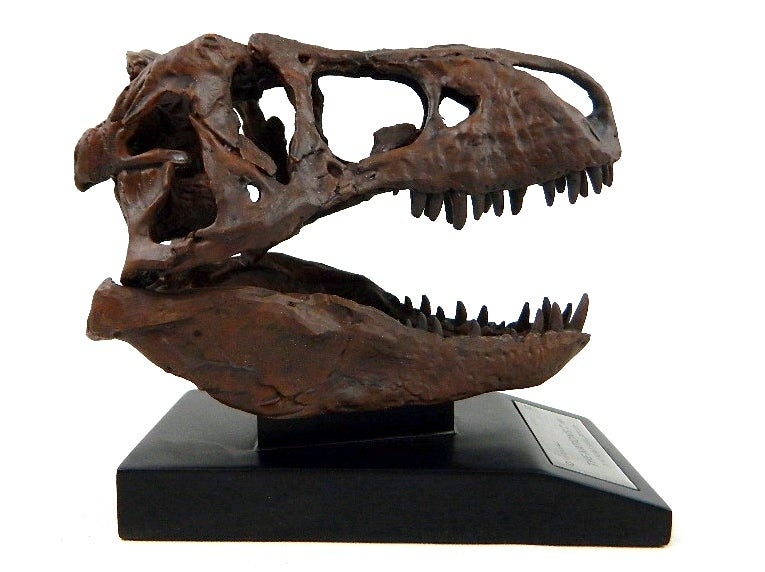 Another great feature of Master Replicas' Nation's T. rex replica is the ability to have the skull displayed with its jaw open or closed! It's difficult to discern in my photos, but there are two slots for you to tab the upper skull into the lower jaw. One slot position locks the jaw open, while the other clamps the mouth shut. I don't know about you, but I'm posing this bad boy with his mouth wide open to show off all his fearsome teeth!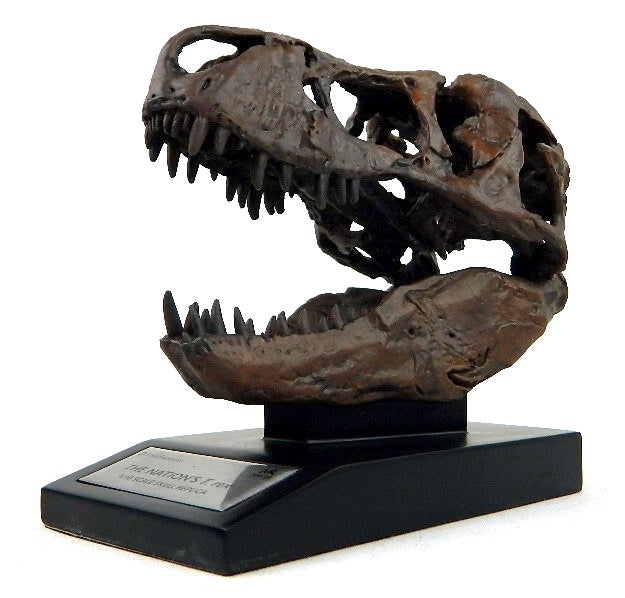 All in all, the tenth-scale T. rex skull is a fantastic replica of one of the most amazing creatures to have walked the Earth. I would LOVE to own a life-size T. rex skull, but I know that's just wishful thinking. However, owning this scaled replica is the next best thing… plus I have space for it! At 6-inches long you can comfortably fit this piece anywhere – on your work desk, home book shelf, you name it.
Dino aficionados can purchase this piece today through Toynk.com. It's in stock and ready to ship priced at $66.99 – with free domestic shipping!
Scroll on for more photos!
Review and Photos by Jeff Saylor
Review Sample Courtesy of Toynk
---