Hey HeroClix fans and collectors, we're back once again with a look at a new expansion, and this one's really cool. 2019 started off with the Marvel Earth X set before visiting DC with Rebirth, and now the pendulum has returned with Marvel HeroClix Avengers Black Panther & The Illuminati! That's a long name for an expansion with a lot going on. Right off the bat you know it's going to have Avengers heroes and villains, characters from the Wakandan side of the Marvel Universe, and the figures involved in the shadowy Illuminati which tries to keep the Earth safe from all manner of threats… usually. There are also Infinity Gem and Infinity Gauntlet wielders (from the comics), lots of characters making their HeroClix debuts, and even more sub-themes including the Cabal, Elders of the Universe, and more. The Gems, Gauntlet(s), and other fantastically powerful items appear as well as objects, so there are even more fun surprises in select booster packs! And there's also one of the rarest of all HeroClix, an Ultra Chase featuring a very cool comic book version of Thanos for the extremely lucky. Pre-release events for Avengers Black Panther & The Illuminati are happening right now at participating venues, and the full set releases on June 5th.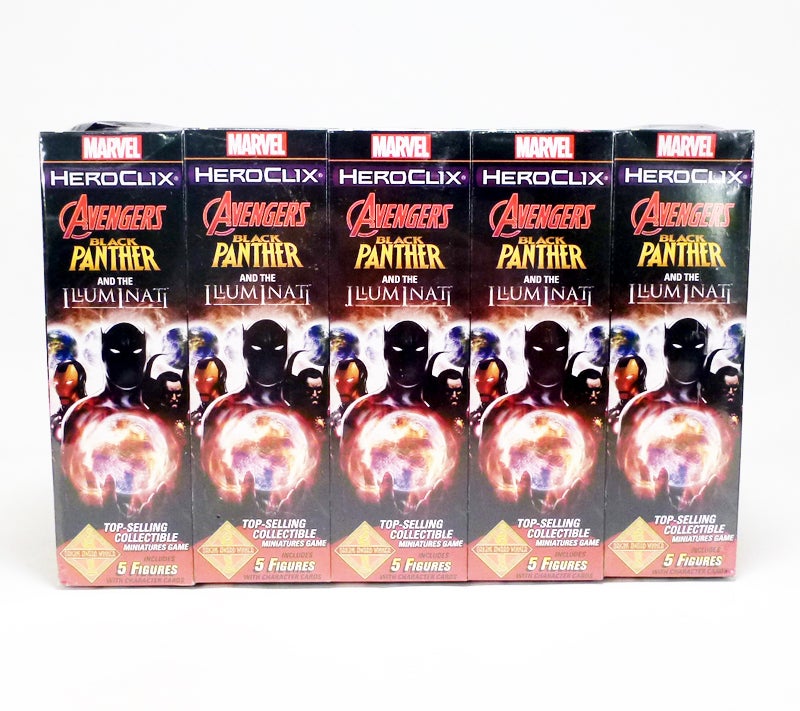 Today we're going to start our look at some new HeroClix with a brick of ten boosters, sent to us sealed from WizKids directly. Then we'll move on to a couple of the other associated products you'll find on shelves alongside the expansion. For the Black Panther & The Illuminati boosters WizKids went with a dark theme starting with a black background to make the brightly colored logos and titles really pop. The front panel of the boxes reveal a trio of the Illuminati (Black Panther, Iron Man, Dr. Strange) making plans for saving the world, while the armored Avenger lurks on the top flap as well.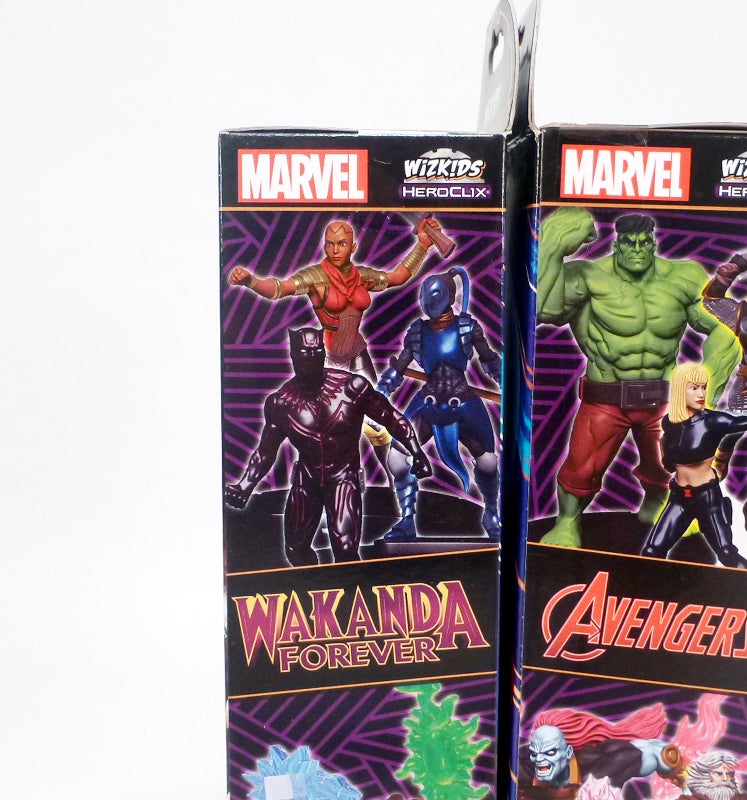 As usual the side panels are reserved for 3D render previews of sub-themes, this time featuring the "Wakanda Forever" storyline, Avengers, Elders of the Universe, and Equipment and Objects. Finally, the back of each booster shows off two of the set's chase figures: Captain America and Iron Man each wielding the Infinity Gauntlet! There's also information on the cool features you'll find on the WizKids Info Network.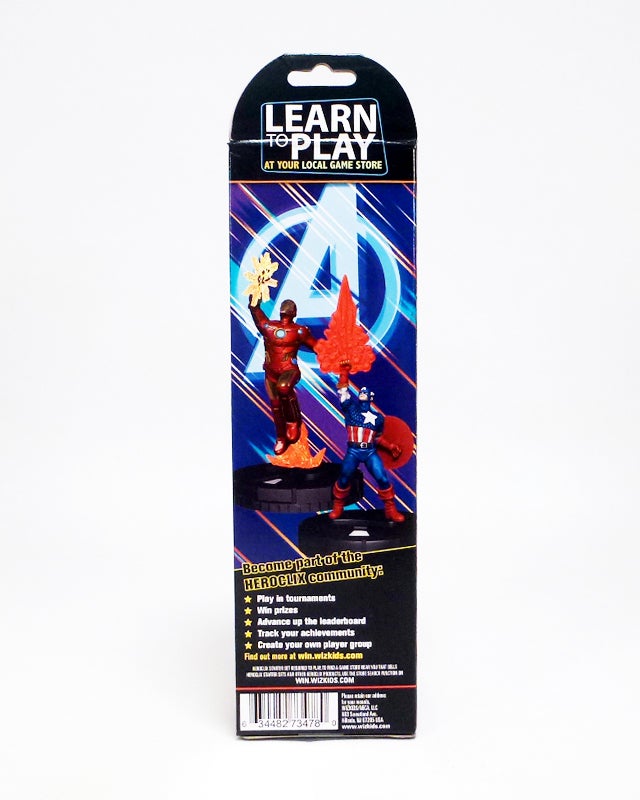 Scroll down to see the contents of each booster, then keep reading for tons more info and a full photo gallery of all the Avengers Black Panther & The Illuminati HeroClix figures we pulled!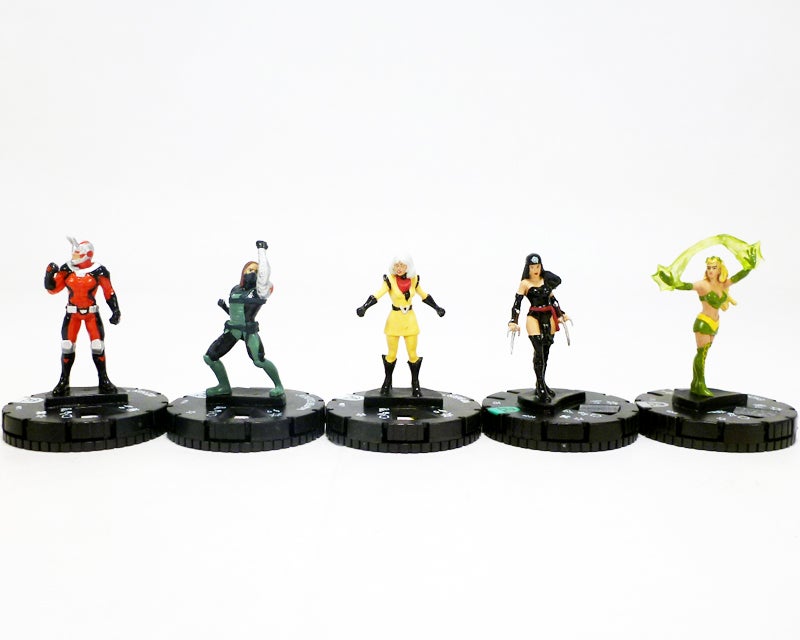 Booster 1
011 Ant-Man
016 Winter Soldier
017 Voyager
020 Elektra
046 Enchantress
Okay, first booster and there's already a lot to talk about. Surprisingly, we didn't pull any Wakandans here! We did, however, find our first Elder of the Universe with Voyager, a heroic Avengers ally. She's joined by a fun new Scott Lang Ant-Man (while this set is entirely comic book based you will see some characters that might have been included because they're also playing a part in the Marvel Cinematic Universe these days), a Winter Soldier from his brainwashed Hydra days, and the Asgardian Enchantress who has been a part of the Illuminati. A really fun addition here is Elektra with the Shifting Focus trait! This means we'll be seeing multiple versions of her in this set, all with the same point cost but different dials. This uncommon version is from her stint with the Thunderbolts and focuses on short ranged fighting.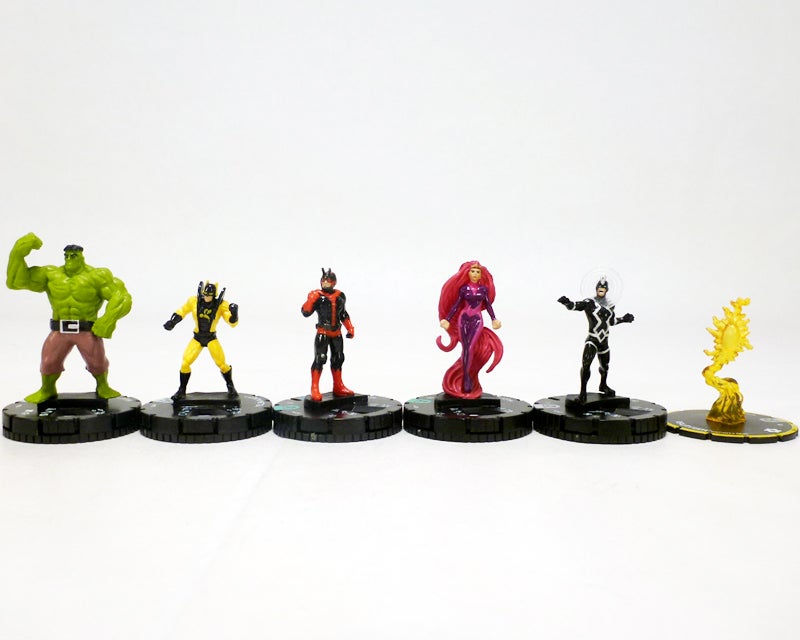 Booster 2
014 Hulk
015 Yellowjacket
028 Black Ant
030 Medusa
042 Black Bolt
s001 Reality Gem
Once again we're light on Black Panther-related figures in booster #2, but we're seeing a lot more of the other sub-themes. Avengers teams have new options with the Hulk and Yellowjacket, and the evil Black Ant is a repaint of the Ant-Man sculpt who plays well with Hydra and Illuminati teams. We get a double dose of Inhumans with Medusa and Black Bolt, the latter featuring traits letting him equip either of two Infinity Gems for a discount; one of them, the Reality Gem, is also included with him in this booster!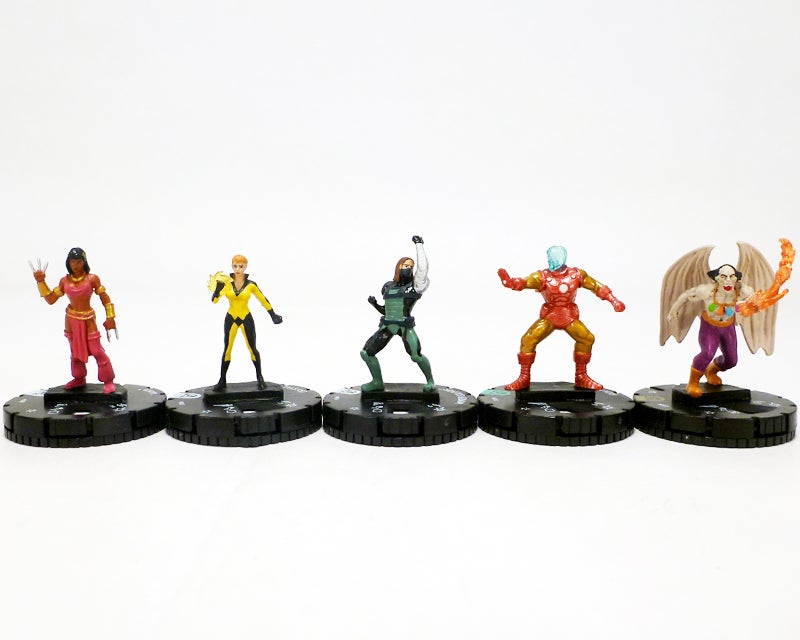 Booster 3
008 Nakia
012 Crystal
016 Winter Soldier
018 Iron Man
057 Rune
Finally, we travel to mysterious and advanced Wakanda with the introduction of Nakia (a character very different in the comics than how she appears in the Black Panther film)! She's joined by the Inhuman Crystal who will go well with our previously pulled Medusa and Black Bolt. An uncommon Iron Man replicates the period when Tony Stark was dead and his virtual reality consciousness inhabited one of his armors. Finally, we've got our first super rare with Rune, a cosmic vampire and wielder of the Infinity Gauntlet appearing in HeroClix for the first time!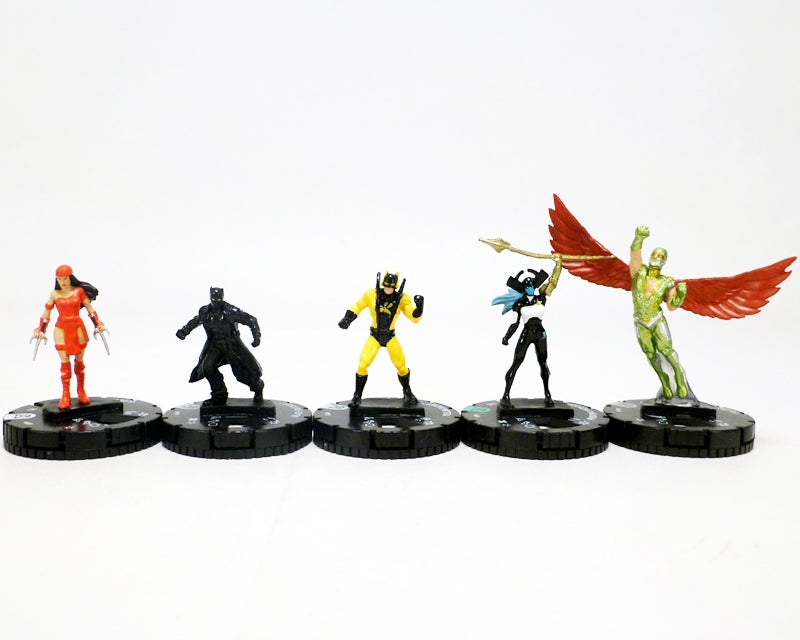 Booster 4
003 Elektra
009 Black Panther
015 Yellowjacket
034 Proxima Midnight
041a Falcon
The common Elektra is a great addition to the previously pulled uncommon version, with this Shifting Focus figure capturing her classic red-clad assassin incarnation. Meanwhile, the common Black Panther is actually Kevin Cole under the mask and trench coat. Thanos' minion Proxima Midnight returns to HeroClix with her trademark spear and Cull Obsidian trait, while this booster's rare figure is the modern Joaquin Torres Falcon!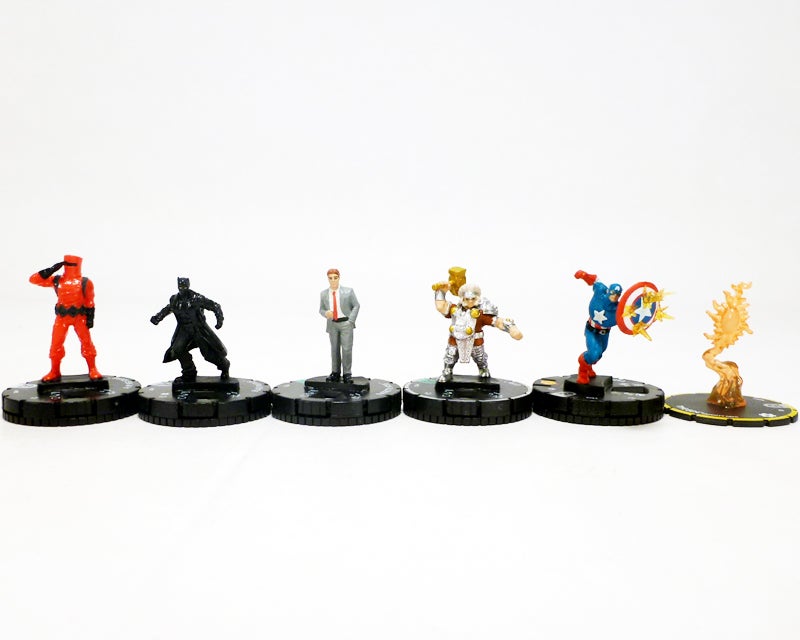 Booster 5
005 A.I.M. Red Squad
009 Black Panther
027 Everett K. Ross
032 Eitri
043 Captain America
s002 Time Gem
When I opened this booster the gem practically popped out at me so I knew there was something cool in here, and I wasn't disappointed. From the previews we knew that Captain America was going to be a chase figure utilizing the Infinity Gauntlet, but the rare here is another version of the hero with access to and abilities that use the Time Gem, so it was awful nice of WizKids to include it with him. He came along with a generic member of the A.I.M. Red Squad (very helpful with either Enhancement and/or Empower), longtime Black Panther ally Everett K. Ross making his HeroClix debut, and the dwarven weaponsmith Eitri.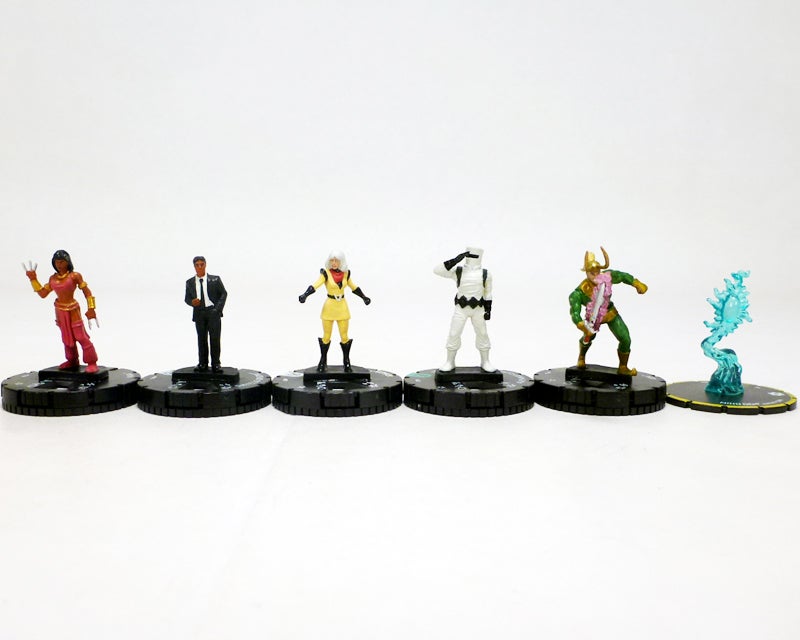 Booster 6
008 Nakia
010 S.H.I.E.L.D. Diplomat
017 Voyager
022 A.I.M. White Squad
054 Loki
s006 Mind Gem
Nakia returns (that'll become ironic in a moment) along with Voyager, but we get two more neat generics here with a helpful S.H.I.E.L.D. Diplomat and an upgraded A.I.M. White Squad member. The real gem here, though is super rare Cabal member Loki wielding the Infinity Sword, and he brings along with him the Mind Gem!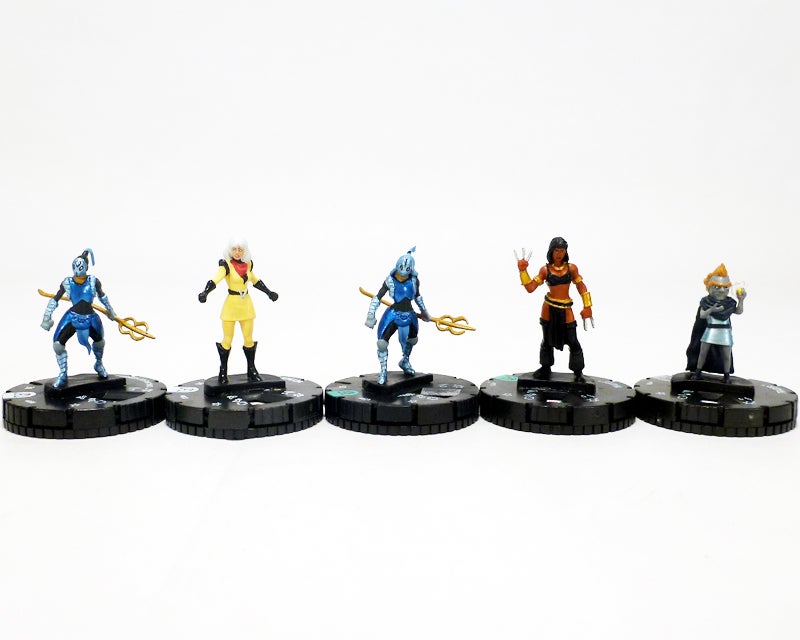 Booster 7
006 Dora Milaje Midnight Angel
017 Voyager
023 Aneka
025 Malice
050 Trader
Here we have our first Wakandan generic, the fierce Dora Milaje Midnight Angel warrior woman, and not to be outdone she came packed alongside the named character version Aneka (differentiated on the figure by her hair)! Also in this booster is Malice, a version of Nakia who has gone through tough times and turned her back on her home country. Finally, this booster's rare figure is the Elder of the Universe Trader, a diminutive, dwarf-like being.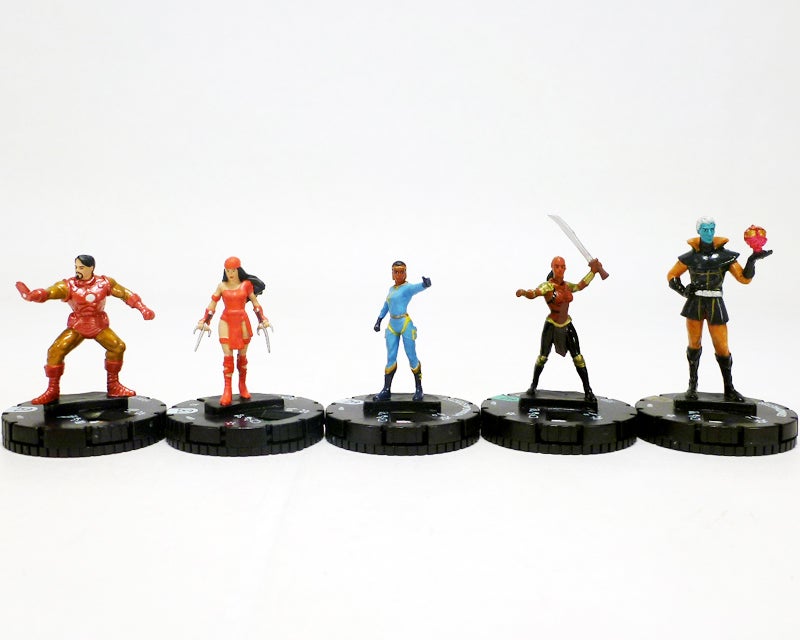 Booster 8
001 Iron Man
003 Elektra
007 Wakandan Scientist
021 Ayo
065 Grandmaster
Booster 8 shares some themes and similarities with the previous, starting with a common Avenger; this time it's a regular version of Tony Stark Iron Man that shares a sculpt with the uncommon but has a solid head. The Wakandan Scientist offers high tech support to her teammates, and you could do far worse than pairing her with the militant Ayo. Finally, another Elder grants us with his presence in the form of the superhumanly tall Grandmaster!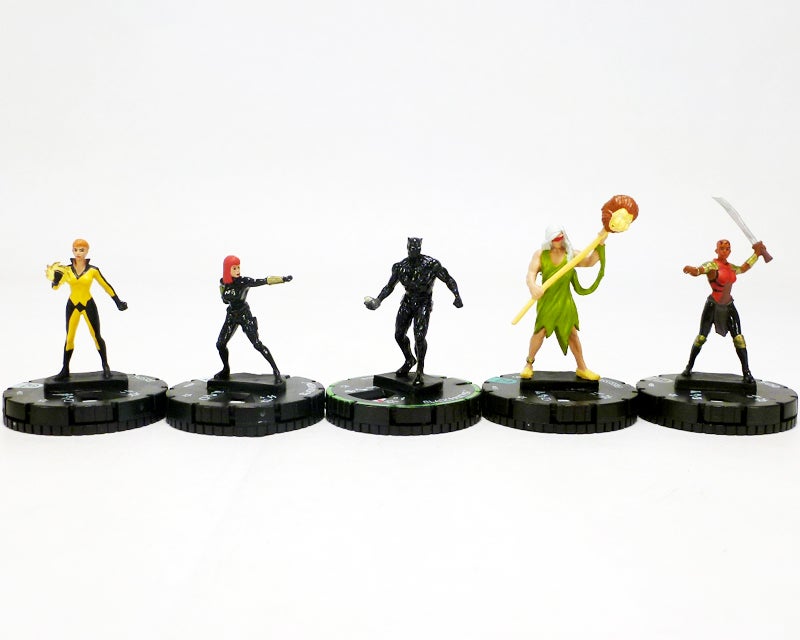 Booster 9
012 Crystal
013a Black Widow
029b Black Panther
033 Possessor
038 Okoye
We were getting close to the end of the brick and hoping for more cool figures, and we were not disappointed in booster #9. The common "a" version of Black Widow is the more familiar Natasha, a cool figure with a ton of great keywords. Among the uncommons here is a "b" meaning we got a prime: Black Panther wielding the power of King Solomon's Frog! Yeah, I had to look up more info on that one. Possessor is an Elder of the Universe and Gem wielder with an interesting look and weapon, and in the rare slot is the Wakandan general Okoye made super famous by the Marvel films!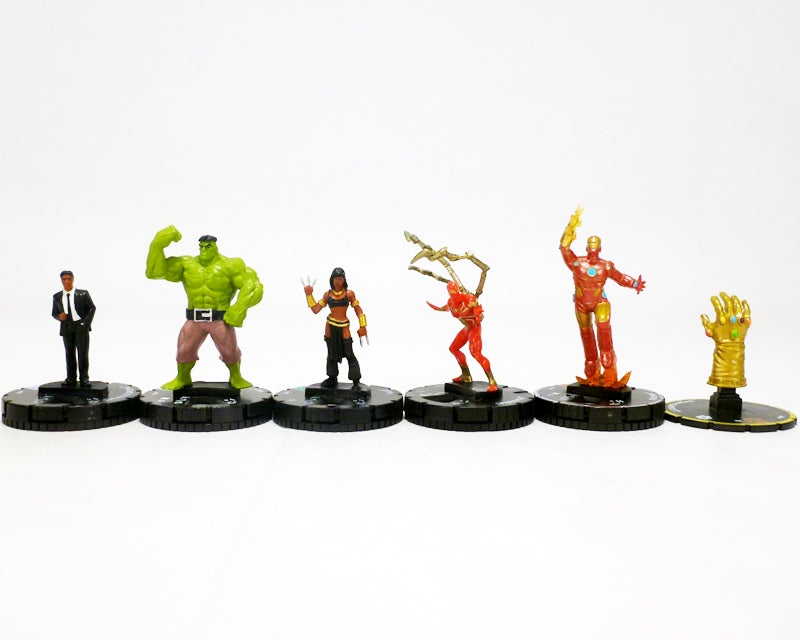 Booster 10
010 S.H.I.E.L.D. Diplomat
014 Hulk
025 Malice
045 Spider-Man
070 Iron Man
s009 Infinity Gauntlet
While the first three figures in this booster are all duplicates, the final slots more than make up for it. First is the rare Spider-Man, Peter Parker in the Iron Spider suit! Again, this is comic book based, but certainly it doesn't hurt that he is currently appearing in major motion pictures. This figure is also really powerful AND features the return of a keyword we haven't seen in a while (Pro-Registration). On top of that, this booster held a chase figure with Iron Man wielding the Infinity Gauntlet! And you can't have that without an actual Infinity Gauntlet equipment piece so that's included as well.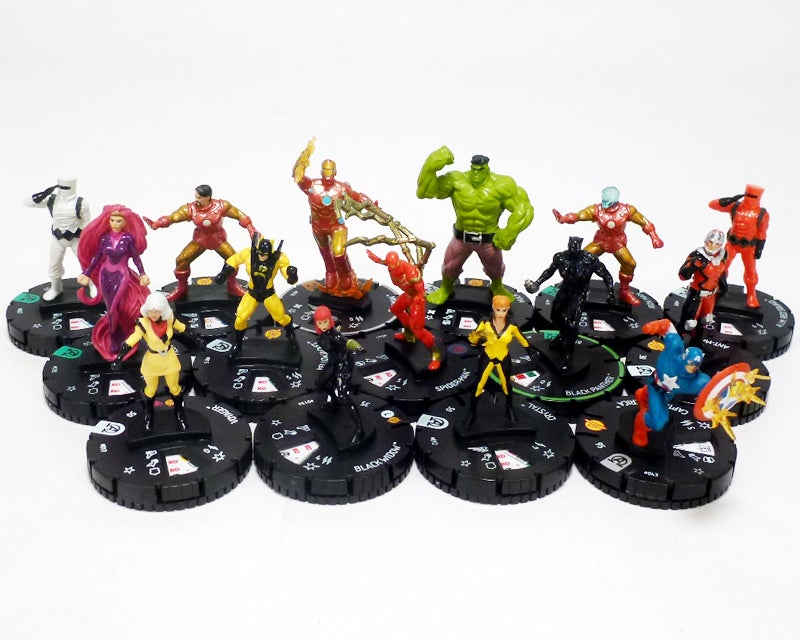 Here's the full breakdown of the figures in this brick (your results will vary of course):
Commons (including duplicates)
001 Iron Man
003 Elektra
005 A.I.M. Red Squad
006 Dora Milaje Midnight Angel
007 Wakandan Scientist
008 Nakia
009 Black Panther
010 S.H.I.E.L.D. Diplomat
011 Ant-Man
012 Crystal
013a Black Widow
014 Hulk
015 Yellowjacket
016 Winter Soldier
017 Voyager
Uncommons (including duplicates)
018 Iron Man
020 Elektra
021 Ayo
022 A.I.M. White Squad
023 Aneka
025 Malice
027 Everett K. Ross
028 Black Ant
029b Black Panther
030 Medusa
032 Eitri
033 Possessor
034 Proxima Midnight
Rares
038 Okoye
041a Falcon
042 Black Bolt
043 Captain America
045 Spider-Man
046 Enchantress
050 Trader
Super Rares
054 Loki
057 Rune
065 Grandmaster
Chase
Special Objects
s001 Reality Gem
s002 Time Gem
s006 Mind Gem
s009 Infinity Gauntlet
Collation in this brick was… interesting. On the positive side we can see that it included a Prime, three super rares, and a chase! On the other hand, this is the first brick I've seen in a while that did not supply a full set of commons (minus the Prime, of course), and it's missing a bunch of uncommons too. It's certainly not the end of the world, and those rarities are usually easily obtainable, but it is odd.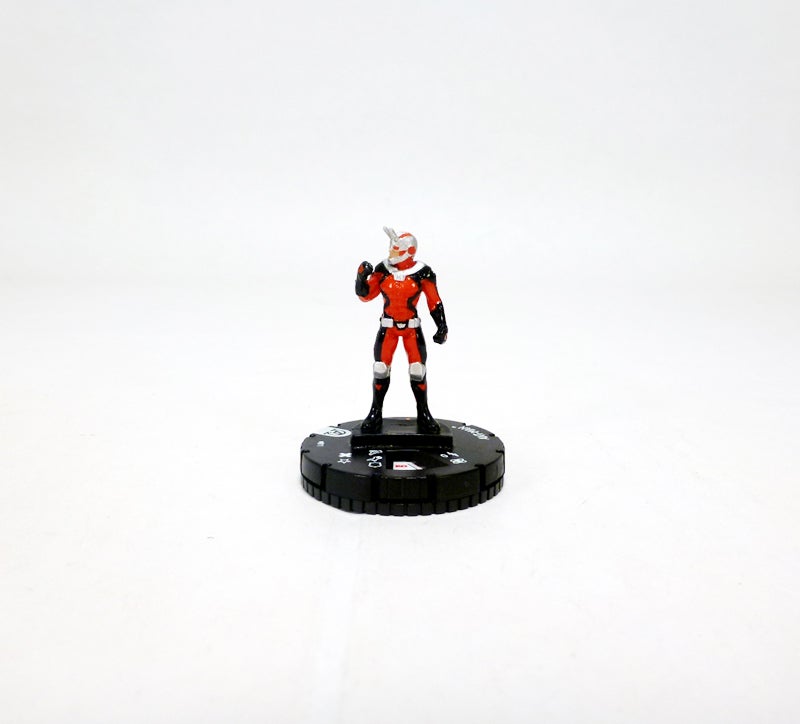 Let's start checking out the commons and how they break down. Starting with the first word of the set's name we've got some new versions of everyone's favorite Avengers with Scott Lang Ant-Man, Natalia Romanova Black Widow (who's also an Infinity Gem wielder), Hulk, and Yellowjacket. Moving on to the Black Panther theme the commons give us the generics Dora Milaje Midnight Angel and Wakandan Scientist plus Nakia and Kevin Cole Black Panther. Finally, the Illuminati begin with Iron Man. Beyond those major theme elements, you've got Voyager from the Elders of the Universe sub-theme, Crystal of the Inhumans, A.I.M. Red Squad and S.H.I.E.L.D. Diplomat generics, Winter Soldier, and the first of a series of Shifting Focus Elektra figures (Hydra/The Hand).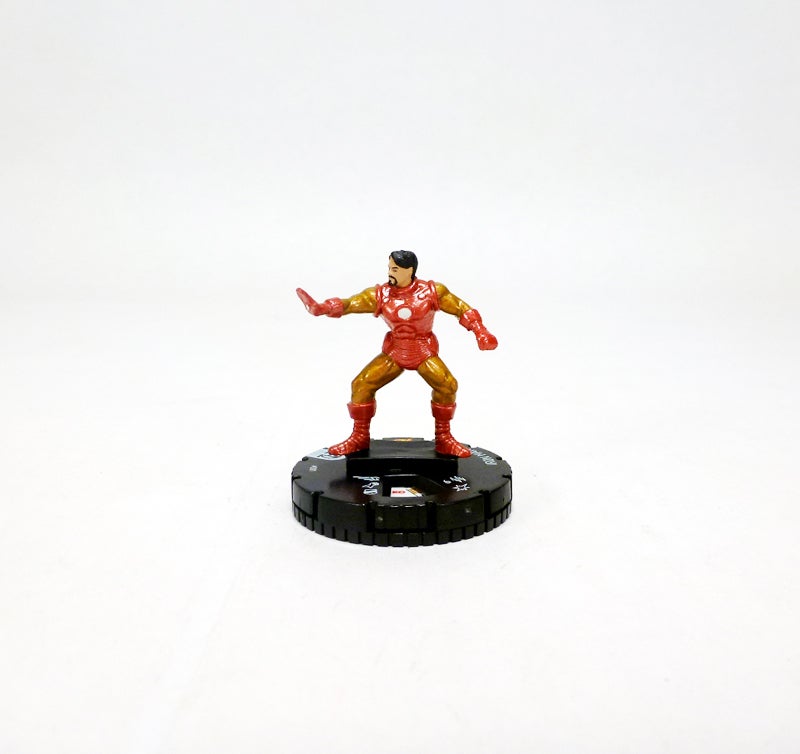 In the uncommons we found mainly continuations of the core themes with the Iron Man inhabited by the A.I. Matrix of Tony Stark, the evil Black Ant and Inhuman Medusa of the Illuminati, another Shifting Focus Elektra (Thunderbolts), and Possessor of the Elders of the Universe. Our Wakandan squad has gained quite a bit of muscle with Aneka in Midnight Angel armor, S.H.I.E.L.D. liaison Everett K. Ross, and T'Challa Black Panther from a specific old comic storyline featuring King Solomon's Frogs, as well as the traitors Ayo and Malice. The uncommons we pulled round out with the generic A.I.M. White Squad member, Asgardian Eitri the dwarf and master crafter, and Proxima Midnight of Thanos' Minions and the Cabal.
We found some of the coolest figures in this set among the rares, and this is also where we start to get the additional equipment items. You want Avengers? Well how about a new Spider-Man in Iron Spider armor? And as noted above, he even comes with the Pro-Registration keyword to give you more options for your Civil War teams. Bridging the themes of Avengers and Illuminati is a Time Gem-wielding Captain America, while on different versions of the shadowy group are Asgardian Enchantress and Inhumans Black Bolt, who comes with the Reality Gem (and can alternatively equip the Space Gem). There was only one Wakandan at this rarity level, but it's the awesome Okoye (also as seen in the MCU) who can even summon War Rhinos! The diminutive Trader is our rare Elder of the Universe; he can start the game with any Infinity Gem and even trade it out for another piece of equipment from an ally. Lastly, among the rares is the new Falcon, Joaquin Torres of the Champions!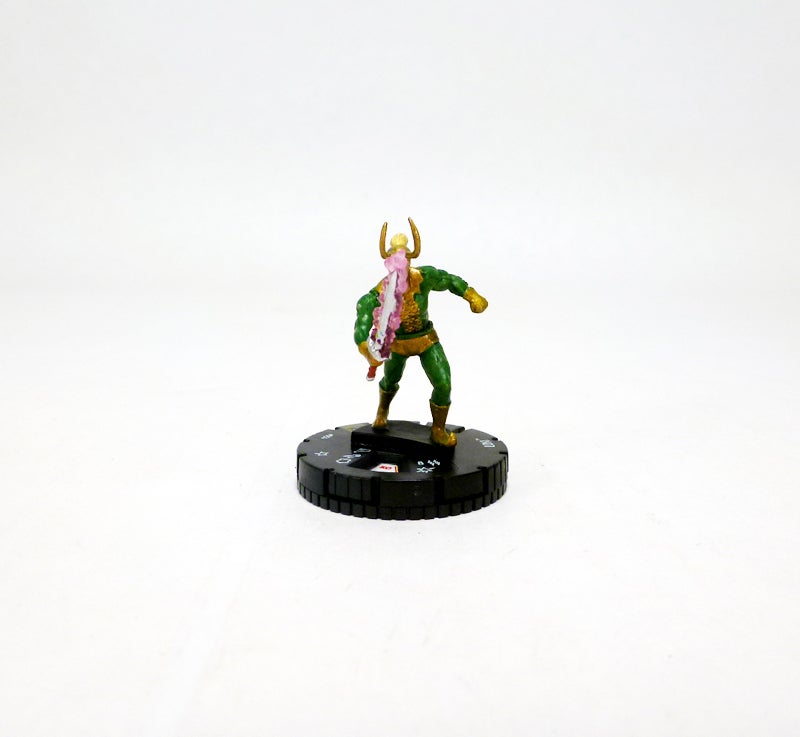 At the highest rarity levels your pulls will be few and far between, so here you'll sometimes lose sight of a set's overall themes. However, among ours ALL of the super rares and chases have to do with the Infinity Gems! First is Loki, the Asgardian god of mischief in his classic look while wielding the Infinity Sword; he can be played utilizing any Gem or Gauntlet from the set, and came with the Mind Gem. Next is Rune, a newcomer to HeroClix. He is a cosmic energy vampire empowered by Star Stones, and he too once wielded the Gauntlet (and can again in HeroClix!). The final super rare we pulled is the Elder of the Universe Grandmaster. It's not the MCU Jeff Goldblum version, but the super tall, blue-skinned comic book form. He has some fun tricks up his sleeve and can wield the Mind Gem. Last, and certainly not least, is the chase we pulled in the form of Iron Man wielding the Infinity Gauntlet! You could play him without the equipment, and he'd still have the Power Cosmic team ability and good stats, but he's so much better with it. And like the other items the Gauntlet can be equipped to any figure if you pay the points to include it.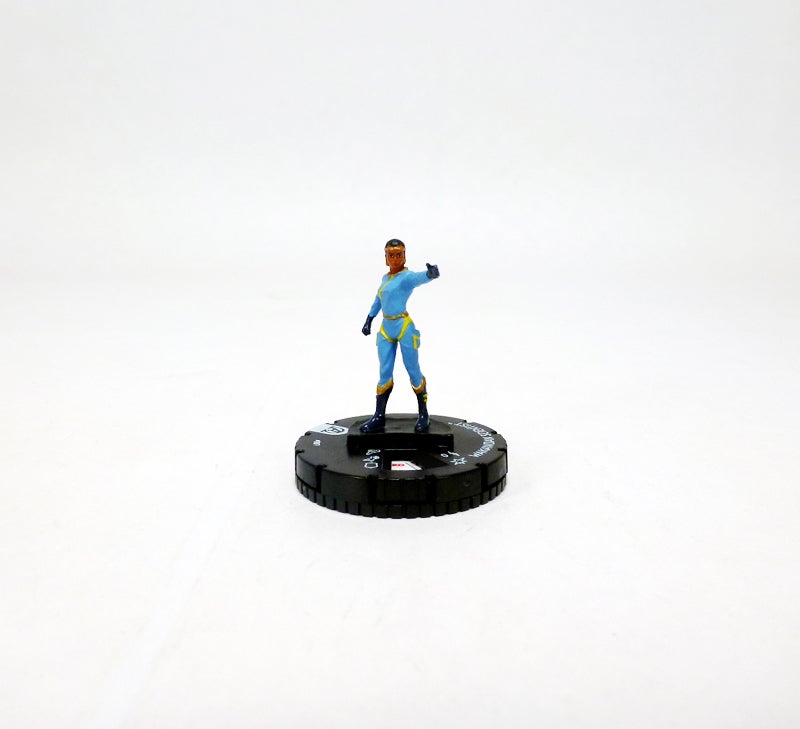 Alright, let's take a closer look at some of my favorite figures from this brick. With these multiple and very varied themes this expansion is full of very different characters. You've got some uniformed soldiers and mooks, colorful superheroes, stealthy characters hiding in shadows, neon aliens, and so much more. First up I'm going to give you some of my favorite sculpts, which include the futuristic Wakandan Scientist whose jumpsuit even includes pockets, Nakia/Malice with flowing cloth and intricate jewelry, the highly detailed armored suit on Ant-Man, common Black Panther rushing forward with his flowing trench coat, Eitri packing a huge amount of detail into a small package, Black Bolt unleashing a voice that shatters mountains, the tiny Trader with his unique alien physiology and spiky hair, Loki rocking the classic horned helmet and charging with Infinity Sword in hand, the sinewy and winged Rune with necklace of Star Stones and energy swipe, and of course the chase Iron Man blasting into the sky with cosmic-boosted armor and the Infinity Gauntlet on his hand.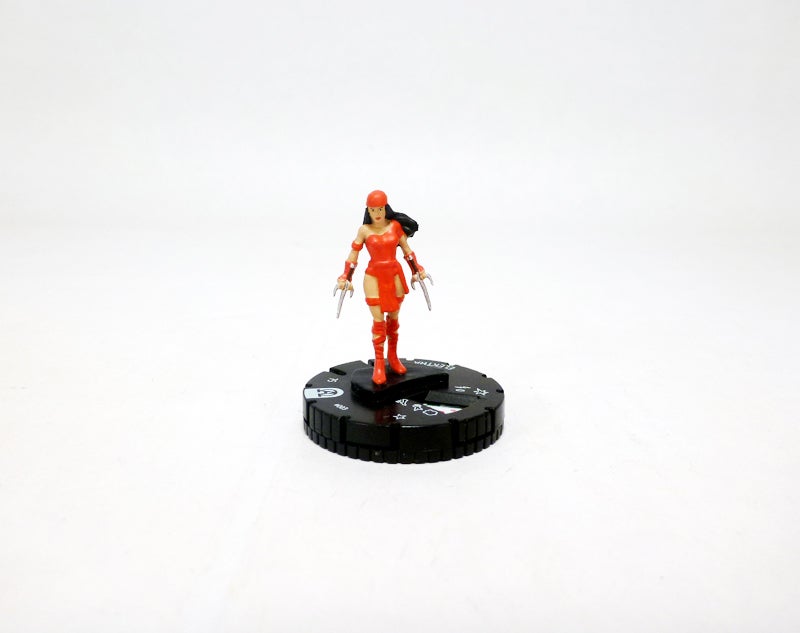 I always love seeing figures replicating classic and simply iconic character poses, and among the best here were the Shifting Focus Elektra figures standing aloof with sais at the ready, the saluting A.I.M. Red and White Squad members with their big goofy helmets, Prime Black Panther capturing the grace of a big cat in his stance, Possessor who seems to see despite being blind, Okoye about to cut her enemies down, Falcon leaping into the air, Captain America charging into battle shield-first, and Grandmaster calmly perusing the prize in his latest challenge. Finally, you can see some excellent sculpted texture work on things like Medusa's hair, the intricate carvings on Eitri's armor, Falcon's wing "feathers," and Captain America's scale armor.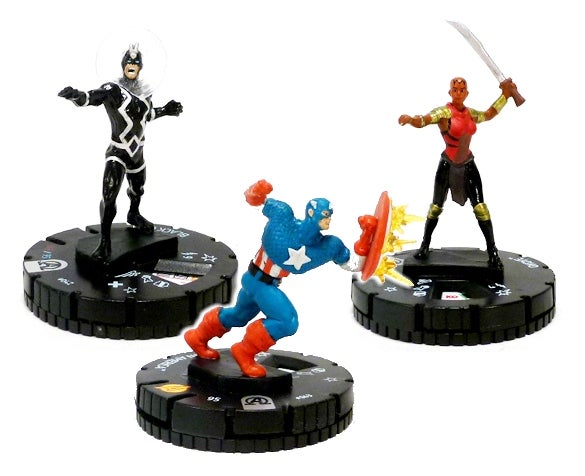 All of these great sculpts are only made better by awesome paint jobs, and Avengers Black Panther and the Illuminati have plenty of those as well. To hit on a few of my favorites, check out the boldly colored armor and perfectly painted face of common Iron Man, the intricate details on the colorful armor of the Dora Milaje Midnight Angel/Aneka, straightforward suits and perfect faces on the S.H.I.E.L.D. Diplomat and Everett K. Ross, Ant-Man's bright and colorful suit with crisp lines, Voyager's eerie, outlined blank eyes, Eitri's shining magnificence, Okoye's multicolored outfit and head details, the striking white designs on Black Bolt's costume, the intense red, white and blue of Captain America and his shield, Spider-Man's eye-catching red and gold, Enchantress with her contrasting green costume and skin tone plus a very well done face, the tiny gem details on Loki's Infinity Sword, the haughty Grandmaster with his perfectly rendered face and unique costume, and the Gauntlet-wielding Iron Man's shiny coloration and details. As usual metallic paints show up on armor, weapons, and the like, and there's plenty of that in this set on figures including all the Iron Men, Elektra, Dora Milaje Midnight Angel/Aneka, Nakia/Malice, Ant-Man, Winter Soldier, Ayo/Okoye, Eitri, Proxima Midnight, Falcon, Spider-Man, Loki, and the Infinity Gauntlet itself. Lastly, translucent plastic in different colors appears on special effects like Crystal's energy halo, uncommon Iron Man's projected head, uncommon Black Panther's magical frog, the voice projection of Black Bolt, reflected bullets bouncing off of Captain America's shield, Enchantress' magic, the halo around Trader's special object, the Infinity Sword's energy on Loki, Rune's cosmic power swipe, Grandmaster's bauble, and chase Iron Man's flight effect and Infinity Gauntlet power! Of course, the special Infinity Gem objects are completely composed of translucent plastic in their respective colors.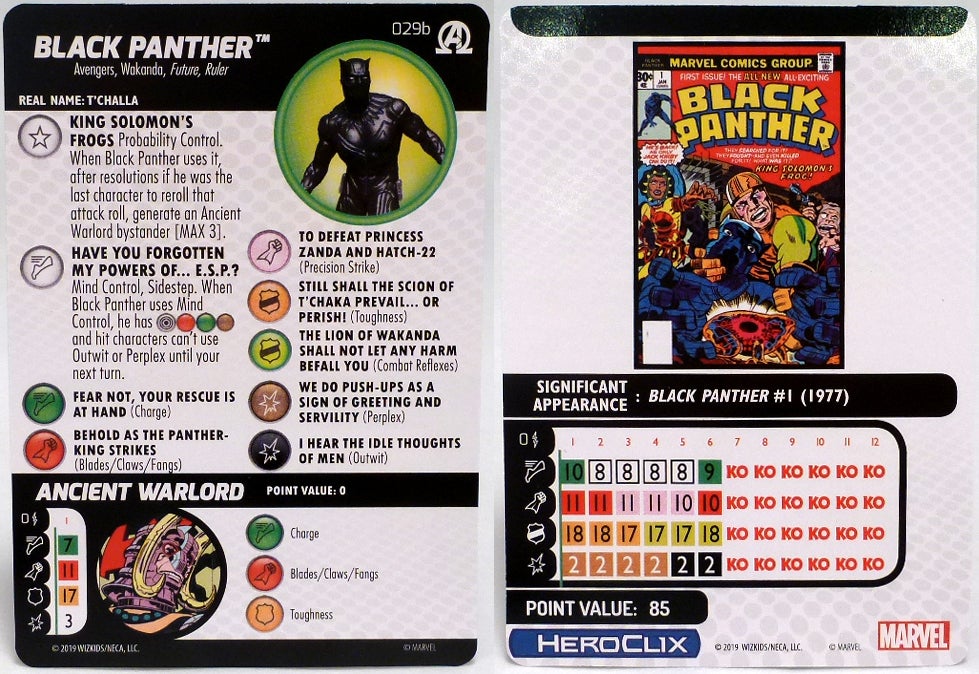 With the pre-release going on right now and all of the previews from WizKids and awesome unboxings from Scott Porter and others I'm not sure if there are any dials as yet unrevealed, but I'll go through a few of the ones that really got me excited, starting with the very interesting uncommon Prime 029b Black Panther. I expected a couple versions of this character in the set, but this was a surprise. He's inspired by a 1977 comic book issue featuring the mystical King Solomon's Frog, and he's equipped with powers and flavor text to represent that. T'Challa is 85 points with Indomitable and a trait that gives him Probability Control and the ability to generate an Ancient Warlord bystander when he's the last figure to trigger a re-roll on an attack (see the discussion of the Dice & Token Pack below for a way to get an Ancient Warlord pog). He starts the game with a fairly standard suite of Black Panther powers: Charge, Blades/Claws/Fangs, Toughness, and Perplex, but it's on the second click when things get weird. The special movement power "Have You Forgotten My Powers Of… E.S.P.?" give him Sidestep and Mind Control with the added bonus that he can use it ignoring elevated, hindering, and blocking terrain AND hit characters can't use Outwit or Perplex for a turn! Mid-dial T'Challa picks up Precision Strike and Combat Reflexes before ending strong with the return of Charge and Blades/Claws/Fangs along with Outwit.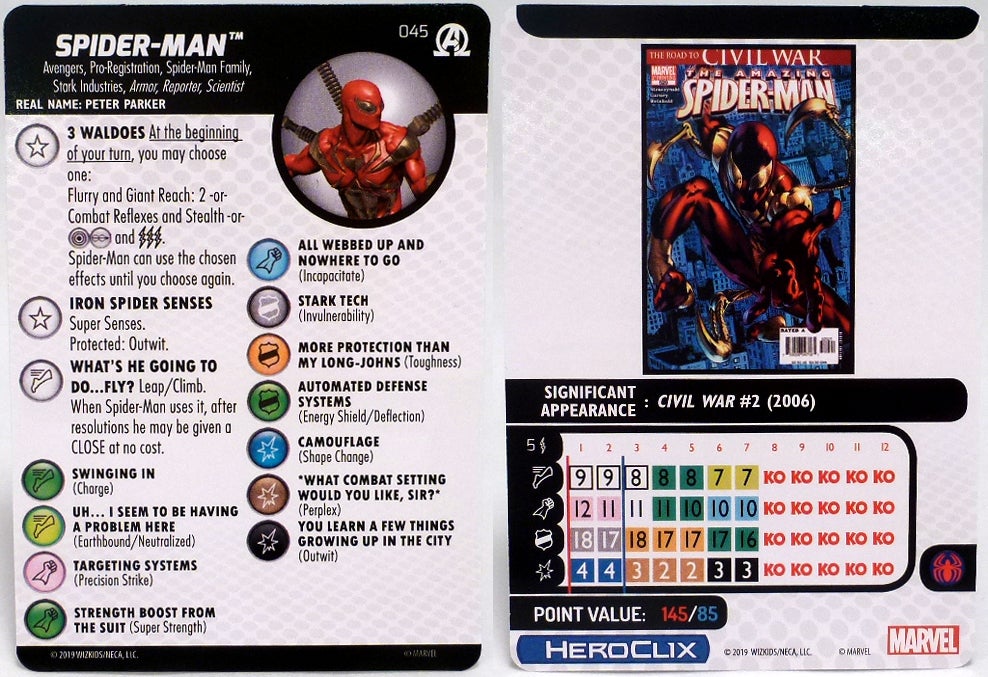 Into the rares swings 045 Spider-Man, and he's not messing around. This is Peter Parker with the Iron Spider suit from the 2006 Civil War storyline, with a hefty 145 point dial packed with Indomitable, a 5 range, the Spider-Man Ally team ability, one trait giving him Pulse Wave protected Super Senses, and a second letting you choose one each turn: Flurry and Giant Reach: 2, Combat Reflexes and Stealth, or three targets and Improved Targeting letting him shoot while adjacent to enemies. He starts with a massive 12 attack and 4 damage with Leap/Climb that lets him make a CLOSE attack at the end of a move, Precision Strike, Invulnerability, and Shape Change. Now that's a Spider-Man. Two clicks in (at his 85 point starting line) he switches to Toughness and Perplex, while later his dial features Charge and Super Strength before the suit craps out on the end-dial and he has Earthbound/Neutralized, Incapacitate, Energy Shield/Deflection, and Outwit. Of particular note are Spider-Man's plethora of great keywords: Avengers, Spider-Man Family, Stark Industries, Armor, Reporter, Scientist, and Pro-Registration which we haven't seen since the Civil War Storyline OP event and the Superior Foes of Spider-Man set!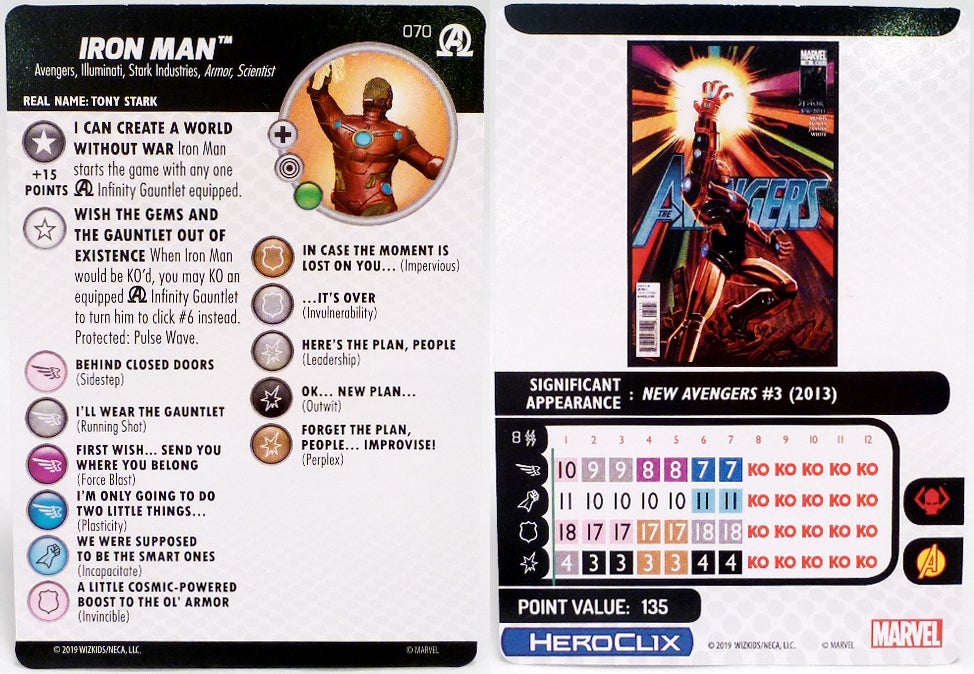 Of course we need to check out our chase, 070 Iron Man with the Infinity Gauntlet! He's "only" 135 points with dual Power Cosmic and Avengers team abilities, an 8 range with double targets, Flight, the option to equip any of this set's Infinity Gauntlets for half price, and a trait that lets him return to life when he's KO'd with a Gauntlet (and he loses it). Beyond that his dial is strictly standard powers, starting with Sidestep, Invincible, and Leadership before cycling through Running Shot and Outwit, Force Blast, Impervious, and Perplex, and finally Plasticity, Incapacitate, Invulnerability, and Outwit again. Keep in mind that he has Power Cosmic to protect all of these powers, and with a Gauntlet (bumping him to only 150 points) the sky's the limit. For a budget cost this Iron Man can do a lot and be a lot of fun.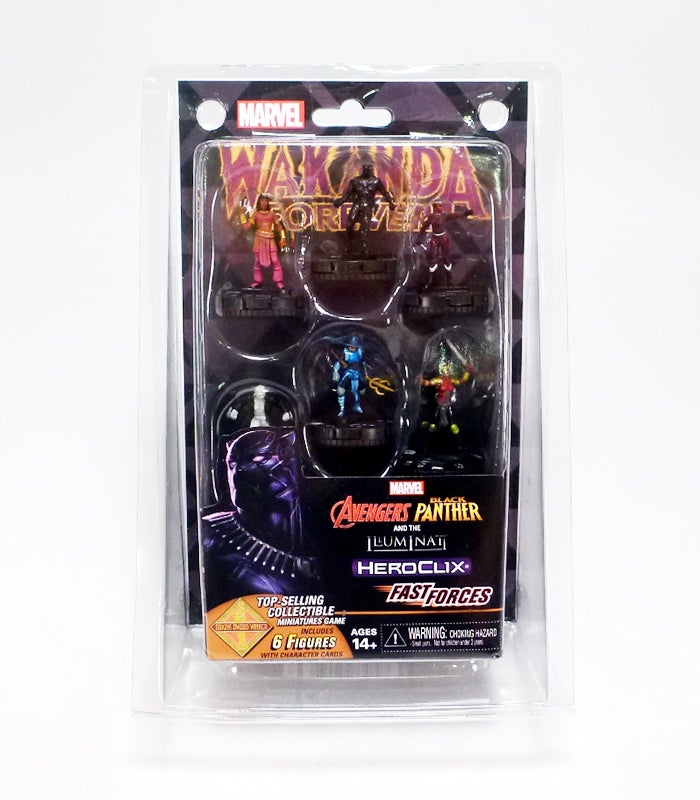 As always, WizKids has several additional items coming out alongside the main booster set for you to fill out your collection, give you more options for playing favorite characters, and just to outfit your games with cool stuff. First off is the Avengers Black Panther and the Illuminati Fast Forces pack! It comes with six Wakandan heroes sharing sculpts with figures in the main set, but with unique dials and point costs that make team building easy and quick. You can even play teams right out of this pack!
Included are Nakia, Ayo, Shuri, Kevin Cole White Tiger, T'Challa Black Panther, and Okoye. The really cool thing is that each and every one of them can be played at 50 points, or you can run all but Shuri and Nakia at 75 points. So, in a 300 point game you can play all 6 together, or you can play the foursome with slightly more powerful versions. Of course, these figures also do great mixed and matched with their counterparts from the main booster set as well as other Wakandans and Avengers you already have. Each one of these figures also comes with a trait that buffs all friendly Wakanda figures so long as they're closer to your starting area than any enemy's; each one offers a different bonus that adds +1 to a stat or an additional target for ranged attacks! Beyond that they all have Improved Movement except for Shuri and White Tiger, and everyone except for Kevin has a special power giving them even more versatility and options. I really like Shuri's "Study Your Enemies" power that gives her Perplex with the option to modify an enemy's attack or defense by -2, and Okoye's "The Dora Milaje Are First To Fight" that gives her Charge without halving her speed.
Black Panther fans can also pick up something to make their HeroClix games even more personalized and cool with the Avengers Black Panther and the Illuminati Dice & Token Pack! It has six black and white poker chip-style action tokens featuring artwork of Black Panther, Nakia, Man-Ape, Killmonger, Shuri, and Okoye. Even better, on the reverse sides of the chips are tokens for bystanders generated by figures in this set: Redwing (x2), Ancient Warlord, Living Hair, Artificial Being, and War Rhino. Meanwhile, the dice in this pack are matching black with white pips and a Black Panther logo on the six sides.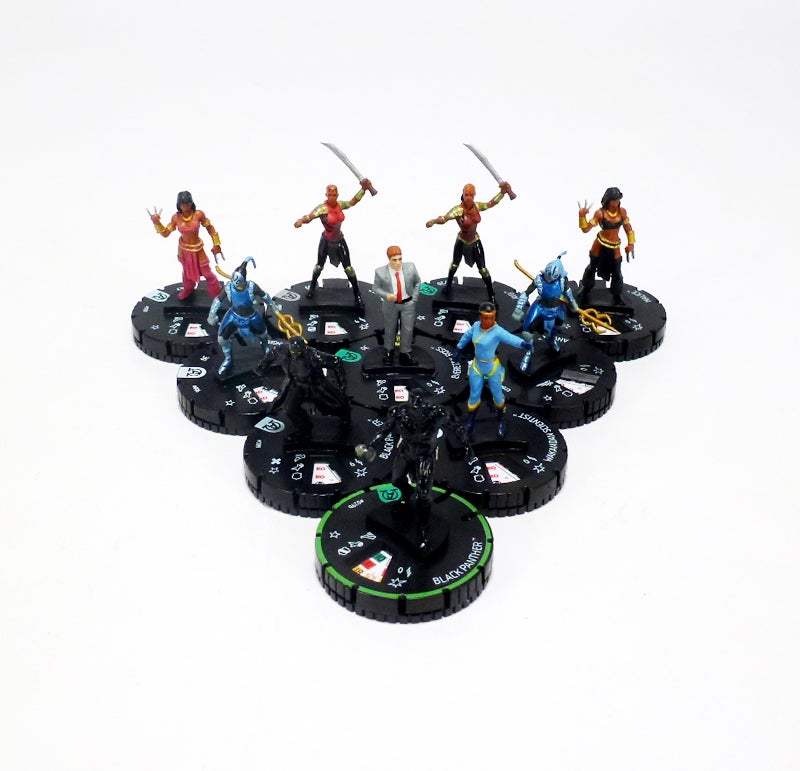 Hopefully you enjoyed this peek into the Avengers Black Panther and the Illuminati HeroClix set! From what we've seen here this expansion has a ton of fun and interesting figures, which isn't a huge surprise since the themes involved are all super cool. The Wakandan characters are great and offer really unique sculpts, while the Illuminati and Infinity Gem bearers combine powerful Elders of the Universe with souped up heroes and villains. Add to that extremely useful Shifting Focus Elektra figures, comic book versions of popular characters seen in the MCU, equipment, and even more. Whether you're new to HeroClix, a veteran player, or just a collector, this set certainly has something for you and you should check it out. Check to see if your local venue is participating in the pre-release program going on right now on the WizKids Info Network, or find the boosters (along with the Fast Forces and Dice & Token Pack) on sale June 5th. Good luck with your pulls!
Click here to check out a photo gallery of all the figures from this brick.
Visit HeroClix.com for even more info as well as downloads of rules and maps, and stay tuned to Figures.com as we continue our reviews of new HeroClix!
Review and photos by Scott Rubin.
Review samples courtesy of WizKids Games.
BOOSTERS
FAST FORCES
DICE/TOKEN
---
Keep up with all the latest toy news by following Figures.com on Facebook and Twitter!
To buy action figures, take a look at Hobby Link Japan, BigBadToyStore.com, TheToySource.com, Toynk.com, and BriansToys.com.