Review and photos by Scott Rubin
This week HeroClix triumphantly returns to the DC universe with an expansion set that blew everyone away when it was first announced last year. The superhero miniatures game is mostly based on characters from comic books, with films and TV shows making appearances as well. But now, players and collectors can get their hands on HeroClix figures based on one of the most popular animated superhero adventures of all time; that's right, this is DC HeroClix Batman: The Animated Series! Debuting in 1992, this cartoon captured the Dark Knight's adventures in Gotham City in a way no one had ever seen on television before, with dark and gritty stories and colorful villains (including the introduction of Harley Quinn). It also paved the way for subsequent animated series like The New Batman Adventures, Superman: The Animated Series, Batman Beyond, Justice League Unlimited, and more. Now all of the best characters and moments from B:TAS are at your fingertips for the HeroClix battlefield, and the set also branches out into other animated gems: Justice League Unlimited, Batman Beyond, and even the classic Super Friends! You can start your Batman: The Animated Series HeroClix collection with special pre-release events going on at participating venues now, or everywhere when the set officially releases on July 18th.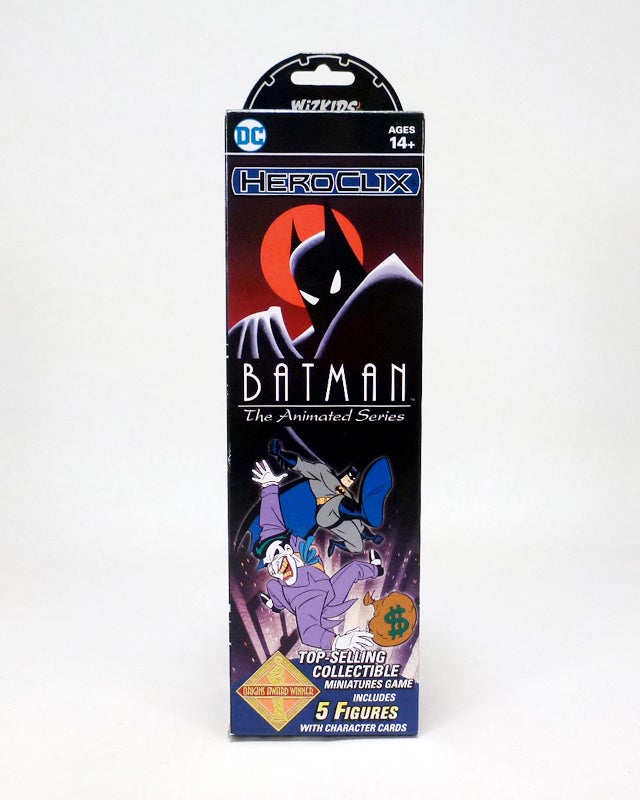 It's certainly easy to spot these new releases on store shelves, after all it's the only HeroClix with Batman: The Animated Series art all over it! The booster boxes have the show's logo on the front along with an awesome shot of Batman kicking the Joker (who's dropping a good old-fashioned bag with a dollar sign on it).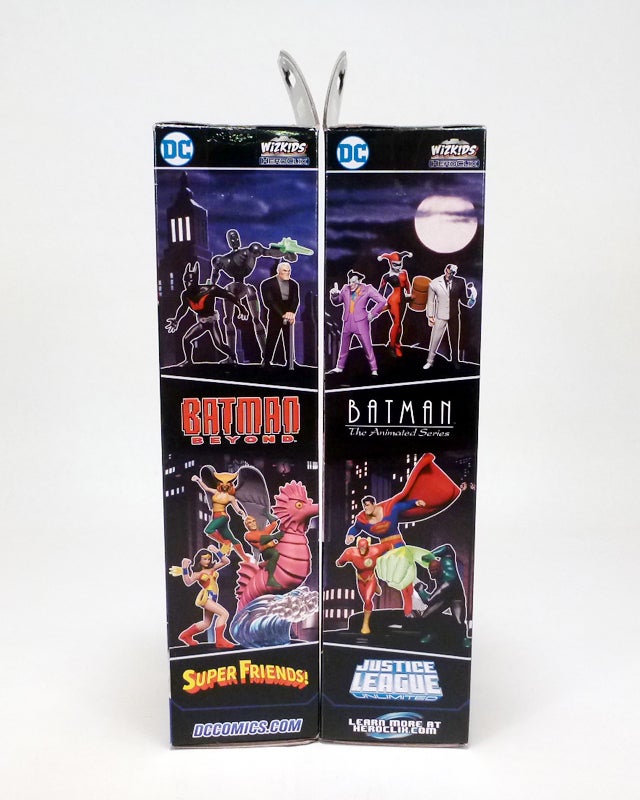 The back panel directs you to learn more about the game and special events at the WizKids Info Network while also advertising the accompanying B:TAS Starter Set (read below for a look at that too). And as usual both side panels show off 3D renders of figures in the set. They've got Batman Beyond (Terry McGinnis, Bruce Wayne, Zeta), Super Friends (Wonder Woman, Hawkgirl, Aquaman), Batman: the Animated Series (the Joker, Harley Quinn, Two-Face), and Justice League Unlimited (Superman, Flash, Green Lantern).
This time around we're going to leave the unboxing videos to the professionals like Scott Porter and get right to what we do best: awesome photography! Check out the contents of each booster, then keep reading for tons more info and a full photo gallery of all the Batman: The Animated Series HeroClix figures we pulled.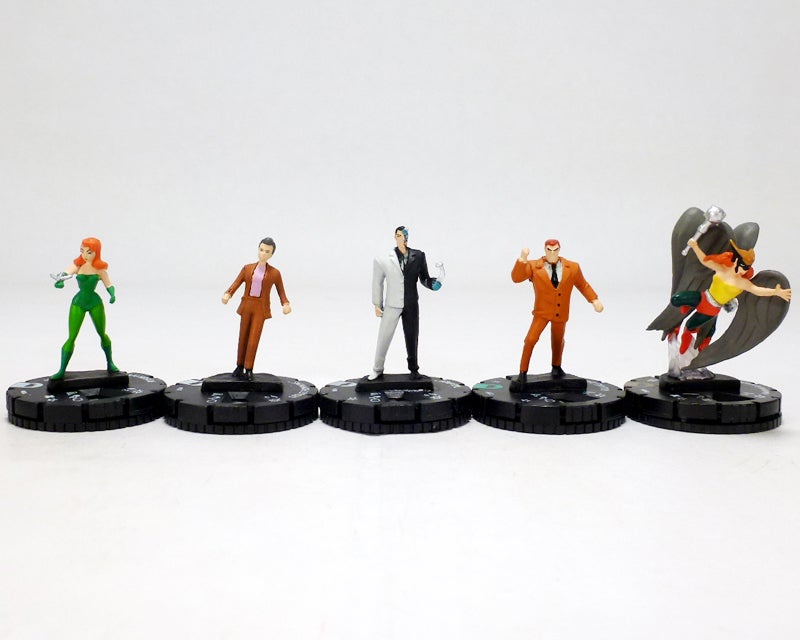 Booster 1
004 Poison Ivy
007 Leslie Thompkins
008 Two-Face
032 Roland Daggett
060 Hawkman & Hawkgirl
Our very first booster and we've got a super rare! But let's back up. Right off the bat we see some great B:TAS villains with common Poison Ivy and Two-Face, plus the despicable crime boss Roland Daggett in the uncommon slot. It's not all "bad," though, with the friendly face of Batman ally Dr. Leslie Thompkins as the other common and then of course the epic super rare duo of Hawkman & Hawkgirl from Justice League Unlimited. I'll talk about it more below but even from this very first pack you can really see the cartoon influences in these sculpts and color schemes.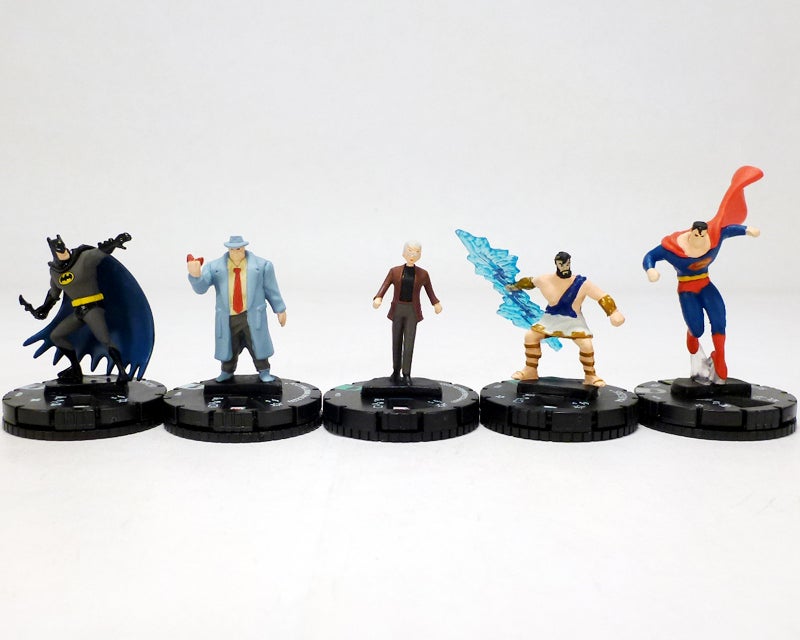 Booster 2
001a Batman
012 Detective Harvey Bullock
020 Commissioner Barbara Gordon
025 Maxie Zeus
036 Superman
It took two packs but we've finally seen our first Batman figure, appropriately positioned in the #001a slot (meaning there's a "b" Prime version that could be another Batman or someone else looking like him). He's backed up by the very large GCPD Detective Harvey Bullock (eating a donut no less!), future Commissioner Barbara Gordon from Batman Beyond, and a high-flying Justice League Unlimited Superman in the rare slot. Stuck in there is also the delusional Olympian Maxie Zeus looking to cause trouble.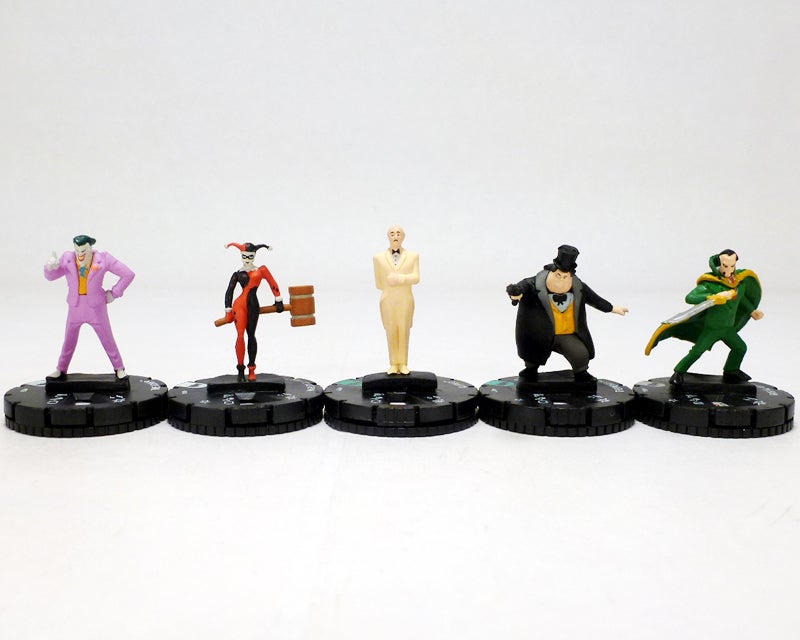 Booster 3
003 The Joker
014 Harley Quinn
019 Alfred
027 The Penguin
034 Ra's al Ghul
A mirror image of the last pack, booster #3 is all bad guys except for one shining beacon of goodness: the uncommon Wayne family butler Alfred Pennyworth in a delicious cream-colored suit. Here is both Harley Quinn and her puddin' the Joker along with Gotham crime boss the Penguin and the rare League of Shadows mastermind Ra's al Ghul.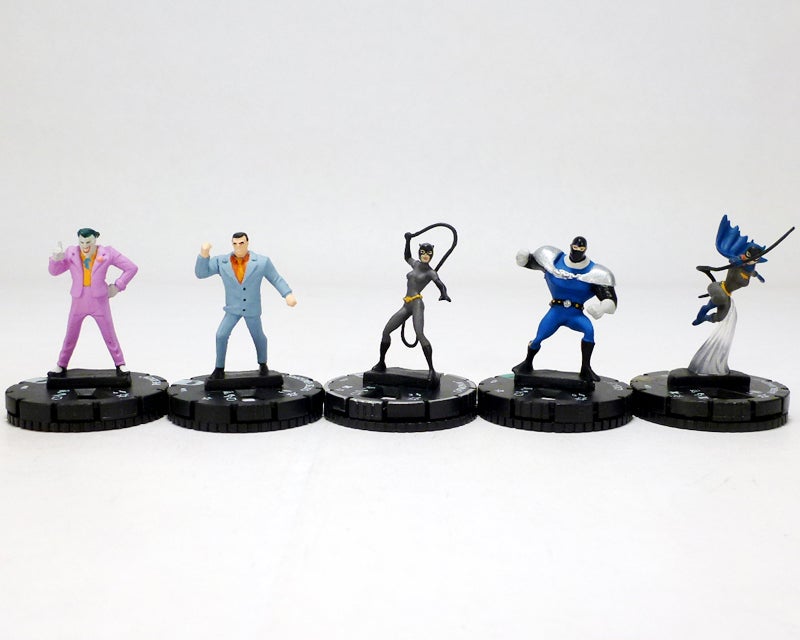 Booster 4
003 The Joker
005 Suited Henchman
013 Catwoman
024 Lock-Up
052 Batgirl, Shadow of the Bat
The Clown Prince of Crime shows up again in booster #4 and has a generic Suited Henchman for back up, while Catwoman and Lock-Up provide some ambiguous sometime heroes/sometime villains. And in the super rare slot is a Title Character with the dynamic Batgirl, Shadow of the Bat!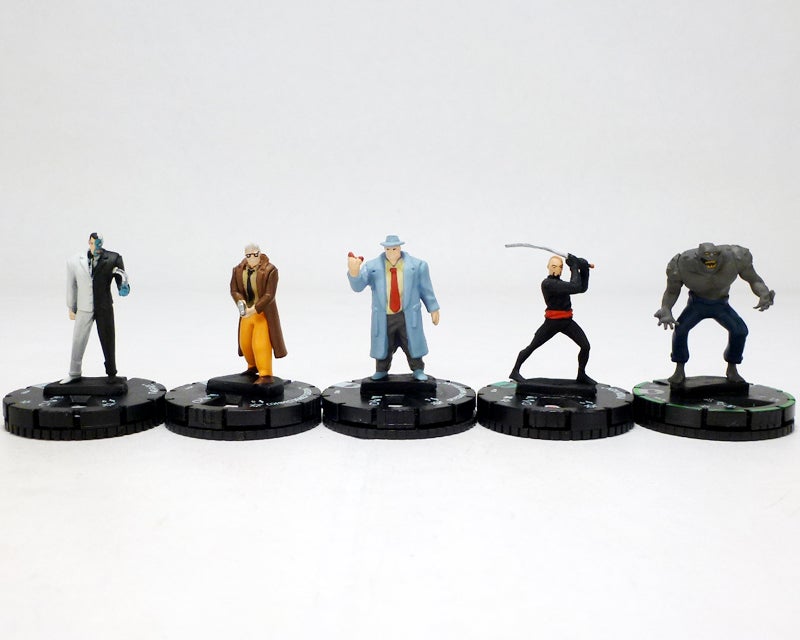 Booster 5
008 Two-Face
011 Commissioner Gordon
012 Detective Harvey Bullock
023 Kyodai Ken
047b Batman
Two-Face may be teaming up with the martial artist Kyodai Ken who has a grudge against Bruce Wayne, but GCPD Detective Harvey Bullock and Commissioner Gordon are on the case. When I opened this pack I thought I had pulled Killer Croc… but this is the Prime and it's actually Batman in disguise from the awesome episode "Almost Got 'Im!"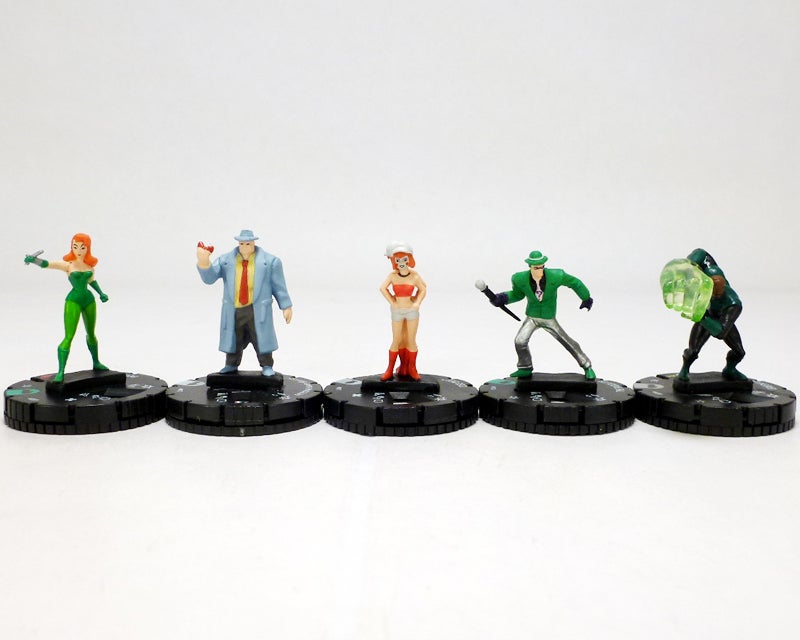 Booster 6
012 Detective Harvey Bullock
015 Dee Dee
017a The Riddler
031 Poison Ivy
039 Green Lantern
After another Bullock is the double punch of Dee Dee from Batman Beyond and the endlessly frustrating Riddler. Poison Ivy shows up with a second version (this time uncommon), and in the rare slot is another Justice League Unlimited hero with Green Lantern John Stewart!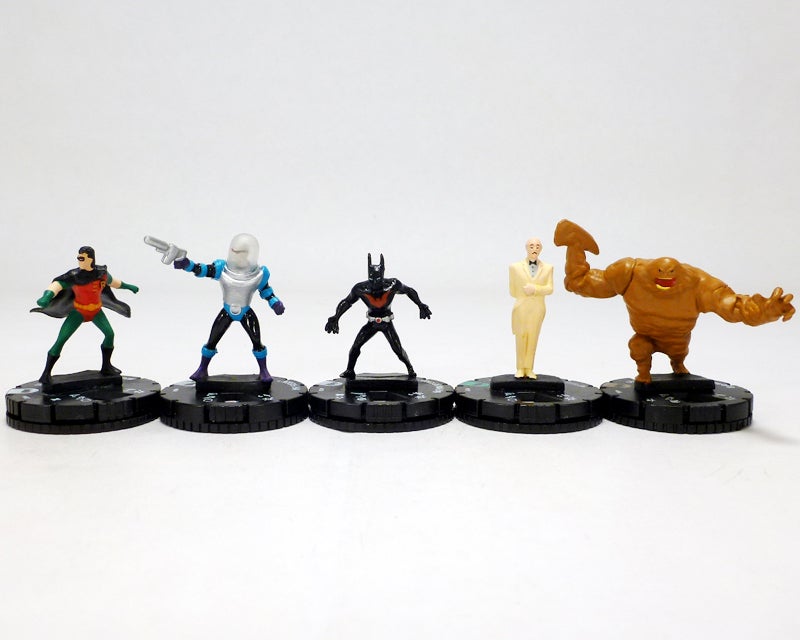 Booster 7
002 Robin
009 Mr. Freeze
016 Batman Beyond
019 Alfred
056 Clayface
Now this is a cool pack. The Boy Wonder kicks things off and brings along Batman Beyond and uncommon Alfred for back up. On the other side of the law is common Mr. Freeze joined by the hulking and terrifying super rare Clayface!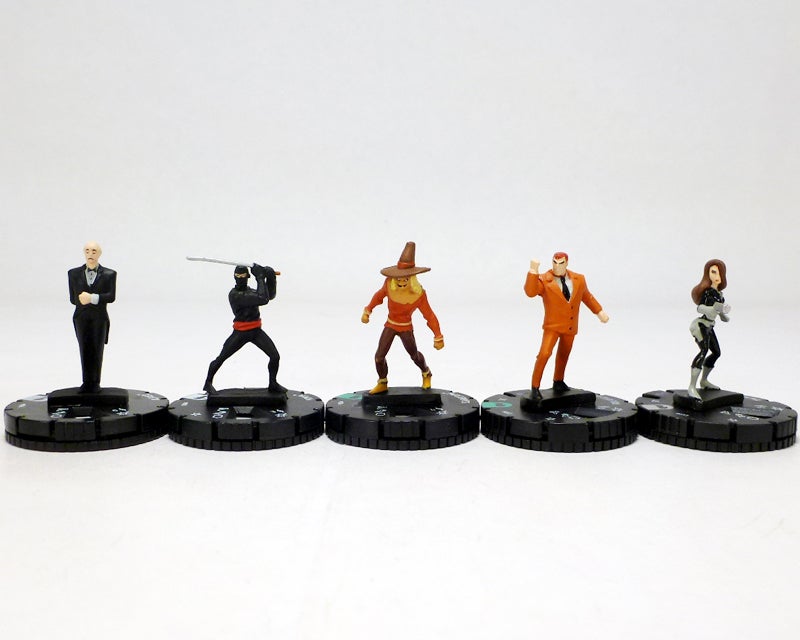 Booster 8
006 Alfred
010 Ninja
026 Scarecrow
032 Roland Daggett
033 Talia al Ghul
Common Alfred here doesn't stand a chance in a booster full of baddies, starting with the common generic Ninja and going up the ranks to a freaky Scarecrow, crime boss Roland Daggett, and the rare Talia al Ghul, daughter of Ra's.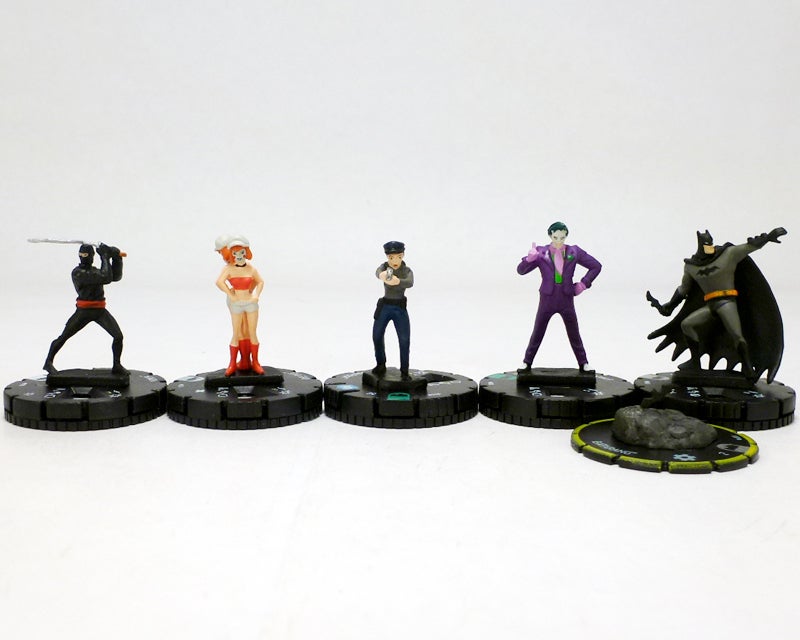 Booster 9
010 Ninja
015 Dee Dee
018 Renee Montoya
030 J-Man
040 Batman
S001 Batarang
Another Ninja sneaks into booster #9 along with our second Dee Dee (which is great since you need at least two). The future villain J-Man is here to boss around Dee Dee, while from B:TAS proper is GCPD detective Renee Montoya. There's a rare Batman here who comes from the New Batman Adventures, and he brings with him the s001 Batarang special object!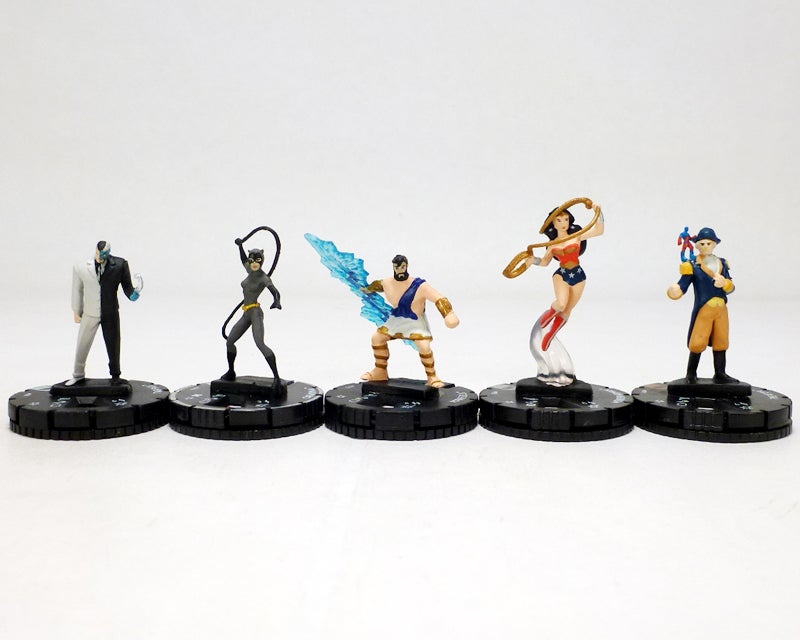 Booster 10
008 Two-Face
013 Catwoman
025 Maxie Zeus
035 Wonder Woman
071 The Atom
I may have saved the best for last… Booster #10 has duplicates of Two-Face, Catwoman, and Maxie Zeus, plus the rare Justice League Unlimited Wonder Woman hurtling through the air with her magic lasso. Last but not least is this brick's chase figure, The Atom from Super Friends!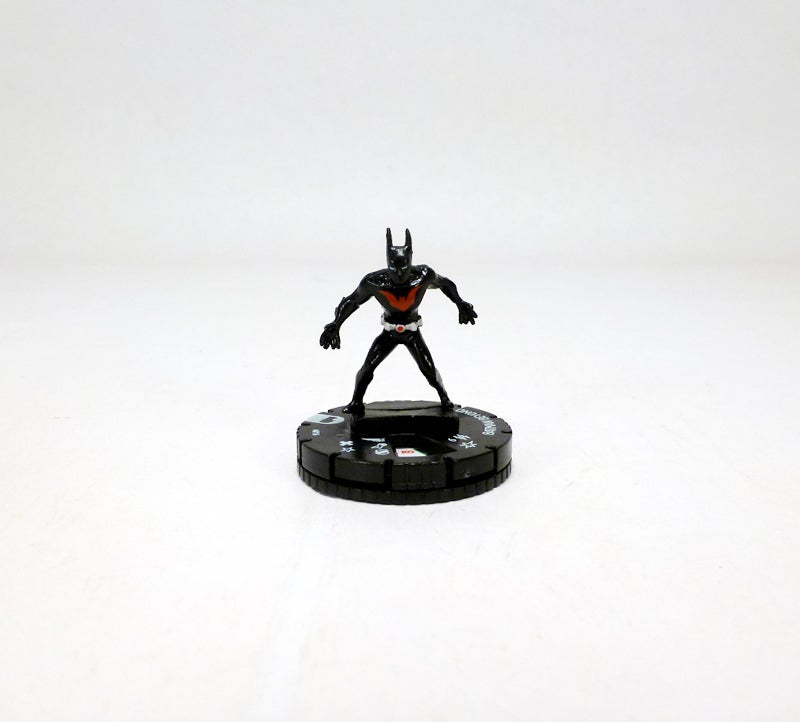 Here's the full breakdown of the figures in this brick (your results will vary of course):
Commons (including duplicates)
001a Batman
002 Robin
003 The Joker
004 Poison Ivy
005 Suited Henchman
006 Alfred
007 Leslie Thompkins
008 Two-Face
009 Mr. Freeze
010 Ninja
011 Commissioner Gordon
012 Detective Harvey Bullock
013 Catwoman
014 Harley Quinn
015 Dee Dee
016 Batman Beyond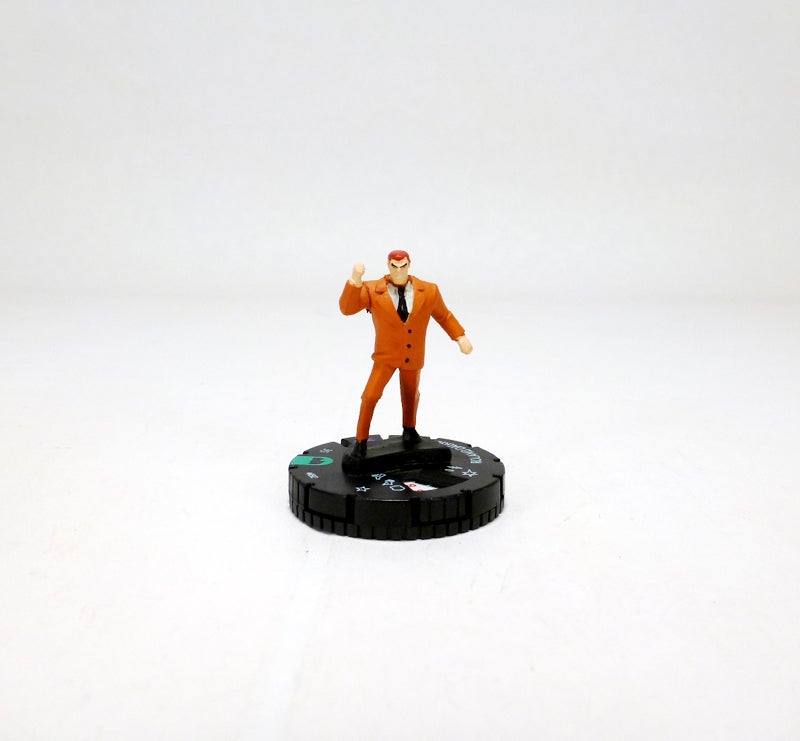 Uncommons (including duplicates)
017a The Riddler
018 Renee Montoya
019 Alfred
020 Commissioner Barbara Gordon
023 Kyodai Ken
024 Lock-Up
025 Maxie Zeus
026 Scarecrow
027 The Penguin
030 J-Man
031 Poison Ivy
032 Roland Daggett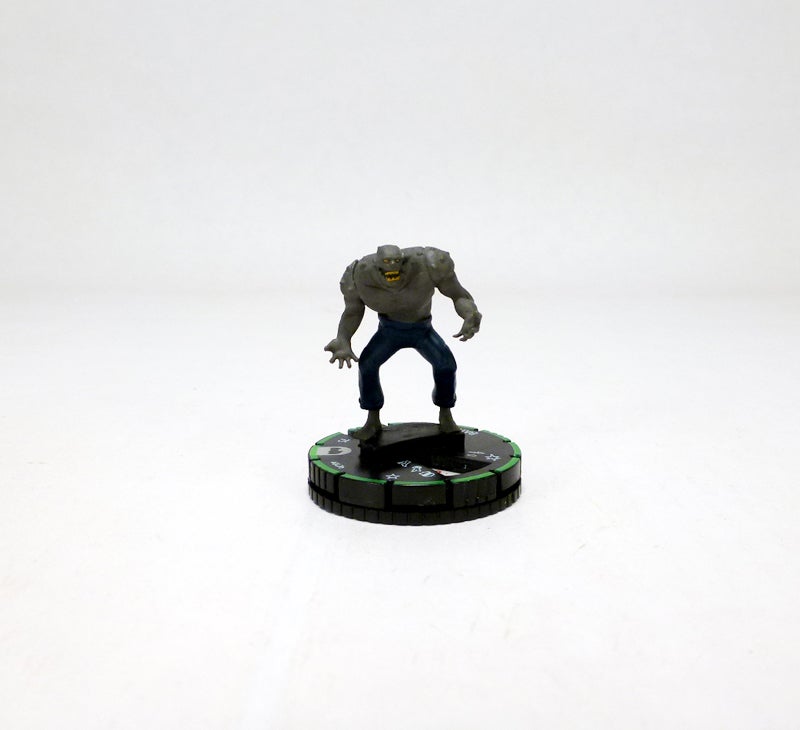 Rares
033 Talia al Ghul
034 Ra's al Ghul
035 Wonder Woman
036 Superman
039 Green Lantern
040 Batman (with s001 Batarang)
047b Batman
Super Rares
052 Batgirl, Shadow of the Bat
056 Clayface
060 Hawkman & Hawkgirl
Chase
Looking at this brick in terms of collation I think we did pretty well. First up, we pulled 16 of 17 commons including the Prime, so that's really as good as you can hope for. They start with the iconic Batman and Robin from B:TAS, and are joined by friends and allies Alfred (black tuxedo), Leslie Thompkins, Commissioner Gordon, and Detective Harvey Bullock, plus the titular Batman Beyond hero. On the other side of the law are common villains the Joker, Poison Ivy, a generic Suited Henchman, Two-Face, Mr. Freeze, generic Ninja, Catwoman, Harley Quinn, and the future Dee Dee. 12 of the 17 uncommons were lurking in this brick, and those feature a few more Gotham City with Renee Montoya, Alfred (in cream), and Batman Beyond's tough as nails Commissioner Barbara Gordon. Villains are more prevalent at this rarity with the Riddler, Kyodai Ken, Lock-Up, Maxie Zeus, Scarecrow, the Penguin, a second version of Poison Ivy, and Roland Daggett, plus Batman Beyond villain J-Man. We pulled 7 of 17 possible figures with the silver rare tab, and here's where things get even more interesting.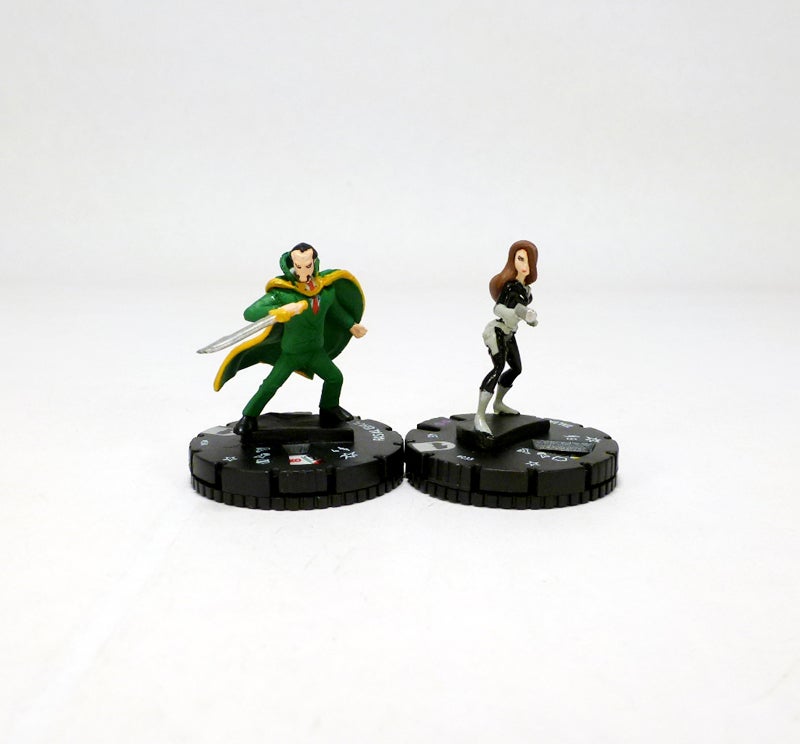 The League of Assassins make a strong showing in this brick with both Ra's and Talia al Ghul here, and also from B:TAS is the rare Prime, Batman in Killer Croc disguise from the episode "Almost Got 'Im." The other rare Batman utilizing the same sculpt as the common is technically from the sequel animation The New Batman Adventures, and he comes with a bonus special object in the form of the iconic Batarang. At this rarity the set expands into another series as well, and we pulled the trio of Wonder Woman, Superman, and Green Lantern from Justice League Unlimited! The three super rares (out of 15) in this brick were a nice mix with B:TAS Batgirl, Shadow of the Bat (a Title Character with all sorts of cool abilities) and the monstrous Clayface, plus the high-flying duo of Hawkman & Hawkgirl from JLU. Lastly we were lucky enough to pull one of the dozen chases for this set, the Atom from Super Friends!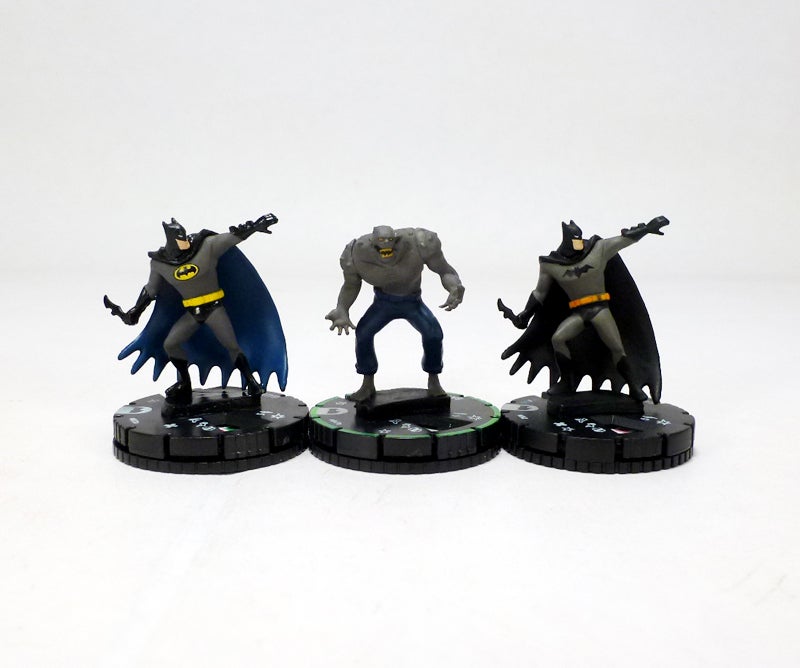 Fans of Batman: the Animated Series know that for its heavy film noir roots it had a lot of colorful and visually interesting characters (especially villains), so I was really excited to see how WizKids brought them to life in HeroClix. As I've noted above, the coolest thing about this set is that you can immediately see the animated inspirations for these characters with their proportions, color, and style. Let's go through a few of my favorite sculpts from this brick. They include the very first and headline figure Batman throwing aside his cape before launching a batarang, Mr. Freeze blasting his freeze gun and wearing a translucent domed helmet, Catwoman on the prowl with her whip flung about, the double fun of the sly Dee Dee girls, JLU Wonder Woman leaping into the air with her Lasso of Truth, the Title Character Batgirl swooping through Gotham on a grapnel line, not one but two great looking flying heroes in the Hawkman & Hawkgirl duo, and the chase figure with a teeny tiny Atom standing on the shoulder of George Washington. Then there are figures whose poses say everything about their characters like the maniacally laughing Joker, the Suited Henchman/Roland Daggett threatening physical violence, future hero Batman Beyond crouching in the shadows, and Ra's al Ghul performing a graceful martial arts move. There's one figure that deserves special mention, and that's the portly Detective Harvey Bullock eating a donut!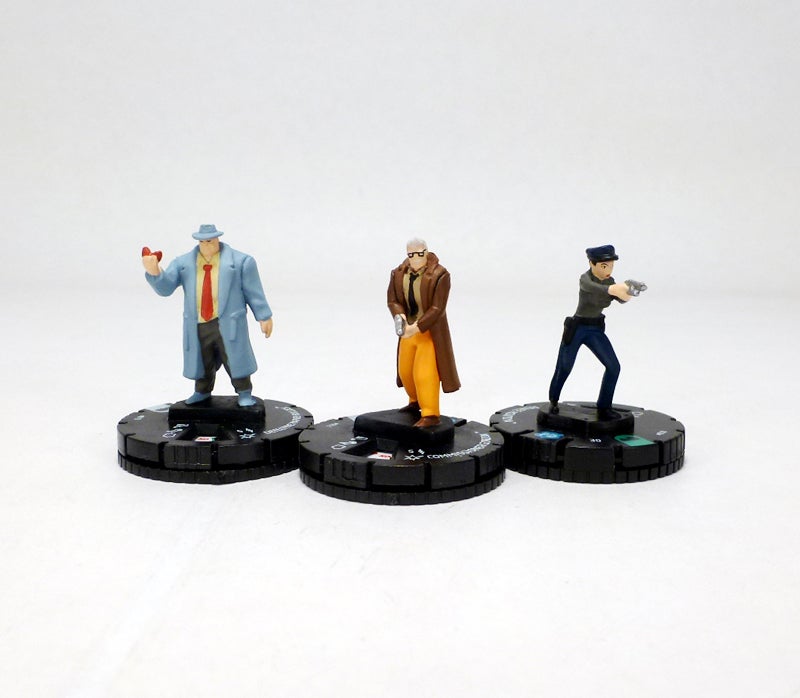 Looking over the sea of figures it's striking to see all of the colors and interesting paint jobs on the cartoon-inspired characters. Where else are you going to find Commissioner Gordon wearing orange pants? Among the best and most eye-catching paint jobs for me in this brick are the common Batman perfectly replicating his animated look, Joker with his snappy pink suit, orange shirt, and signature smile, both Alfreds with their sophisticated suits and expertly applied facial details, two-toned Two-Face with half blue scars and red lips, the super creepy orange and brown Scarecrow with pumpkin-like head, Ra's al Ghul in his green and gold League of Shadows finery, the rare Batman in his updated black and gray costume with matte details, and the two figures in one of the Atom with his pal General Washington.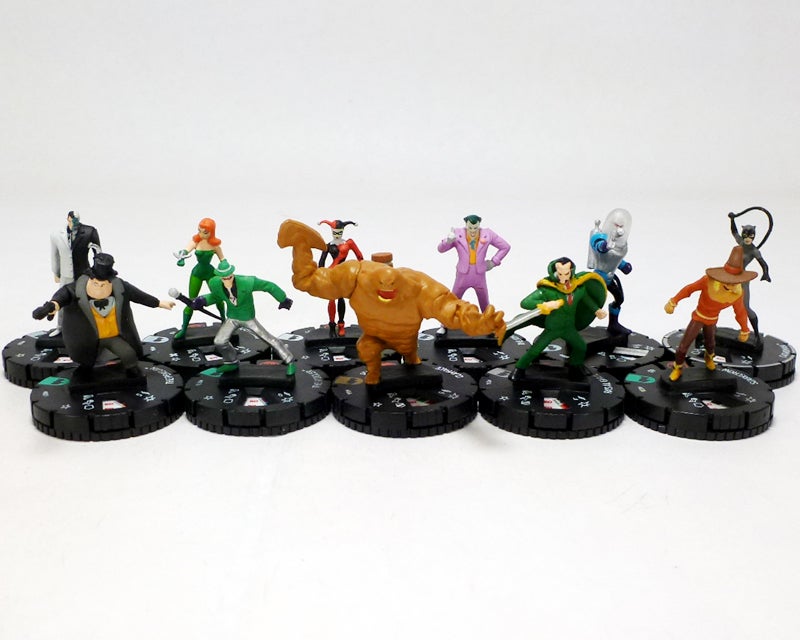 As usual there is translucent plastic used for flight or movement (Wonder Woman, Superman, Batgirl, Hawkman & Hawkgirl), energy effects (Maxie Zeus, Green Lantern), and fun stuff like Mr. Freeze's helmet and Two-Face's coin flip. And in the same vein are shiny metallics used on armor and quite a few weapons in this set like Poison Ivy's crossbow, Mr. Freeze's armor and ray gun, Commissioner Gordon and Renee Montoya's pistols, Barbara Gordon's flashy glasses, Lock-Up's armor, Wonder Woman's bracelets, and the maces of Hawkman & Hawkgirl.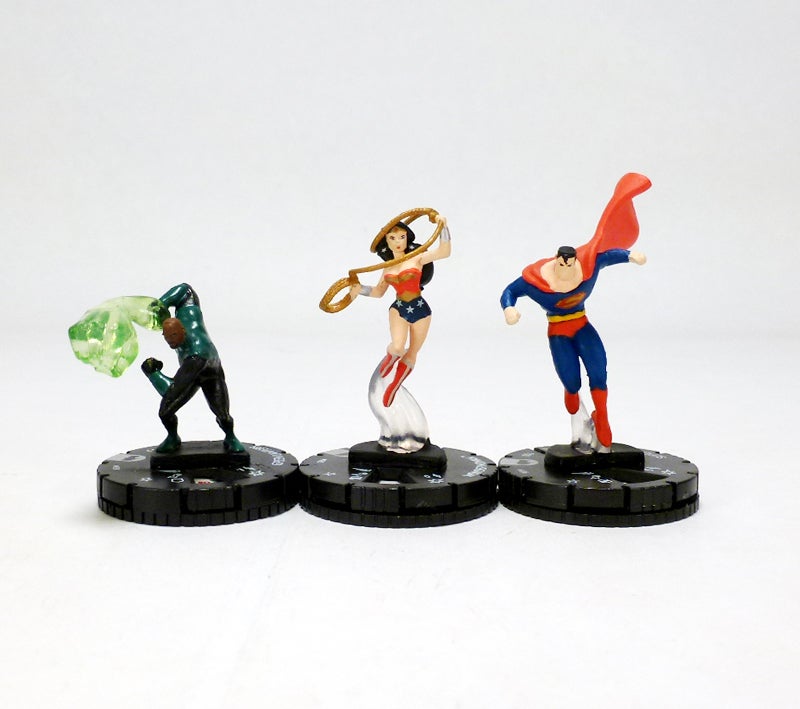 Between WizKids previews, Scott Porter's unboxing videos, the already in-progress pre-release events, and more I think all of this set's dials have been discovered by now, but let's take a look at a few of the coolest ones anyway!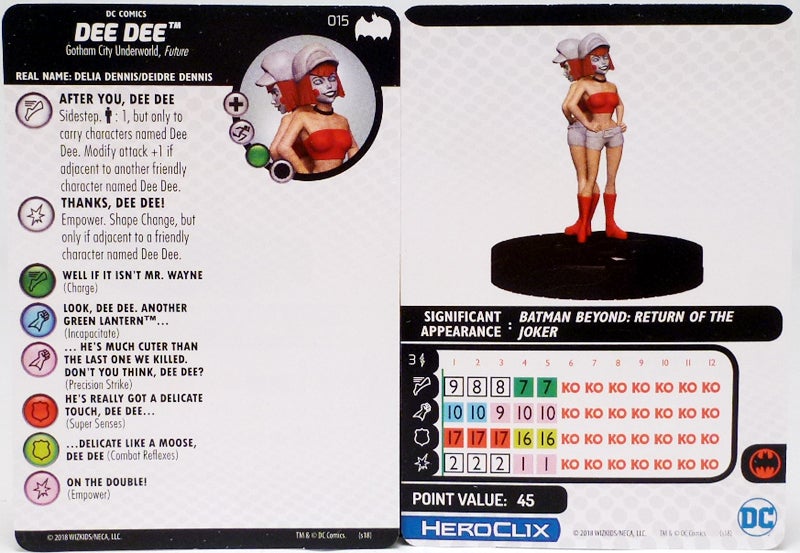 Twin granddaughters of Harley Quinn, Delia and Deidre Dennis were drawn into a life of crime and became members of the Jokerz gang in the dystopian future of Batman Beyond. As Dee Dee they make their triumphant debut in HeroClix with a unique 45 point figure that's loaded up with interesting features. First off, "they" have the Batman Enemy team ability, Improved Movement ignoring hindering terrain and figures, and a 3 range. Dee Dees are meant to be played in swarms as their special powers attest; the first let's one carry another and they share a +1 to attack if adjacent and the second grants Empower and Shape Change (but only when adjacent to another friendly Dee Dee). They're trouble with starting Incapacitate and Super Senses along with the special power, and end-dial Charge, Precision Strike, Combat Reflexes, and Empower.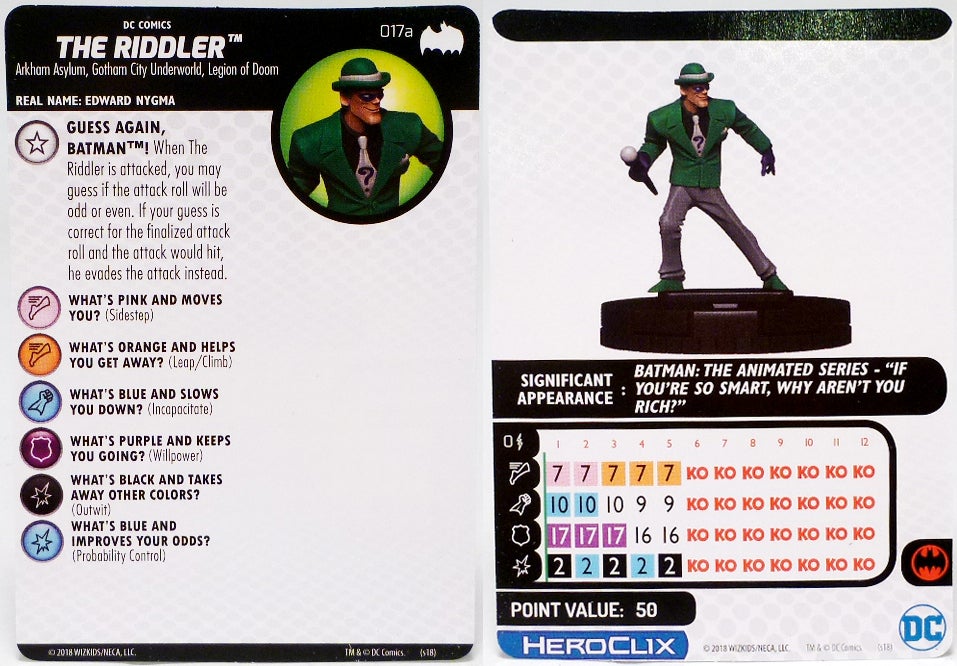 Some of the funniest and most memorable figures are those whose cards are self-referential and break the fourth wall. The Riddler is one of those, with "riddle" flavor text giving hints to all of his standard powers! These include "What's Pink and Moves You?" for Sidestep and "What's Black and Takes Away Other Colors?" for Outwit. He also has the "Guess Again, Batman!" trait letting you "call" attack rolls against him, avoiding the attack if you guess right on it being odd or even. The Riddler is 50 points of annoyance with the Batman Enemy team ability, Sidestep, Leap/Climb, Incapacitate, Willpower, Outwit, and Probability Control.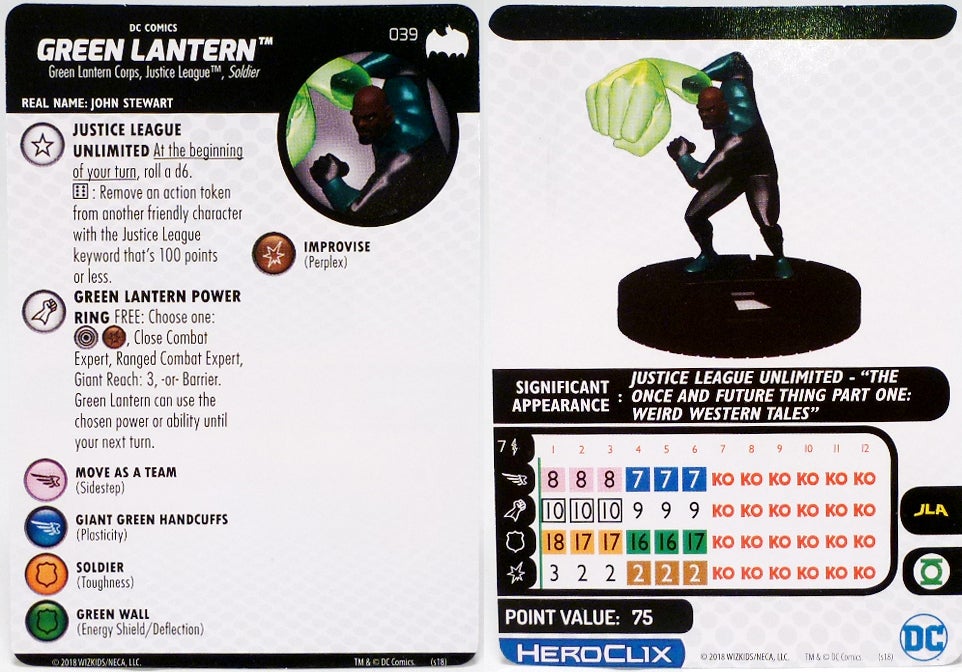 As a big fan of the Green Lantern Corps I of course was excited to see a ring-slinger in my brick, and it's the awesome John Stewart from Justice League Unlimited. Green Lantern shows up here in a streamlined 75 point package with dual Justice League and Green Lantern Corps team abilities, a long 7 range, Flight, and the shared JLU trait that lets you remove a token from an ally on a d6 roll of 6 at the start of every turn. John's dial is split down the middle with the first part featuring Sidestep, Toughness, and a special power letting you give him each turn either Improved Targeting ignoring blocking terrain, Close Combat Expert, Ranged Combat Expert, Giant Reach: 3, or Barrier! Mid-dial GL switches things up to Plasticity, Energy Shield/Deflection, and Perplex.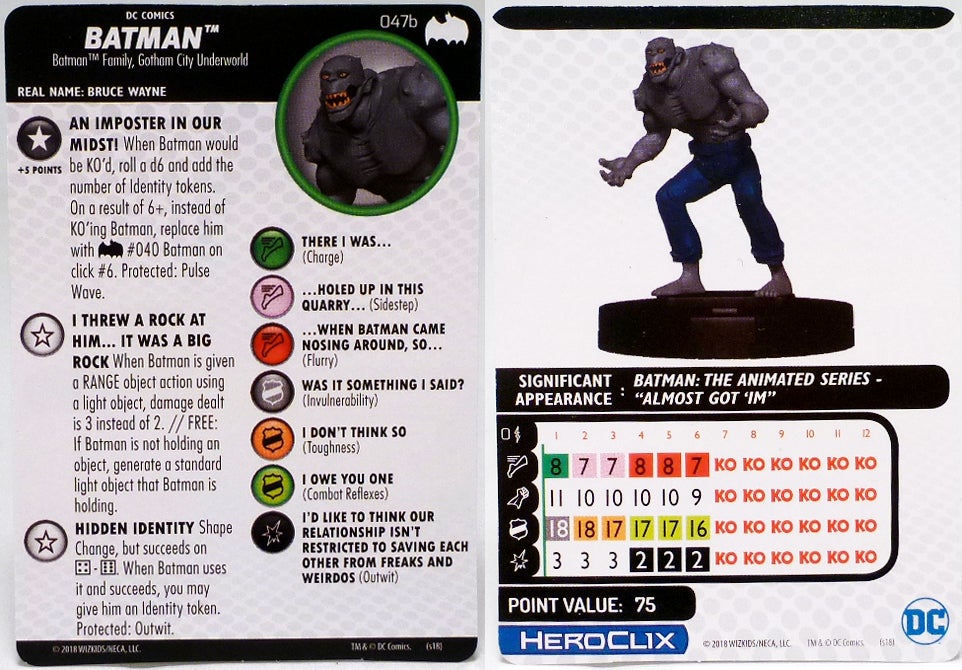 With the announcement of this set players and collectors knew we were going to get the major characters from the show as well as some special surprises, and definitely high on many peoples' lists was the rare Prime called simply Batman. In the episode "Almost Got 'Im" the supervillains of Gotham City gather in a club to reminisce about the times they nearly defeated the Dark Knight, all the while Killer Croc stares dumbly. When it's his turn the monster mutters that he once threw a big rock at Batman, impressing no one. At the end it's revealed that Croc is actually Batman in disguise and with the help of the GCPD he takes down the bad guys. The rare Prime figure utilizes a Killer Croc sculpt and is 75 points with Indomitable, a "Big Rock" trait letting him generate objects and throw them for additional damage and a "Hidden Identity" trait granting him an improved Shape Change that add Identity tokens when it works (if you pay an additional 5 points Batman gets a third trait that potentially lets him turn into 040 Batman when he's KO'd – the odds are better the more Identity tokens he has). On the dial he seems to start as Croc with opening Charge and Invulnerability, switching to his Batman persona with mid-dial Sidestep and Toughness and finally late-dial Flurry, Combat Reflexes, and Outwit.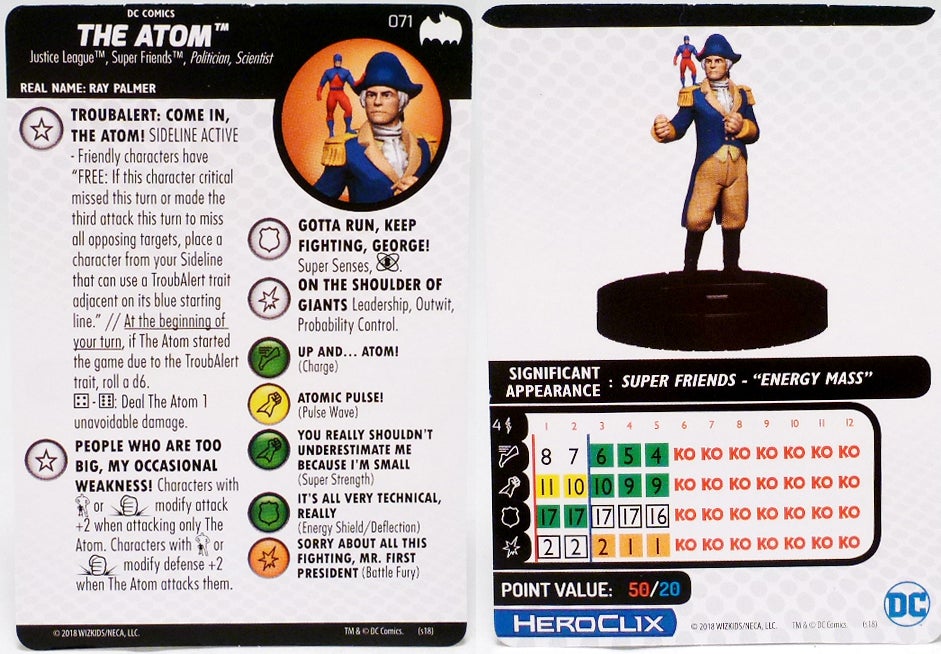 The last is in one way the least as we'll take a look at the diminutive hero in the chase slot, the Atom! All of these Super Friends figures celebrate the camp and wackiness of that old cartoon, and in this case the figure literally rides on the shoulder of George Washington. He can be played at 50 or 20 points and has two traits like all the chases. The first is a TroubAlert, which gives the figures on your team the ability to call in the Atom like an ID Card except he arrives with three clicks of life (though he has to roll to avoid taking damage each turn). As for the other trait, each Super Friend has an "occasional weakness" and the Atom's is "people who are too big"; in turn he is -2 to attack (and -2 defense when attacked by) giant and colossal figures. On the dial the Atom starts with Pulse Wave (on top of his close 4 range), Energy Shield/Deflection, and a highly useful special power bundling Leadership, Outwit, and Probability Control. Then he switches to fisticuffs with Charge, Super Strength, Battle Flurry, and a special power granting Super Senses and the Tiny size.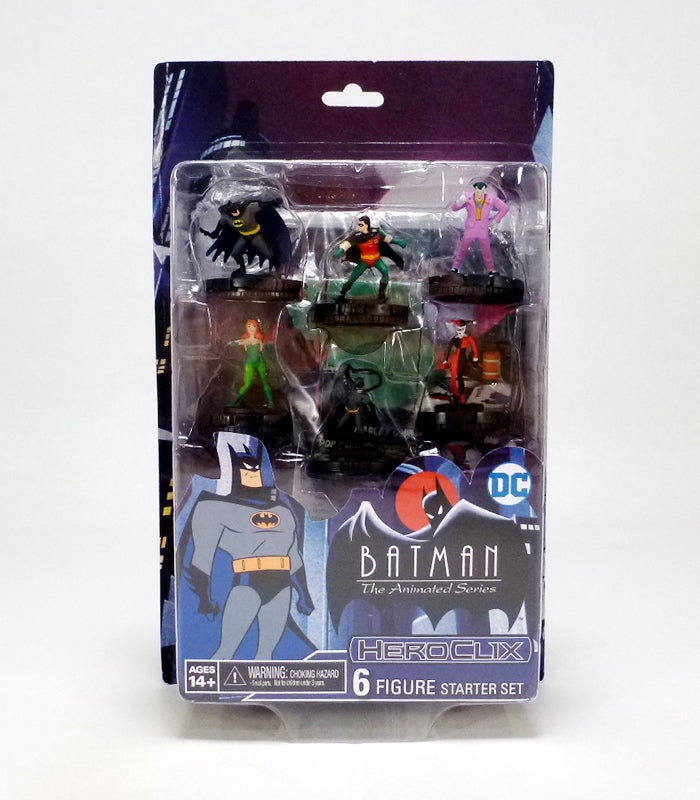 As always, WizKids has some other really cool products releasing alongside a main expansion set so you can add even more Batman: The Animated Series to your collection. The most noteworthy is probably a new Starter Set with everything you need to play! In this hefty clamshell package decorated with B:TAS artwork and 3D renders of figures you'll find the HeroClix Core Rulebook (updated to v2018.01) and Powers and Abilities Card, objects, terrain tokens, and dice.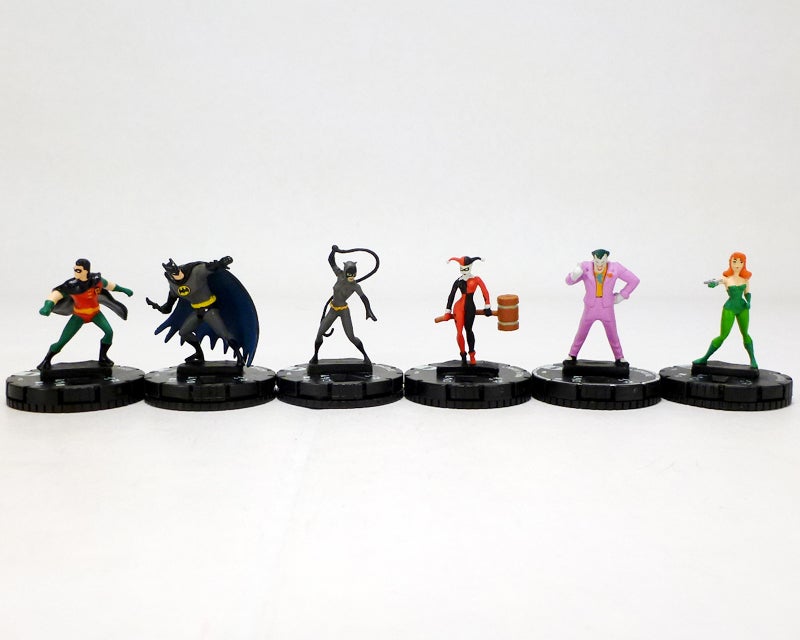 Then of course there are the figures: Batman, Robin, Joker, Poison Ivy, Catwoman, and Harley Quinn. They all share sculpts with the versions in the main set but have new dials for team building options and additional ways to play your favorite characters. Batman can be played at 100 or 50 points, the Joker and Poison Ivy are 75, and Robin, Catwoman, and Harley Quinn are 50. This gives you nice options for your teams of Batman Family, Gotham City, Arkham Asylum, Gotham City Underworld, Gotham City Sirens, and more. Best of all these figures are (relatively) beginner-friendly, maxing out at one trait and one special power. There's even really fun and thematic elements like Poison Ivy's generation of Biting Vine bystanders and the Joker forcing his enemy's to decide between attacking him or taking out Joker Bomb objects that heal the Clown Prince of Crime while they're on the map!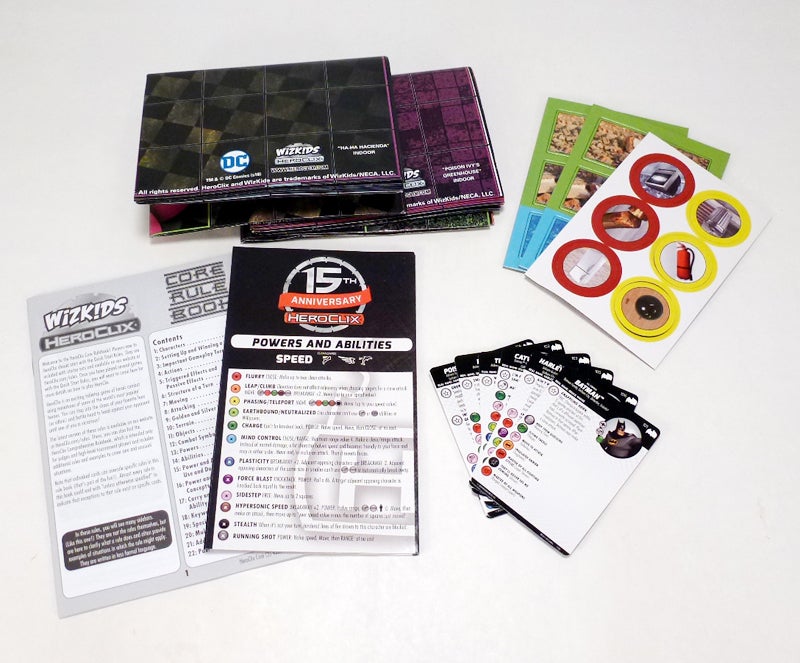 Lastly the Starter includes two double-sided maps with the new "Location" rules letting the map winner pay for an added bonus or giving the map loser a consolation ability. The battlefields are the Joker's maddening Ha-Ha Hacienda (with optional attacks from random locations on the map or the addition of Bud/Lou bystanders)/the Penguin's chilly Iceberg Lounge (with optional generation of friendly animals), and the wildly overgrown Poison Ivy's Greenhouse (with optional Conservatory bonus letting a figure control the greenery)/Gotham City Downtown (with optional bonus abilities for Batman or Robin figures).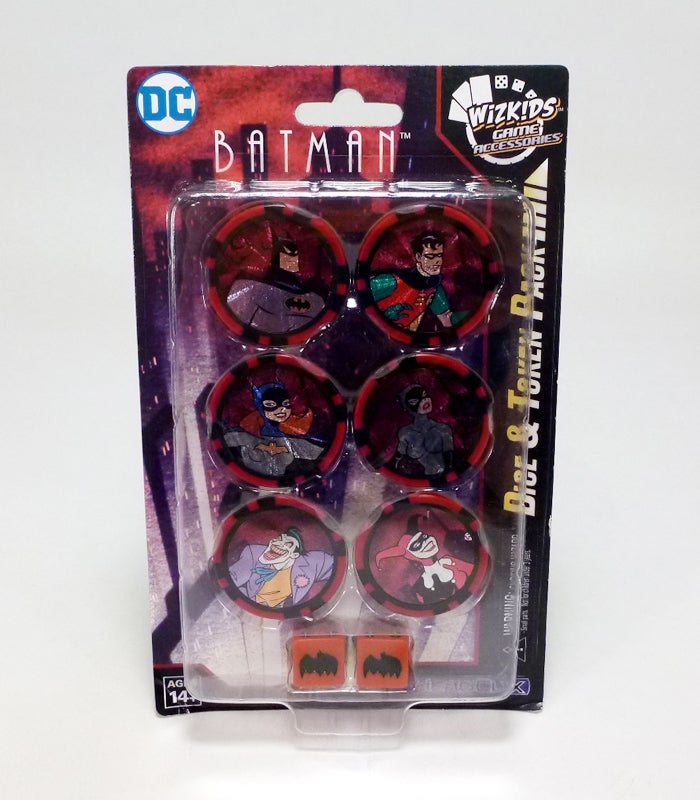 In addition to the Starter you will also be able to pick up the Batman: The Animated Series Dice & Token Pack! In it you'll find six red and black poker chip-style action tokens featuring shiny artwork of Batman, Robin, Batgirl, Catwoman, the Joker, and Harley Quinn. Meanwhile, the dice featured here are matching red with black pips and on the six sides is Batman peeking out from behind his cape just like in the B:TAS logo!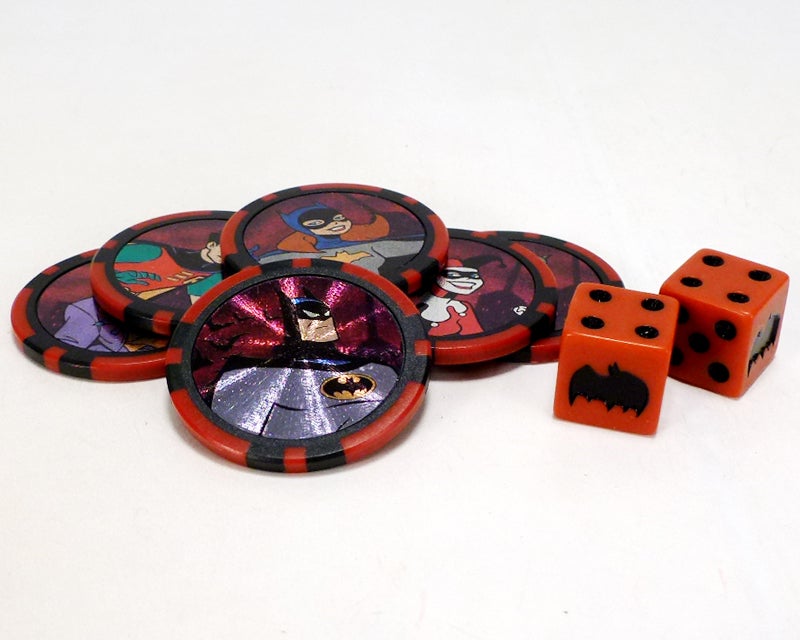 We hope you've enjoyed checking out the DC HeroClix Batman: The Animated Series booster brick unboxing and a look at the accompanying Starter Set and Dice & Token Pack. You can get your hands on boosters right now at special pre-release events at participating venues (now through July 17th), with the full release happening on July 18th. That's also when the Starter and Dice & Token Pack will be available. With its great selection of fun figures from classic cartoons this set is sure to be popular with both collectors and players, so make sure you get some boosters before they sell out. Check to see if your local venue is on the list on the WizKids Info Network. As always, have fun and good luck with your pulls!
Click out the photo gallery below of all the figures from this brick.
Visit the brand new and improved HeroClix.com for even more info as well as downloads of rules and maps, and stay tuned to Figures.com as we continue our reviews of new HeroClix!
Review and photos by Scott Rubin
Review samples courtesy of WizKids Games
Batman: The Animated Series Booster
Batman: The Animated Series Dice & Token Pack
Batman: The Animated Series Starter
Batman: The Animated Series Cards
---
Keep up with all the latest toy news by following Figures.com on Facebook and Twitter!
To buy action figures, take a look at Hobby Link Japan, BigBadToyStore.com, TheToySource.com, Toynk.com, BriansToys.com, ToyWiz.com, and EntertainmentEarth.com.