-Review and photos by Scott Rubin
If you've been following along with our HeroClix articles, you'll know that 2017 is the game's 15th anniversary and it's been quite a ride.  But, before the end of the year WizKids still has a couple big things for the players and collectors out there, and we're already back with a look at another expansion; today we have the pleasure of showing off an unboxing of DC HeroClix Harley Quinn & The Gotham Girls!
The first DC set since Elseworlds over the summer, Harley brings along a lot of familiar faces from Gotham City along with sub-themes like DC Comics Bombshells, Suicide Squad, Arkham Asylum, and more.  And in addition to multiple different versions of Harley Quinn herself the set features the highest ratio of female to male characters in any expansion!  Before we dig in further I'm just going to say that Harley Quinn & the Gotham Girls is a super fun set and I can't wait to see players building teams with these fun figures.  Along with unboxing a full brick of 10 boosters we're also going to look at the Harley Quinn & the Gotham Girls Fast Forces Set (featuring Thrillkiller) and the Harley Quinn & the Gotham Girls Dice & Token Pack (featuring DC Bombshells).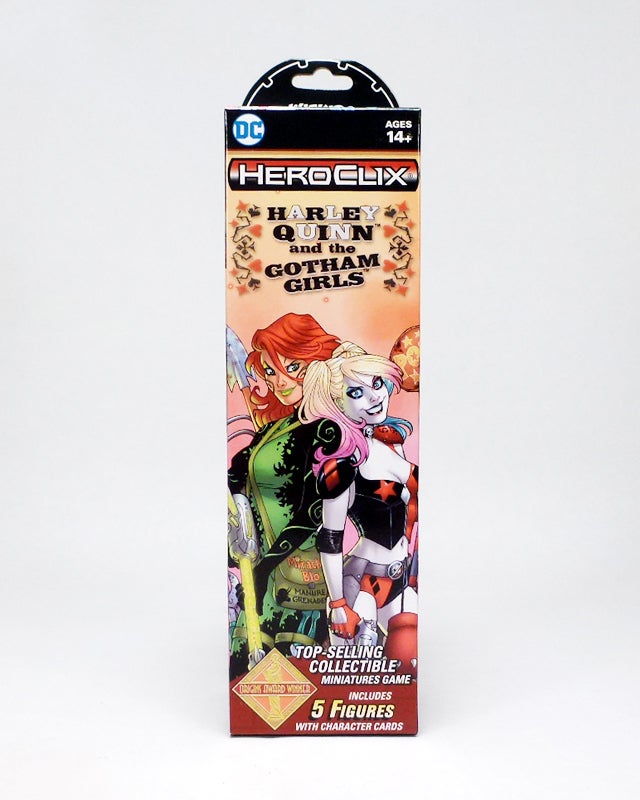 The Harley Quinn boosters are immediately recognizable with great comic book artwork of Harley and Poison Ivy by the fabulous Amanda Conner on the front panel.  Both sides of the booster box shows off sub-themes and 3D renders of figures: DC Comics Bombshells (Harley Quinn, Batwoman, Wonder Woman), Female Furies (Big Barda, Granny Goodness, Lashina), Harley Quinns (three different versions), and "Gotham Girls" (Poison Ivy and Harley Quinn, Catwoman, Renee Montoya).  The back panel points players to the HeroClix website and shows off some of what appear to be the chases in this set, Darkseid War Batman God of Knowledge on Mobius' Chair, Wonder Woman, Grail, and Superman the God of Power!  Okay, here are the boosters from this brick; scroll down for a full breakdown of the figures, photography, and lots more information.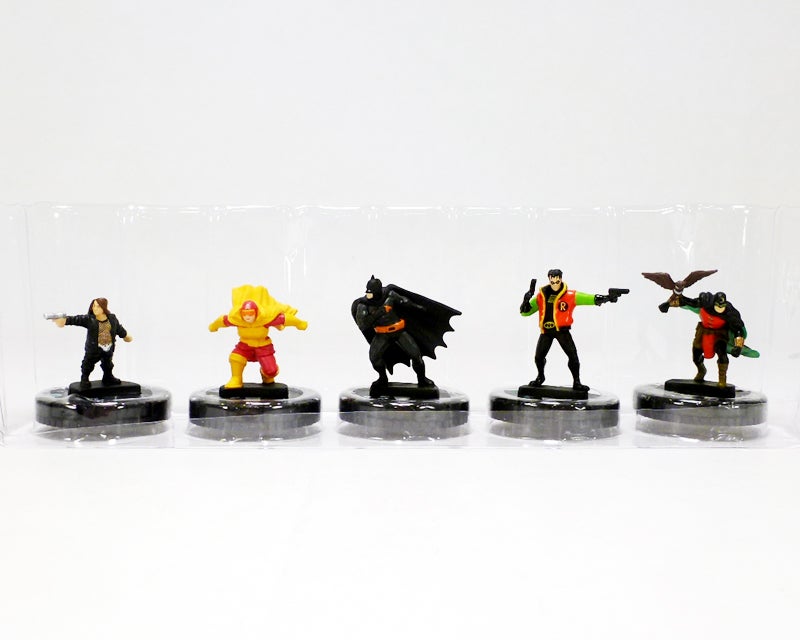 Booster 1
C 004 Big Tony
C 007 Stompa
U 029 Batman (Thrillkiller '62)
U 030 Robin (Thrillkiller '62)
R 048 Dr. Mid-Nite
An interesting start with two Thrillkiller figures, the badass Apokoliptian Female Fury Stompa, the diminutive but tough Big Tony, and a sweet new rare Dr. Mid-Nite with Hooty.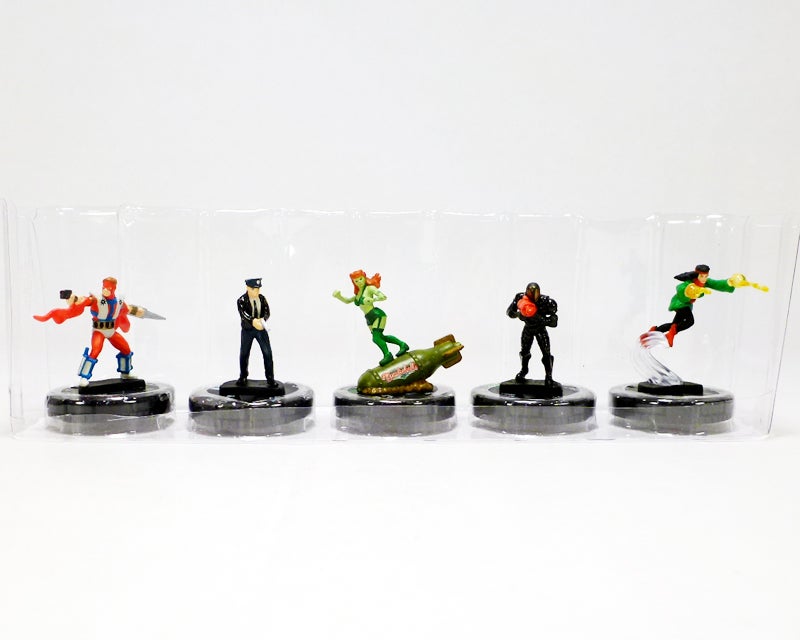 Booster 2
C 003a Paul Kirk, Manhunter
C 013 GCPD Officer
U 018 Poison Ivy (Bombshells)
U 025 HIVE Commander
R 041 Enchantress
Here we've got the standard version of Manhunter with the flashy dresser Paul Kirk, two generics with the GCPD Officer and HIVE Commander, our first Bombshell with Poison Ivy, and the rare classic Enchantress.
Booster 3
C 004 Big Tony
C 010 HIVE Trooper
C 012 Mercenary
U 031 Robin
R 035 Mera (Bombshells)
Another Big Tony, a second pair of generics (HIVE Trooper to go with my Commander and the statuesque Mercenary), the triumphant debut of Stephanie Brown Robin in HeroClix, and the fantastic Bombshells Mera in the rare slot.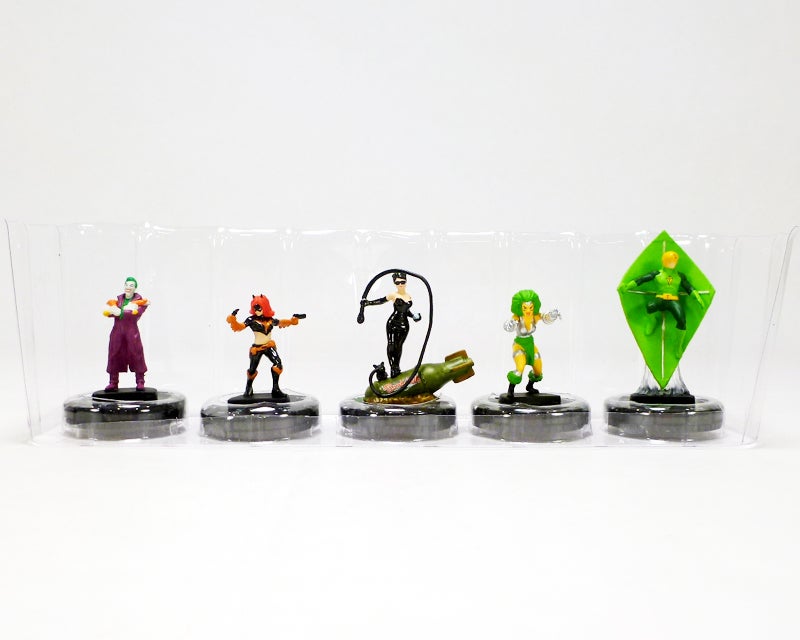 Booster 4
C 002 The Joker
C 015 Batgirl (Thrillkiller '62)
U 020 Catwoman (Bombshells)
U 022 Mad Harriet
R 044 Kite Man
Can't have Harley Quinn without the Joker, and in the commons you'll find this retro version with not one but two fish in hand!  We've also got Thrillkiller Batgirl, Bombshells Catwoman, Female Fury Mad Harriet, and everyone's favorite previously unclixed villain Kite Man (who came in a baggie).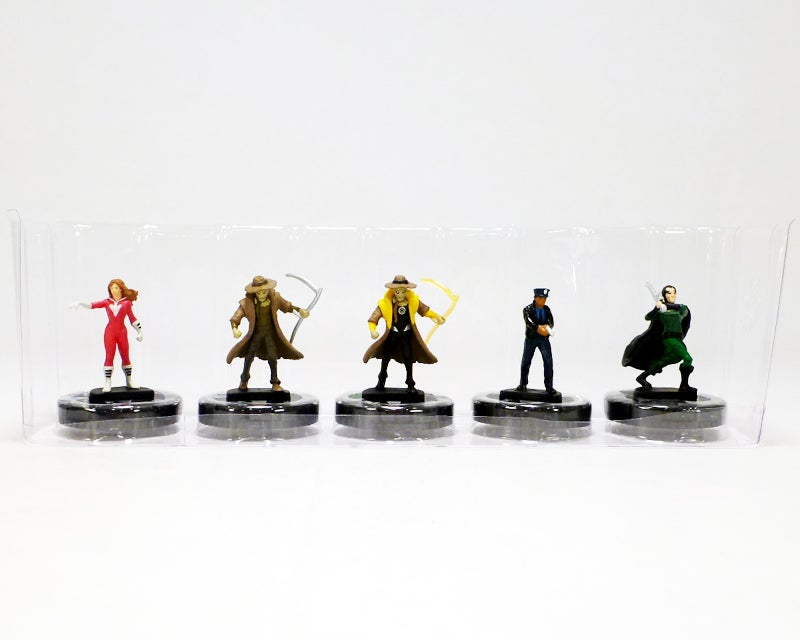 Booster 5
C 008 Plastique
C 009 Scarecrow
U 024 Scarecrow
U 028 Renee Montoya
R 040 Bernadeth
Suicide Squad players should be happy to see Plastique here, and there's a new non-Question version of Renee Montoya.  Very interesting to see both versions of Scarecrow in one booster, standard and Sinestro Corps.  Lastly it's another Female Fury with rare Bernadeth.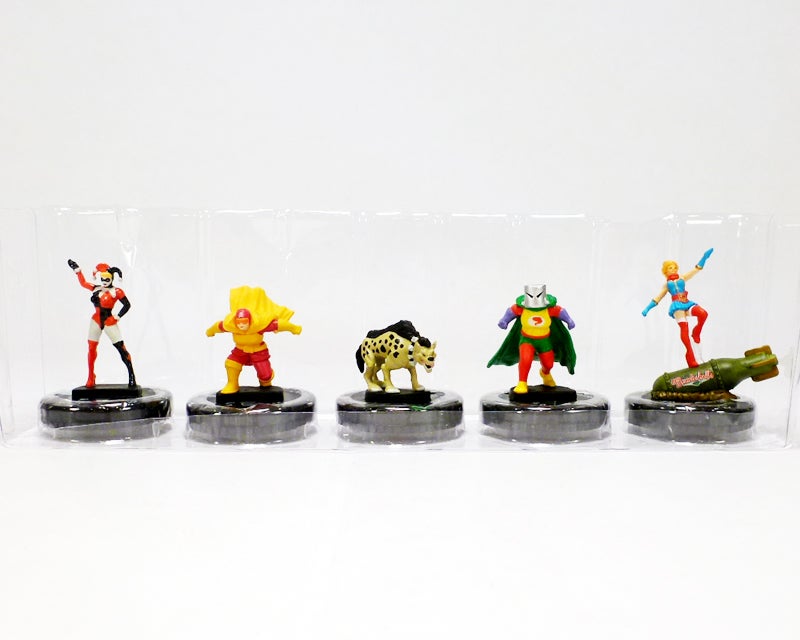 Booster 6
C 001 Harley Quinn (Thrillkiller '62)
C 007 Stompa
U 019a Bud
U 032 Red Tornado
SR 051 Supergirl (Bombshells)
Finally we find a Harley Quinn!  It's the common Thrillkiller version, and she's in a pack with one of Harley's pet hyenas Bud, Stompa, the classic Red Tornado Ma Hunkel, and our first super rare with Bombshells Supergirl.  With the notable exception of Bud all of the non-animals in this pack are ladies.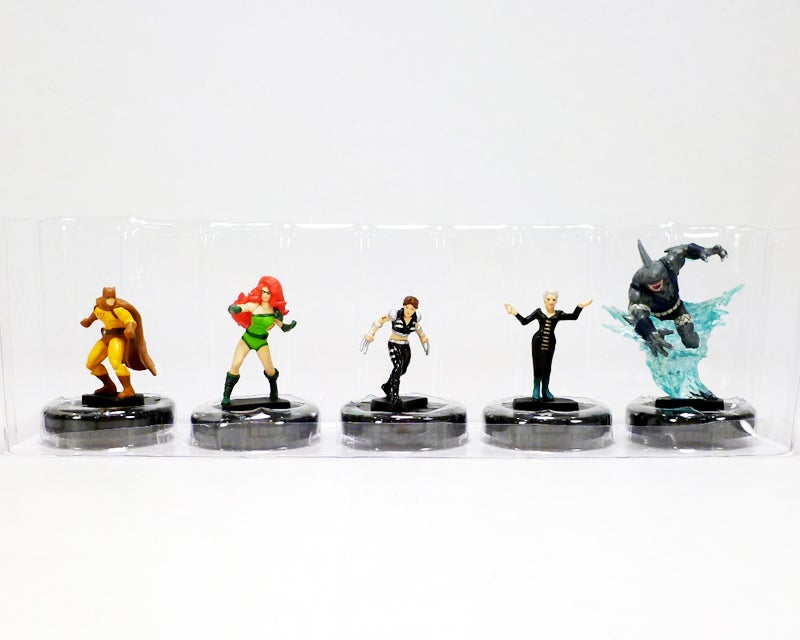 Booster 7
C 005 Catman
C 006 Knockout
U 021 Scandal Savage
R 039 Jeanette
SR 054 King Shark
Okay, this is a super cool booster: five interesting characters, five great figures including the amazing-looking King Shark.  But what's really awesome is that they're all Secret Six members with the shared "Only Six Of Us?" trait!  That's a 290 point, 5 figure Secret Six theme team in one booster.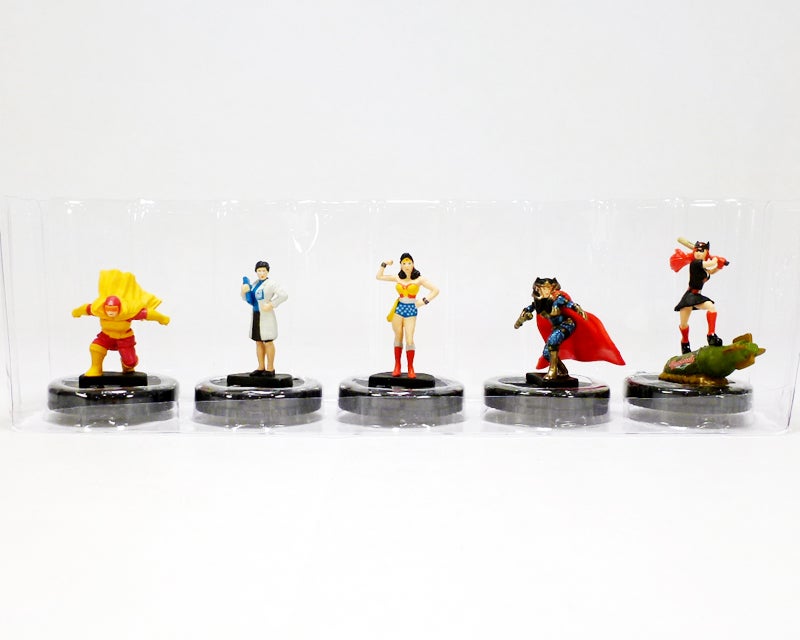 Booster 8
C 007 Stompa
C 011 Asylum Doctor
C 016 Wonder Woman
U 023b Big Barda (Prime)
R 038 Batwoman (Bombshells)
Yes, a booster of all women!  We've got another Stompa (very popular in this brick), the generic Asylum Doctor, a new budget Justice Society Wonder Woman, the Prime version of Big Barda, and the rare Bombshells Batwoman.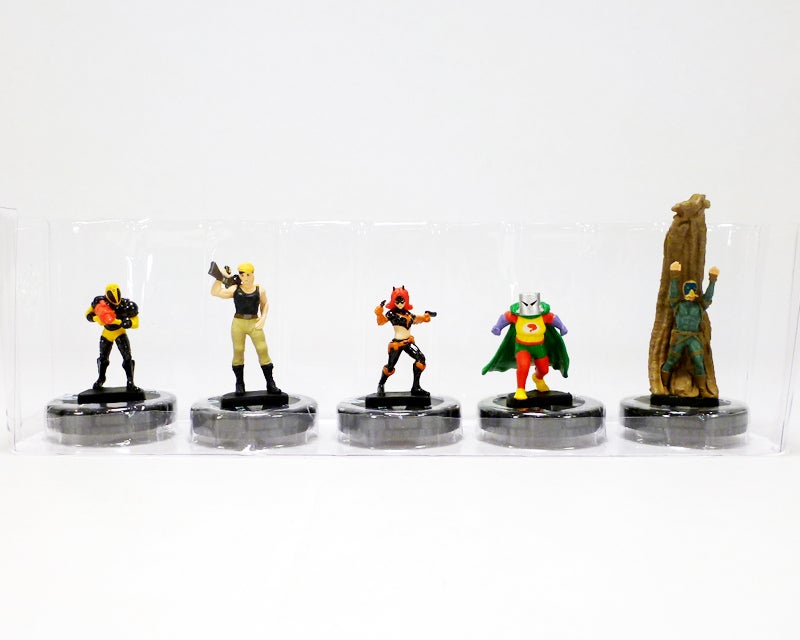 Booster 9
C 010 HIVE Trooper
C 012 Mercenary
C 015 Batgirl (Thrillkiller '62)
U 032 Red Tornado
SR 060 Sand
Several familiar faces here with generic HIVE Trooper and Mercenary, Thrillkiller Batgirl, and Red Tornado.  They're joined by super rare Sand of the Justice Society (also came packaged in a baggie)!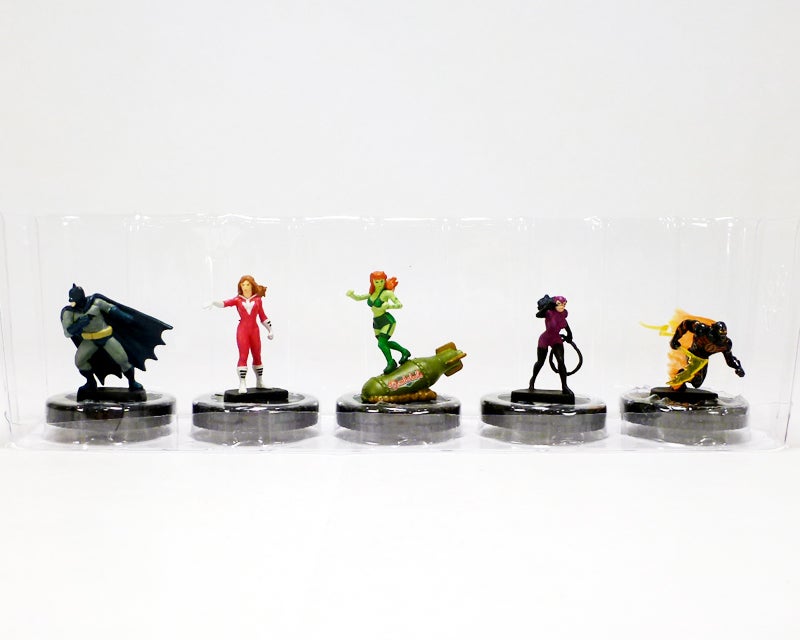 Booster 10
C 008 Plastique
C 014 Batman
U 018 Poison Ivy (Bombshells)
R 042 Catwoman
CHASE 063 The Flash, God of Death
I'm not going to lie, as soon as I saw the Prime Big Barda in a previous booster I figured my chances of pulling a chase were zero.  Imagine my surprise, then, when I opened this one and found 063 The Flash, God of Death!  The Darkseid War chase is joined by commons Plastique and a regular sort of Batman plus another Bombshells Poison Ivy and a cool rare 90s Catwoman.
Here's the full breakdown of the figures in this brick (your results will vary of course):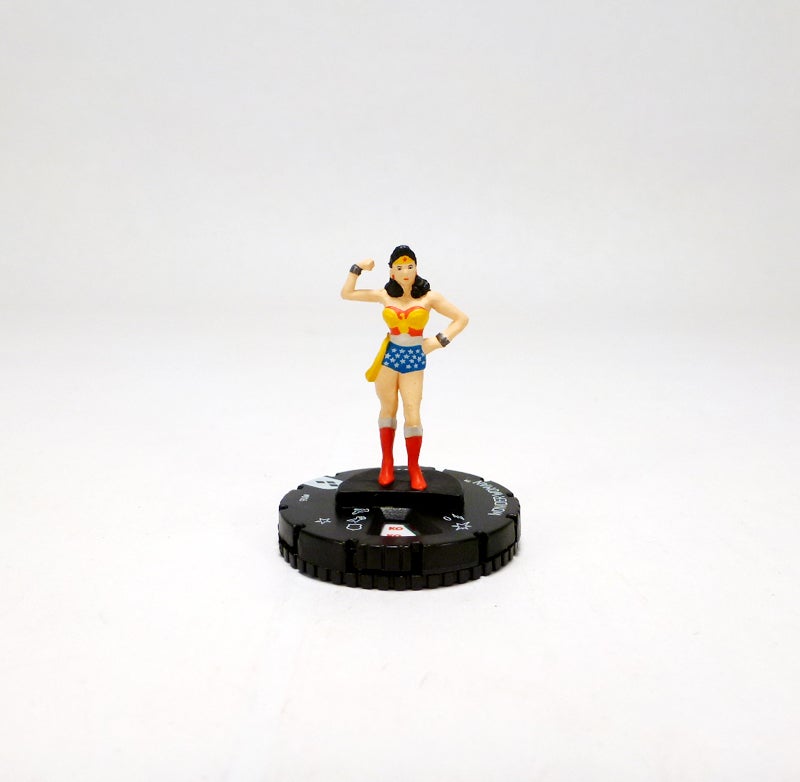 COMMONS (including duplicates)
001 Harley Quinn
002 The Joker
003a Paul Kirk, Manhunter
004 Big Tony
005 Catman
006 Knockout
007 Stompa
008 Plastique
009 Scarecrow
010 HIVE Trooper
011 Asylum Doctor
012 Mercenary
013 GCPD Officer
014 Batman
015 Batgirl
016 Wonder Woman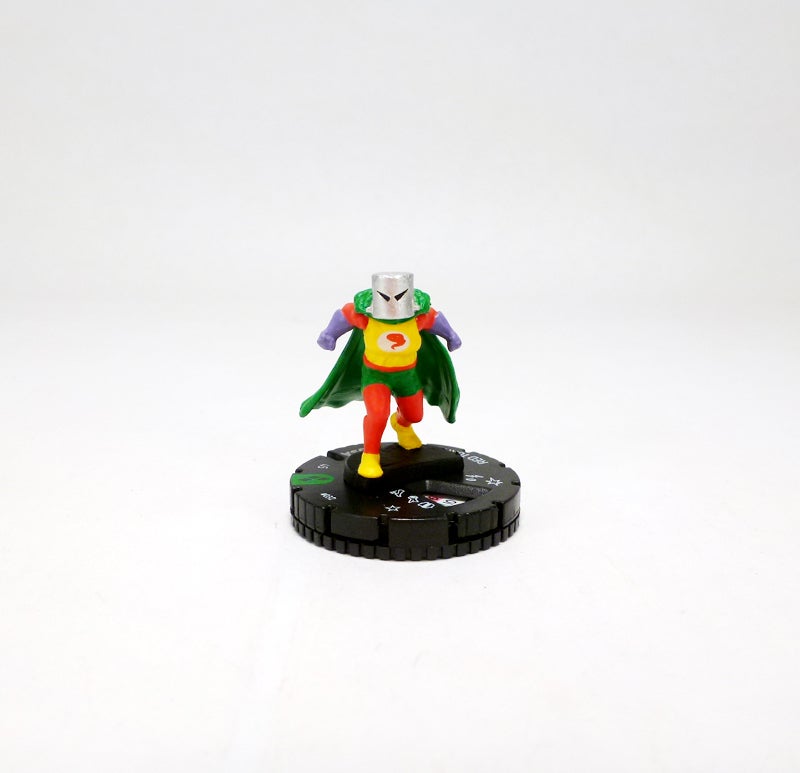 UNCOMMONS (including duplicates)
018 Poison Ivy
019a Bud
020 Catwoman
021 Scandal Savage
022 Mad Harriet
023b Big Barda
024 Scarecrow
025 HIVE Commander
028 Renee Montoya
029 Batman
030 Robin
031 Robin
032 Red Tornado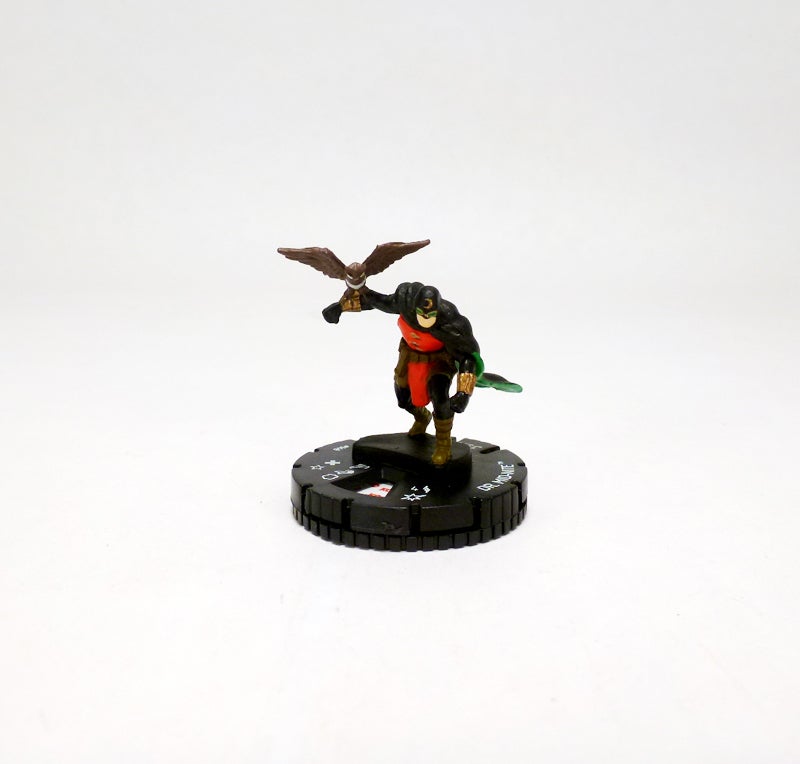 RARES
035 Mera
038 Batwoman
039 Jeanette
040 Bernadeth
041 Enchantress
042 Catwoman
044 Kite Man
048 Dr. Mid-Nite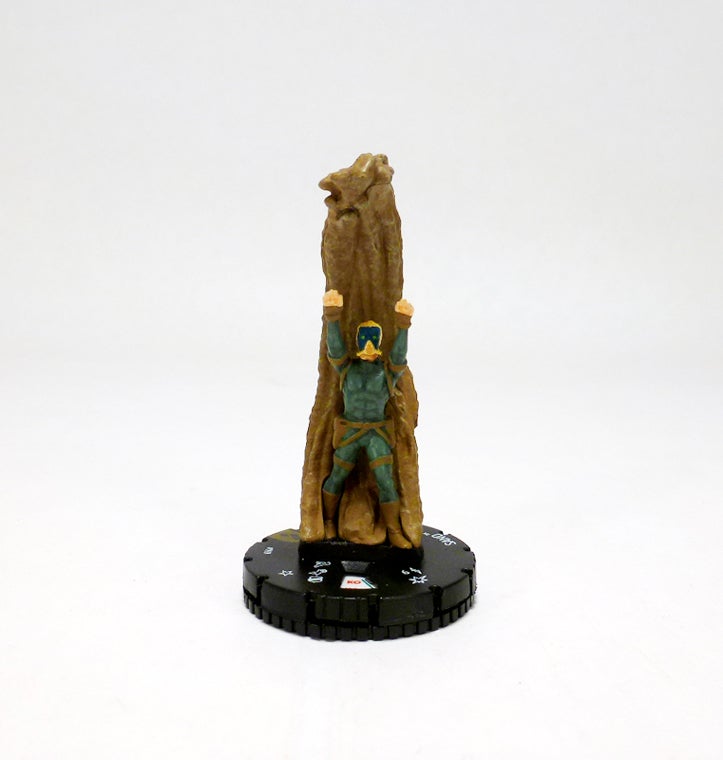 SUPER RARES
051 Supergirl
054 King Shark
060 Sand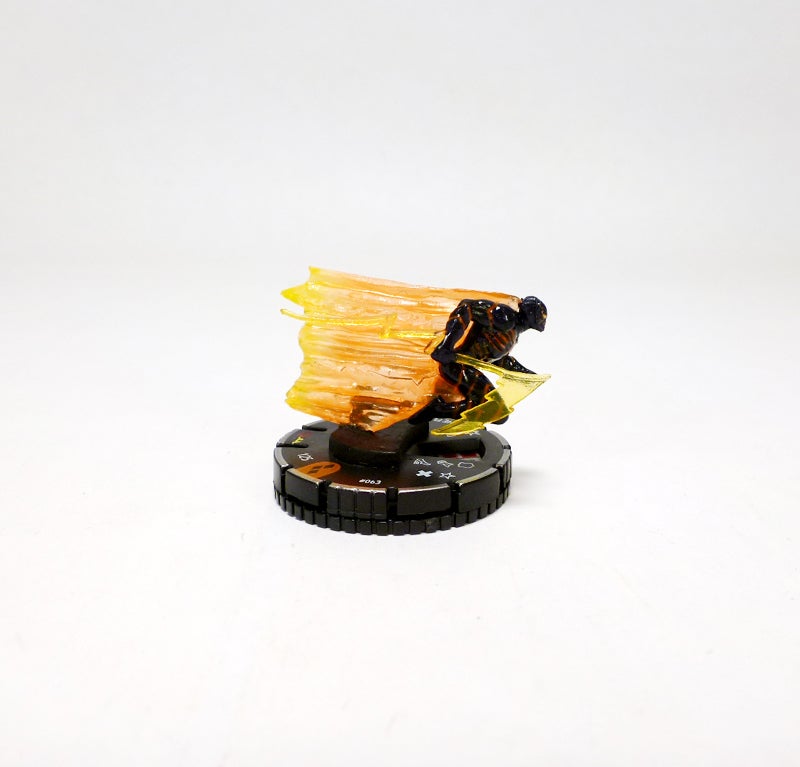 CHASE
063 The Flash, God of Death
I'm going to repeat what I said above the breakdown: your pulls will vary from mine… but I sincerely hope you all have the same luck I did pulling both a chase AND a prime figure out of one brick!  In the past it's often been one or the other, but not always.  Okay, with that out of the way, it looks like I got one of each of all sixteen commons (not counting the prime) starting with the premiere character Harley Quinn (Thrillkiller '62 version) and her puddin' The Joker.  Baddies at this rarity level include the aptly nicknamed Big Tony, Female Fury Stompa, and Arkham Asylum inmate Scarecrow.  Also generics HIVE Trooper, Asylum Doctor, Mercenary, and GCPD Officer, plus good guys (some of them decidedly part-time) All-Star Paul Kirk, Manhunter in a fantastically retro costume, Secret Sixers Catman and Knockout, Plastique of the Suicide Squad, Batman, Batgirl (Thrillkiller '62), and Justice Society Wonder Woman.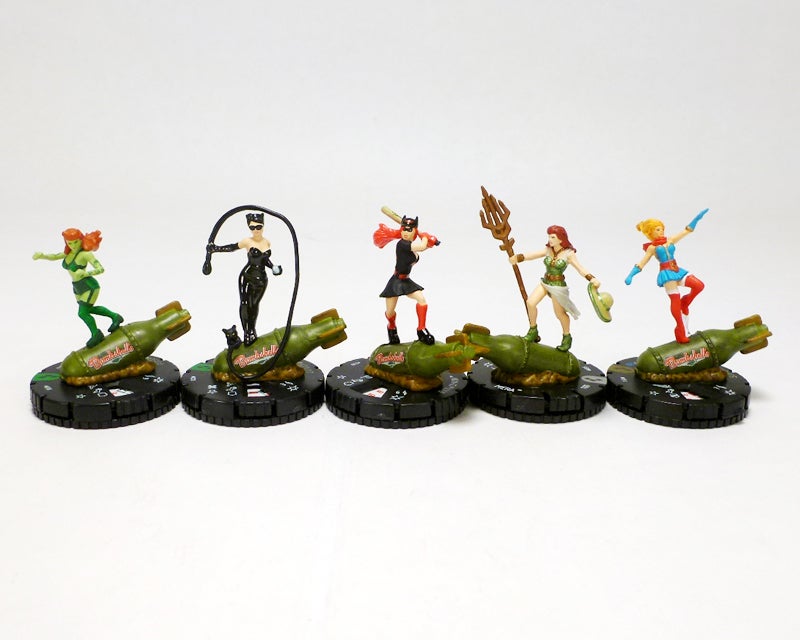 Thirteen uncommons start the Bombshells with Poison Ivy and Catwoman, continue the generics with the HIVE Commander, and have an Apokoliptian duo of the frightening Mad Harriet and heroic Big Barda (Prime).  Harley's hyena Bud shows up here, as does a Sinestro Corps version of Scarecrow to fight off heroes Scandal Savage of the Secret Six, GCPD's Renee Montoya, Batman and Robin from Thrillkiller '62, Stephanie Brown Robin (!), and Ma Hunkel Red Tornado.  Eight rares continue the trends with super cool Bombshells Mera and Batwoman plus Secret Six Jeanette, Bernadeth from Apokolips, Suicide Squad's Enchantress, a 90s versions Catwoman and Kite Man for villains, and Justice Society's Dr. Mid-Nite (complete with Hooty).  From all the previews we've seen that this set's super rares are super cool, and the three I pulled are great with Supergirl of the Bombshells, JSA's Sand, and King Shark of the Secret Six and Suicide Squad!  As noted above, we got a chase here, and it's The Flash, God of Death from the Darkseid War storyline when Barry Allen merged with the Black Racer.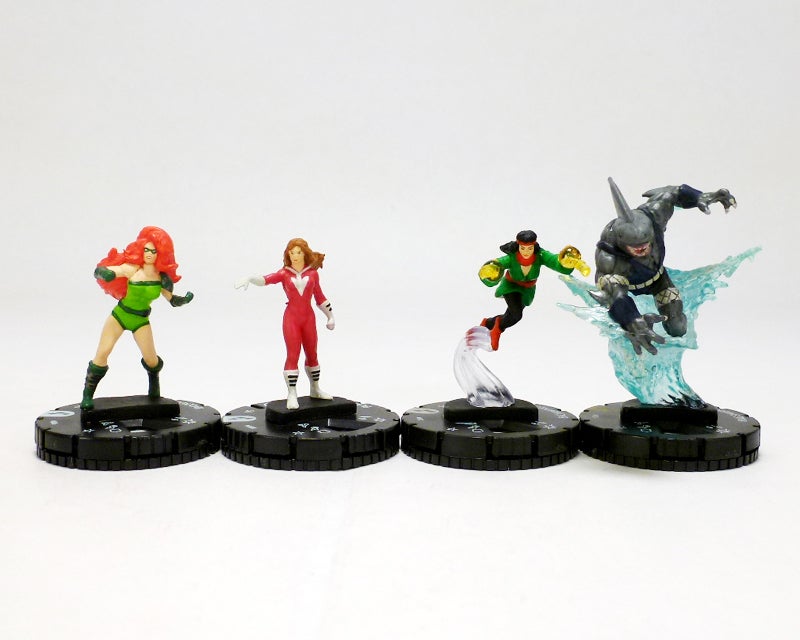 Looking over the figures I've pulled here, I'm quite impressed with the quality and variety of the sculpts.  There's lots of action and dynamic, figure-appropriate poses.  I'll go over just some of my favorites, but you should really check out the photos to see them all for yourself.  I love Harley Quinn for her sassy pose, and following right after her is a great classic sculpt Joker with a pair of fishies.  Paul Kirk, Manhunter is quite a sight in his unique costume, Scarecrow is menacing and scary, Batgirl dual wields weapons with tons of details on her costume, Bombshells Catwoman snaps her whip while holding a huge diamond with a kitty relaxing next to her, Stephanie Brown Robin lunges to the side in her spot on costume, Mera is a sight to behold charging up her base with an Atlantean trident in one hand and her hat in the other, Kite Man (yes it's Kite Man!) hovers in the air attached to his signature equipment, Dr. Mid-Nite prowls the shadows in a deep crouch with Hooty the owl on his arm,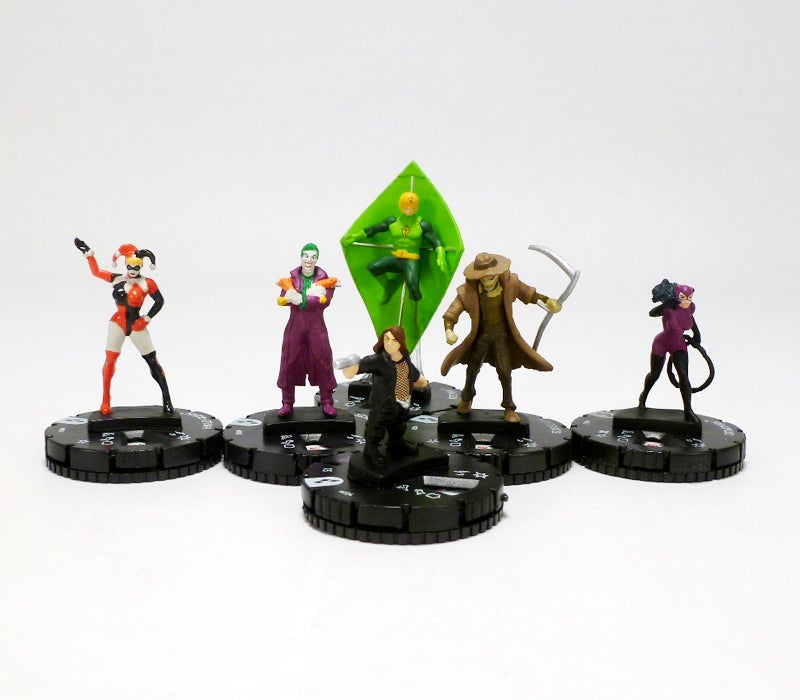 Supergirl leaps into the air with her scarf and hair whipping behind her, Sand wears a detailed uniform while summoning an elemental wave over his head, and the chase Flash, God of Death sprints forward with a scythe in his hand and a speed trail at his back.  Some of the coolest and most interesting poses on figures include Stompa hitting the ground so hard her cape billows, the coolest Mercenary on the block relaxing with her weapon over her shoulder, Wonder Woman looking tough, the headstrong Red Tornado pushing ahead, and the slugger Batwoman keeping her eye on the ball.  A special mention has to be made about King Shark, an absolutely amazing figure with a killer sculpt featuring the massive creature leaping out of the water.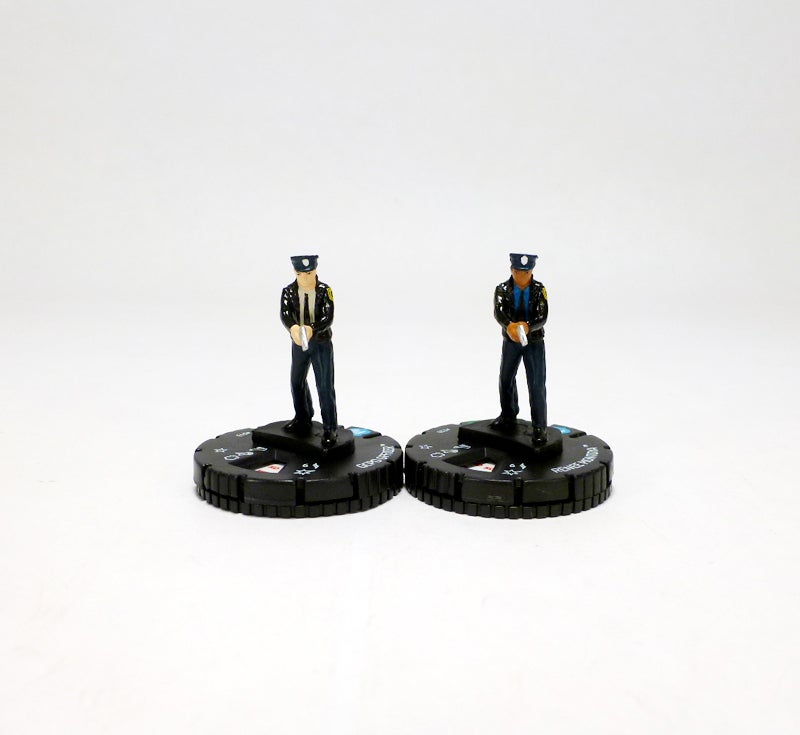 Hand in hand with the great sculpts are some really colorful and unique paint jobs.  Of course any set featuring Harley and Batman's cast of characters is going to be interesting, and this doesn't disappoint.  Your personal preferences will vary but some of the ones that stood out to me are Big Tony, a little man with a fierce look and a detailed mesh shirt, the clean lines on Plastique's costume, incredibly minute text and logos on figures like the Asylum Doctor and GCPD Officer/Renee Montoya, the Halloween color schemes of Thrillkiller Batgirl and Batman, Poison Ivy's shades of green and vegetation decoration, Scandal Savage's tattoo and bright silver armor and claws, Red Tornado's appropriately garish colors, and more.  As always you'll find metallic paints on weapons, armor, and equipment from Mad Harriet's gloves, to Bernadeth's sword and the inner frame of Kite Man's kite, while translucent plastic captures energy blasts and flying effects like Sinestro Corps Scarecrow and the Flash's scythes, King Shark's water sprays, Enchantress' energy bolts, etc.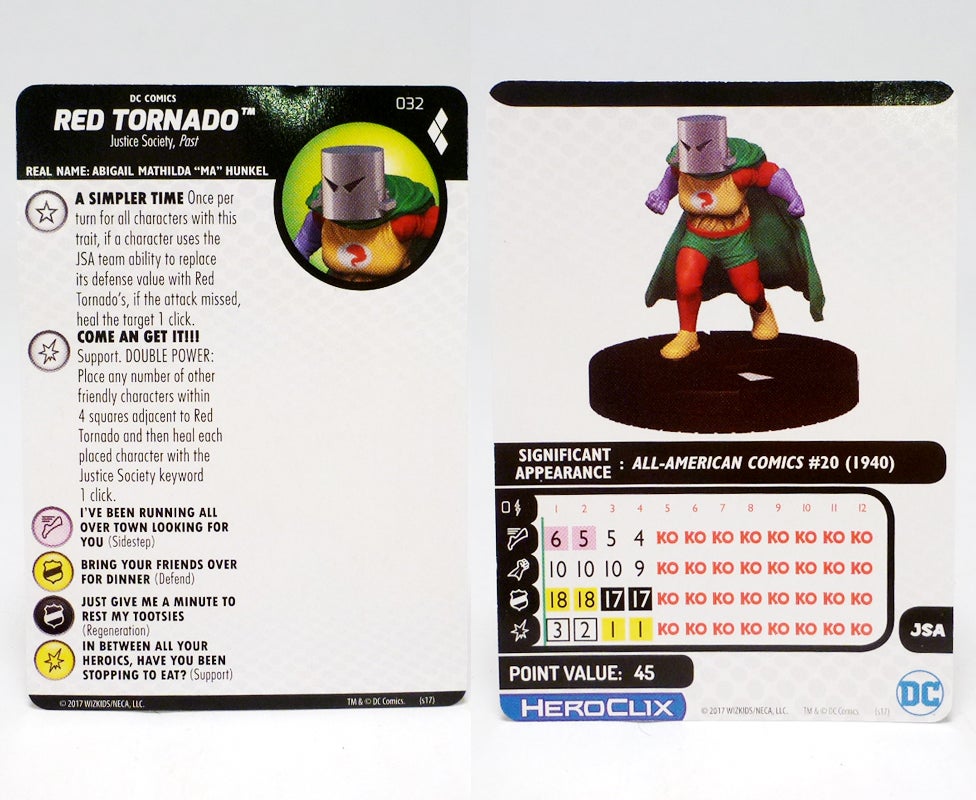 Through various previews and unboxings most of the dials in this set have been revealed by now, but here are a few favorites of mine that you may not have seen yet.  First up is Abigail Mathilda "Ma" Hunkel, otherwise known as the original Red Tornado!  She may not have powers, but she's tough as can be and takes care of those she loves.  She's a perfect addition to the modern JSA lineup of low point figures and the uncommon 032 Red Tornado comes in at 45 points with the JSA team ability and Indomitable!  Her version of the shared "A Simpler Time" trait lets an ally who takes her defense value heal when missed by an attack.  Red Tornado's dial starts with Sidestep, an 18 defense with Defend, and a special power giving her Support and an incredible double power action ability that teleports all allies within 4 squares adjacent to her AND heals each one of them with the JSA keyword 1 click!  On the back half of her dial Ma switches to Regeneration and standard Support.  Oh, and the flavor text on her dial is hilarious, so definitely check it out.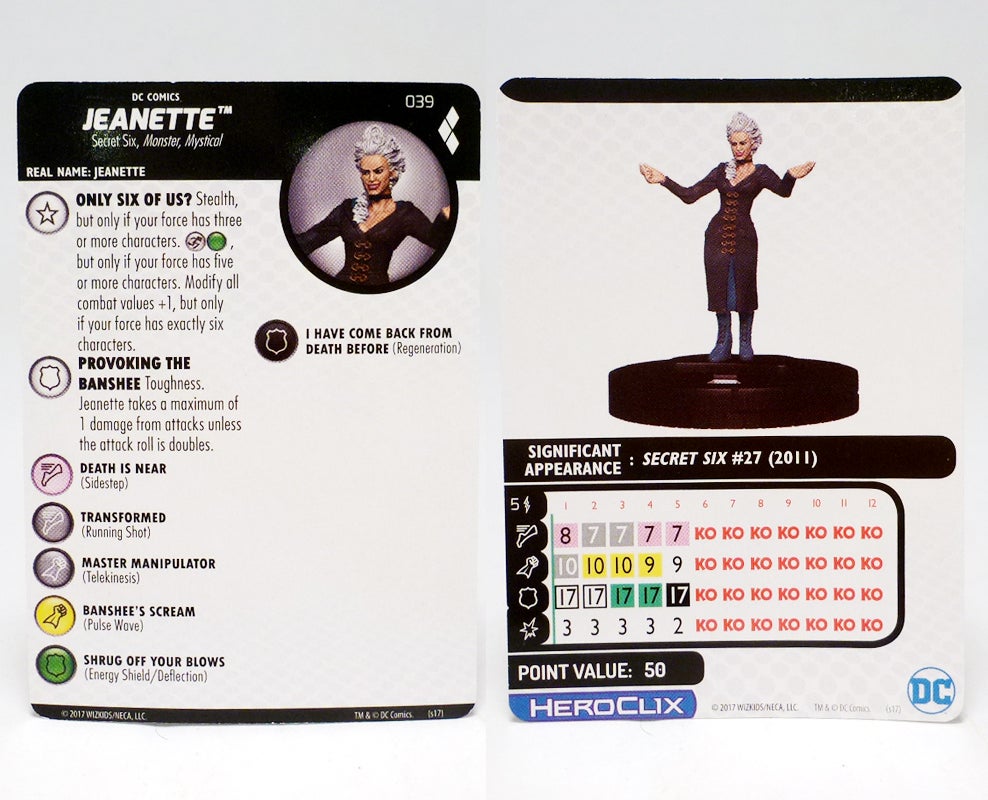 Much has already been said about the Secret Six characters in this set, and we're going to check in with one of those who's getting her very first HeroClix figure: rare 039 Jeanette!  She's 50 points like most of the others and has a five range and the familiar "Only Six Of Us?" trait that piles on the benefits the more figures you have on your team: Stealth for three or more, Improved Movement: Ignores Hindering Terrain for five or more, and +1 to all combat values for exactly six.  She starts the game with Sidestep, Telekinesis, and a special power combining Toughness with the ability to shrug off all but one damage from attacks unless the roll was doubles.  Mid-dial Jeanette gets more aggressive with Running Shot and Pulse Wave with Energy Shield/Deflection for protections, and late-dial goes back to Sidestep with Regeneration to get back into the battle.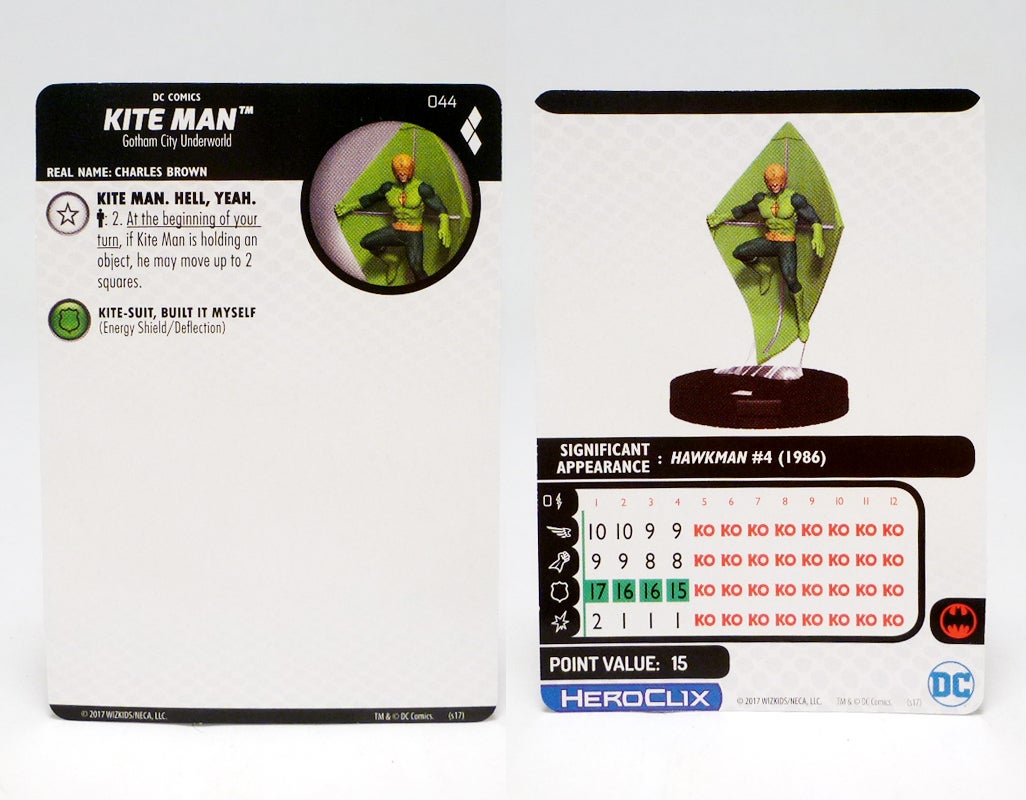 A figure that I'm sure everyone will be excited to see in HeroClix finally is none other than Kite Man, and the minor villain has a surprisingly great sculpt as he flies through the air attached to his Kite-Suit!  The rare 044 Kite Man is only 15 points with Flight, the Batman Enemy team ability, and a trait named for players' reaction when they see him in a booster: "Kite Man.  Hell, yeah."  It gives him two passengers and lets Kite Man do a free two square hop at the beginning of your turn if he is holding an object.  For only 15 points he has a decently long four-click dial with solid stats, and a full run of Energy Shield/Deflection to protect him.  Get him while you can, folks; we aren't likely to see another Kite Man in the game unless he suddenly catapults to fame in the comics.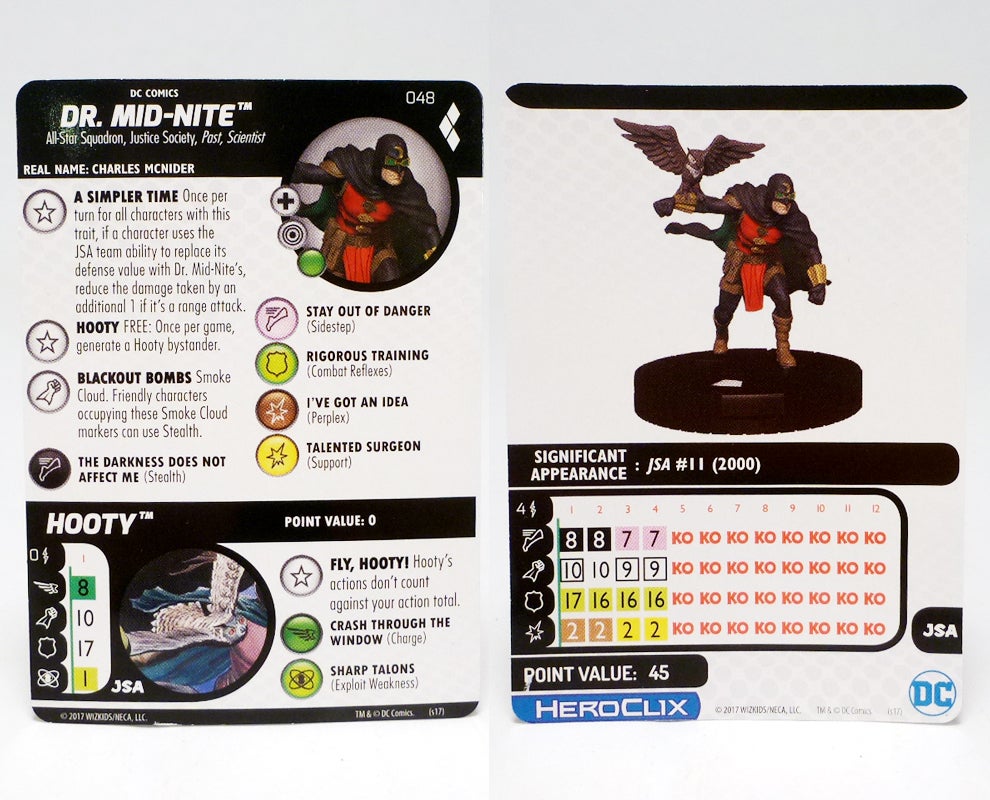 Joining the other Justice Society members and coming in at the rare level is a new Dr. Mid-Nite (Charles McNider).  The classic hero is another budget figure at 45 points with the JSA team ability, a four range, Improved Targeting ignoring hindering terrain, the "A Simpler Time" trait giving a friend an additional 1 damage reduction from range attacks, and a second trait letting him generate a Hooty bystander once per game.  The good doctor has Combat Reflexes his whole dial and nearly a full run of a special power giving him Smoke Cloud and letting allies in his Smoke Cloud markers use Stealth!  Meanwhile he has two modes; at the start of his dial he hides and helps his friends with Stealth of his own and Perplex, while late-dial he returns to his doctor roots with Sidestep and Support.  His owl Hooty has Flight and the Tiny size.  Its actions don't count against your action total and it makes surprisingly effective (though small) attacks with Charge and Exploit Weakness.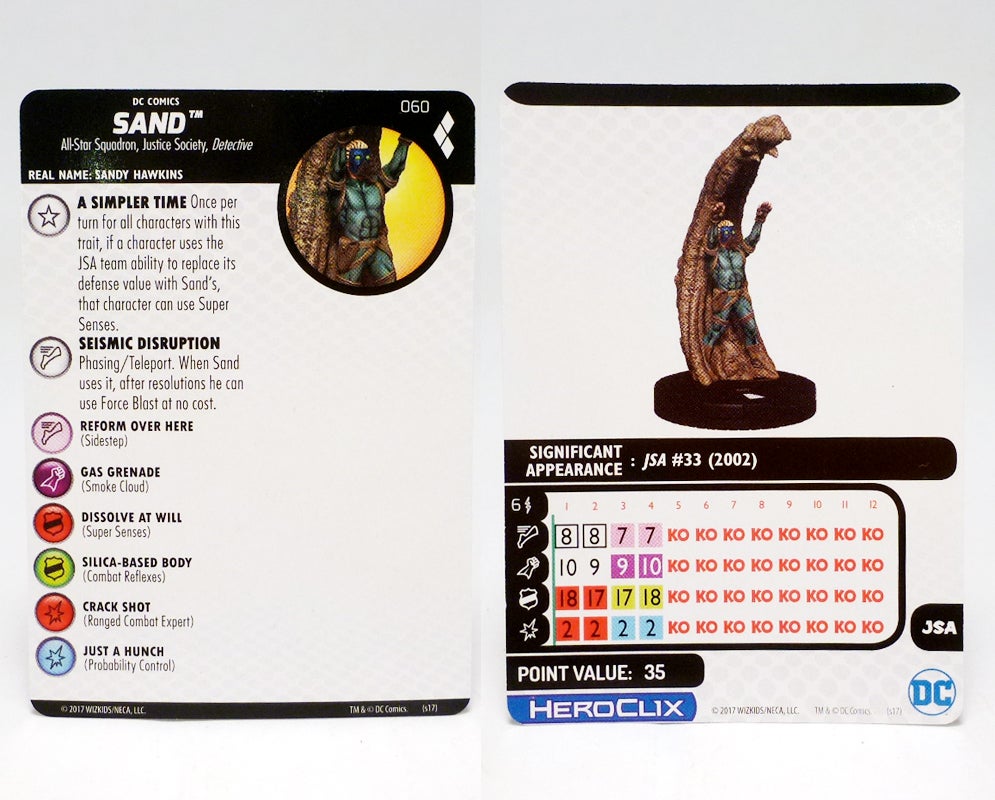 Moving into the super rares, other previews have covered Supergirl and King Shark, so let's check out Sand!  Another JSA member, Sand makes his HeroClix debut with a very cool sculpt and another short but sweet dial.  He's 35 points with the JSA team ability, a six range, Indomitable, and the "A Simpler Time" trait giving a friend taking his defense value the use of Super Senses.  Like his teammates Sand has a two-part dial, this time starting with a special power giving him Phasing/Teleport and the ability to use Force Blast at the end of its move, Super Senses, and Ranged Combat Expert.  Mid-dial he switches things up and gets Sidestep, Smoke Cloud, Combat Reflexes, and Probability Control.  Sand also has good stats with attack and defense numbers that dip mid-dial and rebound at the end.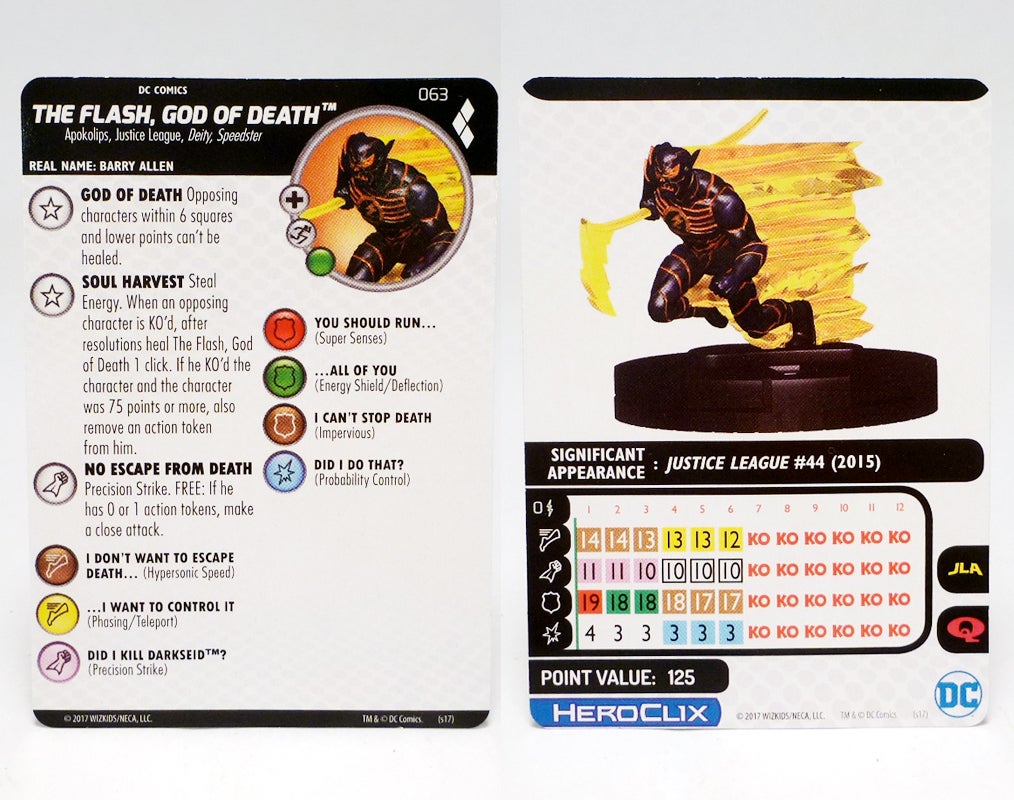 Lastly we've got to get a look at this chase, the amazing The Flash, God of Death.  During the Darkseid War storyline the Anti-Monitor merged the Flash (Barry Allen) with the Black Racer New God of death in order to kill the ruler of Apokolips.  This unique amalgam comes to HeroClix in a small but powerful package; he's 125 points with the JLA and Quintessence team abilities, Improved Movement ignoring hindering terrain, an aura trait preventing enemies within six squares from healing, and the "Soul Harvest" trait giving him Steal Energy, healing him every time an opponent is KO'd, and removing his own tokens when he KO's enemies!  As you can see all of that can drastically extend his lifespan, which is nice since his dial is only six clicks long.  He starts the game with a big 14 movement and Hypersonic Speed plus Precision Strike (11 attack/4 damage) and Super Senses (19 defense).  The opening Super Senses yields to a couple clicks of Energy Shield/Deflection which is handy for protection after running away.  Mid-dial the Flash becomes death itself with big movement Phasing/Teleport paired with a special power giving him Precision Strike AND the ability to make a free action close attack when he has zero or one action token!  Defensively he's protected by Impervious and he has Probability Control to boot.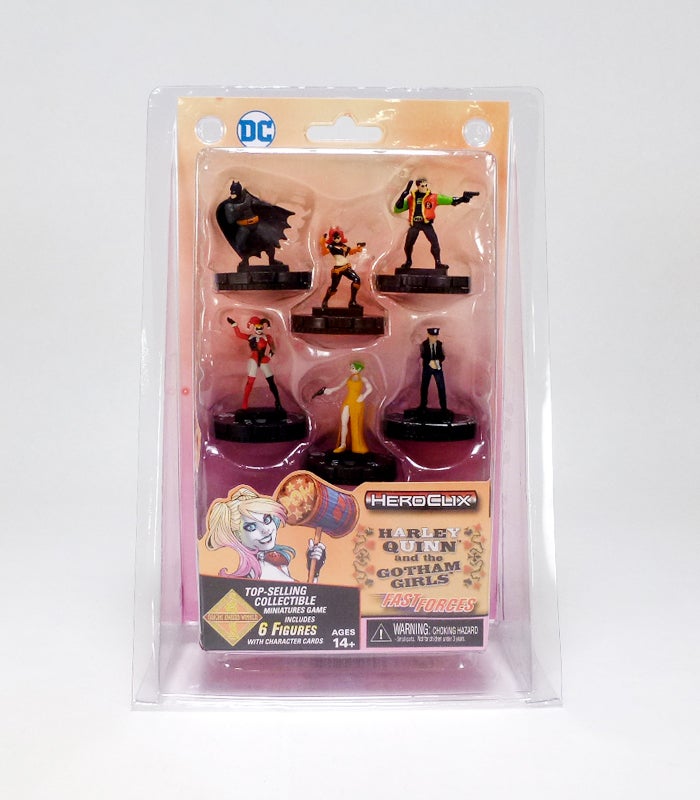 Alongside every new HeroClix expansion are multiple ancillary products that give you even more fun figures and accessories for your games.  With this set you can pick up the Harley Quinn and the Gotham Girls Fast Forces pack featuring characters from Thrillkiller and Thrillkiller '62.  If you're unfamiliar with those storylines, they capture crimefighters in the early 1960s Gotham City with gritty, pulpy adventure.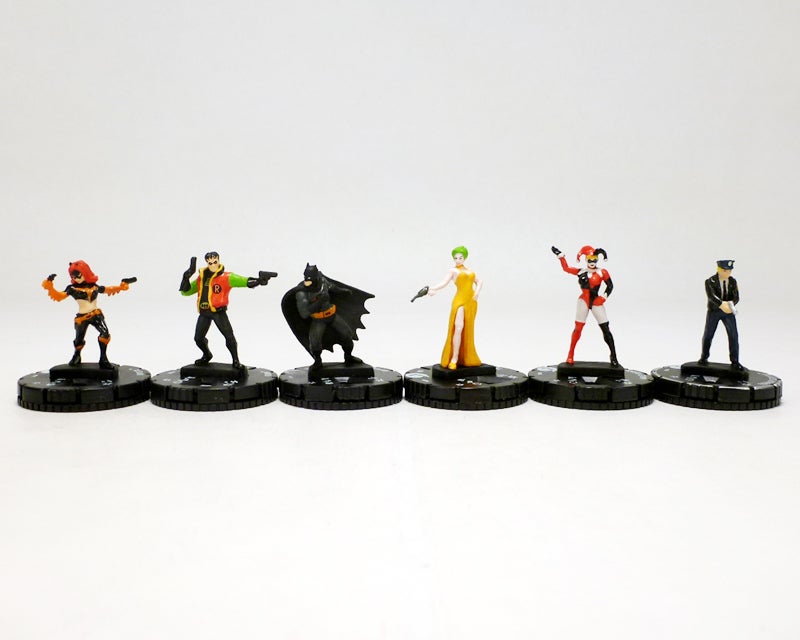 The Fast Forces has the standard six figures, this time with Batgirl (Barbara Gordon), Robin (Rickart Graustark), Batman, The Joker (Bianca Steeplechase), Harley Quinn (Hayley Fitzpatrick), and a Corrupt GCPD Cop.  First off, this set gets major accolades for having a figure named "Corrupt GCPD Cop."  They're ubiquitous in comics and other DC media and now you can play them!  All of these figures share sculpts with other versions from the booster set but feature unique dials with different, easily buildable point costs, new traits and powers, etc.  Naturally the figures here play well together, and the figures are all 100 points each except for 60 point Harley Quinn and 40 point Corrupt Cop.  The heroes especially work well together with shared buff traits "Very Dynamic Duo," "Dynamite Duo," and "Dynamical Duo."  Of course, you can also mix and match them with their main set Thrillkiller counterparts for even more team options.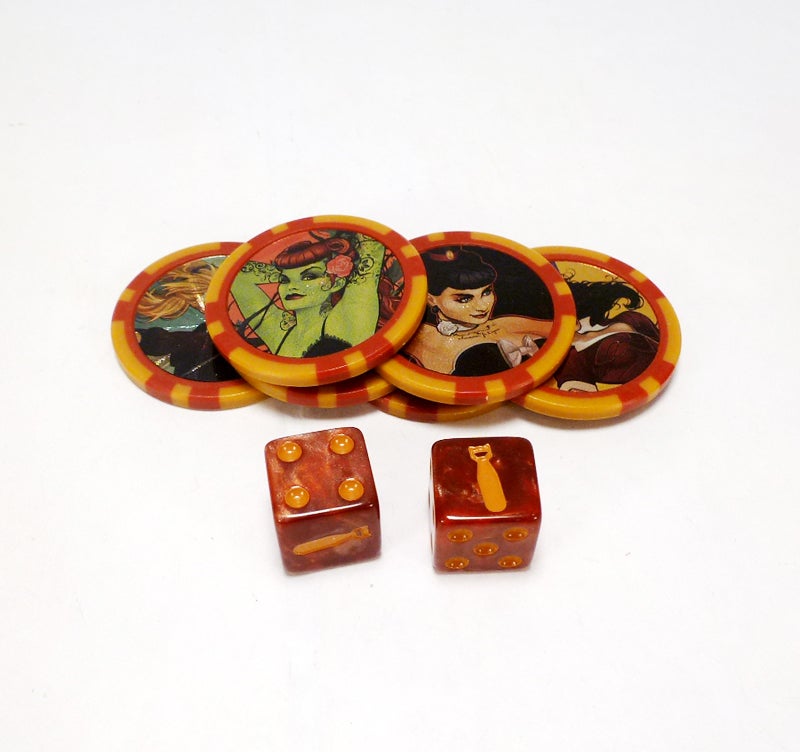 Also releasing alongside the booster set and the Fast Forces is the Harley Quinn and The Gotham Girls Dice & Token Pack.  This accessory focuses on the DC Comics Bombshells with six red and yellow poker chip-style action tokens featuring iconic artwork of Bombshells Supergirl, Batwoman, Poison Ivy, Zatanna, Harley Quinn, and Wonder Woman.  Also included are two dice in the same color scheme with a distinctive bomb symbol on the six side.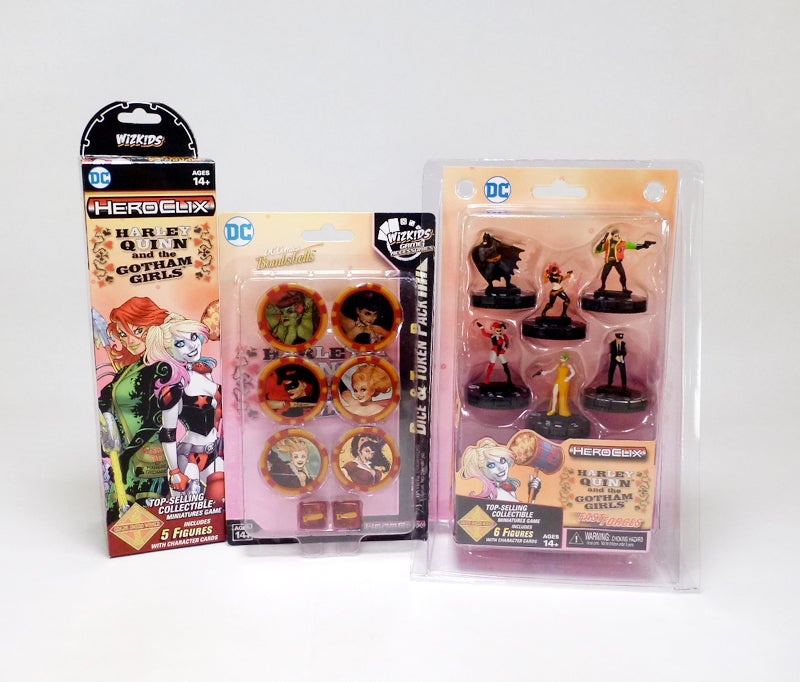 Alright guys, I hope you've enjoyed this look into a booster of DC HeroClix Harley Quinn and the Gotham Girls plus the Fast Forces and Dice & Token Pack.  With Bombshells, tons of great ladies, Harleys, Secret Six, Darkseid War chases, and more this set has lots of fun for any player or collector.  All of these will be available wherever you buy HeroClix next week, and participating stores will also have access to a Release Day Organized Play Kit so check with your local venue on the WizKids Info Network.  As always, have fun and good luck with your pulls!
Click here to check out a photo gallery of all the figures from this brick.
Visit the brand new and improved HeroClix.com for even more info as well as downloads of rules and maps, and stay tuned to Figures.com as we continue our reviews of new HeroClix!
-Review and photos by Scott Rubin
-Review samples courtesy of WizKids Games
[gallery_bank type="images" format="masonry" title="true" desc="false" responsive="true" display="all" sort_by="random" animation_effect="bounce" album_title="true" album_id="1298″]
[gallery_bank type="images" format="masonry" title="true" desc="false" responsive="true" display="all" sort_by="random" animation_effect="bounce" album_title="true" album_id="1299″]
[gallery_bank type="images" format="masonry" title="true" desc="false" responsive="true" display="all" sort_by="random" animation_effect="bounce" album_title="true" album_id="1300″]
Keep up with all the latest toy news by following Figures.com on Facebook and Twitter!
To buy action figures, take a look at Hobby Link Japan, BigBadToyStore.com, TheToySource.com, Toynk.com, BriansToys.com, ToyWiz.com, and EntertainmentEarth.com.