Review and Photos by David Yeh
You love the Teenage Mutant Ninja Turtles. You love Ghostbusters. What if… they were merged together into something called NINJA GHOSTBUSTERS? The fine folks at Playmates Toys did just that and put our heroes in a half shell in suits equipped with proton packs, ready to zap some ghosts. But instead of the turtles playing themselves as Ghostbusters, they're morphed into one of the Ghostbusters characters!They're still turtles and they're definitely ghostbusters… but ninja they are not.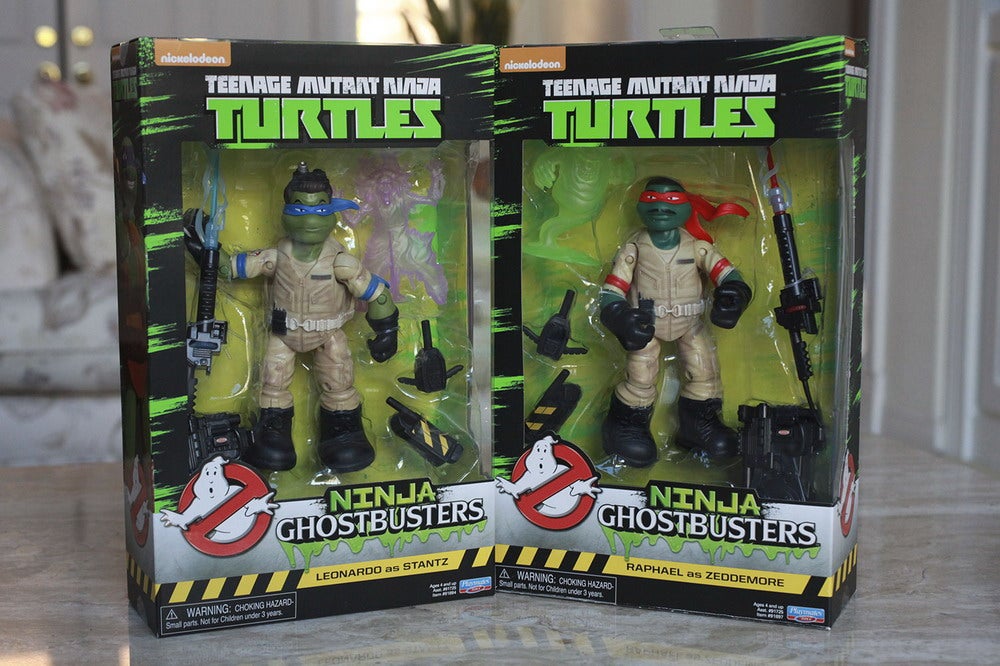 Our fearless leader Leonardo plays Stantz, the unofficial soul of the Ghostbusters. Michelangelo is the wise-cracking Venkman. Donatello plays the brains of the group, Spengler. And Raphael, with his no-nonsense grit, is Zeddemore.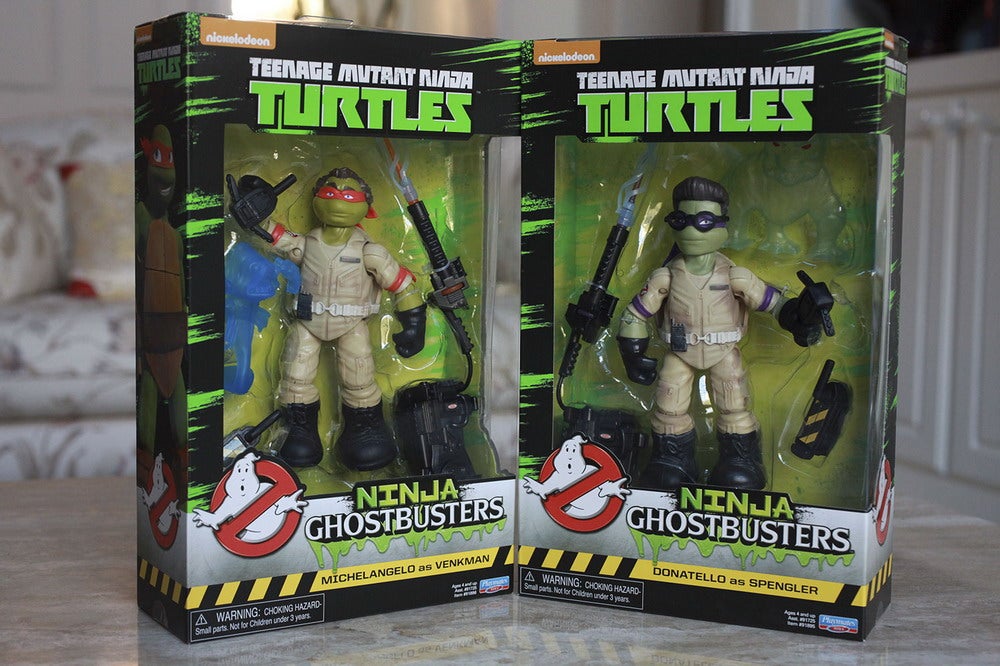 Each turtle still wears their signature colored bandana, but heads and expressions are more of a match with their human characters than the turtles and I'm having just a little hard time getting over it. I would rather prefer the turtles themselves playing as Ghostbusters and without the mannerisms and hair (and facial hair) of the actors, but I digress. These figures are in your local retailer now in specially marked boxes and are a little fun for those who always wanted to see this odd pairing take place.
Each turtle comes individually boxed and is a much taller scale than the standard Ninja Turtle figure. If you have the Mattel Ghostbusters figures handy from a few years back, they stand about the same height, which throws away any sense of realism for an actual team-up. I can't explain or begin to understand why these Turtles are this much taller, but they're pretty hefty figures.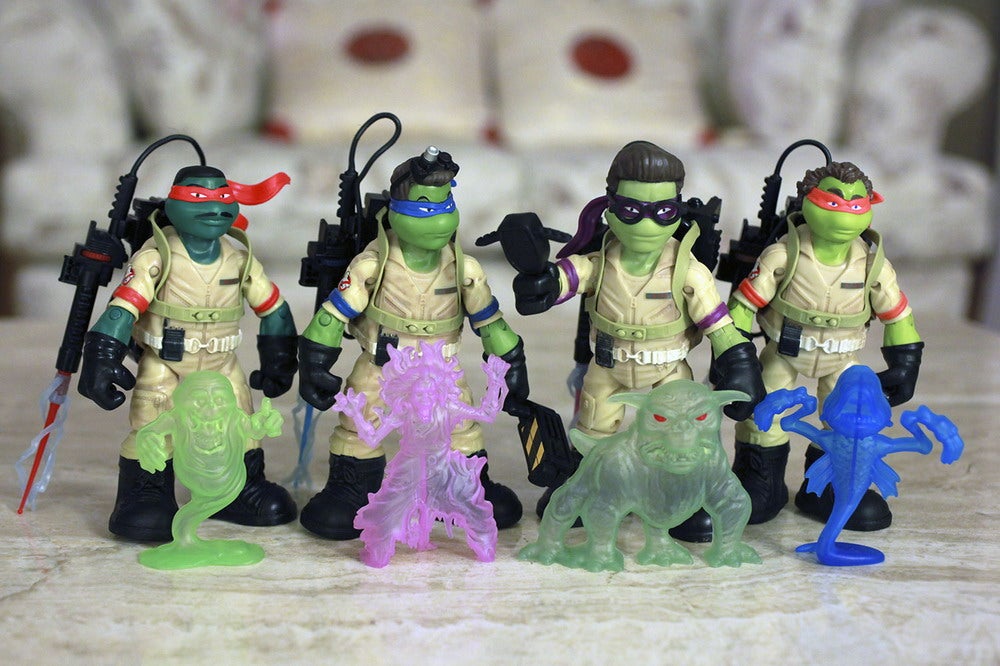 Each turtle comes with a slew of accessories including removable proton pack with wand, a ghost trap, PKE Meter, and a small plastic ghost. Leo comes with Library Ghost, Raph comes with Slimer, Donatello comes with a terror dog, and Mikey comes with…. well, I can't really place him but it's a ghost! I was hoping that these ghosts could stand on the Ghost Trap but alas, the balance isn't very good so that's a no.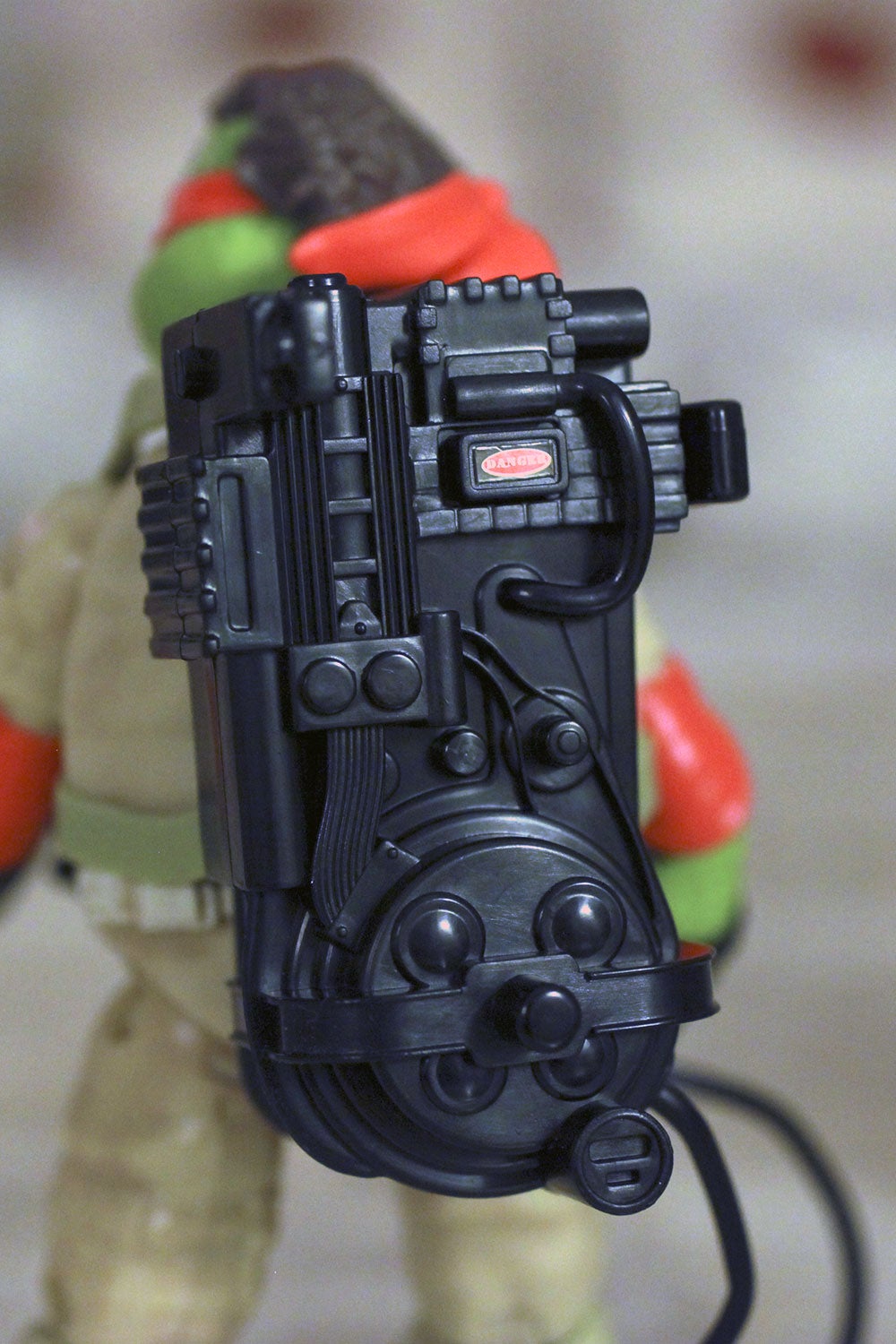 The Proton Packs and Wands strap over the shoulders of the turtles which is actually a nice touch as opposed to plugging them into an ugly hole in the back. The wand snaps in on the pack or can be held by the turtle.
Forewarning, I had a really hard time getting the wand into any of the turtles hands. After struggling for a while I fit it on two of the turtles, but gave up on the others. Also, the wands have permanent beams of energy attached to the wand but with a turn of a dial, you can recreate some neat energy effects. Also a cool detail is that the colors of the beam matches the individual turtle's color.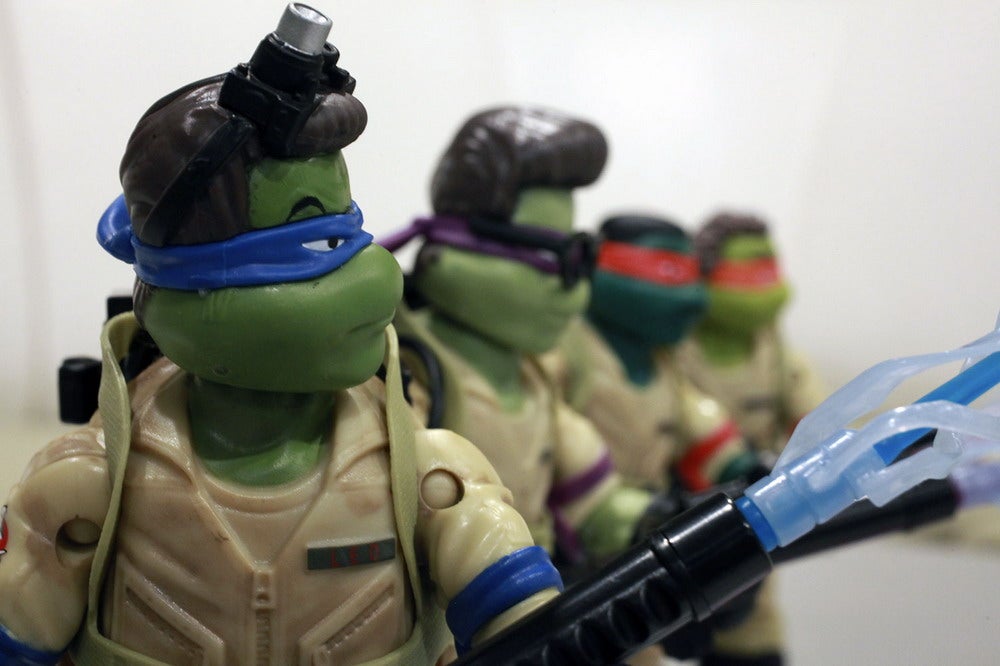 So there you have it! Four Ninja Turtles playing four Ghostbusters. And no, there are no Foot Solder ghosts for them to battle against, but wouldn't that have been more fun? To see Bebop and Rocksteady as terrible ghosts or even Kraang? We'll just have to pretend for now. Until then, here are the Ninja Ghostbusters.
Thank you so much to Playmates Toys for sending these over for us to look at!
Review and Photos by David Yeh
Review Samples Courtesy of Playmates Toys
[gallery_bank type="images" format="masonry" title="true" desc="false" responsive="true" display="all" sort_by="random" animation_effect="bounce" album_title="true" album_id="1280″]
Keep up with all the latest toy news by following Figures.com on Facebook and Twitter!
To buy action figures, take a look at Hobby Link Japan, BigBadToyStore.com, TheToySource.com, Toynk.com, BriansToys.com, ToyWiz.com, and EntertainmentEarth.com.