by David Yeh
The Teenage Mutant Ninja Turtles are back again and today we have six new figures from Playmates Toys to look at, just in time for Halloween!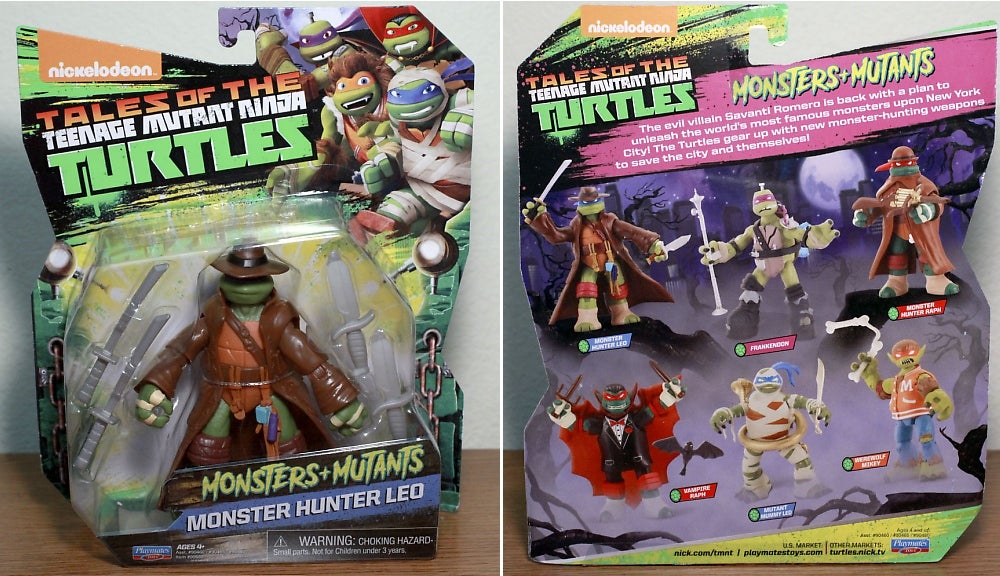 Kicking it off, we have two of the turtles in Monster Hunter gear (think Van Helsing) and then we have a look at the turtles in their various monster forms. These are all individual packed figures on a blister card and bubble and can be found wherever Ninja Turtles figures are found. So without further ado, let's gets down to it.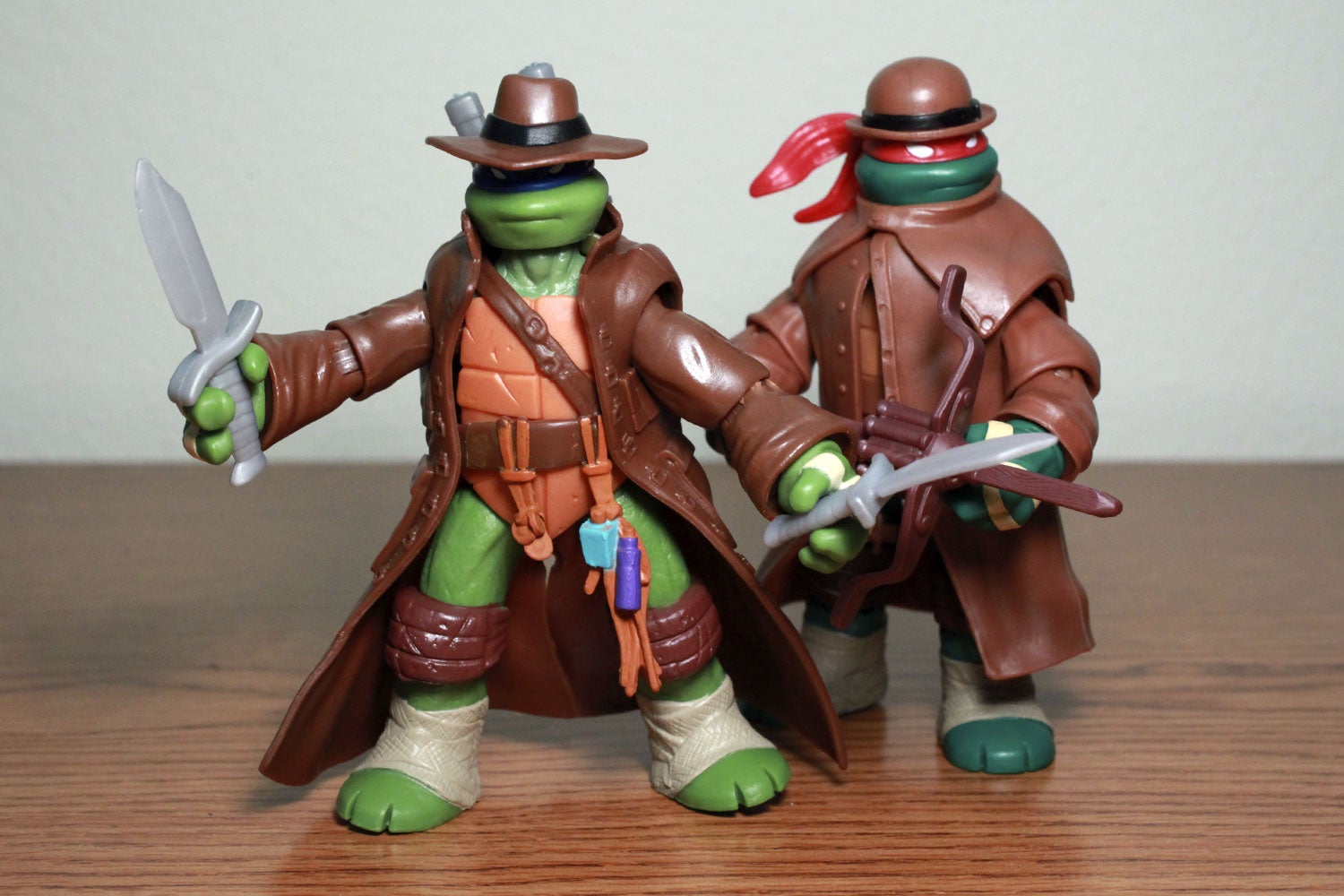 We'll start with Monster Hunter Leonardo and Monster Hunter Raphael, which happen to be my two favorite turtles so, that's a bonus! But what's cool about these guys is that they're wearing trench coats and hats, something that's always fun to have. When they're not hunting monsters, you can basically have turtles in standard trench coat disguise!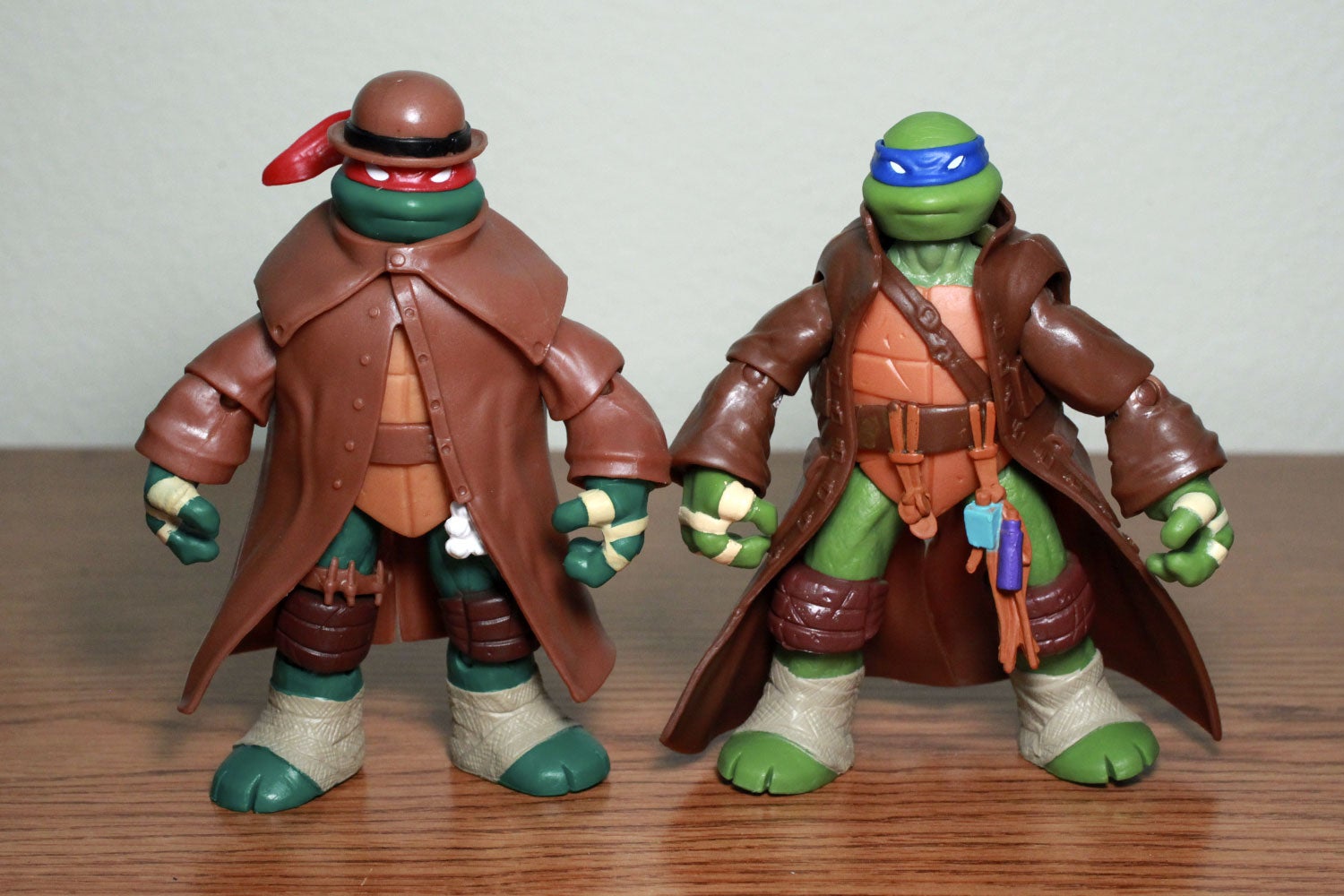 Leonardo has a more open coat AND a removable hat, something that Raph does not have the luxury of. Raphael has a different style coat and a bowler hat that isn't removable which is rather disappointing. On their belts, Leonardo appears to have some charms and potions on his belt while Raphael has what appears to be garlic.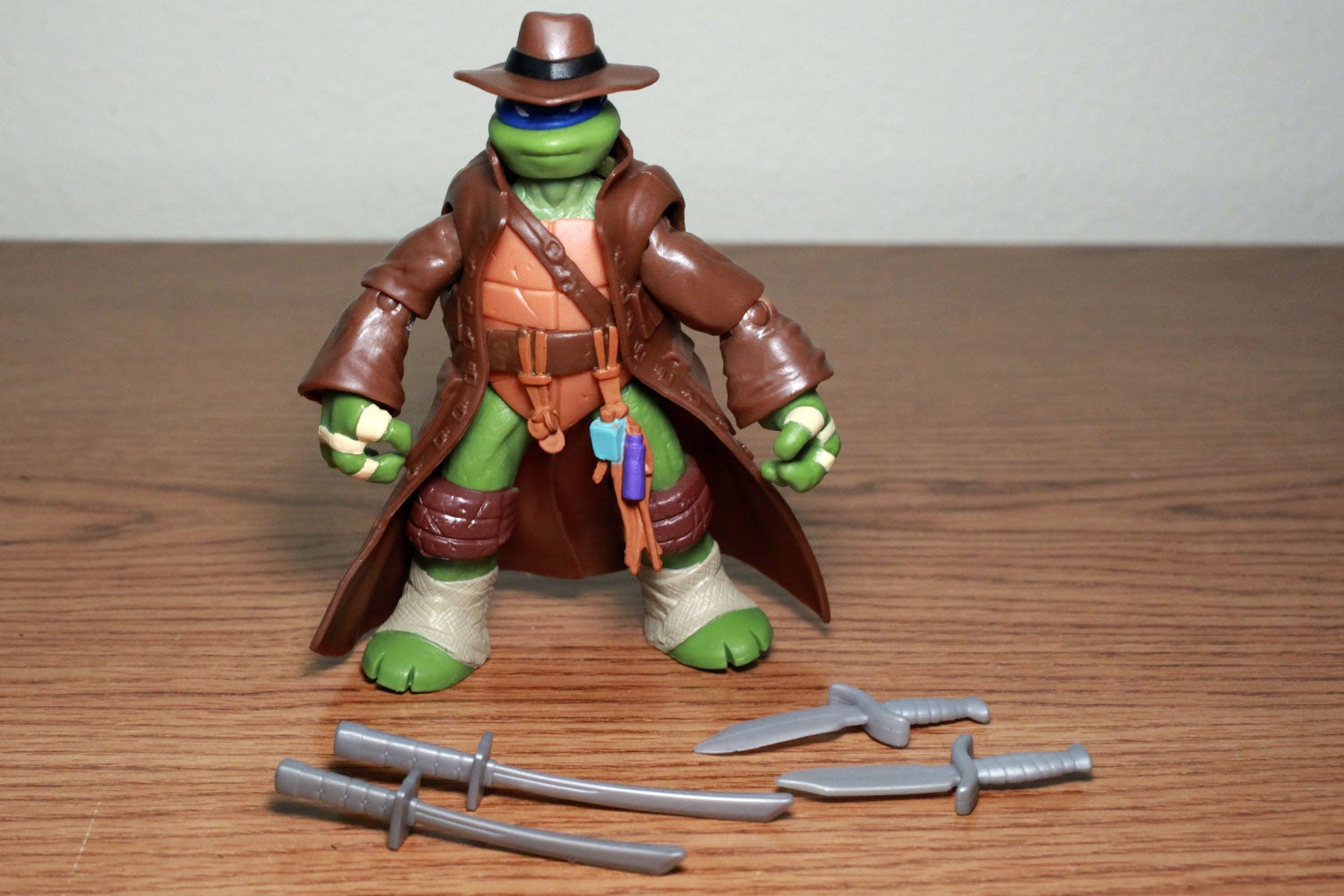 Accessory-wise, Leonardo comes with his two katana swords, two smaller daggers, removable hat, and a removable sword sheath on his back. Raphael only comes with a monster hunting weapon that he can hold in two hands. No Sai, no removable hat? Bummer! Because of that, the play value for Leonardo far exceeds that of Raphael, but they do look pretty cool together.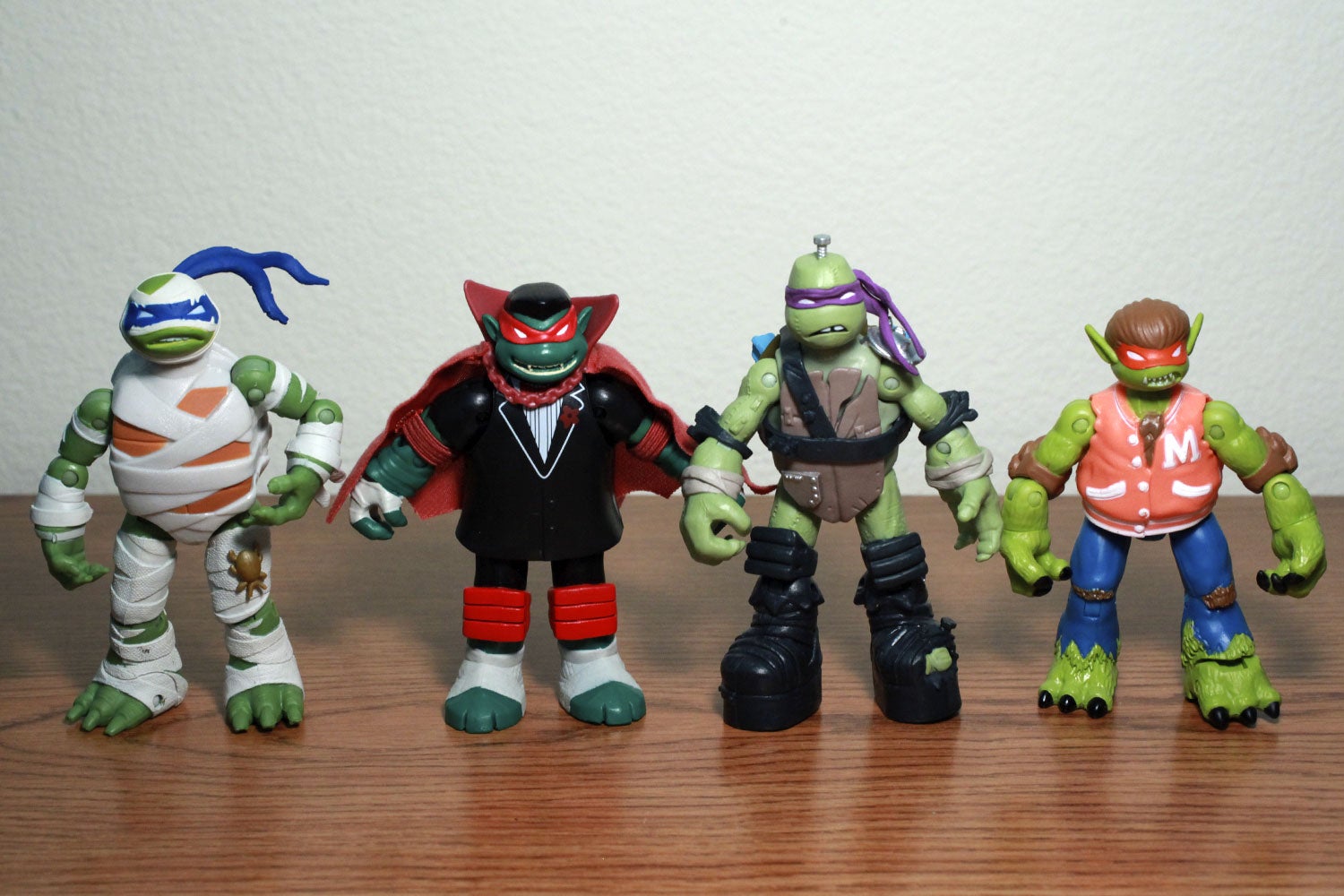 The four monster turtles are fun, but really kind of random. We have Mutant Mummy Leo, Vampire Raph, Frankendon, and Werewolf Mikey. It's an interesting selection of monsters and not exactly what I would have gone with, but sure, let's roll with it.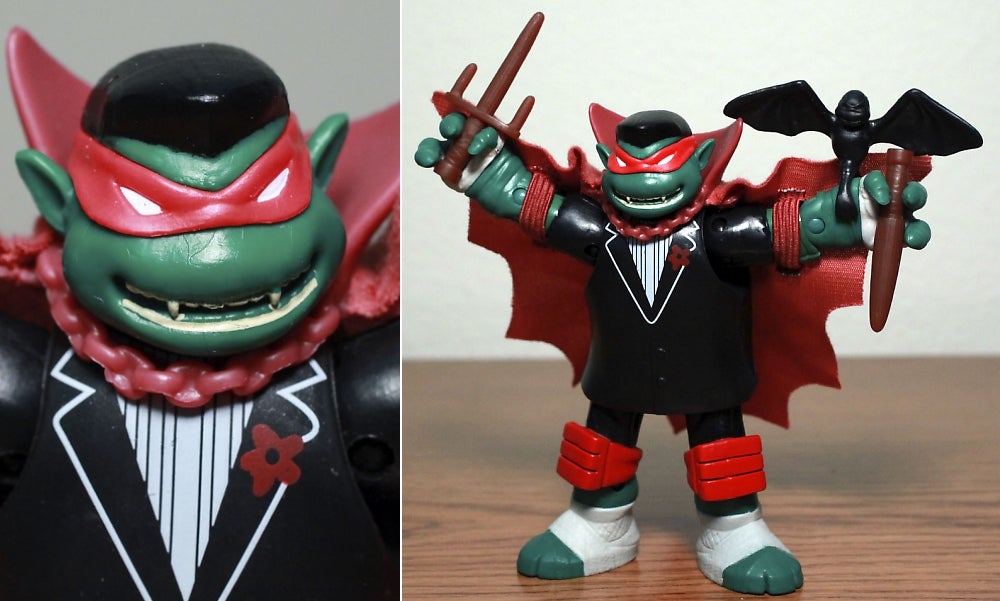 Isn't it odd to have Vampire Raph, while the Monster Hunter Raph is the one that comes with garlic? Is he going to hunt himself? While we're on Vampire Raph, his accessories includes one sai, a stake, and a bat buddy. He also has a fabric cape that attaches to the figure in three places. Vampire Raph is pretty smiley here and not so menacing.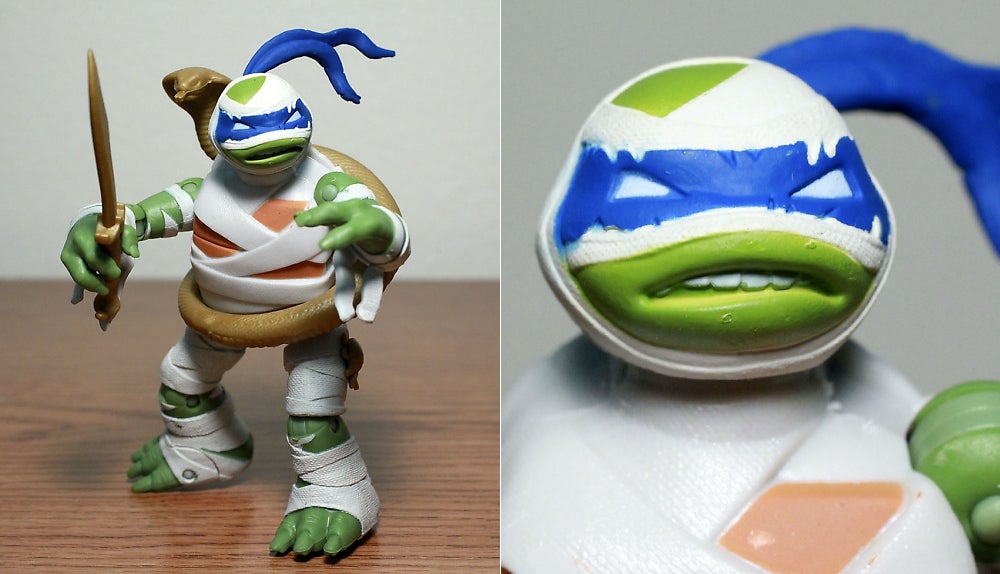 Mummy Monster Leo, with a huge scowl, is wrapped in bandage head to heel (his toes are exposed). Some bandages have a nice patterned texture to it while it's smooth elsewhere. Accessories, Leo comes with a jagged gold sword and a cobra that wraps around him. There's also a scarab attached to Leo's left leg.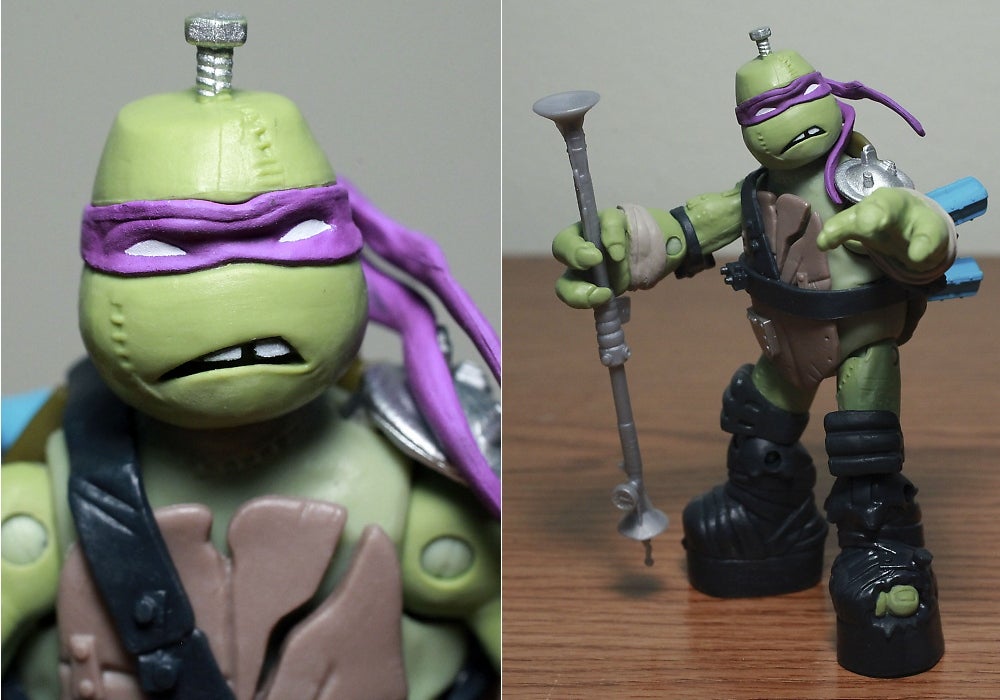 Frankendon (sounds like a dish served at a Japanese restaurant) is perhaps the more interesting of the Monster turtles in terms of execution. With his elevator boots, he's also a bit taller than his brothers. Stitches cover him throughout and his shell is complete with massive poles of… well.. something. The screw at the very top of Don's head is a funny touch and makes this a monster of a mutant. Donatello comes with a prod-like bo staff.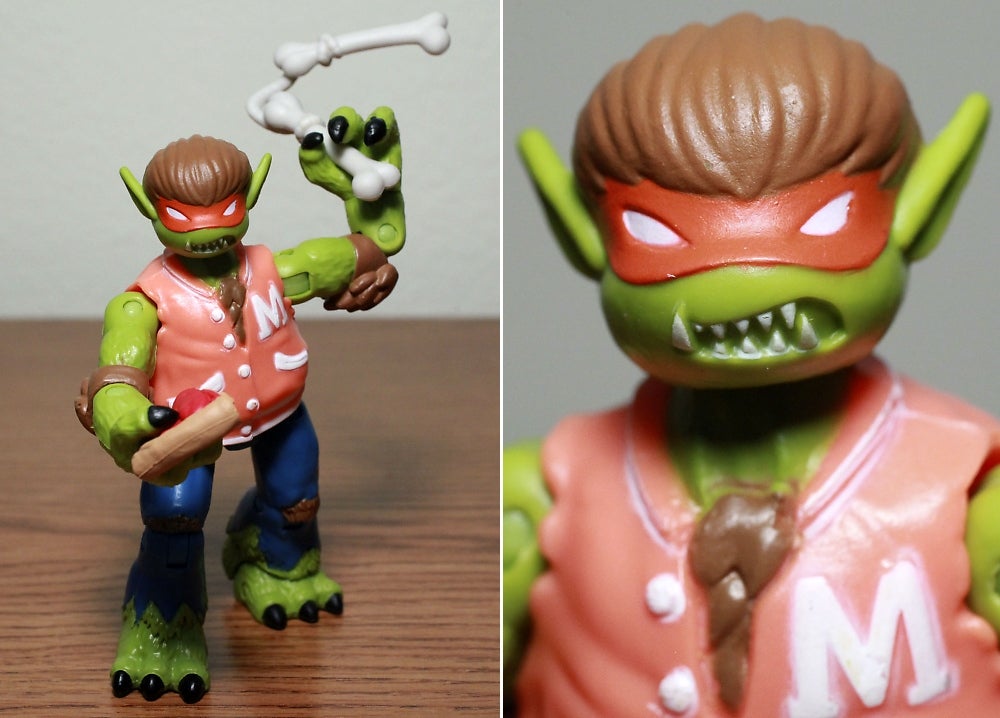 Last we have Werewolf Mikey. Gonna be honest here, really not a fan of the head sculpt. It's just Mikey with hair and pointy ears. If he was truly going to be a werewolf, I kind of want to see a bigger push in that direction. Moving on, he's sporting a letterman's style jacket that says "Wolfpack" on the back along with some torn jeans. Also confusing about this Mikey is the mixture of brown fur and green fur. It's hard to tell if he's just lacking paint or what.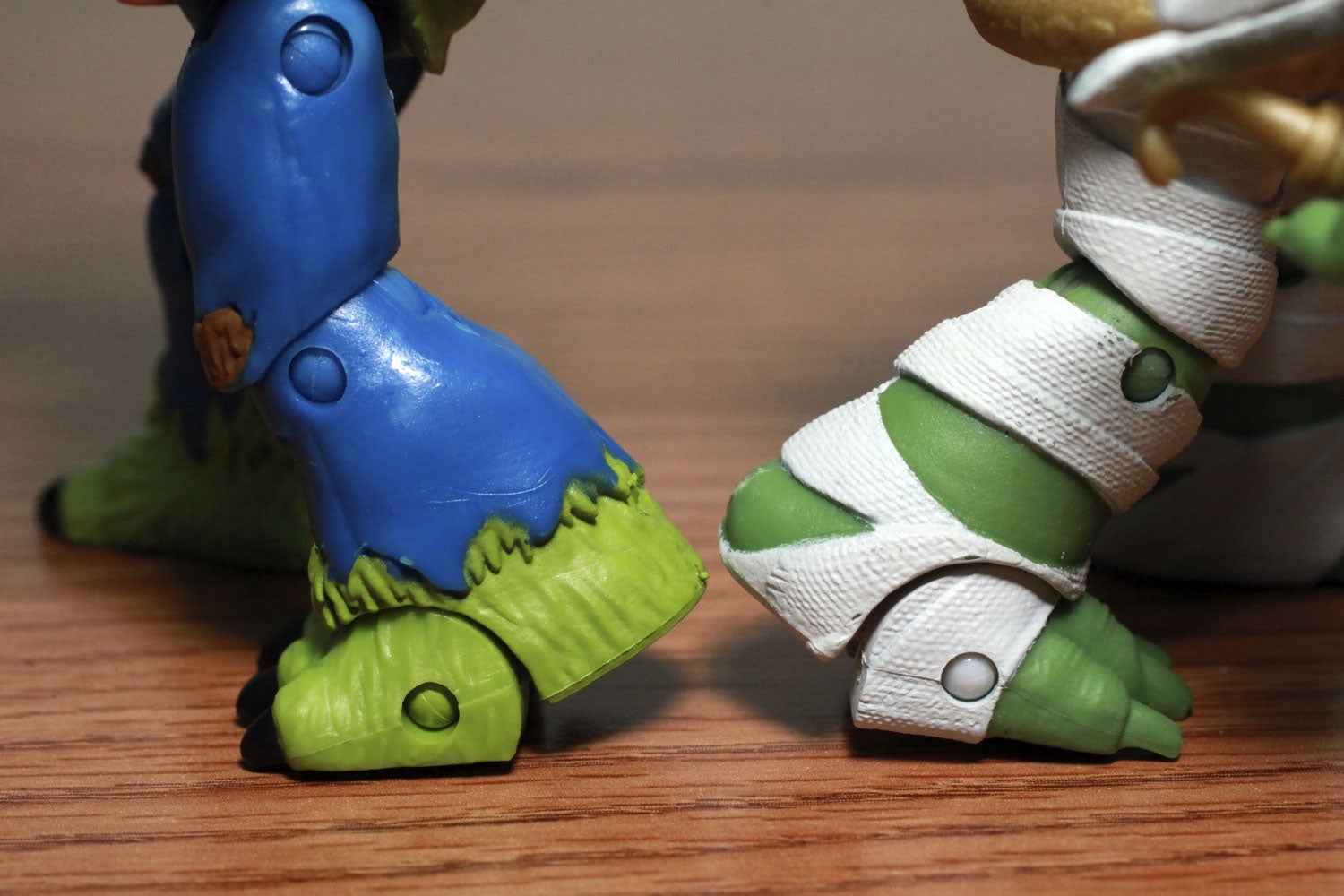 Looking at the promo photos, it is lacking some paint. Speaking of paint, Frankendon gets the added bonus of having black painted in his mouth, something all the other turtles are lacking. It makes a massive difference in appearance. Werewolf Mikey comes with a bone nunchuck and a slice of pizza.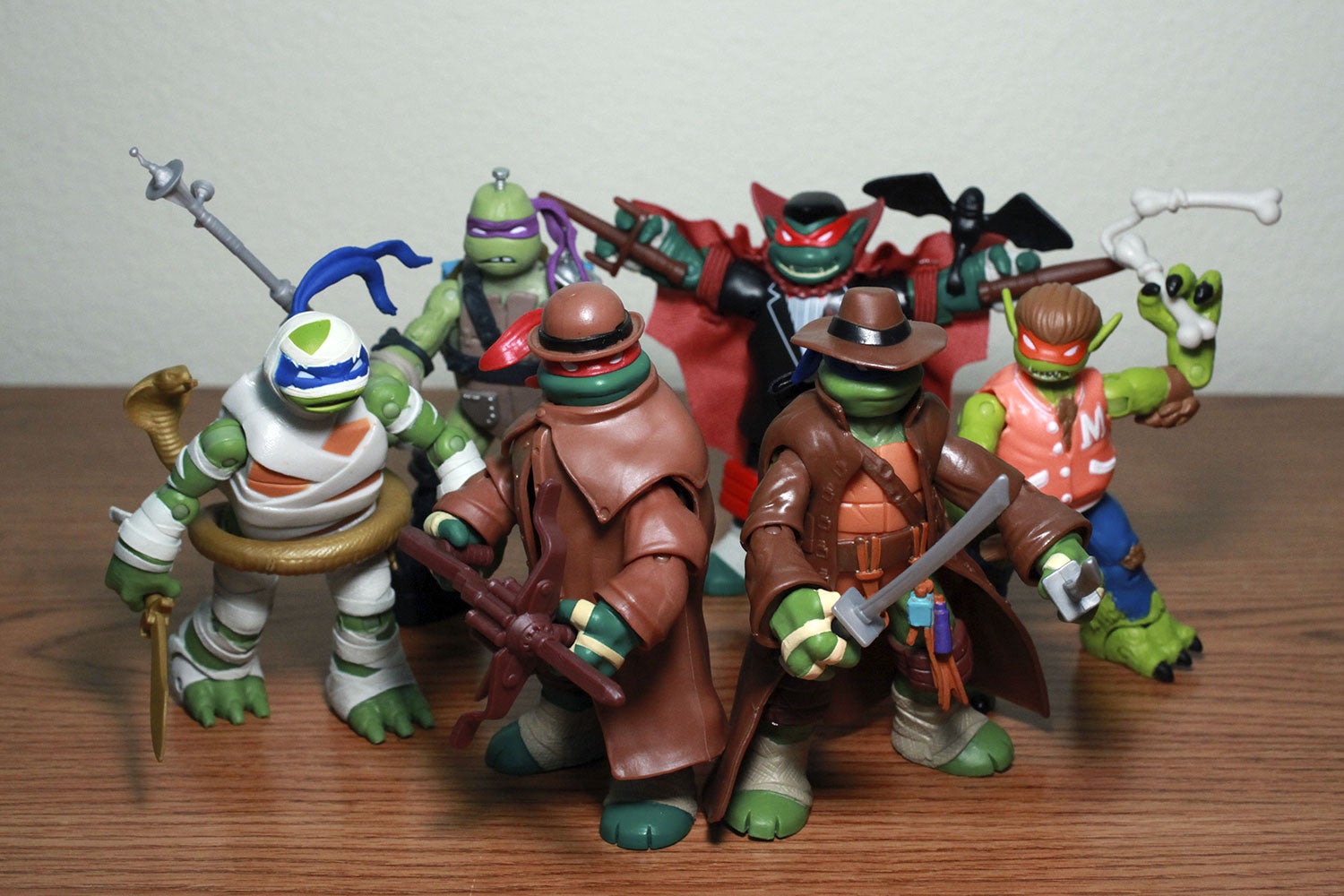 The Monsters & Mutants line is reminiscent of the vintage era Turtles as Monsters, so if we're going to draw conclusions, these are a lot better made. (Google the old ones if you want a real scare). All six turtles are available now so if you just can't get enough of Turtles and Monsters, this is the line-up for you!
Next time we'll take a look at another TMNT mashup with the Ghostbusters!
Review and Photos by David Yeh
Review Samples Courtesy of Playmates Toys
[gallery_bank type="images" format="masonry" title="true" desc="false" responsive="true" display="all" sort_by="random" animation_effect="bounce" album_title="true" album_id="1229″]
Keep up with all the latest toy news by following Figures.com on Facebook and Twitter!
To buy action figures, take a look at Hobby Link Japan, BigBadToyStore.com, TheToySource.com, Toynk.com, BriansToys.com, ToyWiz.com, and EntertainmentEarth.com.