It's a wonderful time to be an ALIEN collector. While the franchise has had collectibles since its introduction way back in 1979, it hasn't been until recently that collectors have been treated to something other than the monster. That's particularly true in regards to the awesome spaceship designs seen in the movie. Aside from a handful of hard-to-find, build-them-yourself model kits or micro capsule toys, ALIEN fans wanting a replica of the crashed derelict alien ship, Narcissus escape pod, or Nostromo M-Class starfreighter have – until now – been out of luck.
Eaglemoss exploded on the ALIEN collectible scene earlier this year with the Alien & Predator Official Figurine Collection. Already 14 figures deep, the series has expanded to include Mega Scale Statues, with a towering Xenomorph available now and a large Space Jockey on the way. As announced earlier this month (HERE), Eaglemoss has announced two more ALIEN spin off lines: a sub-series called the ALIEN Retro Collection, and the subject of today's review, the Alien and Predator Ship Collection.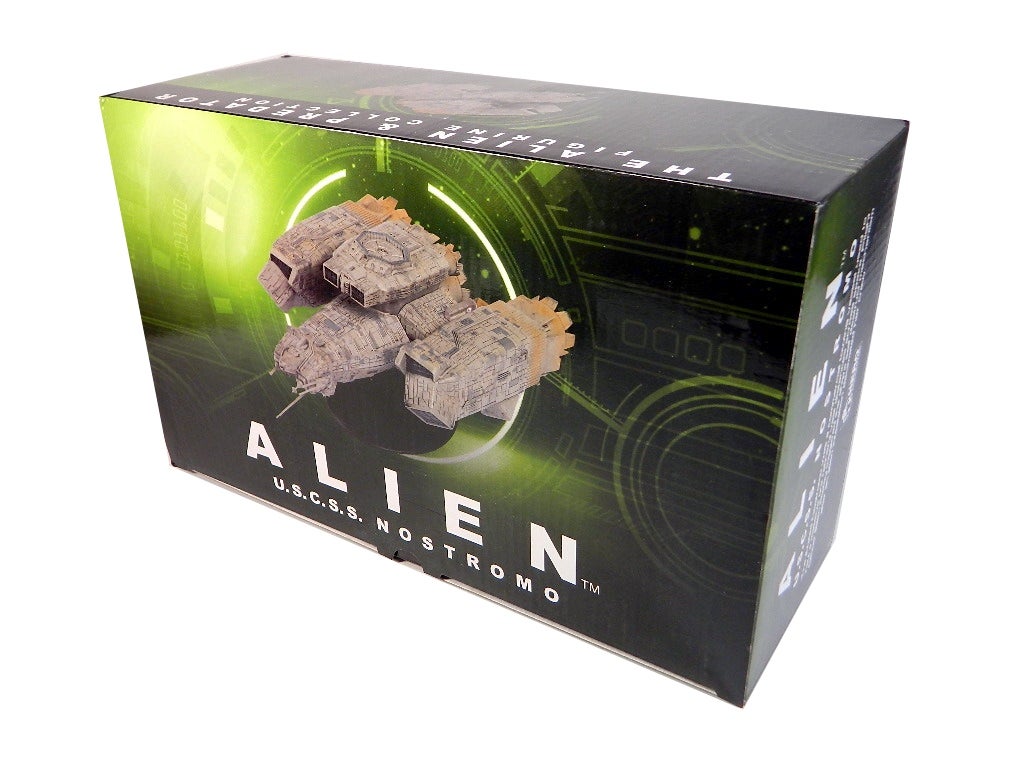 Arriving this December, the USCSS Nostromo is the first release in Eaglemoss' Alien and Predator Ship Collection. The Nostromo is currently available for pre-order through Diamond Comic retailers, such as BigBadToyStore.com, priced at $64.99.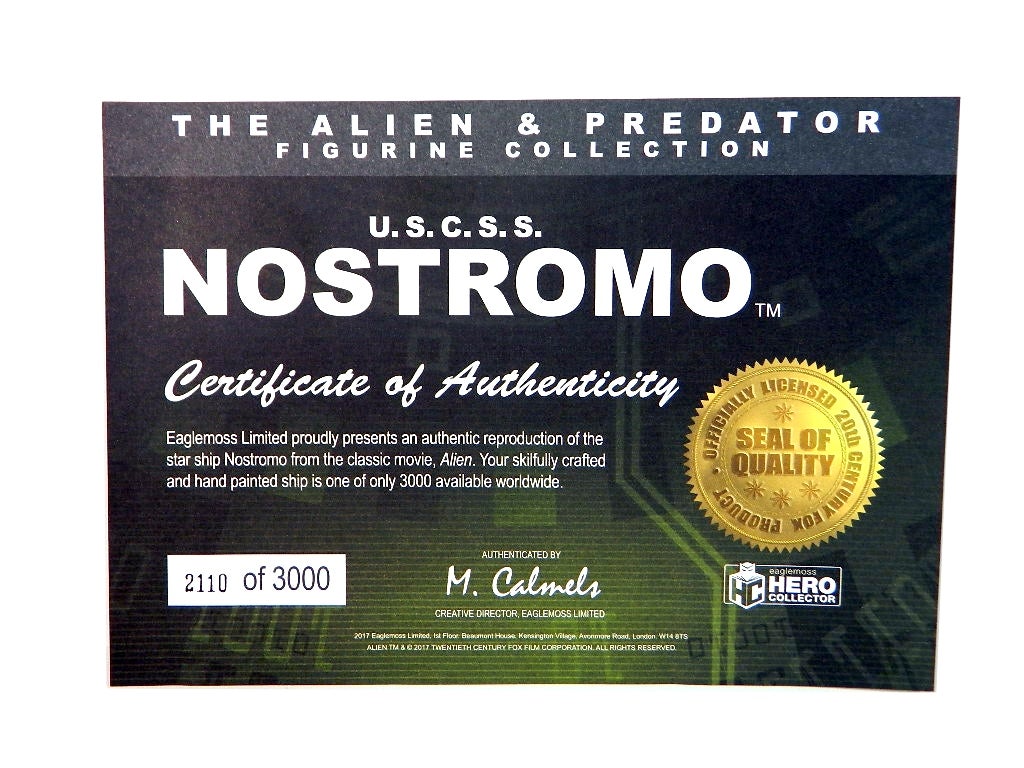 This replica is limited to only 3000 pieces, which is indicated on the included certificate of authenticity.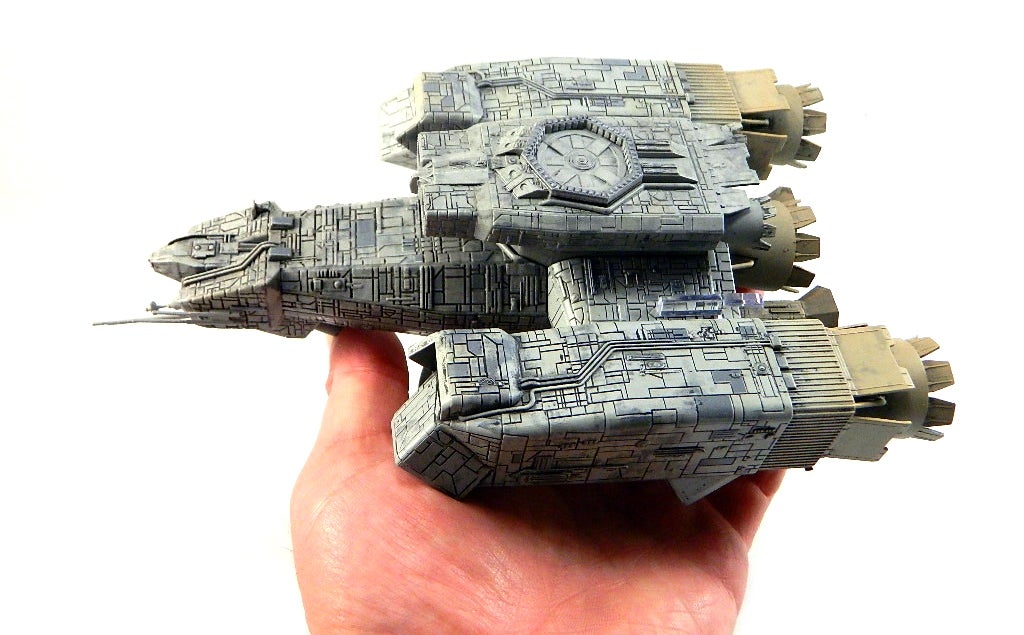 Where H.R. Giger is well known for designing the derelict space ship in ALIEN and Ron Cobb is credited for creating the Narcissus, the look of the Nostromo was the result of one big happy accident.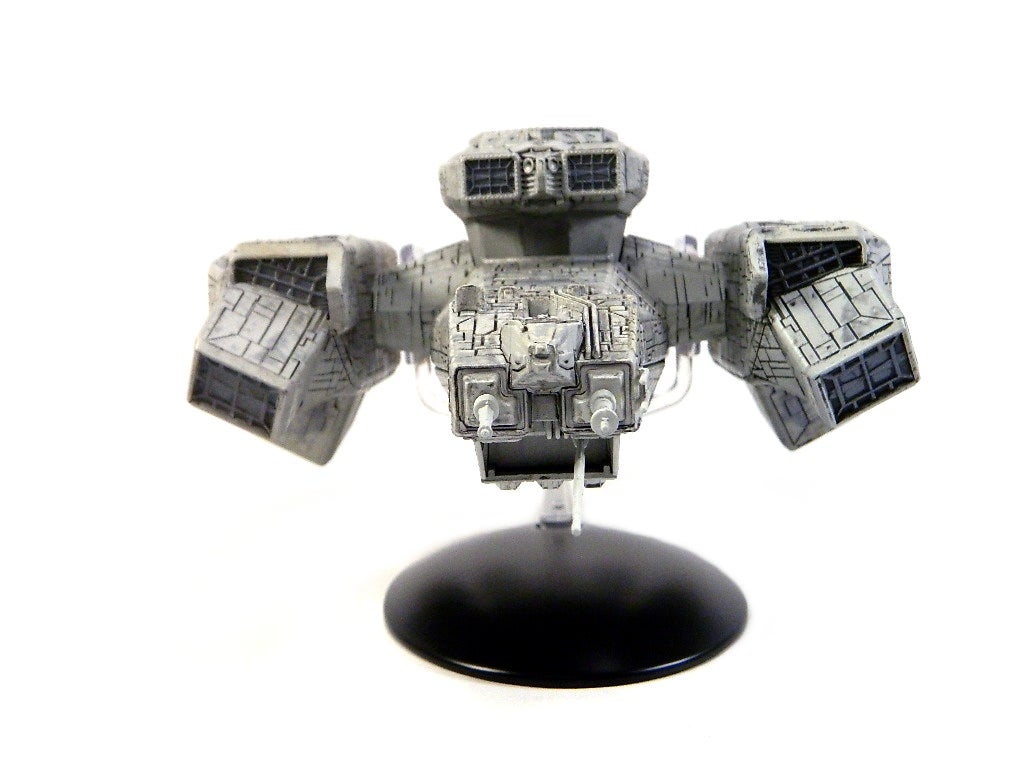 Sci-fi ship designer Chris Foss created many Nostromo ship designs for the film, however all of them were panned. According to Foss in this fascinating interview:
Finally what happened was that the bloke who had to make the [Nostromo] model completely lost his rag, scooped up a load of paper…they had a room full of smashed-up bits of helicopter and all-sorts, and he just bodged something together. So the actual spaceship in the film hadn't anything to do with all the days, weeks, months of work that we'd all done. It's as simple as that.
In a nutshell, the Nostromo's design is a hodgepodge mix of random model kit parts. It's all very ironic considering that the Nostromo is now being sold as a model replica. Granted it's not one you have to build, but you get my point: it's a model of a model made of models.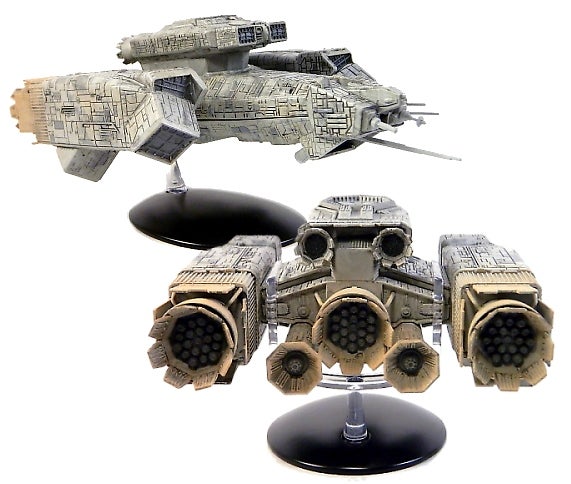 Pre-assembled and ready for display right out of the Styrofoam lined box, Eaglemoss' Nostromo measures a solid 8 inches long and 5 inches wide. As I have mentioned many times in past reviews, this is my ideal spaceship replica size. Fitting nicely in the palm of the hand, the ship is large enough for exquisite detail work, yet not so large as to take up a lot of shelf space.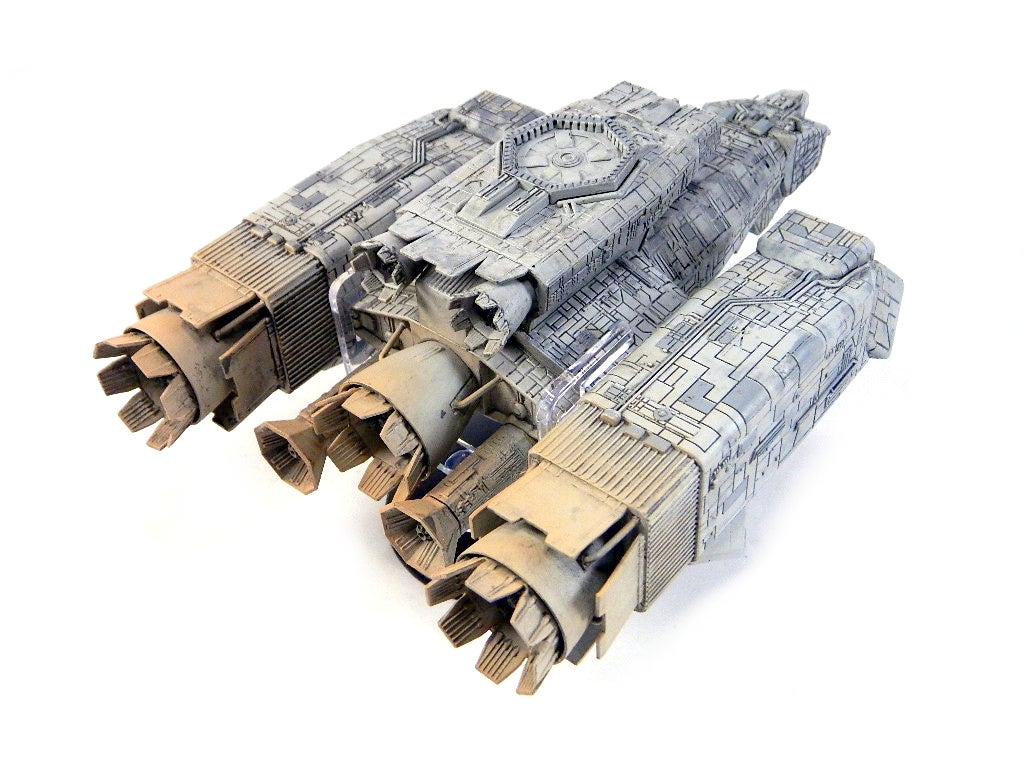 The sculpted detail on this ship is amazing. The panel line work alone will keep your eyes quite busy. For a cobbled up ship design, its remarkably beautiful. Sculpting is paired with an excellent paint job of various grays and some great muddied browns for the rear exhaust. The combo of colors combine nicely, lending what could have been a boring solid-colored ship some realistic contrast and weathering.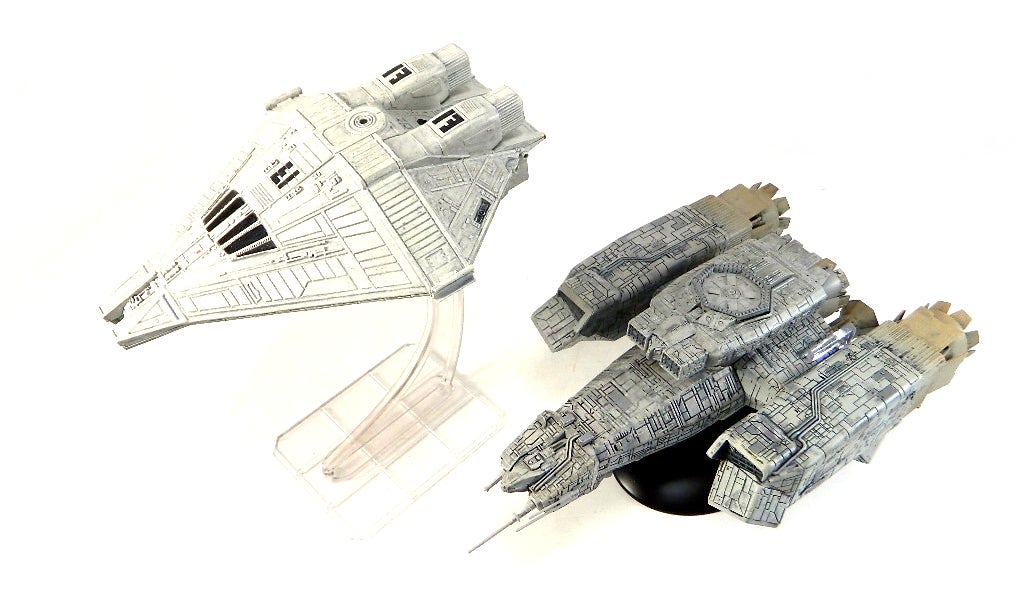 The Nostromo is made of die-cast metal and high quality ABS plastic, although if Eaglemoss hadn't mentioned the die-cast content, I wouldn't have known – the replica is surprisingly light. It is very similar in construction to NECA's Narcissus Cinemachine in weight and feel – all a good thing as the Nostromo's large size and spectacular sculpt totally made me forget (or care) what the ship was made of.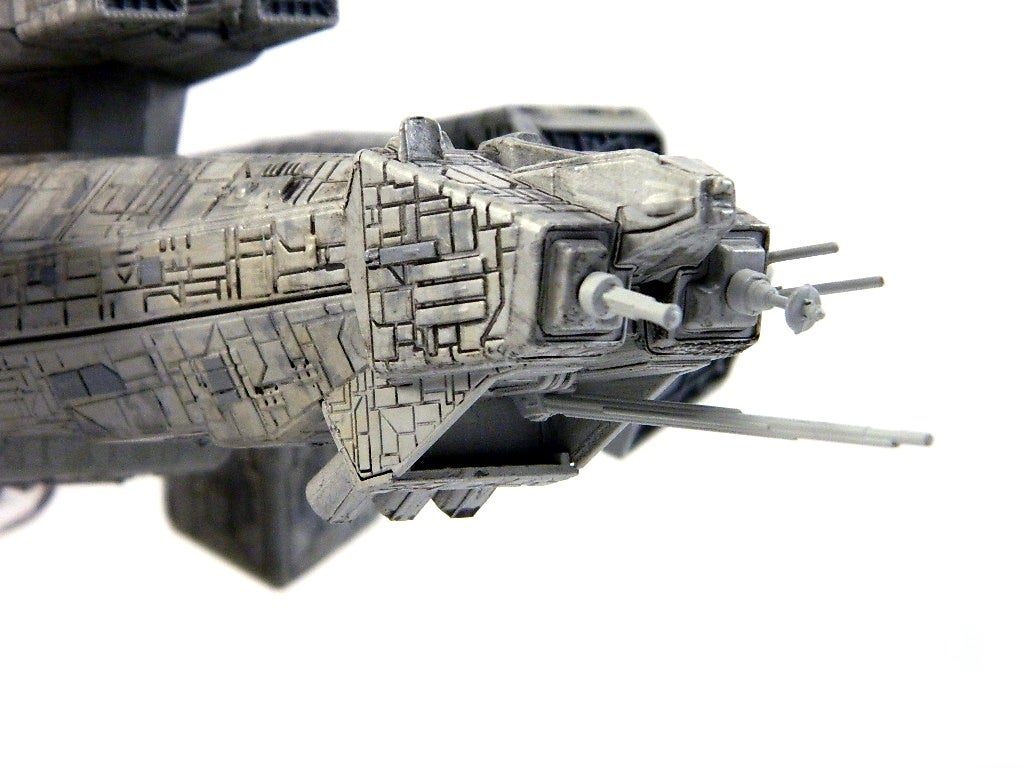 Like the Narcissus, this is a very well made replica that does not feel cheap. However, it should still be handled with caution – the nice and pointy front antenna, while made of a stiff plastic, could snap if not careful.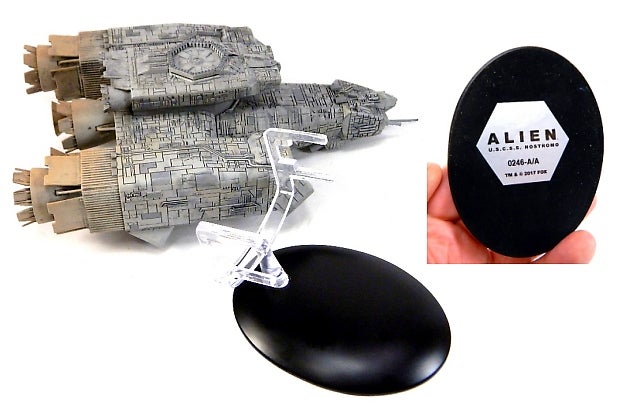 A model ship wouldn't be complete without a display stand and Eaglemoss provides a nice one. Slightly weighted, the solid black base features a clear forked arm that grabs the Nostromo from the rear. You'll have to be careful sliding the cradle in between the Nostromo's engines for a fit, but once in place, the arm holds the ship very well. The bottom of the base shows the name of the ship and the movie it is from; a much classier approach than slapping a name tag on the front (I hate those).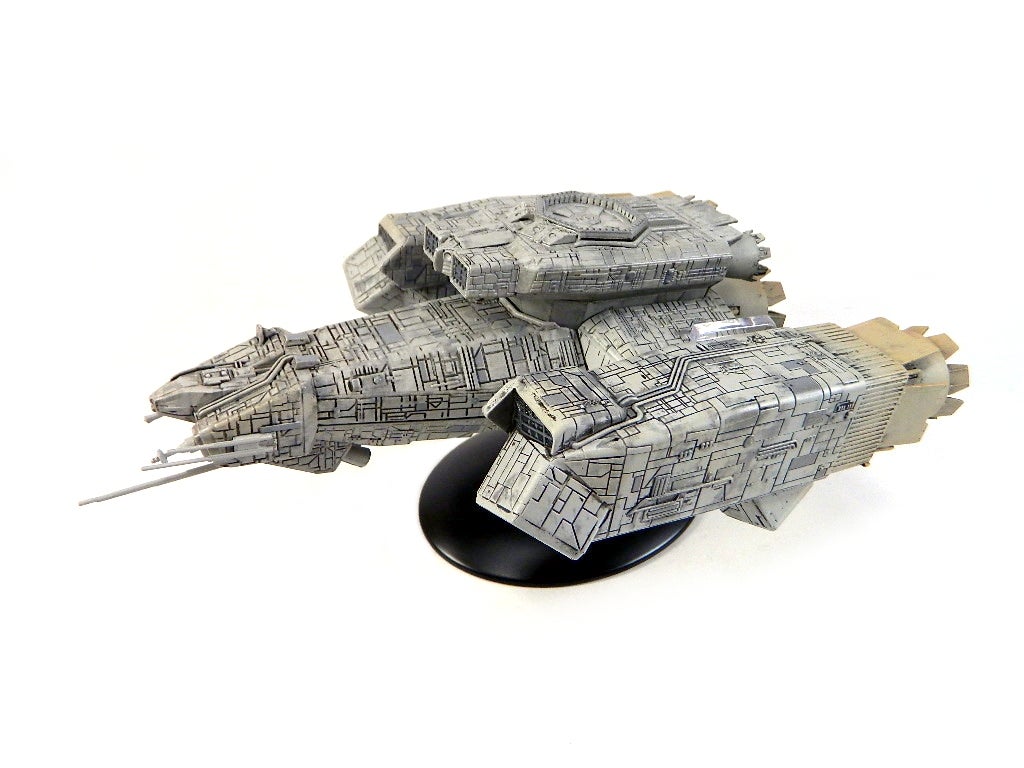 I'm on cloud nine over Eaglemoss' Nostromo replica. This is a ship design that I have wanted to add to my sci-fi spaceship collection for a very long time and I couldn't be more happy in how it came out.
In development for next year is the U.S.S. Sulaco from ALIENS, another ship I'm eager to add to my display. Sales of the Nostromo, however, will ultimately decide how deep Eaglemoss goes with the Alien and Predator Ship Collection. With both properties making such a huge comeback, the fan base is certainly out there. After their incredible job with the Nostromo, Eaglemoss has earned my full support.
It's a wonderful time to be an ALIEN collector.
Scroll on for even more photos!
Review and Photos by Jeff Saylor
Review Sample Courtesy of Eaglemoss Collections
---
Keep up with all the latest toy news by following Figures.com on Facebook and Twitter!
To buy action figures, take a look at Hobby Link Japan, BigBadToyStore.com, TheToySource.com, Toynk.com, BriansToys.com, ToyWiz.com, and EntertainmentEarth.com.