With 2017 the HeroClix 15th anniversary, WizKids is going full force with some really fun releases, and the latest is upon us.  Following up after Deadpool & X-Force in early March is the next full expansion, Marvel HeroClix Avengers/Defenders War!  The set's name may be familiar to you if you're a fan of Bronze Age comics; the "war" was an event in 1973 that saw the two hero teams manipulated by Loki and Dormammu and then joining together to fight the villains.  The new HeroClix expansion is chock full of fan-favorite Avengers and Defenders characters plus really fun sub-themes including Marvel Knights (especially popular now since many of them appear in Netflix shows), Wakandan characters, and more.  There are several instances of heroes getting the Shifting Focus treatment too, giving you entirely new ways to play your favorite characters like Black Panther, Punisher, Elektra, Dr. Strange, and Vision.  Let's get to our unboxing of an Avengers/Defenders War brick of 10 boosters, and keep reading for a look at the new Fast Forces pack too!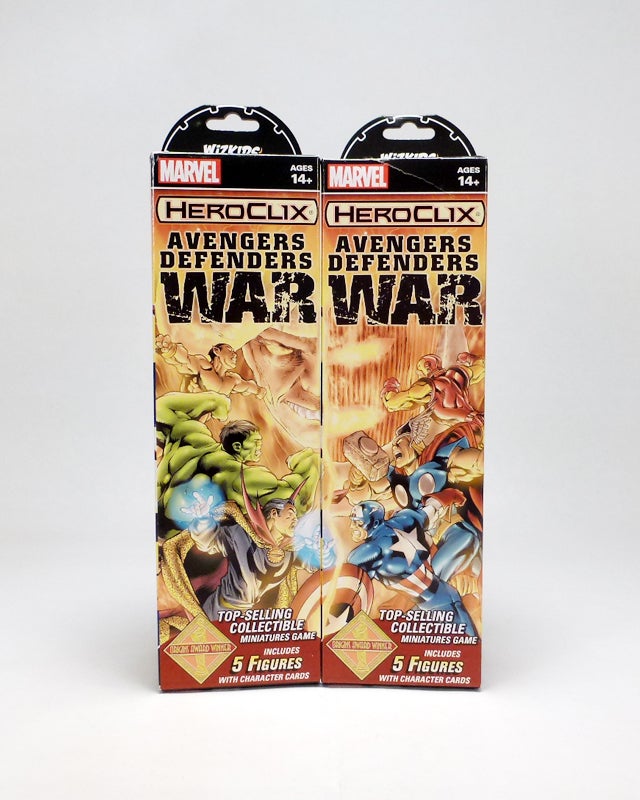 As you might expect, the packaging art for Avengers/Defenders War features… you guessed it, Avengers and Defenders!  There are two different front panels on the boosters, one with Loki leering behind Defenders Namor, Hulk, and Dr. Strange while the other has Avengers Captain America, Iron Man, and Thor leaping into the fray with Dormammu watching on.  Side panels show off 3D renders of figures in the set focusing on the aforementioned hero teams, Marvel Knights, and the sub-theme of "Black Panther and Wakanda."  Lastly, the two different back panels of the boosters have promotions for the upcoming summer Colossal Organized Play event featuring a towering Dormammu figure and the HeroClix community via the WizKids Info Network (with images of some of the set's chase figures).
Without further ado, here's our Avengers/Defenders War unboxing video.  At the beginning I show off the packaging then skip the tedious stuff (opening boosters, etc.) to give you clear, up close looks at the figures.  Remember to keep scrolling down this page for info on what we pulled, photography of all figures, and a look at the Avengers/Defenders War Marvel Knights Fast Forces pack.
Here's the breakdown of the figures in this brick (your results will vary of course):
COMMONS (including duplicates)
002 Daredevil
003 Hulk
004 Hawkeye
005 Wasp
006 Vision
007 Black Panther
008 Luke Cage
009 Punisher
010 Iron Man
011 Captain America
012 Iron Fist
013 Whiplash
015 Hand Ninja
016 Atlantean Warrior
017 Elektra
018 Black Panther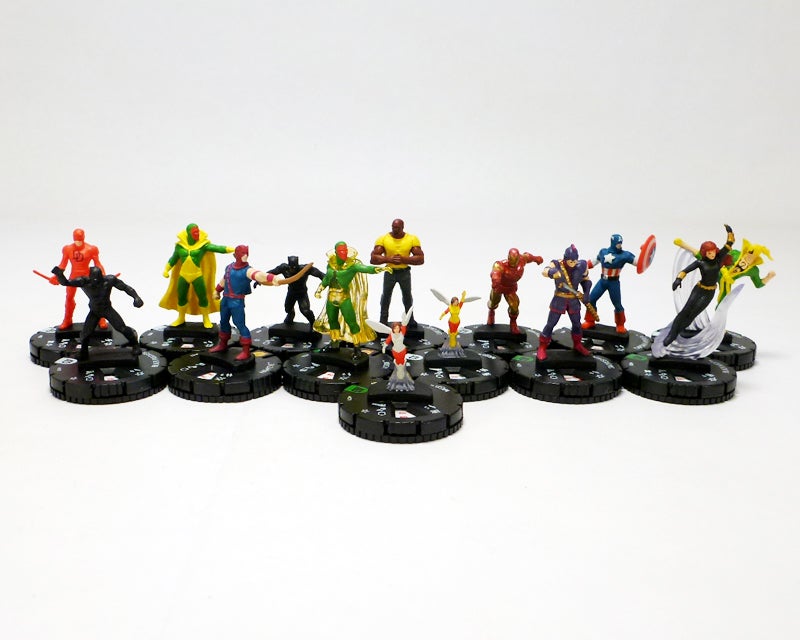 UNCOMMONS (including duplicates)
019 Dr. Strange
020 Daredevil
022 Hawkeye
023 Wasp
024 Vision
025 Swordsman
026 Black Widow
027 Karen Paige
028 Ben Urich
029 Black Panther
030 Punisher
031 Zaran
032 W'Kabi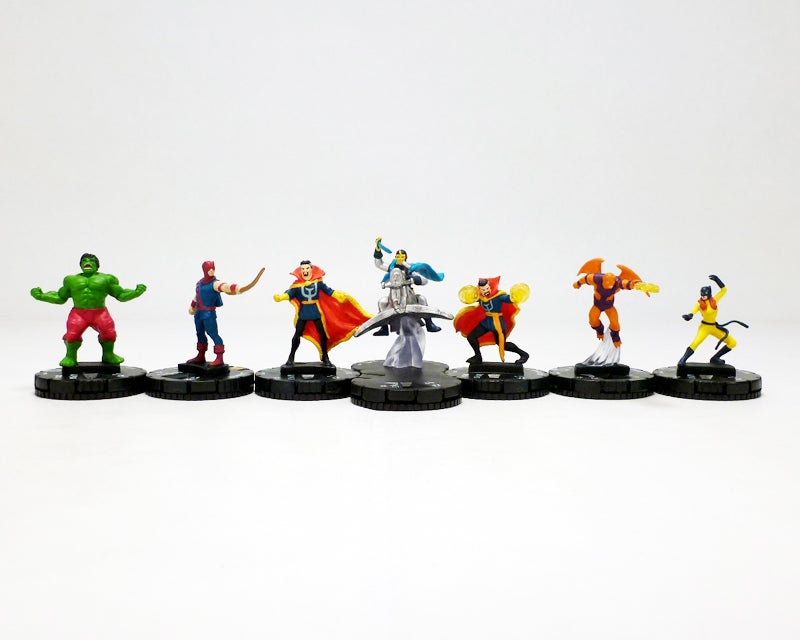 RARES
035 Dr. Strange
036 Swordsman
043 Machete
044 Gargoyle
047 Hellcat
049 Porcupine
050 Batroc
SUPER RARES
060 Dormammu and Loki
062 Moon Knight
066 Black Knight
CHASE
Pretty cool pulls, right?  Starting at the top, it looks like we pulled sixteen commons out of the eighteen possible, thirteen uncommons out of sixteen, seven rares out of sixteen, three super rares out of sixteen, and the sweet Iron Heart chase!  Breaking down the set's themes we've got a whopping fourteen Avengers and seven Defenders, nine Marvel Knights, and four Wakandans.  We have lots of Shifting Focus possibilities with multiple versions of Dr. Strange, Black Panther, Punisher, and Vision, though only one Elektra without anyone to replace her; we also pulled two Wasp figures that can replace each other but they're not officially Shifters.  We also see what WizKids described as anniversary "rookie/experienced/veteran" throwback figures like the two Hawkeyes and two Swordsmans.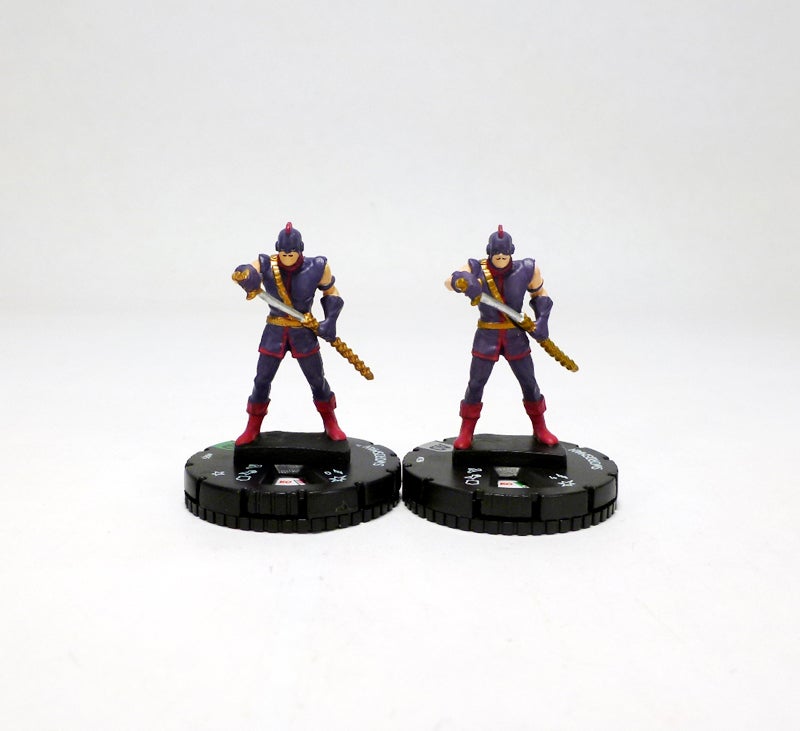 In both pairs there are two figures sharing the same sculpt and paint but who differ in point cost, dial, and keywords (not to mention the teams for which they're playing).  Most of the characters are presented in classic costumes and styles, though notably Moon Knight and Iron Heart are modern additions to the game.  Notably fun are delightfully retro bad guys Whiplash and Porcupine, generic Hand Ninja and Atlantean Warrior, and even a surprise mini-theme of Batroc's Brigade featuring "ze lee-pair" himself plus Zaran and Machete!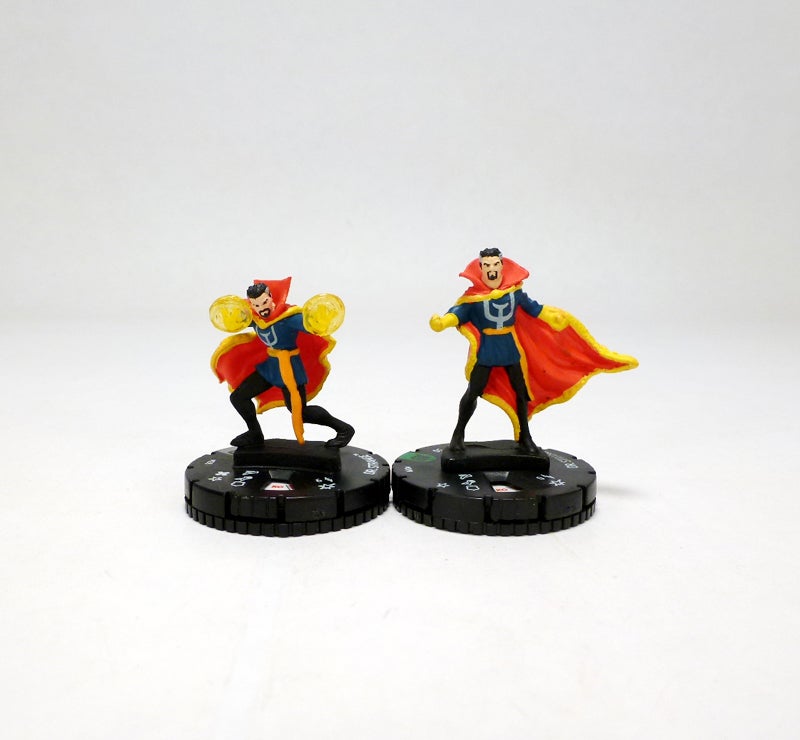 As you'd expect with the amount of classic characters and incarnations of them in this set the figures on the whole are bright and colorful, and thanks to WizKids' attention to detail they exhibit a nice range of poses with solid sculpts.  And thanks to the fact that the teams brought to life here never had "uniforms" (like the X-Men, for example), there's a huge variety of looks and colors among their members.  You can see for yourself how great everything looks in the photos, so I'll just point out a few of the figures that I thought looked particularly cool.  Starting in the commons you'll find some really nice sculpts like the classic tousled-hair Hulk showing off his muscles, diminutive Wasp with her teeny tiny wings, Luke Cage looking fierce as his muscles bulge out of his shirt, his pal Iron Fist performing a mighty kick, the Punisher figures armed with grenade launcher and knife, prowling and slashing Black Panthers, and more.  Machete packs a ton of motion into a static figure with his dynamic knife-throwing pose, while figures like Porcupine and Swordsman show off great textures on their cloak and scabbard respectively.  And of course Dormammu and Loki give you not one but two figures as one classic, colorful villain creeps up on the other.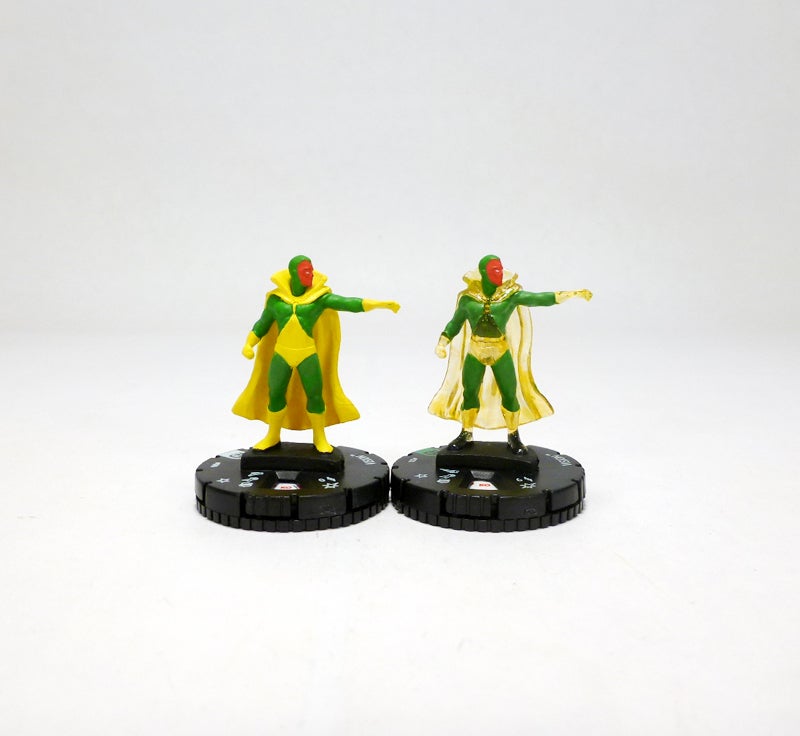 Paint applications are good across the board with appropriate colors and lots of really nicely applied eyes, and translucent effects look awesome on figures like uncommon Vision and rare Dr. Strange.  Even the "regular" humans like Ben Urich and Karen Page look nice.  Some of my personal favorite figures out of this brick include Daredevil who may only be standing tough but has a pose with a lot of personality and detail and the fantastic super rare Knights (Moon in nicely contrasting monotone crouched atop a building ready to throw a moon dart and Black hurtling through the air on his atomic steed).  I can't talk about the look of the figures without pointing to the chase Iron Heart who looks kind of like a miniature Optimus Prime; while the armor is based on Iron Man the design is unique and rendered really well in miniature with chunky, angular armor, nice metallic paint, and of course that cool head design all with the extra translucent blue energy effect!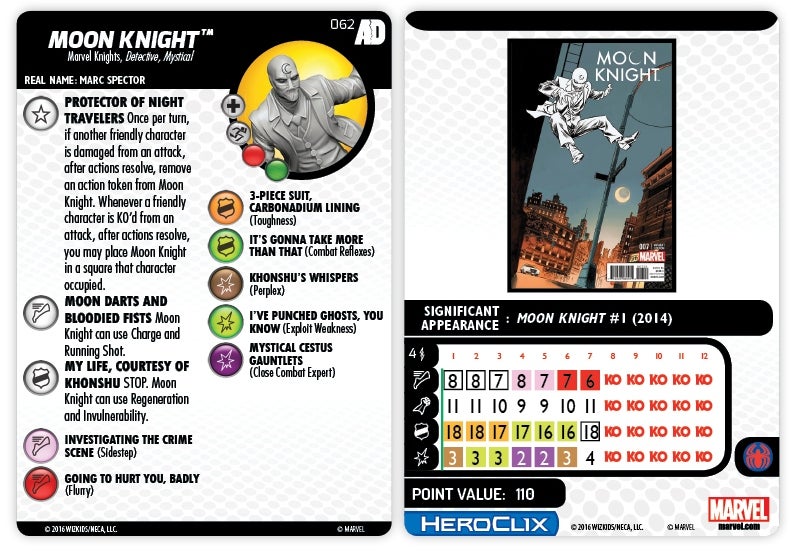 Alright folks, how about a couple dial reveals?  As you saw we pulled not one but TWO awesome Knights among our super rares, so let's see what they can do.  First up is the nocturnal hero Moon Knight, Marc Spector exorcising his demons and fighting bad guys from the rooftops in this cool new figure.  He crouches in his white on white on white suit complete with hood and gloves, the only black details appearing on his eyes and forehead moon symbol.  The figure is 110 points with the Spider-Man Ally team ability, a four range with one target, Indomitable, Improved Movement ignoring Hindering and Elevated terrain, and the "Protector of Night Travelers" trait that empowers Spector when his allies are hurt or KO'd.  Moon Knight's dial has strong opening attack and defense numbers, and he begins the game with Toughness, Perplex, and a special power granting both Charge and Running Shot so he can be effective in any engagement.  It gets even better with a couple clicks of Exploit Weakness, and then mid-dial Marc switches to Sidestep, Combat Reflexes, and Close Combat Expert.  Late-dial Moon Knight gets some Flurry, and his final click is a STOP with great stats and both Invulnerability and Regeneration!  Pair Moon Knight with allies with the Marvel Knights, Detective, or Mystical keywords for theme teams.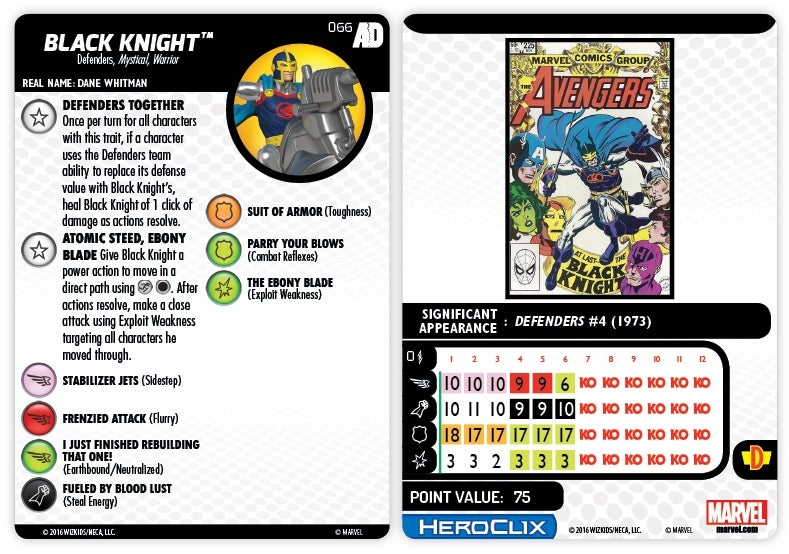 Next up is Black Knight, Dane Whitman wielding his Ebony Blade as he hurtles through the air on his atomic steed!  This figure has a fantastic sculpt, similar to but much improved on the original Fantastic Forces version.  Also improved is his dial which brings a ton of tricks for 75 points starting with the Defenders team ability, flight, the "Defenders Together" trait that heals Black Knight if someone shares his defense value, and a second trait that lets him use a power action to move in a straight line (ignoring characters) and make an Exploit Weakness close attack against anyone in his path!  Dale's dial starts with him moving into position with Sidestep and absorbing damage with Toughness.  Then mid-dial he goes into a frenzied blood lust with Flurry, Steal Energy, Combat Reflexes, and Exploit Weakness to deal damage, make it stick, and heal at the same time.  While his attack value ticks up again on his last click Whitman does suffer Earthbound/Neutralized at the same time, so make sure to land a hit to heal him back onto his steed via Steal Energy.  Black Knight has the Defenders, Mystical, and Warrior keywords.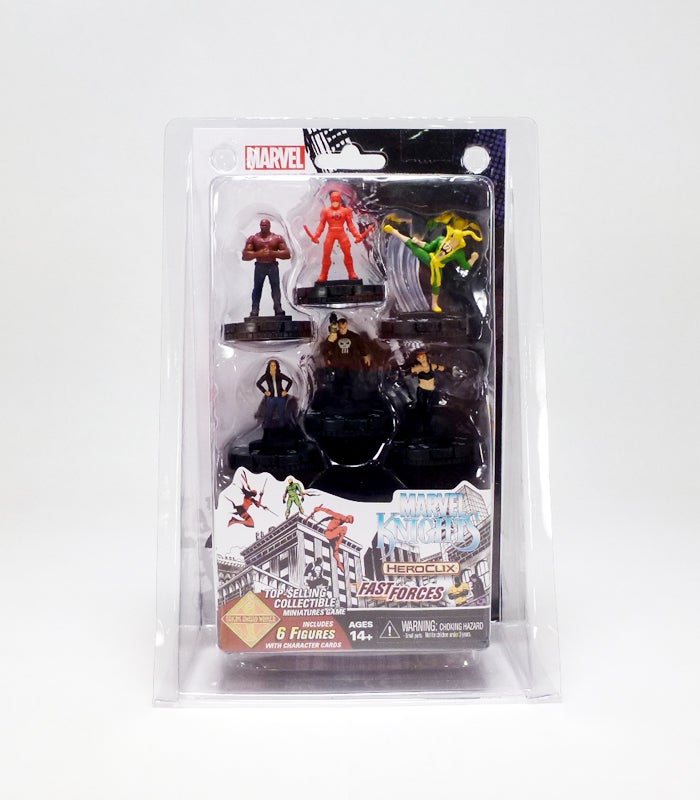 Alongside the Avengers/Defenders War booster set WizKids has a couple more items coming your way.  If you're a fan of the Marvel Netflix shows or the characters they portray you definitely want to check out the Marvel Knights Fast Forces pack.  It brings you a non-blind set of Daredevil, Elektra, Jessica Jones, Luke Cage, Iron Fist, and Punisher!  They have sculpts we see in the booster set (I didn't pull a Jessica Jones but I assume she's in there somewhere) and all but Luke have the same paint job; the mighty Cage swaps out his purple shirt for a classic yellow one.  However, all six characters in the Fast Forces pack come with all new dials that are highly effective and scaled for easy team building.  In fact, each of the six figures clocks in at 75 points, so you can pick and choose any four among them to create a 300 point team!  If you do that you're probably going to want to include Punisher for the range options as the others are pretty melee focused.  Or use them all for 450 and add someone else to make 500, or mix and match them with other figures from this booster set or beyond for unlimited team building options.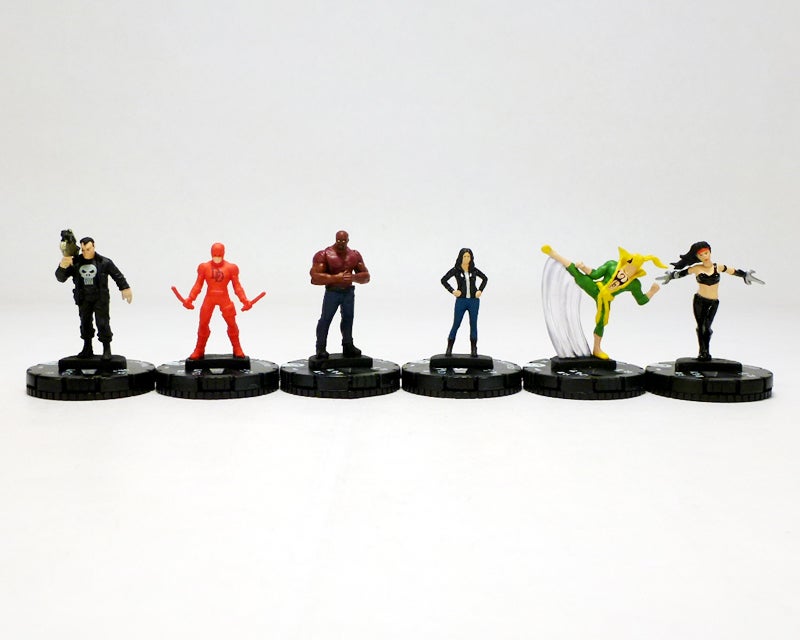 So that's a look at a brick of Avengers/Defenders War plus the Marvel Knights Fast Forces pack.  If you like what you see (and chances are good if you're a HeroClix player or collector), get your hands on the boosters during the pre-release event starting THIS WEEK, April 26th through May 9th.  The set officially releases everywhere on May 10th along with the Fast Forces.  There will also be a Marvel Knights Dice & Token pack featuring the six characters from the Fast Forces on poker chips for use as action tokens and "MK" dice.  As always, good luck with your pulls!
Visit the brand new and improved HeroClix.com for even more info as well as downloads of rules and maps, and stay tuned to Figures.com as we continue our reviews of new HeroClix!
Review and photos by Scott Rubin
Review samples courtesy of WizKids Games
[gallery_bank type="images" format="masonry" title="true" desc="false" responsive="true" display="all" sort_by="random" animation_effect="bounce" album_title="true" album_id="750″]
Keep up with all the latest toy news by following Figures.com on Facebook and Twitter!
To buy action figures, take a look at MHToyShop, Hobby Link Japan, BigBadToyStore.com, TheToySource.com, Toynk.com, BriansToys.com, ToyWiz.com, and EntertainmentEarth.com.