We're back with another look at a new HeroClix expansion from WizKids Games.  After DC's Joker's Wild and the Teenage Mutant Ninja Turtles Shredder's Return sets we return to Marvel HeroClix with Deadpool & X-Force!  I suppose if you've been living under a rock you may not know it, but Deadpool is kinda popular right now.  He's been extremely prominent in Marvel Comics these last few years, appearing in multiple books of his own as well as tons of team books, specials, and more.  Oh yeah, and there was that recent feature film that a few people saw…  WizKids last featured the Merc with a Mouth in his own set in 2014, but that was downright tame compared to this new expansion.  It features a ton of Deadpool figures plus X-Force members both classic and modern, the beloved X-Statix team (many of whom had never appeared in HeroClix form before), Unbeatable Squirrel Girl and her best friends, and the Mercs for Money.  And there's so much more even beyond that with a/b alternate figures, a slew of awesome chase figures, and the return of the Ultra Chase rarity level with an incredible figure you have to see to believe!  If you want to check out what you might find in a brick of Deadpool & X-Force take a look at the unboxing we did a few weeks ago (HERE), and read on for a deep dive on the entire set with photography of every single figure.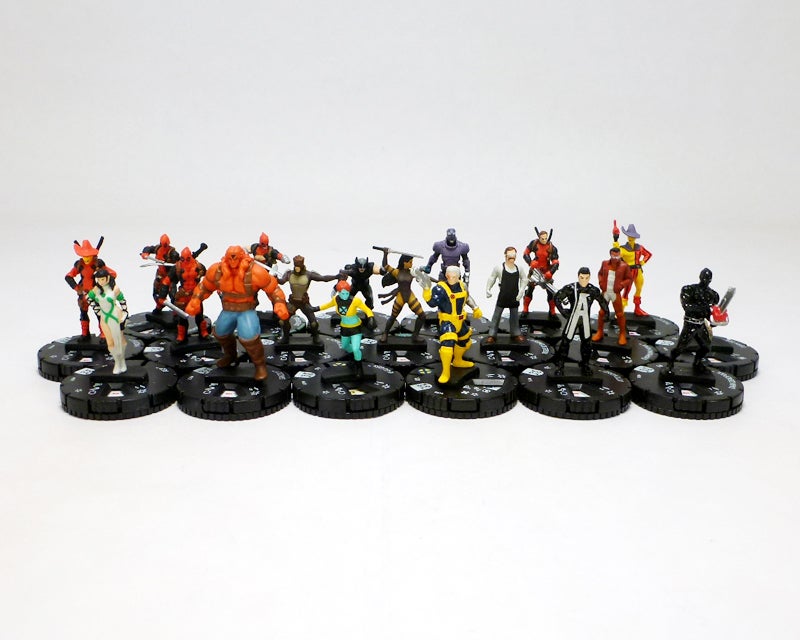 Starting with the commons of the Deadpool & X-Force set we see several trends that will also apply to the upper rarity echelons.  First off in the 001 spot is the main man Deadpool himself with a couple of swords ready to slice and dice.  He brings along a couple of what I call "Deadpool related" figures, in this case the Prime Dreadpool (not a typo) with his hook weapon and the chainsaw-wielding Dark Deadpool.  X-Force members at this level include a blue and gold Cable and a modern black and gray Wolverine, while the X-Statix lineup begins with the blue-skinned U-Go Girl.  There are a huge number of Heroes for Hire figures in this set especially with their headline members getting both original and Deadpool team versions, and in the commons you'll find two each of Foolkiller wielding a minigun and the goofy Madcap plus the Spanish-speaking Masacre.  There are also Squirrel Girl's friends Chipmunk Hunk and the teeny-tiny Tippy-Toe, Six Pack member Grizzly, bad guys Asp of the Serpent Society and Deadpool's nemesis Attending, and finally a few fun generics in the Mercenary, Ninja, and Rogue Scientist.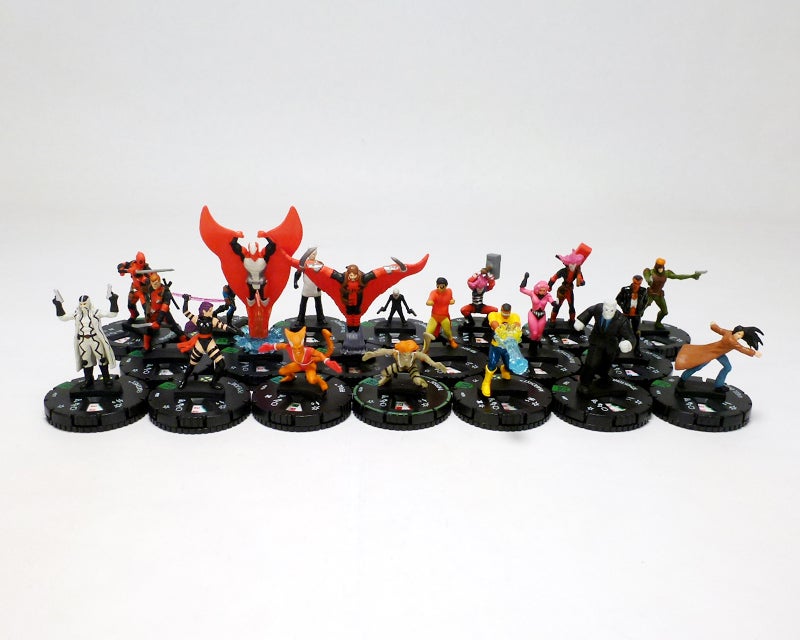 Next up are the uncommons, also plentiful in your booster packs.  Here Deadpool starts the fun again, this time with a shooty version doing "pew pew" hands!  X-Force is in full effect with the first ever figures of Feral and Bedlam along with new versions of modern members Domino, Fantomex, and Psylocke.  The next batch of mercs in two flavors include the mallet-wielding Slapstick, Solo who is never without a weapon, and two incredible versions of the high-flying Stingray.  HeroClix players finally get their hands on figures of the diminutive assassin Hit-Monkey, fishy friend Koi Boy, and the energy-blasting Anarchist of X-Statix.  It's not all heroes (even if they are morally ambiguous) with bad guys like the brilliant Dr. Killebrew, Serpent Society's Diamondback, Tombstone of Spider-Man's foes, and Morlocks Thornn and Angel Dust.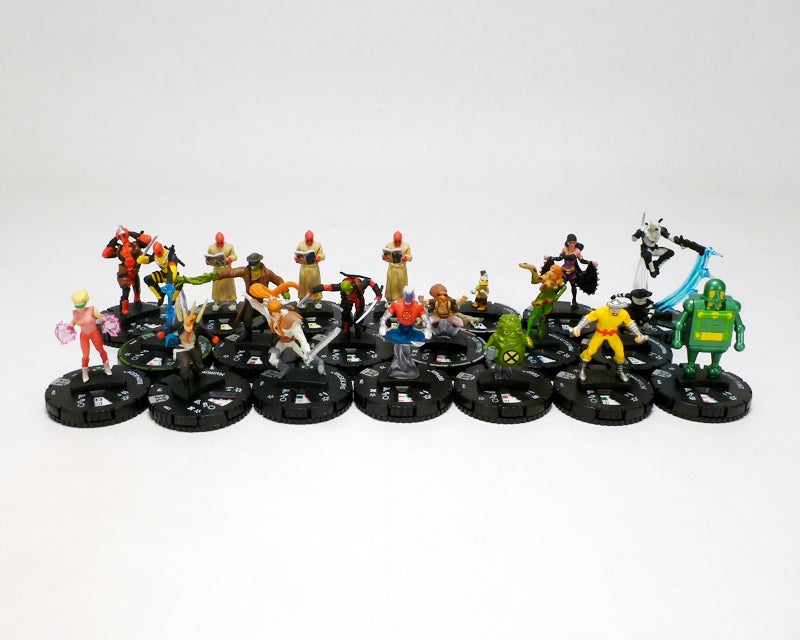 Are you really ready for Deadpool in multiple flavors?  I hope so, because this set's rares include no fewer than SIX of them!  You've got a shrinking merc with a keychain on his head, three different versions of Deadpool in his slippers and robe reading comics, and two different versions of the anti-hero leaping into the air while blasting away at his enemies.  Here you'll also find Deadpool's succubus wife Shiklah, two versions of the green merc Terror, two floating X-Statix dudes Orphan and Doop, and Doreen Green the Squirrel Girl herself!  There's more fun to be had with classic X-Force members Marrow with her protruding bones, a fantastically retro Boom-Boom, and a long-awaited new figure of Shatterstar in his traditional costume.  The Serpent Society expands even further with the snake-holding Princess Python who joins the ranks of rare bad guys with HYDRA's Jackhammer and the old timey robot Living Brain.  On hand to stop them are a couple more fun additions with a new Howard the Duck and the first HeroClix appearance of Negasonic Teenage Warhead in her comic book incarnation.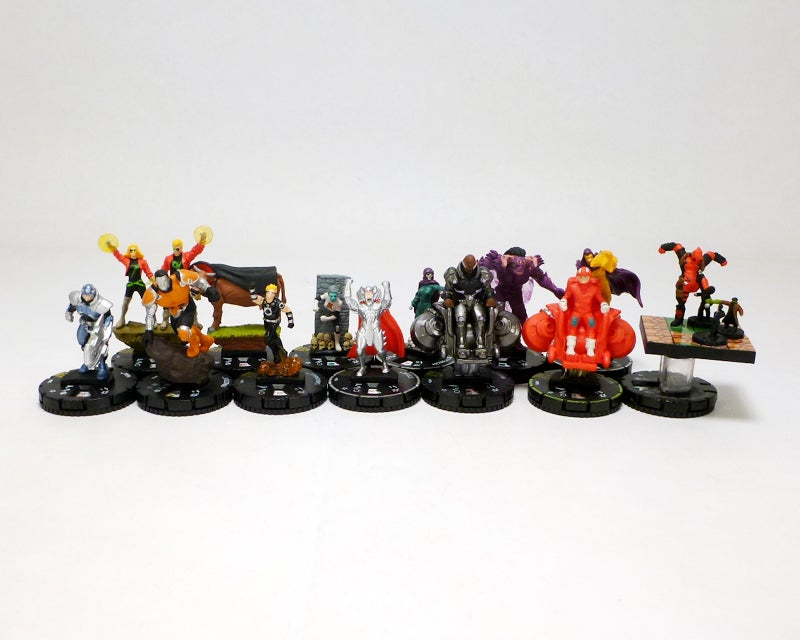 Now we get into the rarified air of the Deadpool & X-Force set with the awesome super rares.  Believe it or not there's only one Deadpool here, but it's the incredible Merc with a Mouth version!  Not only does the figure look amazing with Deadpool stomping on a miniature HeroClix game, but it plays like something out of a totally different game with its unique "Title Character Abilities" and fourth wall-breaking game text.  Wrapping up some of the main sub-themes are X-Force members Cannonball and Colossus (both in cool modern costumes) as well as X-Statix member Dead Girl phasing through a wall with a pile of skulls at its base.  Speaking of death and skulls, there's also Deadpool's one-time crush Mistress Death in her second HeroClix appearance.  Hammer of the Six Pack and Prime Wiz Kid riding their futuristic hovering chairs round out the good guys while the super rares include the fully demonic version of Deadpool's wife Shiklah as well as Ajax in his powerful armor.  Some cool surprise bad guys include the Strucker twins known as Fenris, bee monster Swarm, and Cable's evil cloned twin Stryfe.  Last but certainly not least is the one, the only vampiric bovine… Hellcow!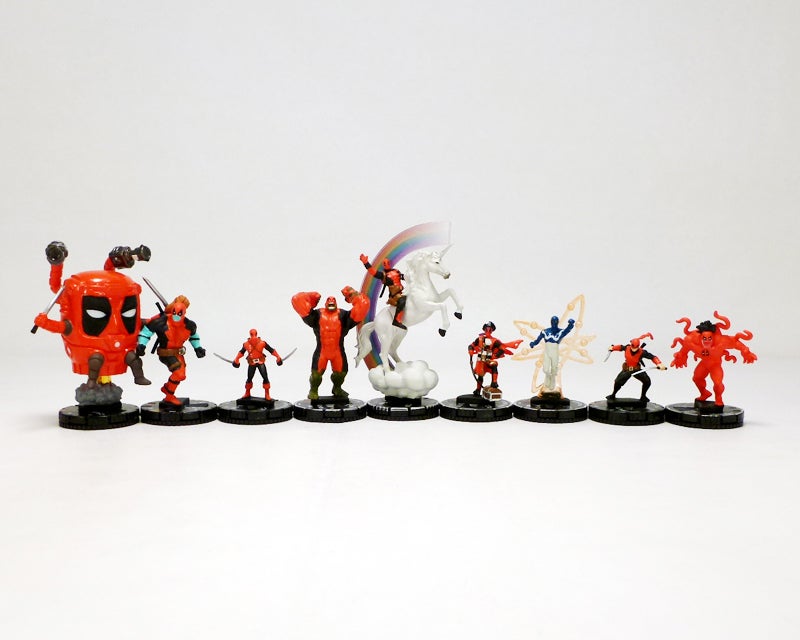 When it comes to chases in modern HeroClix expansion sets, WizKids tends to stick to pretty strict themes, often collecting characters from a very specific storyline or offering different versions of the headlining characters.  The latter is the direction they went with here, and so the eight chases in Deadpool & X-Force present the Merc (or his allies) in eight wildly different incarnations!  In order these are: the M.O.D.O.K.-like giant floating head known as D.E.A.D.P.O.O.L. with hilarious acronym-titled powers, the Elder of the Universe and member of the Deadpool Corps known as Championpool, Wheezy Wilson a.k.a. Golden Age Deadpool, the Hulked Out Hero Hulkpool, Pirate Deadpool complete with treasure chest and a mechanic that creates a Parrot Bob, the Uni-Power enhanced Deadpool known as Pool Captain, hard-hitting Pulp Deadpool, and the famous "What If" character Venompool!  In addition, each and every one of these chases has a special "Comic Panel" mechanic and comes with one of them, giving a character an additional power or ability!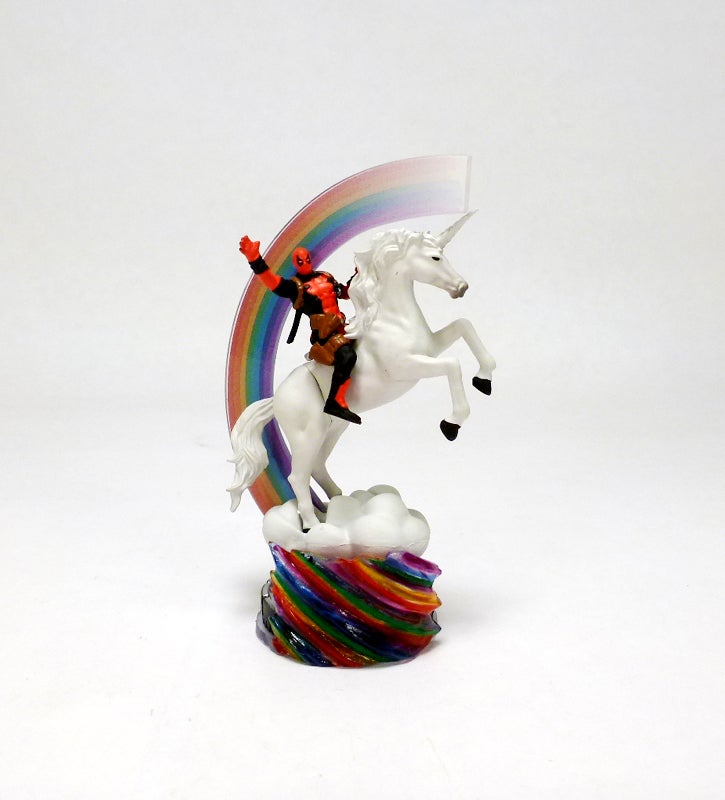 Oh, did you think that was all?  Nope, this set has a mythical Ultra Chase, and of course it's none other than… Deadpool!  But it's no normal Deadpool, no.  This Wade Wilson waves at you from the back of a unicorn he's riding with a rainbow behind him!  He also has a Rainbow Joy ClixFX base and a crazy dial full of epic powers and abilities.  This is truly an awesome game piece and collectible for any Deadpool fan.
Tasked with making a new Deadpool-themed set, WizKids really took up the challenge to make the figures unique both in terms of looks and gameplay.  You can see in the photos, especially the group shots, just how visually dynamic and different the figures are.  Sure they range from the gruff mustachioed Rogue Scientist/Dr. Killebrew standing in his unorthodox lab outfit to wacky and wild characters like Madcap and Slapstick with his oversized mallet.  I was really impressed by a lot of the sculpts in this set ranging from the commons all the way to the ultra-chase, so here are a few of what I consider the "best ofs."  Little Tippy-Toe, Howard the Duck, and Hit-Monkey pack adorable punches in tiny packages, the hulking Grizzly has big muscles and hair, there's nothing scarier than the black-clad Dark Deadpool wielding a combat chainsaw, Deadpool Corps Solo expertly wields twin swords, Squirrel Girl leaps toward her enemies with two furry friends in tow, Shatterstar brings out the nostalgia with a great classic look, the wonder twins of Fenris activate their energy powers, the super rare Shiklah is a demonic masterpiece, the gleaming high tech armor and weapons of Ajax look great, and Hammer and Wiz Kid fly through the air on the coolest of  contraptions.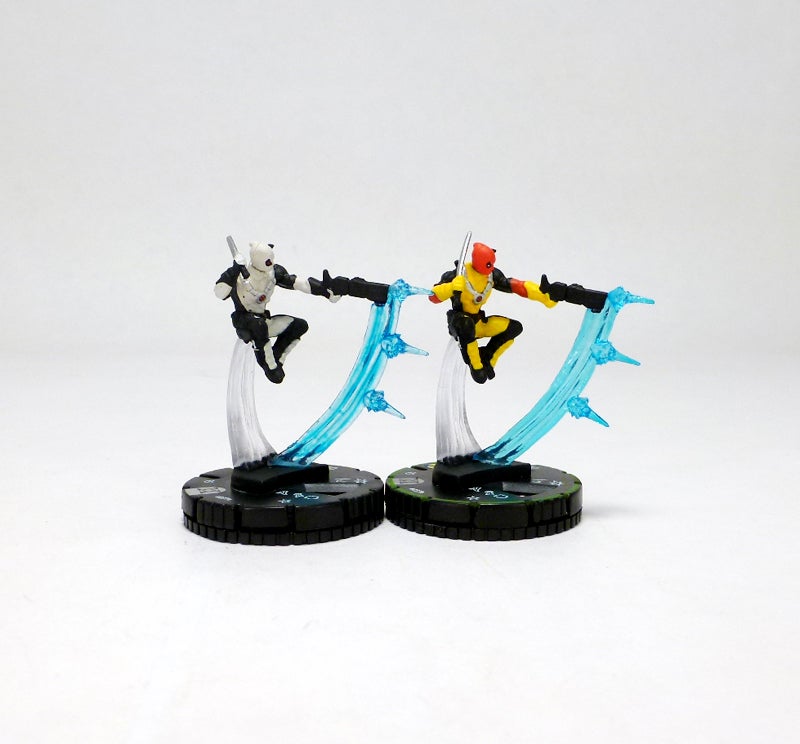 The HUGE assortment of Deadpools gives you all manner of great sculpts and poses from sword slashing to shooting and everything in between.  The leaping and firing 37a and b versions look awesome, as does the super rare Merc stomping on HeroClix and of course the chases and ultra chase.  I'm also a big fan of the character and personality of poses like Wolverine leaping forward, Chipmunk Hunk standing aloof, and Koi Boy practicing his martial arts, and there's some great texture work on Swarm's body, Squirrel Girl's tail, and more.  For me, the most eye-catching sculpts of the set were both of the Stingray figures; it helps that they're both huge as they leap into the air but they are simply fantastic.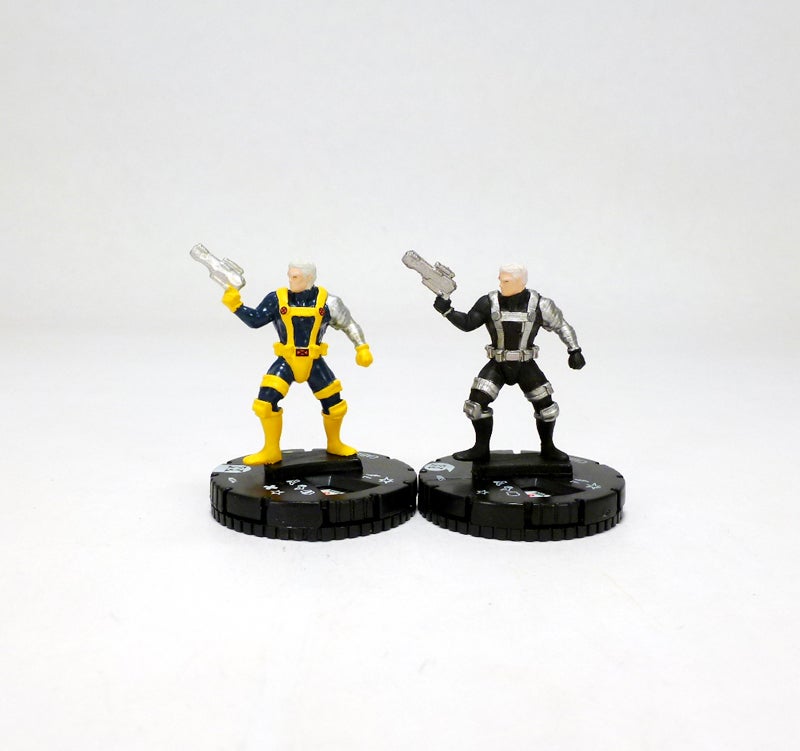 Similarly as with the sculpts, the paint jobs in this set really bring out the flavor of the characters both serious and wacky.  There are bright colors everywhere, not least among the Deadpool Corps Heroes for Hire, just as there are sneaky and stealthy characters like Domino and Dark Deadpool.  Just some of the figures and elements whose looks really impressed me include Cable with a nice mix of bright blue and yellow with metallic cyborg parts and face scars, Fantomex's stark black and white costume with crisp zig-zag lines, the fancy outfit and bleeding eyes of Shiklah, Negasonic Teenage Warhead's grayscale, the goofy but clean-painted Jackhammer, and more.  It's of particular note that the X-Statix figures all look really nice and work great together with paint jobs that evoke Mike Allred's artwork, with Dead Girl the star of the bunch for me.  Also, the actual comic book covers and HeroClix ads printed on the rare "bathrobe" Deadpool figures are fantastic – look closely for all the details!  Metallics abound in this set with all of the weapons and armor, and as usual translucent plastic is used for energy, flight effects, water, and more.  As usual it goes without saying that the chases look hot, especially the highly decorated Pirate Deadpool and the immaculate ultra chase.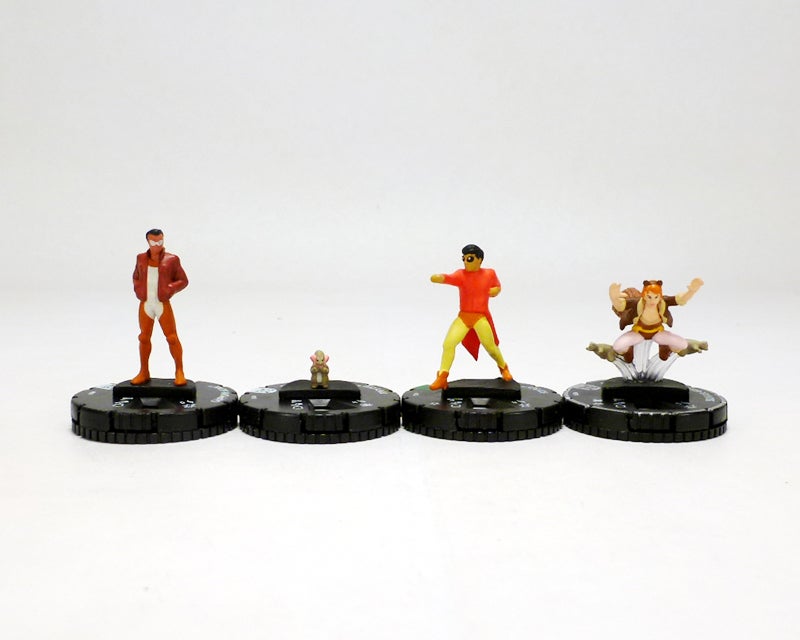 As always WizKids uses expansion sets to test out new game mechanics as well as bring back those players have enjoyed in the past.  In Deadpool & X-Force we see lots of that happening starting with the return of Shifting Focus!  First seen on Batman and Superman in the World's Finest set, this ability lets you start with one Deadpool and continually switch him out for others during the game; each one has his own powers and abilities that you can exploit in your current situation.  Unlike the last couple sets there are no Sketch Variant figures, but there is one ClixFX base (ultra chase).  There are also some really fun characters that spawn bystanders by like Princess Python and her snake, Squirrel Girl and her squirrels (and Squirrel Man!), Swarm's bees, and Pirate Deadpool with Parrot Bob.  The X-Statix figures all have a new mechanic called "Headlines!"  In play it's a token system that lets them do fun stuff and earn more tokens, but WizKids also provided some cool cards to go along with the figures.  Lastly, because it's Deadpool there are some new and super crazy things going on like the super rare Merc with a Mouth Title Character Abilities shenanigans and the Comic Panels bases of the chases.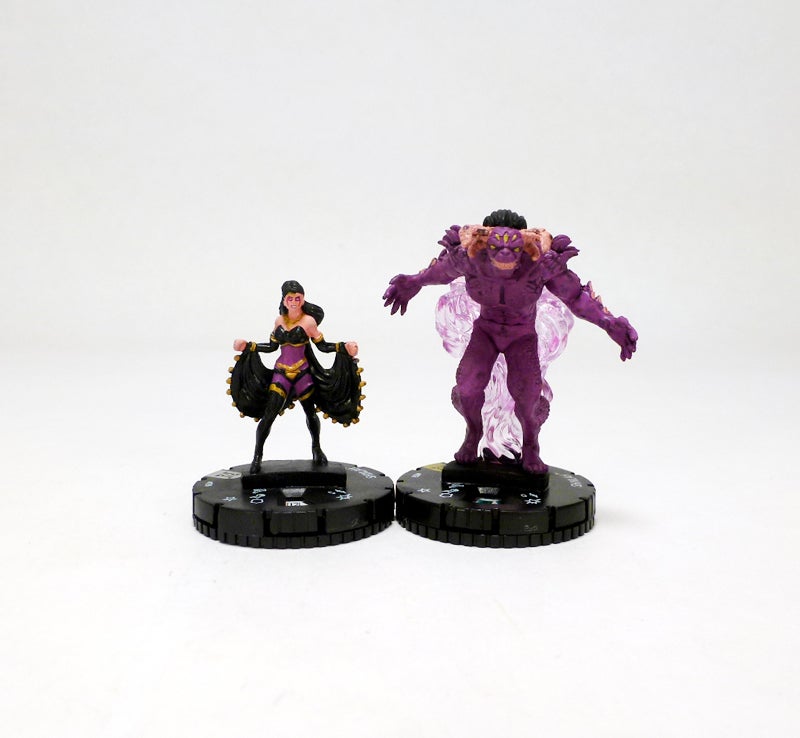 When it comes to the traits of these new figures, we see that there are new shared abilities based on teams.  The Mercs for Money heal when an ally KO's an enemy, X-Force members have permanent Stealth, and Deadpool Corps mercs feature "I'm the Deadpool… Brand Mercenary You Hired" that triggers when one of them is KO'd; you can bring it back to life AND heal it at the expense of KO'ing a different one!  Some of the more fun and interesting traits in this set include Dreadpool's "Deadpool Killustrated" giving him free attacks against enemies with a chosen keyword, the "Mindblade" that does more damage against foes with certain powers as wielded by Psylocke, Tombstone's "Leg Breaker" doling out Broken Bone tokens that hinder speed and attack, rare Shiklah's "Protect My Idiot Husband" letting her teleport to a hit Deadpool's side while clearing a token, Squirrel Girl's ridiculous squirrel generation and the crazy things she can do with them, super rare Shiklah who damages those who hit her, and Swarm's fearsome "Only The Queen Matters" that limits damage done to him to one unless the attack roll was doubles.  Meanwhile there are appropriately crazy traits among the chases like Hulkpool's huge bonuses for rolling high and Venompool preventing his enemies from using Probability Control after the first time… for the entire game!  Possibly the craziest trait in a set full of crazy belongs to Doop; "The Unimaginable Power of Doop" has you roll with possible outcomes like shifting all of your figures, letting someone use Power Cosmic for a turn, or summoning a "Hailstorm of Mjolnirs" that's as cool as it sounds.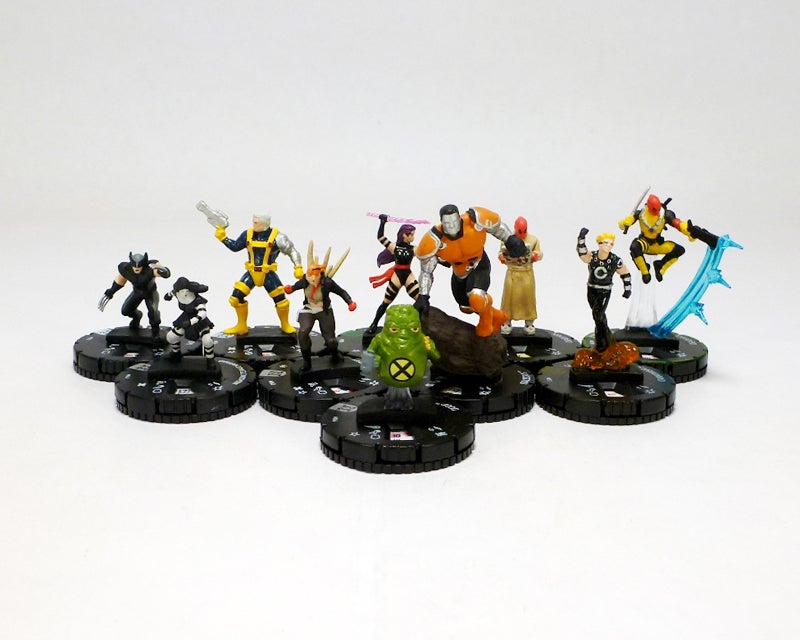 Then there are the special powers which really make figures unique and translate into HeroClix the wild things characters do in the comics.  It was hard to narrow down those I thought were cool, but here we go.  "Automatic Regeneration" could let Wolverine heal every turn and it lets him lock a die for B/C/F or Regen, Chipmunk Hunk's "Defeater of Punks and Other Junk!" gives him a free Quake after Leap/Climb, "Bodyslide" gives Cable a free attack after Teleporting which makes him absolutely deadly, "keychain" Deadpool shrinks to Tiny size and can make free attacks after being carried via "Ride the Rhino," "Monstrous Transformation" evolves rare Shiklah into her fully powered super rare form, Jackhammer gets bonus damage when Quaking while holding an object via "Fists of Jackhammering," enemies are cut off from their STOP powers when Dead Girl uses her "Tombstone Talons, Coffin Nails," Cannonball's "External" STOP gives him a double power action Regeneration option that doesn't subtract 2, "Freedom-Augmenting Rocket Transport System" (check the acronym!) gives D.E.A.D.P.O.O.L. Charge and Sidestep with a side of Smoke Cloud, and Pirate Deadpool gets to steal the highest attack value of any figure via "My Solid Gold Gun with Diamond Bullets – 'The Compensator.'"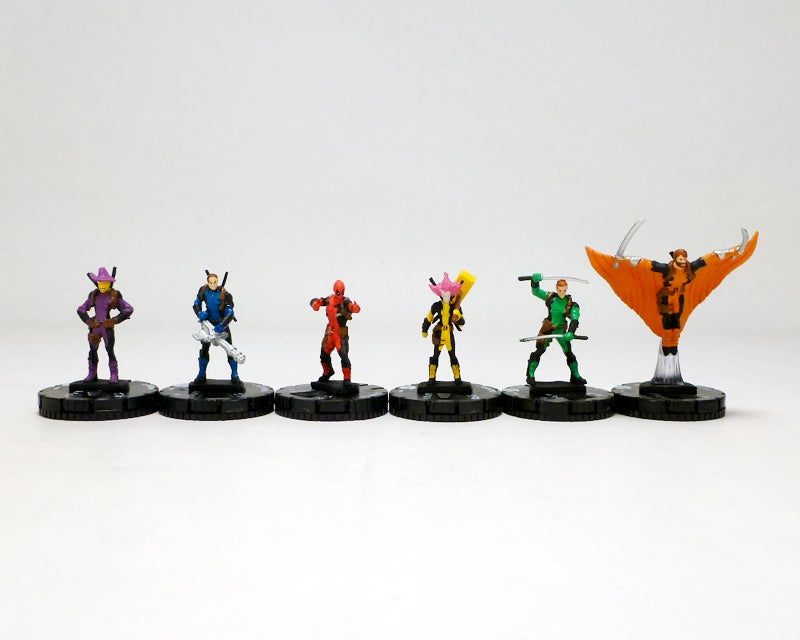 Deadpool fans are particularly rabid… I mean enthusiastic, and so there's plenty more where the full expansion set came from in the form of additional Deadpool & X-Force products for your gaming enjoyment.  First up, participating in events at your local comic book or game store can get you access to the Organized Play kit with the double-sided map of the Speakeasy and Cargo Plane and the exclusive Limited Edition prize figure of Terror in his purple costume.  That is a crucial piece for collecting as he's the only one of Deadpool's mercs who does NOT make an appearance in the Deadpool & The Merc$ For Money Fast Forces set!  This box set (coming soon!) brings you new versions of Deadpool, Foolkiller, Madcap, Slapstick, Solo, and Stingray; they share sculpts from the booster set but feature different colored outfits (except Deadpool) and all have new dials which feature color-coordinated Outwit powers and much more.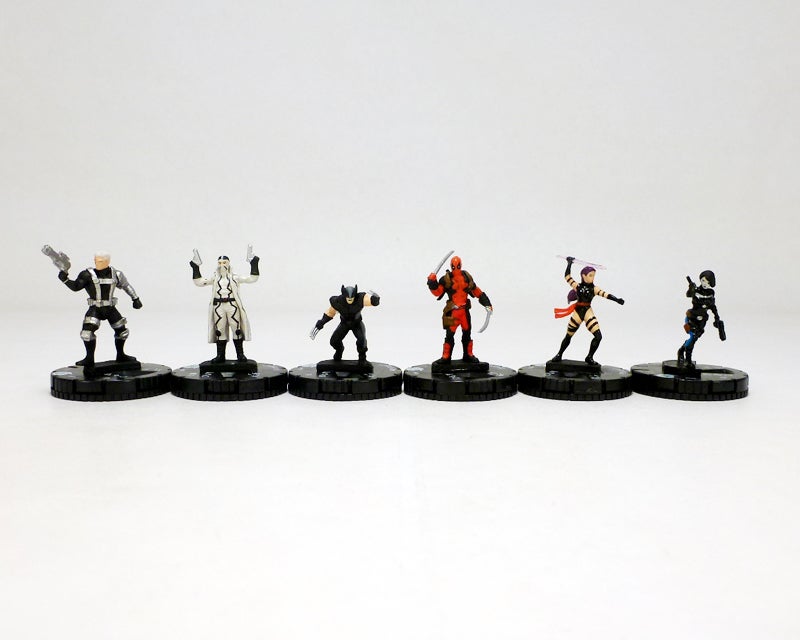 If you're a fan of other mutant teams on which Wade makes an appearance you can pick up the Deadpool & X-Force Fast Forces right now featuring Deadpool, Wolverine, Fantomex, Psylocke, Cable, and Domino.  They all get new dials plus Cable gets an X-Force palette swap and this Deadpool utilizes Solo's killer sword-wielding sculpt.  Lastly there's a Deadpool Dice & Token Pack with six poker chips emblazoned with shiny Deadpool art plus two red and black dice with the Deadpool symbol.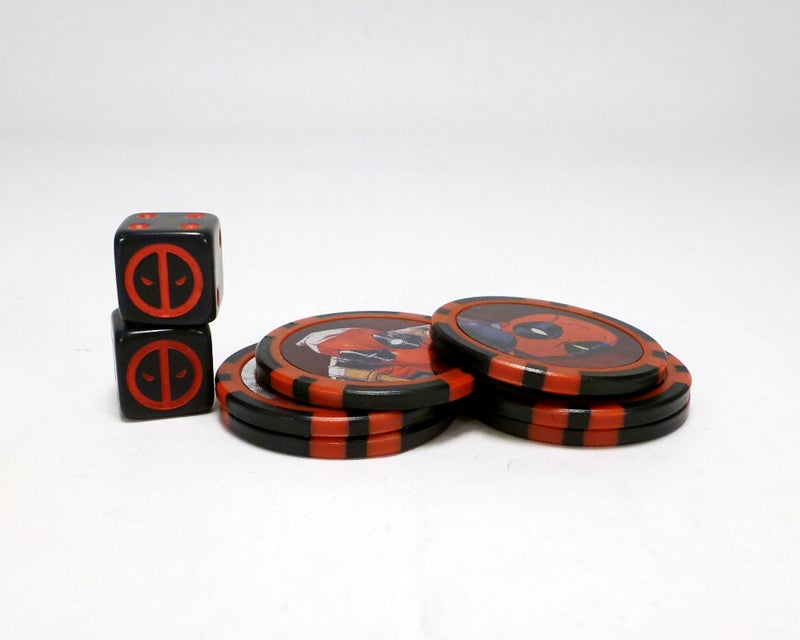 So there you have it, a huge HeroClix expansion based on one of Marvel's most popular characters with a bunch of fun sub-themes thrown in for good measure.  There are plenty of characters making their figure debut in this set as well as some fan favorites returning with modern dials.  Deadpool fans are already loving this set and its ancillary products, and now's a great time to get that friend of yours into HeroClix by letting him or her play Wade Wilson in his many glorious forms or Wolverine, Colossus, etc.  For longtime HeroClix players this set is a huge boon for several keywords especially X-Force and X-Statix which is suddenly a playable team.  You can find Deadpool & X-Force plus the related Fast Forces pack, Dice & Tokens, OP Kit, and more at a participating comic book or game store near you RIGHT NOW (with the Merc$ For Money Fast Forces coming soon), so channel your inner mercenary and get playing!
Visit the new and improved WizKids.com/HeroClix for even more info as well as downloads of rules and maps, and check Figures.com regularly as we continue our reviews of new HeroClix!
Review and photos by Scott Rubin
Review samples courtesy of WizKids Games
[gallery_bank type="images" format="masonry" title="true" desc="false" responsive="true" display="all" sort_by="random" animation_effect="bounce" album_title="true" album_id="631″]
[gallery_bank type="images" format="masonry" title="true" desc="false" responsive="true" display="all" sort_by="random" animation_effect="bounce" album_title="true" album_id="632″]
[gallery_bank type="images" format="masonry" title="true" desc="false" responsive="true" display="all" sort_by="random" animation_effect="bounce" album_title="true" album_id="633″]
[gallery_bank type="images" format="masonry" title="true" desc="false" responsive="true" display="all" sort_by="random" animation_effect="bounce" album_title="true" album_id="634″]
[gallery_bank type="images" format="masonry" title="true" desc="false" responsive="true" display="all" sort_by="random" animation_effect="bounce" album_title="true" album_id="635″]
[gallery_bank type="images" format="masonry" title="true" desc="false" responsive="true" display="all" sort_by="random" animation_effect="bounce" album_title="true" album_id="636″]
[gallery_bank type="images" format="masonry" title="true" desc="false" responsive="true" display="all" sort_by="random" animation_effect="bounce" album_title="true" album_id="637″]
[gallery_bank type="images" format="masonry" title="true" desc="false" responsive="true" display="all" sort_by="random" animation_effect="bounce" album_title="true" album_id="640″]
Keep up with all the latest toy news by following Figures.com on Facebook and Twitter!
To buy action figures, take a look at MHToyShop, Hobby Link Japan, BigBadToyStore.com, TheToySource.com, Toynk.com, BriansToys.com, ToyWiz.com, and EntertainmentEarth.com.