As we prepare to tackle San Diego Comic-Con THIS WEEK, we've got one last advance look at some cool SDCC 2016 exclusives for you.  Today we'll be giving you a sneak peek at just a few of the fun offerings from Monogram, whose listings include a whopping EIGHTEEN items this year!  All of these, and much more, will be available at the bright and colorful Monogram booth on the Comic-Con exhibit hall floor, booth #3645.  And they're even bringing some rare warehouse finds of previous years' exclusives!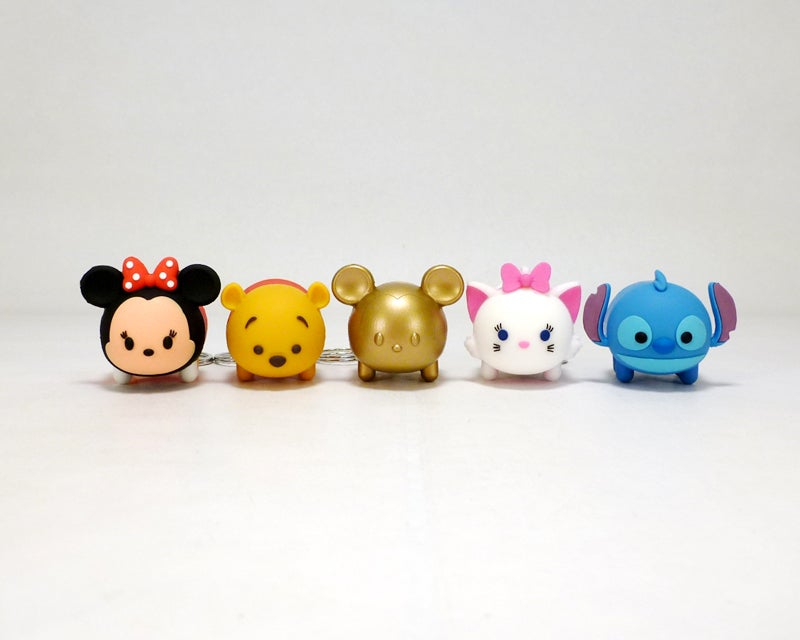 For many years, Monogram has been pretty much the king of bust banks, but recently the company has spearheaded the invasion of blind bagged 3D Foam Key Ring characters in the States.  These approximately 2-2.5 inch figures have a distinctive style with exaggerated proportions and bright colors, and Monogram has captured many of the top licenses in the world like DC and Marvel Comics, Disney, and more.  My son and I love these (often) silly figures, and I was most excited to see the Comic-Con offerings in this format.  Scroll down for plenty of photos of these great SDCC 2016 sets:
Rainbow Batman 3D Foam Key Ring Set ($55, LE 400)
Suicide Squad 3D Foam Key Ring Set ($45, LE 500)
Disney Tsum Tsum 3D Foam Key Ring Set ($45, LE 600)
Deadpool 3D Foam Key Ring Set ($45, LE 500)
Women of Marvel 3D Foam Key Ring Set ($45, LE 400)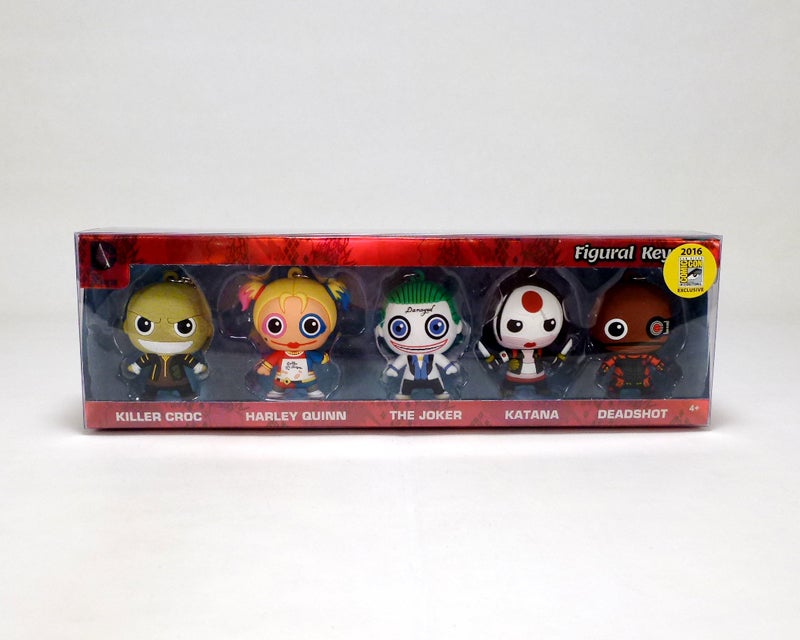 Another thing that I really like about Monogram's 3D Foam Key Ring characters that I had forgotten is just how weighty and solid they are.  Unlike a lot of other keychains out there that are nearly two-dimensional, these guys are bulky and thick with quite a heft, and each of these multi-figure packs weighs a surprising amount.  Monogram's SDCC exclusive sets all come in wide window boxes with the key rings standing in a row and nothing blocking your view of them.  There are some added details like logos and names, and SDCC 2016 stickers let you know that these sets are special.  The back of each box has fun photographs of its respective figures along with unique background colors and patterns.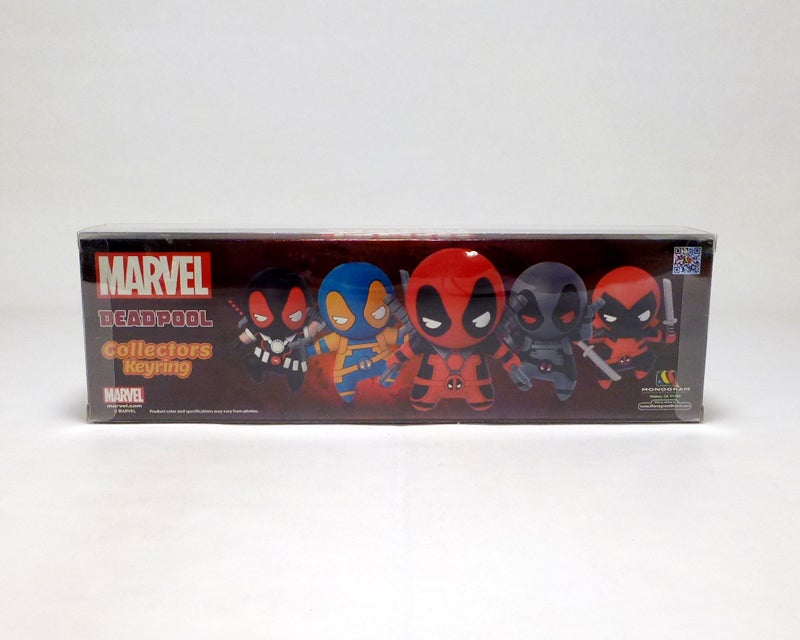 As you can see in the photos, each of these sets gives you a variety of characters to decorate your keys, work space, or just various places around your house.  The standard in these multi-packs is five figures, which is the number of Suicide Squad members, Tsum Tsums, Deadpool variants, and Women of Marvel.  Rainbow Batman splurges for a sixth colorful character, and that set is appropriately a bit more expensive.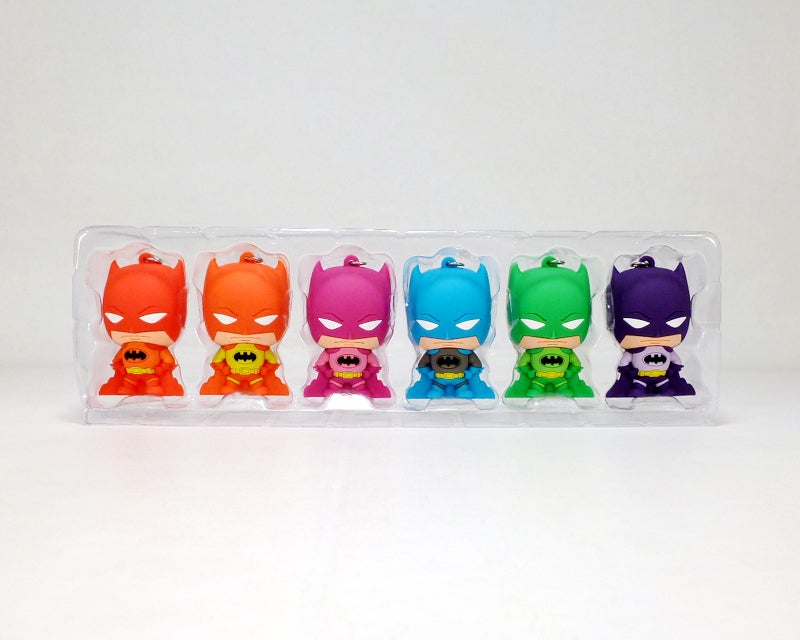 If you've got any children in your family you MUST know about Disney's Tsum Tsums by now, though there are plenty of adults who love the little buggers too so the fan in your family may be you.  The SDCC 2016 set of chunky (and heavy!) Tsum Tsums brings you Stitch, Minnie, Marie, Winnie the Pooh, and the exclusive Gold Mickey Mouse.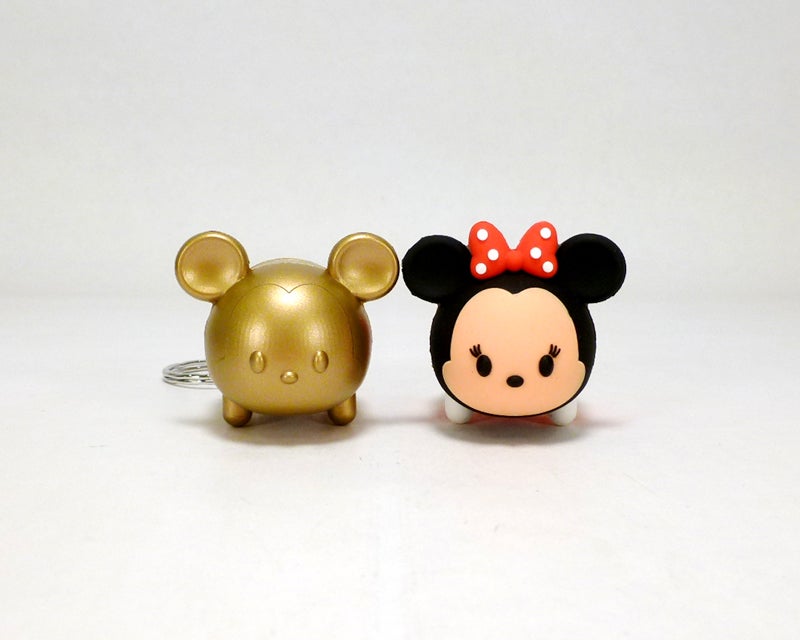 Marvel Comics fans have a couple of options at the Monogram booth, with the first featuring a certain irreverent, recent breakout blockbuster movie star.  That's right, Deadpool comes to Comic-Con with a cool Foam Key Ring pack featuring five different costume versions of the Merc with the Mouth: standard, Gray, Ultimate, and the previously released chase variants Black and Blue!  If you're looking for something a bit more feminine but even more powerful then check out the Women of Marvel five-pack assembling the fantastic superheroines Red She-Hulk, Ms. Marvel, Spider-Gwen, Captain Marvel, and the exclusive Angela.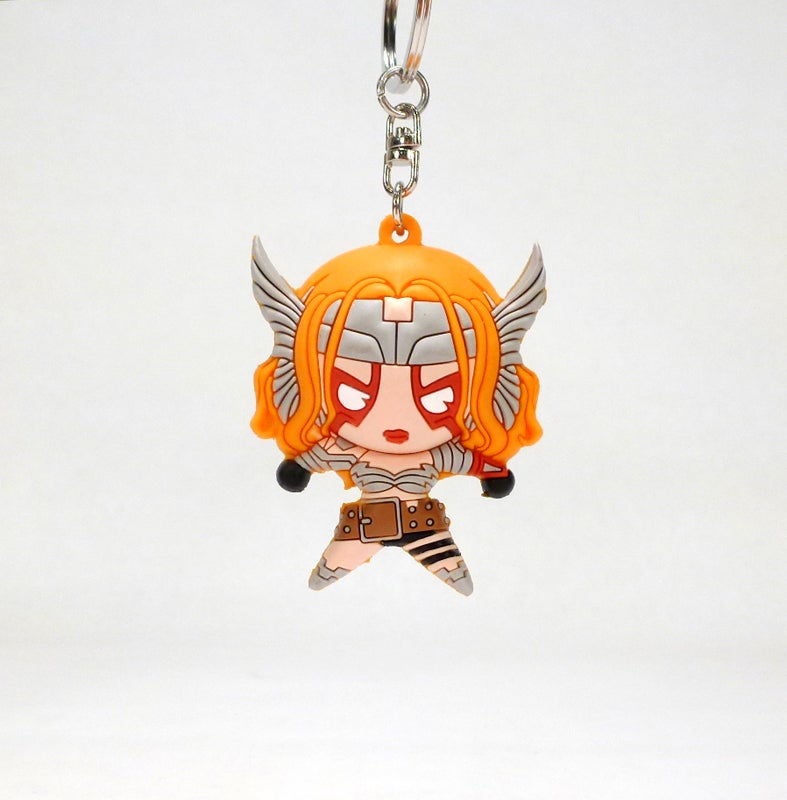 Don't worry, DC Comics fans, Monogram hasn't forgotten about you.  Among their lineup of exclusives this year are two packs you can see here, and one of them celebrates a small movie that some of you might be looking forward to later this summer… Suicide Squad!  That's right, the villains forced to do good are captured as Foam Key Rings with a five-pack of Killer Croc, Harley Quinn, the Joker, Katana, and Deadshot (unmasked).  Monogram will have a full blind bag set of figures from this film later, and it will include other versions of the main characters.  I was particularly impressed with these Suicide Squad figures as they've got a ton of sculpted details and really masterful paint work including tattoos, logos, and more.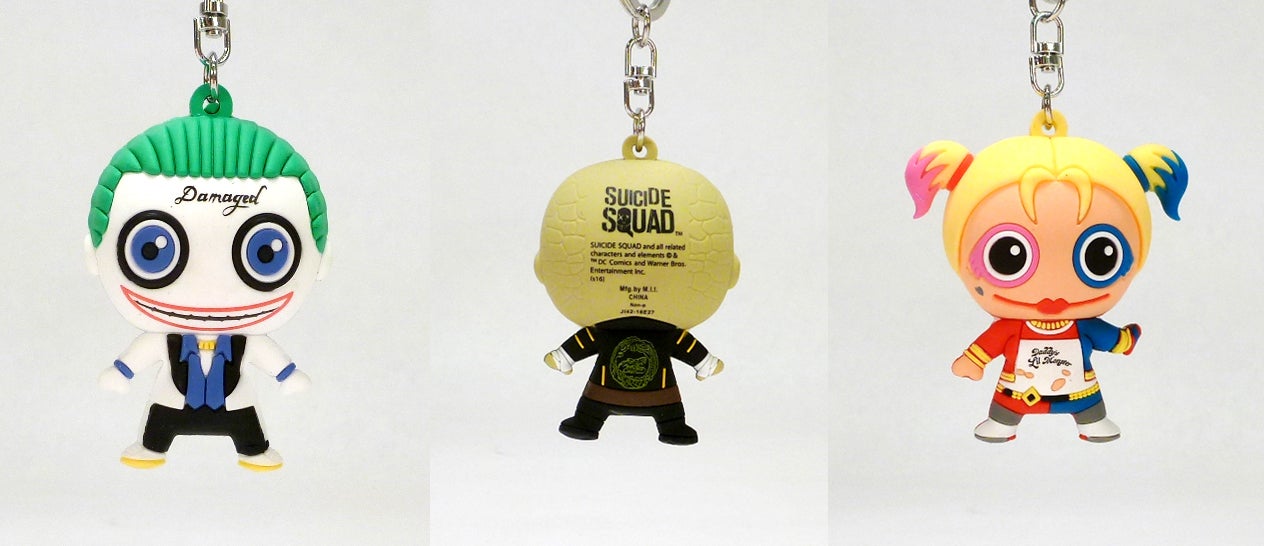 The last Comic-Con set you can preview here today is one that might have some people scratching their heads: Rainbow Batman.  In 1957's Detective Comics #241 Batman appeared in a variety of different colored versions of his costume to distract his enemies, and ever since fans have sought out collectibles of these differently-hued variants.  Monogram has six with red, orange, pink, standard blue, green, and purple.  Each one has multiple colors and really stands out from the rest.  My favorite is, of course, Pink Batman!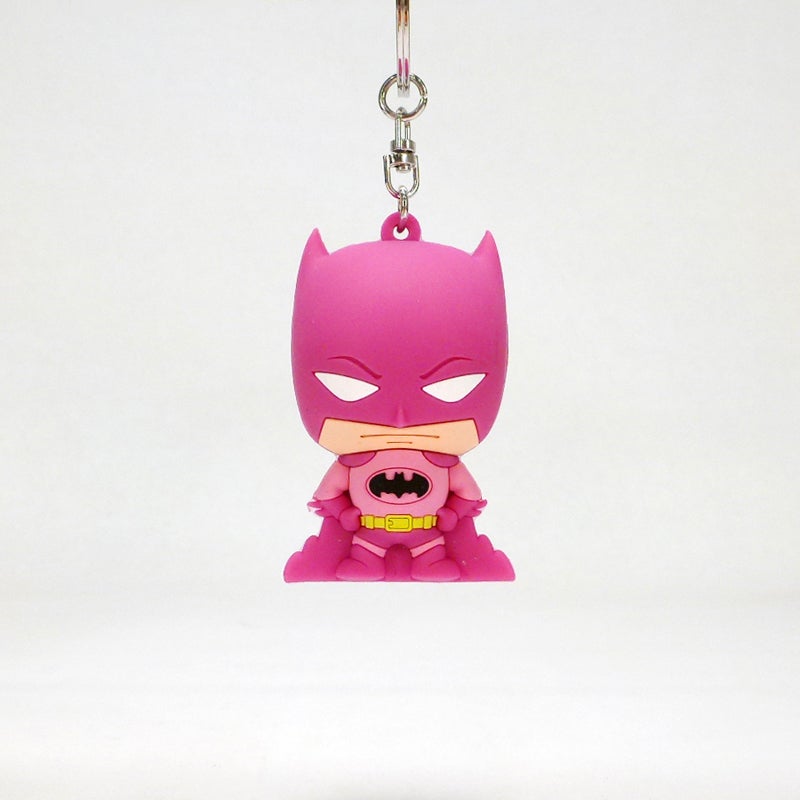 If you're on your way to SDCC this week, plan on stopping by the Monogram booth (#3645) to check out these and the rest of their expansive inventory.  The figural 3D Foam Key Chain sets pack a ton of great characters with really unique and dynamic looks, and there's something for everyone from Deadpool to Disney, Batman to the Women of Marvel, and so much more.  To see all of the exclusives Monogram is bringing to San Diego Comic-Con 2016 check out our full story here: https://www.figures.com/2016/07/15/join-monogram-at-san-diego-comic-con-booth-3645/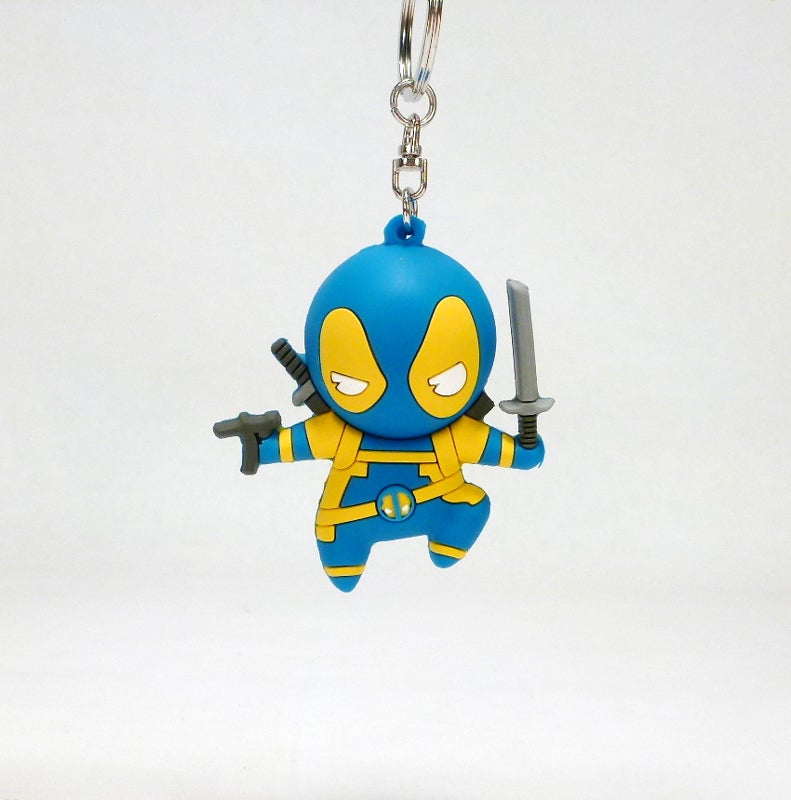 Review and photos by Scott Rubin
Samples courtesy of Monogram
[gallery_bank type="images" format="masonry" title="true" desc="false" responsive="true" display="all" sort_by="random" animation_effect="bounce" album_title="true" album_id="71″]
---
Keep up with all the latest toy news by following Figures.com on Facebook and Twitter!
To buy action figures, take a look at BigBadToyStore.com, TheToySource.com, Toynk.com, BriansToys.com, ToyWiz.com, and EntertainmentEarth.com.