Every year the big toy and collectibles companies come to San Diego Comic-Con with truckloads of exclusive items to tempt attendees and make those who couldn't make it jealous.  Kotobukiya is well known for offering a manageable amount of exclusives, super cool items that are usually a mix of repurposed (repaint or deco) statues and all new sculpts.  Koto also uses SDCC as a means of launching new lines with exclusives… and all of those things can be seen in this year's offerings.  Today we've got a look at all four of this year's hot collectibles just in time for you to make your SDCC shopping lists: "Truth" Clark Kent ARTFX+ Statue, Bruce Wayne ARTFX+ Statue, Lady Deadpool Bishoujo Statue, and Batman Kawaii Series Rubber Charm Set!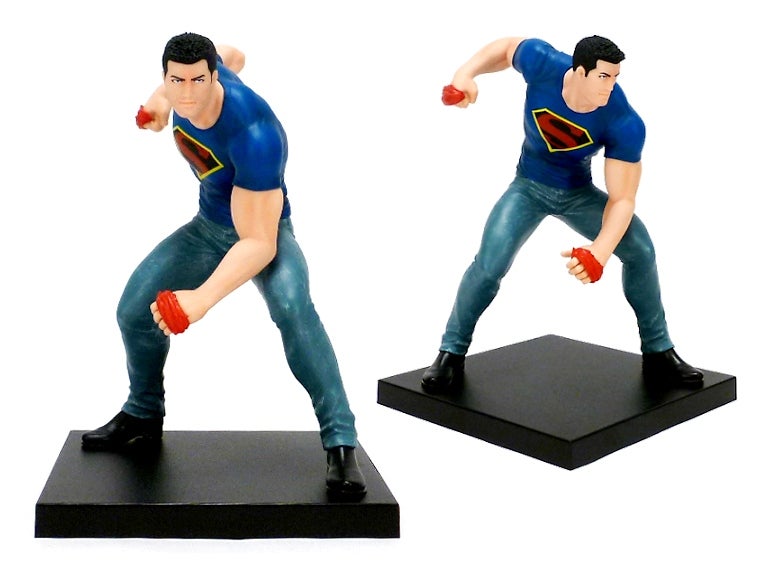 "Truth" Clark Kent ARTFX+ Statue ($49.99)
If you haven't kept up to date with your DC Comics, "Truth" was a crossover storyline in the New 52 that started in mid-2015 and appeared in the Action Comics, Batman/Superman, Superman, and Superman/Wonder Woman titles.  This series saw Superman stripped down to his basic elements, losing powers, his secret identity, the familiar costume, and (most shocking to some) even most of his hair.  But through it all Clark would remain a hero doing what he could to help people, even if that meant fighting for what's right in his t-shirt and jeans with crude wrappings to protect his knuckles.  That's exactly what Kotobukiya has brought to life in this exclusive, all new statue: Superman de-powered but still a hero in his street-level look!
The "Truth" ARTFX+ Statue comes packaged in a very clean black and white box (similar to Bruce Wayne's) with some great comic book artwork as well as the Superman/Action Comics logo.  Inside you'll find a plastic tray holding the figure, one of his hand wrappings, and the megalithic black base.  Clark is prepared for whatever comes his way in a very wide stance, keeping his center of gravity low.  His fists are cocked and ready, one held low in front of him while the other is held back for a powerful blow.  Superman wears his dressed-down outfit consisting of black shoes, distressed blue jeans, and a bold blue shirt with an "S" logo in red, black, and yellow.  And in keeping with his classic color scheme the indomitable hero's knuckle wraps are bright red.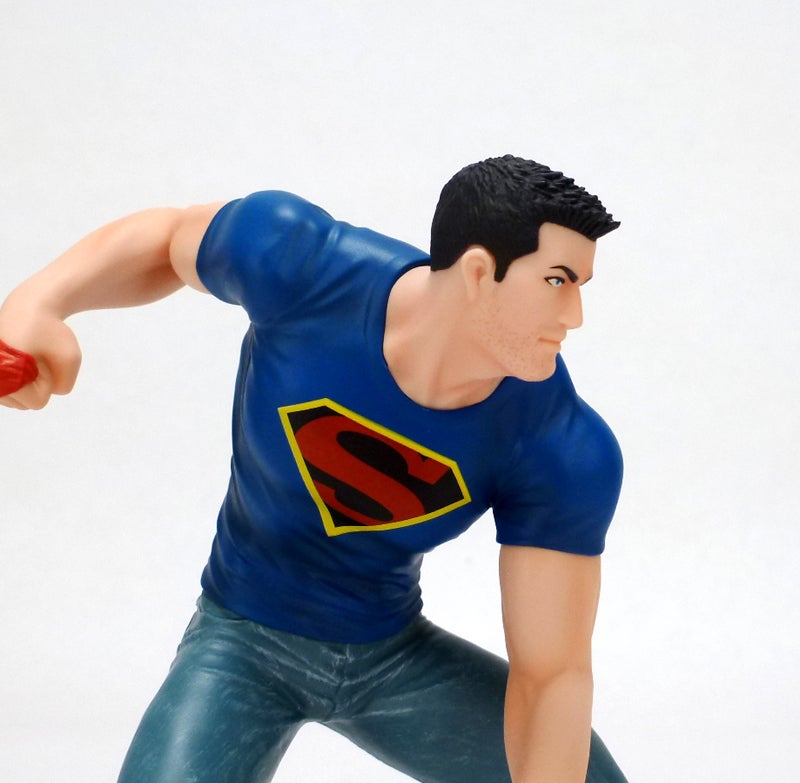 While Clark's hair is close-cropped it's still black, and his youthful face (with a subtle five o'clock shadow) is pure intensity and focus as he glares ahead with his blue eyes.  This unique version of Superman has a highly detailed musculature, especially across his back and his tensed arms.  The paint job, too, is pretty much perfect from the clean eyes and "S" logo to the distressing on his jeans.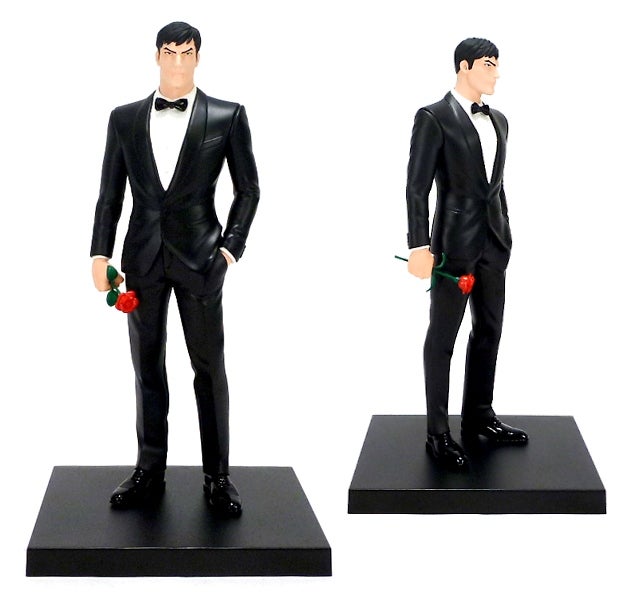 Bruce Wayne ARTFX+ Statue ($49.99)
While Clark dresses down in his exclusive "Truth" ARTFX+ Statue, his friend Bruce Wayne does the exact opposite with a stylish and cool presentation capturing his "billionaire playboy" persona!  This particular version and an all new sculpt is based on artist Greg Capullo's New 52 take on Batman's secret identity, as evidenced by the superstar's illustration right on the box from Batman #1.  Just like Clark's, Bruce's box is black and white though it adds a really cool shot of Gotham City in addition to the comic artwork of the character.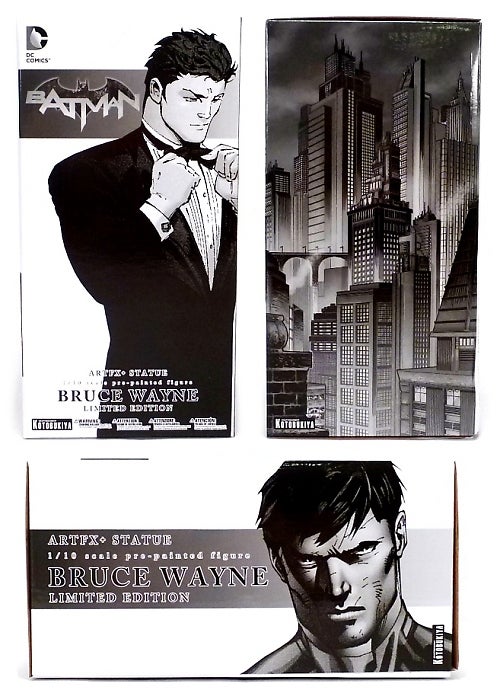 Suffering through a night out on the town, Bruce Wayne wears a classy black tuxedo with white shirt and black bowtie.  But while his outfit indicates he's heading to a social event his pose and facial expression tell a different story.  Bruce can't fully hide the Batman inside and his determination for vengeance speaks through a clenched fist and a fearsome scowl.  The vigilante may be hiding behind the socialite for the moment, but not for long.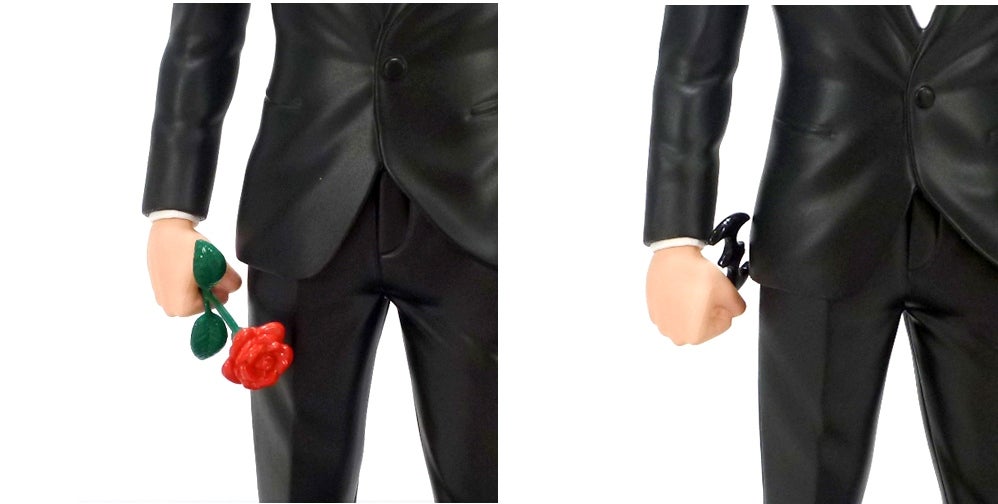 This statue comes with two optional accessories that fit into hidden holes in his right hand; if you so choose Bruce can hold either a red rose in front of him… or a batarang hidden in his clenched fist.  It's always nice to have options, and these will fit in with various Bruce Wayne/Batman displays.  Overall this statue is really nice, a sophisticated superhero that pairs perfectly with the previous SDCC exclusive Alfred Pennyworth figure.  Wayne is highly detailed with tons of clothing accents and creases, his look is sort of a blend of comic and animated, and the accessories put him over the top.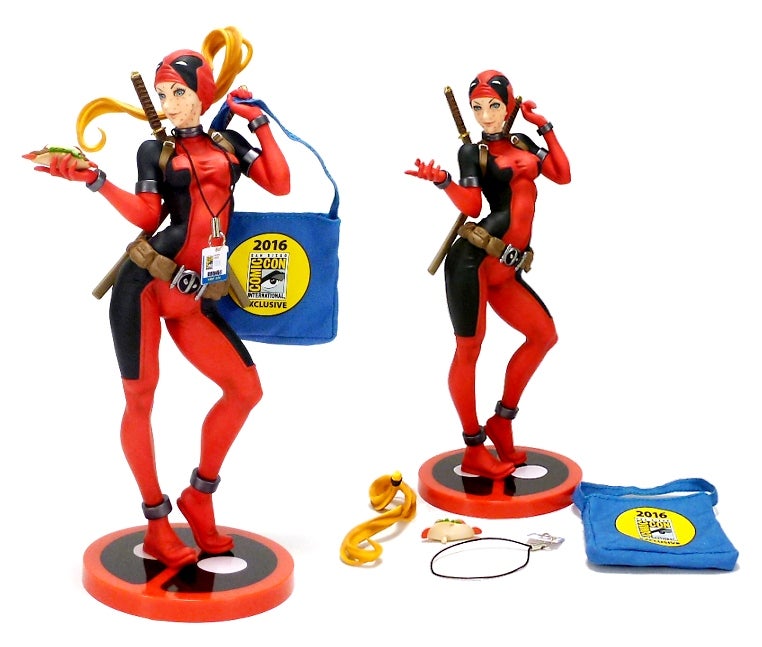 Lady Deadpool Bishoujo Statue ($74.99)
Bruce and Clark may be serious but don't worry; the life of the party is here with Lady Deadpool.  A variant of the previously released Lady D Bishoujo Statue, this Merc has arrived in San Diego and is ready to shop with her SDCC 2016 badge and bag!  Wanda Wilson of a parallel Earth-3010 has the same crazy personality, sense of humor, love for weapons, and bright red costume as our Deadpool, but she adds a set of curves Wade would kill for.  Packaging for this exclusive follows the trend of Bishoujo Statues with a slim, tall window box that gives you a peek at the figure inside (though she's still wrapped in plastic and protected in a sturdy tray).  On the box is the original artwork by Shunya Yamashita Lady Deadpool is based on as well as a lengthy description of the character and photos of the statue with her new accessories.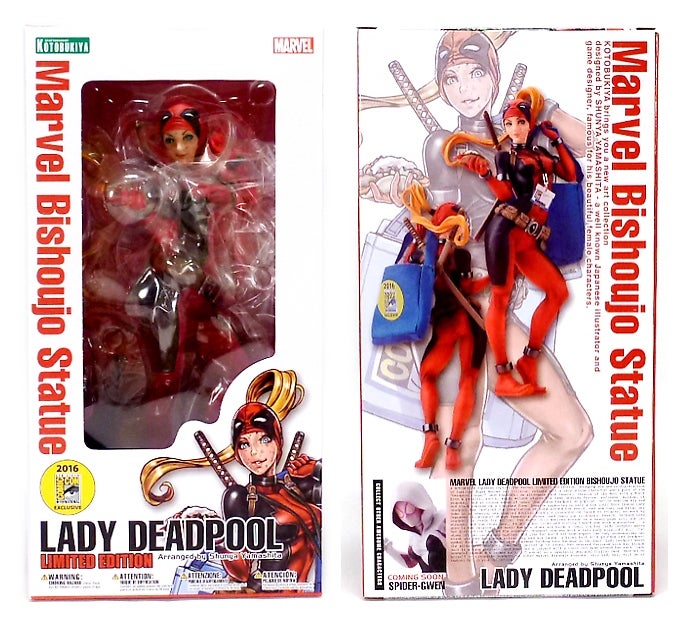 Sharing the same main body sculpt as the standard release, Lady Deadpool is a statuesque super heroine (villain?) posed seductively in her iconic black and red costume.  She comes perched on a Deadpool logo base and stands in a distinctive pose; with one leg cocked back and the other bent in front of her she twists her body and arches her back to look forward.  Her outfit is pretty much what you'd expect for a feminine version of what main continuity Deadpool wears, complete with red and black sections separated by thick piping, metal cuffs, a belt of pouches with a logo buckle, and a harness holding twin swords on her back.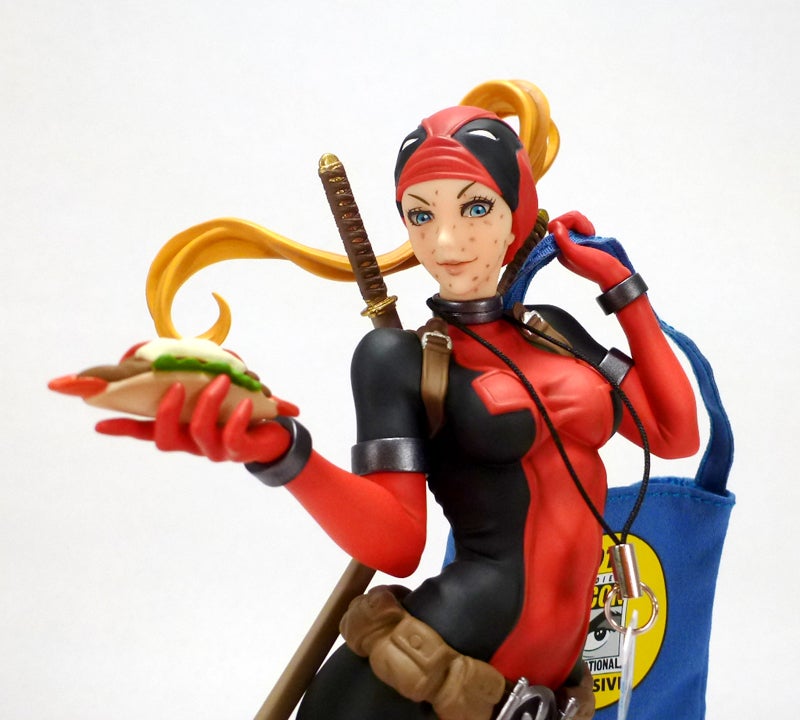 This variant of Lady Deadpool has her mask pushed up on top of her head, revealing her scarred but smiling face while her long blonde ponytail erupts from an aperture in the back.  The SDCC exclusive version of the statue also holds a gyro instead of the original grenade, and what's really cool is that all of the different parts are interchangeable with the standard release!  Of course, Lady Deadpool couldn't be a Comic-Con attendee without her SDCC badge (it even has her name on it) as well as a nifty SDCC logo swag bag.  This statue is a great exclusive, a fun variant of an off-beat character and one that literally wears a badge from the convention where you got it.  If you have the original Lady Deadpool you'll be able to mix and match parts, giving you even more value between them.  Highly recommended for fans of the Merc and his female parallel earth persona!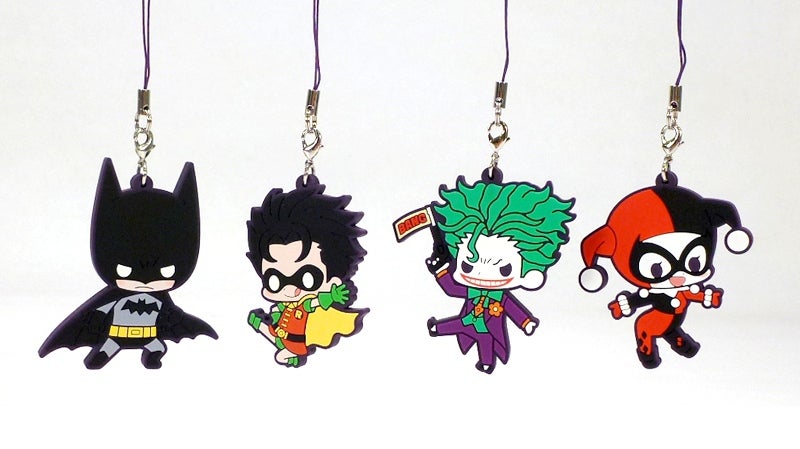 Batman Kawaii Series Rubber Charm Set ($27.99)
The fourth and final San Diego Comic-Con 2016 exclusive from Kotobukiya is something a bit different, and paves the way for a new type of product coming to the U.S. from Japan.  The Batman – Kawaii Series – Rubber Charm Set is a four-pack of Gotham City characters immortalized in adorable little figures that you can attach to just about anything.  Batman, Robin, the Joker, and Harley Quinn are based on artwork by the illustrator Sakurai, and represent the hugely popular "charm" trend from Japan that we're already seeing in the States.  This debut set comes on a bright and colorful cardboard backing that looks like a circus or carnival advertisement, in front of which hang the foursome.  It's interesting to note that the logo on this packaging is highly reminiscent of the old '66 Batman TV series title with the hero's head and outstretched cape behind his name in big, bold lettering.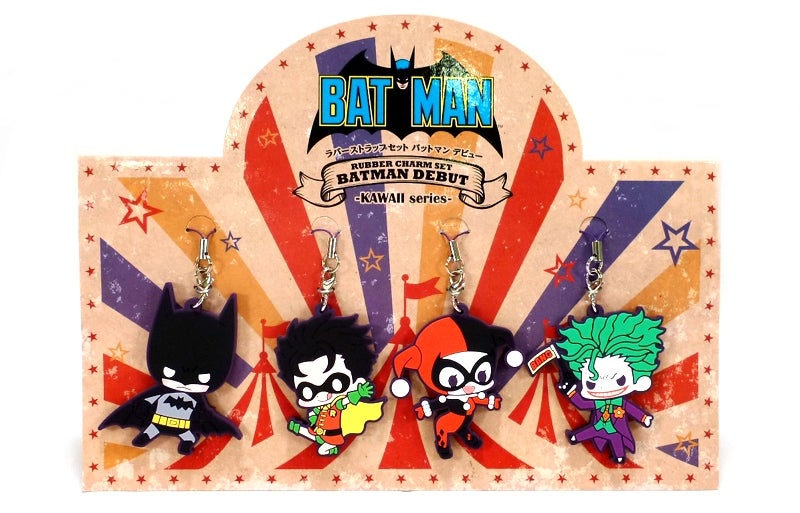 Each charm is about 2 ½ inches tall, and 3/16 inches thin.  The character selection for this set is right on the money whether you read comic books, play video games, or watch DC's movies… especially with the Suicide Squad film around the corner.  The charms capture the playful art style of Sakurai with child-like proportions and expressions, not to mention silly poses.  Batman is the most serious of the bunch (natch), scowling as he strides forward with his cape spread out behind him.  Robin flies through the air with his tongue sticking out, Harley has both her mouth and her arms wide open, and the Joker stands on one foot with an evil grin and a toy gun in one hand.  Each charm draws its color scheme right out of the comic books, and they're all just super fun.  They're also a lot heavier and more substantial than I expected, which is great especially if you're going to put them on your keys or in a place where they'll get knocked around a bit.  If you're able you should get these to start your collection; Kotobukiya will be bringing more fun characters in this style soon.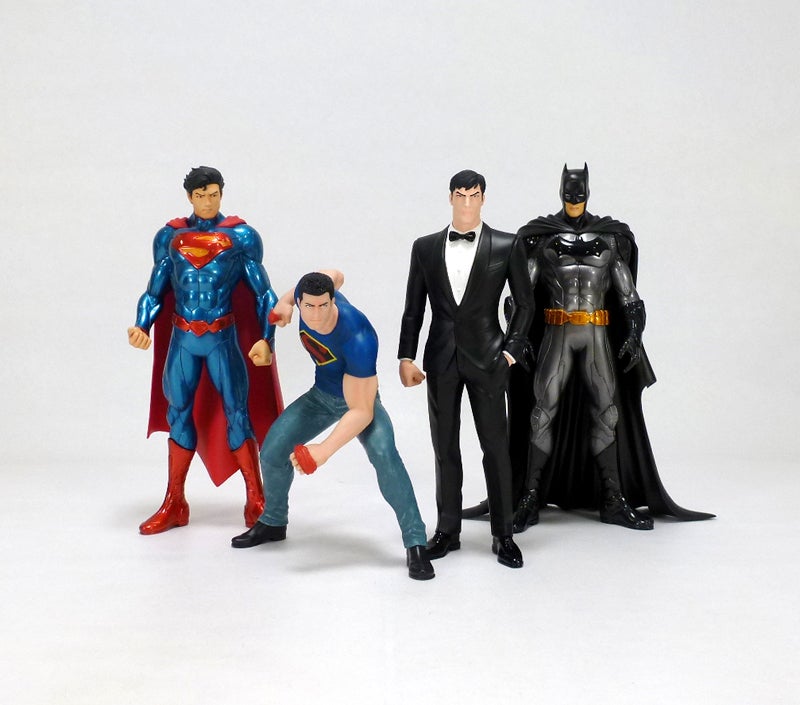 If you like what you see and you'll be attending San Diego Comic-Con next week, make sure to head to the Kotobukiya booth (#2601) as soon as you can before these great exclusives sell out.
Review and photos by Scott Rubin
Review samples courtesy of Kotobukiya
[gallery_bank type="images" format="masonry" title="true" desc="false" responsive="true" display="all" sort_by="random" animation_effect="bounce" album_title="true" album_id="64″]
Keep up with all the latest toy news by following Figures.com on Facebook and Twitter!
To buy action figures, take a look at BigBadToyStore.com, TheToySource.com, Toynk.com, BriansToys.com, ToyWiz.com, and EntertainmentEarth.com.