Have you seen the film Disturbia (2007) starring Shia LaBeouf  as a teenager who begins to spy on his neighbors, thinking one of them is a serial killer? It was a pretty good movie (well before LaBeouf went total nut job) and it reminds me a lot of tinyBuild's indie stealth horror video game Hello Neighbor.
Hello Neighbor's premise is about the same as Disturbia : you control "The Player" (a young kid) who must successfully sneak into the house basement of "The Neighbor" (creepy 'stached man) to uncover a "horrible secret". Lot of quotes there, I know, but the game isn't big on names. It's big on style and tension.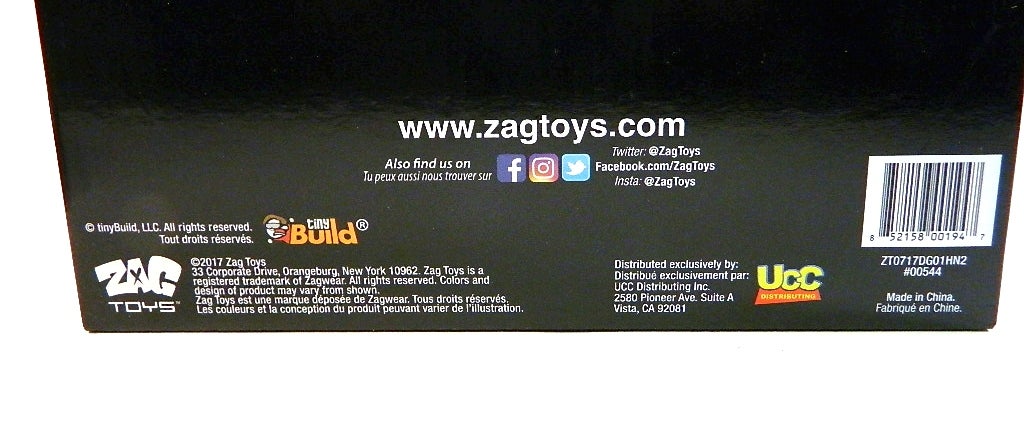 Zag Toys has embraced this new title with a wide range of collectibles. Distributed exclusively in the U.S. via UCC Distributing, the collection includes a Hello Neighbor Mini Figure 3-Pack, Plush, and Blind Bagged Backpack Clips. UCC was kind enough to pass along a sample of all three collectible groups to share with you.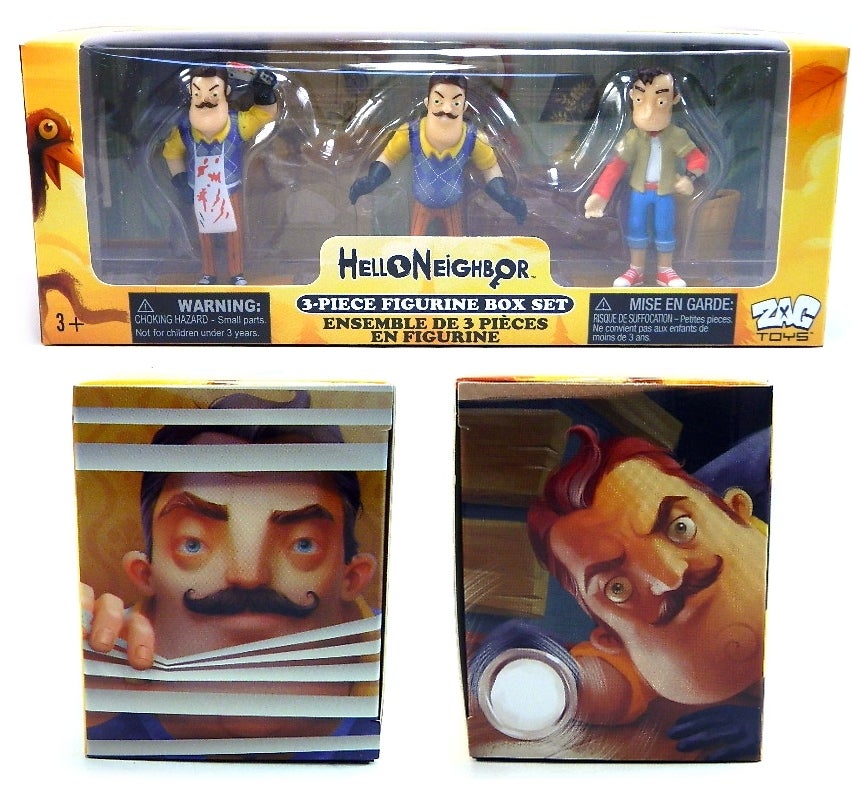 If you dig the game, the Hello Neighbor 3-Piece Figurine Box Set (SRP $17.99) is an excellent way to show off your fandom. This fun pack includes three approximately 2.5-inch tall mini figures, including you as "The Player" and two iconic versions of "The Neighbor" (comin' to grab your butt and with bloody cleaver!).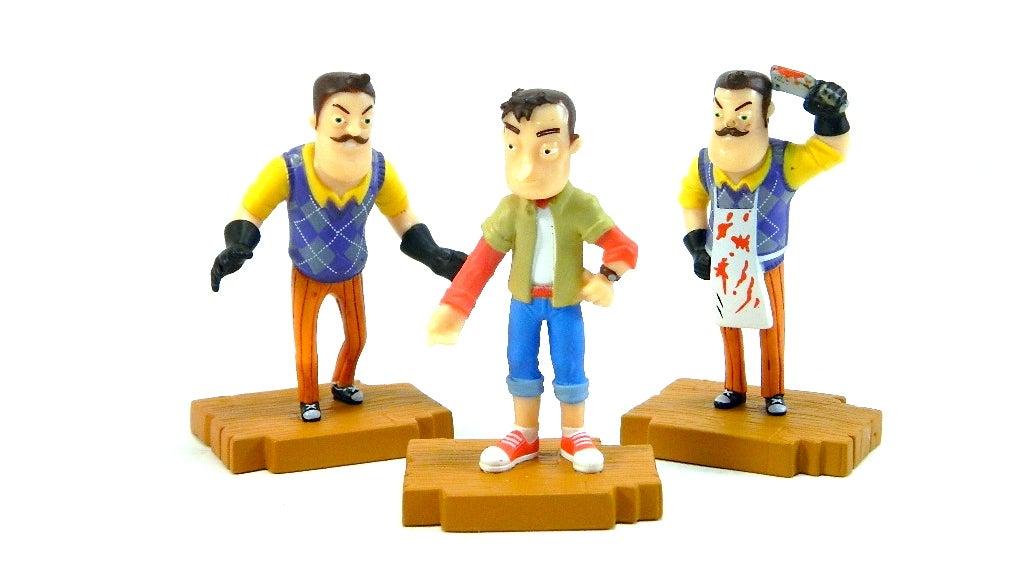 Each figure stands solid on a wide "wooden floor" display base, something I really appreciate (figures that can't stand is a HUGE pet peeve of mine). What's really nice about this set is how attractive it looks in pack. The window box presentation is top notch, with the figures front and center (including a cardboard house interior backdrop) and stylish game graphics on both sides and the back.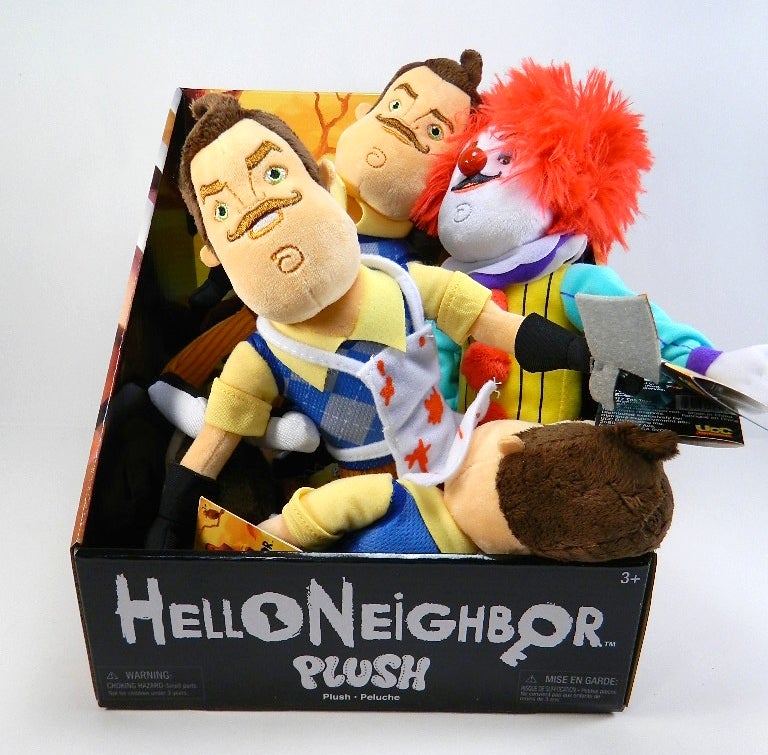 Plush more your thing? Zag Toys has you covered with six (6) unique plushies (SRP $12.99 each) of "The Neighbor"!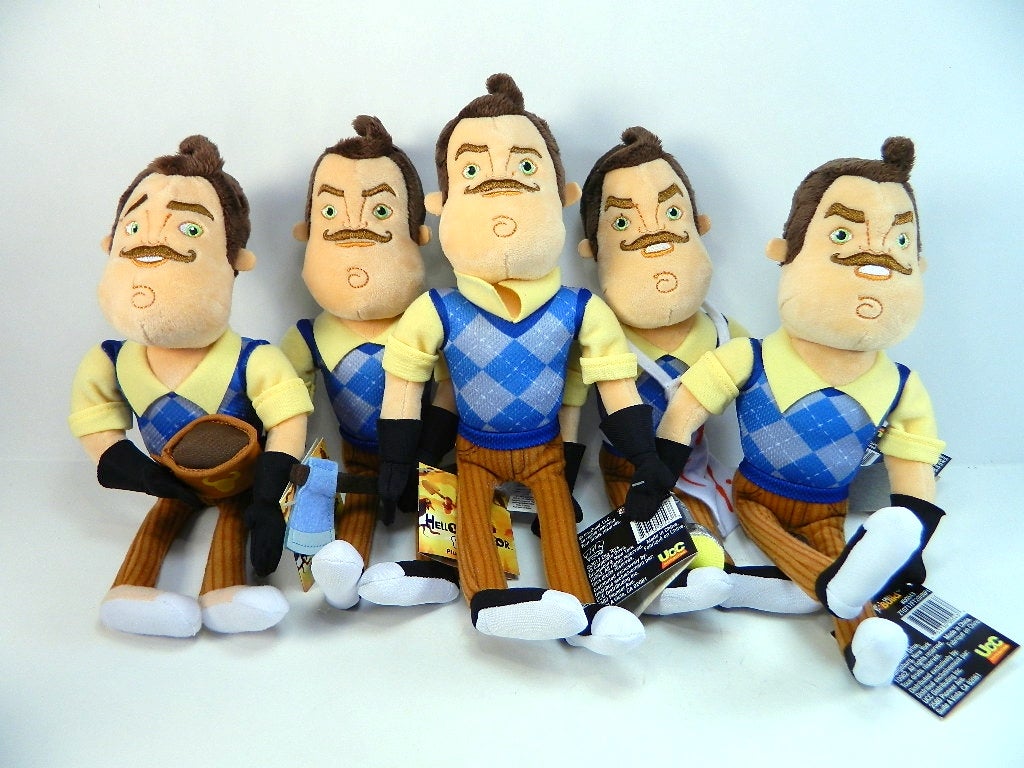 Measuring 11-inches tall, each soft plush depicts a different eerie look for "The Neighbor," such as him holding a shovel, axe, flashlight, meat cleaver, and more. The clown takes the cake as the creepiest of the bunch, an appearance repeated in the…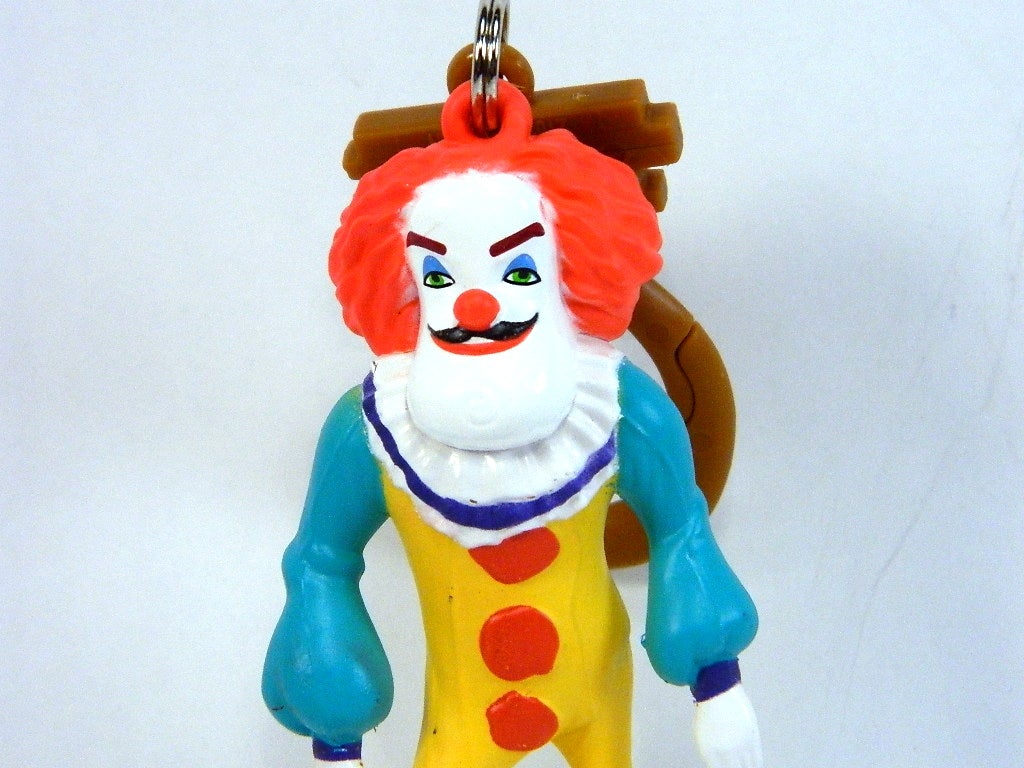 … collectible Backback Clips assortment (SRP $7.99 each)! This series is for the serious Hello Neighbor fan; a blind bagged assortment of eight (8) different figures. Measuring around 3-inches, each figure includes a handy clip to tote your Hello Neighbor fandom with you wherever you go.

There are no chase figures, so the frustration level of collecting them all is so much lower than some blind bagged figure assortments. Each counter display includes 24 figures for an even total of three full sets.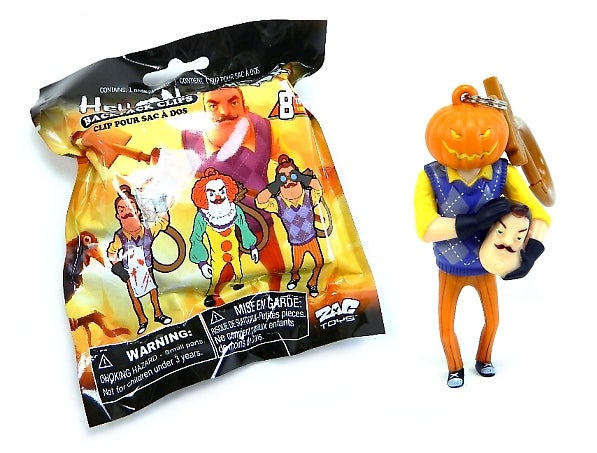 The backpack clip assortment allows Zag Toys to truly cut loose with the many unsettling looks of "The Neighbor" ("The Player" is included as well, but common, that weird dude next door is where it's at). Aside from Clown Neighbor, Pumpkinhead Neighbor is a close runner up for the scariest-neighbor-of-the-year award. Some of my other favorites include "The Neighbor" peeping back with a pair of binoculars and him in a classic grabbing pose (you'll see this A LOT in the game when he manages to catch you).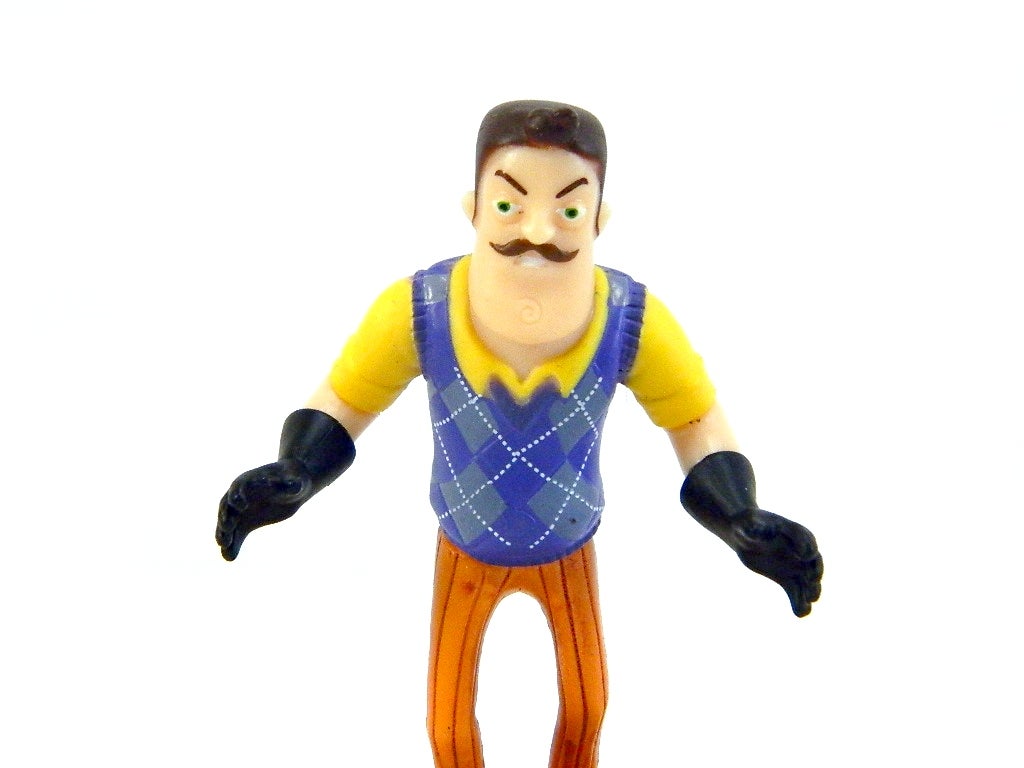 In a market where all the big A-titles receive collectible toy love,  you have to hand it to Zag Toys for taking on a smaller indie game like Hello Neighbor. Similar to Five Nights at Freddy's, Hello Neighbor has all the trappings of being an underground hit with the younger gaming crowd (and who am I kidding, adults too). If you find yourself in that group, you can't go wrong with Zag Toys' Hello neighbor collectibles.
And what IS "The Neighbor" hiding in his basement? You'll have to play the game to find out 🙂
Scroll on for more photos!
Review and Photos by Jeff Saylor
Review Samples Courtesy of UCC Distributing
Hello Neighbor Figurine Box Set
Hello Neighbor Plush
Hello Neighbor Backpack Clips
Keep up with all the latest toy news by following Figures.com on Facebook and Twitter!
To buy action figures, take a look at Hobby Link Japan, BigBadToyStore.com, TheToySource.com, Toynk.com, BriansToys.com, ToyWiz.com, and EntertainmentEarth.com.