-Review and Photos by David Yeh
For fans of Batman: The Animated Series, we've been ecstatic ever since DC Collectibles started releasing more and more of our favorite characters and vehicles in plastic.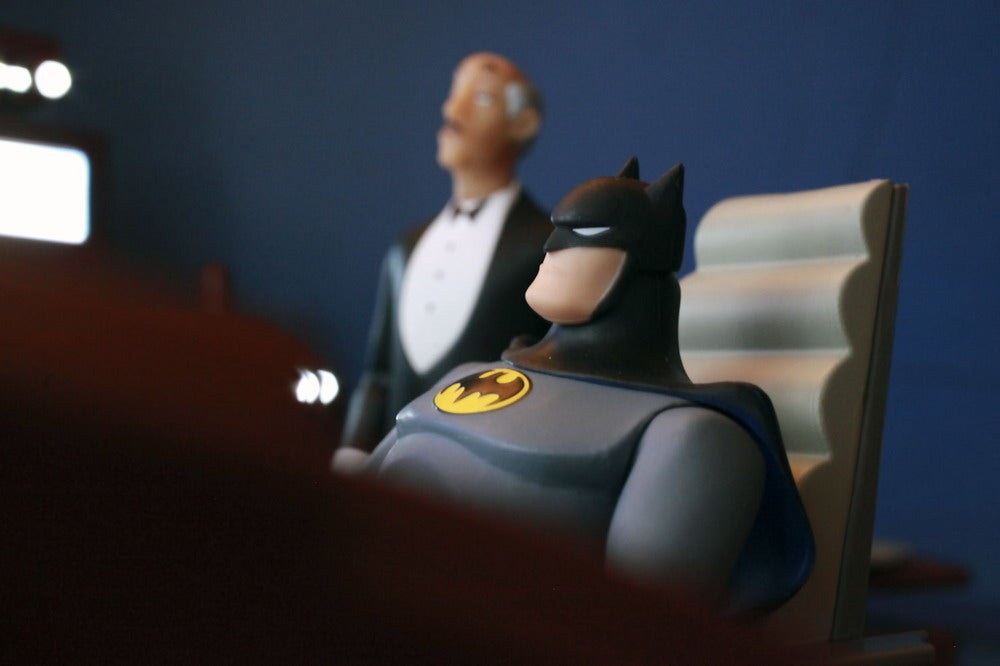 But here we have something else that is essential to Batman's operations, the Batcave Diorama, and it comes with an exclusive Alfred Pennyworth figure, complete with accessories, making this pretty essential for your Batman Animated Series display! What I love most about DC Collectibles' approach to this line is that size DOES matter. The Batmobile? HUGE. The Batwing? MASSIVE. As for The Batcave? This isn't something you can leave in the corner of a room and forget about neither. It's a MONSTER too, but we'll get into that.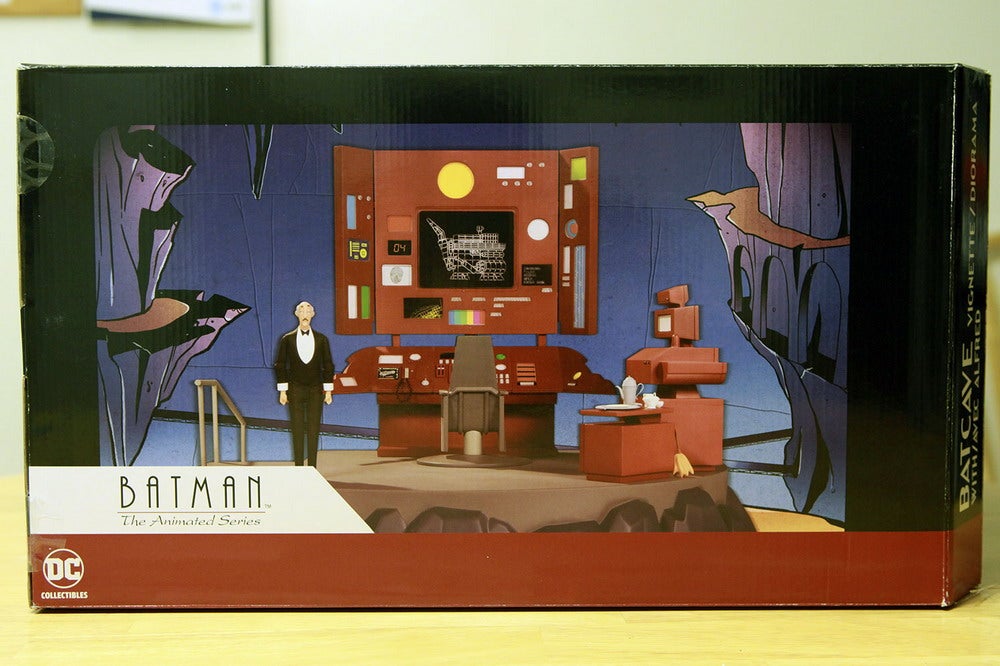 Important update: For those who've previously purchased the Batcave and found that the adhesives aren't working properly, DC Collectibles is sending out replacement sticker sheets to retailers and they will be made available on December 20th. If you need a replacement sticker sheet, contact your point of sale to get yours replaced.  Now, if you're ordering a new Batcave, an updated sticker sheet will be supplied with your purchase.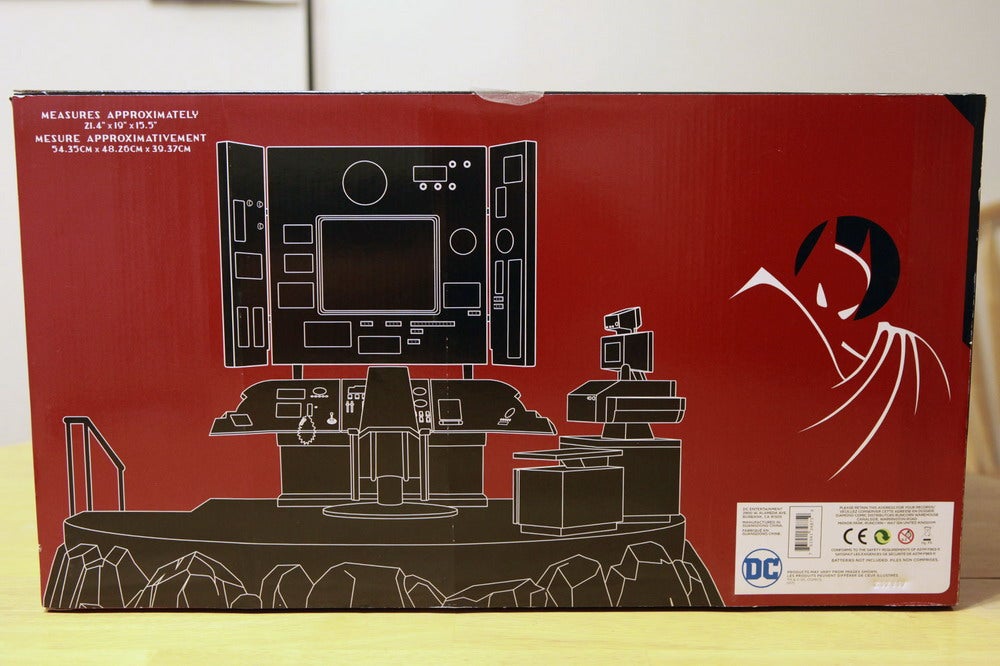 Getting right to it, the box for the Batcave is humongous, taking up half a coffee table approximately. Artwork on the front shows the completed diorama and on the side, four panels point out what makes this set cool: Working Lights! Exclusive Alfred Action Figure! Removable Screen Decals! Detailed Backdrop Display!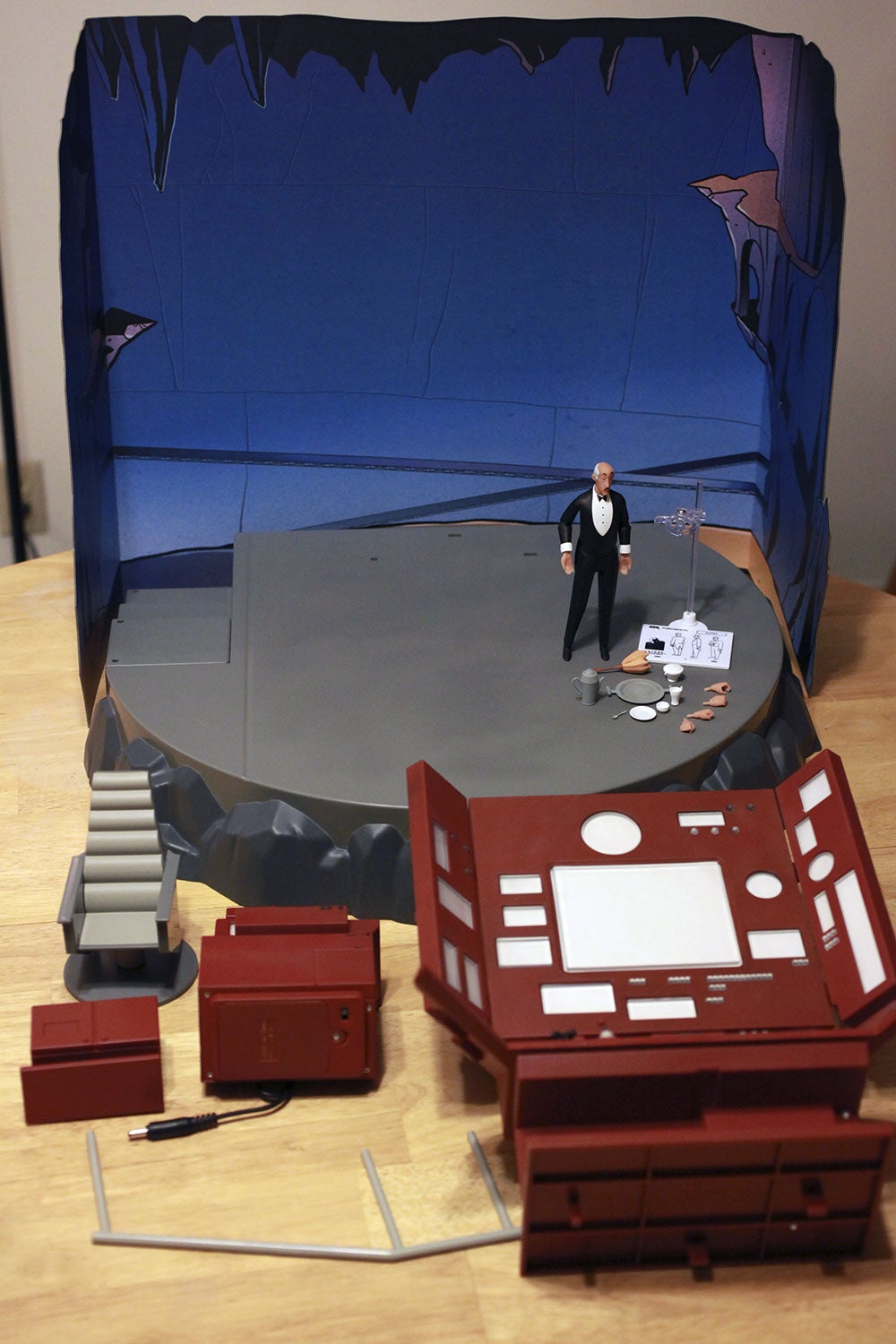 To remove your Batcave from the box, simply lift up the top flap. The backdrop and instructions along with the decals are on top. A Styrofoam case protects the individual pieces while the main base sits beneath it all. Some assembly required but it's mostly self explanatory and don't forget, you'll need three AA batteries to get everything to light up. A screwdriver will also be needed to remove the battery panel.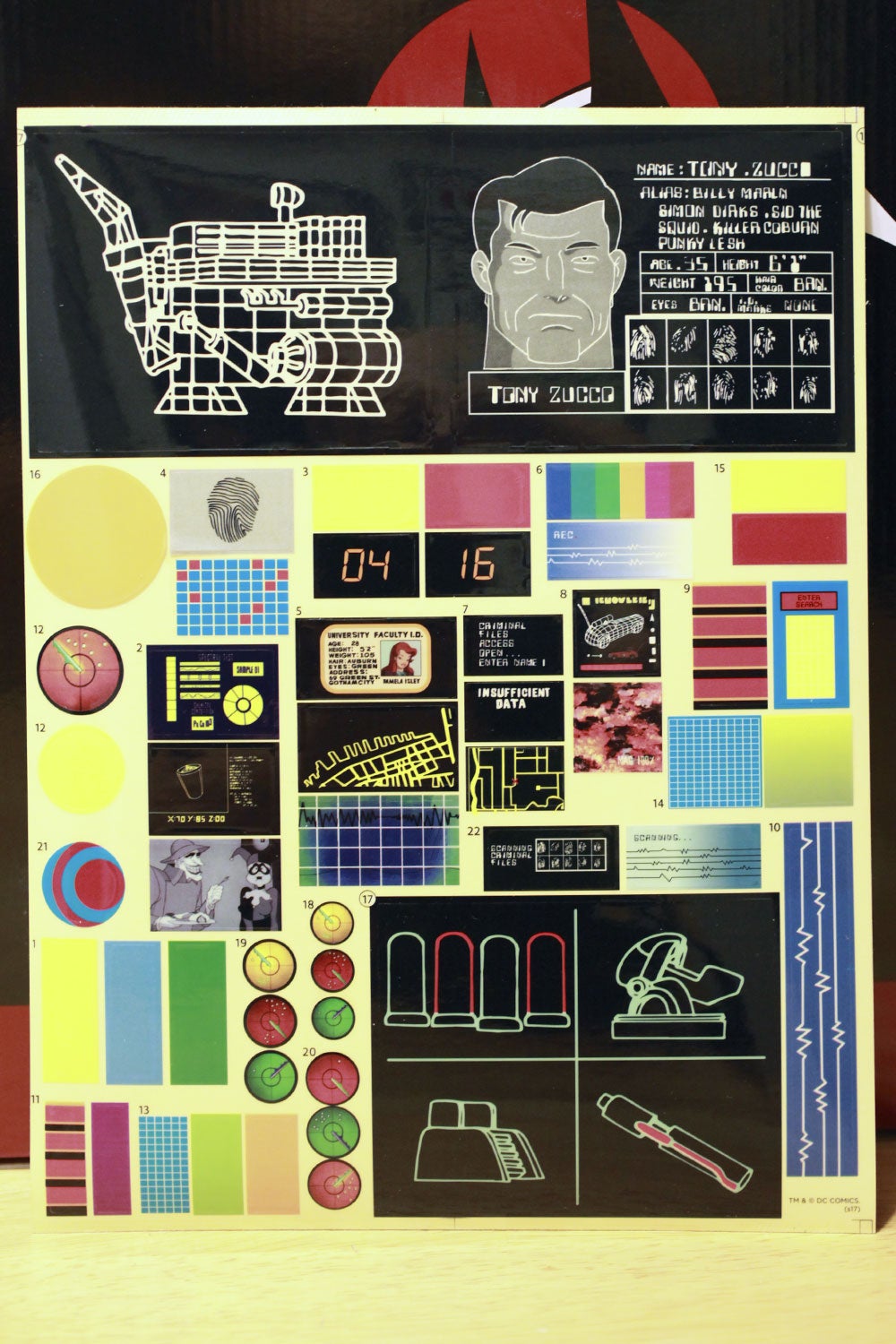 Once you got everything out, you can start putting on the decals onto the computer panel. There are several options for each, so choose wisely. While the box does boast removable screen decals, I haven't been too successful removing one without completely ruining it, so it's probably safer to pick your favorite and stick to it.  If you have fat fingers, try using a tweezer.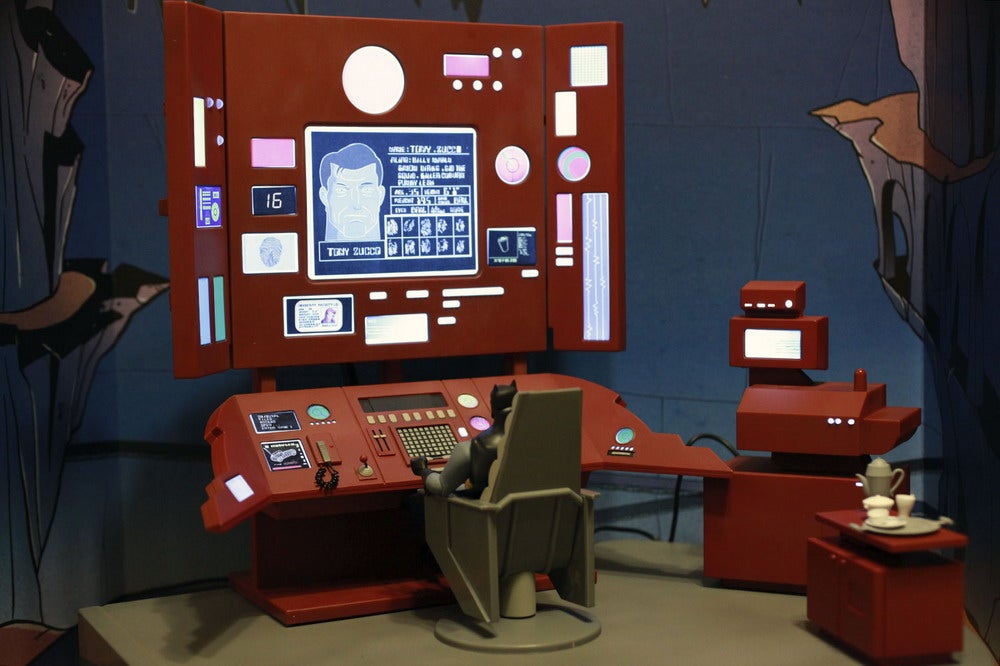 Upon applying the decals and batteries, you can start plugging things together. Only the computer console is required to be plugged in and the hand rail. If you want to put the Batcave away, the parts can be removed just as easily.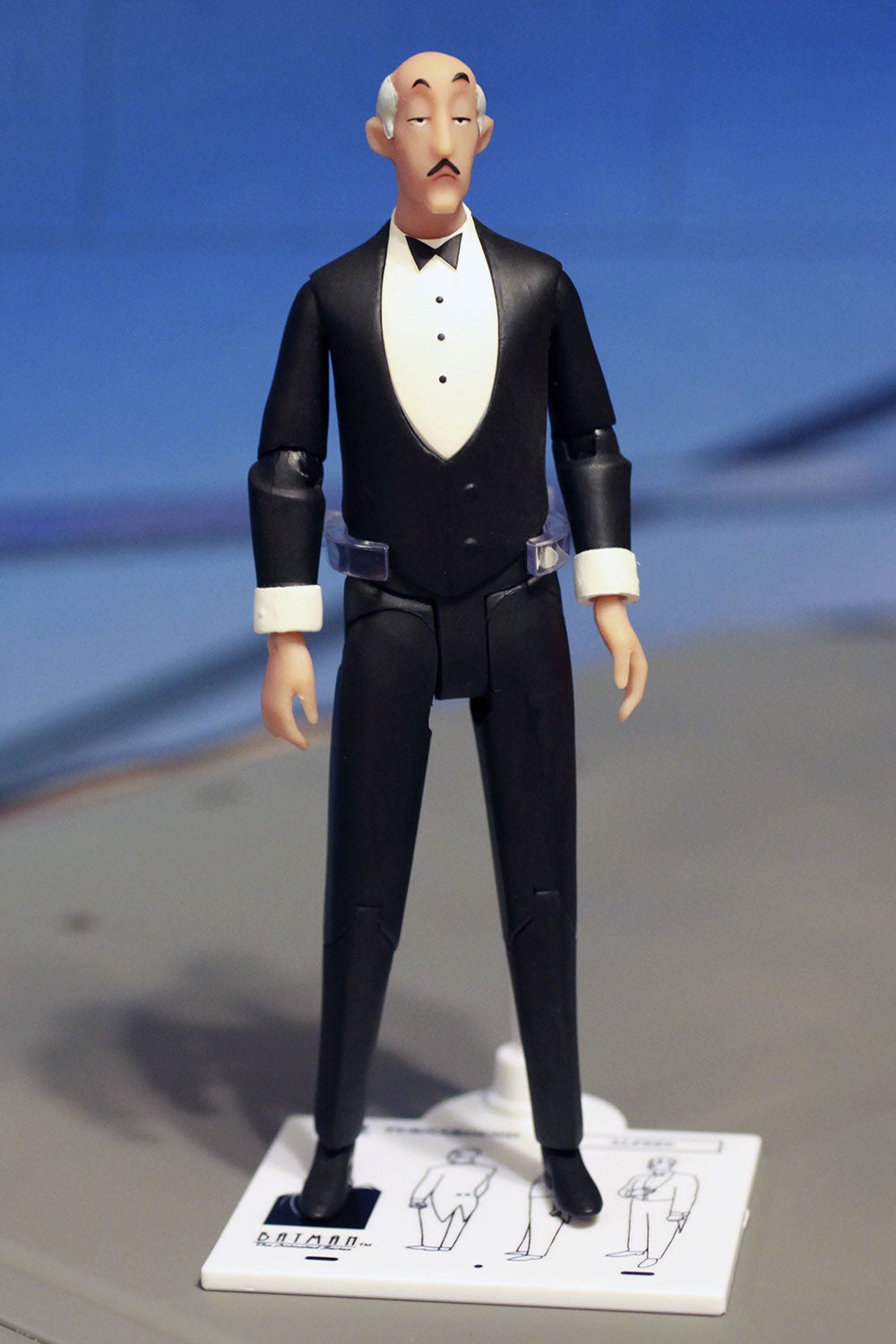 The Alfred figure, sculpted by Tony Cipriano, is a necessary addition for The Animated Series and a great exclusive to come with the Batcave. Included is a standard character turnaround base and stand (although the figure stands well enough on its own), three pairs of hands, a feather duster, a tray, spoon, cup, tea pot, mug, saucer, and bowl.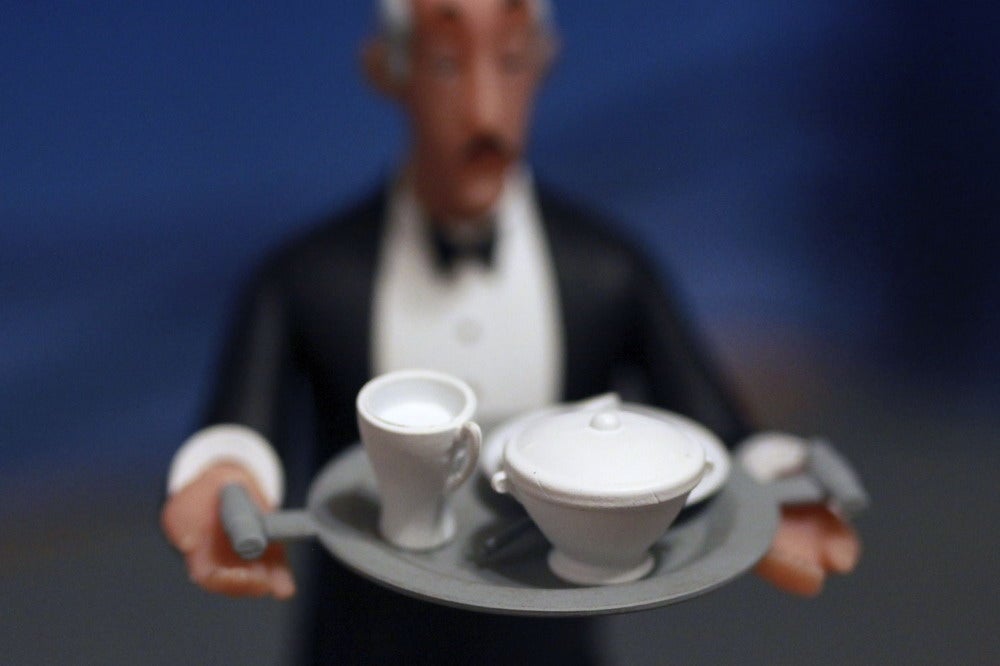 The articulation on Alfred is in the 17 points of articulation range, which is plenty enough for a stiff butler figure. He doesn't have a wide range with his arms but I don't imagine he needs to dust like a super hero. Now, the grip hands he comes with are a little large so you'll need to squeeze the feather duster in between fingers to get it steady.  The hands themselves pop in and out without difficulty but of course you should always be on the delicate side when handling pegs. Also, be very careful with the spoon accessory as it is to scale. While it's nice, I almost wish it wasn't included because I know I'm going to lose it somehow.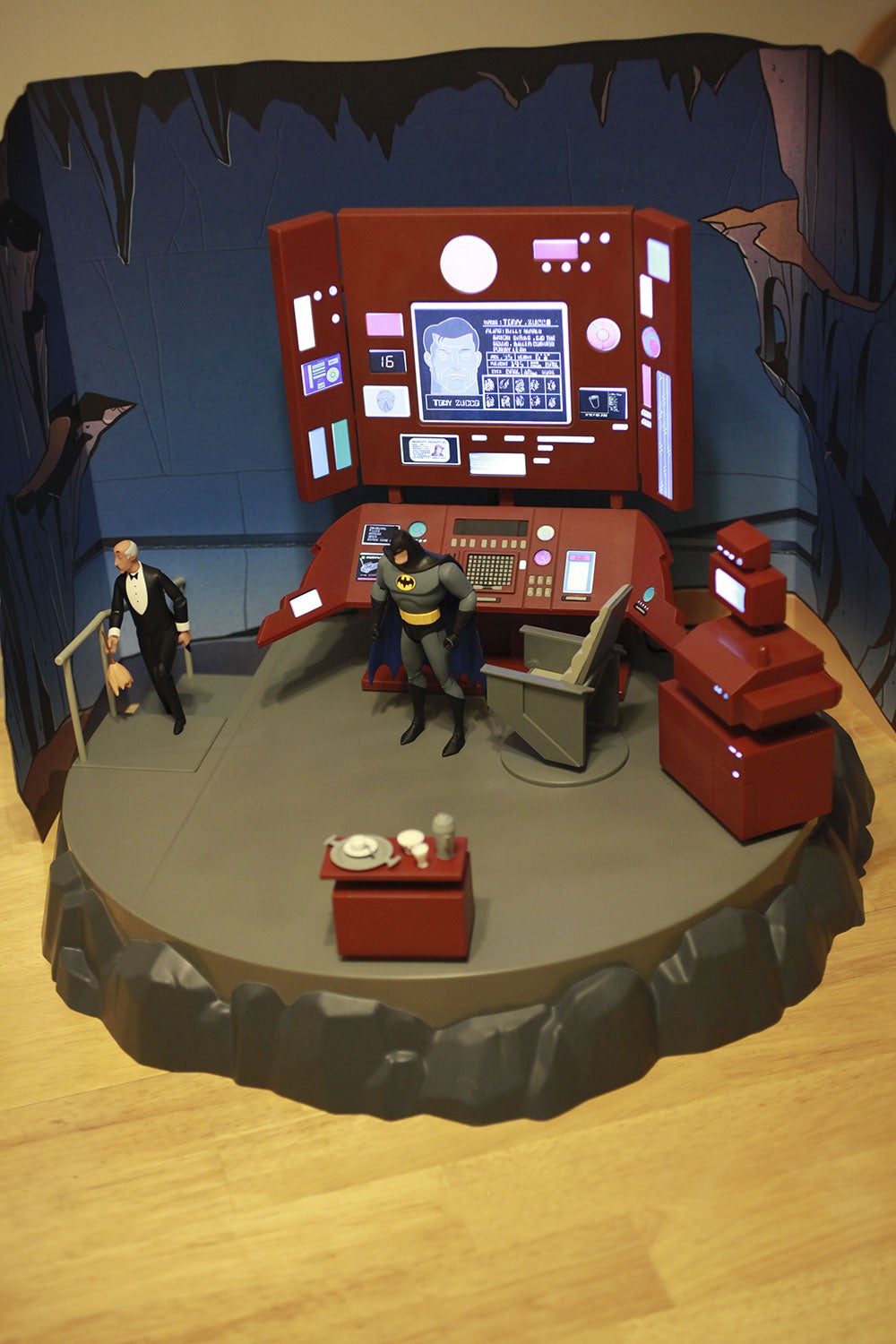 Put together, the Batcave is a beautiful diorama / playset. The lights on the computer console are bright and vivid, and the added wiring on the back is a very nice touch. The Batcave itself is sculpted by Kushwara Studios and they've done a remarkable job getting the animated series look just right. This massive set will set you back $175-200 but currently BigBadToystore has it priced at $140, just in time for the holidays!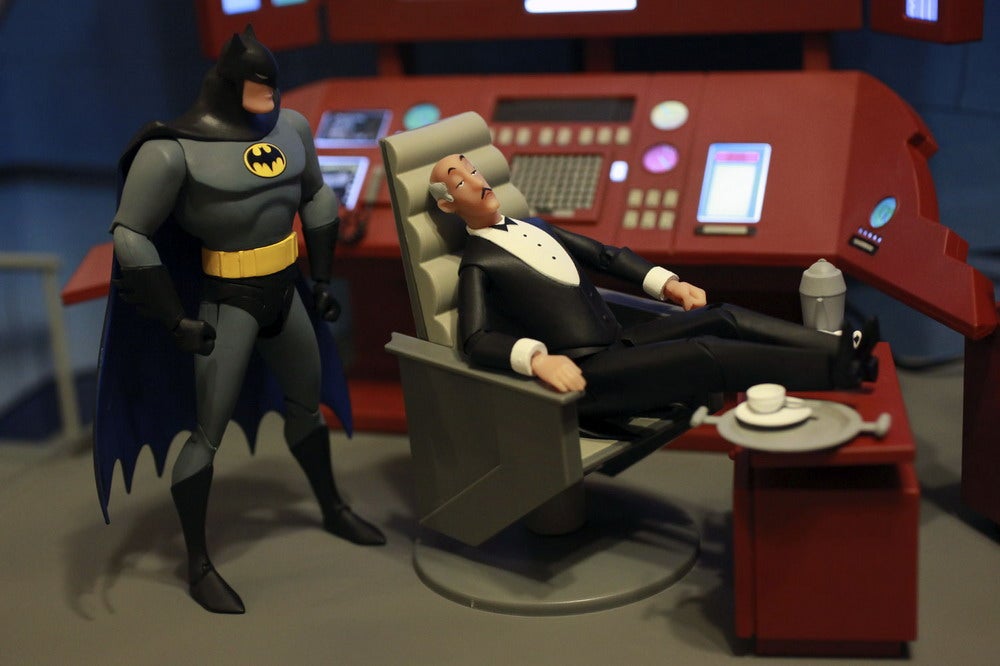 Thank you to DC Collectibles for sending this one out for us to look at! As always you can follow them on Facebook for more up-to-the-minute updates on their products.
-Review and Photos by David Yeh
–Review Sample Courtesy of DC Collectibles

Batman: The Animated Series Batcave
Keep up with all the latest toy news by following Figures.com on Facebook and Twitter!
To buy action figures, take a look at Hobby Link Japan, BigBadToyStore.com, TheToySource.com, Toynk.com, BriansToys.com, ToyWiz.com, and EntertainmentEarth.com.