-Review and photos by Scott Rubin
Are you looking for the perfect gift for a superhero fan in your life?  Then DC Collectibles has something really cool for you with the DC Icons Superman vs. Doomsday 2-Pack!  The latest in their innovative 6 inch scale action figure line, this set is a big departure from the previous single and even two-packs, combining great figures with a diorama setting and tons of cool effects to customize your display.  It captures, of course, the culmination of the iconic Death of Superman storyline from 1992.  In it the unstoppable alien juggernaut Doomsday crashed on Earth, creating havoc and ruin in his wake until Superman had to make the ultimate sacrifice to stop him.  This action figure 2-pack pays a wonderful homage to that heroic moment from packaging details to the ways you can set up the included comic book-inspired elements of the battlefield.  Let's dive in and take a closer look at this set which is currently available for your gift-giving needs.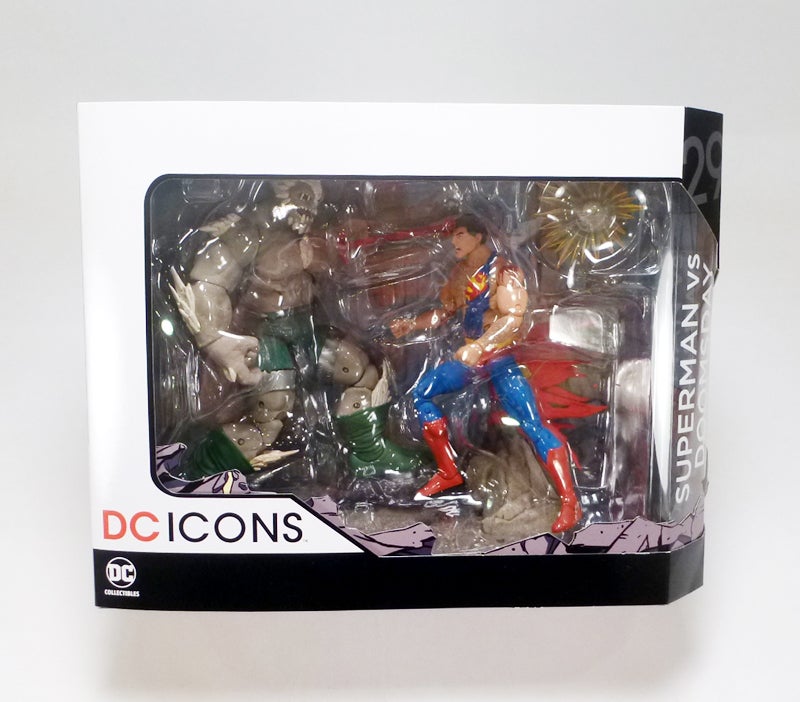 With this much content the Superman vs. Doomsday pack takes the traditional DC Icons packaging and beefs it up even further.  It has the same shape, a wide window box with a stylish slanted side that gives you a good look at the contents.  Supes and Doomsday's box has a unique outer sleeve that covers parts of the box outside of the window, and so at first glance it has that same clean look with white backgrounds and black accents.  The slanted side panel has the names of the figure inside, and on the opposite side lets you know that this set comes from the Death of Superman storyline; meanwhile, the back panel offers you a few photos of the figures and their base.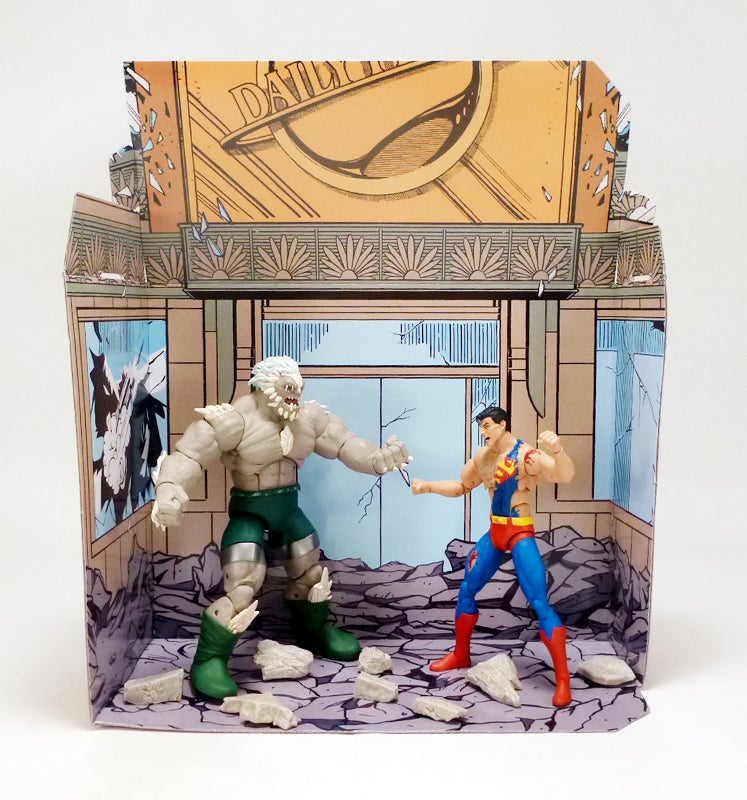 Now, pull off that sleeve and the package transforms into a debris-laden battlefield surrounding the two combatants!  It's a simple but highly effective trick, and it includes the iconic image of Superman's shredded cape on the newly-revealed side panel.
Classic Doomsday didn't have that many comic book appearances, and after shedding his original green suit he pretty much looked the same until later artists added curved horns.  Because of that the figure here is a great representation of the character who can really work with any display or battle scene you create, and there are lots you can celebrate from his fight with the Justice League on his way to confronting Superman. An experiment gone horribly wrong, the creature known as Doomsday is absolutely massive, towering over other figures in this line at over 7 inches tall.  The brute nearly as wide as he is tall with slab-like muscles, a rough skin texture, and of course bony protrusions erupting from his skin at various points on his body.  Doomsday wears only tattered remnants of his original containment suit: green and silver trunks and huge matching boots.  Red eyes are protected by cages of bone, and many protrusions surround his face and mane of white hair.  All in all he's a truly fearsome monster.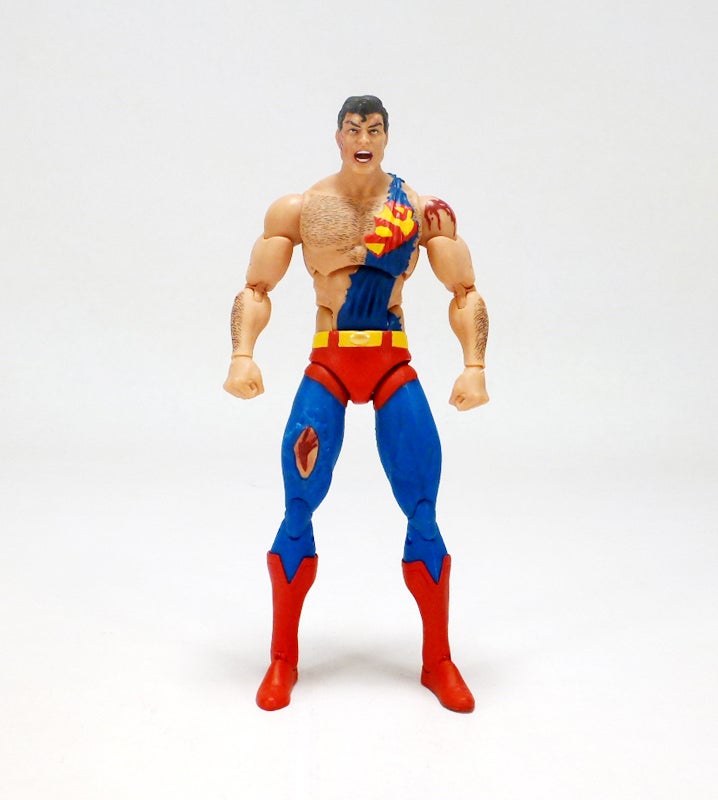 The Man of Steel in this pack, on the other hand, is highly specific to the Superman #75 issue, art by Dan Jurgens and Brett Breeding.  The vast majority of Superman action figures are hugely musclebound and feature the iconic superhero looking stoic, pensive, or even grinning with confidence.  Here, however, we've got a comparatively thinner (but still super fit) Kal-El standing 6 inches tall with a shredded costume, wounds, a hairy chest and arms, and a screaming facial expression!  Above his waist his costume is little more than a sash, and there's a huge gash on his right thigh.  His left shoulder is bloody, and his face is marred by bruises and three slashes on his right cheek.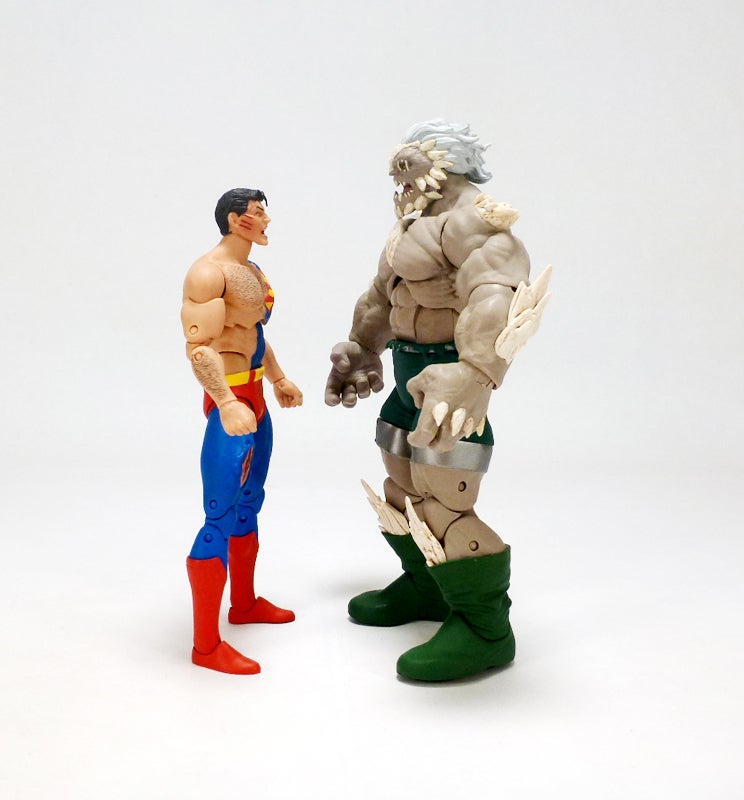 Sculpting and paint application have always been high priorities with action figures from DC Collectibles, and the two characters here look great.  Superman is lean and mean, with nice costume details like the sculpted tatters across his torso, the belt, and the ragged edges of the slash on his thigh.  His screaming face conveys quite the depth of character (and his raised trapezius muscles his intensity), especially for the normally composed Superman to be unleashing this level of rage.  Meanwhile, even in the toughest fight of his life the hero's spit curl is still intact and hanging down over his forehead.  One really subtle detail that DC Collectibles got spot on is the upward angle of Superman's deep blue eyes, perfect for facing off against the huge Doomsday.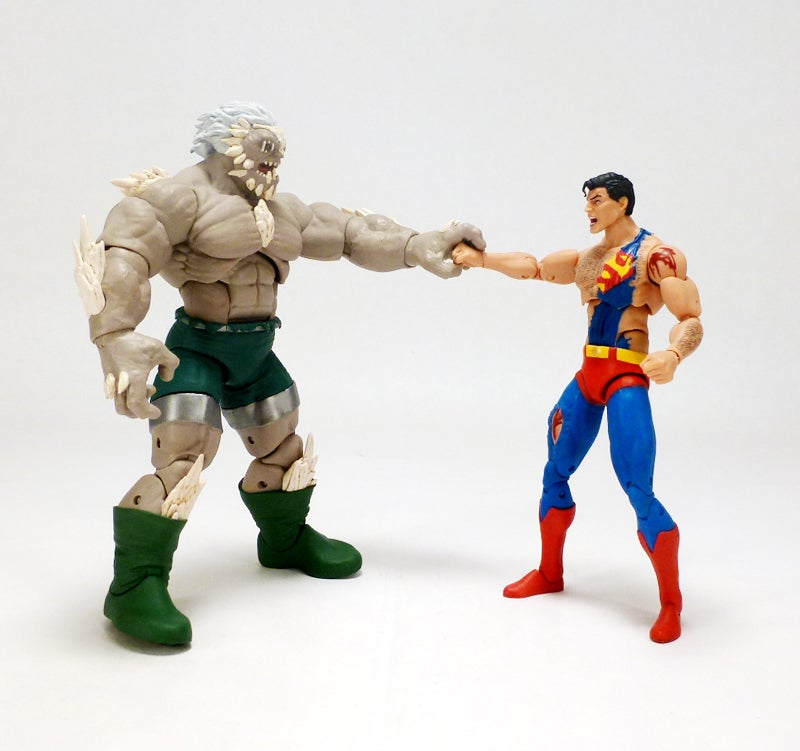 Speaking of, everything about the creature is huge and scary.  His muscles are enormous and give him quite the bulk, and his off-putting gray skin is broken up by alien lumps and bulging veins.  There's a very nice contrast between his mostly smooth skin and the jagged, irregular bone spurs, not to mention the dead gray color of the former and the dirty white of the latter.  As noted above Doomsday's creepy red eyes glare out from behind bars of bone, and they're very well painted for being so inset.  His similarly red mouth also looks gross against the pallid skin and bone of his face, and the pristine whiteness of the monster's hair is also somehow disturbing.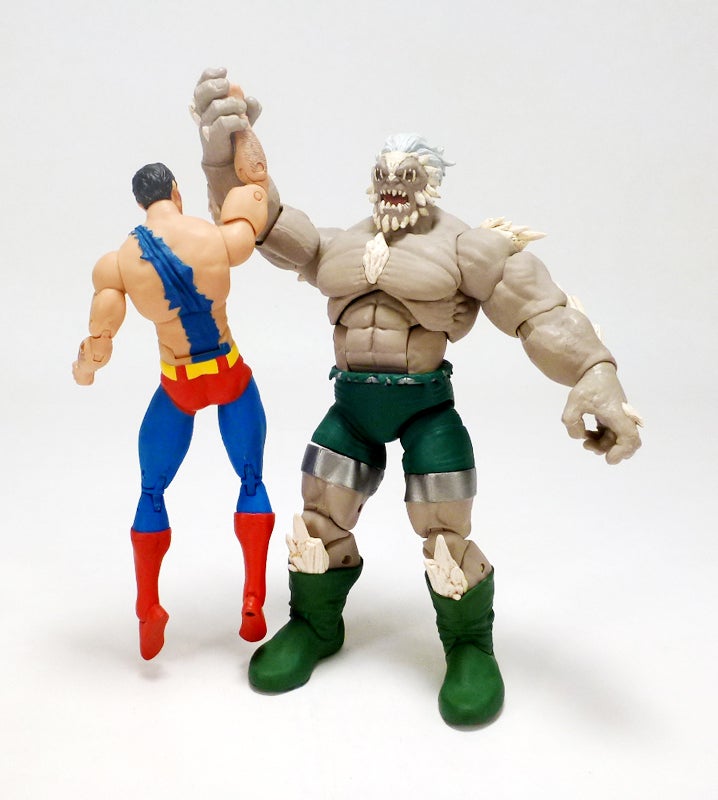 Like their predecessors in the DC Icons action figure line, both Superman and Doomsday have tons of articulation for a wide range of poses.  Ball joints, double joints, and more let you twist and contort the figures; see my photos for just a small sampling of what's possible.  Particularly nice are the double-jointed elbows and knees, the hinged ball-socket hips, and the swivel and hinged wrists.  Doomsday's articulation is (naturally) a bit hindered due to the sheer size of his muscles, but Superman is highly poseable and flexible.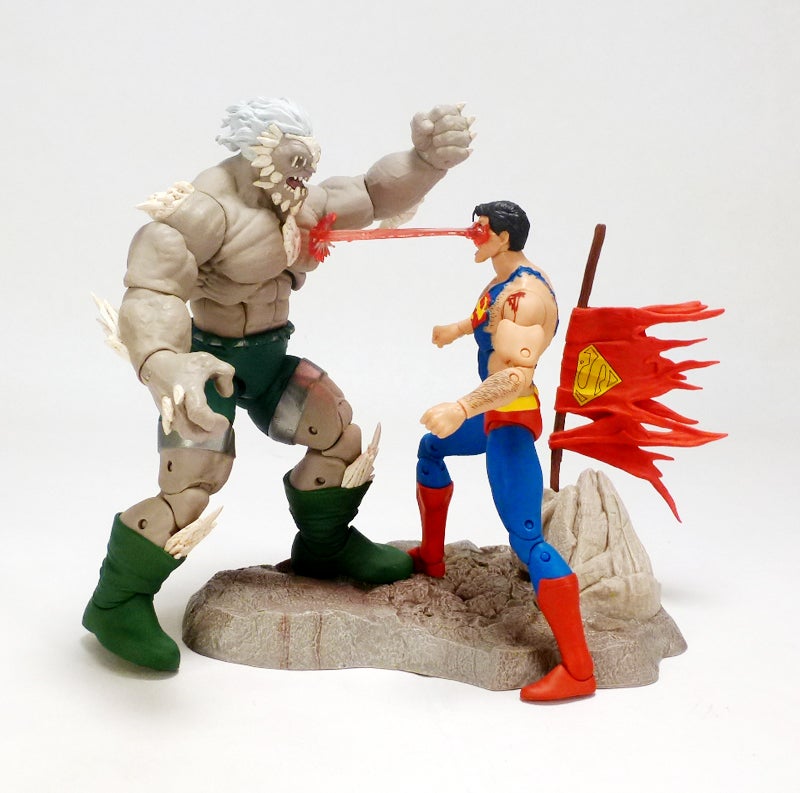 Both figures in this set come with interchangeable parts, though they're not quite as universally equipped as the standalone figures that came before them.  Doomsday comes with an extra set of hands so you can display him with open or clenched fists, while Superman has a second head with closed eyes.  I have to say, with its bloody mouth, serene expression, and all the bruises, this "dead" head is pretty creepy, but it's also the perfect touch for a Death of Superman diorama display (though to be 100% on the money you'd need a grieving Lois too).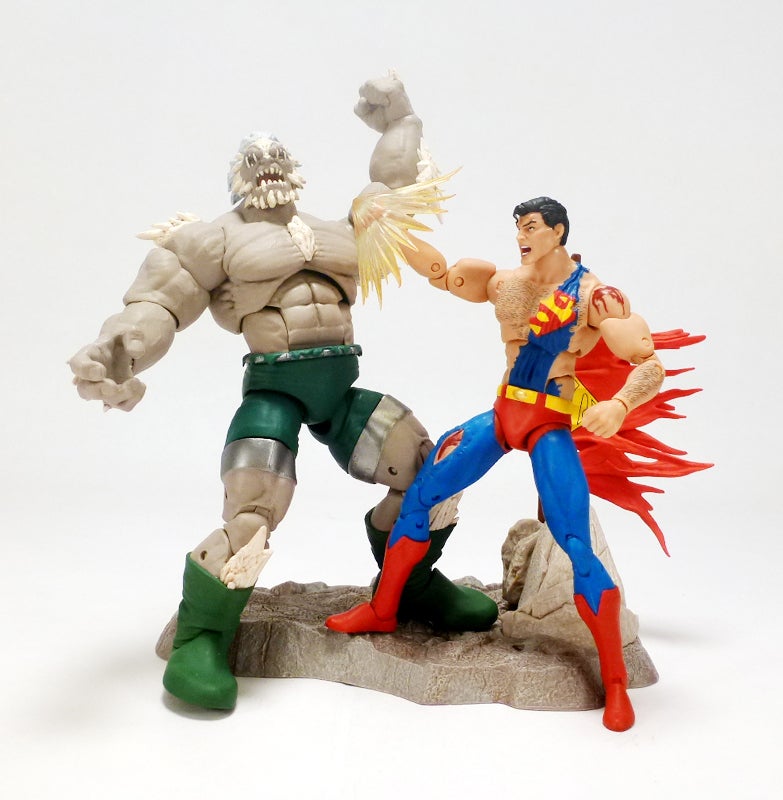 It's not all doom and gloom, though, as Superman also comes with two very cool fighting effects.  A fast motion power punch effect fits snugly over his right fist, while a heat vision blast attaches surprisingly well to his face!  Both feature translucent plastic and both look really good, especially when put together into a scene with Doomsday.  Speaking of, the brute has an accessory of his own: Superman's shredded cape which you can mount on the monster's knuckles!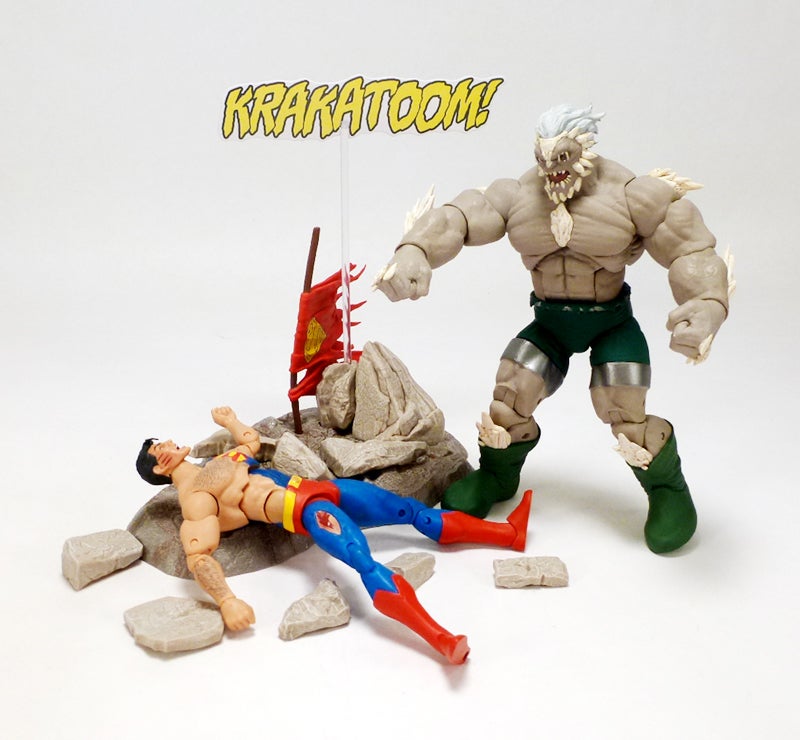 Of course, with this new diorama style the 2-pack brings you more than just a couple figures.  Also included is a big piece of urban rubble terrain, a raised area with an uneven surface and a rocky protrusion.  All across the piece are holes which work with the included connector pieces as well as the iconic Superman cape hanging on a stick.  The set's tiny connector rods can be inserted into holes in the bottom of the figures' feet to keep them stable in tricky poses, or in the various rocks and broken concrete included in the set for a more "smashed up" look to your scene.  There's even a clear rod and two comic book sound effects, "BDAMM" and "KRAKATOOM!"  I had a lot of fun "posing" the rubble whether it was on or around the display base, and the sound effects are super neat.  Oh, and lastly I should point out at that the Daily Planet building backdrop from the package can be used to flesh out your diorama even more.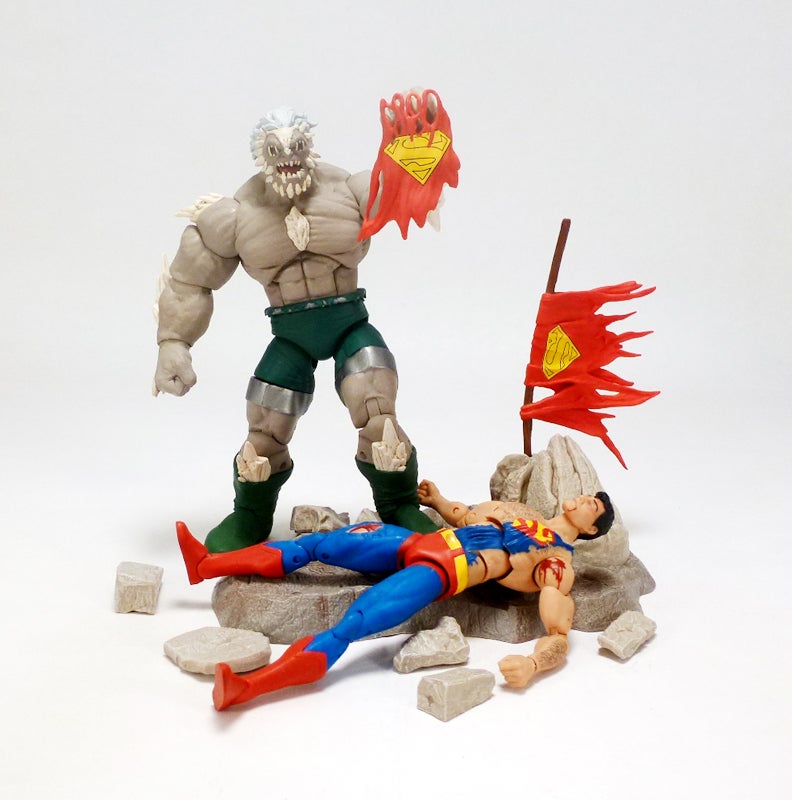 While it was heartbreaking at the time, the Death of Superman was one of the most influential comic book events of the past 30 years or more, and of course it led directly to the triumphant return of the Man of Steel and many more incredible stories.  This DC Icons 2-pack from DC Collectibles is the perfect way to recreate scenes from that storyline or make your own with an incredible Doomsday and a truly unique Superman figure.  The set is currently available wherever you buy your collectibles with an MSRP of $75.  It's highly recommended as a gift this season for a Superman fan or any lover of great comic books.  The packaging looks stylish if someone chooses not to open it, and if they do they're going to have lots of fun posing the figures and building their perfect display.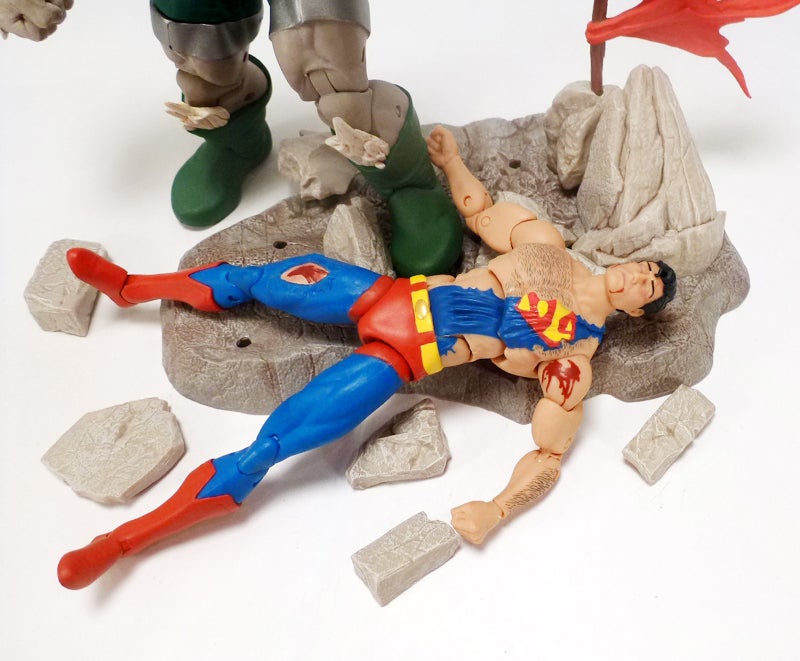 -Review and photos by Scott Rubin
-Review sample courtesy of DC Collectibles
DC Icons Superman vs. Doomsday 2-Pack
Keep up with all the latest toy news by following Figures.com on Facebook and Twitter!
To buy action figures, take a look at Hobby Link Japan, BigBadToyStore.com, TheToySource.com, Toynk.com, BriansToys.com, ToyWiz.com, and EntertainmentEarth.com.