-Scott Rubin
Our next exclusive dial reveal from the upcoming Star Trek HeroClix Away Team The Original Series expansion moves out of the super rares (like previously shown Charvanek and Yarnek) and into the set's chases starting with none other than Captain Kirk!  Any fan can tell you that you can't do an Original Series set of anything without a Kirk who's lost his shirt, and this chase figure fits the bill perfectly with a representative of the captain fighting hand to hand.  And even better, he's utilizing the classic Starfleet two-handed fist maneuver that works so well!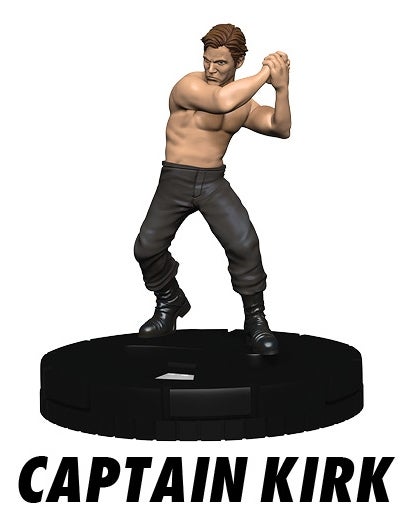 The figure is credited as coming from the episode The Naked Time in which a unique complex chain of molecules infects the Enterprise crew, making them do all sorts of crazy things like fight shirtless.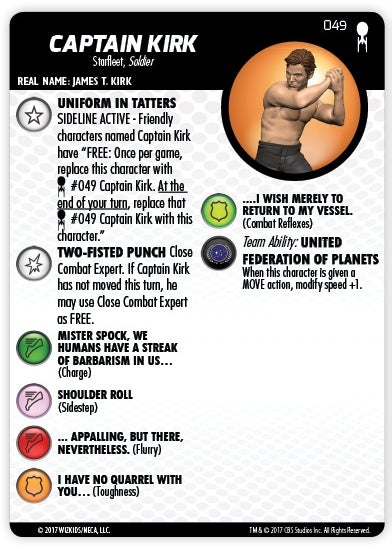 Captain Kirk costs 50 points and has the United Federation of Planets team ability (+1 speed when given a MOVE action), 0 range, and a crazy trait.  When this Kirk is on your Sideline "Uniform in Tatters" lets any of your figures named Captain Kirk in the game use a free action to switch out for this one for one turn, once per game!  On the dial this captain has three different movement powers starting with Charge, then Sidestep, and finally Flurry.  His attack values are very strong though they don't boast any powers, and the first half of his dial is protected by Toughness and the latter Combat Reflexes.  Kirk has a solid dial of 2s in damage, but the full dial has a special power giving him Close Combat Expert with the added bonus that he can use it for FREE if he hasn't moved this turn.  This figure can make a big difference from your sideline if your range-focused Kirk is based, and his good attack values mean you can pump his damage with CCE to a 4 if you need to make a big dent in someone!  Of course, you can play this chase as part of your starting team and forego the sideline fun too.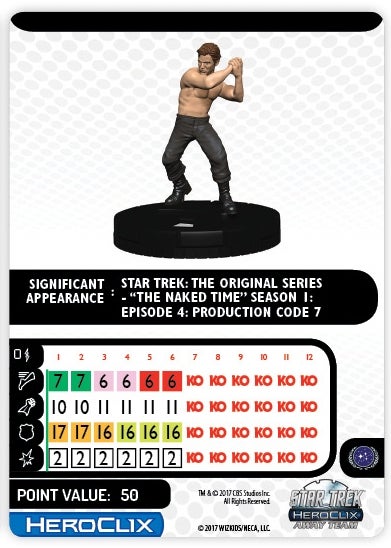 We hope you've enjoyed this look at the chase Captain Kirk!  He'll be arriving in the Star Trek HeroClix Away Team The Original Series expansion set coming in just a couple weeks.  Keep your sensors locked on Figures.com as we've got one more Star Trek figures to reveal tomorrow!
-Scott Rubin
---
Keep up with all the latest toy news by following Figures.com on Facebook and Twitter!
To buy action figures, take a look at Hobby Link Japan, BigBadToyStore.com, TheToySource.com, Toynk.com, BriansToys.com, ToyWiz.com, and EntertainmentEarth.com.