-Scott Rubin
We were extremely pleased to be able to share with all of you HeroClix players and collectors the unboxing of a brick of Star Trek HeroClix Away Team The Original Series boosters yesterday (see it HERE), but that's not all the Trek goodness we have in store for you.  We've got even more dial reveals from this amazing set and we're going to jump right in today with the Romulan commander known as Charvanek!  She hails from the episode The Enterprise Incident in which Kirk and company infiltrate a Romulan vessel to steal a cloaking device.  In the process they meet a wily commander (unnamed in the episode) who despite her best efforts to turn Spock against the Federation winds up a prisoner aboard the Enterprise.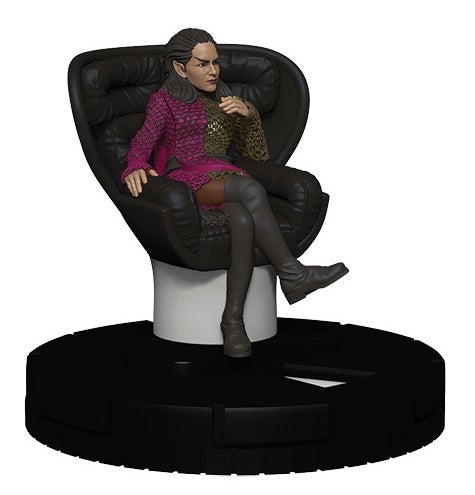 The Romulan Commander has a very cool sculpt, and one that brings to mind a question I had about this set: would we get figures seated in chairs/at positions like bridge crew?  While we haven't seen any of those Charvanek is captured reclining in her unique puffy, black chair.  The Romulan sits with one leg crossed over the other, resting on one arm of the chair while she raises her other hand in a contemplative pose.  Of course her pointy ear is revealed, and she wears a complicated outfit like we've seen on other Romulan figures.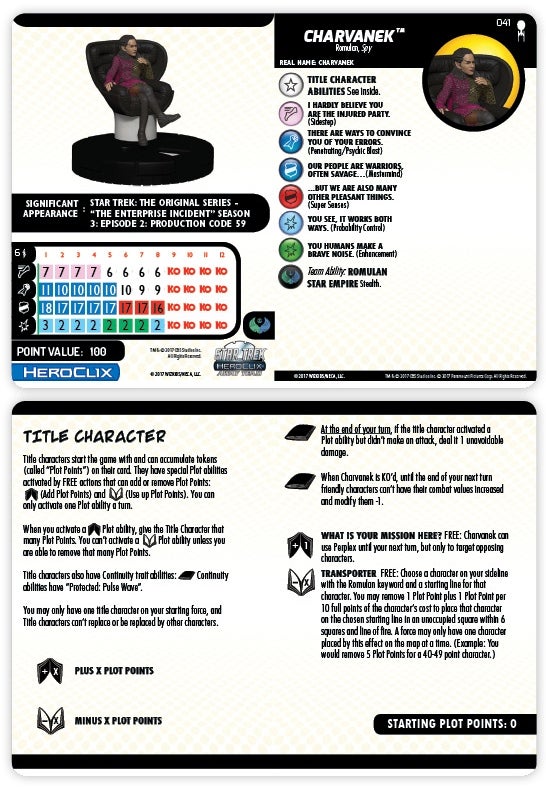 Charvanek is 100 points with the Romulan Star Empire team ability (Stealth), a 6 range, and Indomitable… and like Captain Kirk she's a Title Character!  Also like him her dial is very long (8 clicks) with no special powers.  But she's highly effective with a long run of opening Sidestep, Penetrating/Psychic Blast, Mastermind, and Probability Control.  Late-dial she helps her allies with Enhancement and protects herself as her minions die off with Super Senses.  Charvanek starts the game with no Plot Points; her +1 Plot Point ability is a free action to Perplex only opposing characters, and her -X ability is the same Transporter effect that Kirk has and can be used to bring in reinforcements from your sideline (1 Plot Point plus 1 per 10 full points of the figure's cost).
We hope you've enjoyed this look at the super rare Title Character Charvanek!  She's part of the Star Trek HeroClix Away Team The Original Series expansion set coming in just a couple weeks.  Keep your sensors locked on Figures.com as we have more Star Trek figures to reveal all this week!
-Scott Rubin
---
Keep up with all the latest toy news by following Figures.com on Facebook and Twitter!
To buy action figures, take a look at Hobby Link Japan, BigBadToyStore.com, TheToySource.com, Toynk.com, BriansToys.com, ToyWiz.com, and EntertainmentEarth.com.