Review and photos by Scott Rubin
Last year DC Comics underwent a "rebirth," a universe-wide relaunch event designed to reintroduce characters and return to classic storytelling and themes while continuing the more popular aspects of the previous New 52 era.  One of the biggest changes coming out of Convergence (the kick off storyline) and into Rebirth was the return of the pre-New 52 Superman.  A little bit older and wiser and with wife Lois Lane and son Jonathan Kent in tow, this Superman harkened back to a truly heroic age and served as a mentor to fellow heroes in the Justice League.  More recently he was merged with his New 52 counterpart so that both will live on, and he wears a costume that incorporates both characters' styles.  If you're looking to take home this new version of the Man of Steel you should check out the brand new Kotobukiya DC Comics Superman -Rebirth- ARTFX+ Statue (available this month), a great representation of Supes in 1/10th scale that we'll taking a closer look at today.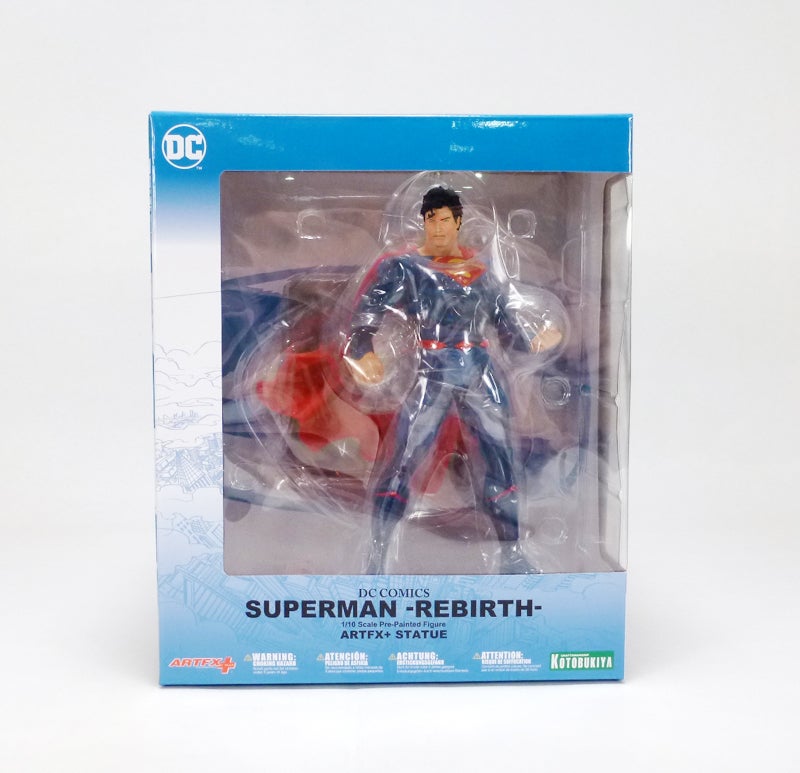 As we've seen in previous reviews, Kotobukiya is doing some really great stuff with the ARTFX+ line, billed as bringing their ARTFX quality and craftsmanship to a smaller, more affordable, and easily displayable scale.  DC Comics is a big property in the ARTFX+ scale with previous series devoted to the Justice League, Batman Family, heroes, villains, and more, with lots more on the way including the heroes of the upcoming Justice League film.  Superman -Rebirth- is essentially a one-off, though there are more Rebirth-specific figures coming like the Super Sons Jonathan Kent and Damian Wayne Robin with their respective pet allies Krypto and Ace the Bat-Hound.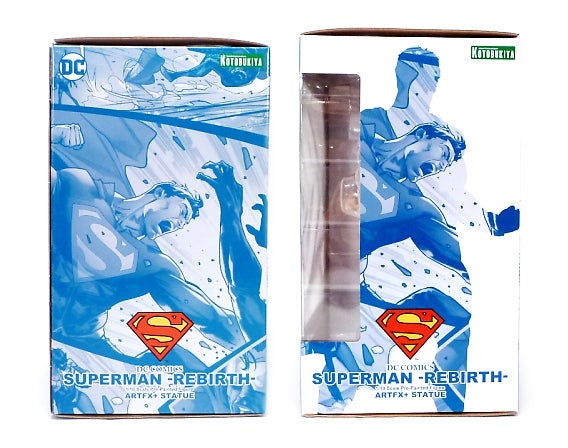 Packaging for the Superman of today is quite stylish, starting with a variation on the standard window box design as we've seen before countless times.  Through the large clear plastic panel you can see the figure, though as usual Kotobukiya has wrapped up the statue for extra protection in the box.  The color scheme for the package is sky blue and white, with a cool bird's eye view of Metropolis (featuring the Daily Planet building) on the back and repeated around the window on the front.  One side of the box has an image of Superman pounding on a bad guy, while the other repeats the hero in his action pose and superimposes him on a silhouette, further reinforcing the idea that this Man of Steel is a combination of two characters.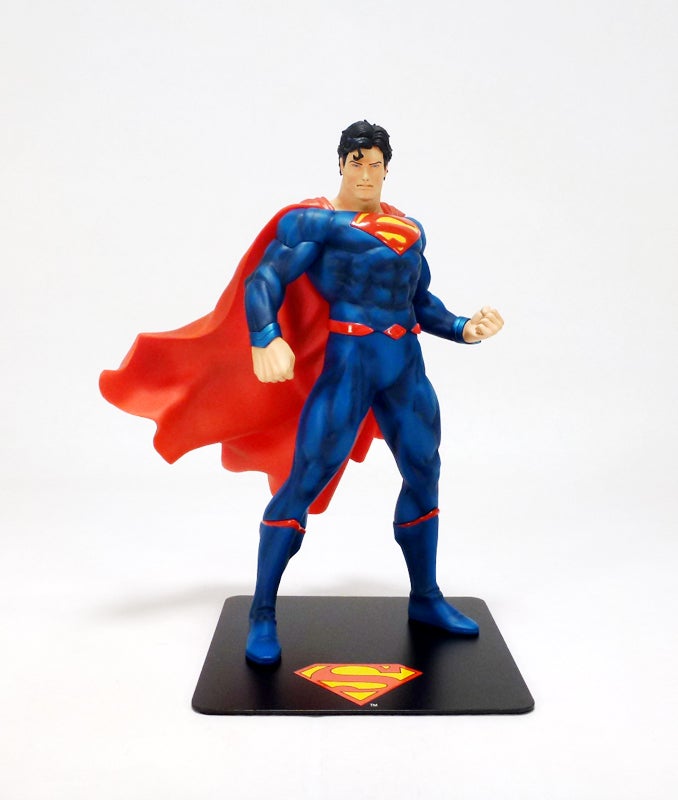 Superman -Rebirth- stands in a mighty and heroic pose, appearing fully confident in his ability to stop any threat to his family or the world.  Standing a stately 7 ¾ inches tall, the Kryptonian is posed dynamically, turning to the side and flexing his prodigious muscles.  Superman is thick and imposing with a bulked out musculature especially in his huge chest.  His feet are spread wide and both hands are clenched into fists, one angled down in front of him and the other pointed up and held at his waist.  Meanwhile the noble hero stares down his enemies with a downcast face, his blue eyes piercing and his black hair swirling with his iconic spit curl.  Superman's facial expression is serious and no-nonsense, with a squared-off chin and narrowed eyes.  I really like the sculpt of the hair and to me the profile of Superman's face is fantastic.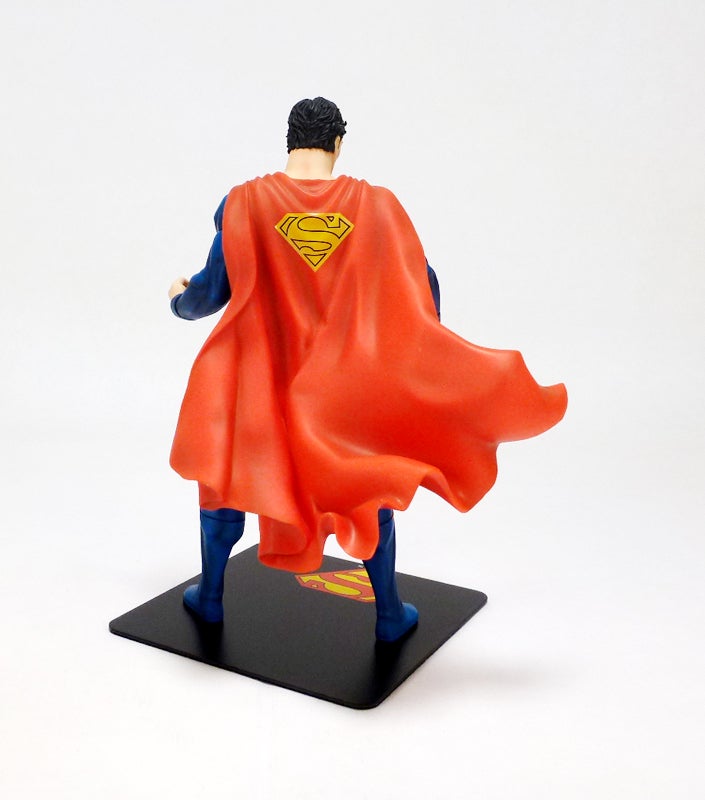 The unique Rebirth costume has been replicated starting with the dark blue bodysuit that's skin-tight and shows off all of Superman's physique with a highly detailed sculpt.  But Kotobukiya didn't stop there, and the suit is embellished with lots of accents including angled wrist cuffs, integrated boots with red piping on the tops, and a three-part red "belt" with a floating buckle-like device at his waist.  Meanwhile, two classic costume elements are in full effect: the chest "S" shield and cape.  The overall costume may be a dark blue but the shield is super bright red and yellow with a glossy, reflective finish, and the yellow of the shield on the red field of his cape stands out really nicely.  It should be noted that the cape billows out behind and to the right of the hero, standing away from his body so you can get a glimpse of his muscled back and posterior.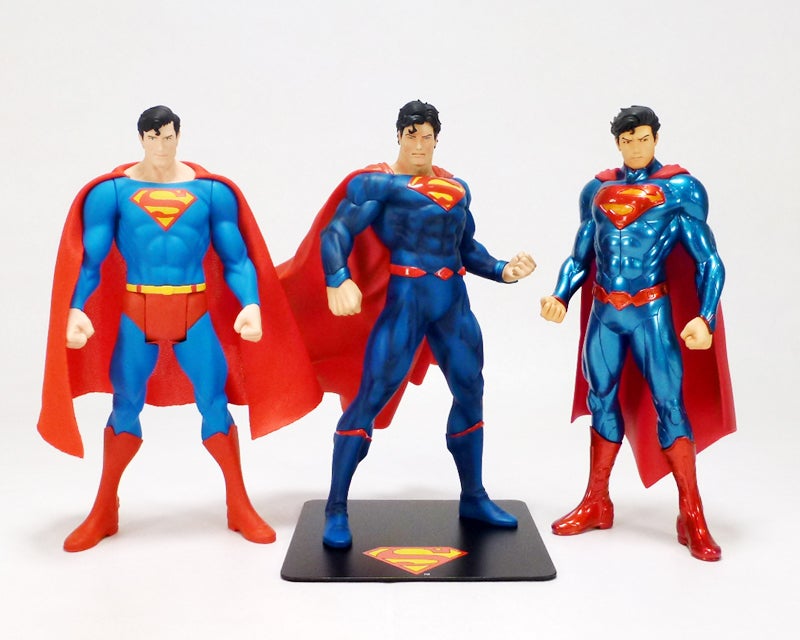 As with most other ARTFX+ statues Superman has heavy duty magnets in his feet and comes with a metal display base.  In this case it's a sophisticated black square decorated with the character's "S" shield.  I'm really liking these new themed, flat bases.  Coming to collectibles retailers this month, Superman -Rebirth- has an MSRP of $64.99.  He's big, he's strong, and he's ready to save the world with a grace and power that harkens back to the good old days, all the while taking care of his family and embracing a brave, new world.  This ARTFX+ Superman is highly recommended for fans of the Man of the Steel.
Review and photos by Scott Rubin
Review sample courtesy of Kotobukiya
Superman -Rebirth- ARTFX+ Statue
Keep up with all the latest toy news by following Figures.com on Facebook and Twitter!
To buy action figures, take a look at Hobby Link Japan, BigBadToyStore.com, TheToySource.com, Toynk.com, BriansToys.com, ToyWiz.com, and EntertainmentEarth.com.