When they first announced a sequel to Ridley Scott's 1982 sci-fi masterpiece Blade Runner, my heart sank. Blade Runner stands perfectly on its own; a slow burn art film known  for its groundbreaking futuristic aesthetics.  Blade Runner was a game changer, its visuals inspiring countless sci-fi movies to come. Where William Gibson's Neuromancer legitimized cyberpunk in literature, Blade Runner defined the genre on the big screen.
Visuals aside, there was also the issue of plot. While I love Harrison Ford's voice-over work in the original theatrical release of Blade Runner, this version of the film left you guessing if he was a replicant or not. However, Ridley's Final Cut (2007) pretty much established that Ford's character Deckard WAS an android, thanks to a dream sequence featuring a unicorn, the same mythical creature Officer Gaff creates in origami form. How does a Blade Runner sequel address THAT with a visibly older Harrison Ford? Do replicants age? Are there two Deckards?
Aw, but I'm preaching to the choir. Most reading this review are passionate Blade Runner fans like myself and pray that Blade Runner 2049 doesn't f-up the legacy. The trailers have given me great hope. The new film – opening October 6th – looks visually impressive. The film's tone appears to capture that perfect balance of futuristic detective action, while still waxing poetic on what defines (synthetic) life.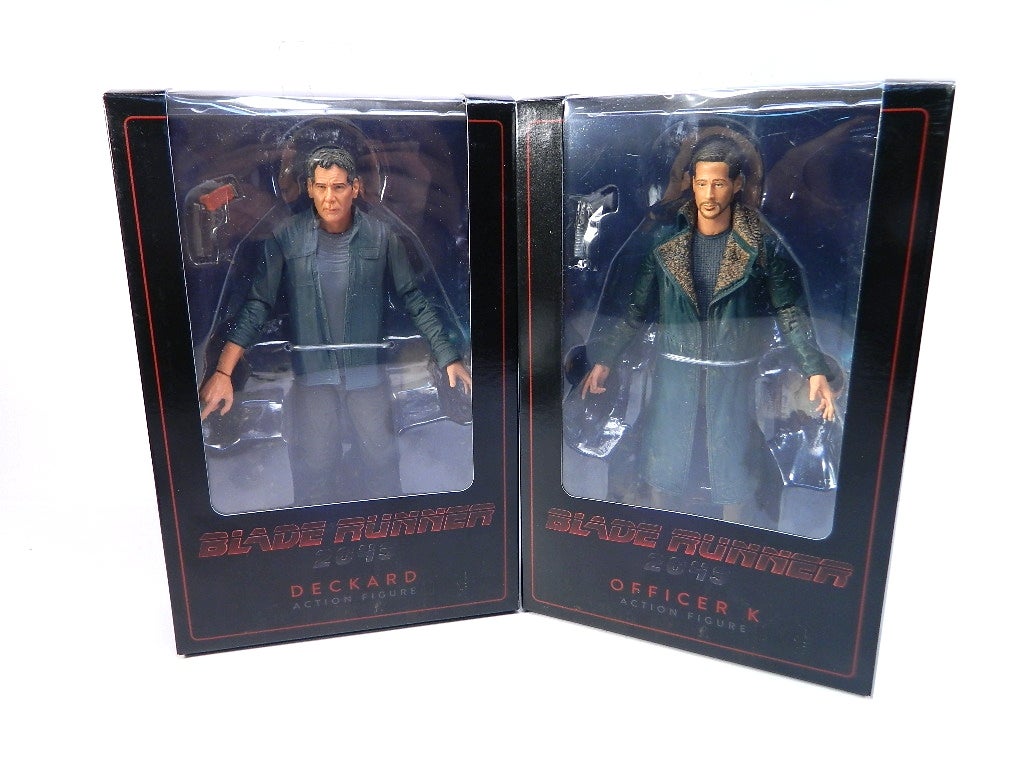 A strong cast is always a plus, and the return of Harrison Ford as Rick Deckard alone justifies the price of admission. Add on Ryan Gosling (incredible in Drive) as LAPD Officer K and we have the makings of an amazing buddy cop movie, minus the laugh track.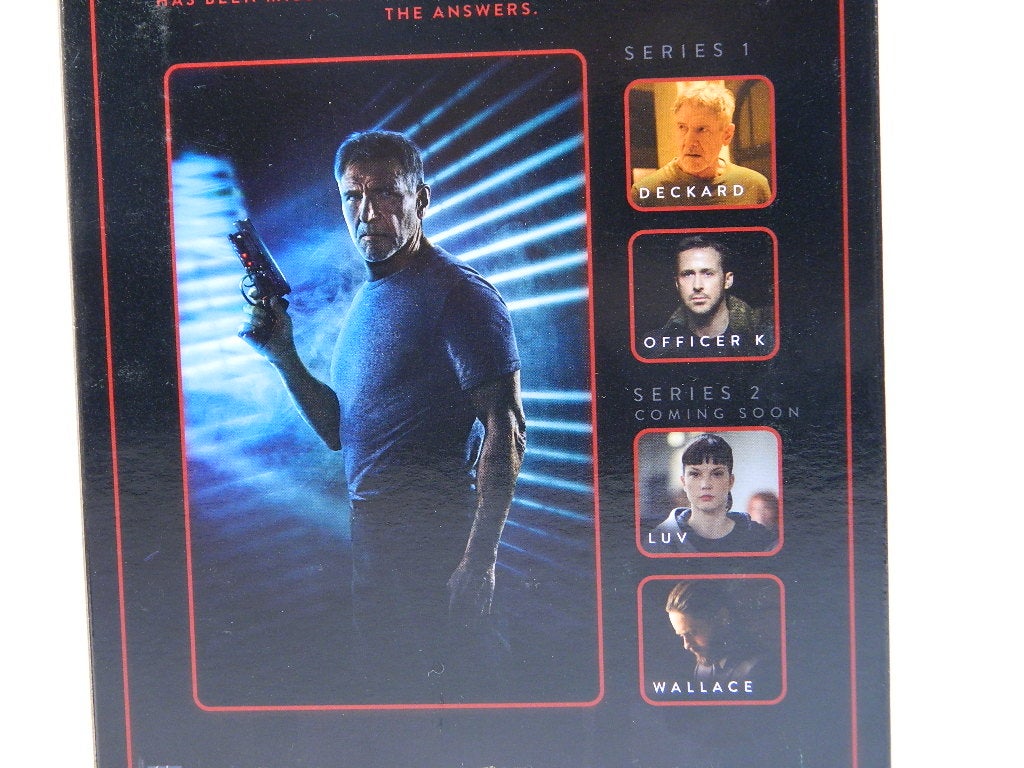 Like many fans, NECA has faith that Blade Runner 2049 will be a success and has released two  7-inch action figures starring Rick Deckard and Officer K. Flying "Spinner" car Cinemachines are also on tap (3″ and 6″, photos HERE) and a second wave of figures has been revealed on the back of series 1's packaging: Sylvia Hoeks as Luv and Jared Leto as Niander Wallace.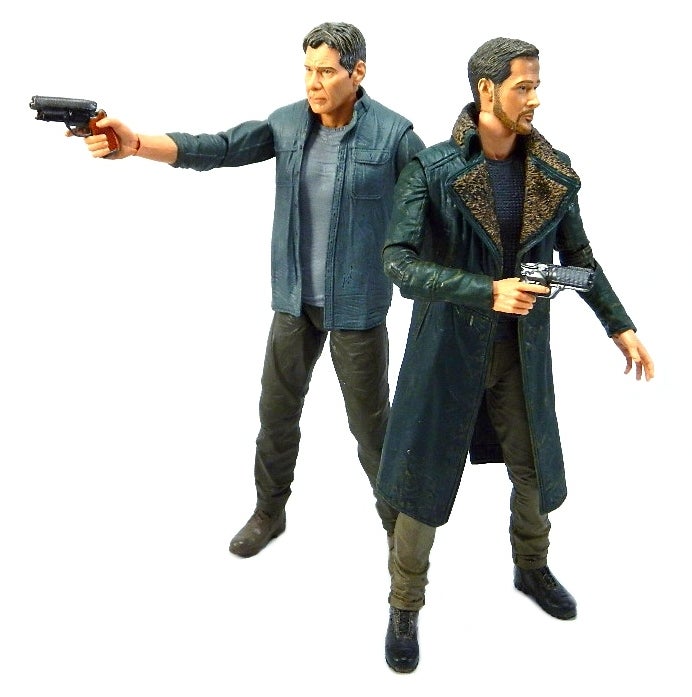 I'll be straight up honest, these aren't the most visually exciting action figures. No pumped-up superheroes or armored-up space marines here, move along please. These are aimed at die-hard Blade Runner fans, plain and simple. And that's nothing but a good thing as there's just not enough damn Blade Runner collectibles out there for fans like myself to collect.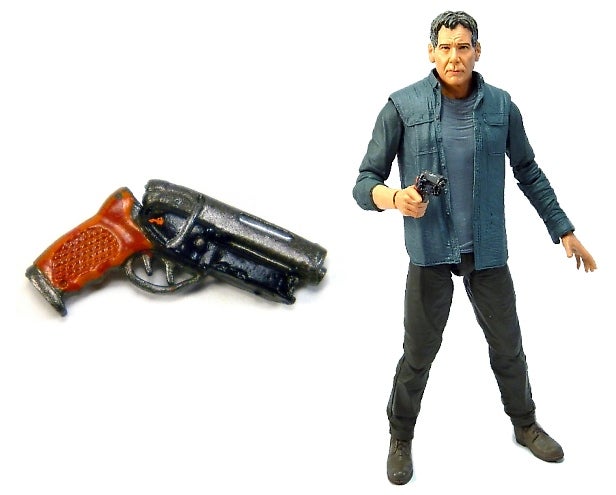 What makes these figures cool to me, aside from  owning nicely sculpted mini-me's of Harrison Ford and Ryan Gosling, are these character's futuristic sidearms. Deckard's now iconic PDK pistol makes this figure, well, Deckard! There's no detective trenchcoat or colorful shirt and tie on this version of the character, Deckard now looks retired – dressed in casual shirts and khaki pants from the Old Navy of the future.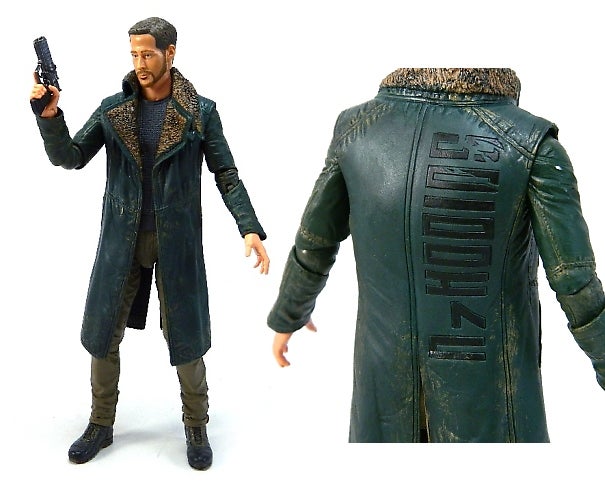 On the other hand, Officer K brings back some of that Blade Runner charm with a cool coat embellished with a pimpin' fur collar and awesome futuristic text running down the back. I also LOVE Officer K's new blaster.
Where Deckard's pistol has a rugged police revolver look to it, K's new gun appears more like a futuristic automatic handgun. Perhaps not as powerful as Deckard's trusty piece, but with more rounds and faster rate of fire. I dunno, that's the vibe I get comparing the two. It could simply show how weapon technology has advanced in the span of 30 years between the two movies.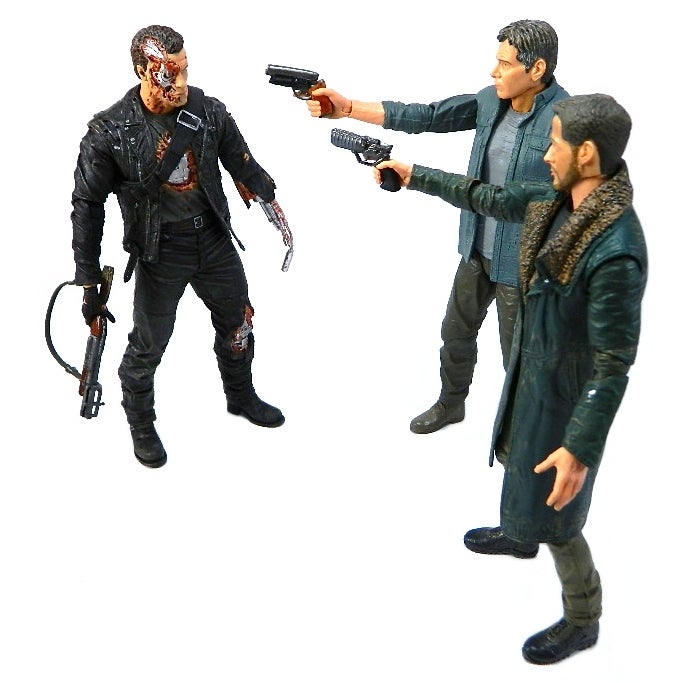 Replicant!
Blade Runner fans have a lot to look forward to. Not only are we getting a new film over two decades later (despite ever asking for one), but thanks to NECA, we're receiving the first  in what I hope is many, many more Blade Runner collectibles (something we have been asking for).
What I've always heard is that the licensing rights for the first film are scattered in limbo. Blade Runner 2049, however, holds the key to many original props (an affordable 1:1 scale PDK blaster, please!), as well as many exciting new ones (updated Spinners, K's blaster). NECA's first two Blade Runner 2049 action figures are a mighty fine start.  These figures are available now at many fine retailers including BigBadToyStore.com and ToyWiz.com priced at around $21.99 each.
Blade Runner 2049 hits theaters October 6th.
Scroll on for more photos!
Review and Photos by Jeff Saylor
Review Samples Courtesy of NECA
NECA Blade Runner 2049
Keep up with all the latest toy news by following Figures.com on Facebook and Twitter!
To buy action figures, take a look at Hobby Link Japan, BigBadToyStore.com, TheToySource.com, Toynk.com, BriansToys.com, ToyWiz.com, and EntertainmentEarth.com.