Collectible character key rings are all the rage these days. Their small size makes them easy to collect, while handy clasps and clips let you show them off dangling from your backpack. Monogram has been supplying collectors collectible key chains for many years now, including licensed pewter and soft touch key chains, all of which can purchased individually.
However, it has been Monogram's blind bagged 3D Foam Key Rings that have truly taken the world by storm. These have proven extremely popular for the company, with every imaginable license seeing release as collectible chibi-style characters.  I can see why, the style guide for these is absolutely adorable.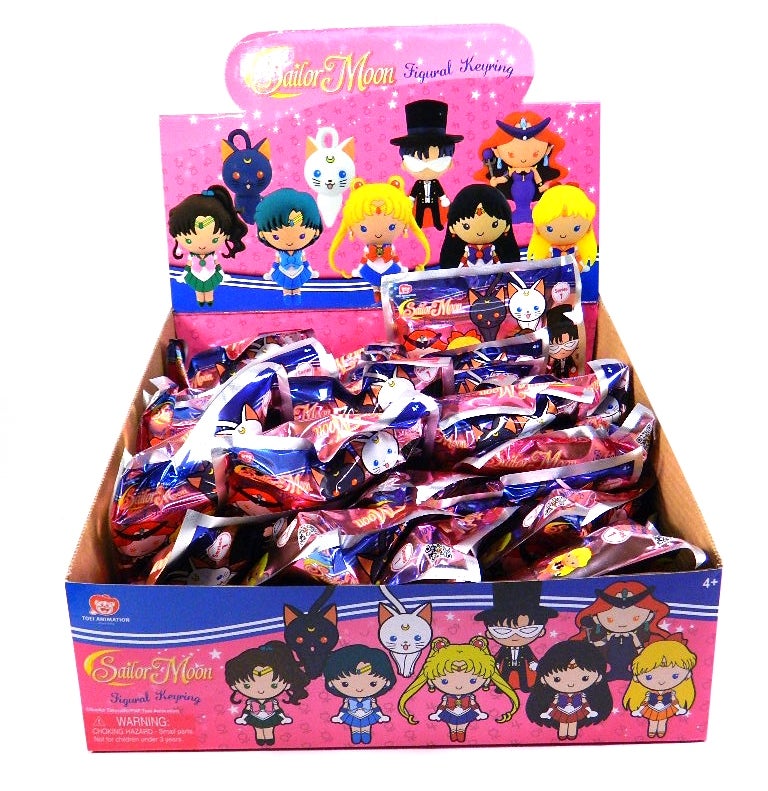 Launching Monogram's new Anime series comes a property tailor-made for the 3D chibi key ring treatment: Sailor Moon. Fans that picked up Monogram's San Diego Comic-Con 2017 exclusive set (read our review HERE) got an early taste for this assortment, the 3-pack including Sailor Moon herself, Luna the cat, and Mamoru as Tuxedo Mask. Fans that missed that set actually have a second chance at New York Comic! Get yours at Monogram's booth #226 ($25, only 80 sets available!).
Hitting Hot Topic stores now, the entire Sailor Moon Series 1 assortment include nine core characters to collect, along with two unique chase figures, for a total of 11 figures to collect. Core characters include:
Sailor Moon
Sailor Mercury
Sailor Mars
Sailor Jupiter
Sailor Venus
Tuxedo Mask
Luna
Artemis
Queen Beryl
One of the rares you can clearly guess from the blacked out teaser, the Crescent Moon Wand! The other is more challenging, it's Sailor Venus… wearing her Red Glasses!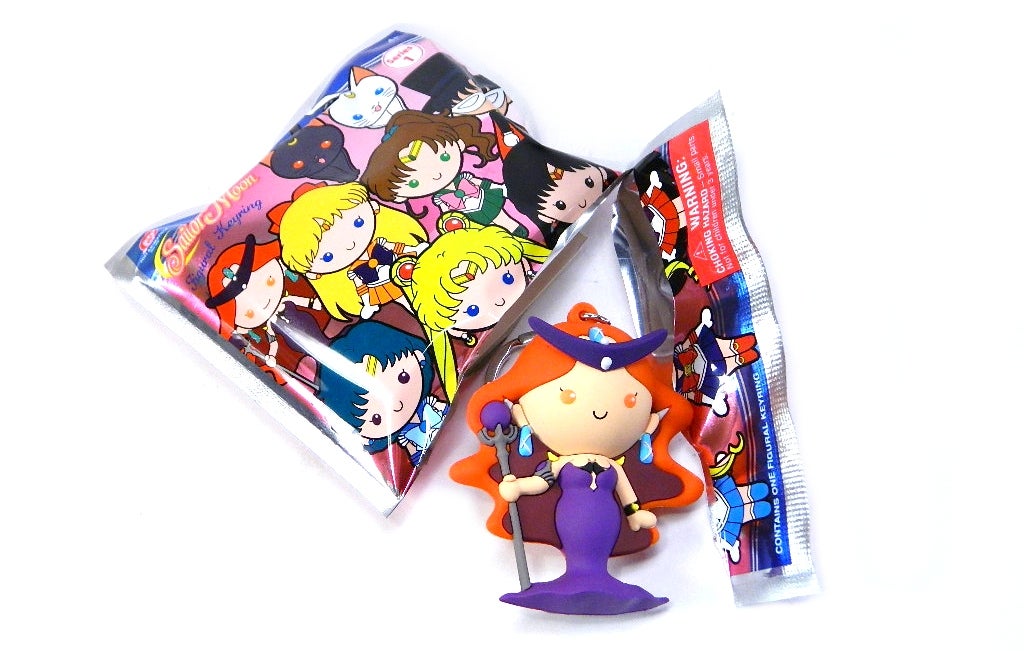 As mentioned, each Sailor Moon character key ring comes blind bagged. Each foil pack shows off the colorful chibi cast on the front, with a check list on back to help your collect them all. Inside, your mystery prize comes encased in a white cardboard sleeve. The sleeve serves double duty by adding an extra layer of protection to your figure, along with acting as a blind bag feeling deterrent. While the sleeve works on hiding the identity of most figures, some can be felt out by their size.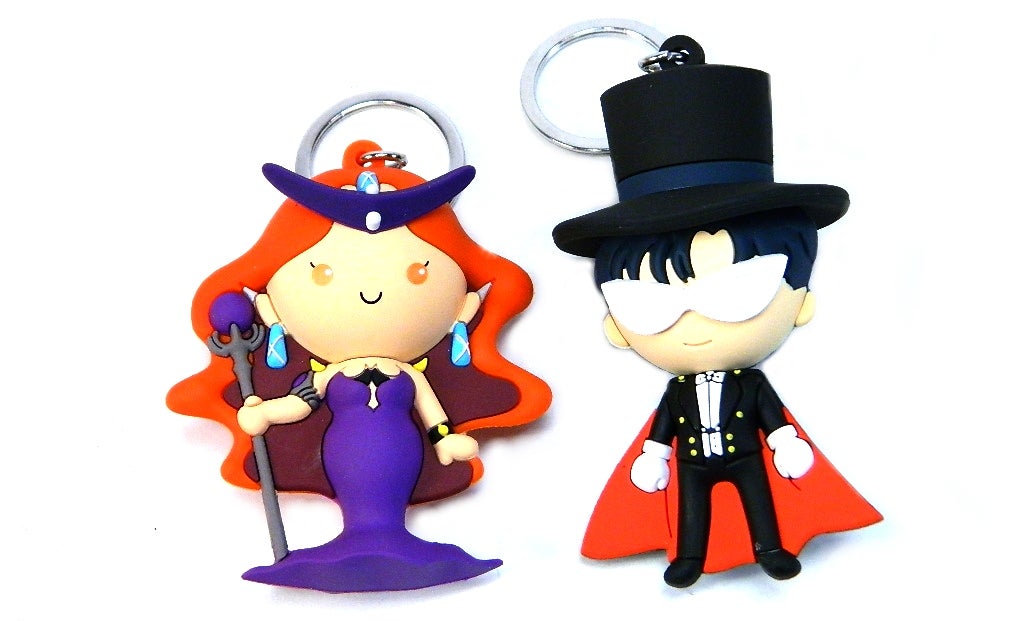 Larger characters, like Queen Beryl and Tuxedo Mask (his hat), contain a lot of bulk making their packs bulge out more. Even smaller figures, the two cats and even the wand, can be identified because of how slim they are.  While not a sure fire identifier, the process can at least help narrow your search.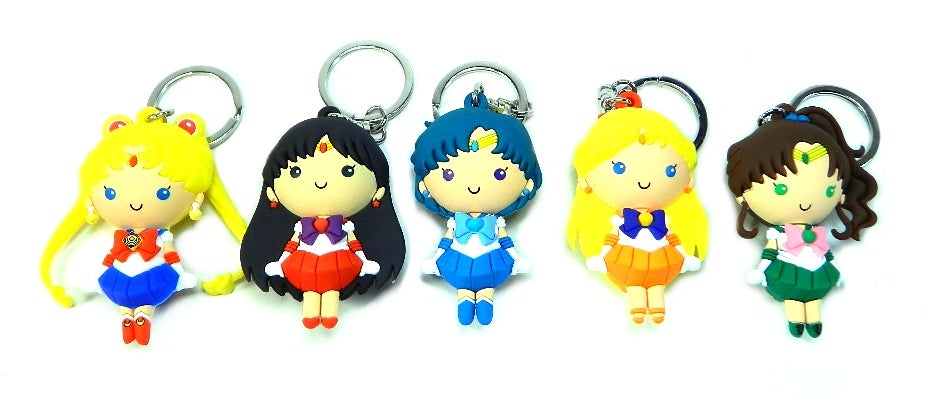 Each counter display contains 24 Sailor Moon Blind Bagged 3D Foam Key Rings. Out of the 24 I opened, I received TWO complete sets of the core nine characters, one each of the rare chase figures, and four extras too spare (a Tuxedo Mask, two cats, and a bonus Queen Beryl). The bottom line is your odds of collecting them all are pretty good, although I can see a little trouble acquiring all five Sailor Soldiers as they are gonna be the hardest to identify. Hey, that's what friends and trading circles are for!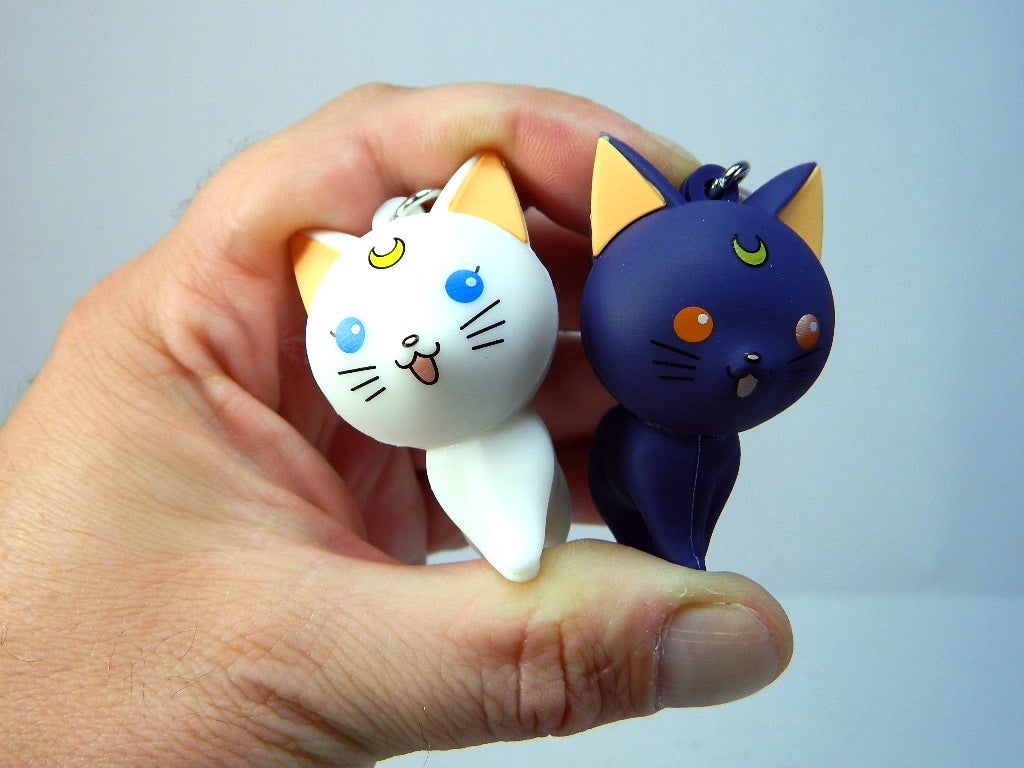 Stylish and fun, Monogram's Sailor Moon 3D Foam Key Rings are a must-have for fans of the anime. Even casual collectors will enjoy all the colorfully detailed characters this assortment has to offer.
Happy hunting!
Scroll on for more photos!
Review and Photos by Jeff Saylor
Review Samples Courtesy of Monogram
Sailor Moon 3D Foam Key Rings
Keep up with all the latest toy news by following Figures.com on Facebook and Twitter!
To buy action figures, take a look at Hobby Link Japan, BigBadToyStore.com, TheToySource.com, Toynk.com, BriansToys.com, ToyWiz.com, and EntertainmentEarth.com.