by David Yeh
Miyamoto Usagi, the ronin rabbit created by Stan Sakai has long been a favorite in comics, but to fans of the Teenage Mutant Ninja Turtles, he's a favorite ally. In the latest series of the Nickelodeon animated series TEENAGE MUTANT NINJA TURTLES, Usagi Yojimbo returns to the franchise to offer his aid to our heroes in a half shell, as they enter his dimension. With an appearance in the animated form, toys from Playmates Toys aren't far behind, and that's especially a good thing for fans of this samurai rabbit! Exclusive to Walmart is this 11-inch bodyguard (yojimbo) priced at a very reasonable $12.99.
Figures like this I generally pass on, due to their limited articulation and lack of detail, but there is something about Usagi Yojimbo in this format that is pretty darn amazing. I consider myself a fan of the bunny so to have him standing on a desk in this XL format is really something else! But let's get to the toy itself.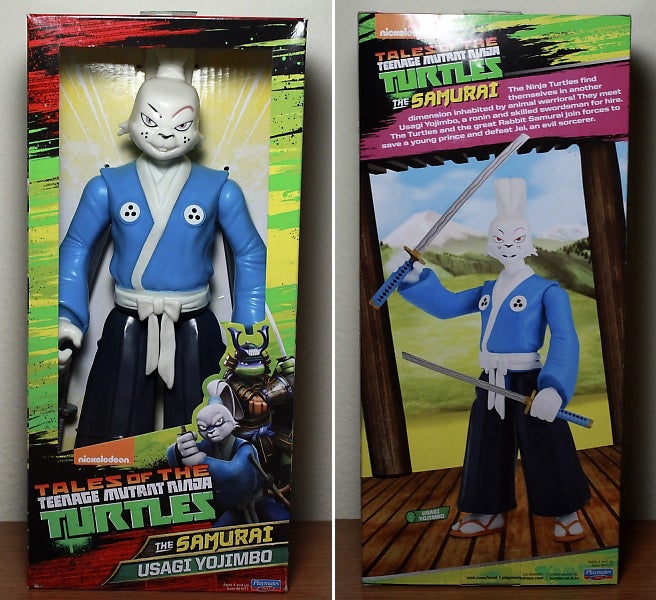 Packaged in a handsome box with a window on the front, The Samurai Usagi Yojimbo features artwork from the new line of Samurai Turtles on the sides and an image of the toy on the back.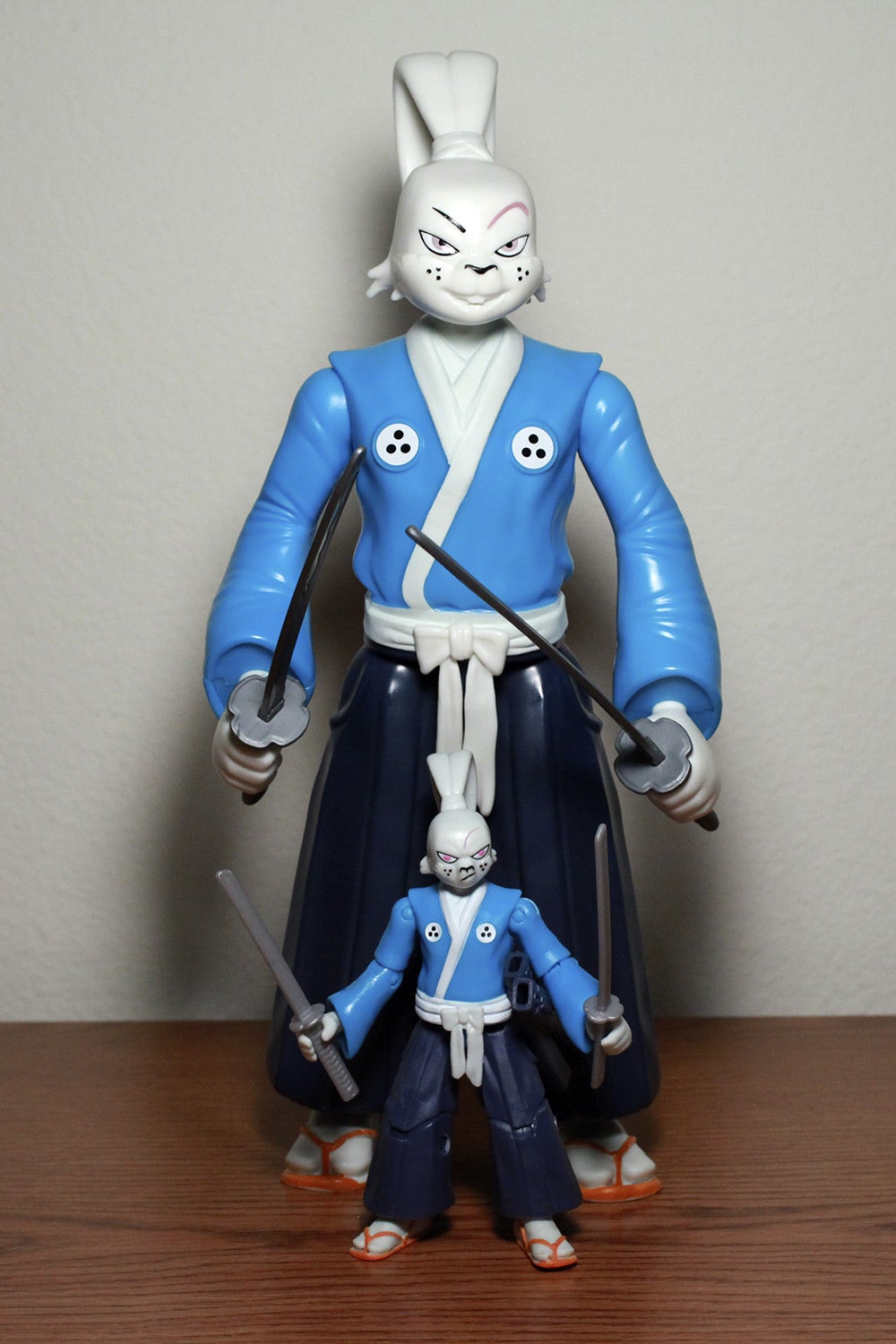 The sculpt for this new version of Usagi is fortunately a lot closer to original design in the comics and animated series. I recall the original action figure from the 80s looking NOTHING like Usagi Yojimbo so this likeness is much appreciated. Usagi sports his familiar blue attire with black pants and sandals. A stern expression with mouth open… I personally would prefer mouth closed but it doesn't look bad.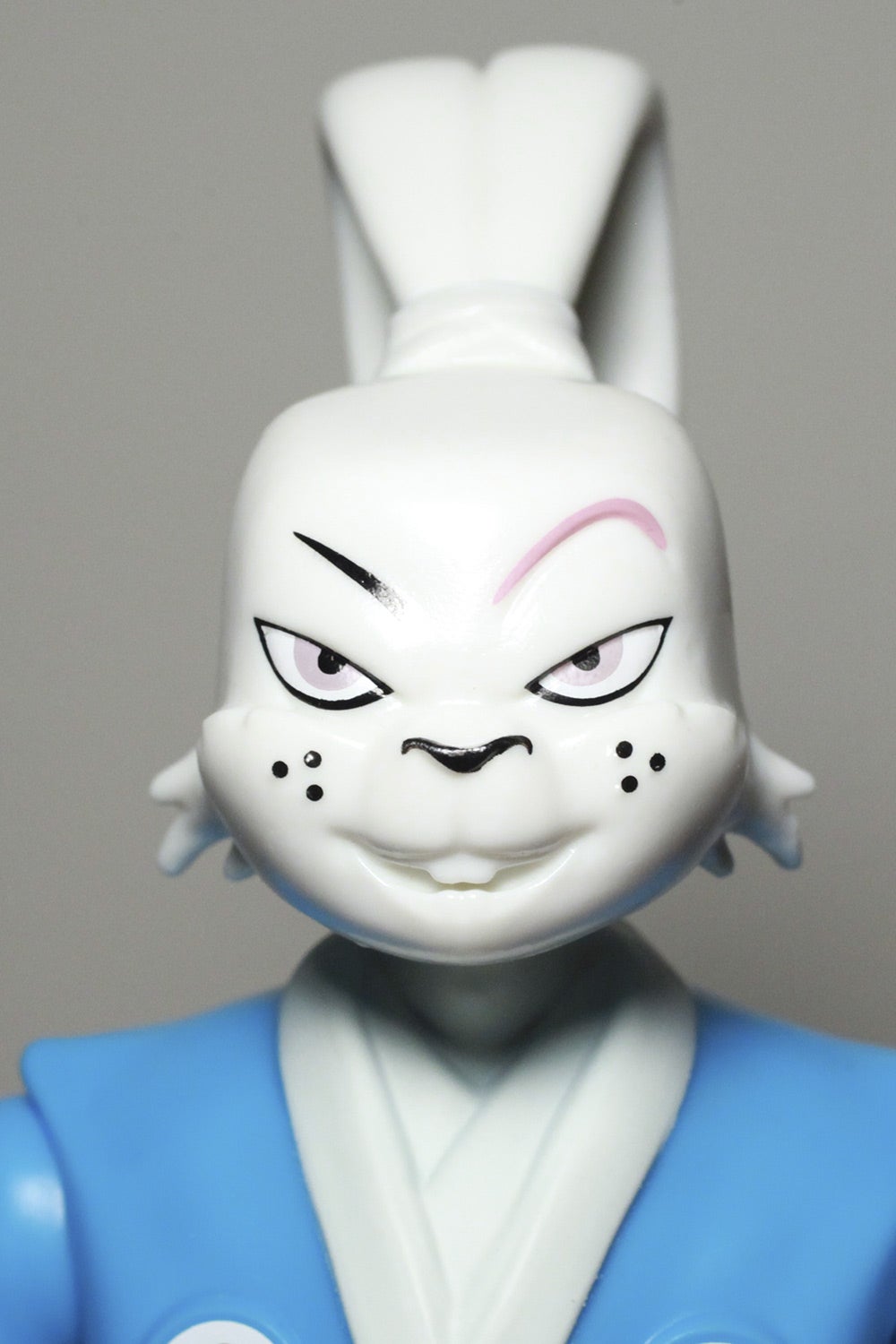 The paint is clean overall with limited color variations, until you get down to his sandals. The white of his feet have bled completely onto the orange sandals and at this scale, it's quite apparent. The mouth too is left unpainted for whatever reason. It's not a big issue but when the manufacturer's photo on the back of the box is more detailed, it will certainly give buyer's an impression that they didn't get what they should have gotten.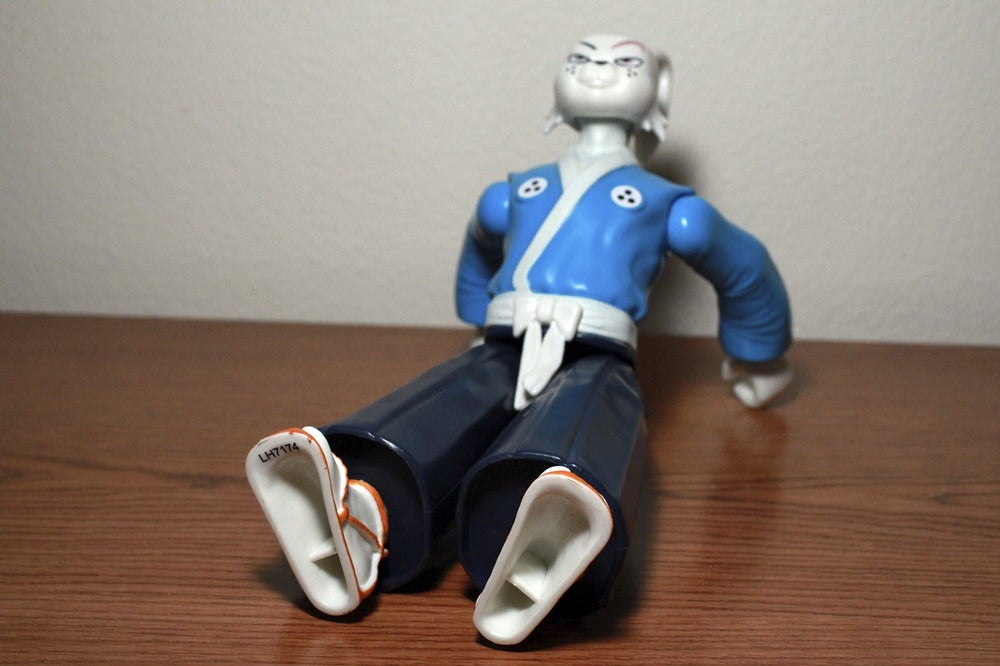 The price point is low, so no complaints on the nine points of articulation, although I certainly wouldn't mind shelling out a few extra bucks for elbow joints at the very least. What you do get is articulation at the neck, shoulders, wrists, leg, and ankles.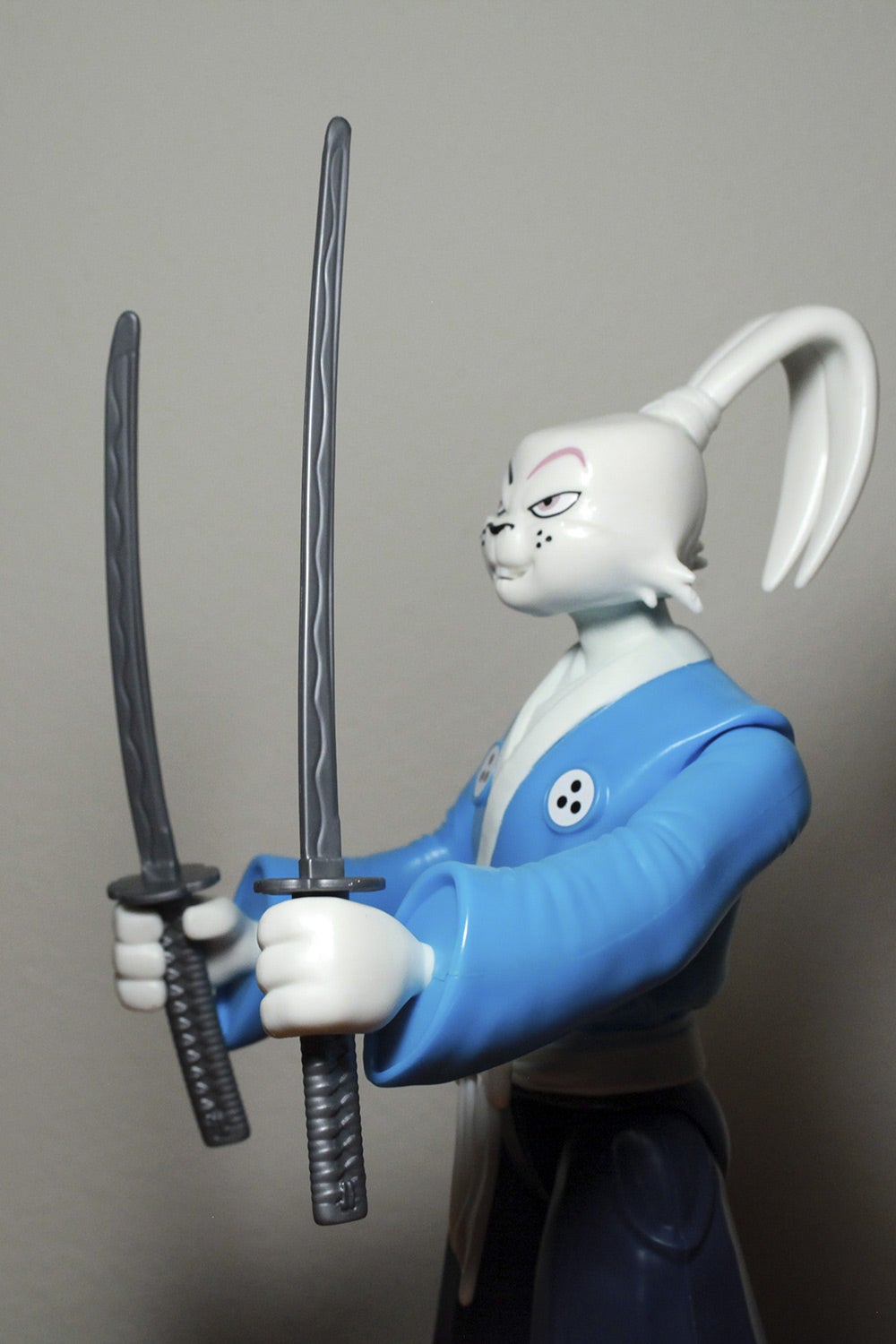 Usagi is equipped with two katana swords that are a solid gray plastic. Again, the back of the box shows what they could have looked like with some extra detail.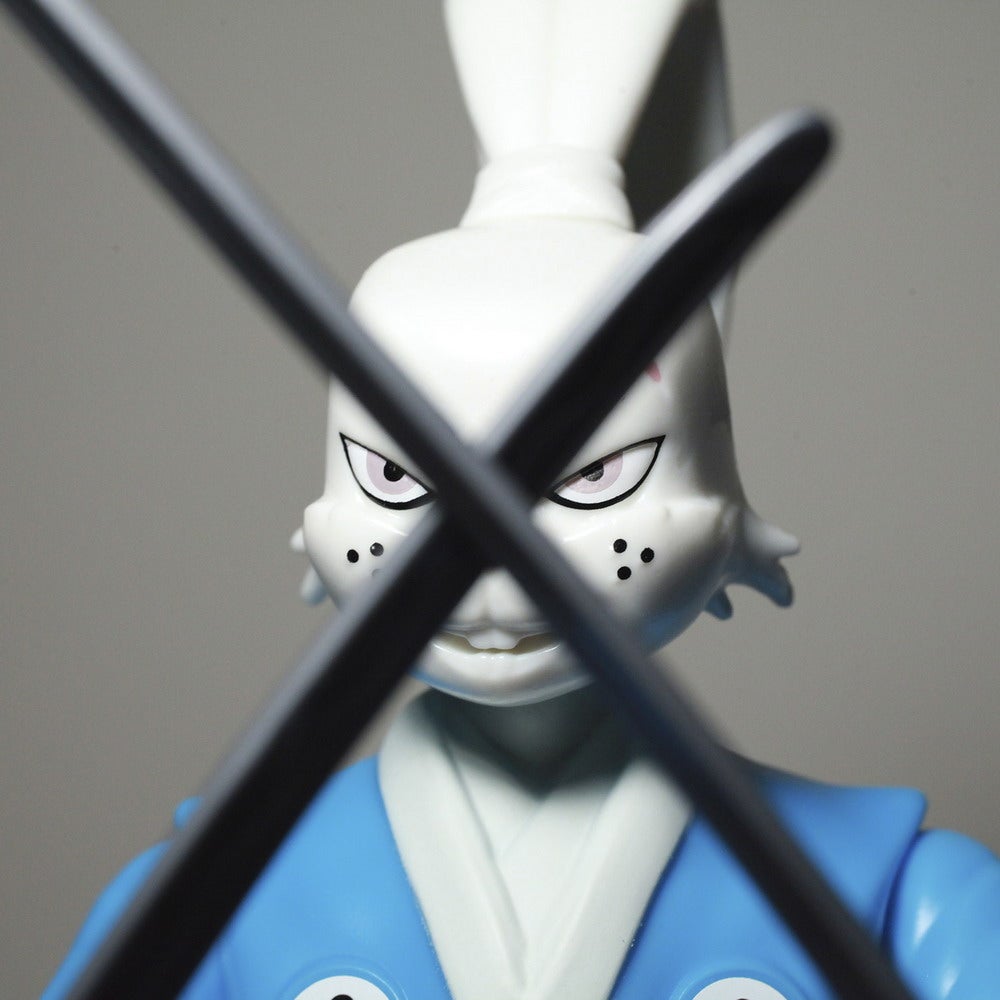 In the end, this is a children's toy so for $13, you get a giant Usagi Yojimbo, which is something that didn't exist before. Fans of Stan Sakai's comic should also consider this piece, even if you don't follow TMNT. It's a perfectly good stand alone figure. Find it exclusively at Walmart!
Review and Photography by David Yeh
Review Sample Courtesy of Playmates Toys
11" XL Samurai Usagi Yojimbo
Keep up with all the latest toy news by following Figures.com on Facebook and Twitter!
To buy action figures, take a look at Hobby Link Japan, BigBadToyStore.com, TheToySource.com, Toynk.com, BriansToys.com, ToyWiz.com, and EntertainmentEarth.com.