Today's 'toons are a far cry from the Bugs Bunny and Hanna-Barbera I grew-up with as a child. They are downright bizarre… but I mean that in a good way. Cartoons like Rick and Morty and Adventure Time appear tailor-made for adults with an appreciation of the strange. For me, the cartoon circle is complete.
Steven Universe is another fine example of an outlandish 'toon with broad age appeal. Airing on the Cartoon Network, Steven Universe spins the story of a young boy named (drum roll) Steven Universe and his group of friends, the "Crystal Gems" – Pearl, Garnet, and Amethyst – three magical humanoid aliens. Steven, who is half-Gem (he has one for a bellybutton), goes on crazy adventures helping the Gems protect the world from their own kind. Colorful, zany and entertaining, Steven Universe has amassed legions of fans since it's 2013 debut.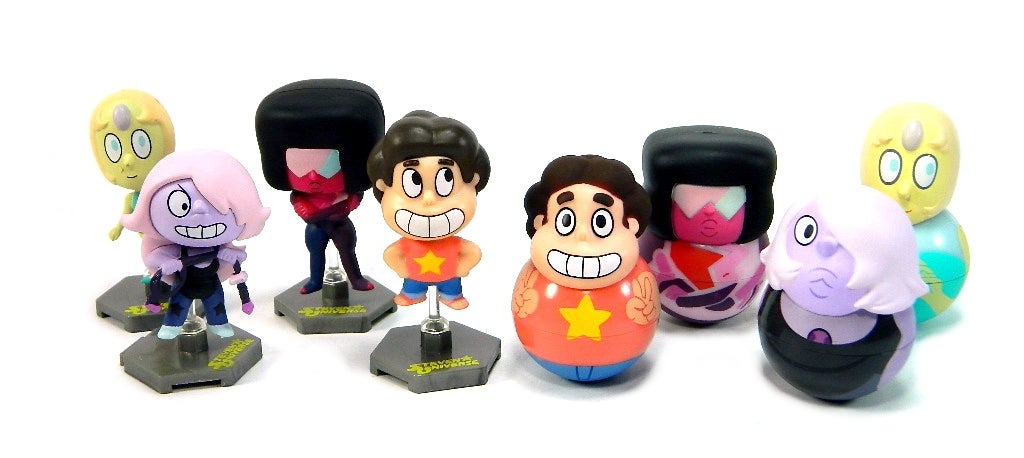 Given Steven Universe's huge universal appeal, toys and collectibles are a must. Enter UCC Distributing, the blind boxed mini king. Together with partners Zag Toys and Just Toys, UCC has recently released Steven Universe toys in a variety of fun formats. In my two part review I'll be taking a look at all these great new collectibles, kicking off today with Rockerz and Original Minis from Zag Toys!

STEVEN UNIVERSE ROCKERZ
The last time I took a look at Zag Toys' Rockerz was with their Dragon Ball Z assortment (read my review HERE). A modern-day take on the Weebles of the '70s, Rockerz are weighted wobbling figures. No matter how hard you try, they just won't fall down. Where the DBZ assortment featured fully sculpted figures riding Dragon Balls, the Steven Universe series goes for a more simplistic, cartoony approach. Each Steven Universe Rockerz shares the same roly poly round body, but is personalized with paint deco and head sculpts unique to each character. Each Rockerz measures slightly over 2-inches tall and retails for a MSRP of $7.99.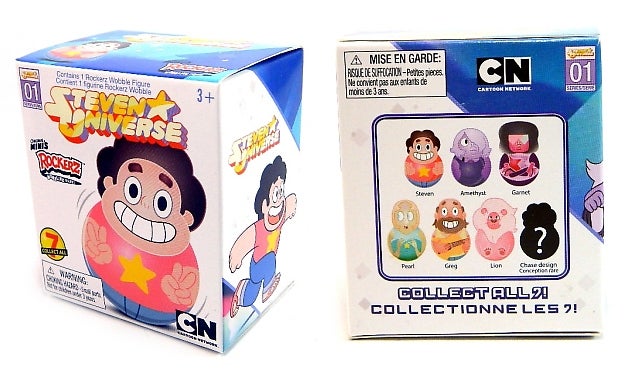 The core Steven Universe Rockerz assortment includes 6 characters to collect, along with one rare chase design. Characters include our main hero Steven, original Crystal Gems Amethyst, Garnet, and Pearl, Steven's dad Greg, as well as Steven's helping feline friend, Lion. The chase figure, if you haven't already guessed, is a silly faced variant of Steven with his rose quartz navel gemstone exposed.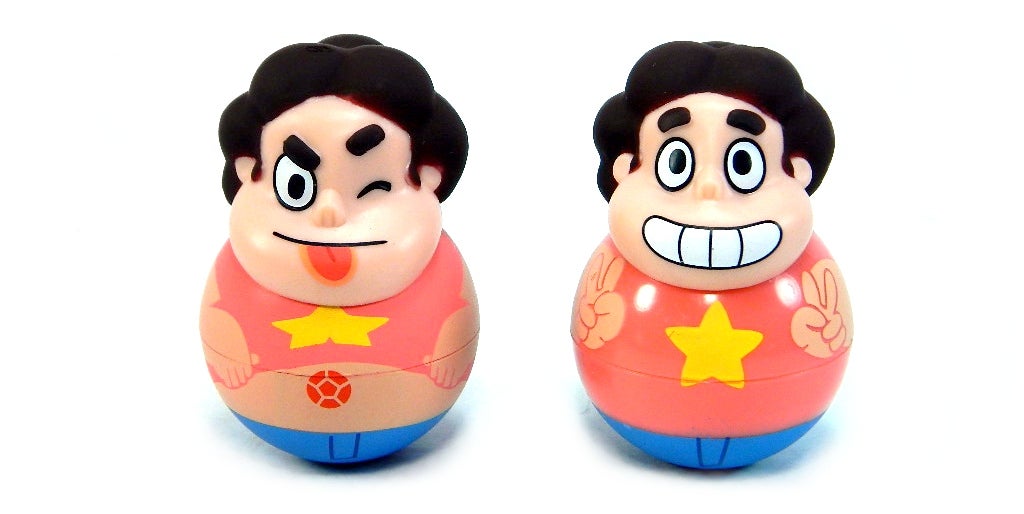 While these are blind boxed, your odds of getting who you want are pretty darn good. Each counter display case contains 24 blind boxes. Of these I opened three complete sets of six: two sets completed with a standard Steven, while the rare variant Steven rounded off the third. So out of 24 Rockerz, only one chase Steven was to be found. Best of luck finding him!

STEVEN UNIVERSE ORIGINAL MINIS
I've reviewed a lot of Original Minis from Zag Toys, but all have been in the form of Domez – mini figures permanently encased in a plastic bubble. Those are certainly cool to display, but the Steven Universe assortment is more my cup of tea. These are actual mini PVC figures that you can play around with!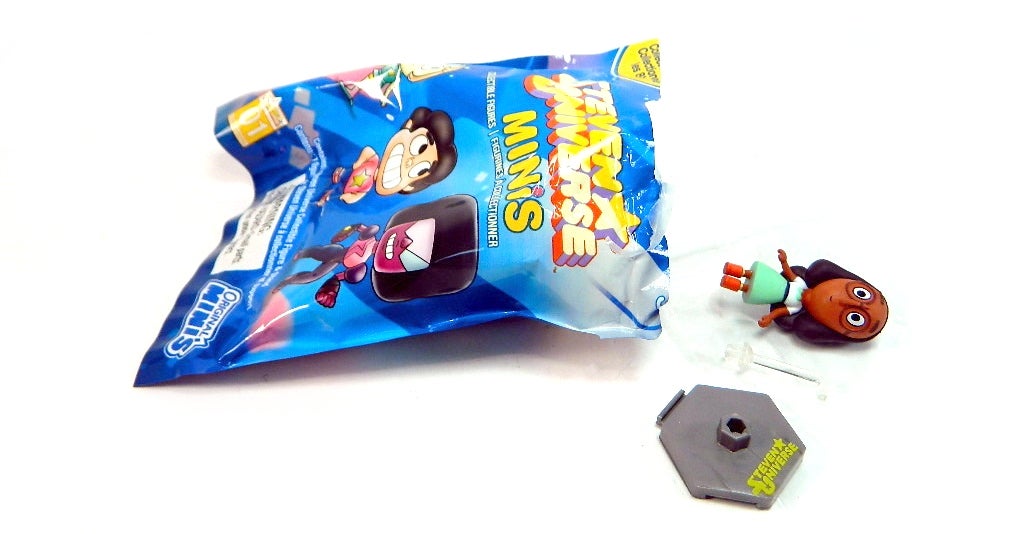 As with the Rockerz, there are 24 blind bagged Steven Universe minis per counter display. Unlike the Rockerz, there's more figures to collect, granted two of them are character variants and not actually all-new characters. The eight minis include: Steven and Battle Ready Steven, the original Crystal Gems Amethyst, Pearl, and two versions of Garnet, along with new Crystal Gem team members Peridot and Steven's best friend Connie. Out of the case of 24, I opened three complete sets, so collecting them all should be a breeze! Each blind bagged mini retails for an afforadable MSRP of $4.99.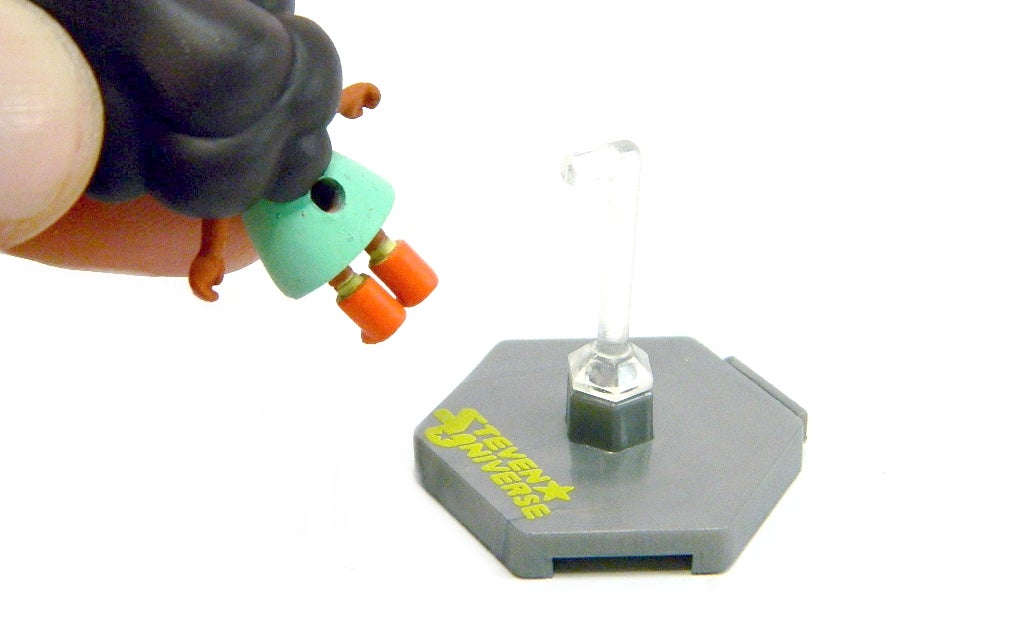 Aside from being nicely sculpted mini figures you can play around with, the Steven Universe series rocks with the addition of a flight display stand! Simply plug the included clear rod into the back of the figure and into the hexagonal base and BINGO!, you have a solid standing figure that looks awesome on your shelf.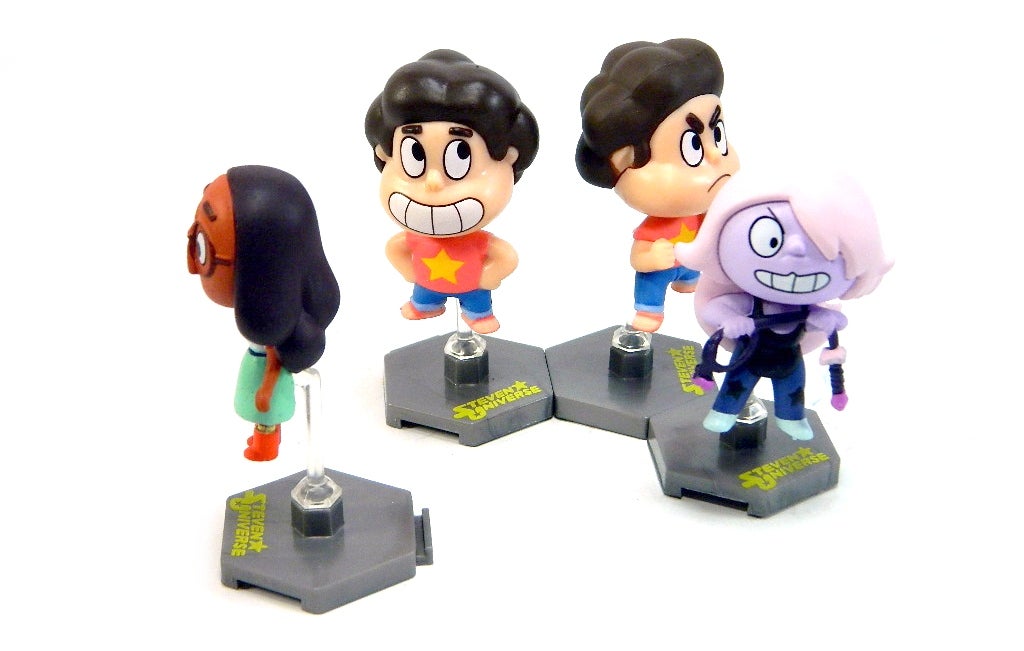 What makes the bases even neater is that they interlock! While they lack the ability to stack vertically like Domez, I'm really liking this hexagonal base system more. Group them huddled together or have them strung out in a snaking line – the choice is yours!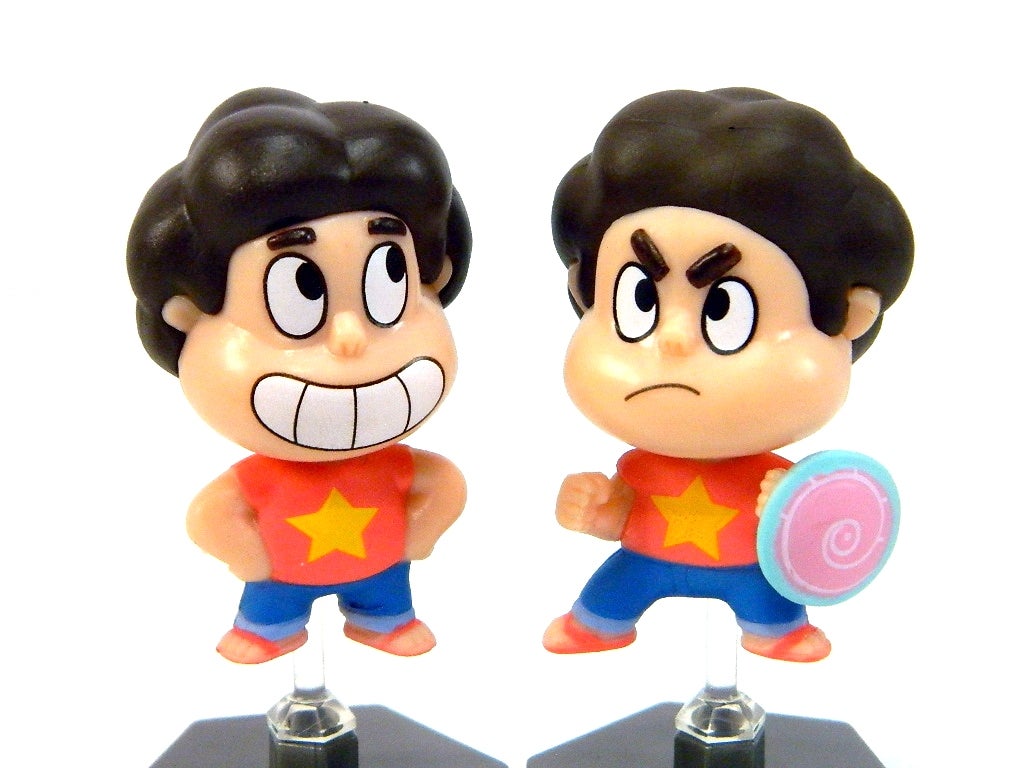 Coming up next week: Steven Universe Figure Hangers and Plush Clips!
Scroll on for more photos!
Review and Photos by Jeff Saylor
Review Samples Courtesy of UCC Distributing
Steven Universe Rockerz and Minis
Keep up with all the latest toy news by following Figures.com on Facebook and Twitter!
To buy action figures, take a look at Hobby Link Japan, BigBadToyStore.com, TheToySource.com, Toynk.com, BriansToys.com, ToyWiz.com, and EntertainmentEarth.com.