The Domez are back! Distributed exclusively in North America by UCC Distributing, Zag Toys's newest assortment of display-ready minis taps Disney's 2002 animated adventure, Lilo & Stitch. Despite the movie's title, there's no Lilo to be found in this series. Instead the focus is squarely on the adorable blue alien, Experiment 626, better known as Stitch. For the sake of this review we'll call these Lilo & Stitch Domez 🙂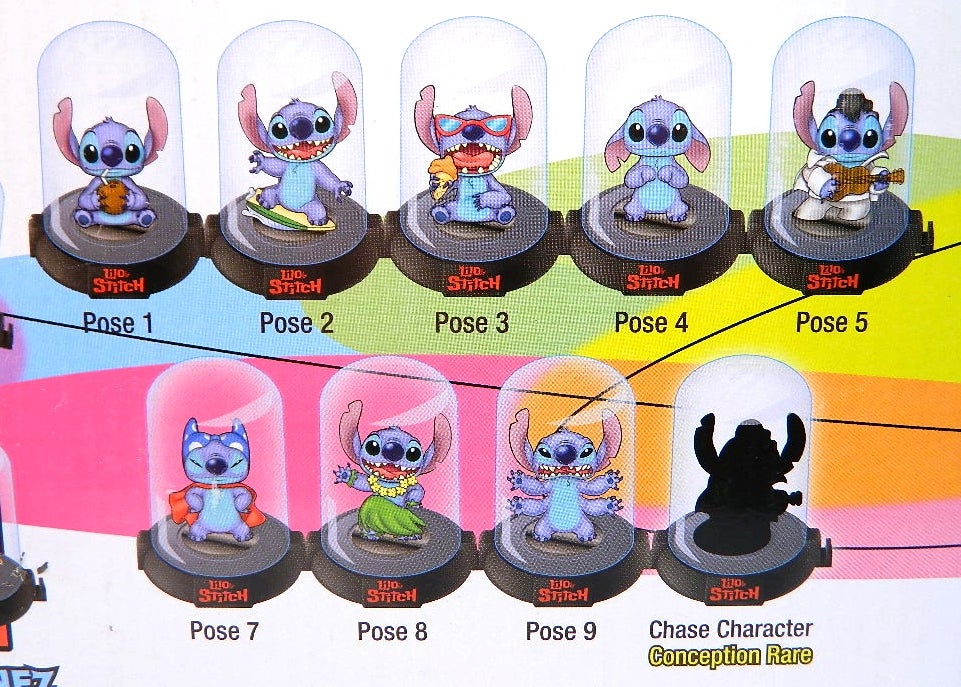 There are nine (9) Stitch Domez to collect, the ninth being a super rare chase figure. Like past assortments, each Domez comes blind bagged, the clear bubble dome wrapped in cardboard inside the bag for protection. Those plastic domes also act as a foolproof barrier to "blind bag feeling" – the art of gently squeezing a bag to identify a specific character. Sorry folks, no cheating allowed.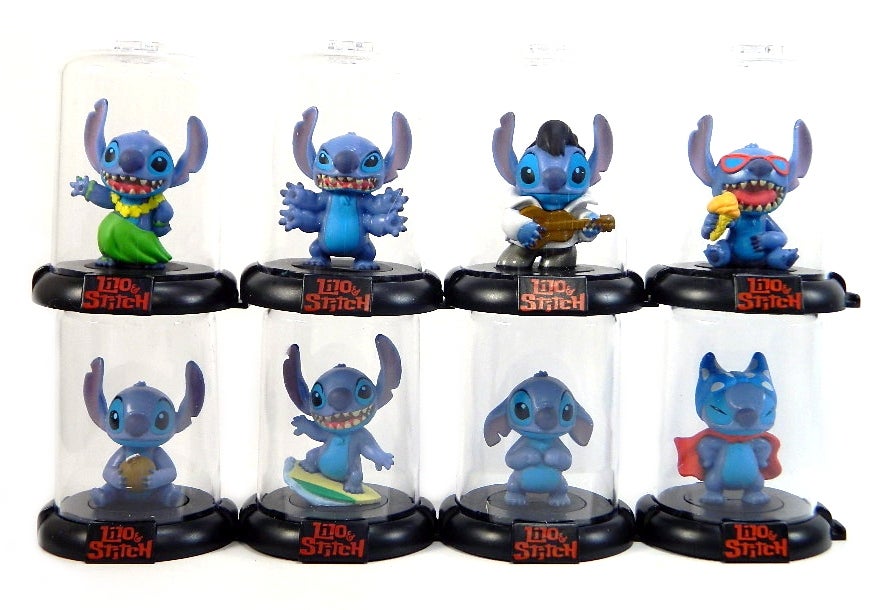 Packed with 24 blind bagged Domez (25 if you count the teaser fig), each display box should contain three complete sets of eight standard characters. I say "should contain" because unlike past Domez waves I've opened that were balanced (i.e. Digimon, Gravity Falls, etc), this particular Stitch collection was all over the place as far as what character I got. I think the packing machine fell asleep on the job.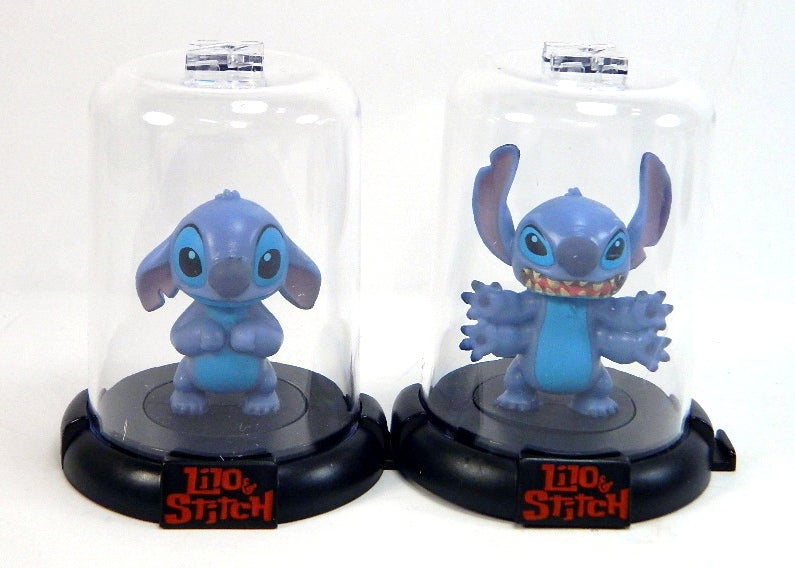 Things started out great with my first couple of openings. I received the angry four-armed Stitch, one of two au natural Stitch minifigure designs and one of my favorites of the wave. My opening continued until I had an almost complete collection of standard figures. So far, so good.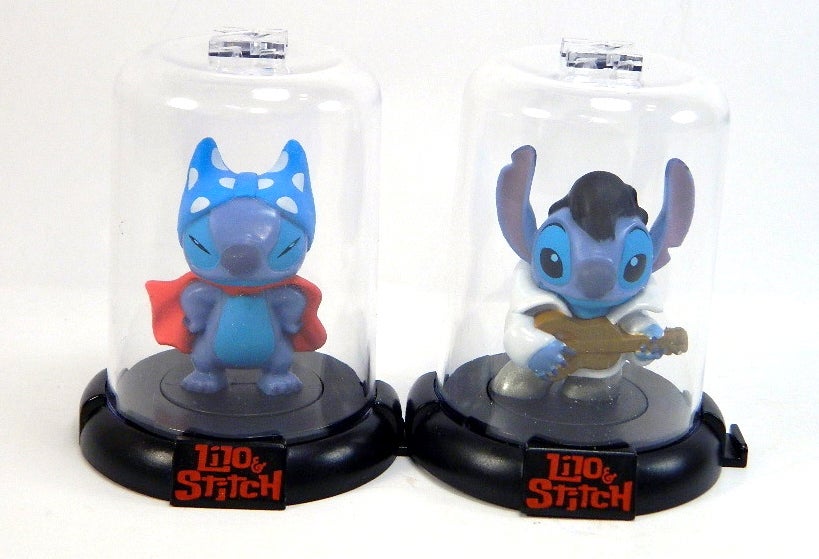 Ooo, dress-up Stitch figures! Quite a few of these in the box, including Stitch playing superhero and rockin' out like Elvis.
Then came a pair of Hawaiian Stitch figures, the blue alien surfing and performing a hula dance. I particularly like the Hula Stitch, but alas I never saw him again…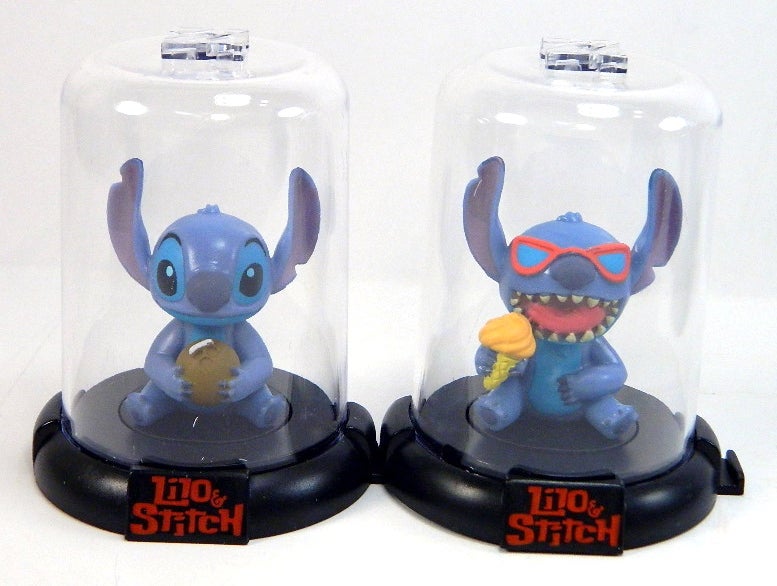 Then things started getting strange. The Stitch "food group" was a nice change of pace, with 626 suckin' on a coconut and gobbling down an ice cream cone… and Stitch gobbling down another ice cream cone, and another, and another. "Brain Freeze" Stitch totaled in at five figures, while poor Hula Stitch came in solo. As for the rare mysterious chase figure? Like Lilo, there was none to be found.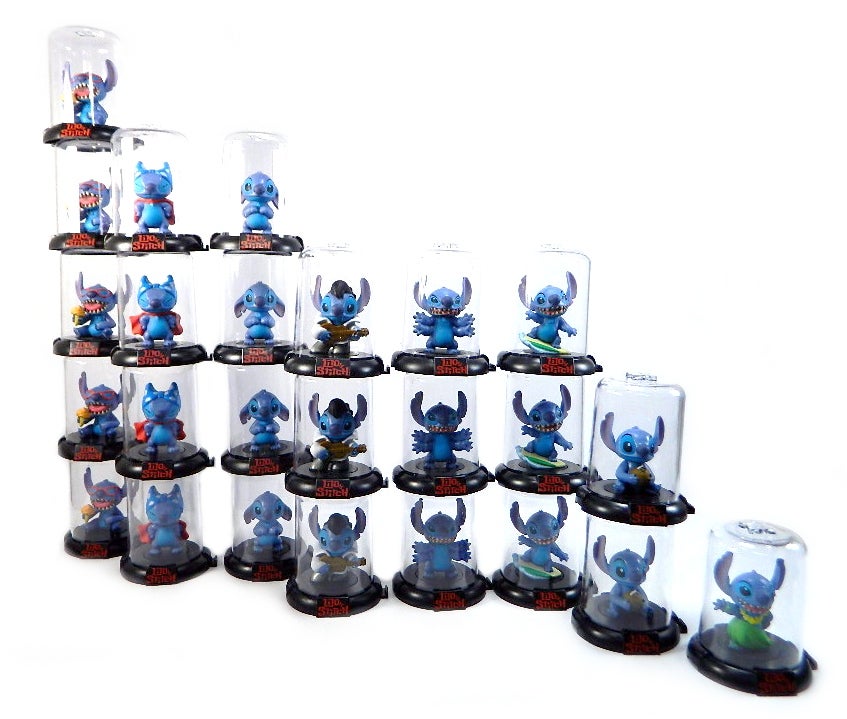 Ah, but don't let the rarity of this wave get you down. This is a blind bagged assortment after all and it's all about the thrill of which figure you'll unwrap next. However, those looking to complete the entire Stitch set might be a little let down. If this isn't a random packing fluke, then your best bet to collecting them all would be to purchase an entire counter display. Which isn't quite a bad thing – you can never have enough Stitch in your collection!
The Lilo & Stitch Domez collection is in stores NOW, each blind bag priced at a MSRP of $4.99 each.
Scroll on for even more photos!
Review and Photos by Jeff Saylor
Review Samples Courtesy of UCC Distributing
Lilo & Stitch Domez
Keep up with all the latest toy news by following Figures.com on Facebook and Twitter!
To buy action figures, take a look at MHToyShop, Hobby Link Japan, BigBadToyStore.com, TheToySource.com, Toynk.com, BriansToys.com, ToyWiz.com, and EntertainmentEarth.com.