There have been no shortage of Star Trek replica ships over the years. From WizKids' tiny armada of Attack Wing HeroClix to the much larger electronic models released by Playmates and Diamond Select Toys.
However, it has been Eaglemoss Collections' extensive collection of Star Trek ships that has impressed me the most. I love their collectible size (a nice palm-sized 5-inches), vast selection of designs (everything from well established Federation and Klingon ships, to lesser known Gorn and Voth vessels), and amazing level of detail and construction (die-cast, hand-painted).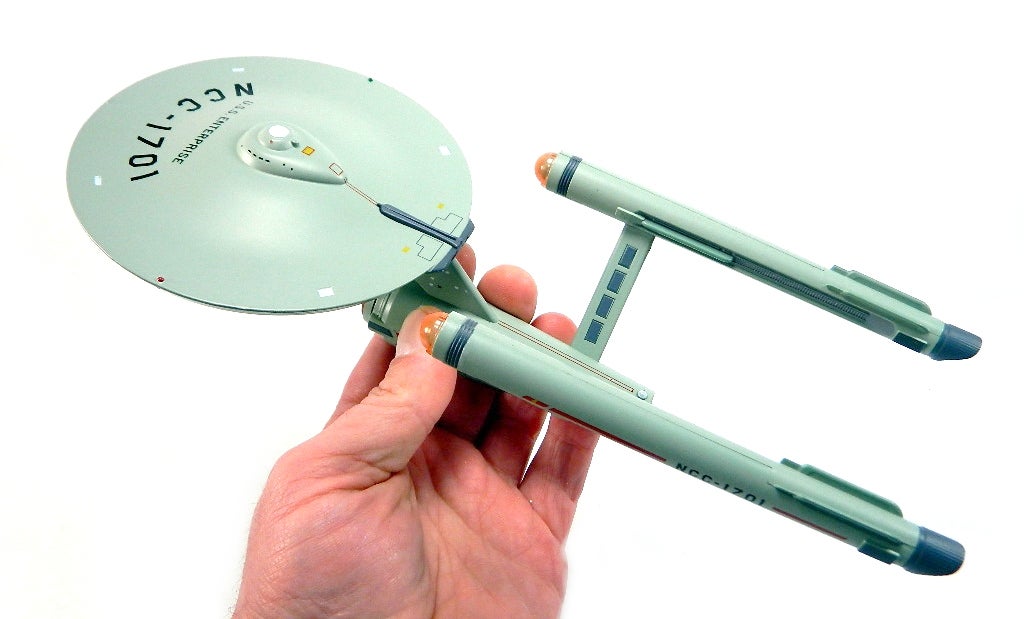 Now Eaglemoss is going one step further by taking their most iconic Star Trek ships and oversizing them. Over twice as long as their 5-inch ships, each approximately 11-inch Star Trek Oversized Edition amazes with show-accurate sculpting and paint. Better yet, these oversized ships are also made of die-cast metal. Because nothing screams quality spaceship replica quite like real metal.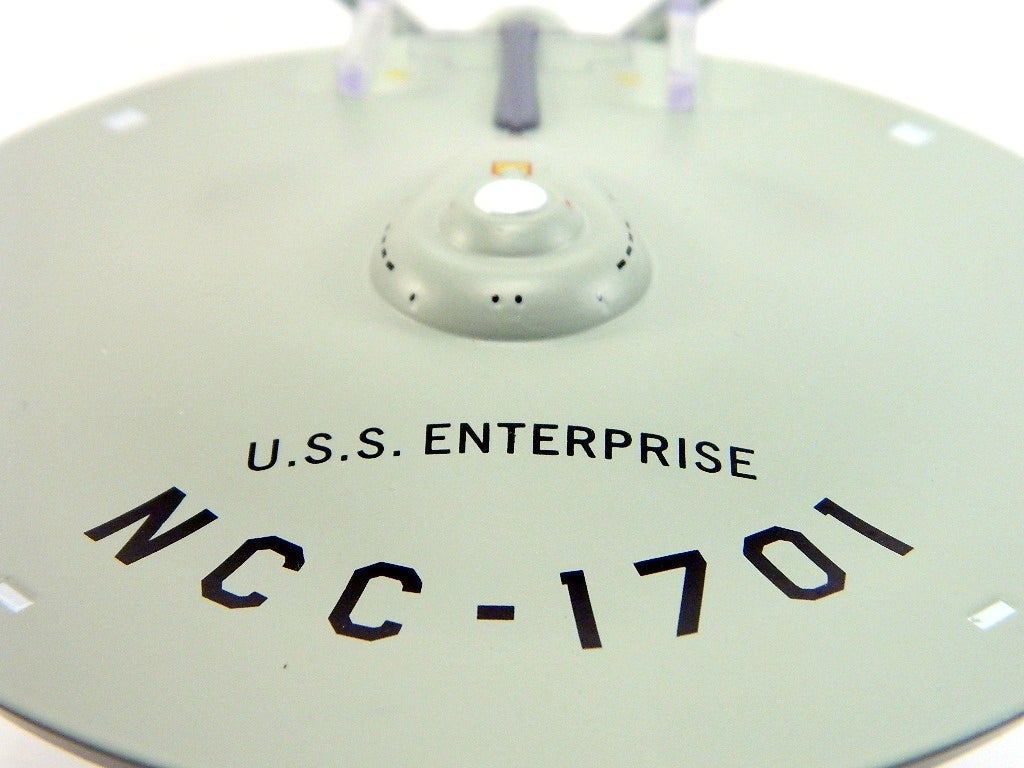 The first Oversized Edition ship to hit the market is none other than the classic U.S.S. Enterprise NCC-1701. Prominently featured on Star Trek: The Original Series that aired from 1966 -1969, the NCC-1701 is one of the most iconic sci-fi ship designs ever created. The NCC-1701 is certainly one of my favorites and I couldn't be any happier with how this replica turned out.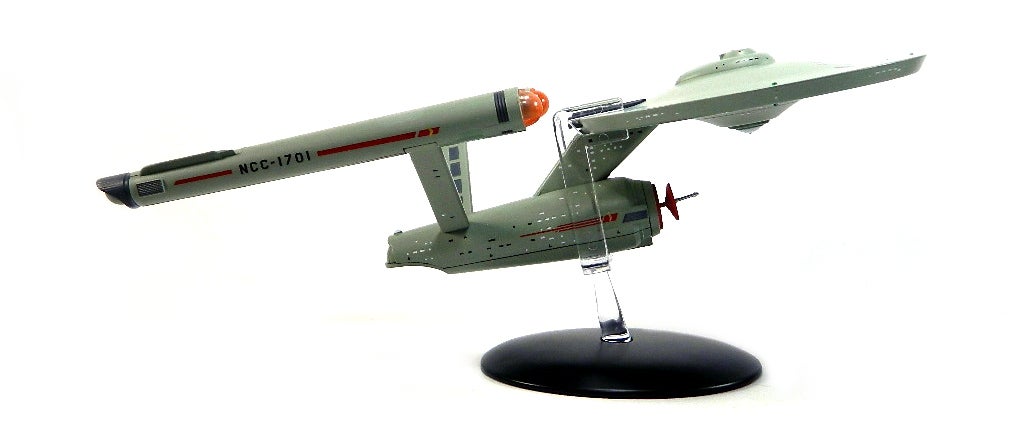 Measuring a 11-inches long, the Enterprise immediately impresses with its size. You're not going to be able to cram as many of these Oversized ships on a shelf for display as you would Eaglemoss' smaller collection, but this scale isn't meant to be shown that way. Ship replicas this size are best displayed solo (or in pairs) to emphasis their special nature. In this case, a true sci-fi classic.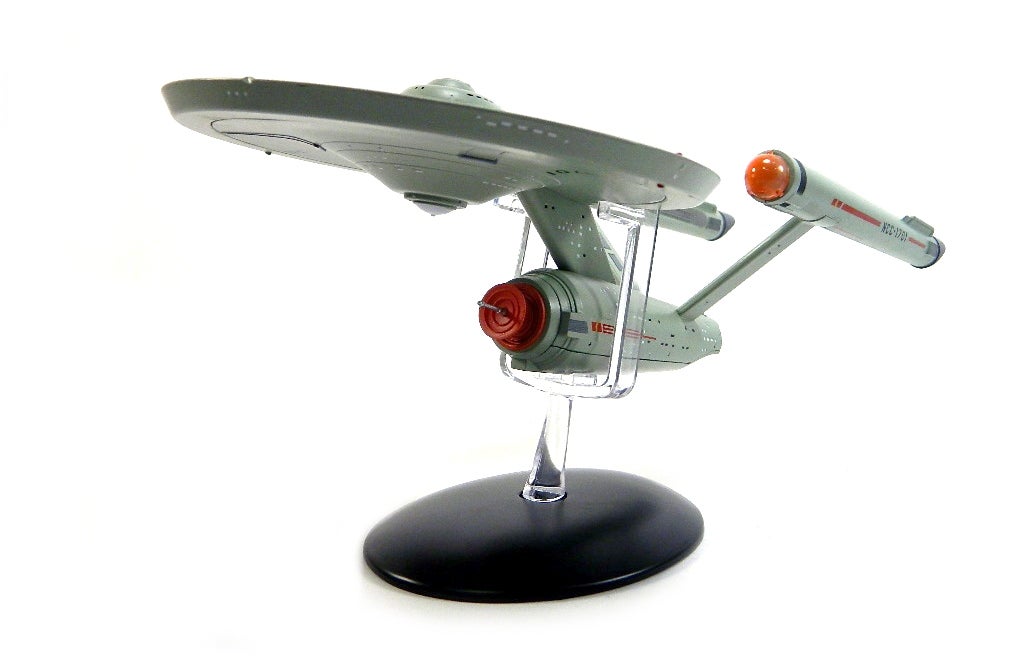 To help you show off your replica, Eaglemoss includes a sophisticated display stand. The heavy black base, featuring felt lining on the bottom, comes with a clear display arm that grips the saucer section of the ship. It's an excellent design, as most stands cradle the ship by the underbelly or plug in.
While this type of display arm would work well with any model ship, the NCC-1701's heavy die-cast construction makes it absolutely ideal. With the ship in place, the weight of the replica leaning back provides a solid and secure connection.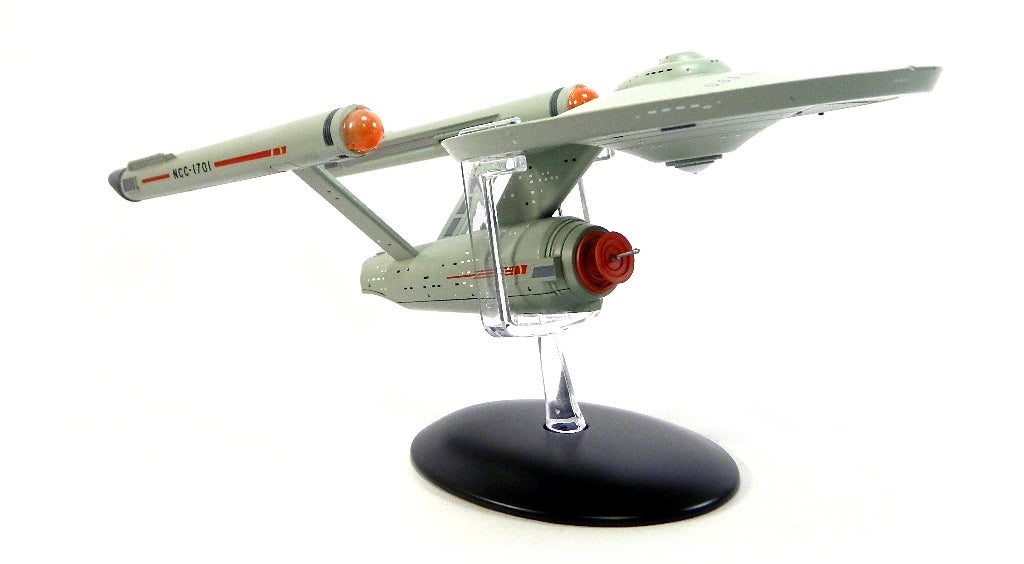 Speaking of weight, this is the type of collectible that you have to hold in person to fully appreciate. Arriving well protected in a Styrofoam tray, the Enterprise NCC-1701 has some serious heft once removed. Combined with an amazing show-accurate sculpt, it's that weight that truly broadcasts the quality of this collectible.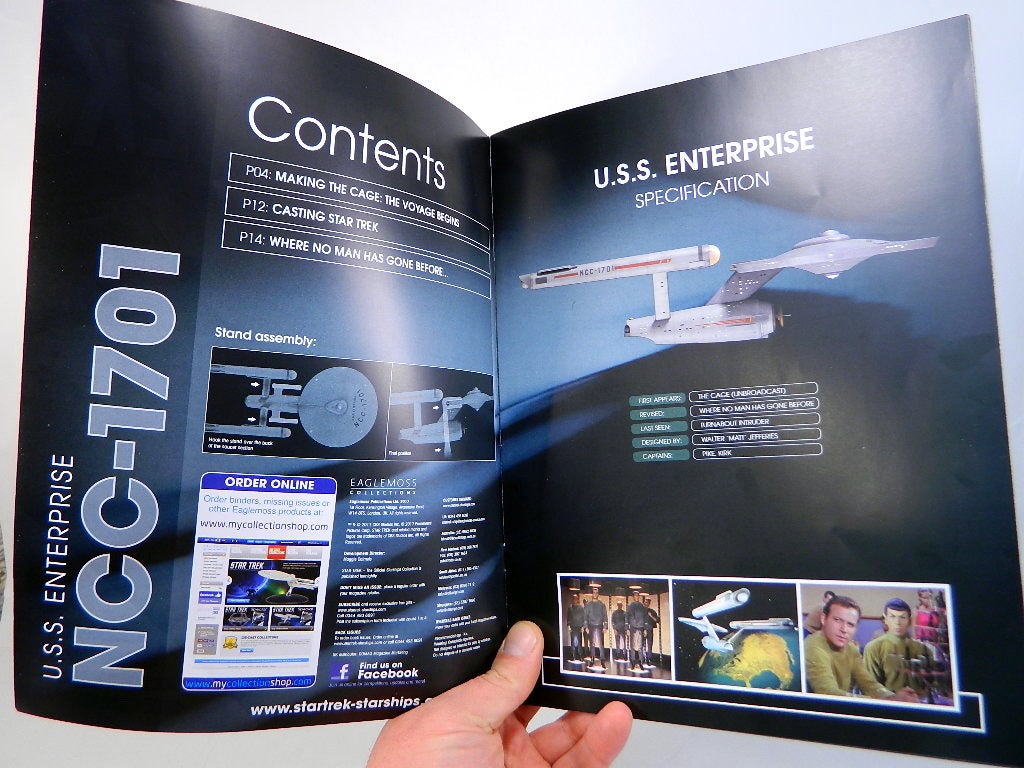 Further lending quality to this piece is the inclusion of a full color magazine that highlights the history of the first Star Trek television series. You'll learn about Gene Roddenberry's original vision for Star Trek and his struggles of getting a studio to pick the show up, to the series finally getting greenlit after two pilot episodes, along with the various character and casting changes that came with it. It's a fascinating read that really helps you connect more with the model and the incredible show it is from.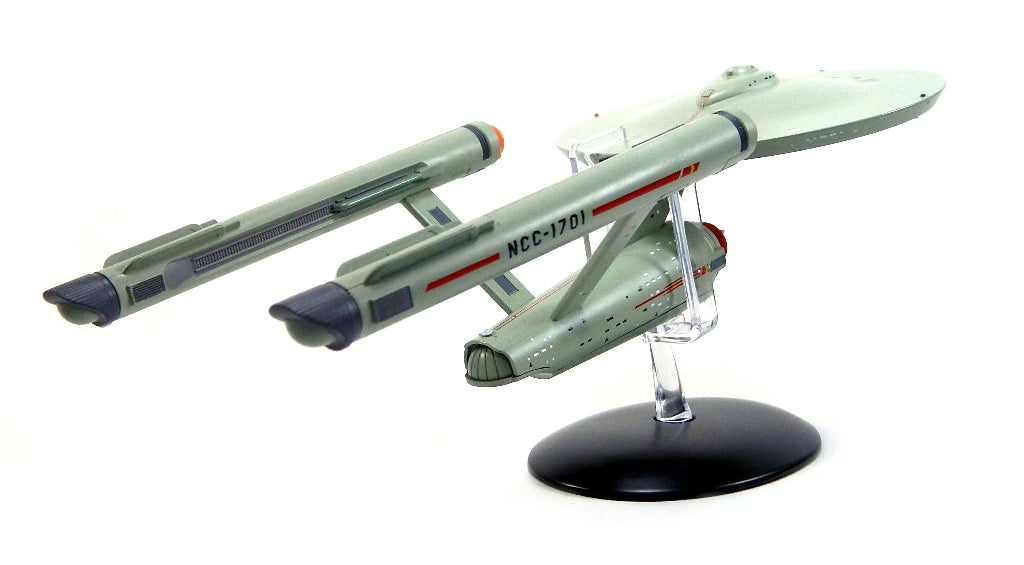 Eaglemoss' 5-inch Star Trek ship collection is the perfect size (and price) for those wanting to amass an alien fleet with diversity. Their new Oversized scale, however, is where it is at for collectors that want to shine a spotlight on a particular ship. The Enterprise NCC-1701 is a fine example of a starship design that deserves this kind of attention. With its beautiful sculpt and heavy die-cast construction, this 11-inch replica makes an excellent collection centerpiece.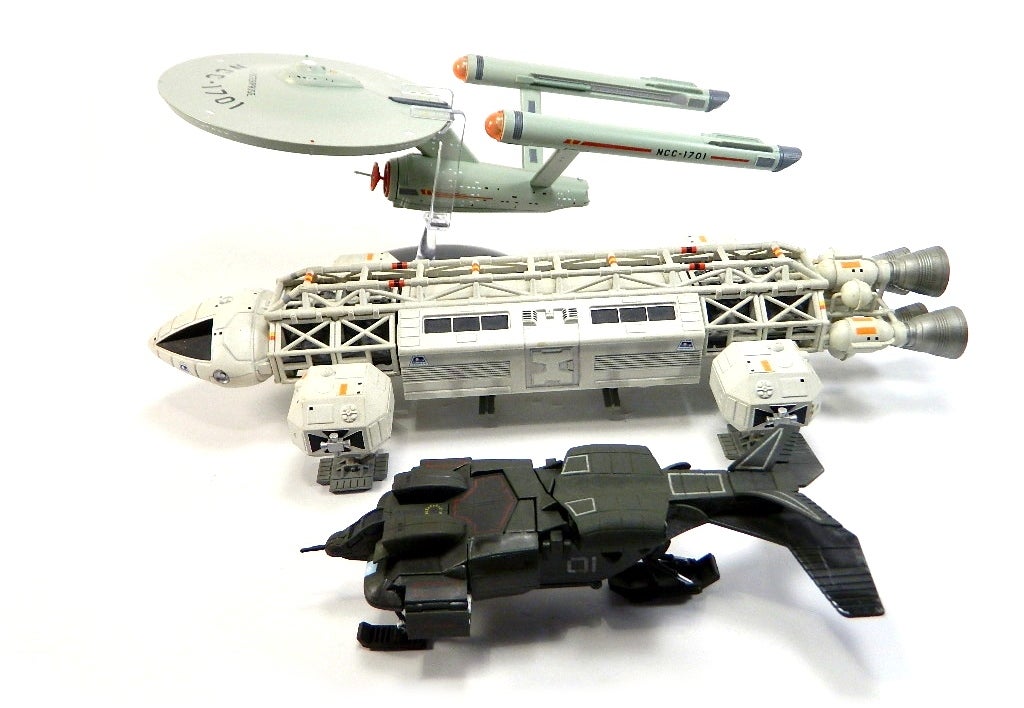 Die-Cast Classics (Top to Bottom): Eaglemoss  11″ Star Trek Enterprise, Carlton 12″ Space:1999 Eagle Transporter, NECA 6″ Cinemachines Aliens Dropship.
Interested collectors can find this ship in comic stores now courtesy of Diamond Comic Distributors. It is priced at around $75 and worth every penny. Fans can also order directly through the Eaglemoss Shop (shop.eaglemoss.com). It's currently on sale for only $63.71.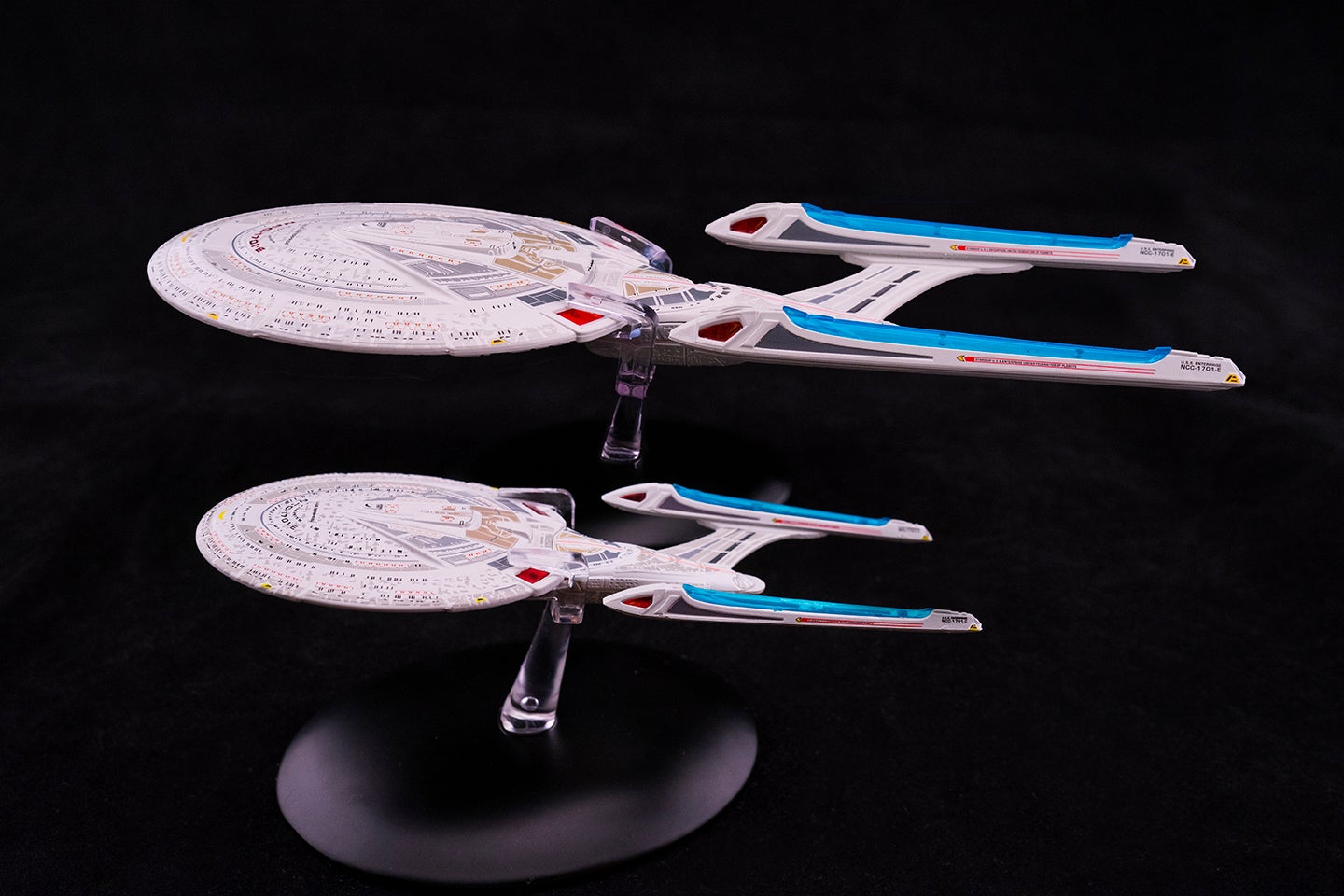 The next Star Trek Oversized Edition will be the Enterprise NCC-1701-D from Star Trek: The Next Generation. Look for it in comic shops late May. The Enterprise NCC-1701-E (pictured above) will be the third ship. Expect solicits from Diamond sometime in March/ April for a July or August in-store release.
Outside of the Enterprises there will be a mix of Federation and alien ships in the line. I'd personally love to see a classic Klingon battlecruiser join the series. Or a Bird-of Prey. Or Romulan Warbird. Or U.S.S. Reliant. Ah, so many great Star Trek starship designs. It will be fun to see where the Oversized collection boldly goes.
Review and Photos by Jeff Saylor
Review Sample Courtesy of Eaglemoss Collections
Oversized Enterprise NCC-1701
Keep up with all the latest toy news by following Figures.com on Facebook and Twitter!
To buy action figures, take a look at MHToyShop, Hobby Link Japan, BigBadToyStore.com, TheToySource.com, Toynk.com, BriansToys.com, ToyWiz.com, and EntertainmentEarth.com.