From Batman (1989), Hot Toys presents a new 1/6th scale Batman collectible figure and Batmobile!
Meticulous and faithful recreation of Micheal Keaton's remarkable appearance as Batman in Batman (1989), the highly-detailed 1/6th scale figure features a newly developed Batman head with separate rolling eyeballs and interchangeable lower faces techniques design; a specialized body highlighting Batman's muscular form; the newly designed Batsuit to mimic the material appearance; unique Bat gadgets including grapple gun, gauntlet with line launcher, rope attached batarang, ninja wheels, smoke capsules; also accessories including a white heel shoe, Batmobile remote, bomb timer and punch gear.
The Deluxe Version of Batman offers a highly-detailed diorama base, showing a corner of the ruined church roof with a spinnable sculpted statue also stones in incredible texture and detail, which allows fans to revisit the scene with Batman standing perched on the edge of the roof.
The screen-accurate Batmobile measures approximately 100cm is fully designed to
capture the mechanical design and painting bringing the remarkable Bat vehicle to reality. Features an incredible amount of details such as the slide-open canopy door; head and taillights, jet engine and dashboard panel with LED light up function; rotatable wheels; gadgets including the side-mounted batdisc launchers, machine guns, grappling hooks and shinbreakers, and a rotary base to recreate scene in the Batcave.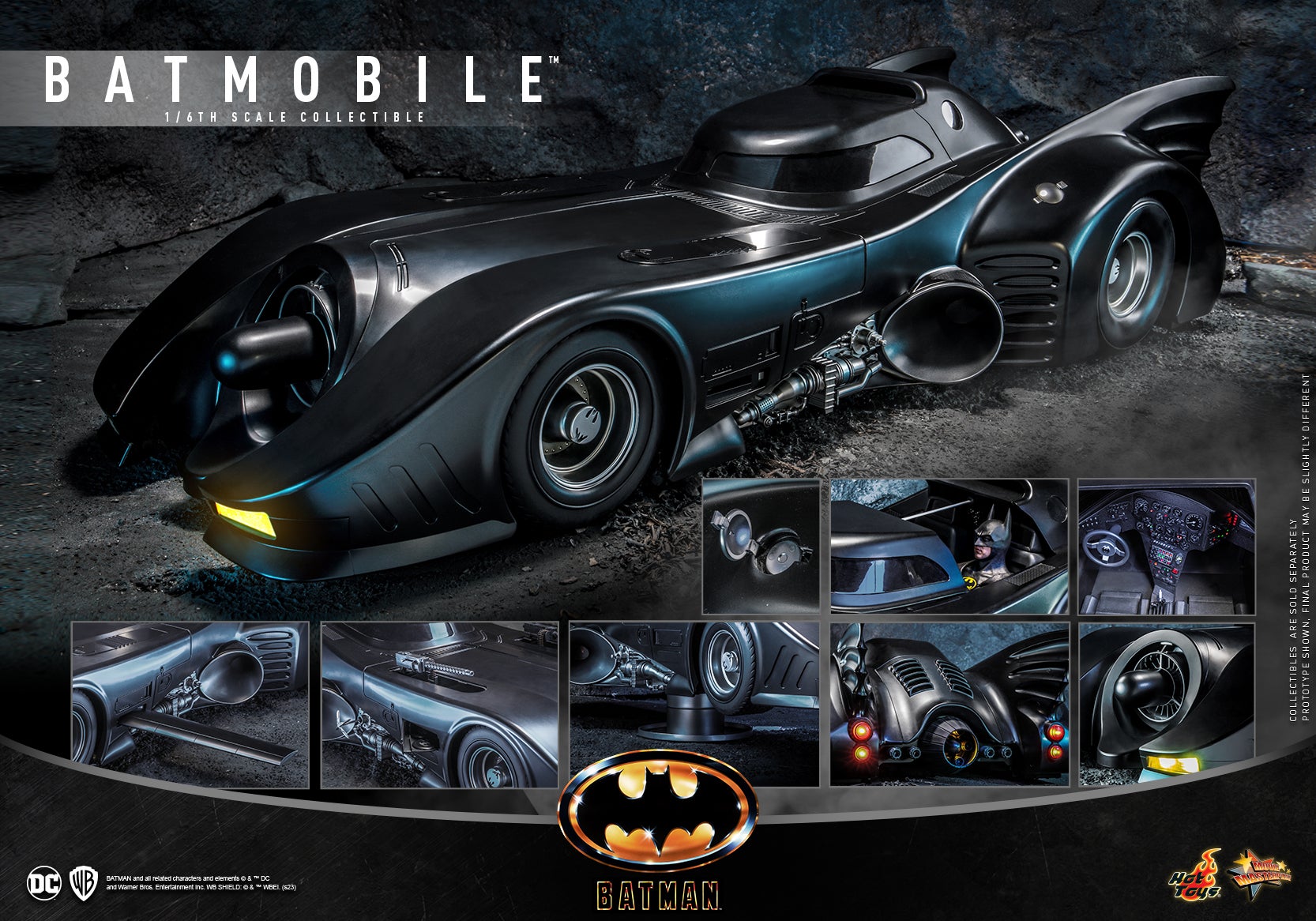 The 1/6th scale Batmobile Collectible's specially features:
– Authentically and detailed likeness of Batmobile in Batman (1989)
– Sleek black color paint application on the exterior design
– Approximately 100cm L x 40cm W x 25cm H
– LED light-up headlights, taillights, jet engine and dashboard panel (power operated)
– Canopy door allows sliding function
– Openable fuel tank door to review mechanical details
– Rotatable wheels
– Side-mounted batdisc launchers
– One (1) pair of moveable machine guns
– Two (2) seaters
– Sized to fit with 1/6 scale Batman Collectible Figure from
collection series
Accessories:
– One (1) pair of shinbreakers
– One (1) pair of grappling hooks
– Eight (8) batdiscs
– One (1) rod for holding the canopy door
– Specially designed rotary base
Release date: Approximately Q2 – Q3, 2024
*Prototype shown, final product may be slightly different
**Battery not included for collectible, 2A batteries (a total of 3 pieces) are required
***Product details can subject to change without further notice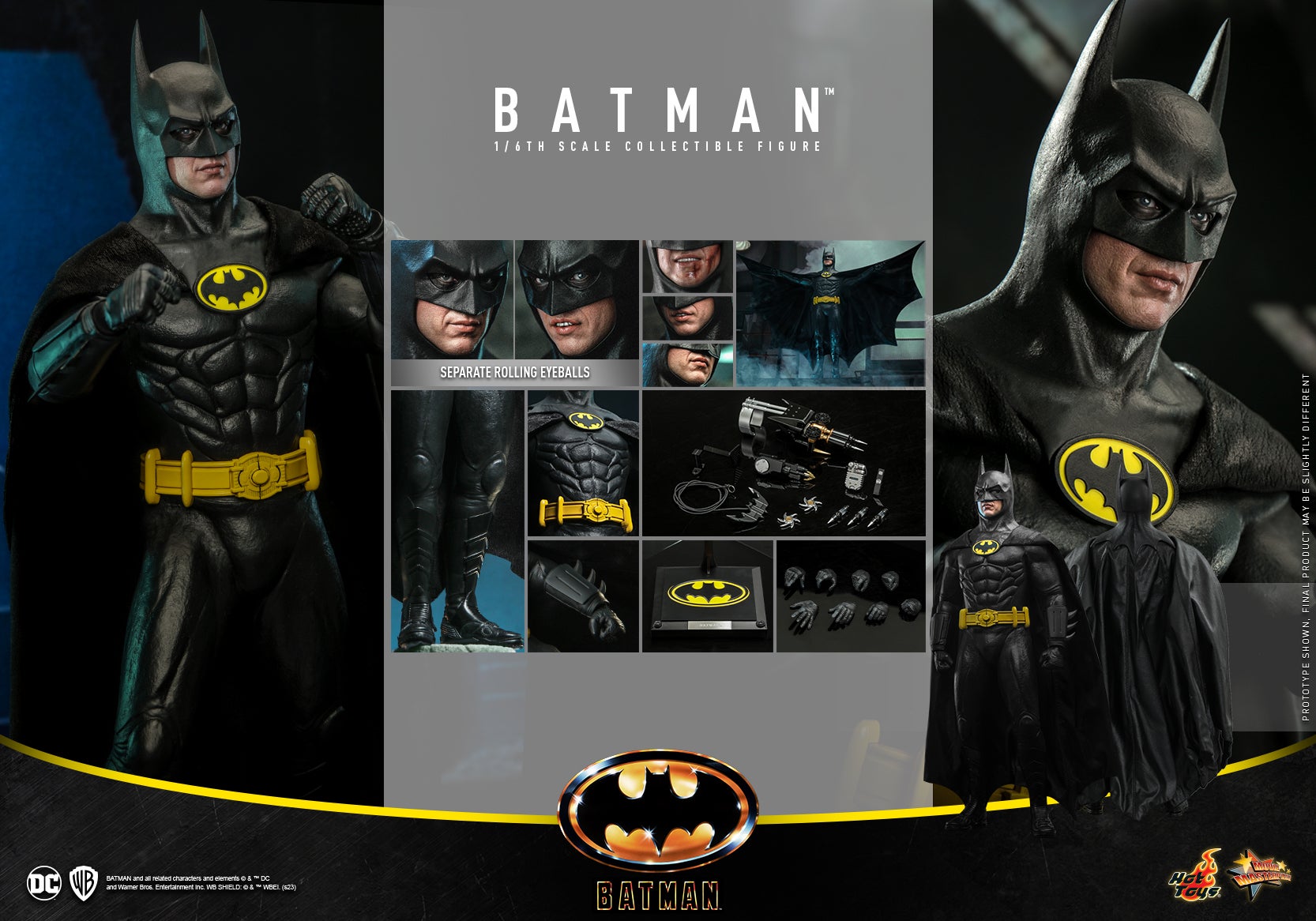 The 1/6th scale Batman Collectible Figure features:
***Exclusive in Deluxe Version***
– Authentic and detailed likeness of Michael Keaton as Batman in Batman (1989)
movie
– One (1) newly developed Batman head with separate rolling eyeball function and
three (3) interchangeable lower faces capturing Batman's facial expressions
– Movie-accurate facial expression and skin texture
– Approximately 30 cm tall
– Specialized body with 30 points of articulation
– Eight (8) pieces of interchangeable gloved hands including:
– One (1) pair of fists
– One (1) pair of relaxed hands
– One (1) pair of weapon holding hands
– One (1) remote holding right hand
– One (1) open left hand
– Each piece of head sculpt is specially hand-painted
Costume:
– One (1) Bat-suit with cape and Batman logo on chest
– One (1) utility belt
– One (1) pair of black boots
Weapons:
– One (1) grapple gun
– One (1) gauntlet with line launcher
– One (1) rope attached batarang
– Two (2) ninja wheels
– Three (3) smoke capsules
Accessories:
– One (1) white heel shoe
– One (1) Batmobile remote
– One (1) bomb timer
– One (1) punch gear
– *** A specially designed chapel roof diorama base (approximately L 27cm x W 24cm
x H 44cm) ***
Release date: Approximately Q2 – Q3, 2024
*Prototype shown, final product may be slightly different
**Product details can subject to change without further notice
---