"You think this is crazy, wait until you see Manhattan."
Premium Collectibles Studio presents the Blade 1:3 Scale Statue, based on the Daywalker's appearance in the exciting tactical RPG Marvel's Midnight Suns.
The Blade 1:3 Scale Statue measures 31" tall and 20" wide as the dynamic dhampir leaps into battle against a horde of bat-like bloodsuckers. His lethal silver arsenal includes a swap-out left arm wielding a glaive, a swap-out right arm brandishing a sword, and left and right arms gripping pointed stakes.
The Blade Statue is fully sculpted to capture the character's armored video game look, from the leather-like black and red trench coat to the scuffed and dented bulletproof body covering. Blade includes two different portraits for display — one snarling expression and one yelling expression, each wearing his signature red shades. The six vampires beneath his boots are all designed with veiny, monstrous physiques complete with terrifying ears, eyes, pointed teeth, and some feature scorch marks on their bodies.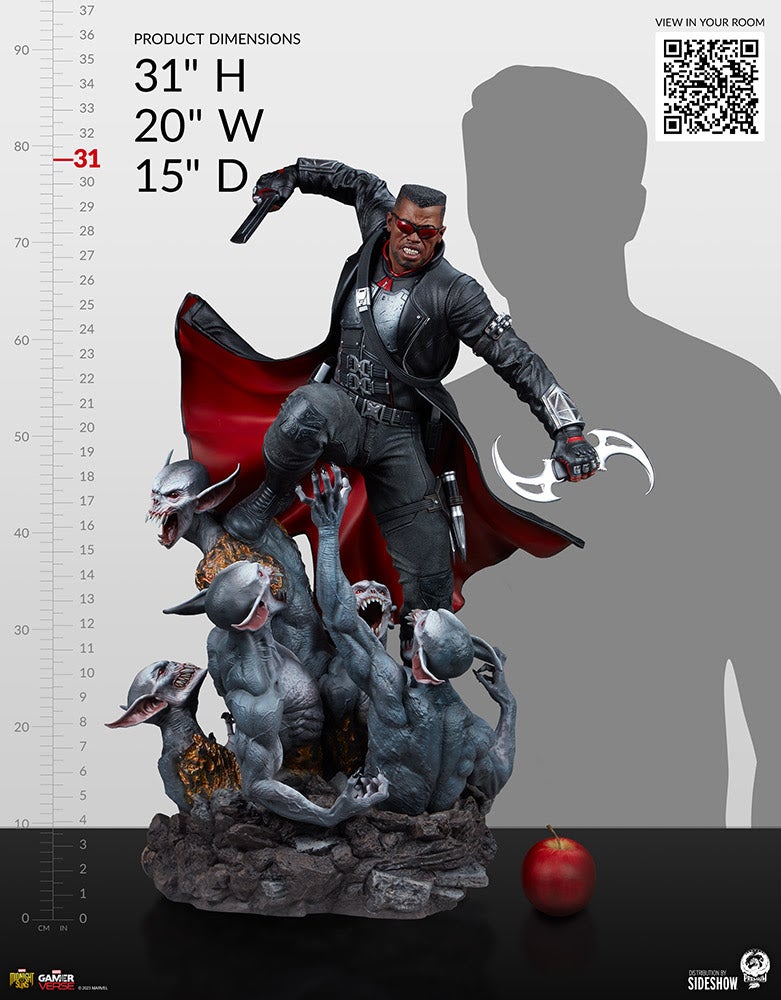 BLADE – 1:3 STATUE
Retail price : $1390
Approx Dims 31″H x 20″W x 15″D
Est Ship Date: Aug – Oct 2023
Edition Size : 400
Includes:
Fully Sculpted Statue
Swap-Out Fanged portrait
Swap Out Left Hand with Glaive
Swap Out Right Hand with Sword
Dynamic Environment Base
---