"Calling Dick Tracy, calling Dick Tracy. Be on the lookout for Flattop Jones!"
Mezco presents a new One:12 Collective boxed set featuring Dick Tracy and Flattop! It is priced at $195 and is scheduled to ship between Oct – Dec 2023.
When black marketeers hire a contract killer to eliminate the one lawman who has threatened to end their crime spree, the stage is set for a colossal clash of cops and robbers. Will Ace Killer Flattop Jones Sr. fulfill his side of the bargain, or will Detective Dick Tracy get his man?
THE ONE:12 COLLECTIVE DICK TRACY VS FLATTOP BOXED SET FEATURES: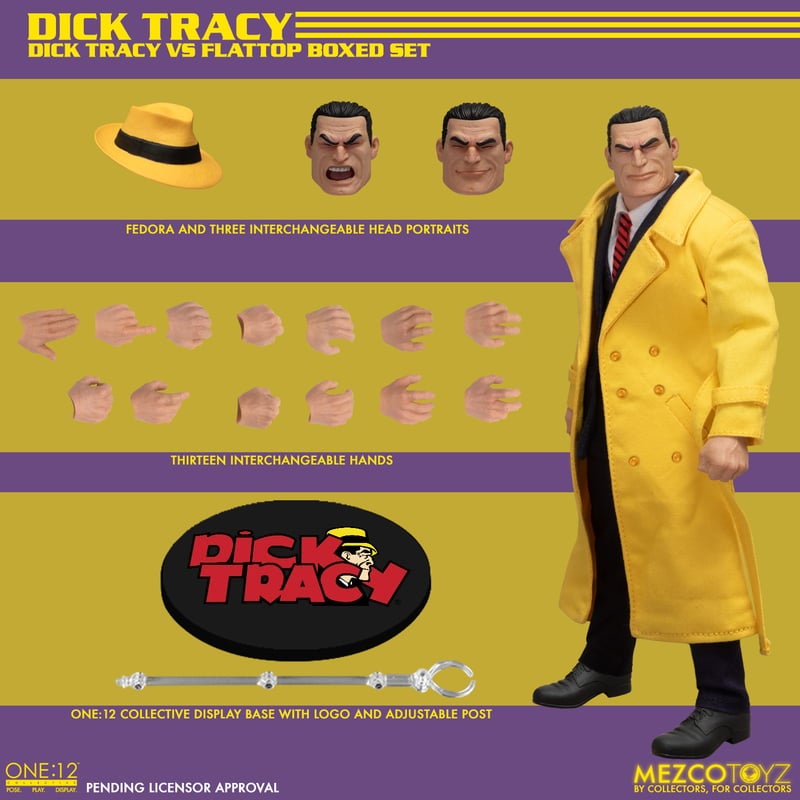 DICK TRACY:
One:12 Collective body with over 28 points of articulation
Three (3) head portraits
Hand painted authentic detailing
Approximately 17cm tall
Twelve (12) interchangeable hands
-One (1) pair of fists (L&R)
-One (1) pair of posing hands (L&R)
-One (1) pair of badge holding hands (L&R)
-One (1) pair of holding hands (L&R)
-One (1) pointing hand (L)
-One (1) open hand (L)
-One (1) trigger finger hand (R)
-One (1) grabbing hand (R)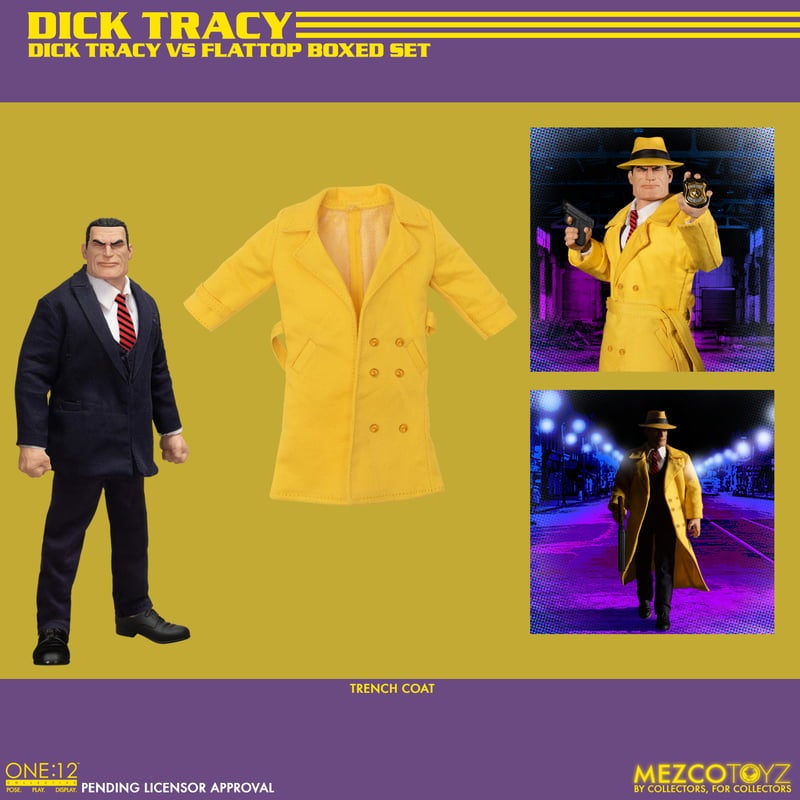 COSTUME:
Fedora
Trench coat
Tailored 3-piece suit
Shoulder holster
Tie
Belt
Dress shoes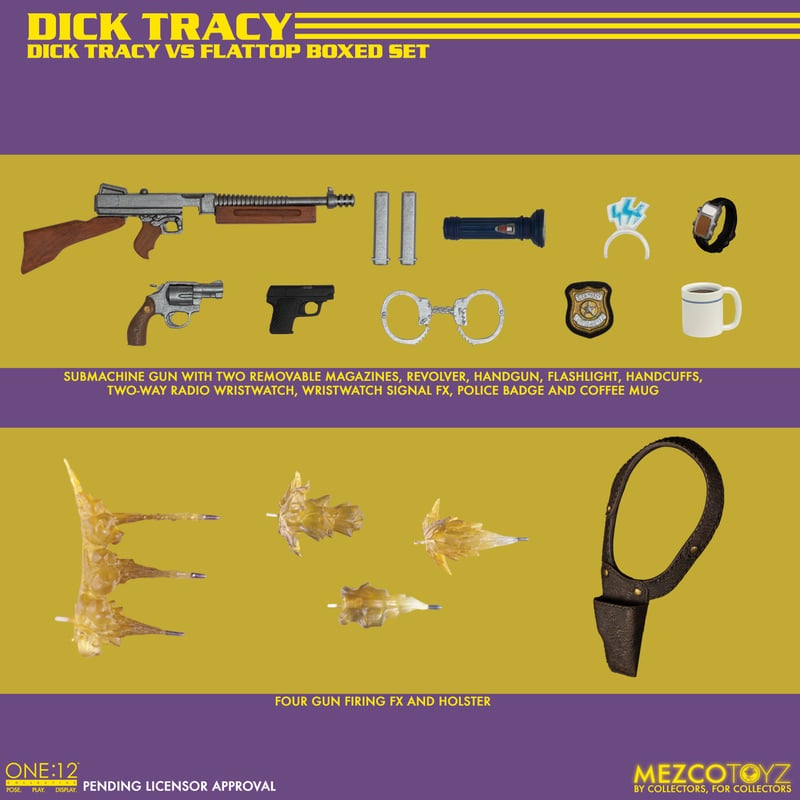 ACCESSORIES:
One (1) pair of handcuffs
One (1) flashlight
One (1) coffee mug
One (1) police badge
One (1) two-way radio wristwatch
One (1) wristwatch signal FX
One (1) submachine gun with two (2) removable magazines
One (1) handgun
One (1) revolver
Four (4) gun firing FX
One (1) One:12 Collective display base with logo
One (1) One:12 Collective adjustable display post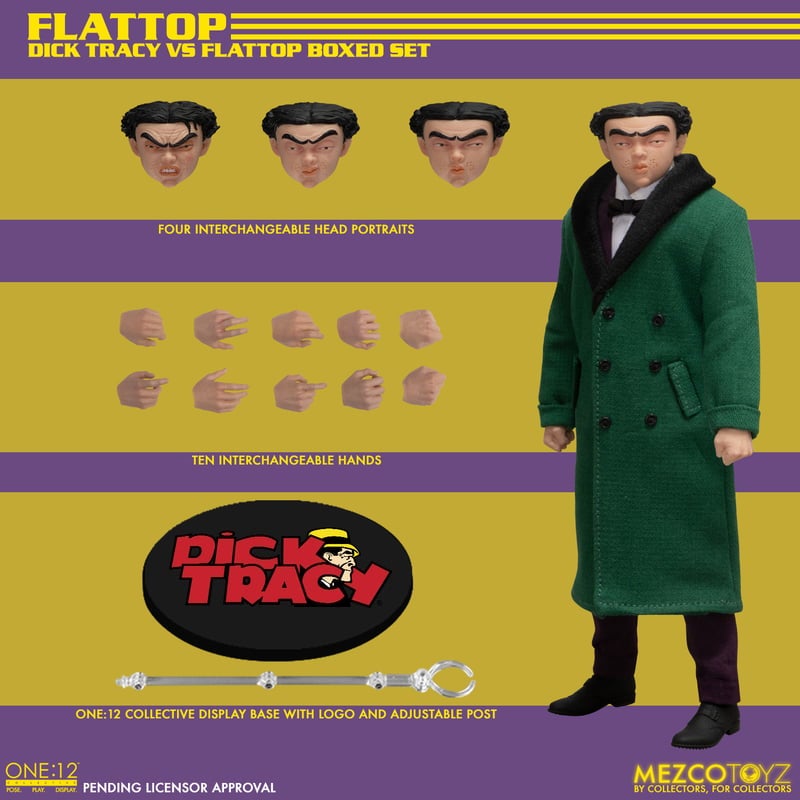 FLATTOP:
One:12 Collective body with over 28 points of articulation
Four (4) head portraits
Hand painted authentic detailing
Approximately 17cm tall
Ten (10) interchangeable hands
-One (1) pair of fists (L&R)
-One (1) pair of posing hands (L&R)
-One (1) pair of holding hands (L&R)
-Two (2) pairs of gun holding hands (L&R)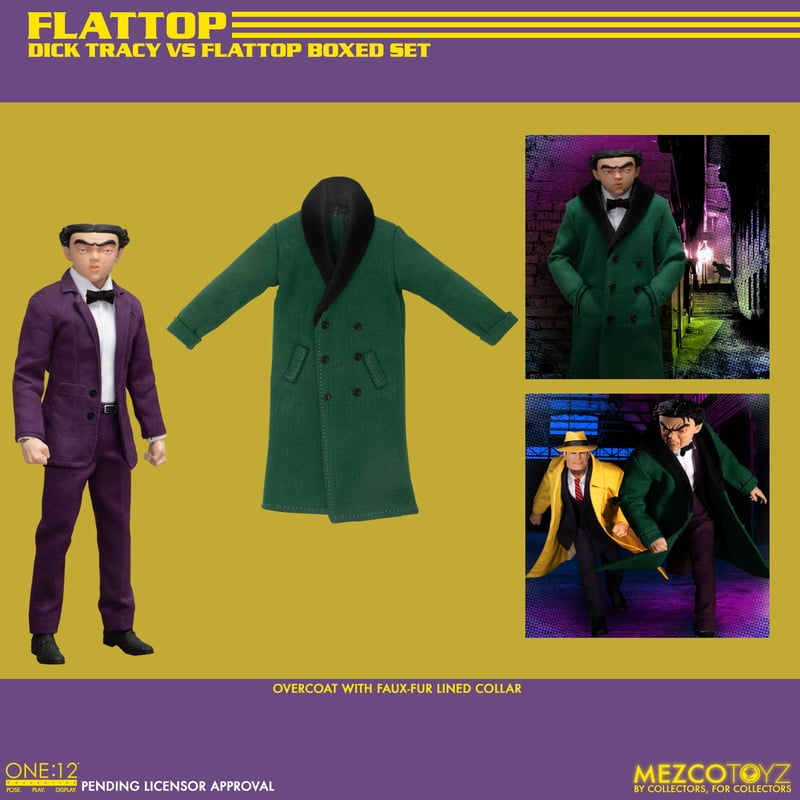 COSTUME:
Overcoat with faux-fur lined collar
Tailored suit
Tie
Belt
Dress shoes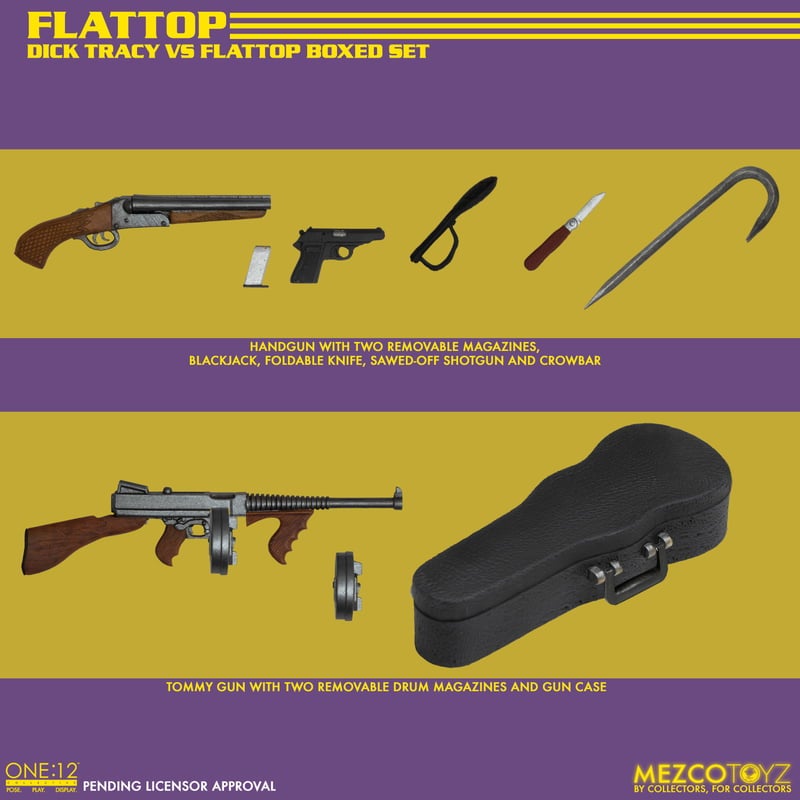 ACCESSORIES:
One (1) gun case
One (1) crowbar
One (1) foldable knife
One (1) blackjack
One (1) tommy gun with two (2) removable drum magazines
One (1) handgun with two (2) removable magazines
One (1) sawed-off shotgun
One (1) One:12 Collective display base with logo
One (1) One:12 Collective adjustable display post
---