Sidekick, son, and one half of the Dynamic Duo, Robin joins the One:12 Collective! This figure is priced at $95 with shipping in May – July 2023.
The One:12 Collective Robin wears an armored tunic with 'R' insignia over his fitted bodysuit, utility belt, and hooded, serrated cape with an integrated posing wire. The Boy Wonder comes with 3 head portraits with various expressions.
Robin is more than equipped to defend Gotham City on his own and comes complete with multiple birdarangs, katana, bow and arrows, bo staff, and more.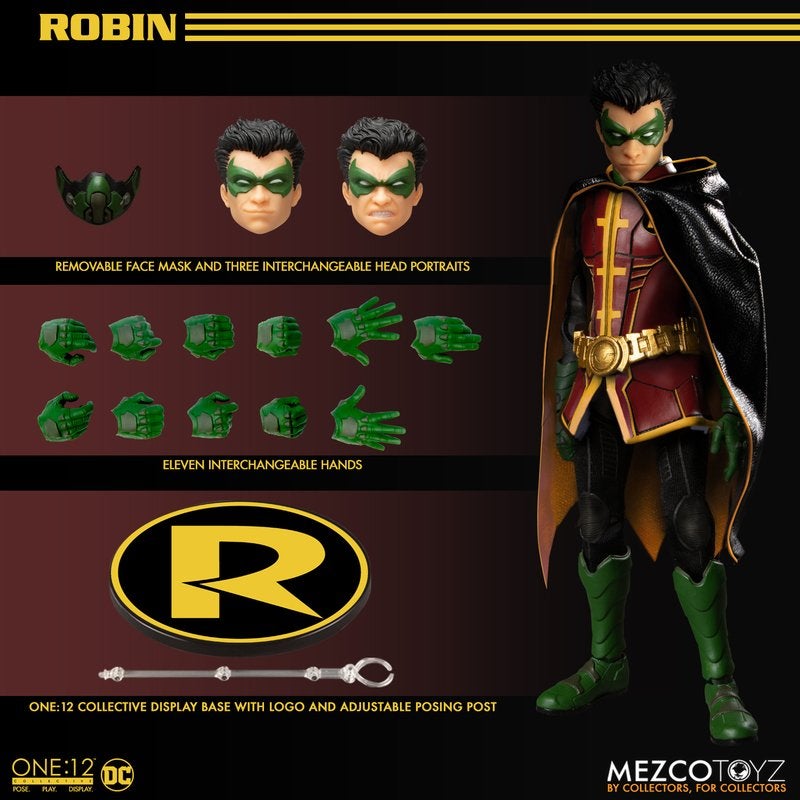 THE ONE:12 COLLECTIVE ROBIN FIGURE FEATURES:
One:12 Collective body with over 30 points of articulation
Three (3) head portraits
Hand painted authentic detailing
Approximately 16cm tall
Eleven (11) interchangeable hands
-One (1) pair of fists (L&R)
-One (1) pair of bow holding hands (L&R)
-One (1) pair of katana/bo staff holding hands (L&R)
-One (1) pair of birdarang holding hands (L&R)
-One (1) pair of posing hands (L&R)
-One (1) relaxed hand (L)
COSTUME:
Hooded, serrated cape with integrated posing wire
Face mask (removable)
Armored tunic with 'R' insignia
Fitted bodysuit
Wrist gauntlets
SAP gloves
Utility belt (removable)
Boots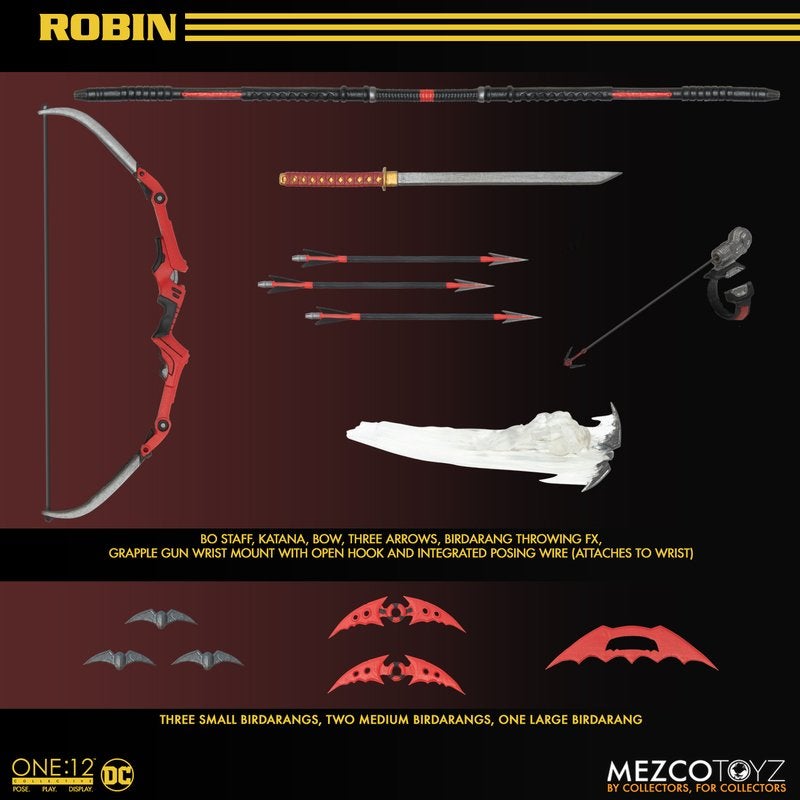 ACCESSORIES:
One (1) bo staff
One (1) katana
One (1) bow
Three (3) arrows
Three (3) small birdarangs
Two (2) medium birdarangs
One (1) large birdarang
One (1) birdarang throwing FX
One (1) grapple gun wrist mount with open hook & integrated posing wire (attaches to wrist)
One (1) One:12 Collective display base with logo
One (1) One:12 Collective adjustable display post
---