The bones are back in town! These hyper-posable, super-spastic deviations of articulation could be playing a dive bar near you! The One:12 Collective Exclusive Pink Skulls Chaos Club Boxed Set is priced at $285.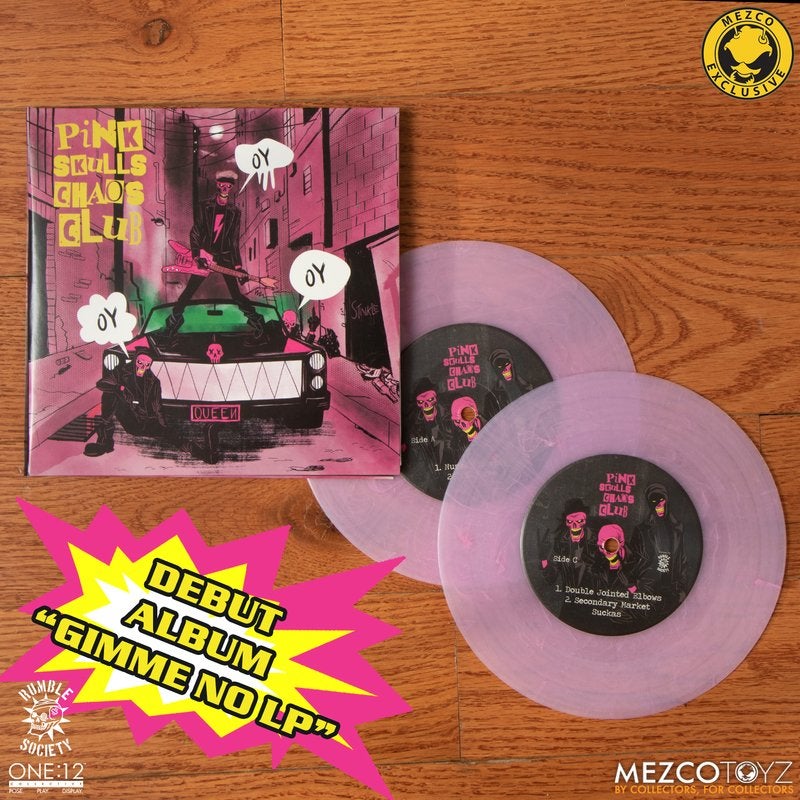 Each Pink Skulls Chaos Club Deluxe Boxed Set comes with the PSCC's debut album, 'Gimme No LP' – a collectible and playable 7", double vinyl record with 8 original songs!
The Pink Skulls are outfitted in their 'on stage' looks with an array of leather-like biker jackets and tons of other duds to mix and match for the show…don't ask to see receipts 'cause there ain't any. Each numbskull comes with 3 head portraits with different expressions, including hinged jaws. If our math is mathin', that's 9 heads total!
The Chaos Club is ready to rock your socks off with the included drum kit, bass, electric guitar, and microphone with stand. What do beer cans, a bomb with interchangeable fuse, and a bloody hockey mask have in common? We have no idea but it was on the rider. Some other noteworthy but strange rider requests – liquor bottles, a submachine gun with removable magazines, a cricket bat, a feather boa, a vintage football helmet, and who knows what else!
The included diorama playset assembles into a concert stage made for shreddin' but built for chaos.
---