"I shall savor your destruction. I am your living hell! Call me Purgatori!"
Premium Collectibles Studio presents the Purgatori 1:3 Scale Statue.
Purgatori measures a showstopping 33.25" tall and 33.5" wide with her demonic wings outstretched over a graveyard scene. The vampire goddess sits on a headstone, holding the skeletal remains of some unfortunate sinner, surrounded by grave dirt, grass, and a rusted gate.
The Purgatori 1:3 Scale Statue is fully sculpted with black costume pieces featuring small gold accents, including her bikini top and bottom, a choker, long gloves, and thigh-high boots. Her red and black wings have veined details and large talons at each end. Purgatori's portrait features sculpted black hair, striking yellow eyes, pointed horns, and vampire fangs peeking out behind parted red lips. An ankh necklace representing her past life completes her signature look.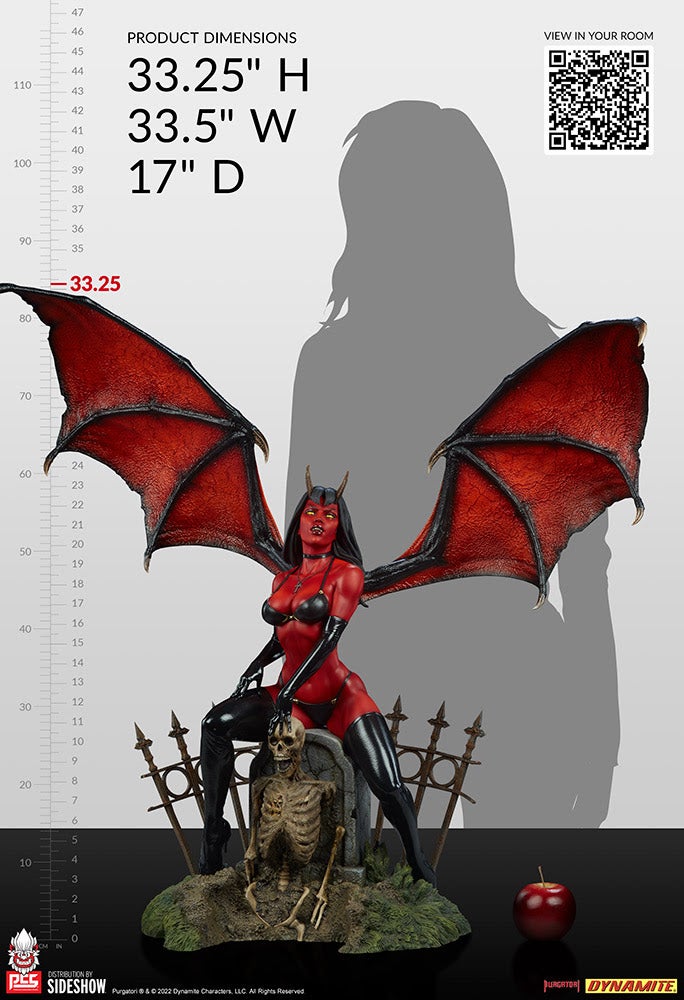 PURGATORI 1:3 STATUE
– MSRP : $1,375
– Approx Dims 33.25"H x 33.5"W x 17"D
– Est Ship Date: Dec 2022 – March 2023
– Edition Size : TBD
– Includes :
Fully Sculpted Figure
Detailed Environment Base
Swappable alternate bangs
---