It seems like only yesterday that we were taking an advance look at the WizKids Games Marvel HeroClix Avengers/Fantastic Four Empyre set, and we're already back to check out the next expansion! I was really excited for this one when the announcements first came out, as I'm a big fan of the Asgardian section of the Marvel comics universe. And this isn't just Avengers and Asgard-related, no. Marvel HeroClix The Avengers War of the Realms is the latest full expansion set that celebrates the recent storyline and multiple different sub-themes with a massive 68 new figures! It's got Masters of Evil, Guardians of the Galaxy, Champions, Spider-Man Family members, and so much more. And today we're going to look at the contents of a full booster brick along with its Legacy Card as well as the War of the Realms Dice & Token Pack and Play at Home Kit!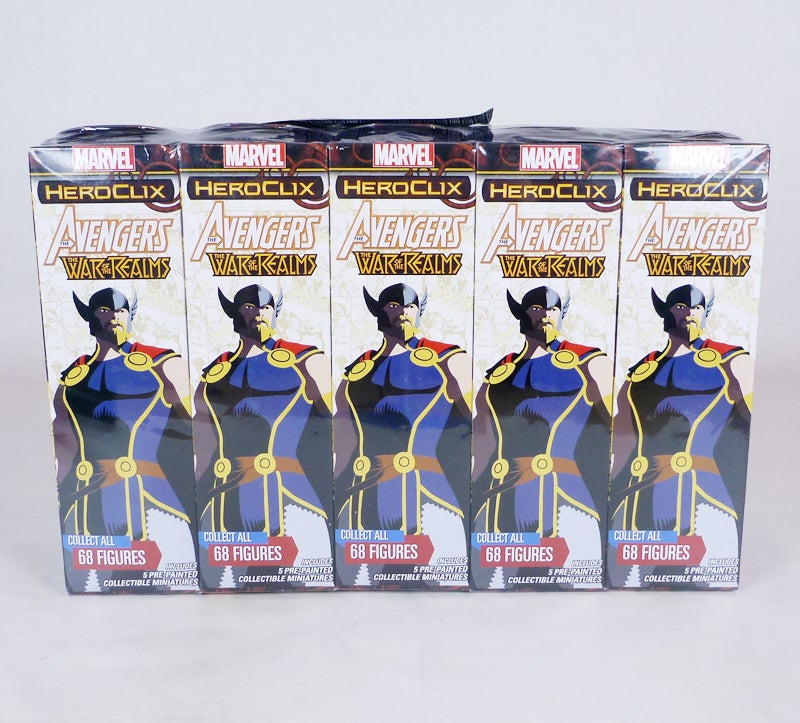 The War of the Realms booster boxes are pretty iconic, with a big image of Thor on the cover. It's in a cool minimalistic style reminiscent of the artwork we saw on the Wonder Woman 80th Anniversary expansion. The sides of the booster box eschew the themes we've seen on recent sets, instead showing off some rad figures from War of the Realms including Spider-Man (Asgardian), Thanos with Infinity Mjolnir, and Malekith. On the back panel you'll find the usual HeroClix info along with an image of one of the set's amazing chase figures: Human Torch!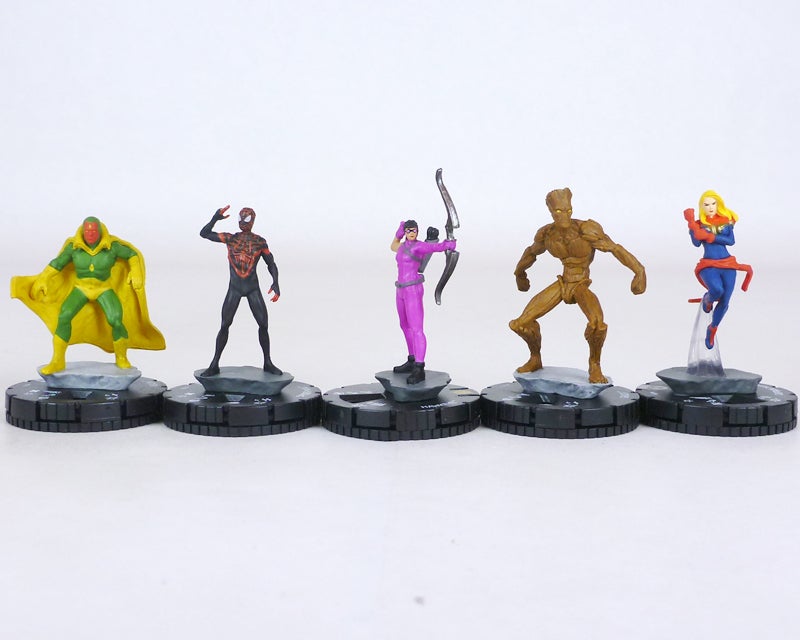 Booster 1
003 Vision
008 Spider-Man
012 Hawkeye
022 Groot
039 Captain Marvel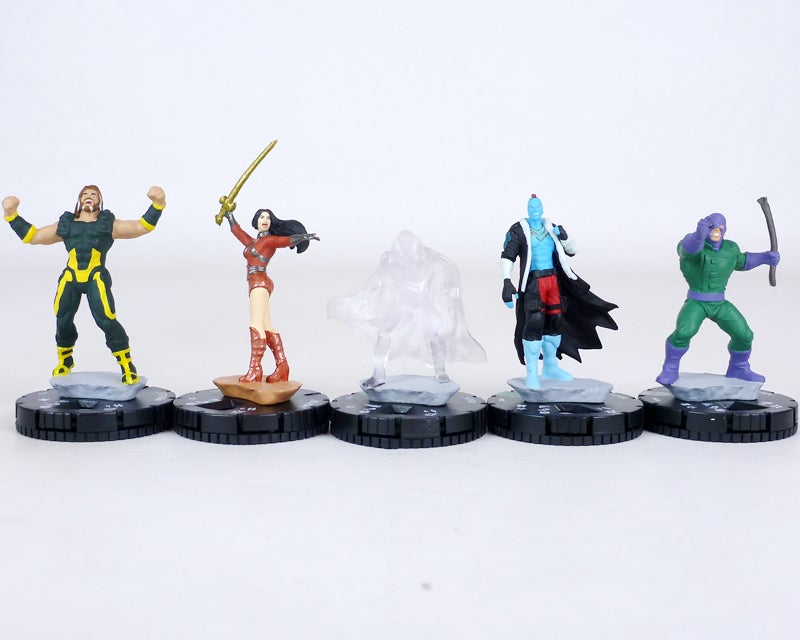 Booster 2
014 Hercules
015 Lady Sif
019 Vision
025 Yondu
043a Wrecker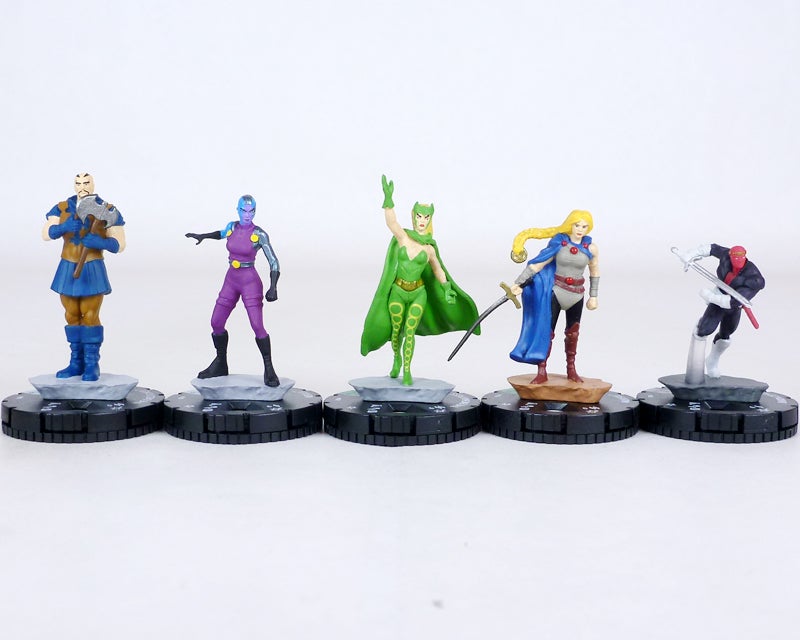 Booster 3
005 The Executioner
010 Nebula
020 The Enchantress
026 Valkyrie
036 Baron Zemo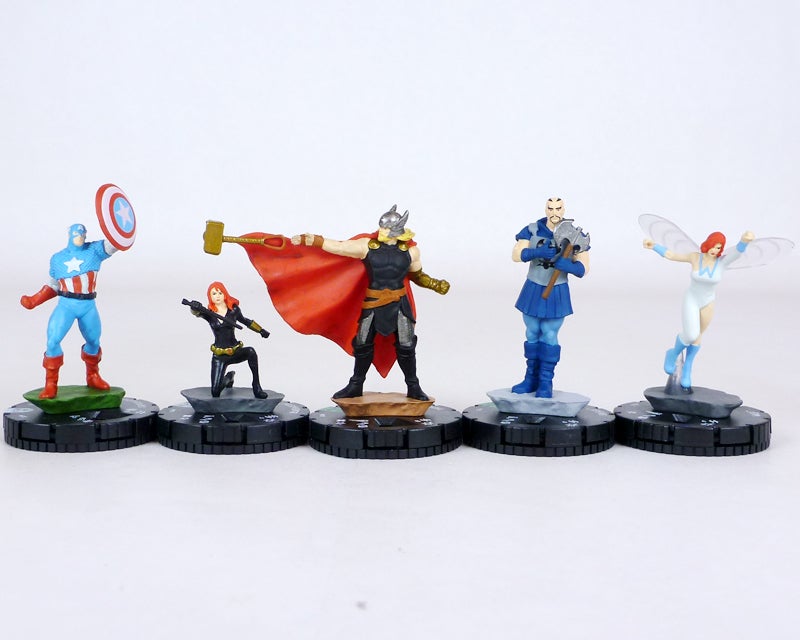 Booster 4
002 Captain America
011 Black Widow
017 Thor
021 Skurge
040 Wasp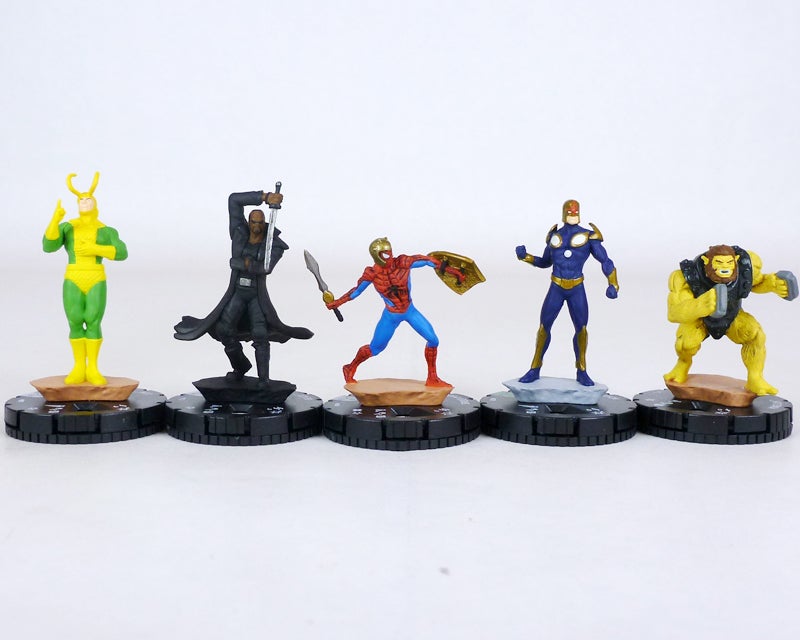 Booster 5
007 Loki
013 Blade
016 Spider-Man
023 Nova
034 King Ulik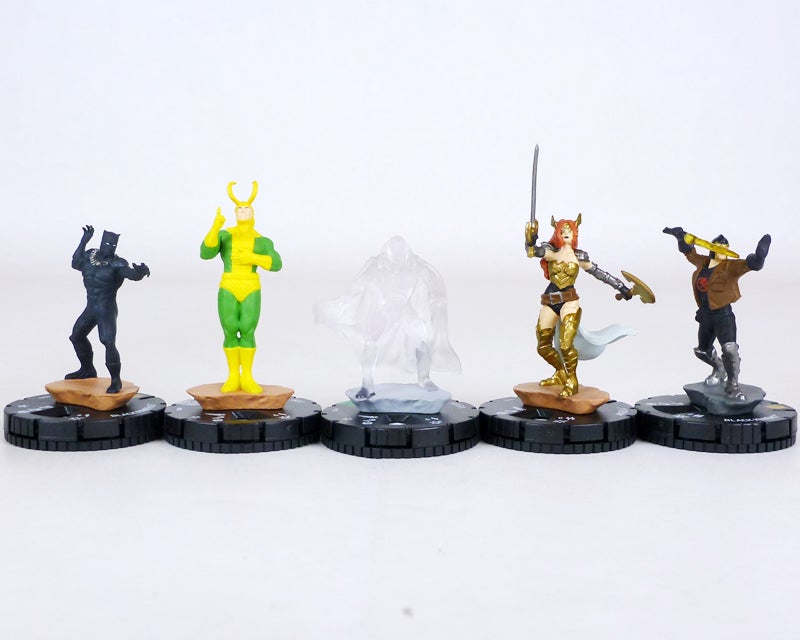 Booster 6
006 Black Panther
007 Loki
019 Vision
029 Angela
033 Black Knight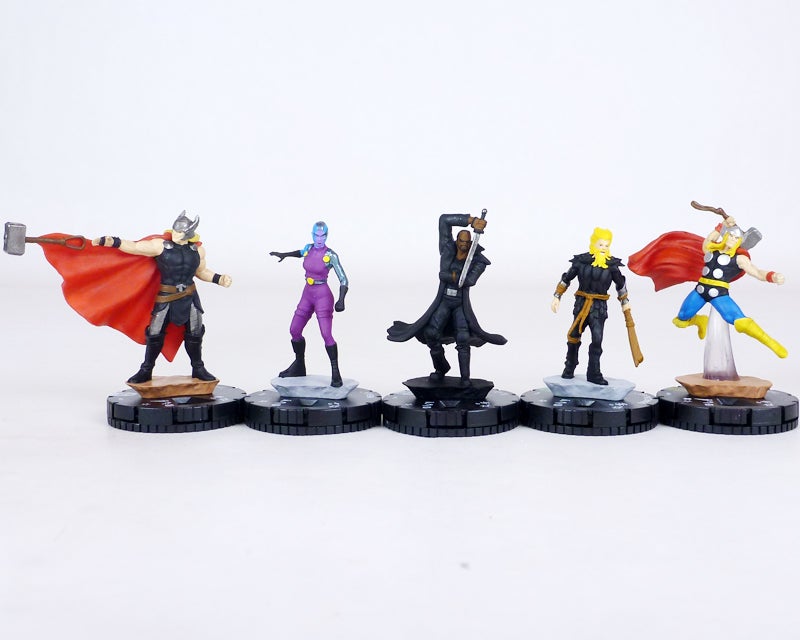 Booster 7
001 Thor
010 Nebula
013 Blade
030 Donald Blake
056 Thor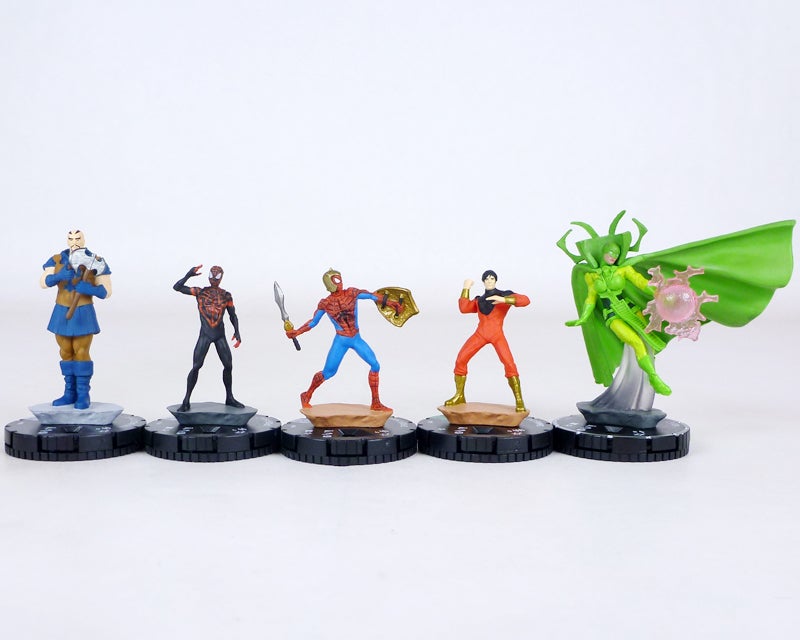 Booster 8
005 The Executioner
008 Spider-Man
016 Spider-Man
027 Shang-Chi
048 Hela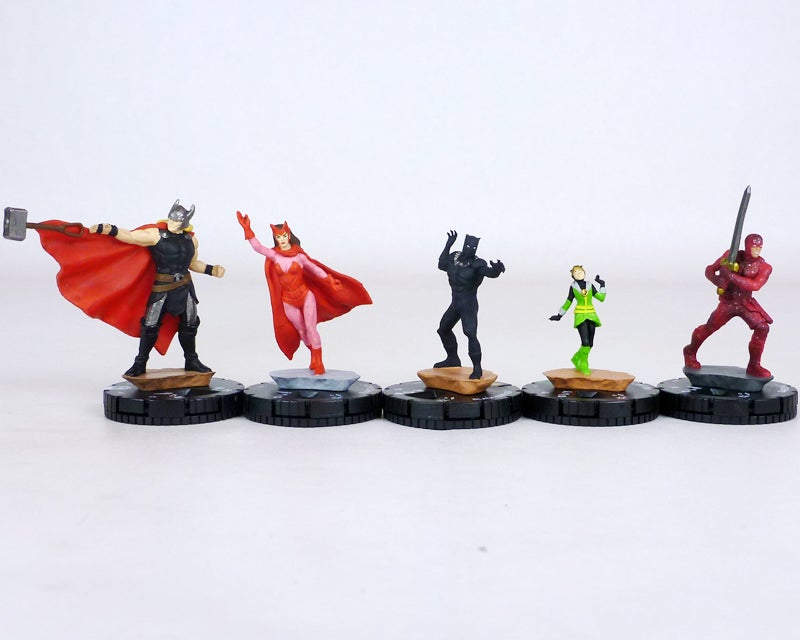 Booster 9
001 Thor
004 Scarlet Witch
006 Black Panther
028 Kid Loki
046 Daredevil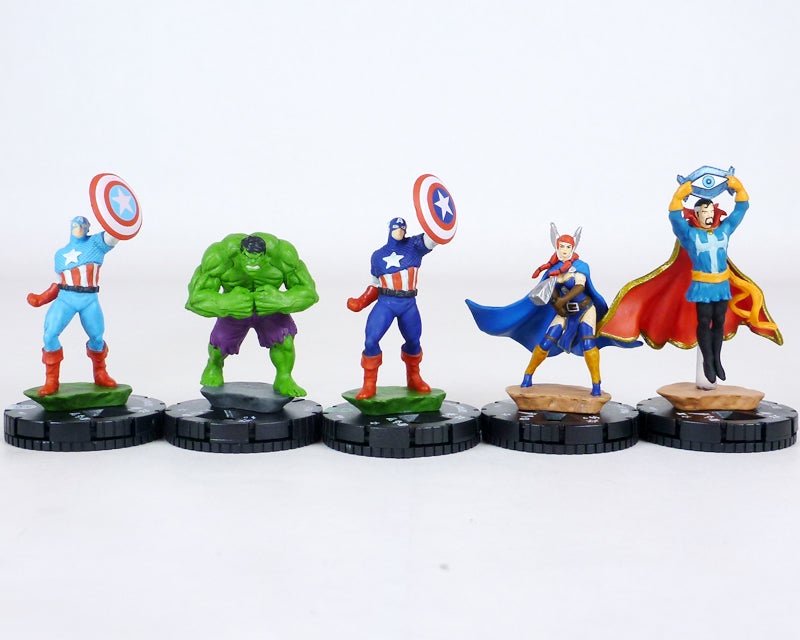 Booster 10
002 Captain America
009 Hulk
018 Captain America
038 Mary Jane
069 Dr. Strange
Here's the full breakdown of the figures in this brick (your results will vary of course):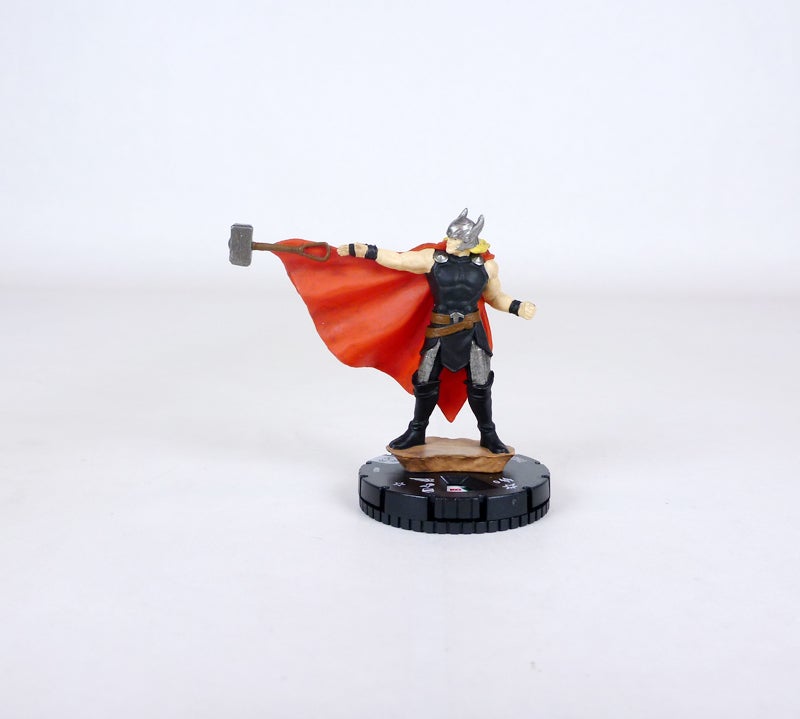 COMMONS (including duplicates)
001 Thor
002 Captain America
003 Vision
004 Scarlet Witch
005 The Executioner
006 Black Panther
007 Loki
008 Spider-Man
009 Hulk
010 Nebula
011 Black Widow
012 Hawkeye
013 Blade
014 Hercules
015 Lady Sif
016 Spider-Man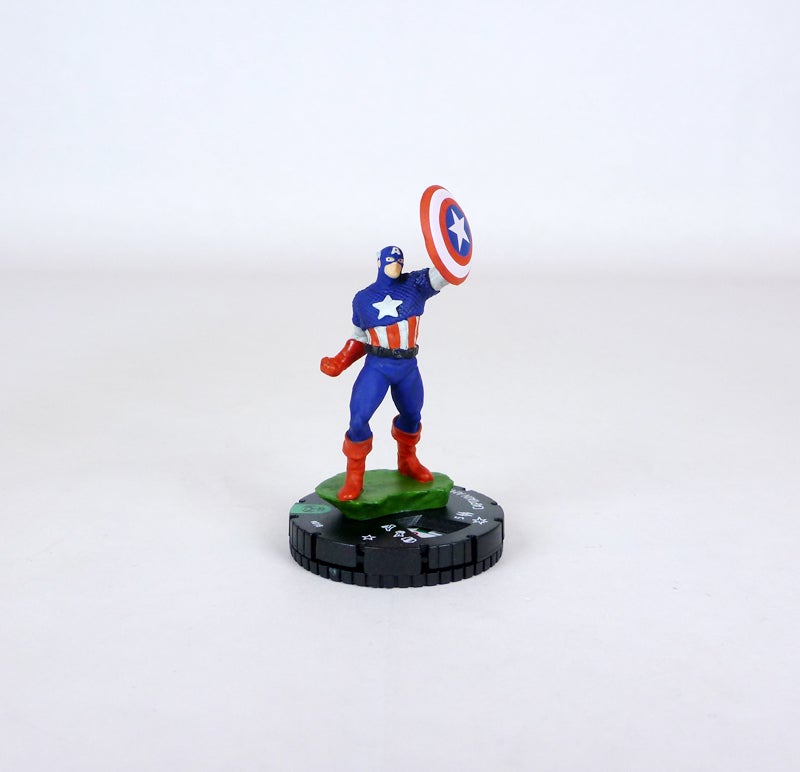 UNCOMMONS (including duplicates)
017 Thor
018 Captain America
019 Vision
020 The Enchantress
021 Skurge
022 Groot
023 Nova
025 Yondu
026 Valkyrie
027 Shang-Chi
028 Kid Loki
029 Angela
030 Donald Blake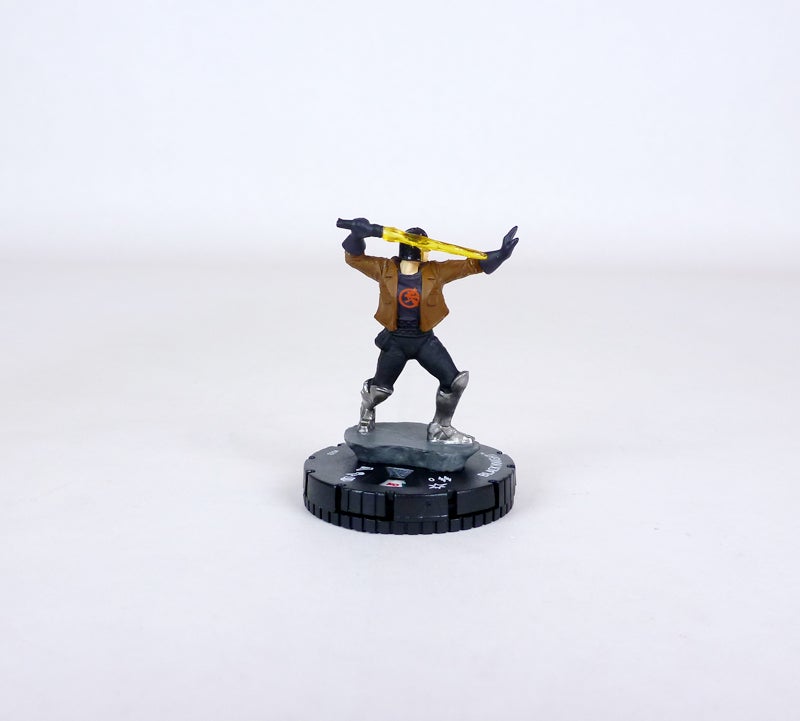 RARES
033 Black Knight
034 King Ulik
036 Baron Zemo
038 Mary Jane
039 Captain Marvel
040 Wasp
043a Wrecker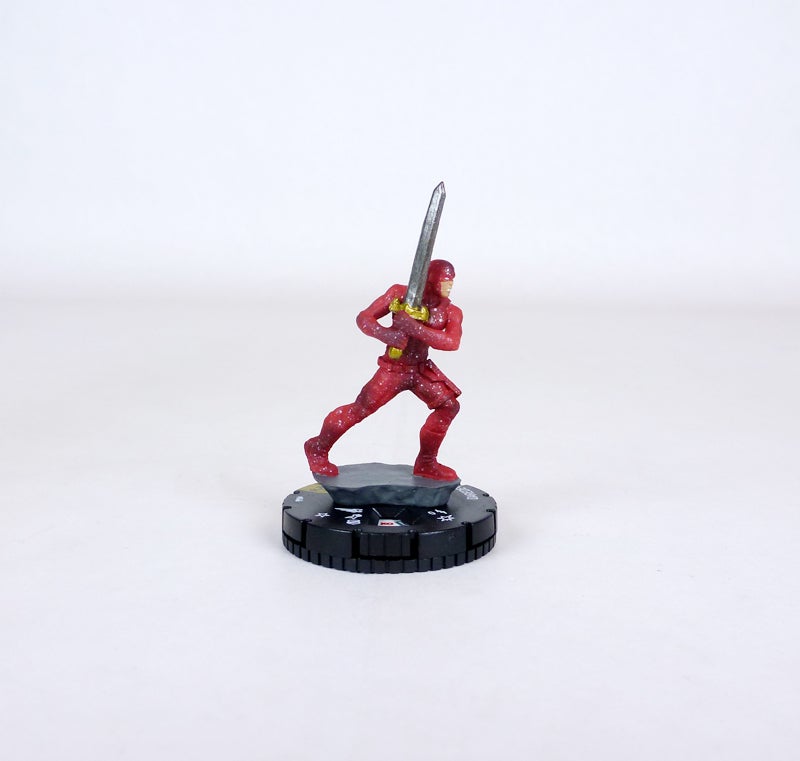 SUPER RARES
046 Daredevil
048 Hela
056 Thor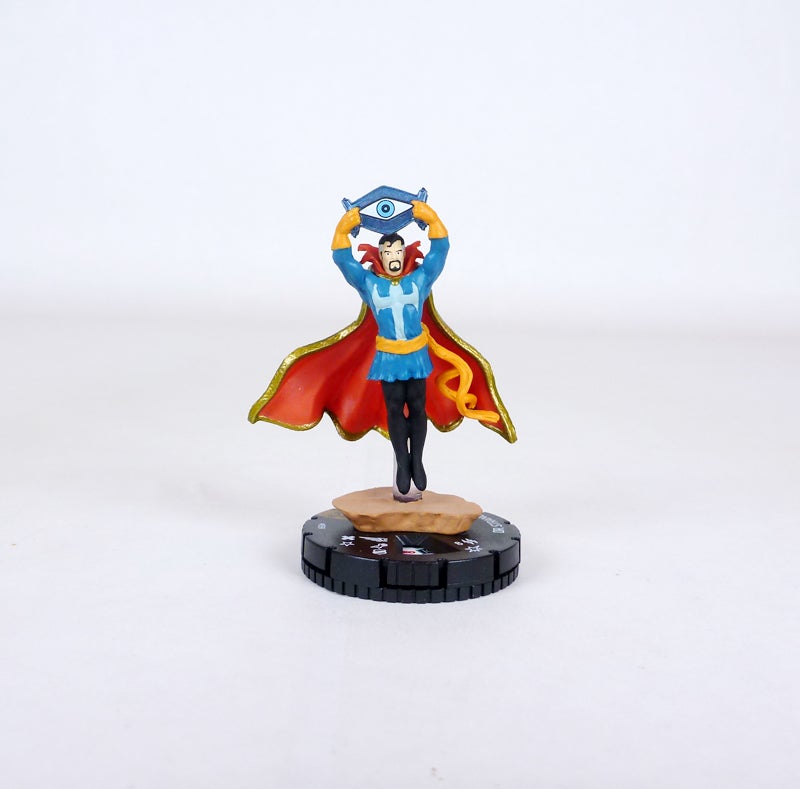 CHASE
So how was the collation in this brick? I'm happy with it! We pulled at least one of each of the 16 common figures, and we're only missing one of the 14 uncommons (with a double of one of those as well). Beyond that you can't expect to get a significant amount of any rarity level, but it's all good with our seven rares out of 16, three super rares (out of 14), and one chase (out of 8). Definitely a good start to a War of the Realms collection. As always, your results will vary.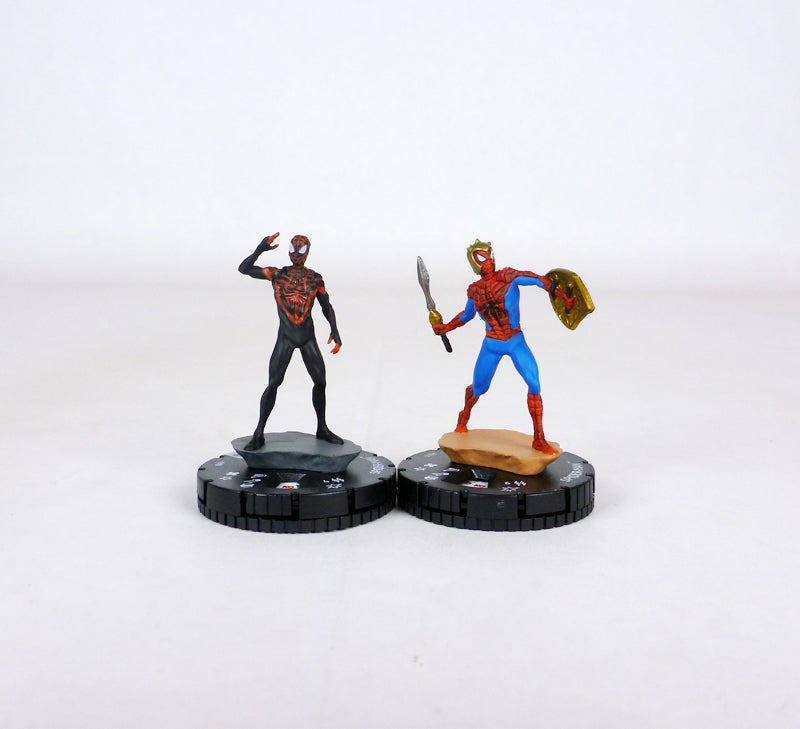 I always enjoy taking a look at the figure selection in each rarity level, and hopefully, you do too! First off are the commons, which establish the main themes and are the figures you'll be pulling most often. Avengers is the first name in the actual title of this expansion, so let's start there. They take up a bulk of the slots here with Captain America, Vision, Scarlet Witch, Black Panther, Miles Morales Spider-Man, Hulk, Black Widow, Kate Bishop Hawkeye, and Blade, plus a couple that fit best in other categories. Asgardian commons include the heroic Thor, Lady Sif, and Peter Parker Spider-Man in Asgardian gear, with baddies Loki and the Executioner. Don't sleep on the Guardians of the Galaxy who have a strong sub-theme that starts here with Nebula and Hercules. Interesting to note, there are no generics! This is both good and bad, as you're likely to pull all of these characters with a handful or more of boosters, but at the same time doubles aren't going to help you very much (except for Loki who plays best with multiples).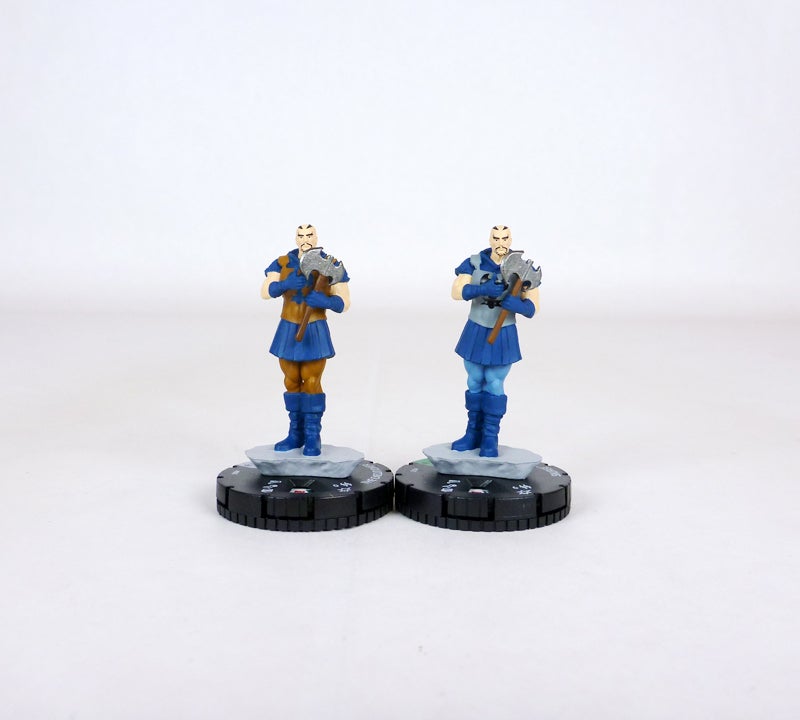 The uncommons bring on more of the same, with Avengers getting second doses of Captain America and Vision along with a cool new Shang-Chi. Asgardians have another Thor, everyone's favorite Kid Loki, and Angela, with the Enchantress and Donald Blake going over to the dark side. Meanwhile, there are a bunch more Guardians (some with overlapping keywords, of course) with Skurge, Groot, Nova, Yondu, and Valkyrie!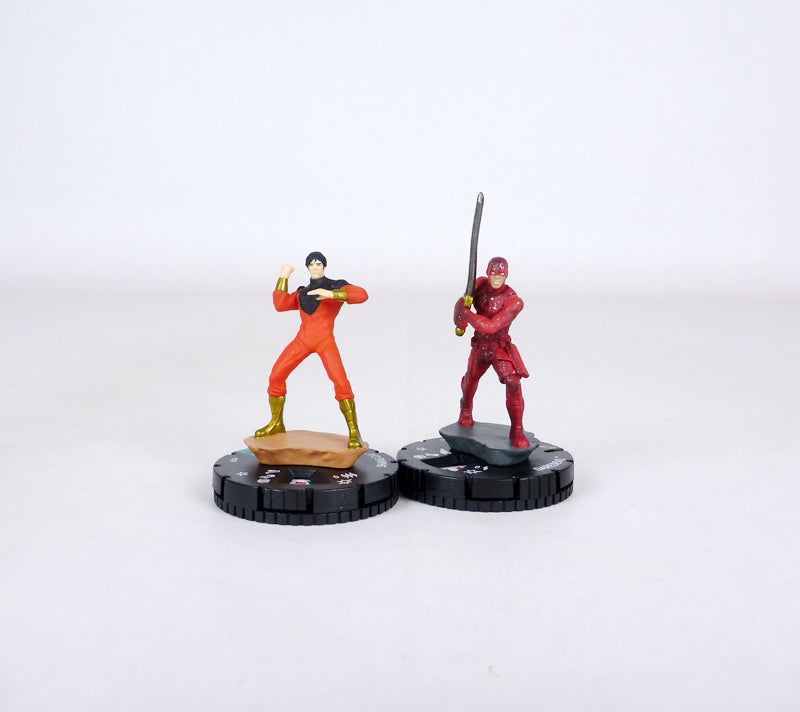 Masters of Evil is another sub-theme in the set, with some of the lower rarity figures featuring that keyword in addition to the more popular ones. Here in the rares there are two more, the iconic "Master" Baron Zemo and Wrecker who's the only one of the Wrecking Crew we pulled. Our Asgardians are fewer at this level with Mary Jane and the evil King Ulik, while the Avengers are still pulling their weight with Black Knight, a classic Wasp, and even Captain Marvel with the Guardians of the Galaxy keyword.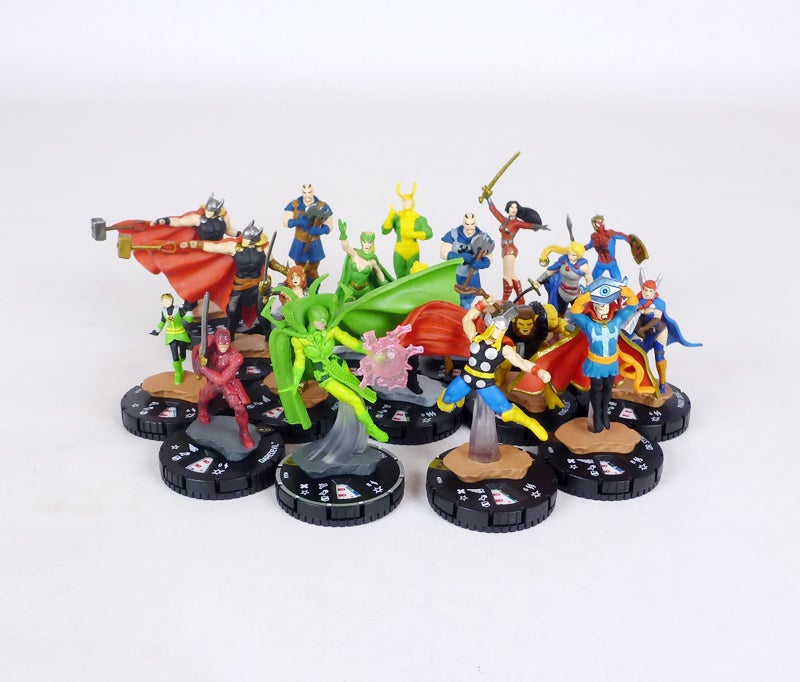 The rarest figures in this brick are all Asgardians, or at least they all have that keyword! It's a fun balance with classic versions of Thor and Hela in the super rares, along with War of the Realms storyline updates on Daredevil (with Heimdall's sword Hofund) and chase Dr. Strange casting the warlock's eye.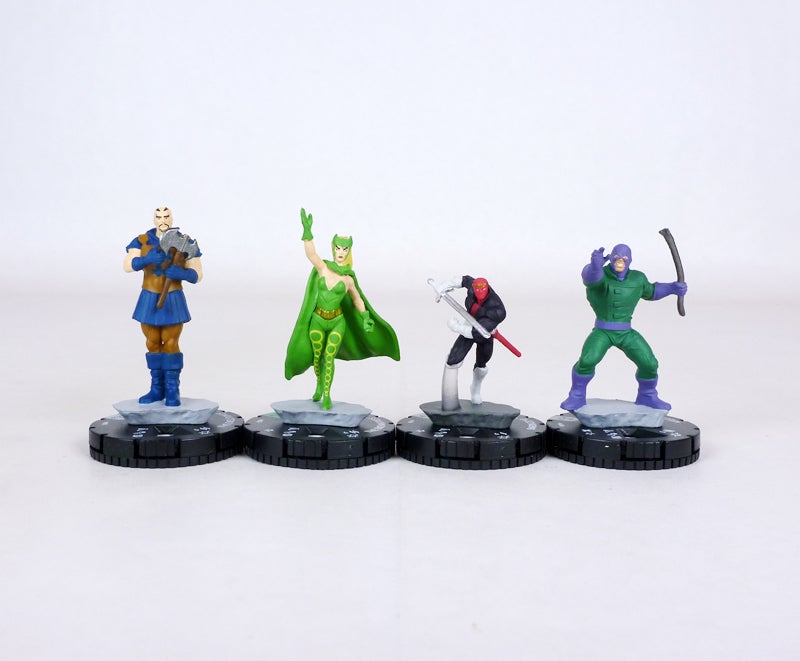 A quick glance at the character cards shows a similar use of recent mechanics from the last few sets, featuring bystander token generation, Recruiters, and some Rally Dice. Notably, there aren't any Allies, Captains, or Sidekicks among these pulls. Also returning are some well-loved mechanics like Shifting Focus (letting you switch between different versions of the same character) and Loki's trick of bringing duplicates that conceal which one is the true god.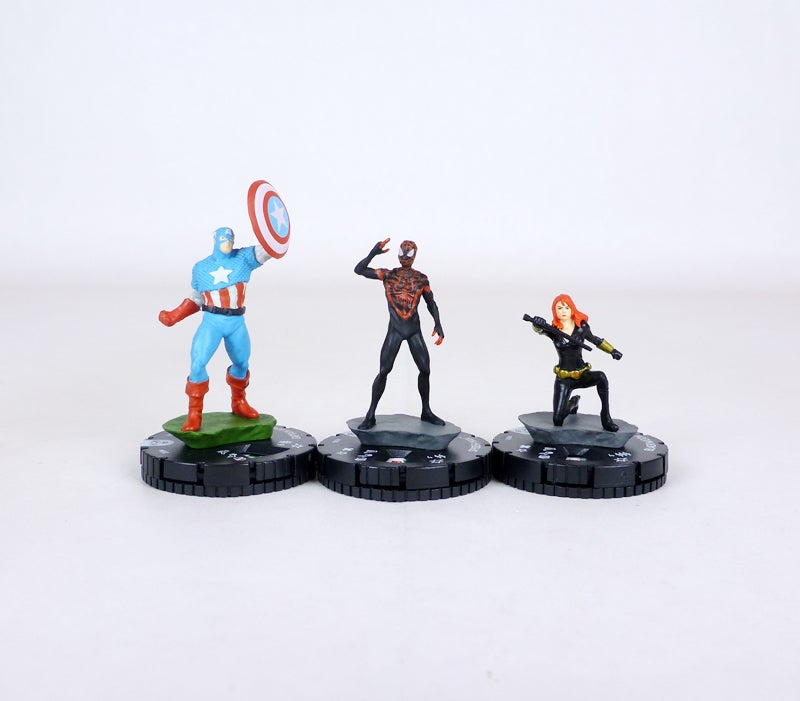 It's not an exaggeration to say that HeroClix figures look great; they're pretty much the pinnacle of pre-painted miniatures with regard to a variety of looks, quality of sculpts and paint jobs, detailing, and more. Heck, you can see for yourself in any and all of the photos throughout this review. Rather than list a ton of figures that look particularly good I'm going to discuss a few of my absolute favorites and what put them on that list. Which ones make your top picks?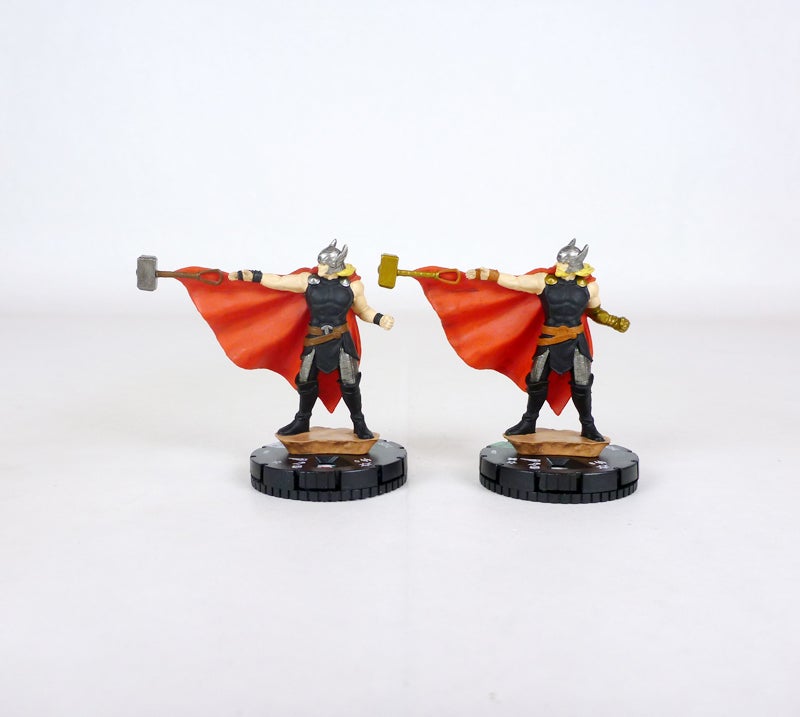 You're inevitably going to see sculpt reuse in a HeroClix set, and it's always nice when the sculpts re-used are good. That's definitely the case with common/uncommon Thor and Captain America. The Thor in particular is fantastic with a nice sculpt on the figure itself, a billowing cape, and the perfect detail of Mjolnir/gold hammer flying from his hand; the slightly but impactful different paint jobs really make them two different figures. Speaking of, Cap looks cool holding up his shield and the light vs. dark blue are eye-popping. The Executioner and Skurge are great examples of personality in a small miniature, both with regards to the subtle sculpt as the Asgardian tests his axe's edge and with a very well painted face. Black Panther and both Spider-Man figures have iconic poses with well sculpted physiques and nice paint details, while Nebula and Nova have excellent paint applications. Uncommon Angela rocks with a fierce pose and very well-done weapons and armor. As you get into the higher rarities you expect the figures to look great, and in this brick so many of them do. Rares Baron Zemo and Mary Jane take their characters to new places with fantastic poses, while Captain Marvel leaps right off the page with a perfect representation of an iconic cover image. Naturally, all of the super rares and the chase look amazing. Hela is a monster with a tremendous sculpt full of cool details, a mega cloak, energy ball, and more, while the SR Thor is another perfect representation of a classic look from pose to sculpted details and vibrant paint scheme.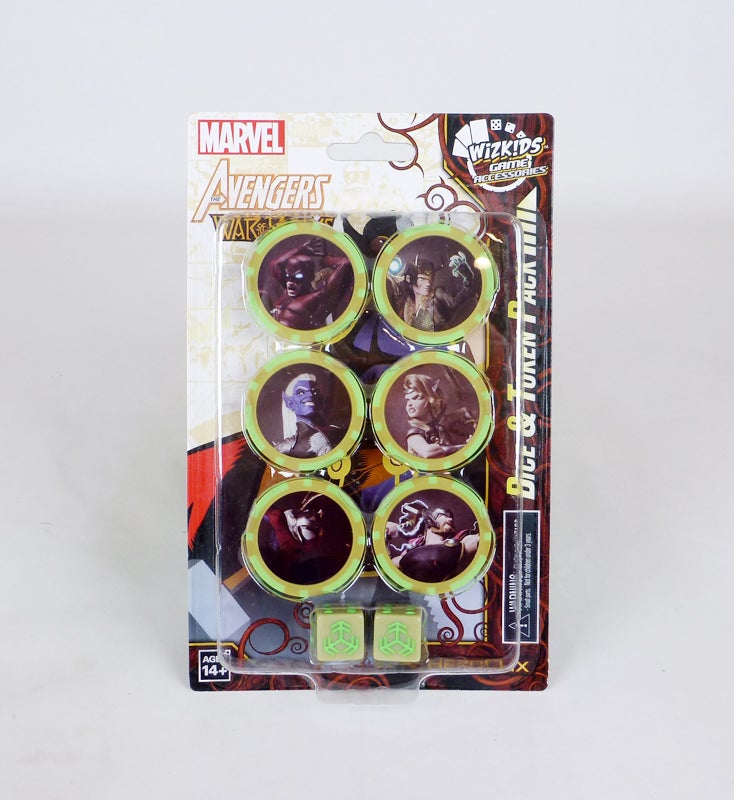 So, you love this set and want to get more? WizKids has you covered! As usual, there's a super fun Dice & Token Pack to elevate and bling out your games. Ditch your boring action tokens and use these heavy-duty poker chip-style tokens, edged in different hues of green and featuring striking artwork of some of the most iconic Asgardians and friends in the set.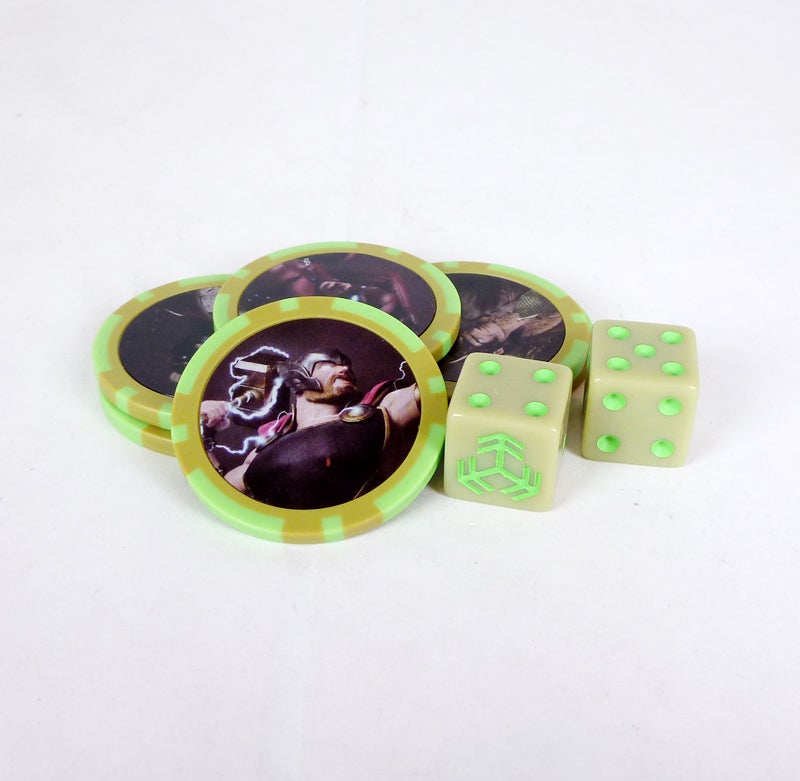 And of course, the reverse sides give you bystander tokens generated by figures in the main set: Mr. Horse, Rock Troll, Draugr Warrior, Bulldozer, Thunderball, and Piledriver. You can't have a Dice & Token Pack without dice; these come in matching green colors with an Asgardian rune on the 6 side.
For those of us still sticking to home games and staying away from big events, Play At Home Kits are perfect for connecting with new players in different locales safely. The War of the Realms version comes with an exclusive figure, a Thor using the same sculpt as the common/uncommon but with a fun Asgardian Recruiter role. The double-sided map offers the outdoor Fountain of Asgard and Fallen Asgard battlefields, both with labeled squares for making remote games a snap!
One of my favorite recent additions to the game of HeroClix is the Legacy Card, and you'll find one attached to full bricks of ten War of the Realms boosters. These cards revive old, long retired figures with new traits and special powers to make them useful once again. With my brick came a card for the ancient Hammer of Thor set Hogun of the Warriors Three! This card drops his point value from 96 to 75 while boosting his trait and special power with lots more power and utility. I love the Warriors Three and will definitely be dusting off my old Hogun, and I'll be looking to see if his brothers in arms also got new Legacy Cards!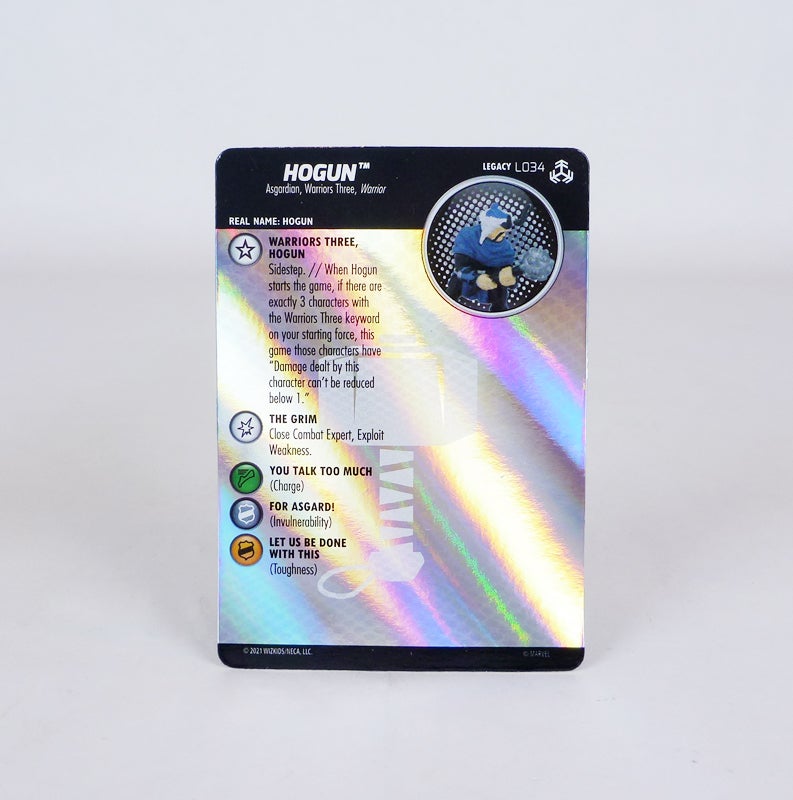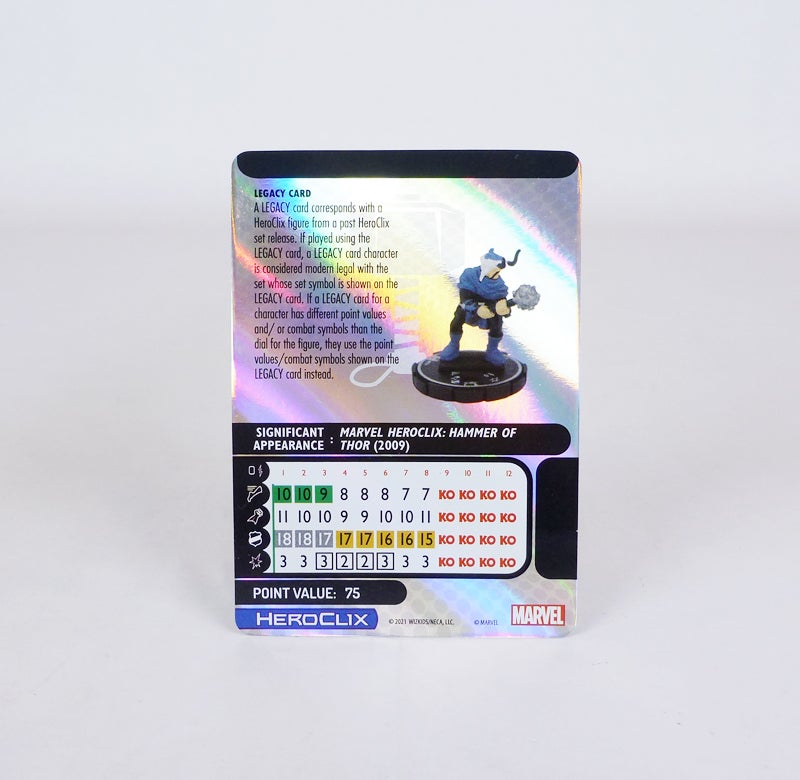 If you're anywhere near as excited as I am about the Avengers War of the Realms HeroClix expansion I have some great news for you: pre-release events are going on right now and everything will be available wherever you buy your HeroClix on February 16th so you don't have long to wait! There will be boosters, Legacy Cards coming with full bricks, the Dice & Token Pack, Play At Home Kit, and also a related Fast Forces pack. Even while the set sticks pretty closely to the Avengers, Asgardians, Guardians of the Galaxy, and Masters of Evil themes, there's a really nice variety of figures that will make your team building fun and interesting. And of course, if you're a fan of those groups, the War of the Realms storyline, or Marvel comics in general this is a set you're going to want to check out. Lastly, and as always, good luck with your pulls!
Visit HeroClix.com for even more info as well as downloads of rules and maps, and stay tuned to Figures.com as we continue our reviews of new HeroClix! If you don't have access to a local comic book or game store at this time you can also order your HeroClix directly from the WizKids website.
Review and photos by Scott Rubin.
Review samples courtesy of WizKids Games.
We are committed to finding, researching, and recommending the best action figures and collectibles. We earn commissions from purchases you make using the retail links in our product reviews. Learn more about how this works.
---
BOOSTERS
DICE TOKEN
LEGACY
PLAT AT HOME
---