The Loyal Subjects has teamed up with the Topps trading card company to produce collectible figures and pull-back racers based on the original Garbage Pail Kids property.
The figural sets stand 4.5 inches tall, and resemble a 3D representation of the trading card characters; complete with a figure, a background, a stand, and nameplate mirroring the classic Topps' GPK nameplates flanking the lower third of the trading cards/stickers. The first wave (pictured top) includes classics like Joe Blow, Weird Wendy, Roy Bot, and TeeVee Stevie. The figures come packaged in a collector window box with a dioramic insert, along with an exclusive trading card which can only be found with the TLS x GPK figures! These are available now priced at $16.96 at participating Walmart stores and through Walmart.com.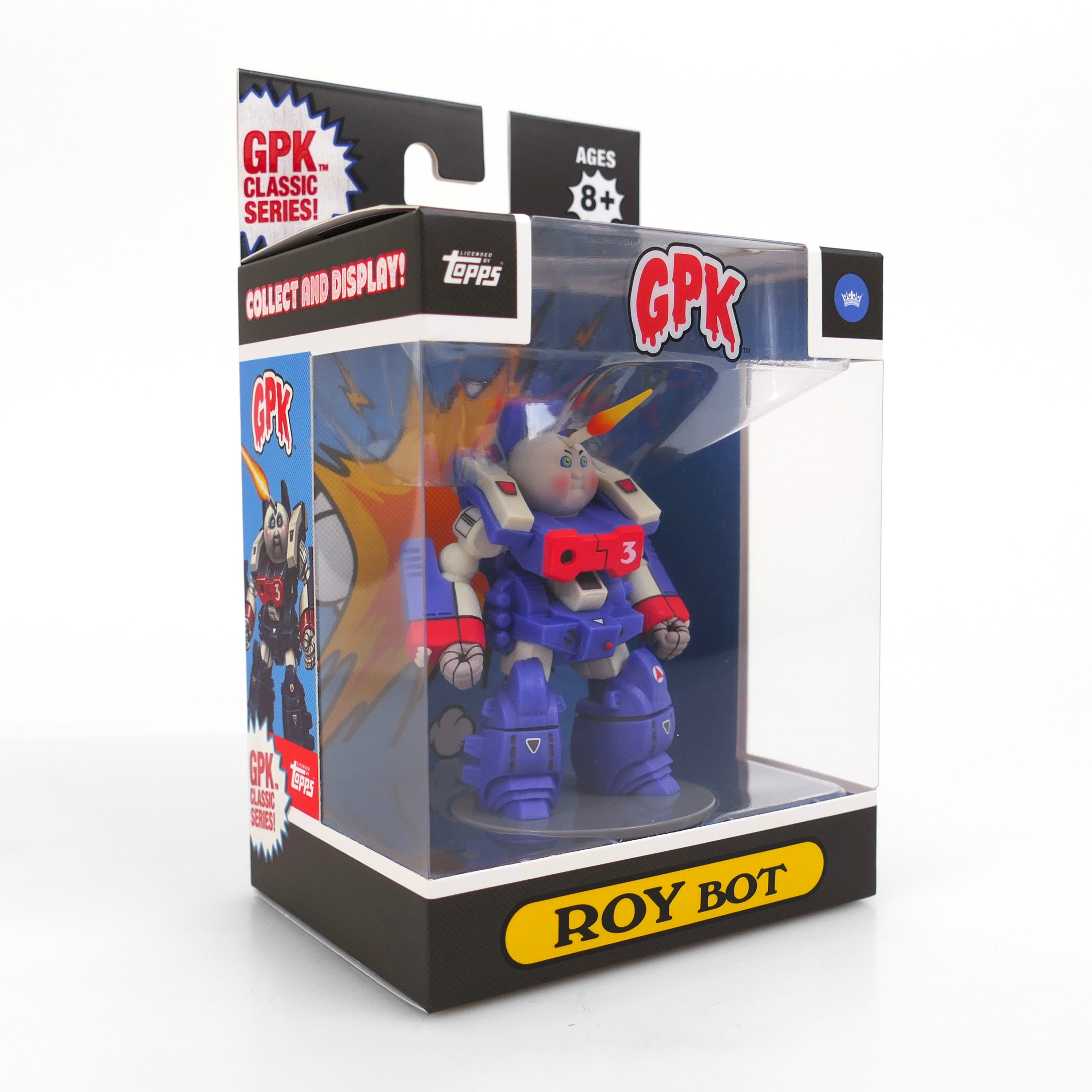 Popular variant characters will be released right behind Series 1, and will include Rod Wad, Haggy Maggie, Hot Head Harvey, and Geeky Gary. Like Series 1, eachs Series 2 figure will come with an exclusive trading card which can only be found with the TLS x GPK items. More waves are in the works, including a Stranger Things x GPK mashup hitting Walmart stores across the US this coming May!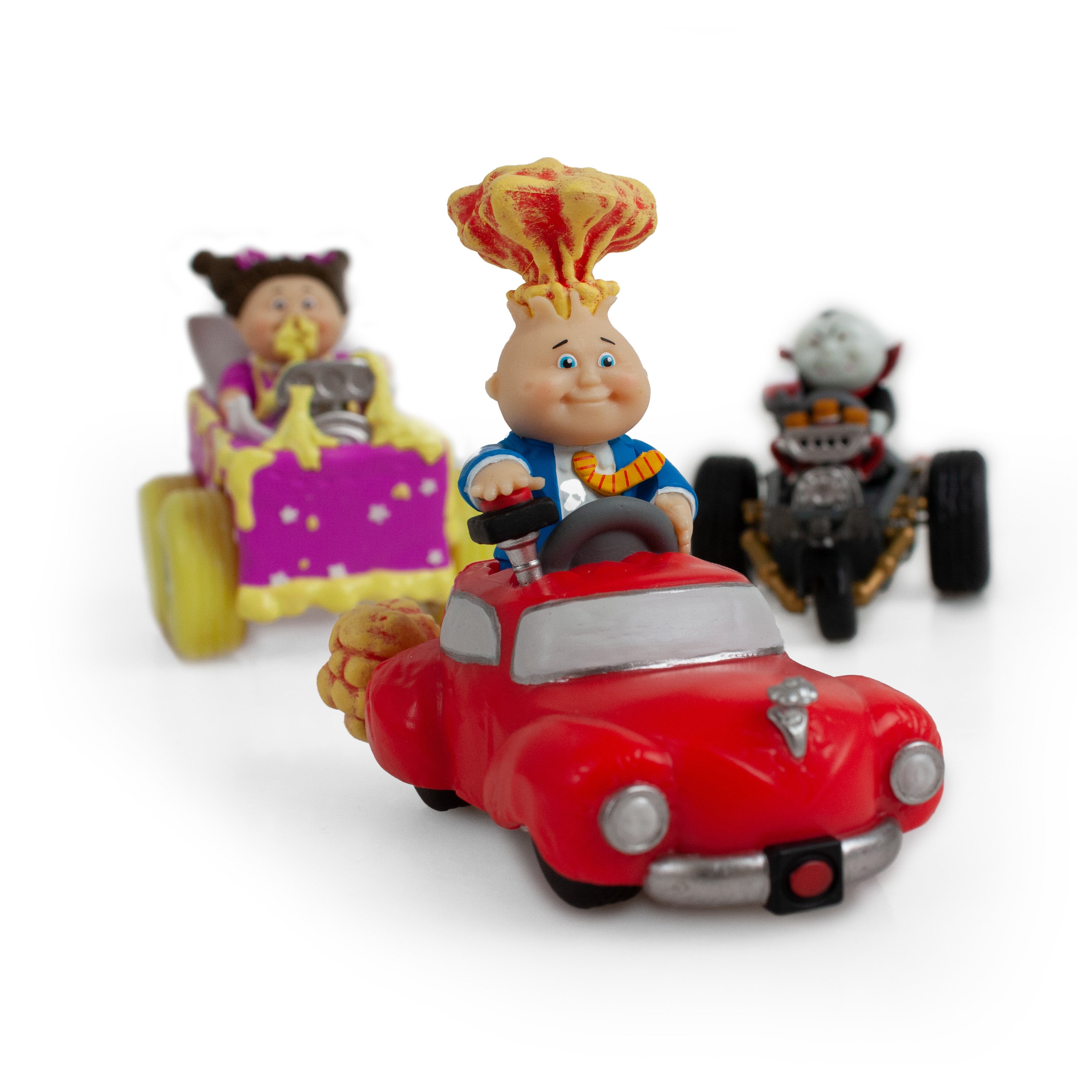 Also available at Walmart stores now are Garbage Pail Krashers ($14.96 each), fast, looney, totally out of control snot laced crash-em-up derby pull-back racers. Each car measures about 3 inches in length and has a pull-back mechanism which revs its engine… pull back once, twice, maybe three times and let 'er rip! These babies fly! Up to 50' on a single pull-back! The first wave of Krashers not only boast an awesome pull-back racer but an extraordinarily detailed driver; Leakey Lindsay with her snot nose – wind whipped and whiplashed boogers pinstriping the flanks of her racer, definitely a tough one to beat! Nasty Nick fueled by his "Type A", and "Type B" vials of blood coursing through the pistons of his Chiller Coffin racer! New Wave Dave, the blistering Krylon-like graffiti pilot rocketing his souped-up graffiti can to top speeds! And of course, Adam Bomb and his Atomic Bomber blasting along the highways, blowing the streets up, turning the asphalt into rubble! Each Krasher comes with an exclusive trading card which can only be found with a TLS x Garbage Pail Krashers.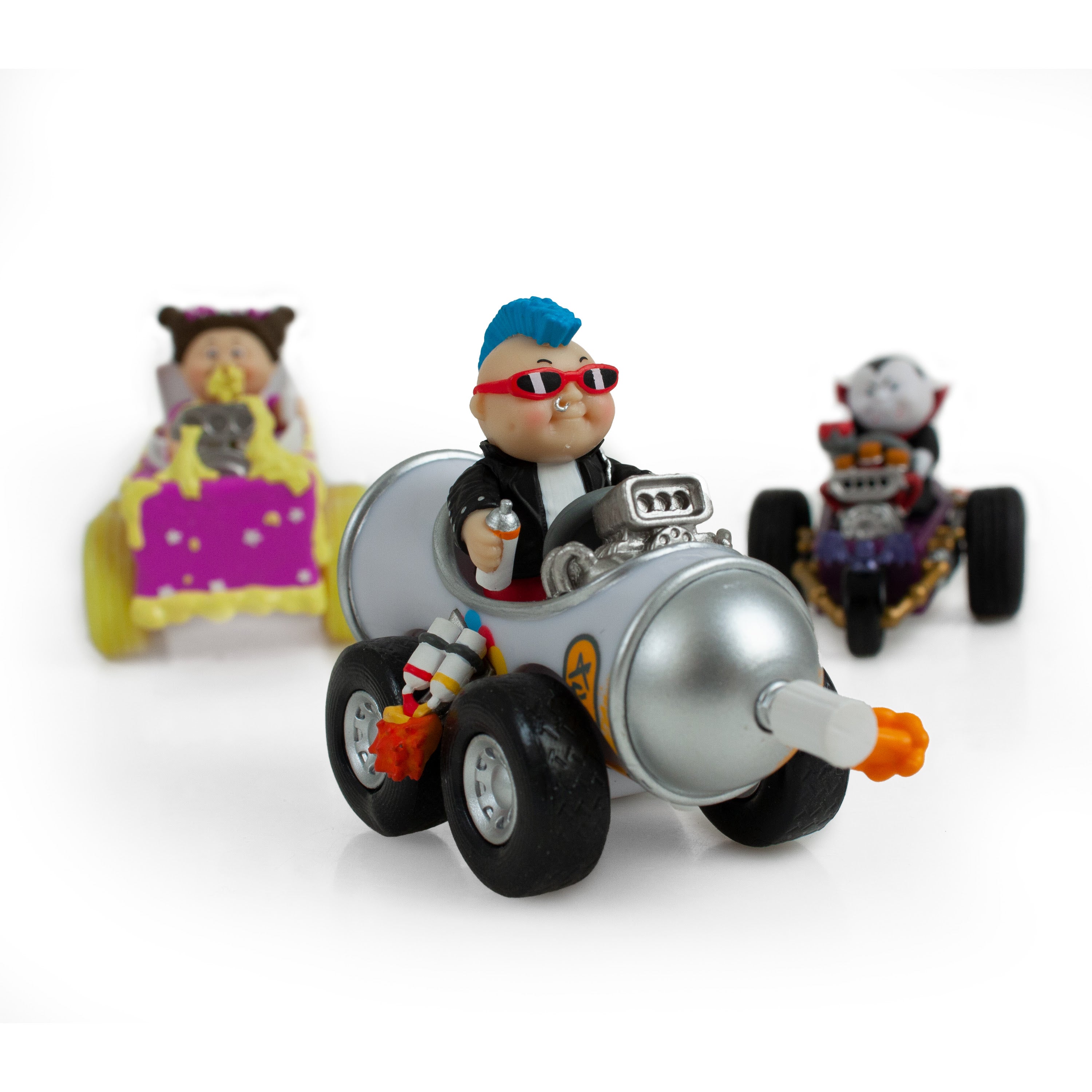 As soon as this first wave flies off the pegs, the ever-so-popular character variants are not far behind; Messie Tessie, Evil Eddie, Blasted Billy, and Graffiti Petey – all with an exclusive GPK trading card. More waves are in the works, keep your eyes on the road!
---