In celebration of the 35th Anniversary of Star Trek: The Next Generation, EXO-6 are releasing their first figure from the landmark television event, Q! This 1/6 museum quality figure will feature John DeLancie's Q in his ceremonial judge's robes with his chain-of-office. The 1/6th scale figure of Judge Q is priced at $205 + $25 flat rate international shipping.
The series began and, seven years later, ended with the appearance of a mysterious omnipotent alien judging humanity for their millennia of misdeeds. In 2022, we will see the return of Jean Luc's beloved nemesis in Star Trek: Picard.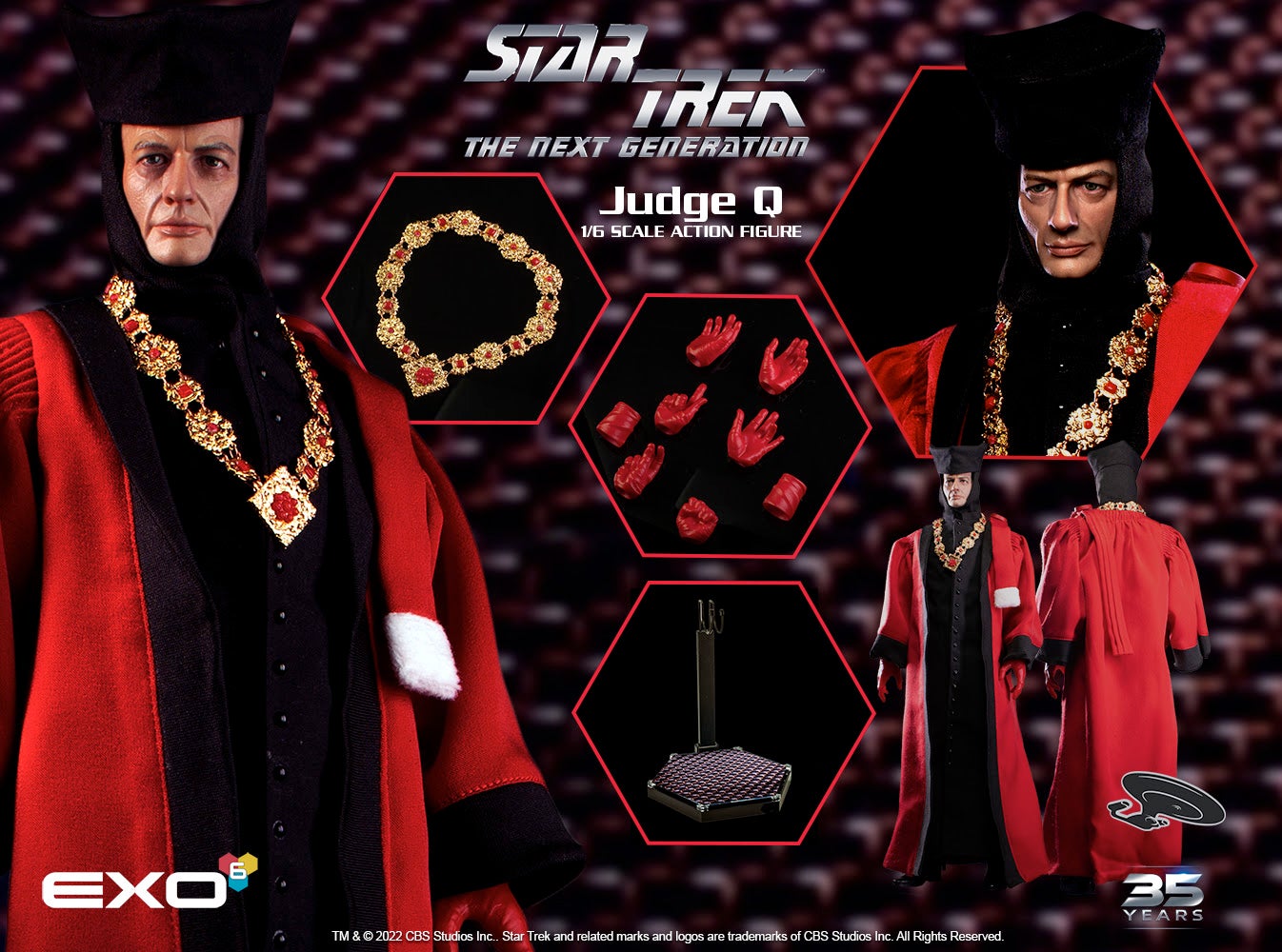 The EXO-6 Q 1:6 Scale Articulated Figure includes:
Fully Articulated Body: More than 30 points of articulation allow the figure to be displayed in multiple dynamic poses, approximately 32 cm tall.
Realistic Portrait: Q's portrait is lovingly rendered by top artists, with an excellent likeness of John de Lancie. Each head sculpt is specially hand-painted.
Judge's robes: Meticulously researched, this costume represents Q as a judge from 2079, a dark time in Earth's history.
Chain of office: The bejeweled gold necklace Q wears as a symbol of his judge status.
Boots: Soft plastic boots sculpted to match the cut and style of the original series footwear.
Hands: A total of six interchangeable gloved hands are included.
Display Base: A hexagonal display base featuring the grid Q uses to hold the Enterprise in place.
Autograph card: An informational LCARS card that can used to get an autograph from the performer and displayed with your figure.
---