"Come on. What did you expect?" – President Loki
How many Loki is too many Loki? In Episode 5 of Marvel Studios' Loki, fans are introduced to a new bunch of Loki variants! Perhaps the most arrogant and pompous Loki – President Loki – shows up and expects to take over the control of the realm until his own army turns on him.
Inspired by Marvel Studios' Loki series, Hot Toys is thrilled to introduce President Loki as a 1/6th scale collectible figure with exclusive collectible items, limited to 1500 pieces worldwide.
Masterfully crafted based on the screen appearance of Tom Hiddleston as President Loki in the series, the figure features a newly developed head sculpt and his horned helmet with delicate craftsmanship, election campaign pin on the suit applied with weathering effects perfectly translating the details; a pair of daggers, greatly detailed accessories such as Alligator Loki in one-sixth scale, a cane, a specially designed character backdrop with lenticular effect, and a themed figure stand.
What's more, the Premium Collector's Edition with unique serial number exclusively includes items such as Loki T-shirt, mini lightbox, keychain, badge, TVA pin, notepad, cardholder, 1/6th scale posters, trading cards, and themed stickers to indicate your fandom.
Release date: Approximately Q1 – Q2, 2023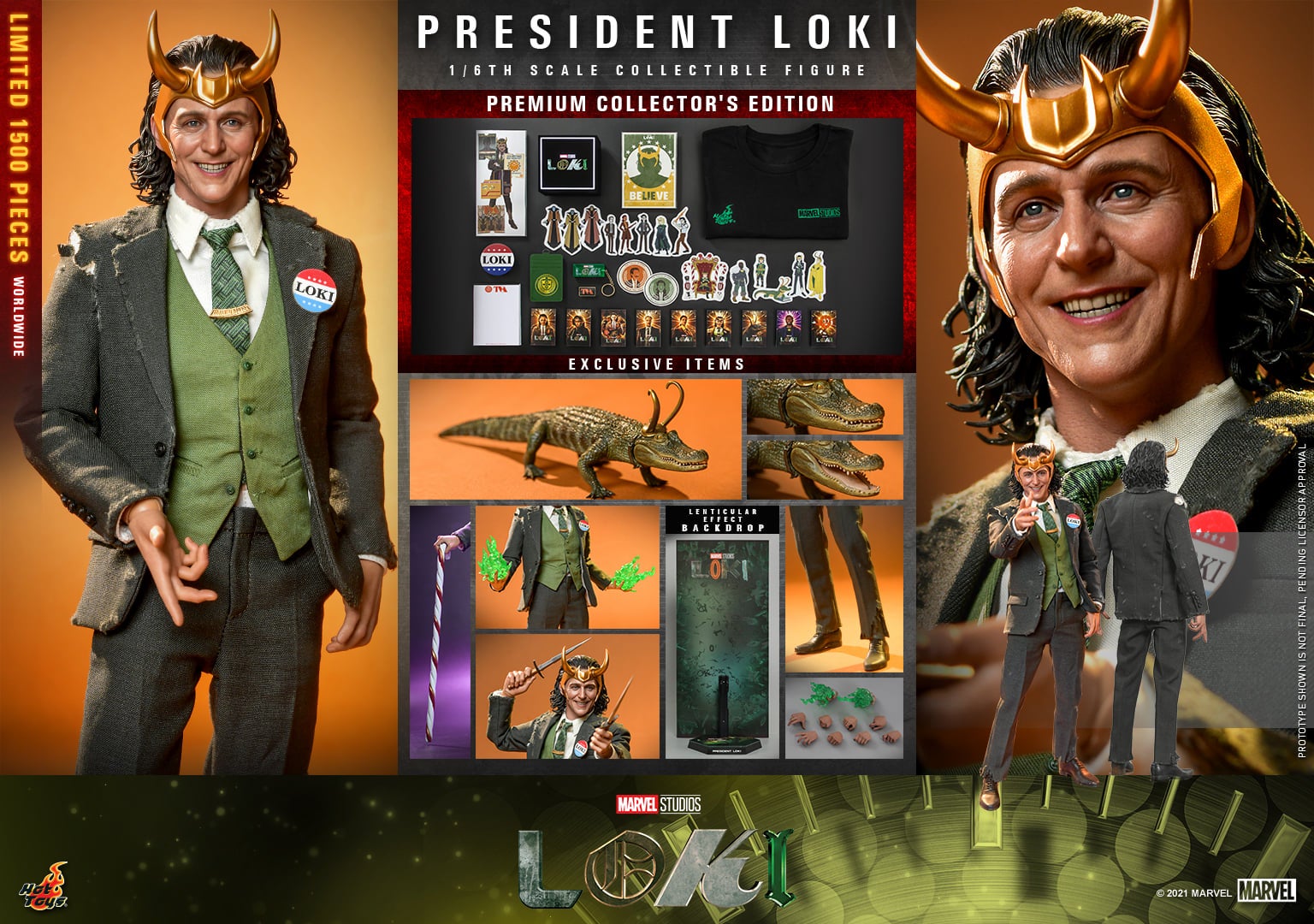 Hot Toys – [TMS066 & TMS067] – Loki – 1/6th scale President Loki Collectible Figure
– Authentic and detailed likeness of Tom Hiddleston as Loki in Marvel Studios' Loki series
– Newly developed head sculpt with highly-accurate facial expression and skin texture
– Black colored long hair sculpture with horned helmet pained in bronze
– Approximately 31 cm tall
– Body with over 30 points of articulations
– Ten (10) pieces of interchangeable hands including:
– One (1) pair of fists
– One (1) pair of gesture hands
– One (1) pair of cane holding hands
– One (1) pair of dagger holding hands
– One (1) pair of hands with green effects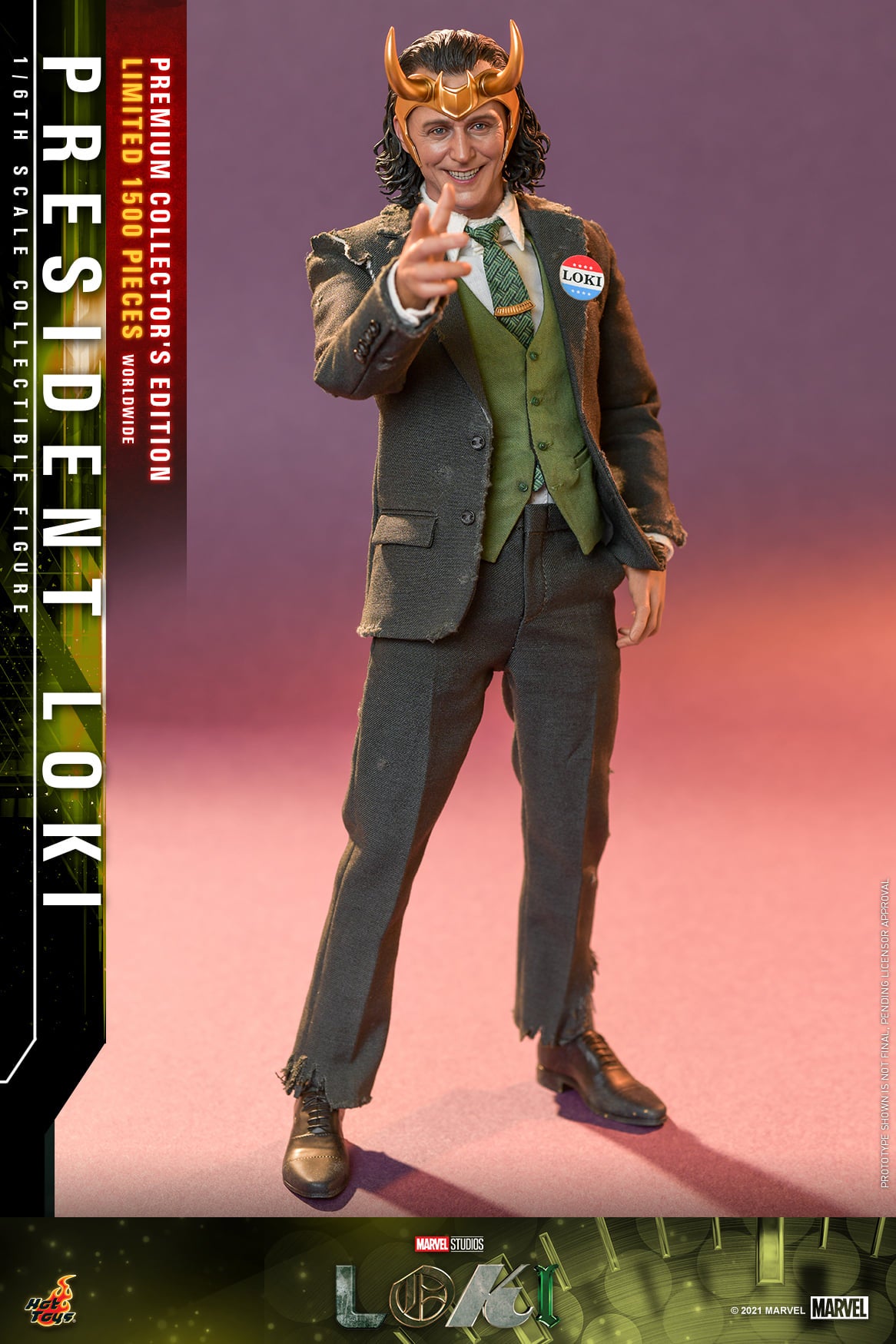 Costume:
– One (1) grayish green colored suit jacket with weathering effects and election pin
– One (1) green colored vest
– One (1) beige colored shirt
– One (1) green colored patterned tie with tie clip
– One (1) pair of grayish green colored pants with weathering effects
– One (1) pair of socks
– One (1) pair of black colored shoes
Weapons:
– Two (2) daggers
Accessories:
– One (1) 1/6th scale Alligator Loki collectible (head is equipped with articulated function)
– One (1) walking cane
– One (1) specially designed character backdrop
– A themed figure stand with character name plate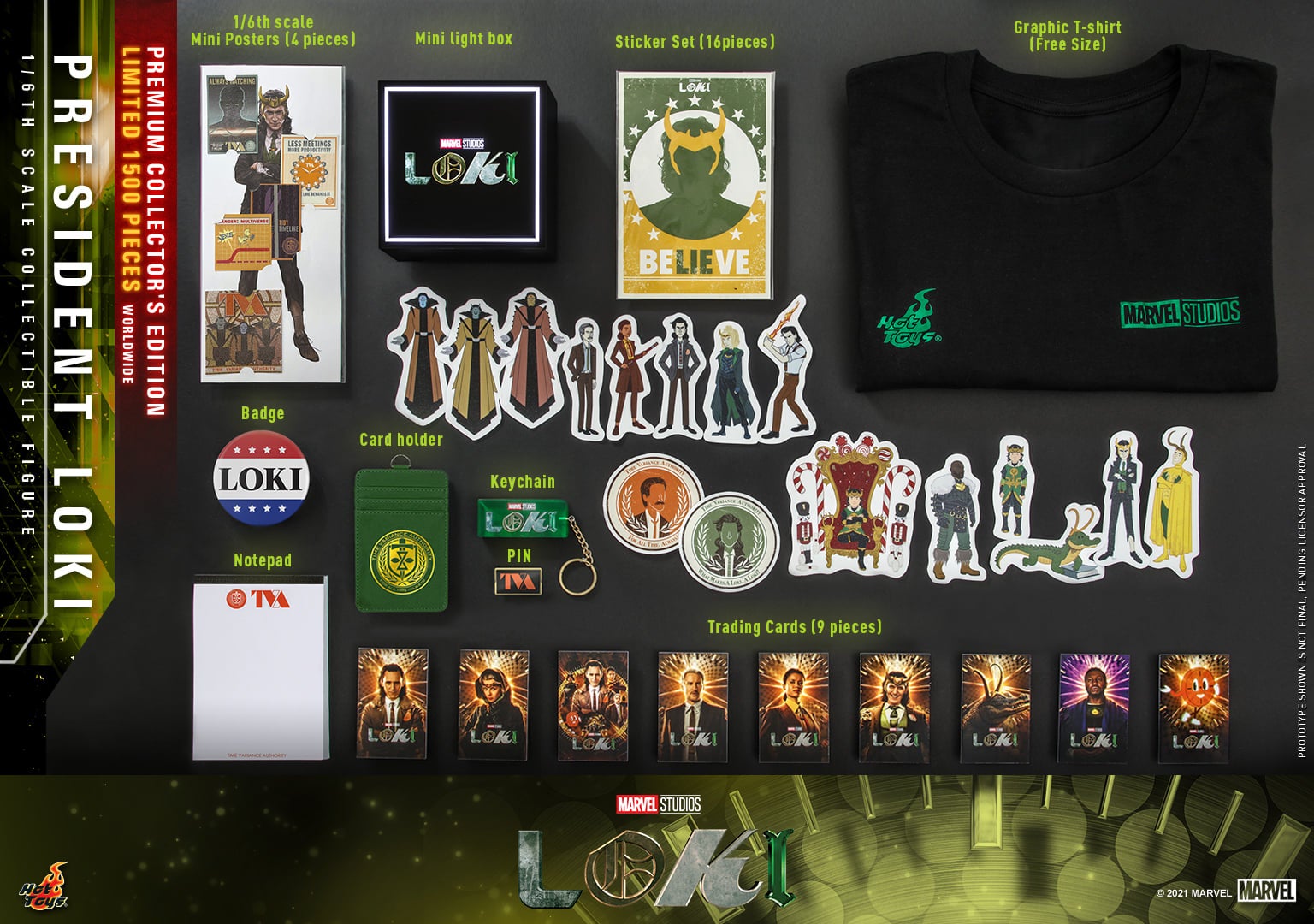 Exclusive items in Premium Collector's Edition:
– One (1) Loki T-shirt (Free Size)
– One (1) mini light box
– One (1) keychain
– One (1) TVA pin
– One (1) badge
– One (1) card holder
– One (1) notepad
– Four (4) 1/6th scale mini posters
– Nine (9) trading cards
– One (1) set of themed stickers (17 pieces)
– Comes with unique serial number
*Prototype shown is not final, pending licensor approval
**Product details can subject to change without further notice
---