The action is heating up at Casino La Cucaracha with Mezco Con's summer exclusive High Roller Box!
The set is wrapped in graphics depicting the high stakes of the super-spy game. Inside, you hit the jackpot with: Secret Agent Gomez – Casino La Cucaracha Edition, the "why can't it be a One:12?" 5 Points Pink Skulls Chaos Club Clubhouse Set, an official (soon to be trending on Social Media) Casino La Cucaracha poker chip, a deck of Casino La Cucaracha playing cards in a deluxe tin, and a sticker sheet to deface your property with.
All items are exclusive and can only be found at Mezco Con priced at $155!
Each Mezco Con 2021: Summer Edition – High Roller Box will contain:
5 Points Pink Skulls Chaos Club Clubhouse Boxed Set – The boys are back in town and ready to cause some chaos, of course! This troublesome trio is stacked with mayhem making gear including a Molotov cocktail, "Skullcrusher" bat, spray paint can, and more. Once assembled, the included playset features wall-to-wall artwork of the PSCC Clubhouse stronghold.
Casino La Cucaracha Lucky Poker Chip – This exclusive poker chip commemorates the 2nd Mezco Con: Summer Edition.
Casino La Cucaracha Playing Cards – Roaches are high! This deck of 52 playing cards plus jokers and cut card features custom face cards with original artwork, packaged neatly in a deluxe tin.
Casino La Cucaracha Sticker Pack – This 5-pack of stickers gives a first-look at some new faces! Don't worry, you'll be familiar with them soon enough. Stick 'em on your laptop, phone case, boom box, hoverboard, and more.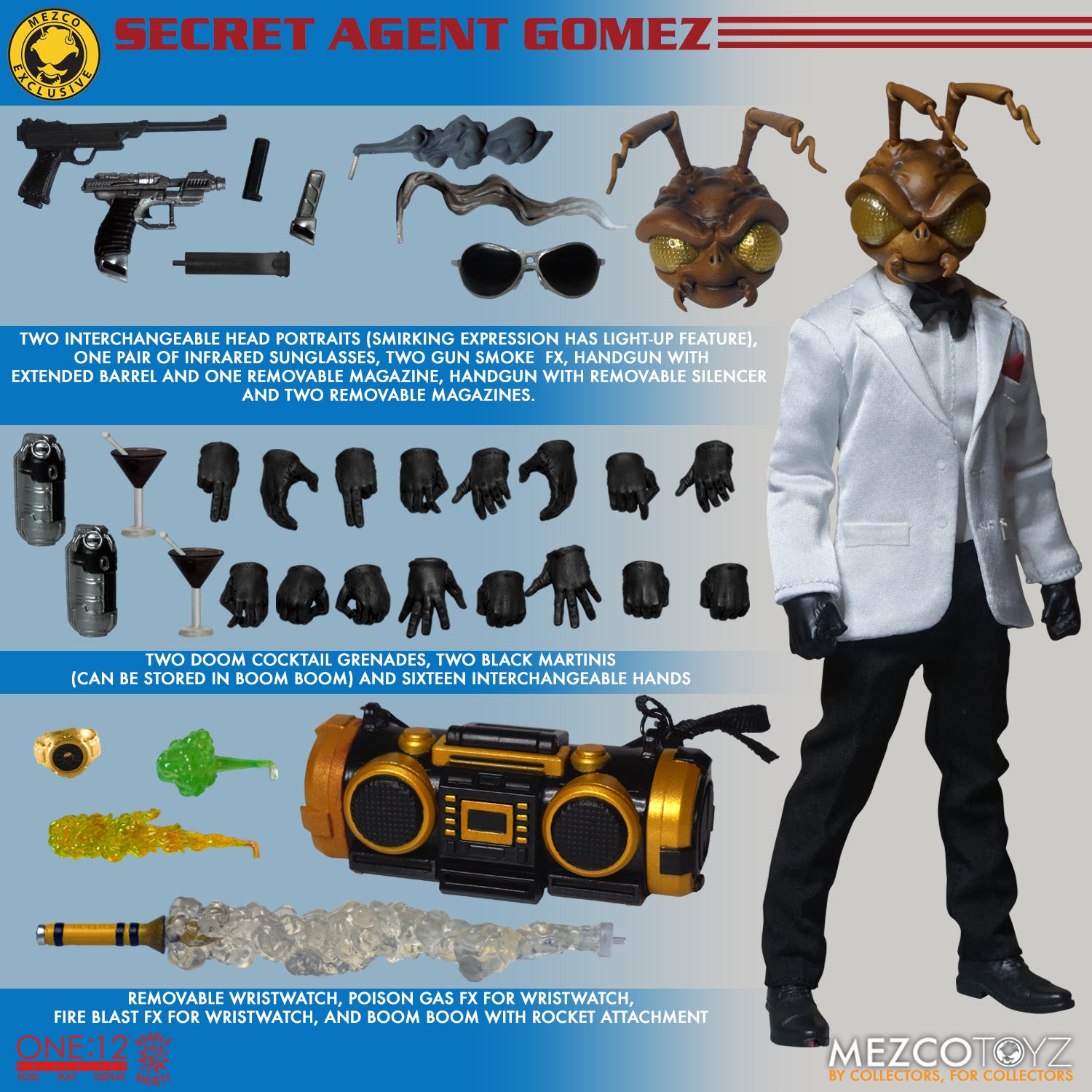 THE ONE:12 COLLECTIVE GOMEZ FIGURE FEATURES:
One:12 Collective body with over 30 points of articulation
Three (3) head portraits
Hand painted authentic detailing
Approximately 17cm tall
Sixteen (16) interchangeable hands

One (1) pair of karate chop hands (L&R)
One (1) pair of karate posing hands (L&R)
One (1) pair of open posing hands (L&R)
One (1) pair of gun holding hands (L&R)
One (1) pair of grenade holding hands (L&R)
One (1) pair of martini holding hands (L&R)
One (1) bracing hand (L)
One (1) pointing hand (R)
One (1) two-finger pointing hand (L)
One (1) middle finger hand (L)
COSTUME:
Dinner jacket
Dress shirt
Slacks
Bowtie (removable)
Dress shoes with sliding dagger in right shoe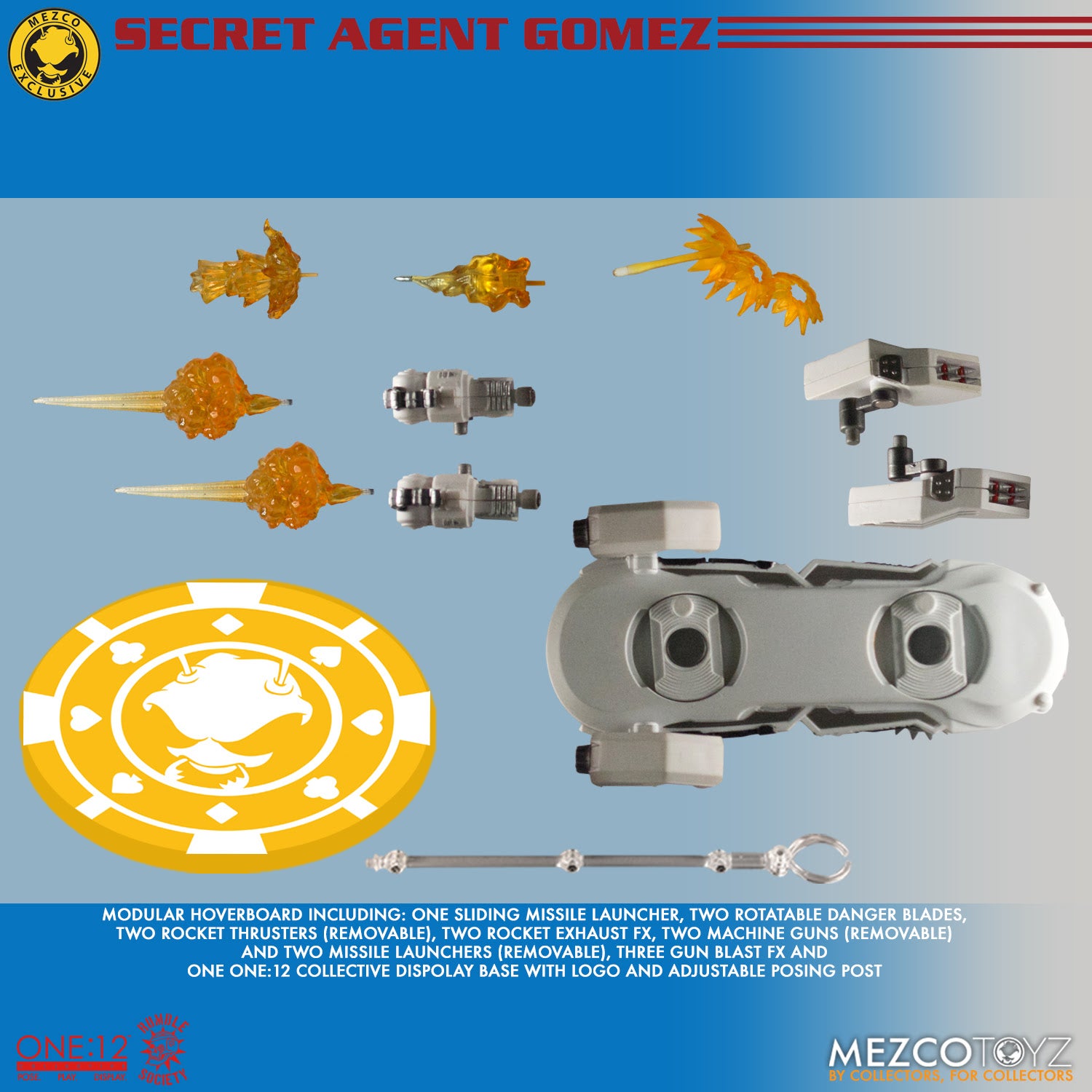 ACCESSORIES:
One (1) Boom Boom boom box with shoulder strap featuring:

Concealed minibar
Rocket launcher
Access panel

One (1) modular hoverboard featuring:
One (1) sliding missile launcher
Two (2) rotatable danger blades
Two (2) rocket thrusters (removable)
Two (2) rocket exhaust FX
Two (2) machine guns (removable)
Two (2) missile launchers (removable)
One (1) pair of infrared sunglasses
One (1) Void-issued wristwatch
One (1) poison gas FX for wristwatch
One (1) fire blast FX for wristwatch
One (1) handgun with extended barrel and one (1) removable magazine
One (1) handgun with removable silencer and two (2) removable magazines
Two (2) Doom Cocktail grenades
Three (3) gun blast FX
Two (2) gun smoke FX
Two (2) black martinis (can be stored in Boom Boom)
One (1) One:12 Collective display bases with logo
One (1) One:12 Collective adjustable display posts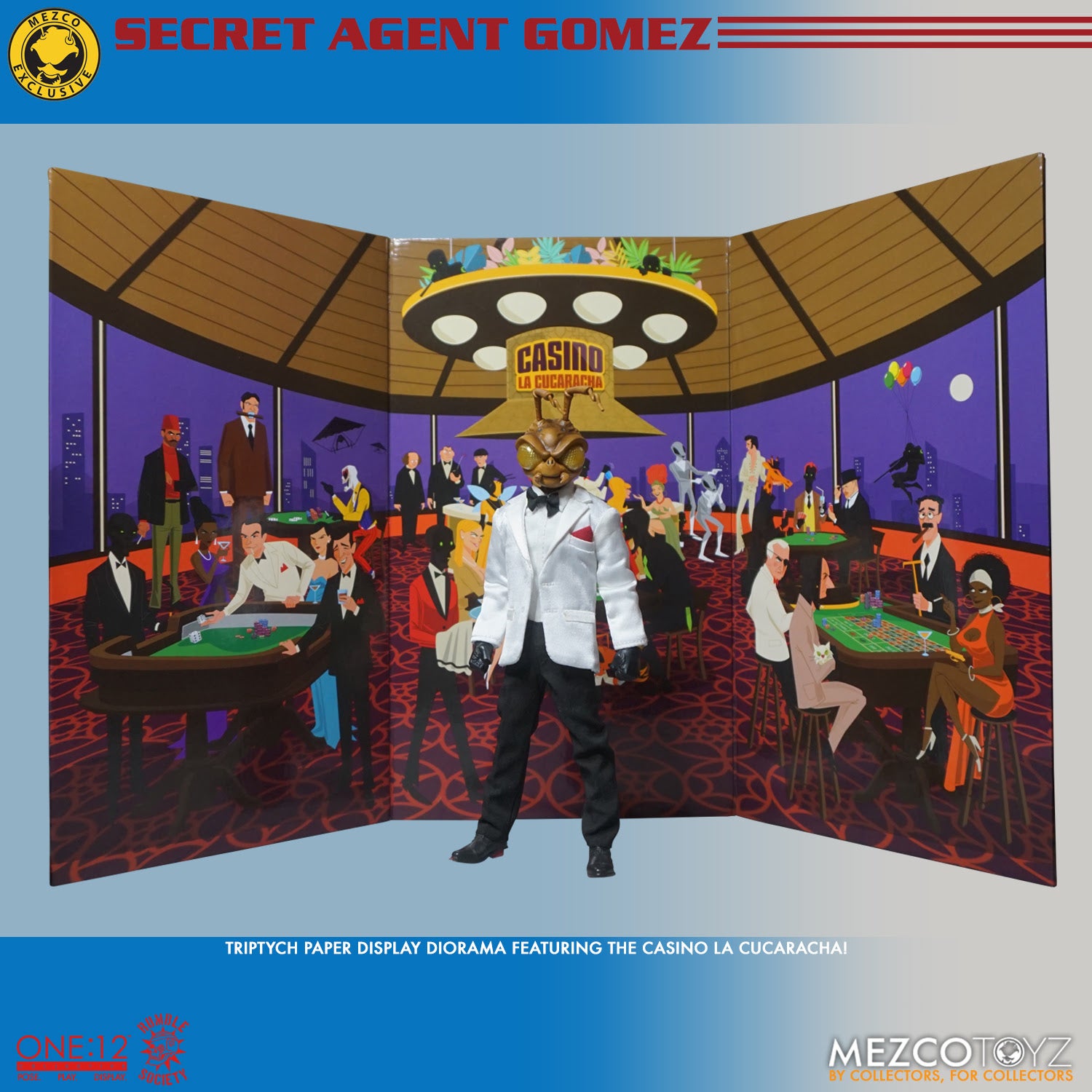 ---