"Surrender, or face the consequences. You have one day to decide."
Star Wars fans around the world were thrilled to see one of their most beloved characters, Ahsoka Tano, make an appearance in the highly acclaimed live-action series The Mandalorian when Din Djarin searched for her on the forest planet of Corvus in order to return Grogu to his kind.
Today, Hot Toys is excited to officially introduce the new 1/6th scale Ahsoka Tano collectible figure from Star Wars The Mandalorian as the latest addition to their premium DX Series!
The highly-accurate collectible figure features a meticulously crafted head sculpt with separate rolling eyeballs features and articulated head-tails, specialized physique, skillfully tailored outfit with fine details, a pair of lightsabers, interchangeable lightsaber blades emulating the weapon in motion, a cloak, and a themed display base with backdrop inspired by the series!
In addition to the standard release (DX20), Ahsoka Tano will be offered in a deluxe set (DX21) with Grogu! This special set specially features a forest theme backdrop and display base along with a lantern to recreate the memorable scene when Ahsoka and Grogu first meet.
Release date: Approximately Q3 – Q4, 2022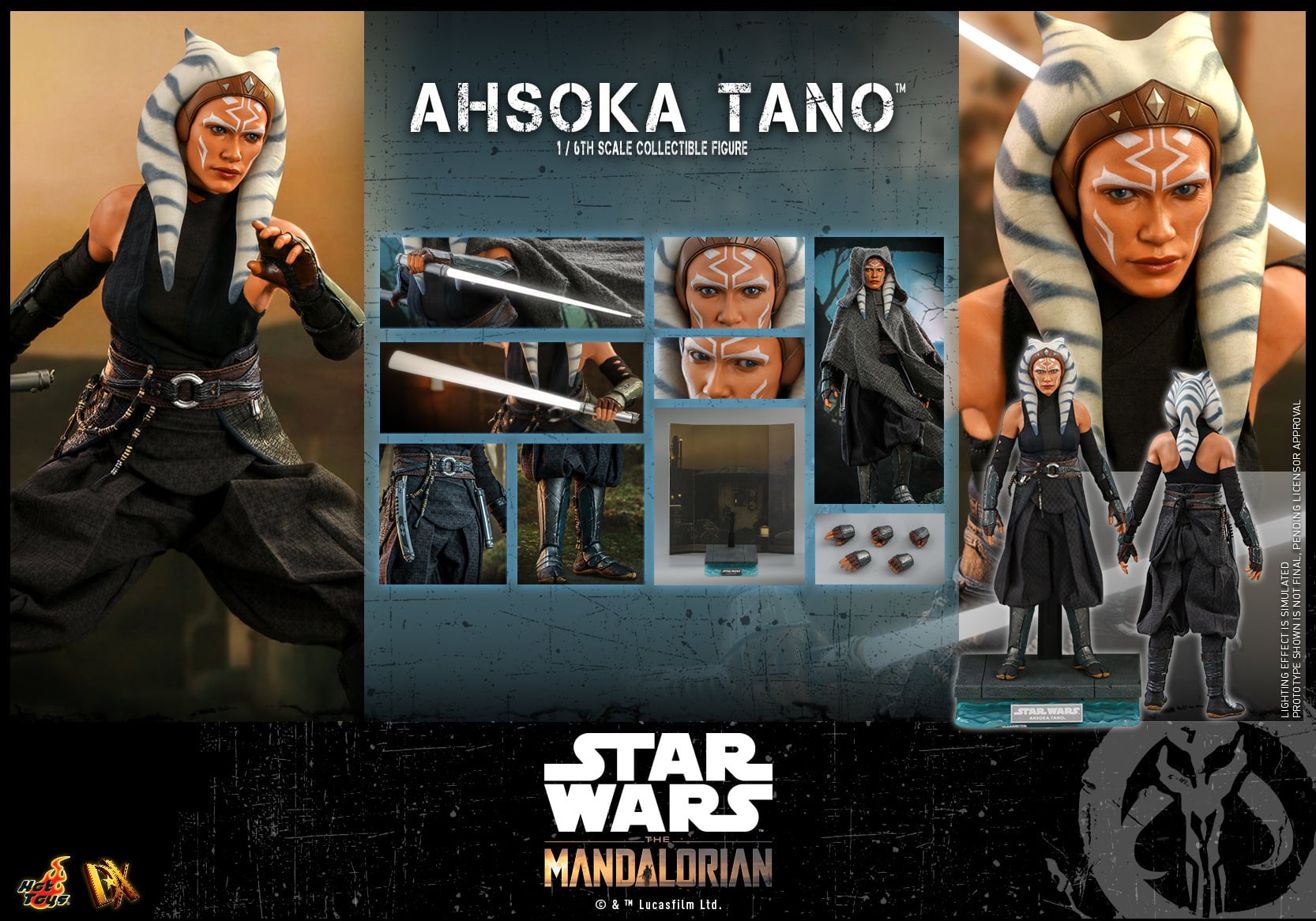 Hot Toys Star Wars The Mandalorian 1/6th scale Ahsoka Tano Collectible Figure
– Authentic and detailed likeness of Ahsoka Tano in Star Wars: The Mandalorian
– Newly developed head sculpt with separate rolling eyeballs features
– Highly-accurate facial expression, make up, and detailed facial patterns
– Newly sculpted blue and white striped montrals and head-tails embedded with bendable wires
– Body with over 28 points of articulations
– Approximately 28.5 cm tall
– Five (5) pieces of interchangeable hands including:
– One (1) pair of relaxed hands
– One (1) pair of lightsabers holding hands
– One (1) right fist
Costume:
– One (1) grey colored cloak with weathering effects (embedded with bendable wire)
– One (1) grey colored vest with layered collars
– One (1) pair of weathered gauntlets in bluish green with black colored forearm gloves
– One (1) dark brown colored belt with detailed accessories
– One (1) grey colored under belt with patterns
– One (1) pair of finely tailored grey colored pants with patterns
– One (1) pair of black colored shoes and bluish green colored armors with weathering effects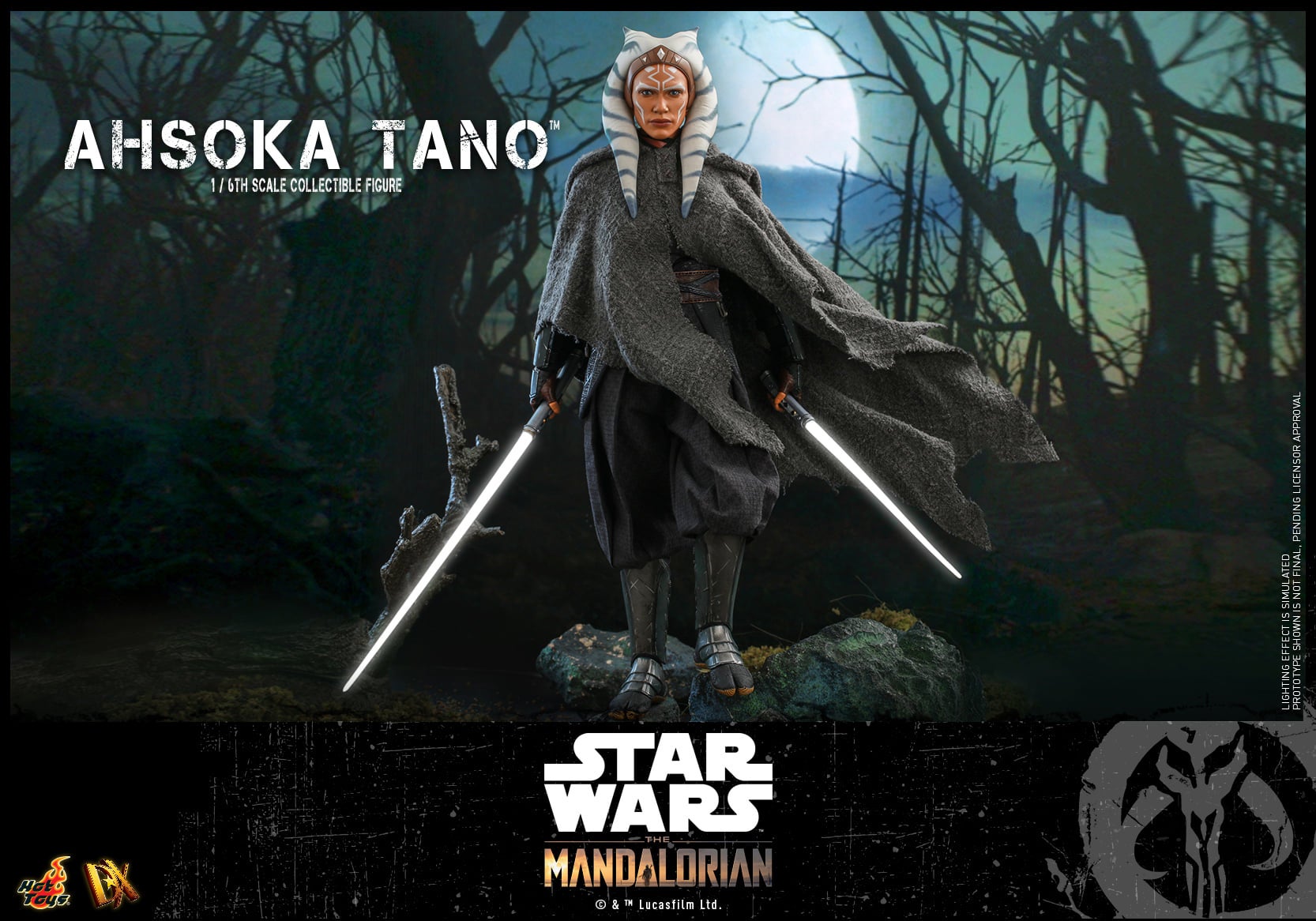 Weapons:
– One (1) pair lightsaber
– One (1) pair of lightsaber blade in motion (attachable to the hilt)
Accessories:
– One (1) courtyard themed backdrop
– Specially designed walkway themed diorama figure base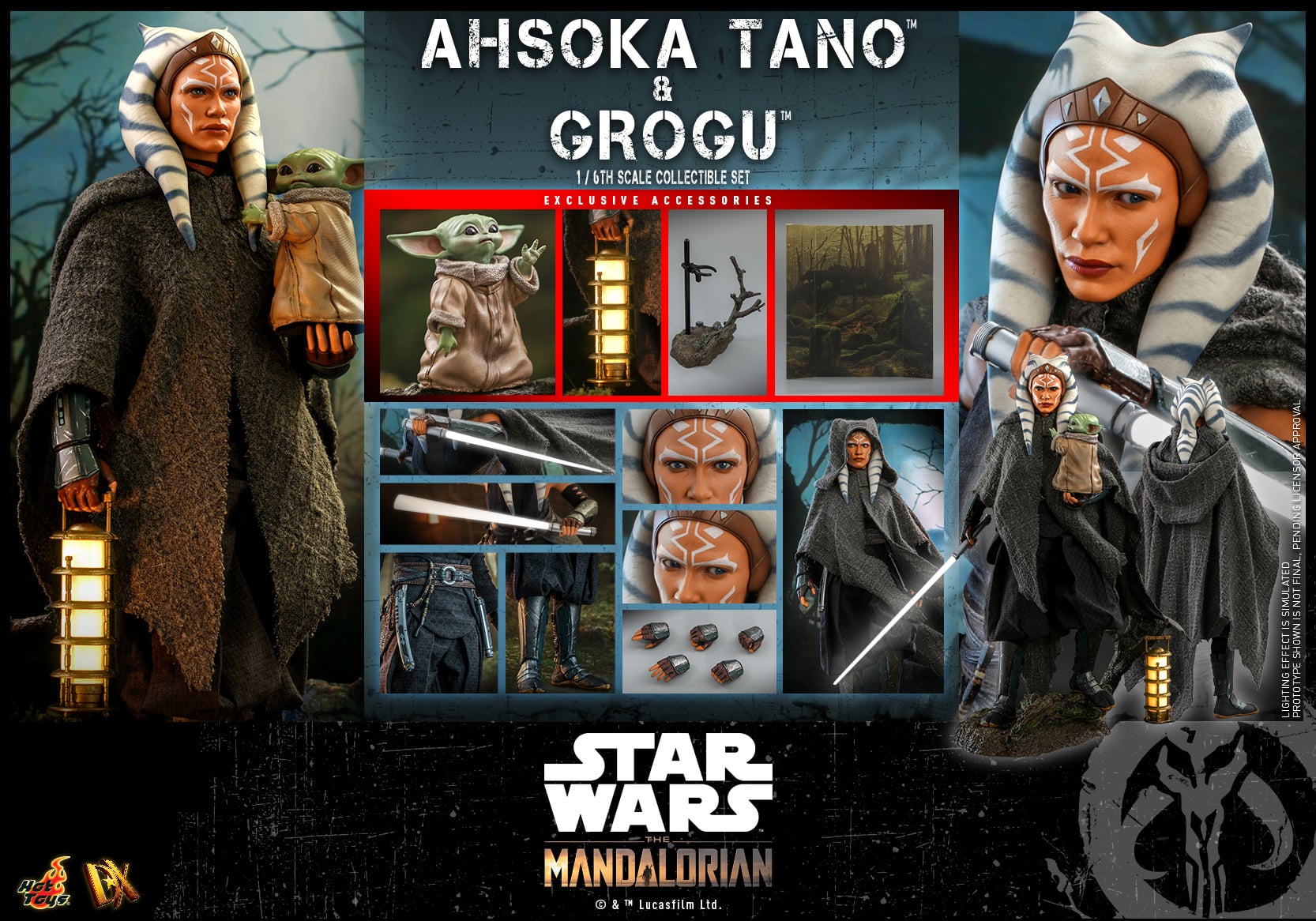 EXCLUSIVE TO DX21:
– One (1) lantern
– One (1) forest themed backdrop
– Specially designed forest diorama dynamic figure base with tree trunk and rocks
The 1/6th scale GroguTM Collectible Figure specially features:
– Authentic and detailed likeness of Grogu in Star Wars: The Mandalorian
– One (1) newly developed Grogu in standing posture (Approximately 6cm tall; with articulated function)
– One (1) pair of interchangeable force-using hands
*Prototype shown is not final. Pending licensor approval
**Product details are subject to change without further notice
---