Bandai Spirits will host a virtual festival TAMASHII NATION 2020 which is an event of Tamashii Nations, a unified product brand for adult collectors, taking place on November 6-8 (JST).
"TAMASHII NATION" is an event, held every year for introducing more than five hundred latest figures for collectors. This year, almost one thousand figures and robots that Tamashii Nations put its heart and soul into, including Kamen Rider, Ultraman, Dragon Ball, Gundam, and Demon Slayer series are gathered at this special event. Fans can enjoy VR exhibition hall, 360-degree panorama of the figures, video streaming of the new products announcement, and other online exclusive contents at the event website. This year's theme is "FIGURE MUSEUM." Bandai Spirits will provide an exciting event that fans in all over the world can attend anytime anywhere.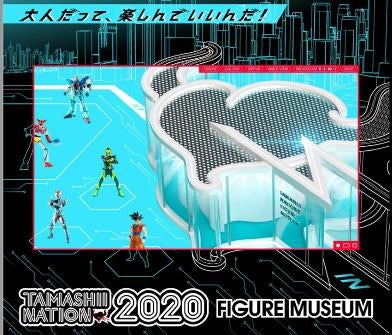 TAMASHII NATION 2020 Event Outline:
Dates & Times: Begins Friday, November 6, at 10:00 a.m. JST Ends Sunday, November 8, at 11:59 p.m. JST.
Venue: Special event website https://tamashiination2020.tamashiinations.com
ROBOT EXHIBITIONS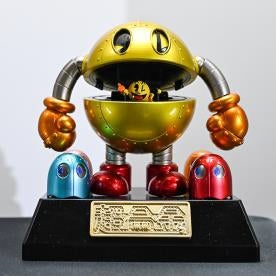 Soul of Chogokin Special Exhibitions – The Soul of Chogokin brand was established in 1997, created as die-cast metal toys. New animated TV show "Getter Robo Arc" which is the final chapter of Getter Robo Saga by Dynamic Pro will be commercialized. From Pacman, this year marks its 40th anniversary, we will announce the "Chogokin Pacman".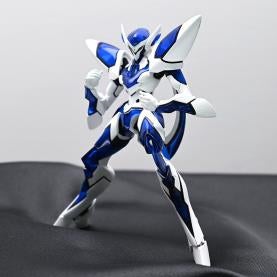 New animated TV show BACK ARROW – Several new products will be announced: "THE ROBOT SPIRITS MUGA" for ANIPLEX's new animated TV show "BACK ARROW" (starts on TV in January 2021). We will also have a special virtual panel having guests as an animation director Goro Taniguchi and a scriptwriter Kazuki Nakashima.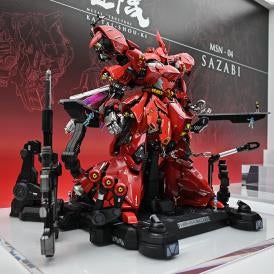 METAL STRUCTURE's 2nd model & 10th anniversary of "METALBUILD" – MSN-04 SAZABI will be announced as a 2nd METAL STRUCTURE model which is the sequel to the RX-93 ν Gundam released last year. Moreover, the ultimate toy brand which got the best of both the die-cast metal and the ability to arrange its model designs, "METALBUILD" 10th anniversary project will begin.
FIGURE EXHIBITIONS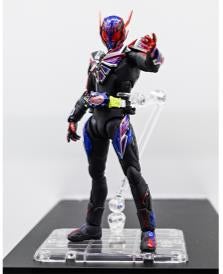 KAMEN RIDER's 50th anniversary project for S.H.Figuarts series – Next year marks the 50th anniversary of KAMEN RIDER. We will display the lineups of 400 KAMEN RIDER figures that came out as S.H.Figuarts series up until now. Furthermore, we will introduce new products including S.H.Figuarts KAMEN RIDER EDEN for its first appearance.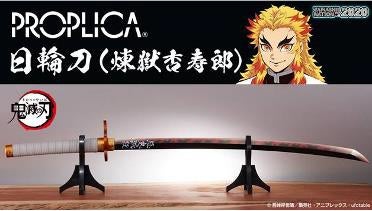 Demon Slayer product lineup – From the animated TV show "Demon Slayer", we will have the first ever real-sized replica of Tanjiro Kamado's Nichirin Sword by PROPLICA. In this event, there will be a first appearance of the real-sized replica of Kyojuro Rengoku's Nichirin Sword as 2nd Demon Slayer's PROPLICA series product.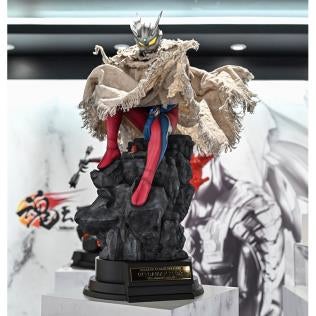 New brand TAMASHII STUDIO PREMIUM – A new pre-painted statue brand – "TAMASHII STUDIO PREMIUM" – will be announced. Modeling by a veteran prototype maker, the statue will measure over 23 inches. Spirits connected by the hands of an artisan. The works that come from this studio bear a spirit like no other. As the very first item from this brand series is going to be the "ULTRAMAN ZERO".
---